This article may contain affiliate links. Clicking on or purchasing products we recommend through a link may earn a small commission. Read our disclosure and privacy policy page for details. *COVID-19 TRAVEL ALERT – Travel recommendations offered on this site are not to encourage you to travel against travel advisories.
The snow is crispy under my feet as I make my way through the trees and down the path. I am clutching my camera with my mitts, taking careful steps so as not to slip on the ice patches underneath, all while looking to the trees trying to spot something. It is -5°C outside, and usually, I'm home hiding in my house escaping this very scenario, but this weekend was different. This weekend I decided to step out and embrace our cold Ontario winter with a girls getaway at the Briars Resort and Spa.
What I experienced was so much more than a fun weekend with the girls… it was a cozy cottage getaway, a discovery into the world of ice fishing, a taste of fine dining, a pampering at an Ontario spa, a photography excursion and the first of what I hope will be many more winters escapes at Ontario resorts and spas.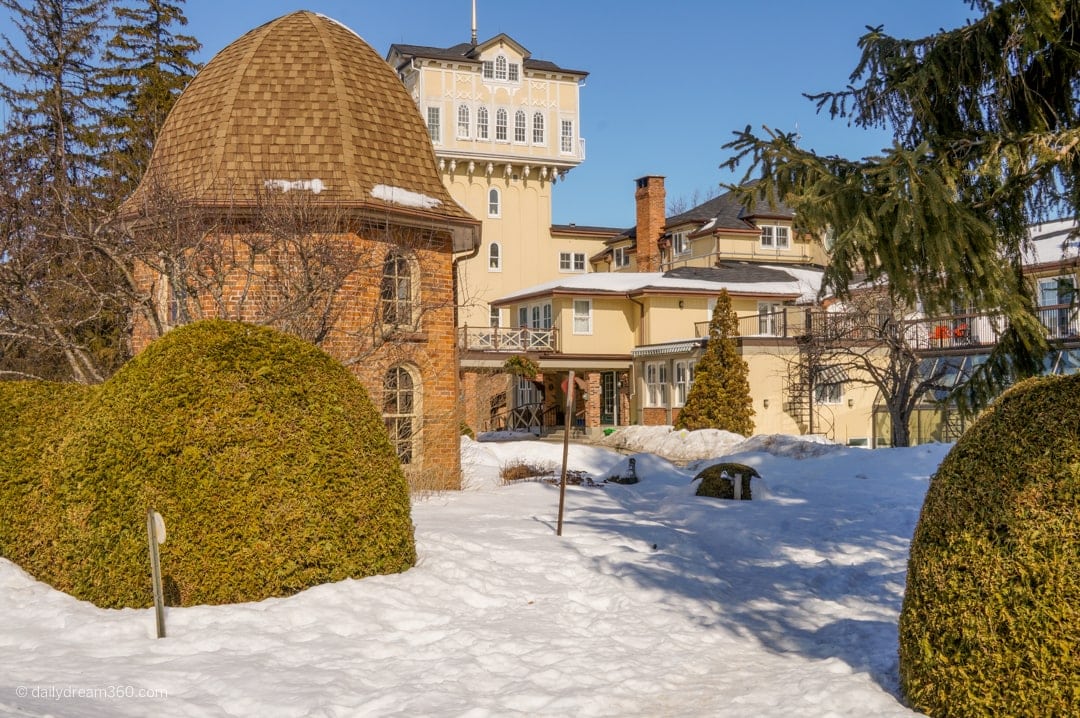 The Briars Resort and Spa Jackson's Point Ontario
Located on the south shore of Lake Simcoe near Jackson's Point, Ontario, The Briars is a short one and half hour drive from Toronto. If you're looking for an Ontario resort near Toronto, this is an excellent choice during any season.
Read more: Tips for Planning a Dream Canadian Winter Getaway
The Briars Resort and Spa has a rich history and has been named an Ontario Heritage site. The history of the resort is all around as you walk through the main building which is an extension of the original home of Dr. Frank Sibbald. The resort has a 170-year history spanning from its days as a working farm into the magnificent Ontario resort it is today.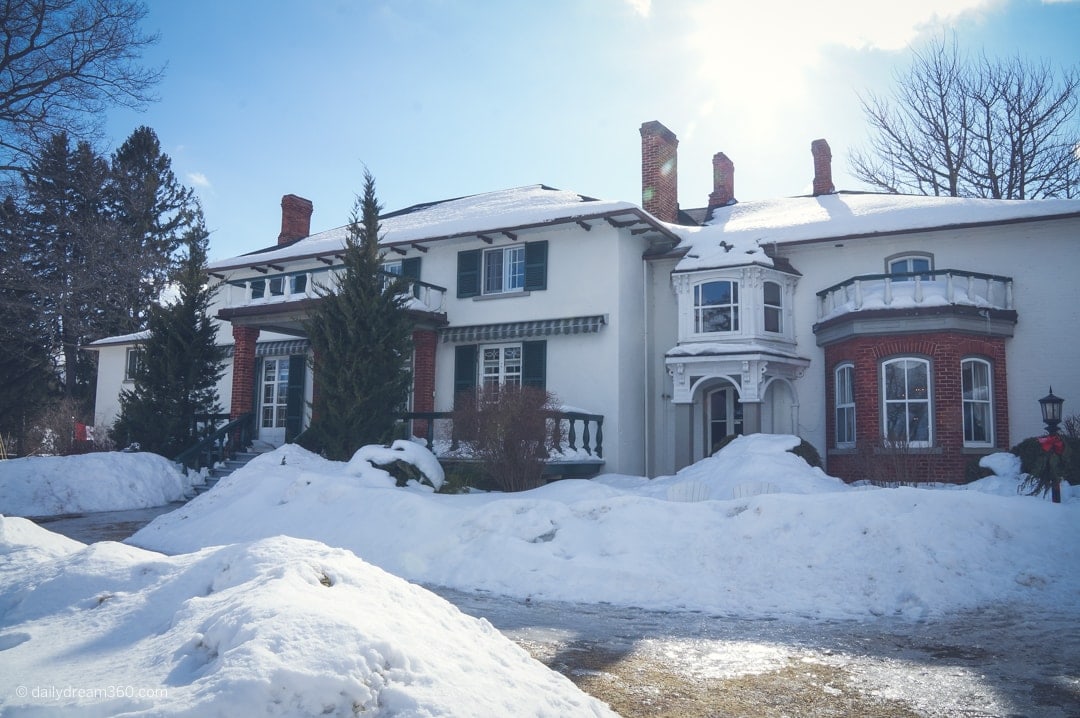 The Briars Main Building
Inside the main building, you will see some elements from the original home. There are many small rooms and hideaways filled with antique furniture which guests take advantage of to find a quiet spot to read, play board games or finish a puzzle. Fireplaces are lit in some of these rooms, and antique paintings and photos line the walls.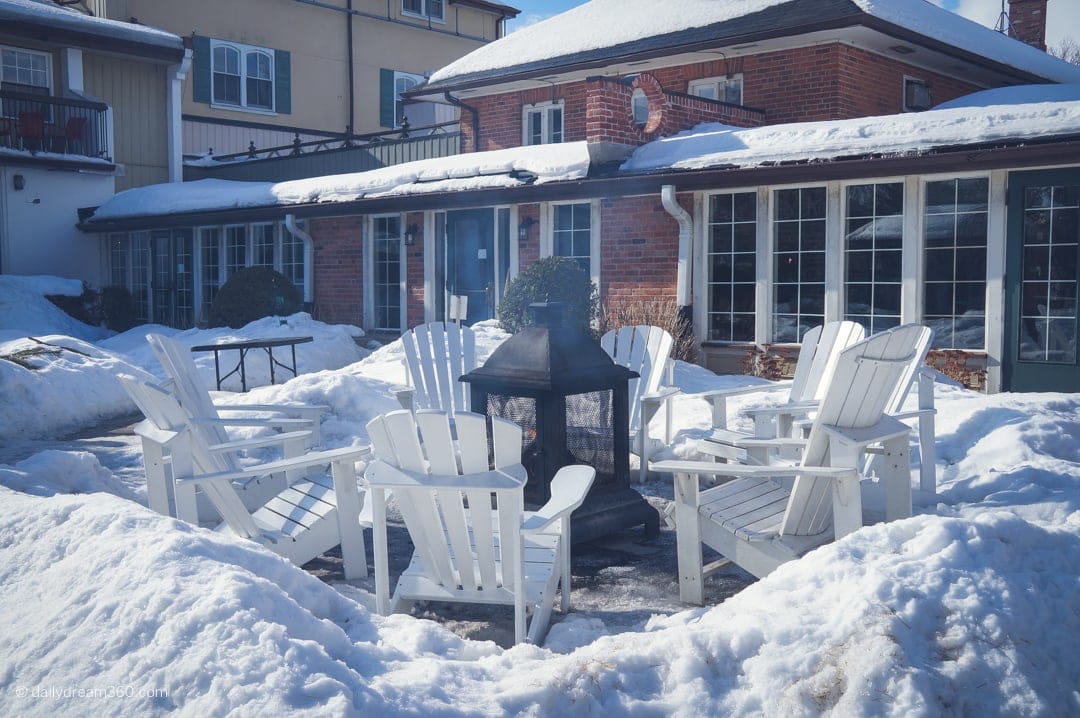 The Briars also had a few surprises outside the resort, even in winter. Including this favourite gathering spot by the fire where you could sit and enjoy a cup of hot chocolate.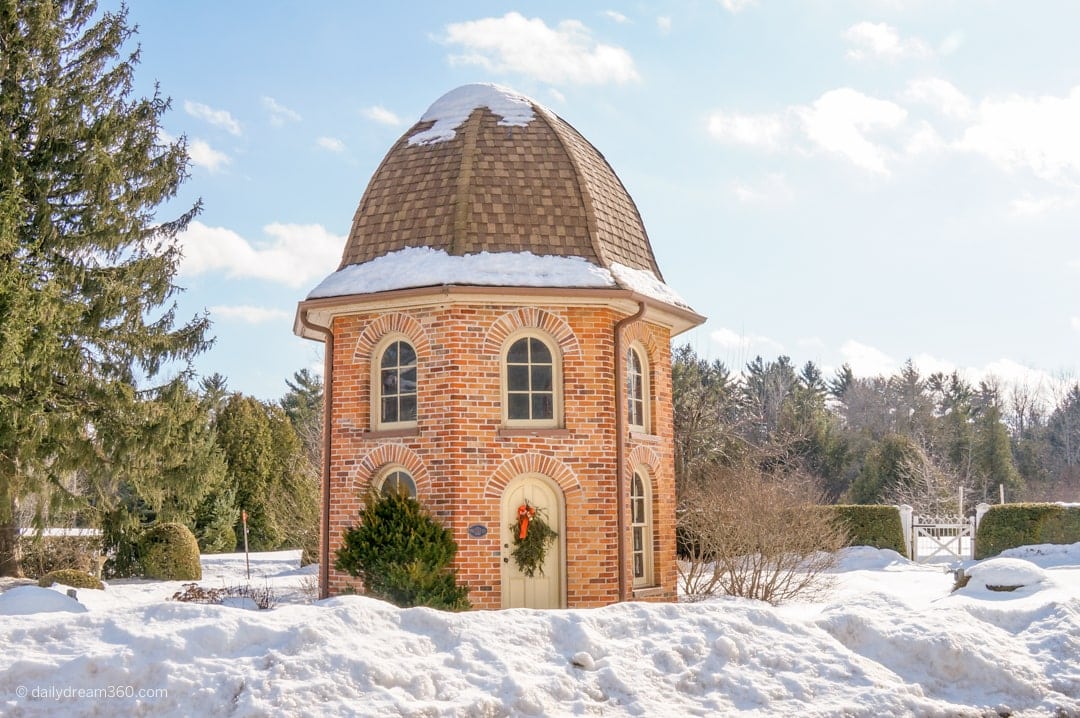 The main building is quite large and surrounded by many little buildings that have been preserved including the Briars Peacock House which is one of Ontario's famous historical places.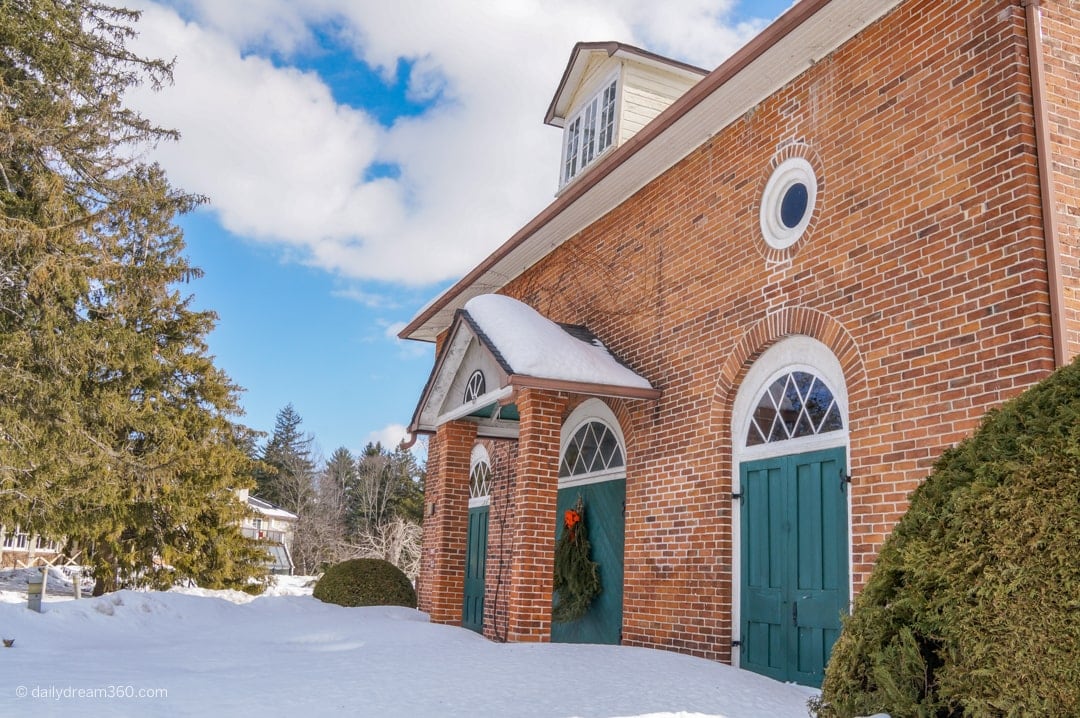 There was also an incredible old stable outside and some other fantastic additions to the main house that I could not stop photographing!
Briars Resort Winter Cottage Rentals
We stayed in a cozy two-bedroom cottage on Lake Simcoe during our girl's weekend at the Briars. The view of the sunrise was just breathtaking.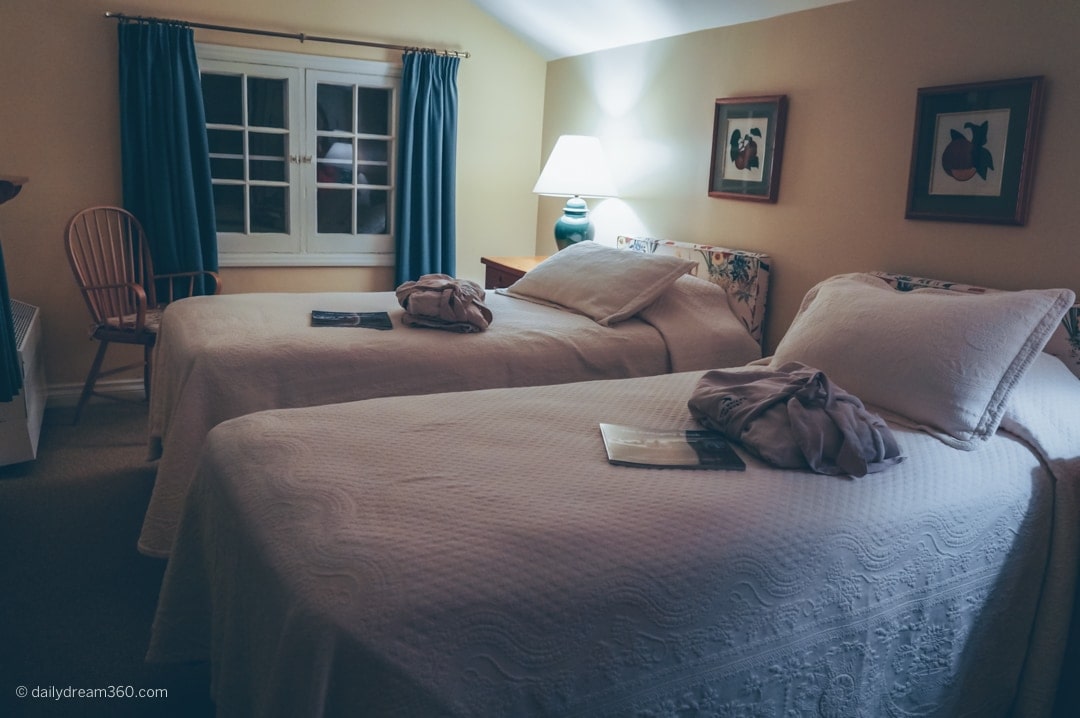 Each room in the cottage had two beds and a bathroom, so there was plenty of bathroom time for each of us four girls. There were also some dressers and closets to hang clothes in.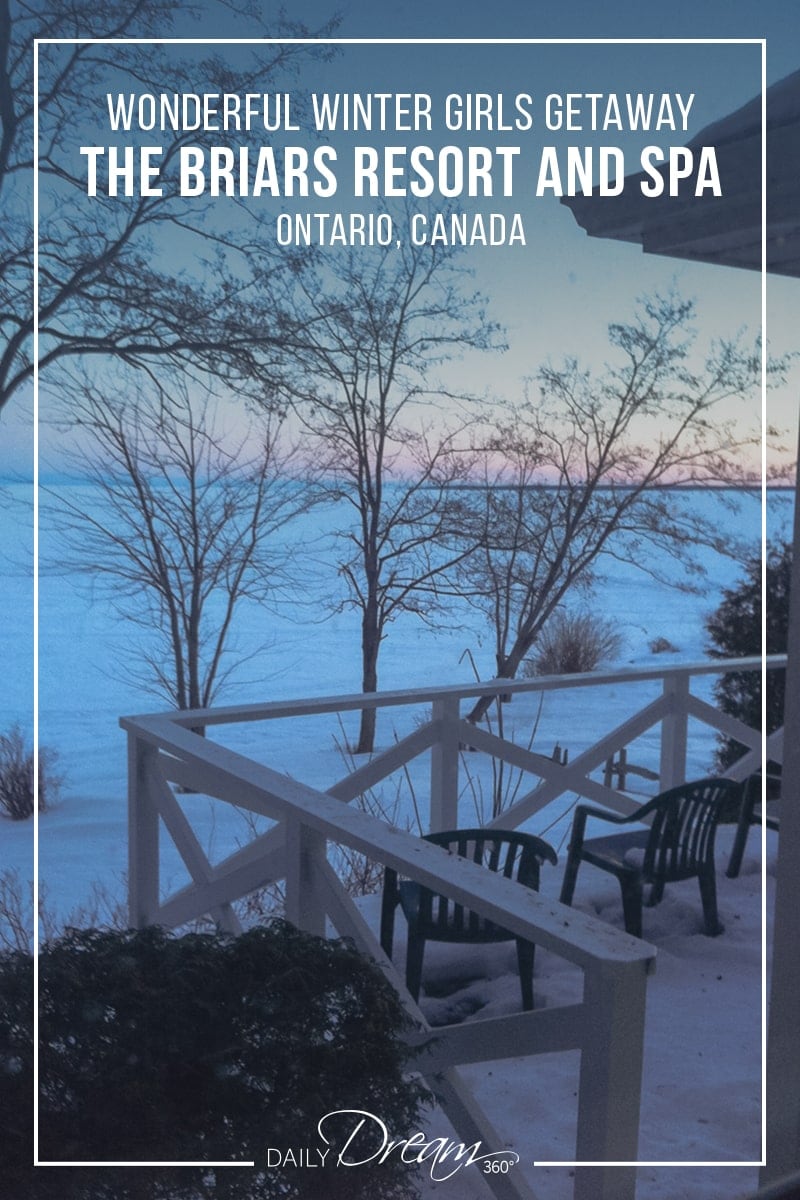 We had a lovely little writing desk and complimentary wi-fi throughout the entire resort – including at the cottage.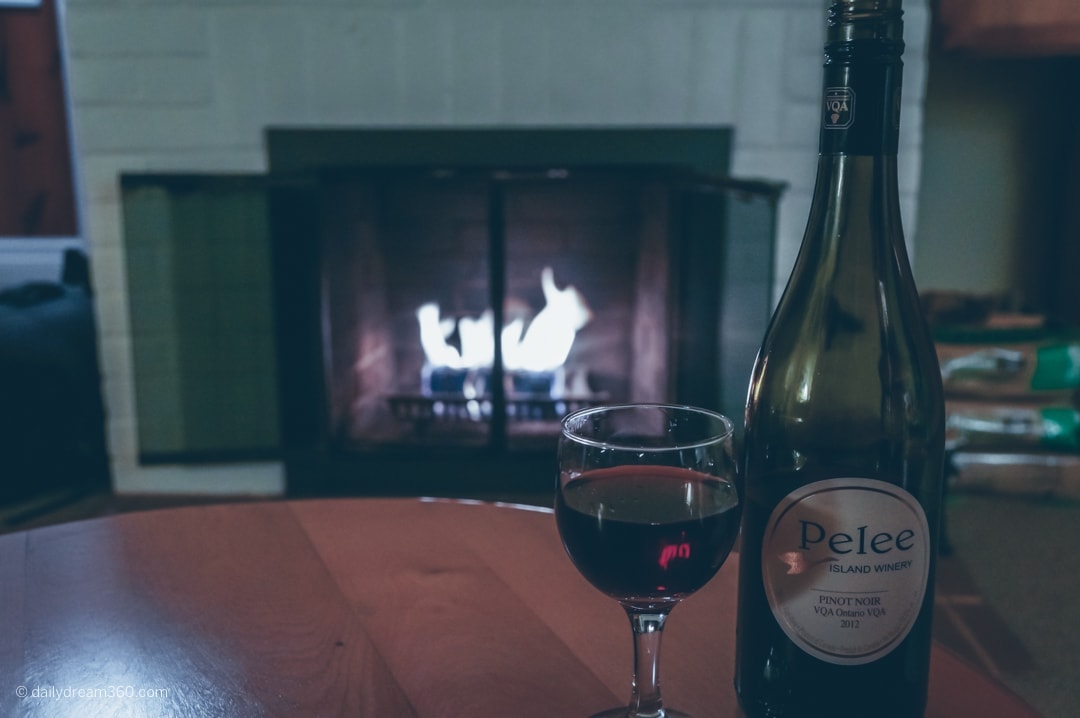 Girls Getaway Package at Briars Ontario
Inside to start our amazing girls weekend, we were treated to a large cheese basket with all sorts of yummy snacks and a few bottles of wine which we drank in front of the fireplace.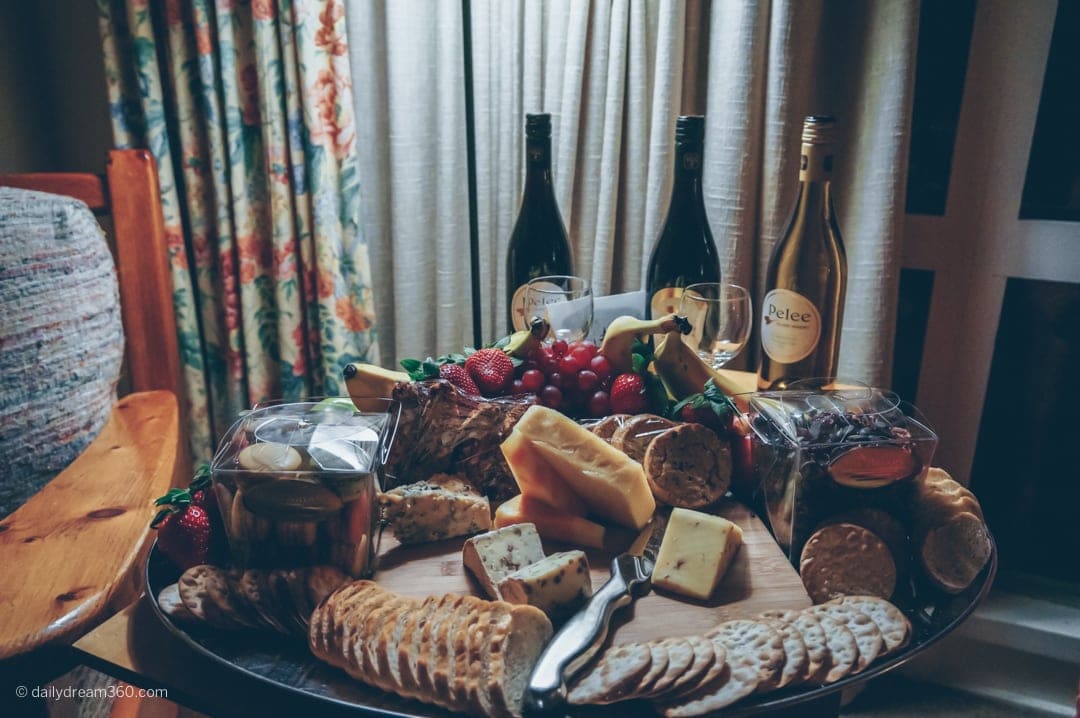 Mostly we all gathered on the comfy sofa and chaise lounge chairs in front of the fire as we gabbed and munched on cheese and crackers.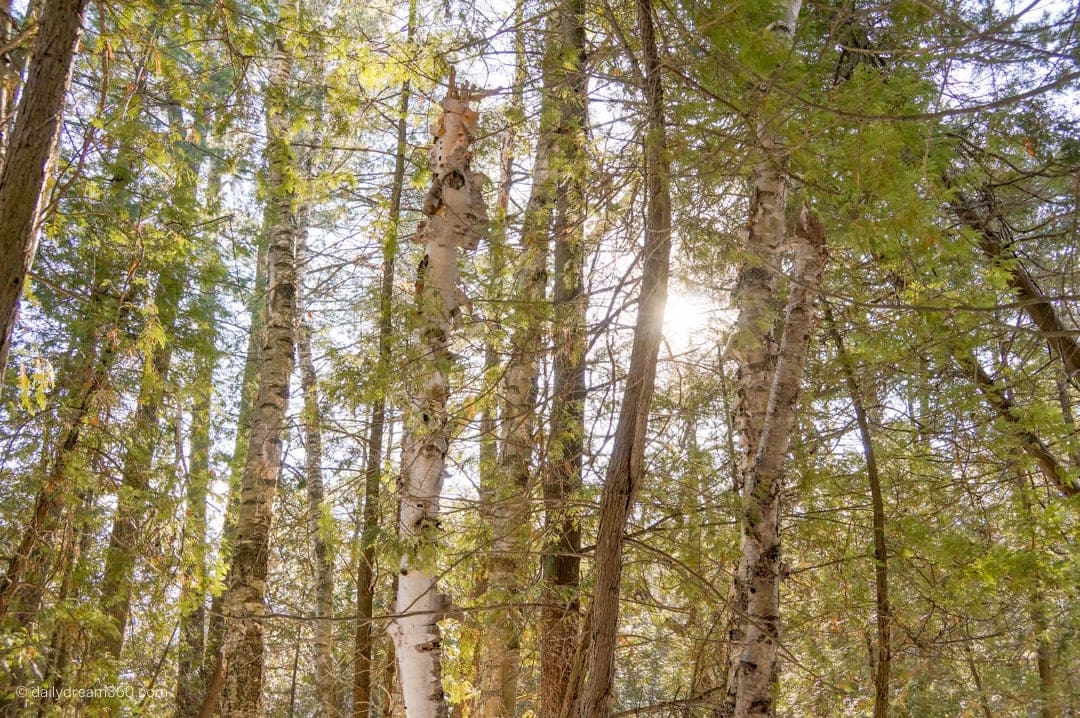 Briars Resort and Spa – Winter Activities
It is impossible to do a review about the Briars in any season without discussing the fantastic nature surrounding it. I have to confess I have never been much of an outdoorsy kind of girl (especially in the winter) but staring at the snow-covered trees around me, breathing all the fresh air and snapping picture after picture I felt like I was home.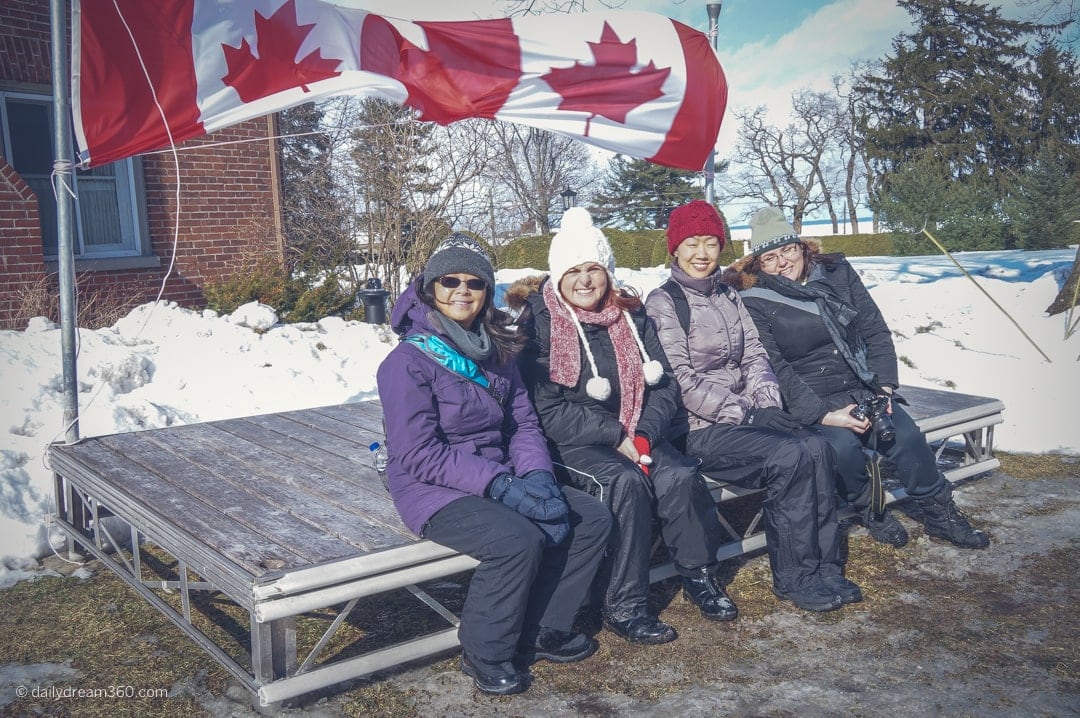 The critical part of any winter vacation is to be in the right winter attire. I was completely bundled up and not feeling the cold temperatures at all. If you need some suggestions on how to pack for your winter weekend see our carry-on winter packing list.
Read more: Carry-on Only Packing List for a Weekend Winter Escape
Just some of the activities available at the resort in the winter include: walking the hiking trails (guided walks are available), cross-country ski trails, snowshoeing, skating, tobogganing, ice fishing and even a horse-drawn winter sleigh ride!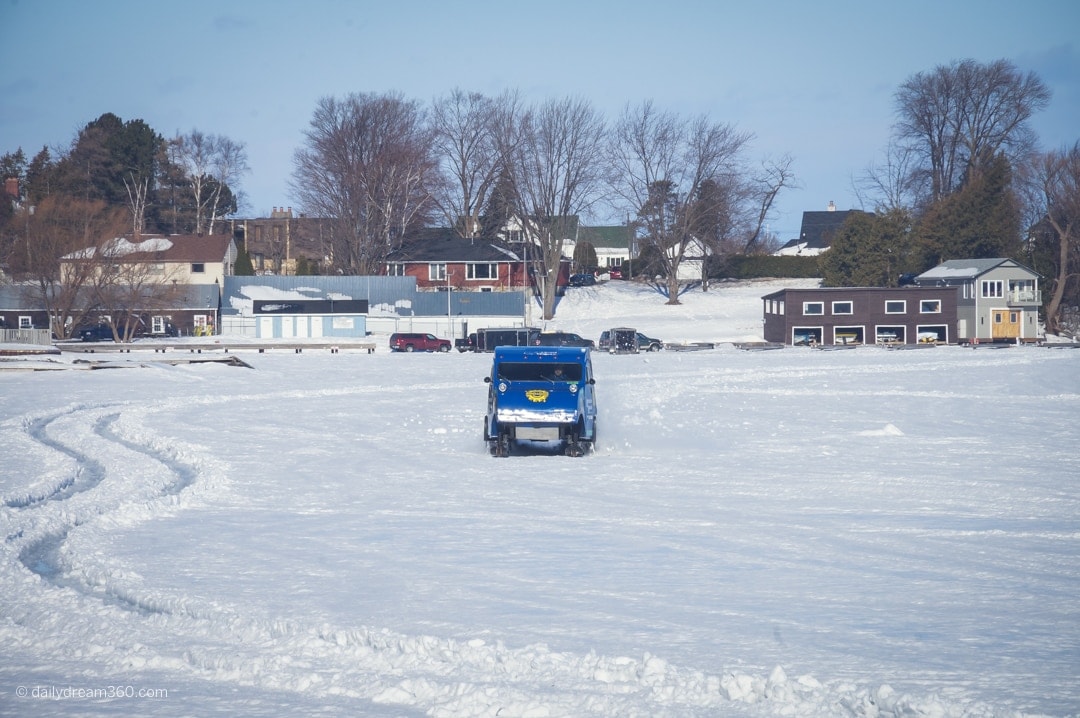 Ice Fishing with Bonnie Boats
For our girls weekend, we booked some Winter themed activities with The Briars resort. The one we were most excited about was an ice fishing experience which the staff at the Briars helps us arrange. They even made bagged lunches for us to take with us on our trip. Scott from Bonnie Boats picked us up along the shore at the Briars in this Bombardier vehicle.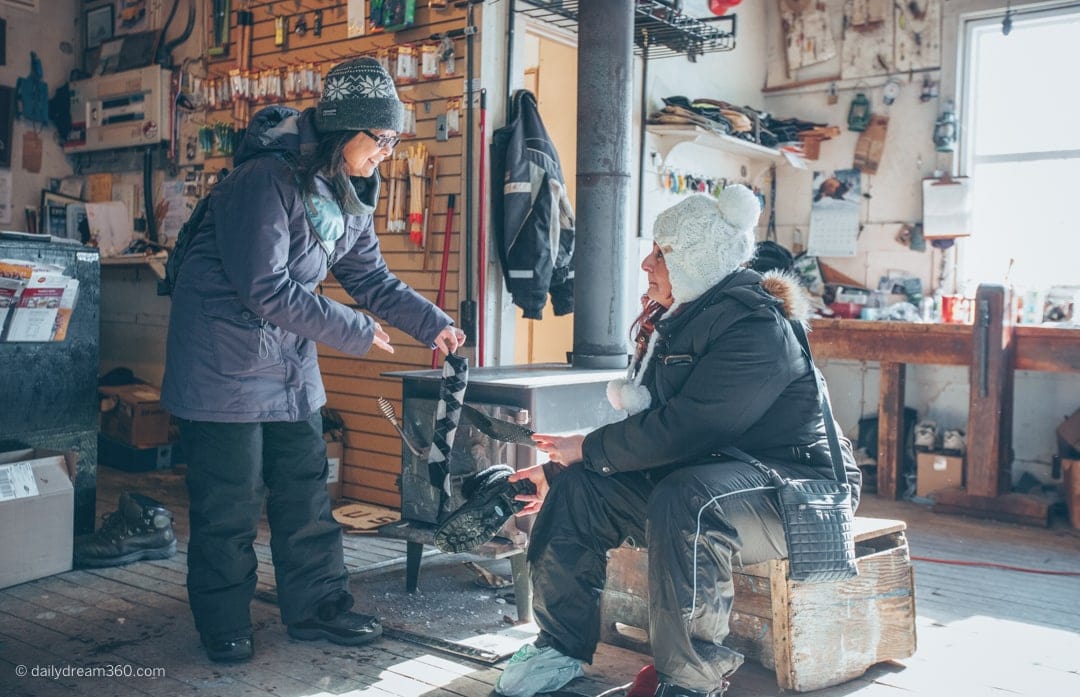 I have to give out a warning here!  My first step onto a frozen lake was not the dream I had imagined. My foot went right through the ice. Scott our ice fishing guide was very calm about it and said it was quite normal for there to be soft ice or bubbles at the shore of the lake. Lucky me! My foot went right into one of these weak spots.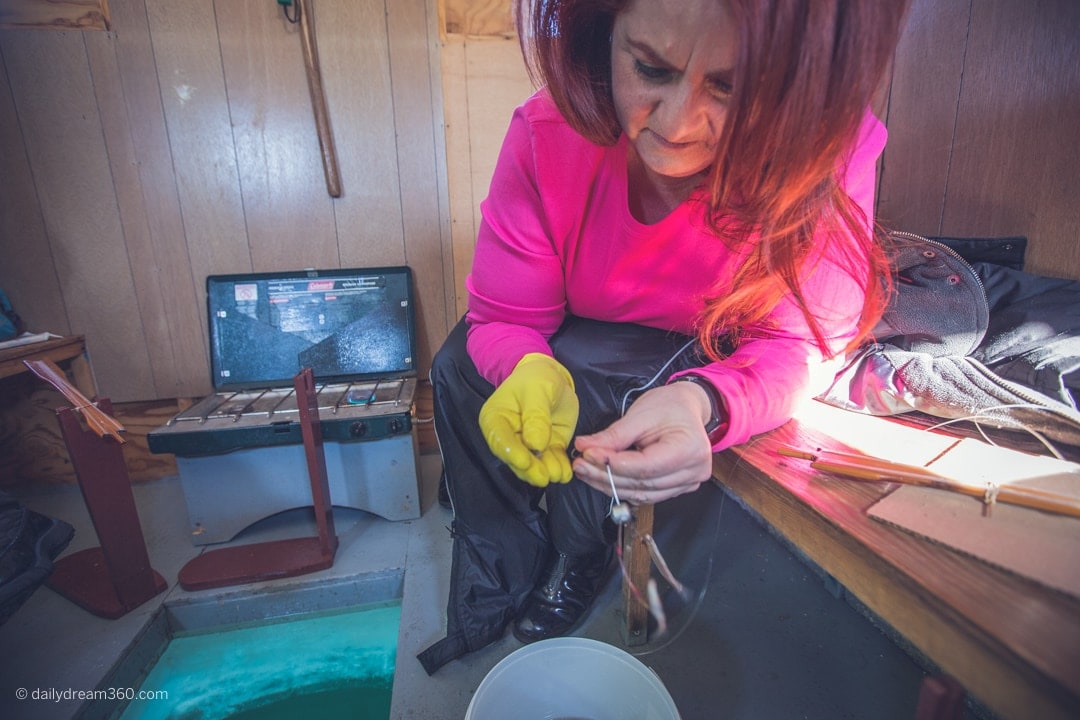 My friends tried to help my dry my socks and came up with this wrap your wet foot in a plastic bag solution which I was not entirely happy about, but my wet boot and foot were not going to put a damper on our ice fishing experience.
Since we were chatting away in our ice fishing hut the chances we would catch anything was quite slim but after a morning of trying Scott helped us have our ice fishing moment by taking us to a hut filled with expert fishermen, who let us borrow their catch!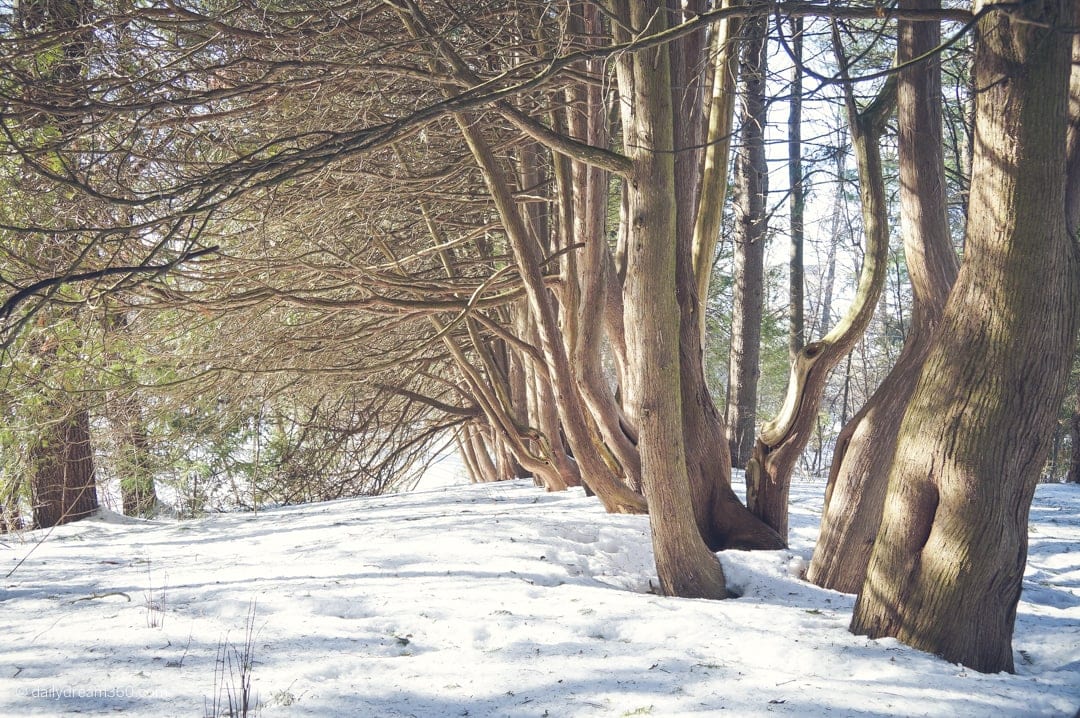 Nature and Photography Walk
After our morning on the ice, we had signed up for a guided nature and photography hike with one of the Briars staff members. This is an excellent excursion if you are an amateur photographer and want to learn about the best places to take photographs at The Briars.
At the time I didn't know it, but I was about to snap this amazing and iconic image you may have seen from the Briars Resort.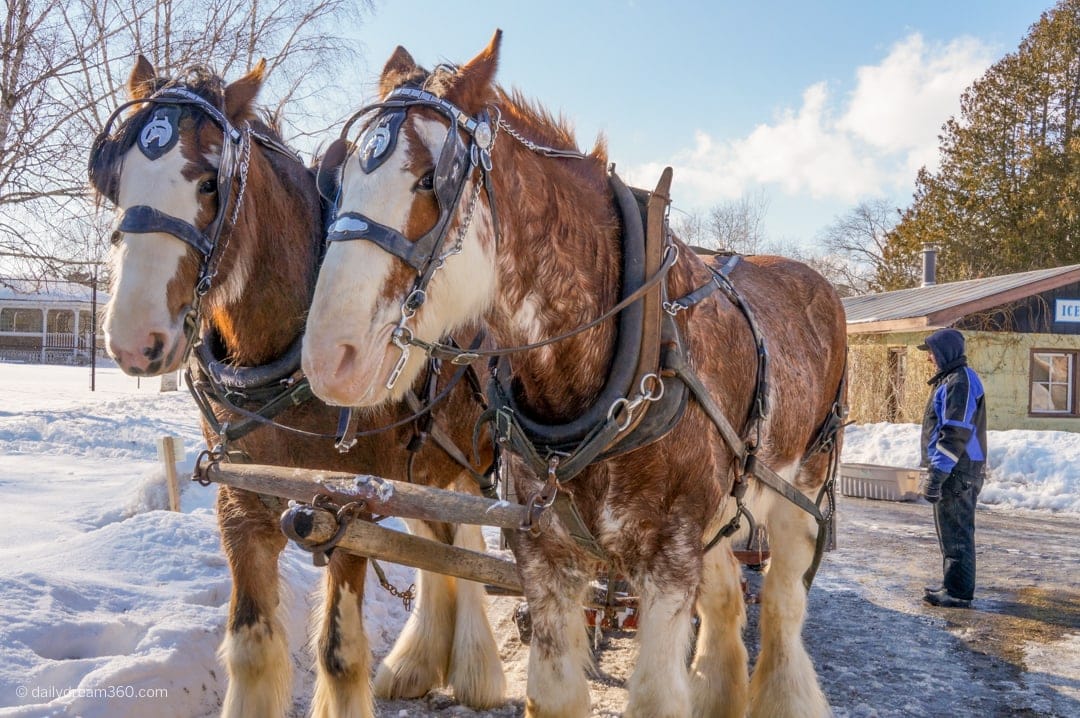 Horse Drawn Sleigh Ride
There were plenty of activities to sign up for at the front desk and we couldn't resist taking a ride on a horse-drawn sleigh around the resort trails.
The Spa at the Briars Resort
Be sure to book some time at the spa. Our girls getaway package included one treatment and after all our winter adventures it was great to sit in the spa and enjoy a manicure.
Dining at The Briars Resort – All-inclusive Resorts Ontario
One of the features I loved about the Briars is that it had all-inclusive dining packages. We had a tiny kitchen inside our cottage which included a microwave, small fridge, sink and dishes but chose to enjoy the many dining options provided to us by the Briars.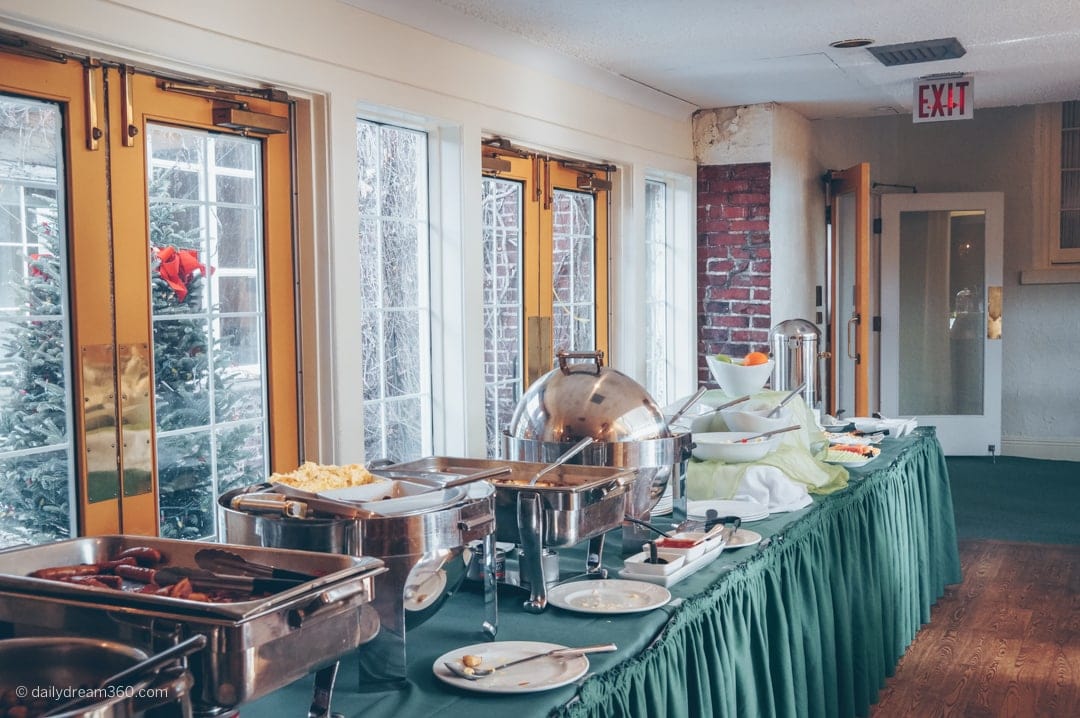 Each morning we made our way to the main building where we enjoyed a full buffet breakfast which included eggs, sausages, cereal, pastries, fruit and yogurt.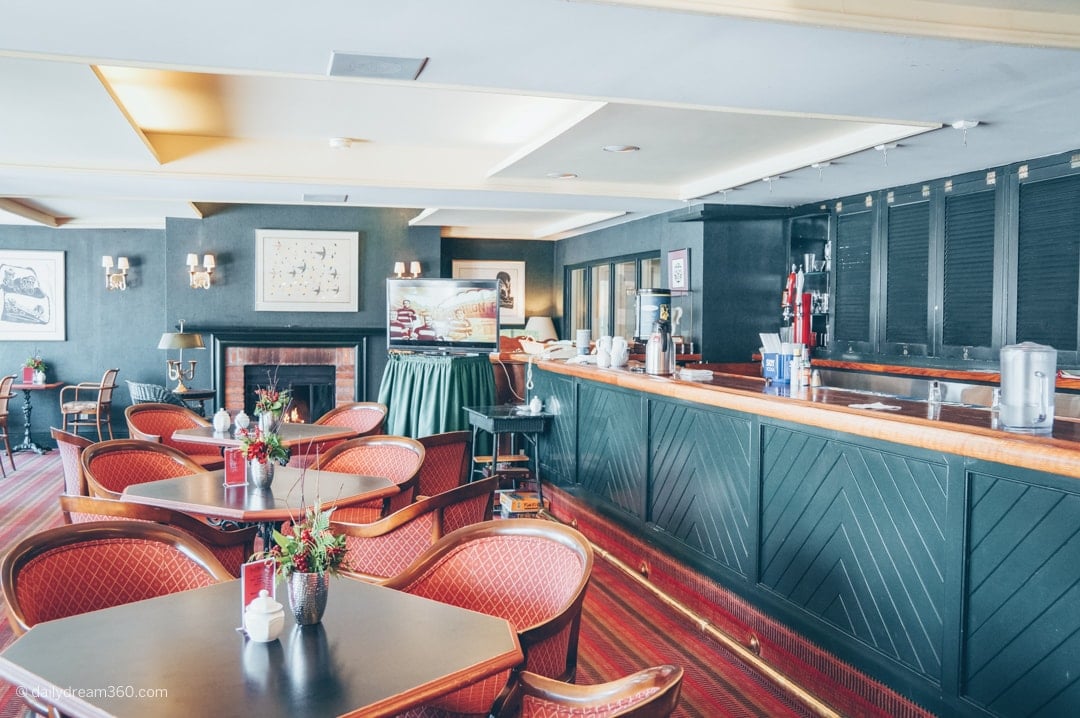 The Briars also had a lovely lounge called Drinkwater's where you can enjoy a drink or bite to eat throughout the day. The complimentary hot chocolate was also available in the bar throughout our stay.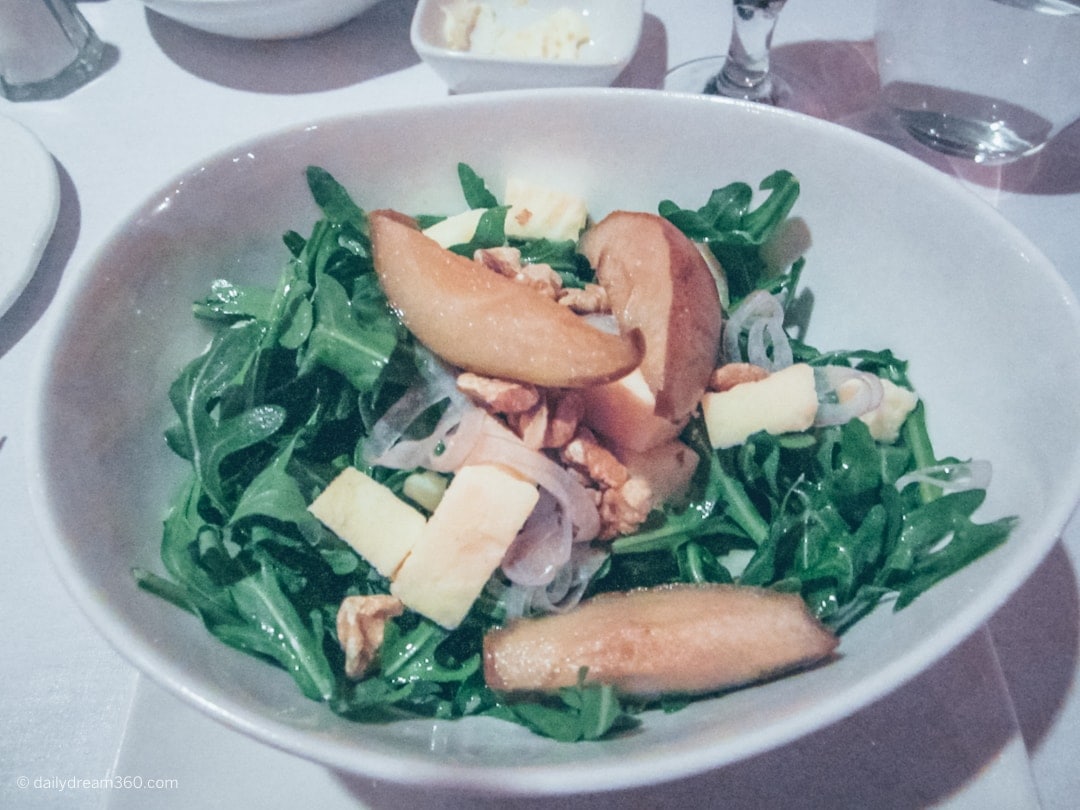 For dinner, we dined at the Main Dining room which was the dining area in Frank Sibbald's original home, with a few minor modifications and extensions. It is a bright room with antique paintings on the wall and features an impressive menu that changes with the season.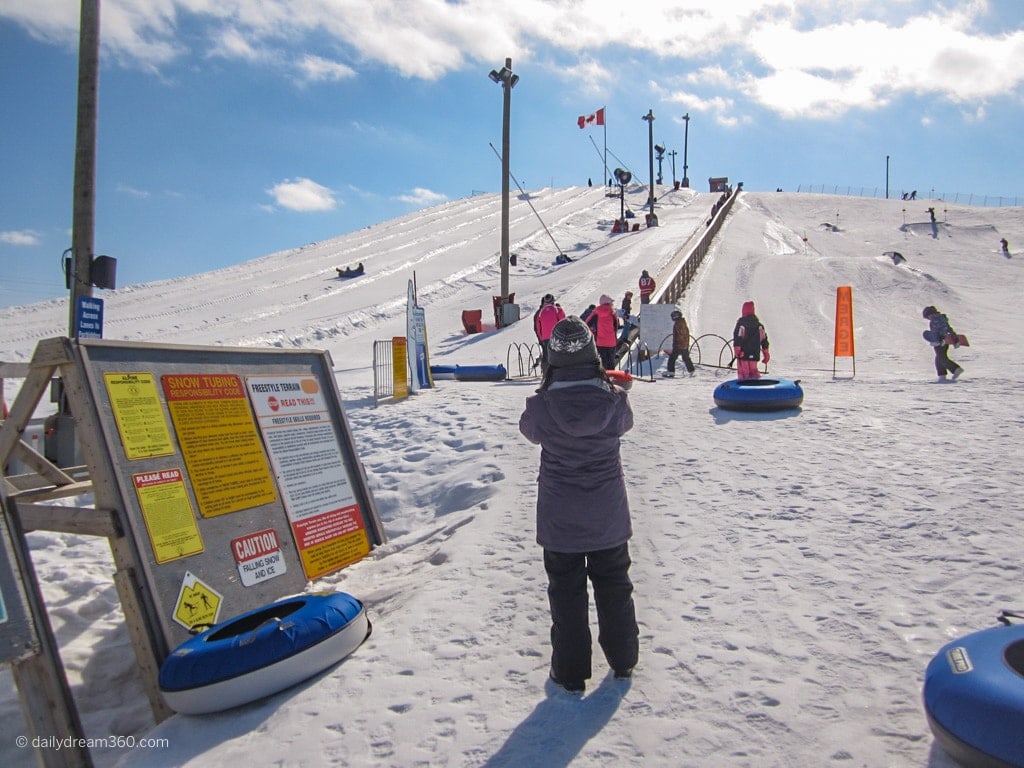 Plenty to do at the Briars Resort and Spa
Just writing this post, I am wishing that I'm back at The Briars walking those trails again. It is a beautiful resort which you could not possibly see and do everything in one weekend. The Briars will impress nature lovers, history buffs, food and wine lovers or those just looking for a cozy spot to relax on a romantic getaway in Ontario.
For families be sure to stop at the ROC for some snow tubing! See Ontario Snow Tubing Near Toronto at the ROC in Georgina for details.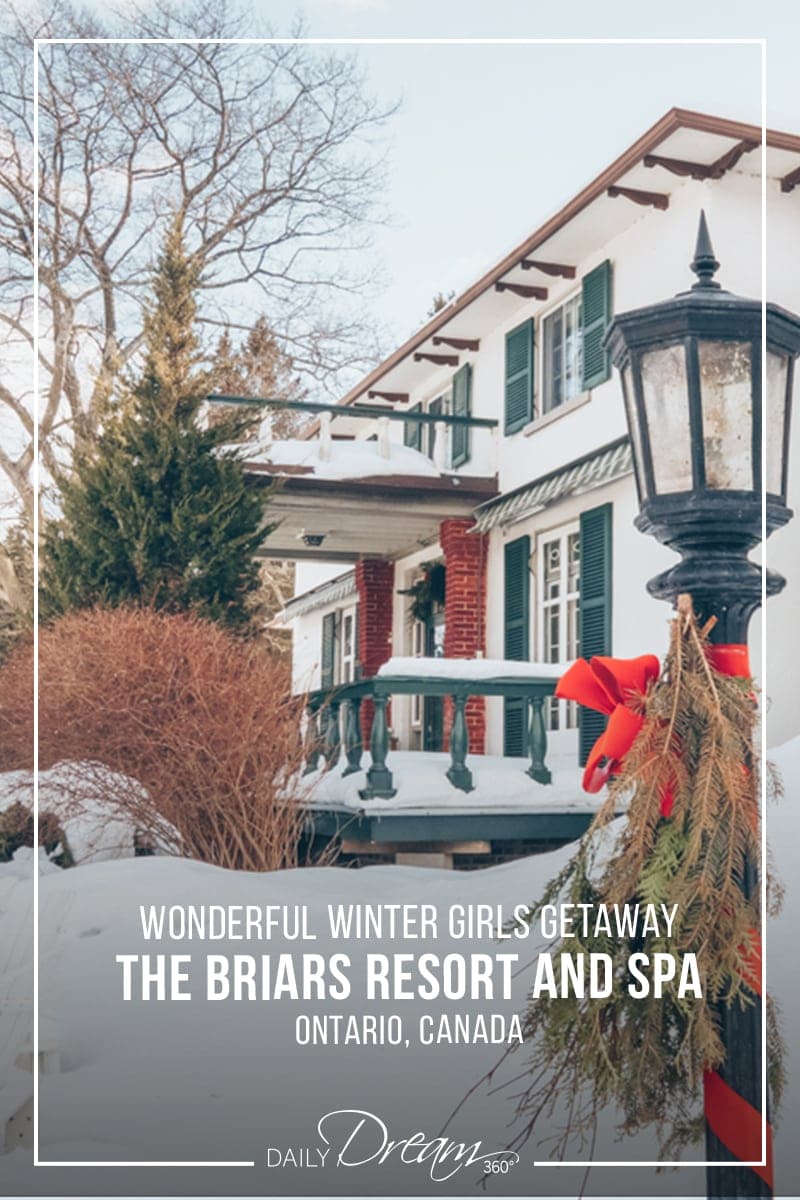 Travel assistance provided by the York Durham Headwaters Tourism and The Briars Resort on a media FAM trip.