This article may contain affiliate links. Clicking on or purchasing products we recommend through a link may earn a small commission. Read our disclosure and privacy policy page for details. *COVID-19 TRAVEL ALERT – Travel recommendations offered on this site are not to encourage you to travel against travel advisories.
I started to feel giddy well before I even arrived at the hotel. I was driving in my rental car along the highway, and it was the moment the mountains appeared that I realized I was in for something special. One minute I was leaving Montreal's Trudeau airport and the next I was driving in the mountains on my way to Estérel Resort and Spa in Quebec's Laurentian region.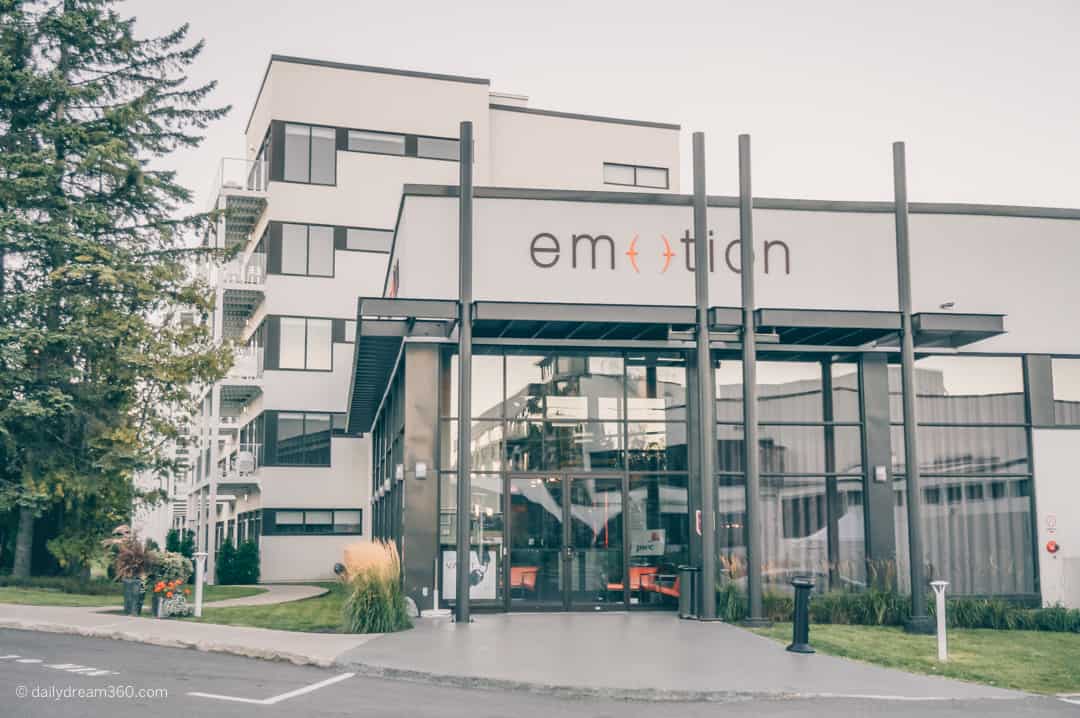 Esterel Resort and Spa Laurentians Quebec
I won a two-night stay at this resort almost a year ago, and unfortunately, my hectic travel schedule made it difficult for me to think about relaxing. When I saw the resort's website, I knew I had to make this work. Then I got the invitation to attend a Laurentians region press trip, and suddenly things all clicked into place.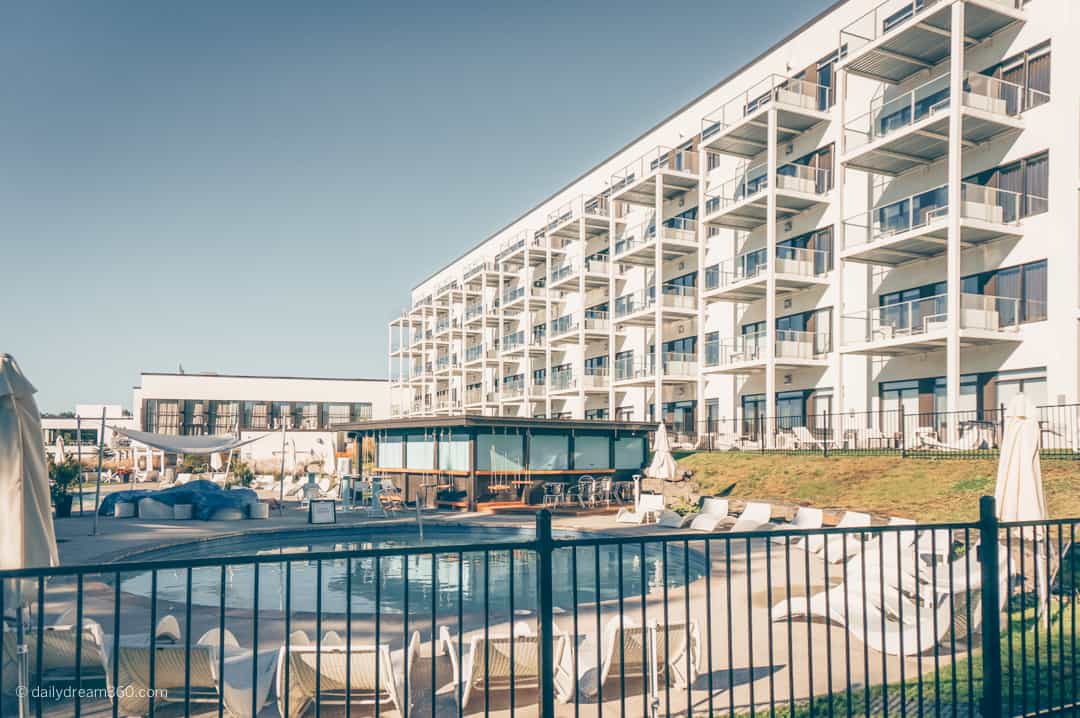 Located near the small village of St. Sauveur in the mountains of the Laurentians region of Quebec, Estérel Resort and Spa is a dream luxury spa getaway. As a solo traveller, I often book resorts like this during off-peak times or mid-week to save on booking fees. However, I claimed my prize just as the resort made its transition into fall. It was also mid-week with three large corporate groups attending meetings both days; it was like I had the whole resort to myself.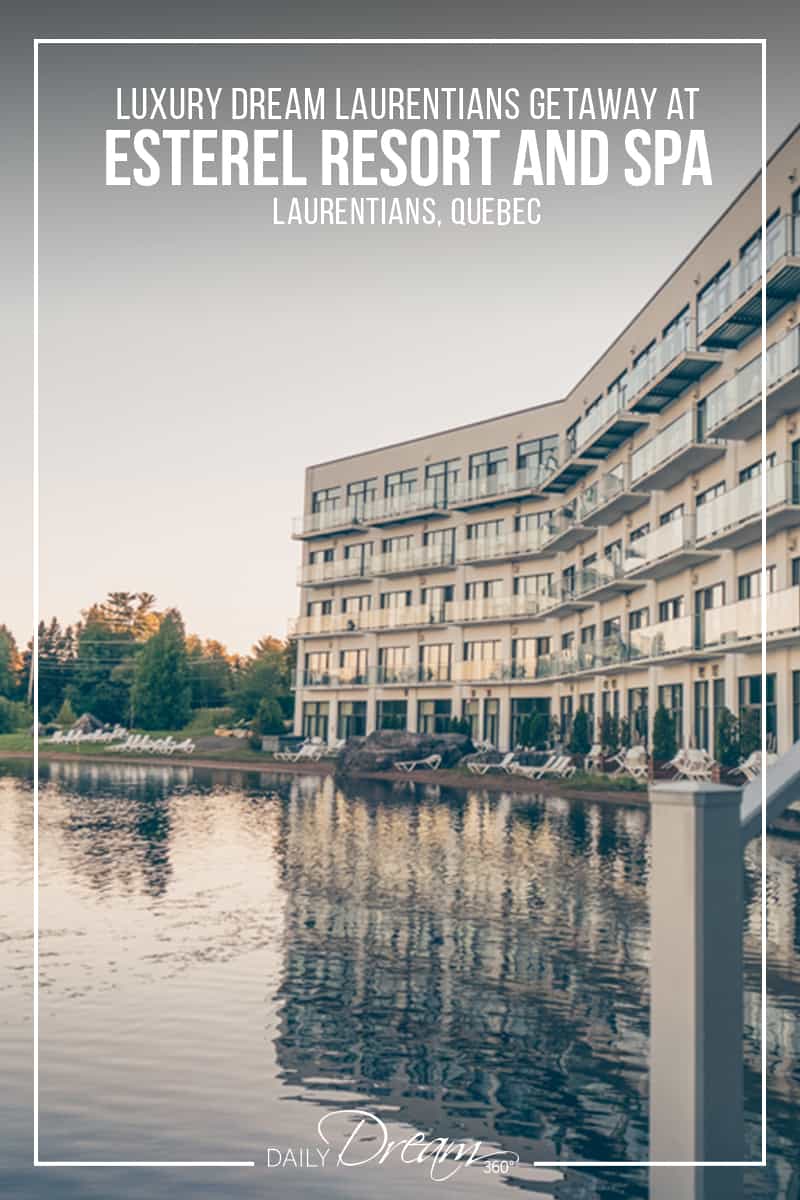 The resort is made up of two hotels which share amenities. Hotel Evolution is located to the right of the entire complex, and Hotel Emotion sits above the Scandinavian Spa. So which should you choose? The rooms at the Evolution side of the resort sit above the mountain lake, however, as seen in the photo above their patios are smaller and not covered. Should it rain, you will not be able to sit outside and enjoy the view.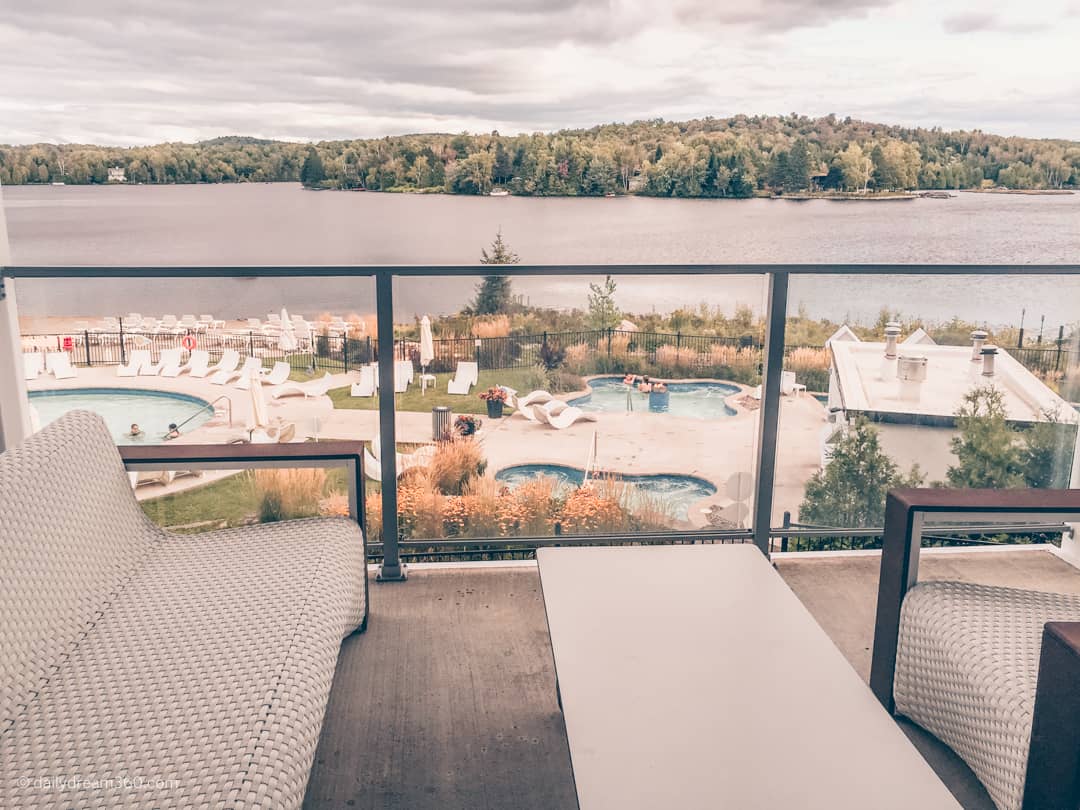 Patios on the Emotion side overlook the spa and are more substantial. There are large patio chairs and a long table so you can sit and enjoy the view. Be sure to choose a room on floors 2-4 as they are covered and offer the most privacy.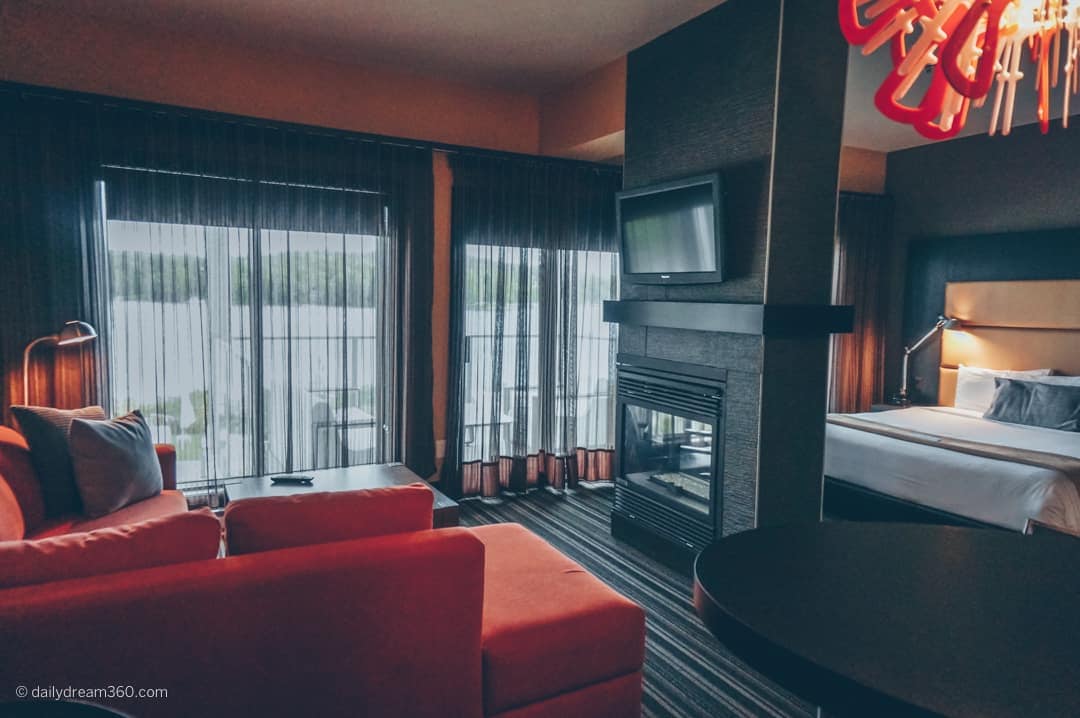 Estérel Resort Emotion Lake View Suite
The photo above was my view upon entering my suite, and the giddiness level bubbled over. A full-featured suite with a complete kitchen, desk to work at, living space, bedroom and large bathroom with a separate soaker tub and shower.
Fully Stocked Kitchen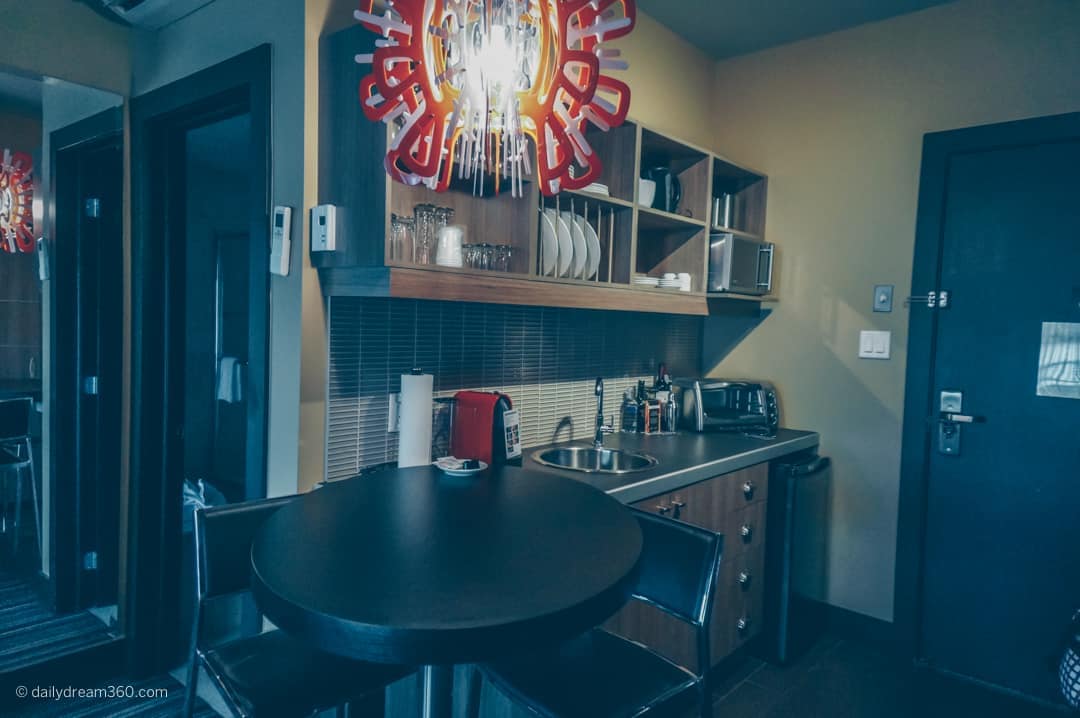 Everything you could need during your stay was in this kitchen. All the dishes, cutlery and even a Nespresso coffee machine. There was a toaster oven and microwave for cooking. The kitchen was ideal for light meals during the day when taking a break from the spa. I suggest a stop in the Village of St. Sauveur on your way to the resort. They have a little Bonnie Choix market (located next to the Church) where you can stock up on water and whatever else you might need.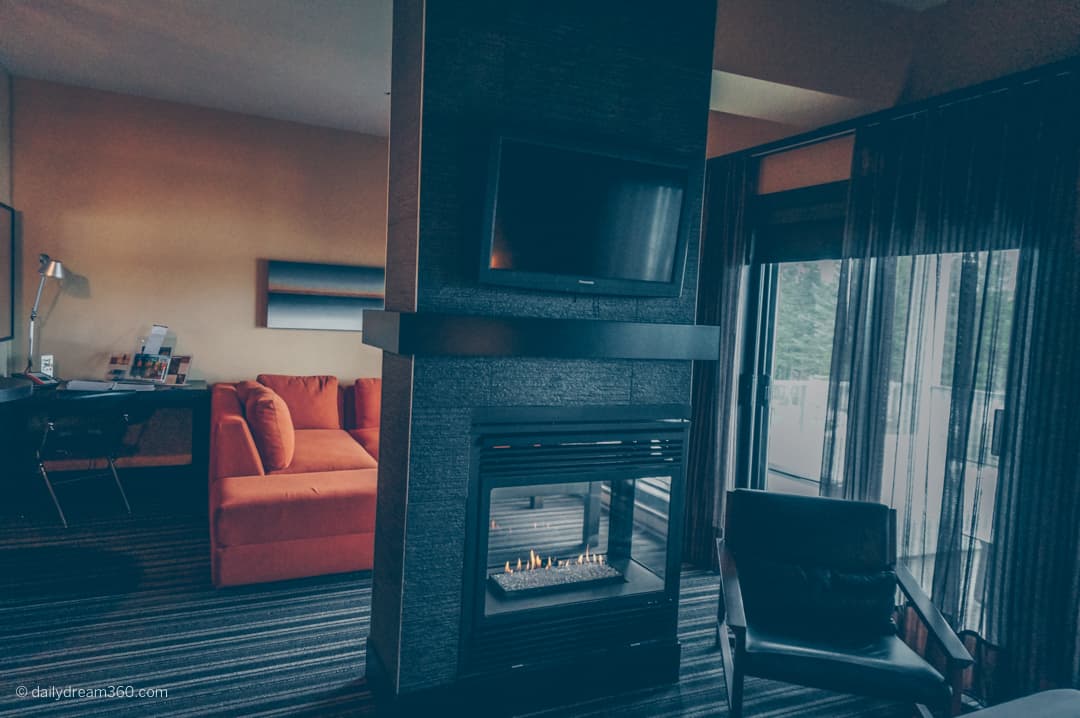 Lakeview Suite Comforts
There was a desk located next to a comfy sectional couch and a coffee table located on the living room side of the suite which was split in the middle by a see-through fireplace.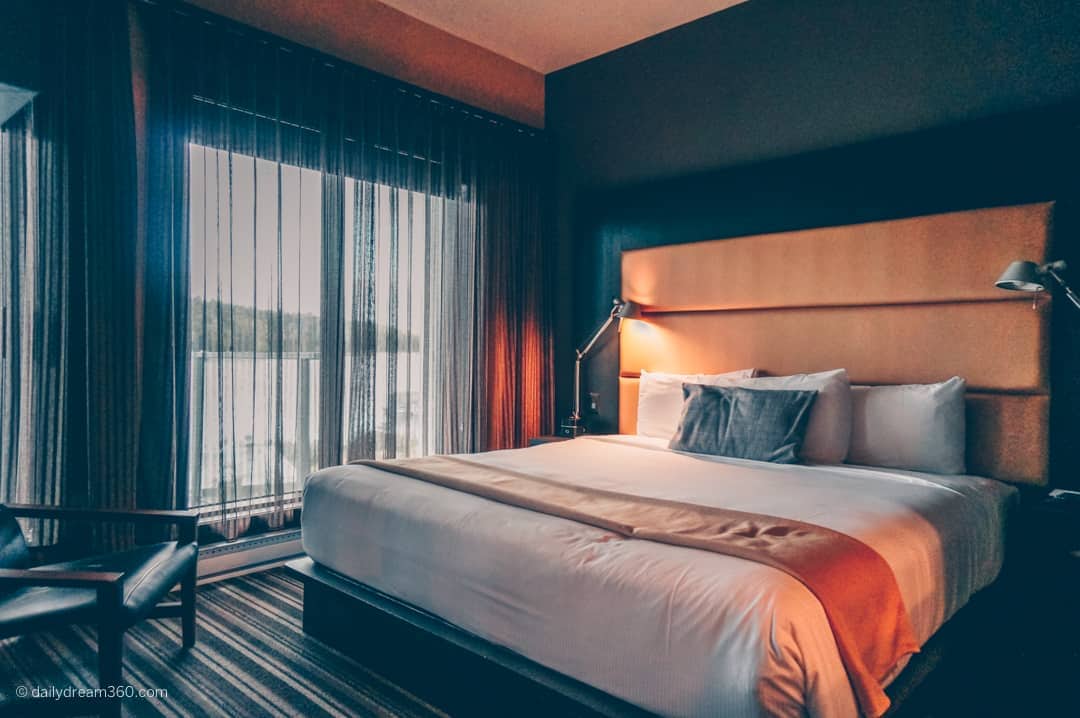 All this was facing the mountain lake which you could see from all the large windows lining the entire space.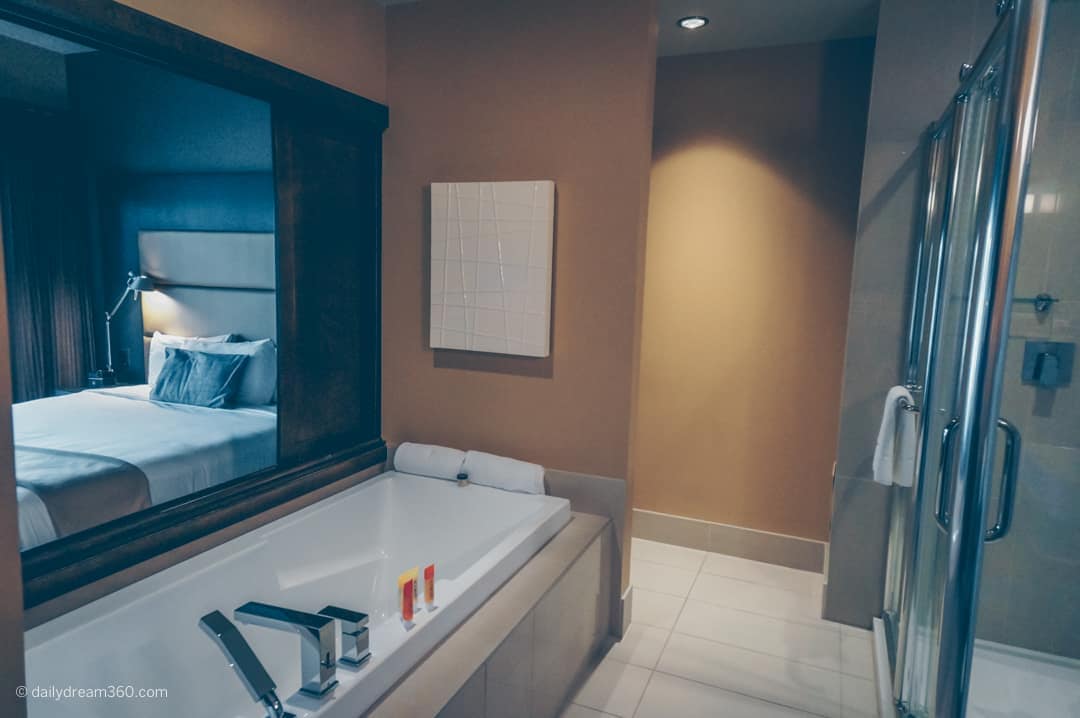 Luxury Bathroom
Even the bathroom had a large window (which closed for privacy) so that you can enjoy the view while you soak in the tub. There were lots of fluffy towels and his and her robes available.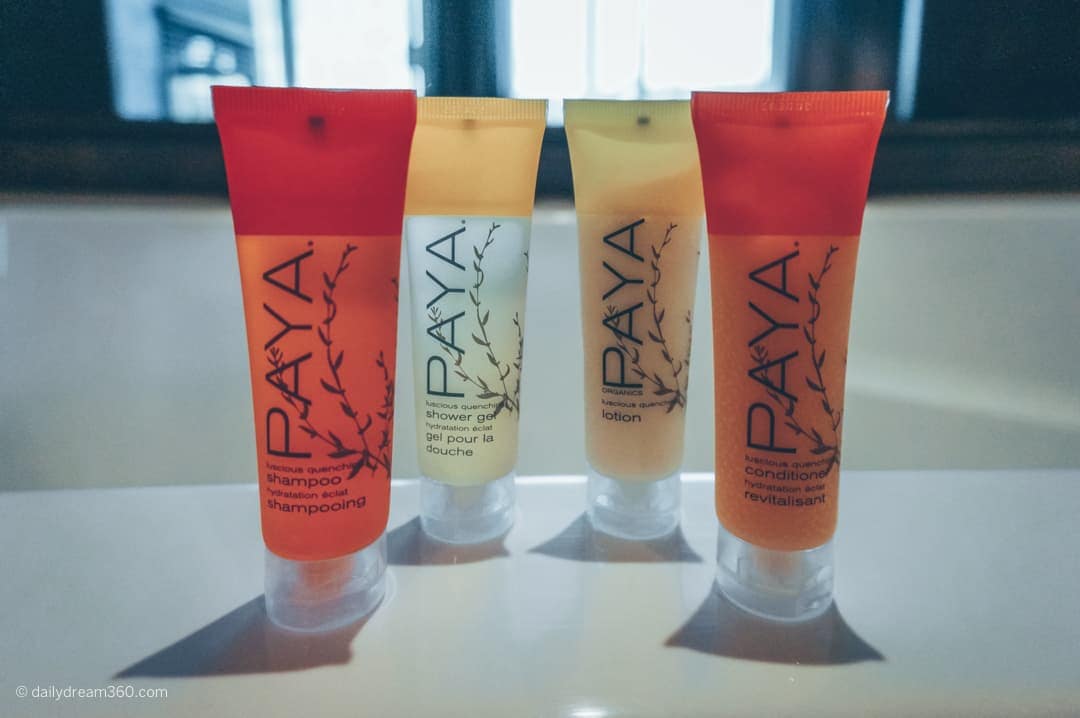 I have never heard of this brand, but Paya was the toiletries available in the room. Standard shower gel, shampoo, conditioner, a bar of soap and body lotion. The bathroom also had a hair dryer for those who needed it.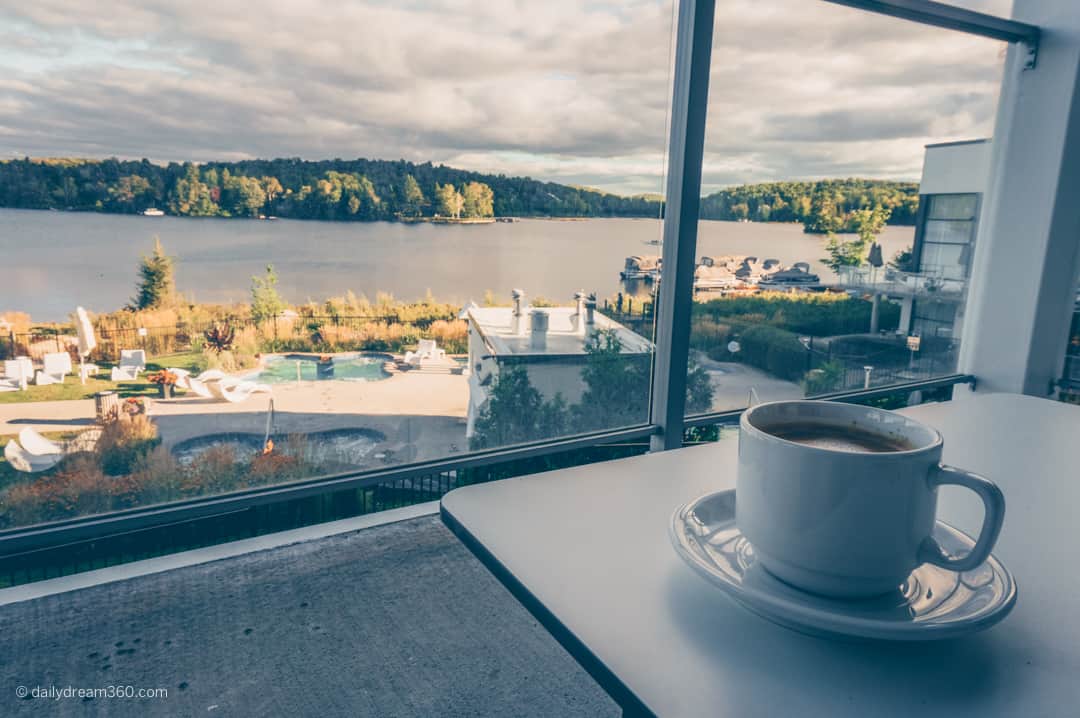 Lakeview Covered Patio
Fortunately, I was on the second floor of the building, and that meant I had a covered patio. There were a few occasions during my stay where it did rain a little bit; it was still warm enough that I could enjoy a cup of Nespresso outside.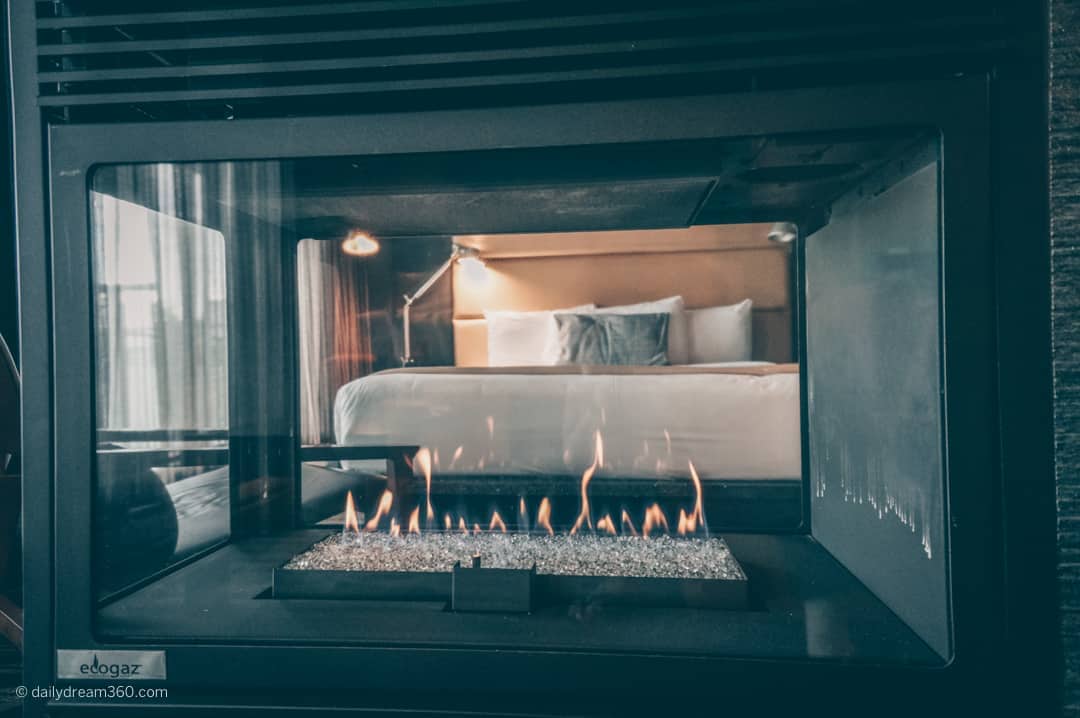 The Esterel Resort Scandinavian Spa
One of the highlights for me at Esterel Resort and Spa is the beautiful Scandinavian Spa available to guests. Inside the building, you will find the steam room, and sauna (located near the gym) and outside are a series of hot tubs and circular rotating pools.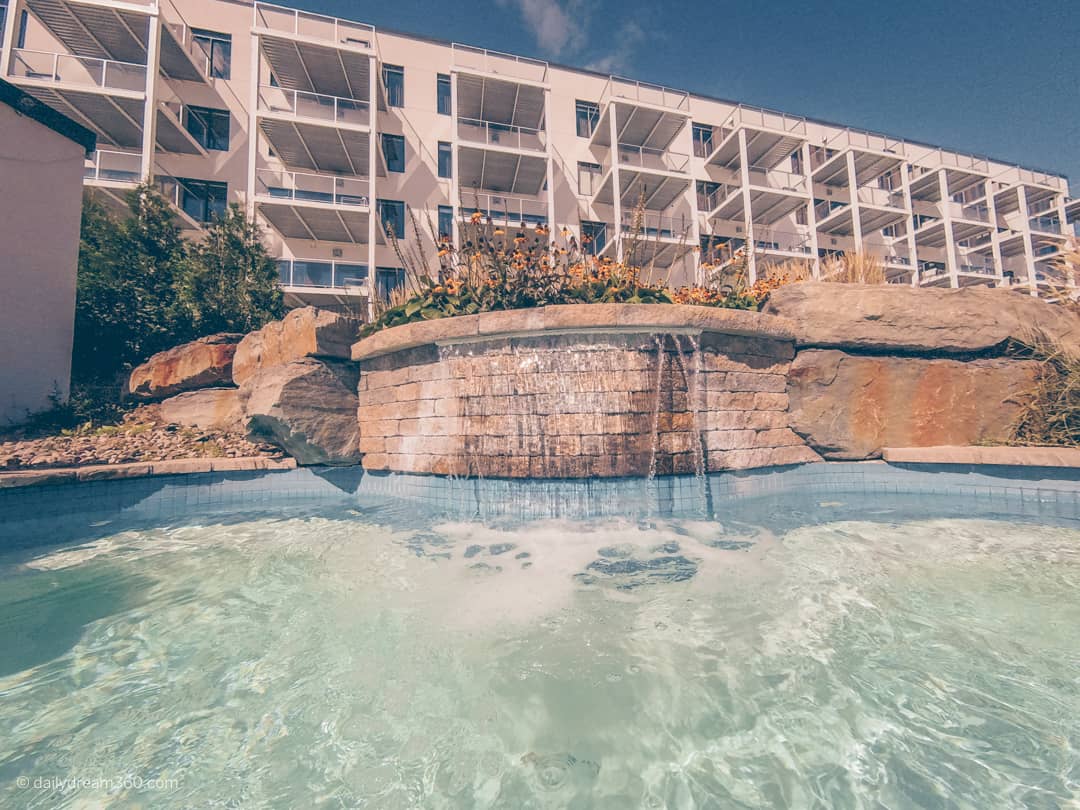 Two of the hot tubs had hot running waterfalls; there was also a cold waterfall available. The large circulating pools had a current that ran either clockwise or counterclockwise. So when you lay down to float in the water, you would float along the current in a slow circular motion.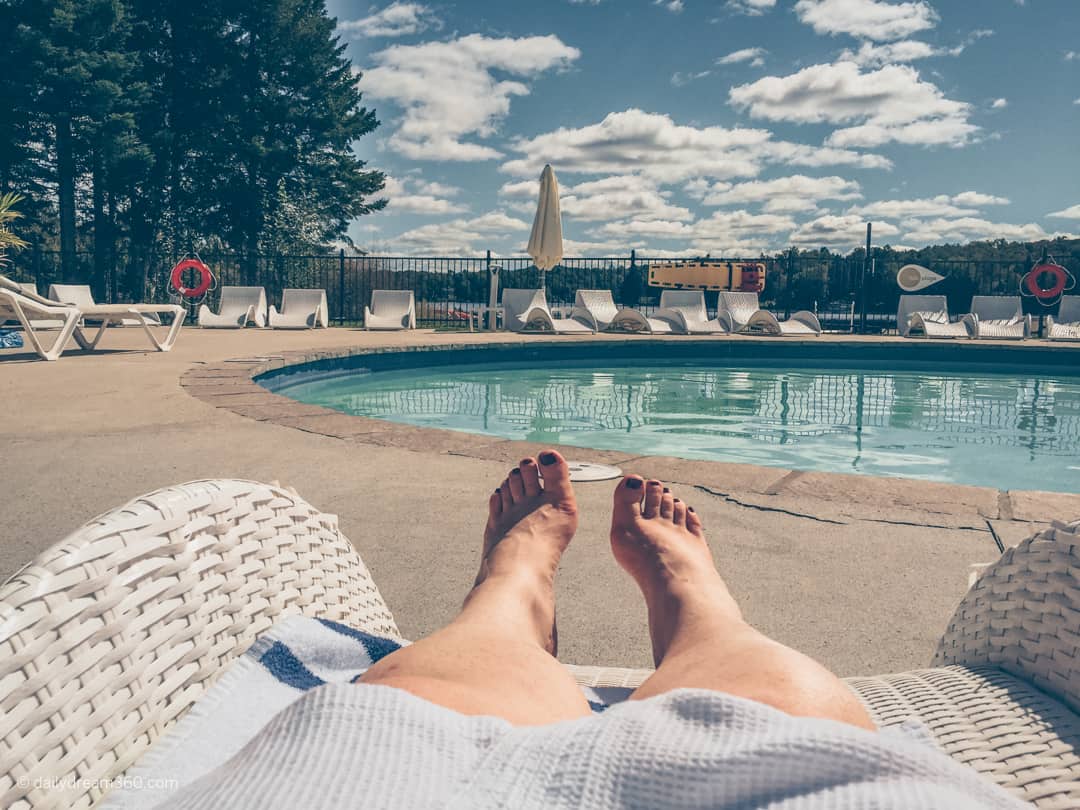 Even on a chilly fall day, it was nice to sit out and relax. Since so many of the guests were in corporate meetings, I got to relax and enjoy the spa on my own.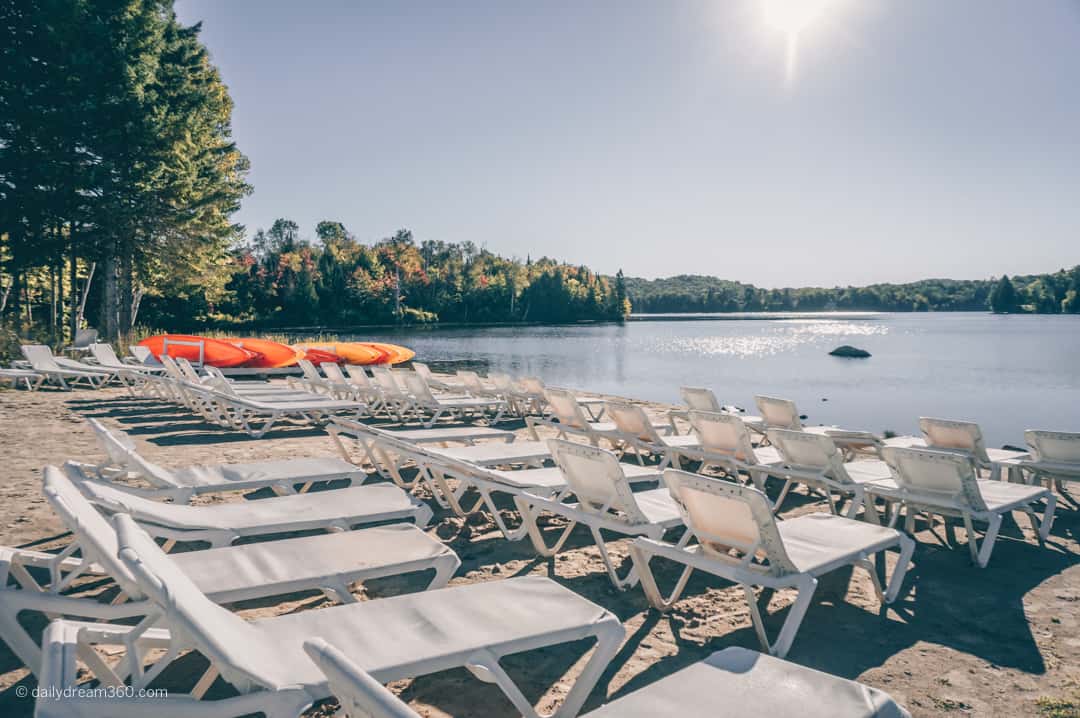 Had it been warmer I might have taken a dip in the lake. This beach was located just in front of the Scandinavian spa and water sports rentals were available for the paddle board and kayak lovers.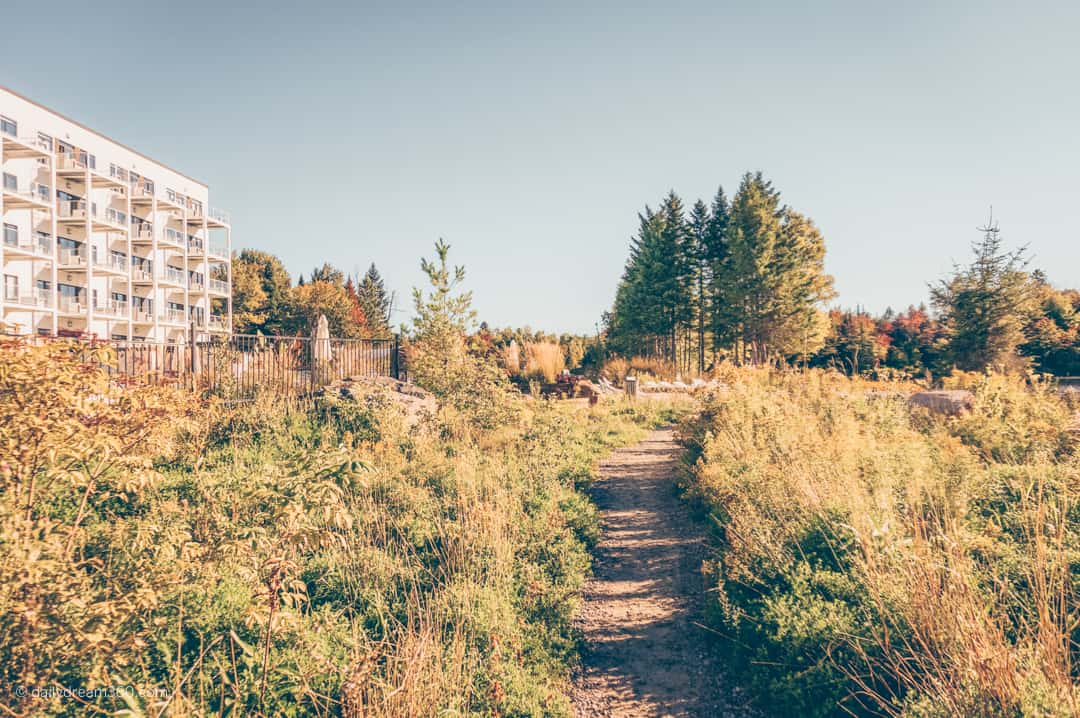 The spa was open during the day and until 11 PM for those who want to enjoy it at night. The pools and hot tubs were all lit up and when temperatures dropped small fires burned inside the hot tubs for added warmth.
Of course, when travelling, I'm always the one that hits the gym. I have to say if my gym at home looked like this gym I would work out a lot more! With a beautiful view of the lake, there were some cardio machines and handheld weights available.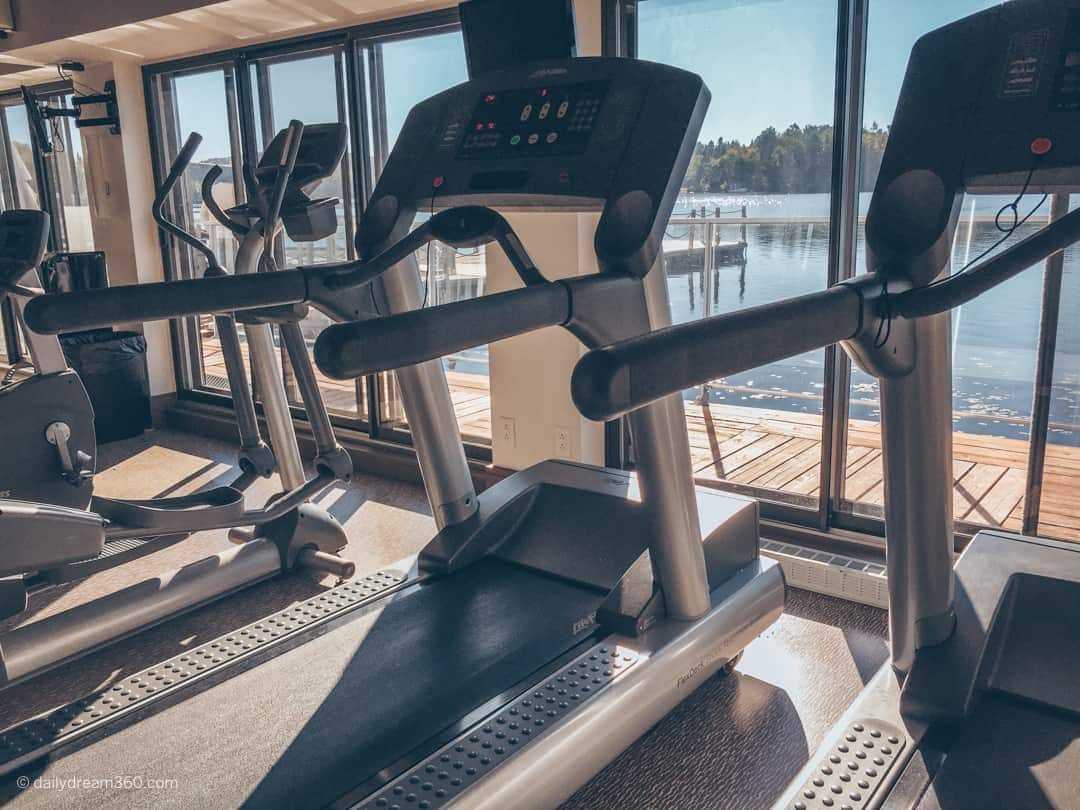 Read more: Mont-Tremblant for Non-Skiers – Fall Edition

Esterel Resort Restaurants and Dining
Esterel Resort and Spa has many packages available which include dining options. My trip included two dinners and one breakfast. Note when they say breakfast is included they do not mean each day as some hotels specify. There was only one breakfast included in my two-day stay, so make sure you clarify the details.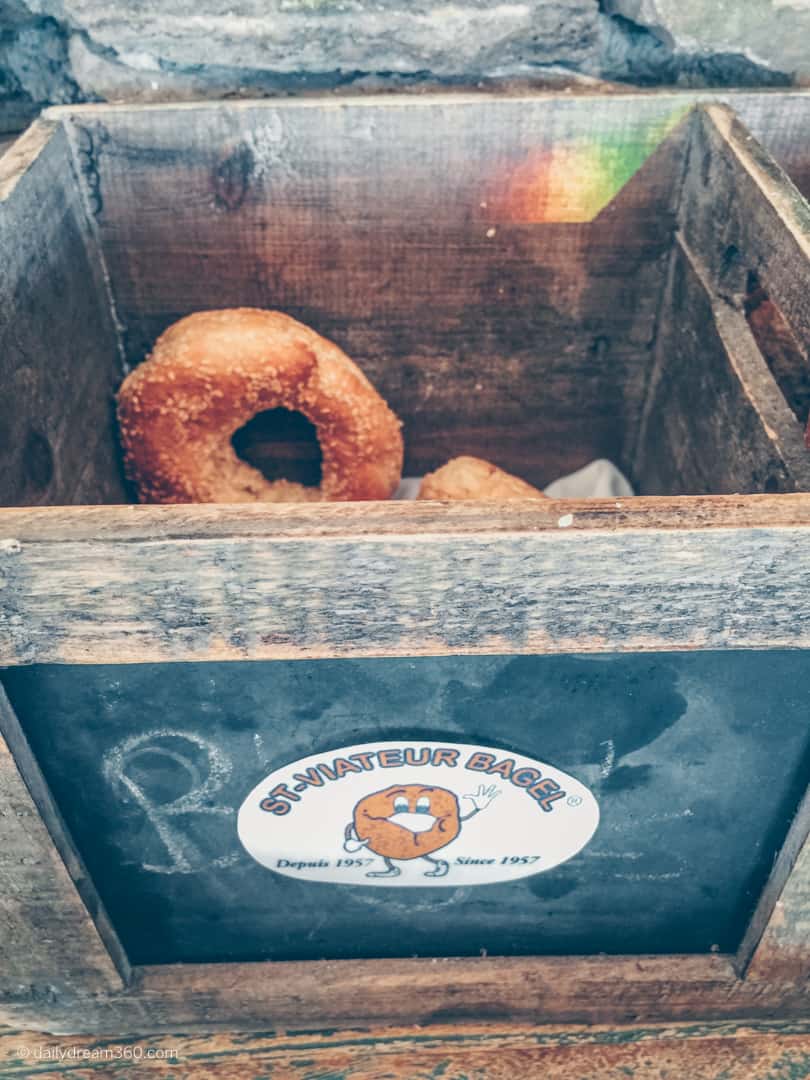 Buffet Breakfast at Bistro à Champlain
That said breakfast at the resort was an excellent buffet. I'm sorry I was the English speaking Ontarian girl in the restaurant freaking out about St. Viateur Bagels in the buffet. Located in the Bistro à Champlain, this breakfast included cold items, cheese, preserves, fresh bread, fruit, hot items and an omelette bar.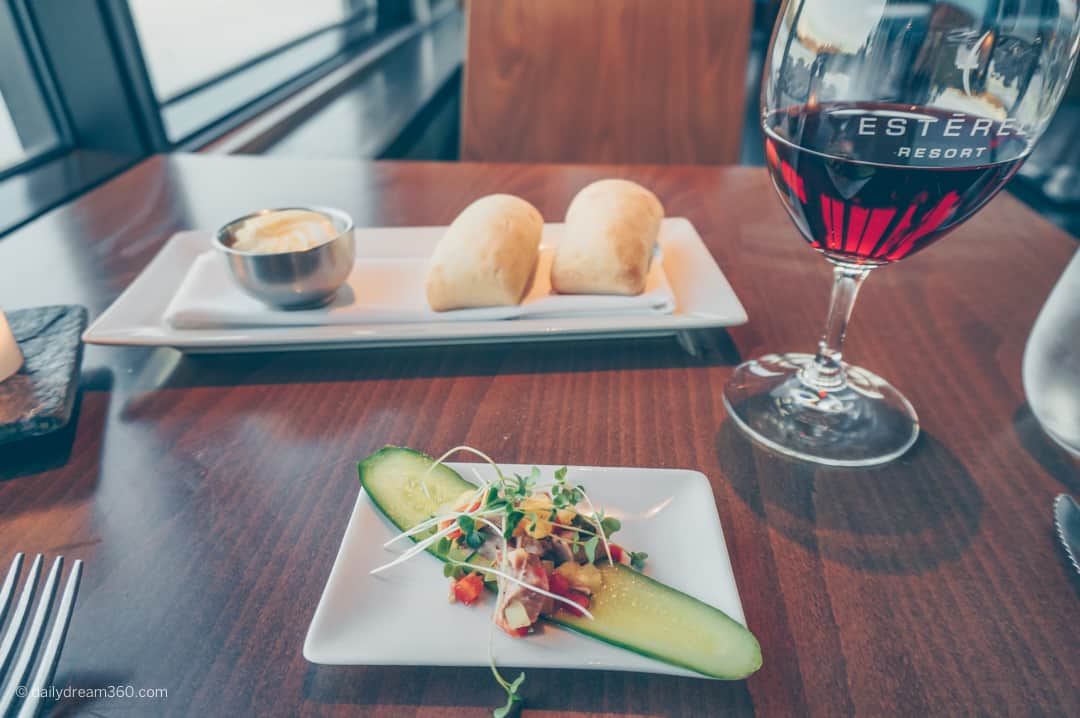 Dinner at ROK Restaurant – Night One
Ok warning insane food shots. There were so many corporate groups at the hotel; I had the pleasure of dining at the ROK on both nights of my stay! Travelling alone I often feel awkward sitting in a fancy restaurant by myself, however, with a beautiful view of the lake and the excellent staff at the restaurant I was in heaven the entire time.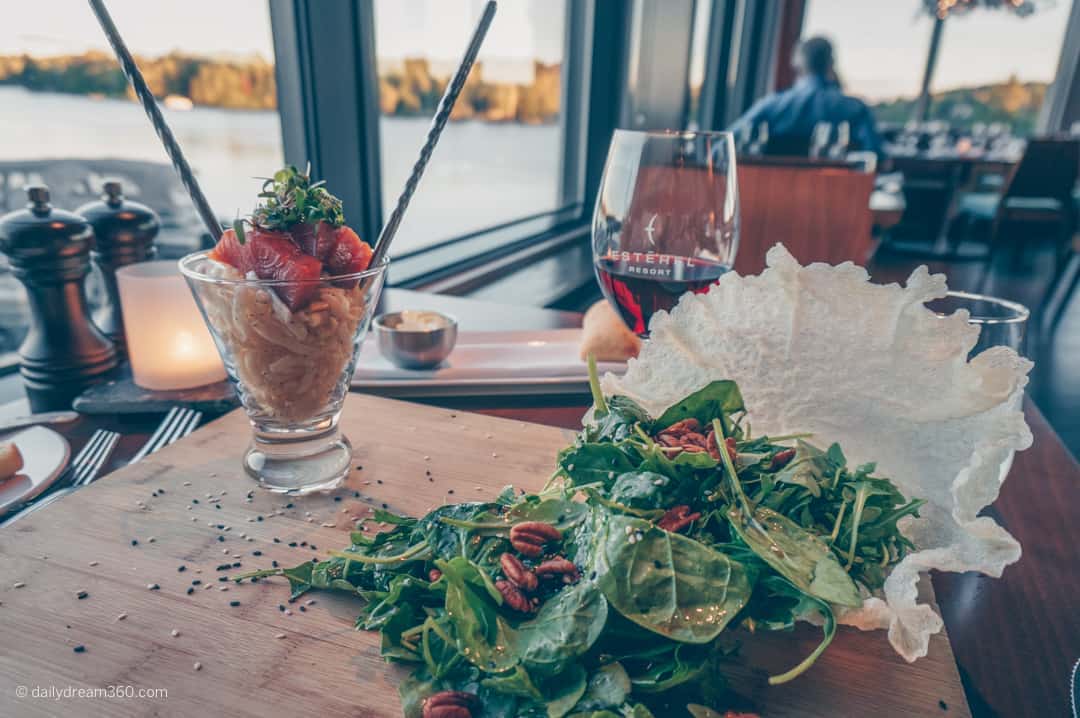 The ROK restaurants premise is a four-course Prix-fix meal. Dinner on night one started with the ROK chef's "little bite." Then I had a selection of appetizers to choose from, and I went with this Salmon and Pecan Salad.
I had no idea that my dinner would be served raw on this stone platter which super hot. The steak was served cooking on the "rock" with a baked potato and some vegetables. The secret to eating off the stone is to remove your protein from the rock and cook it slice by slice. That way you can make room for the veggies which can also be grilled on the hot stone block.
Dinner at the ROK – Night Two
On night two Chef had a new "little bite" to try to start the evening off. I also want to explain the menu a bit, as my waiter on night two explained my meal plan to me and it finally made more sense. There is a bit of a communication barrier as most of the staff is French Speaking, but they are all marvellous and do speak English, but some were more comfortable with it than others. The menu has selections for Appetizers, Mains and Desserts. Some of the items on the list display an additional charge to what's included in the Prix-fixe meal plan.
Although my salmon appetizer from night one was spectacular, I decided to switch things up on the second night and chose the crab cake.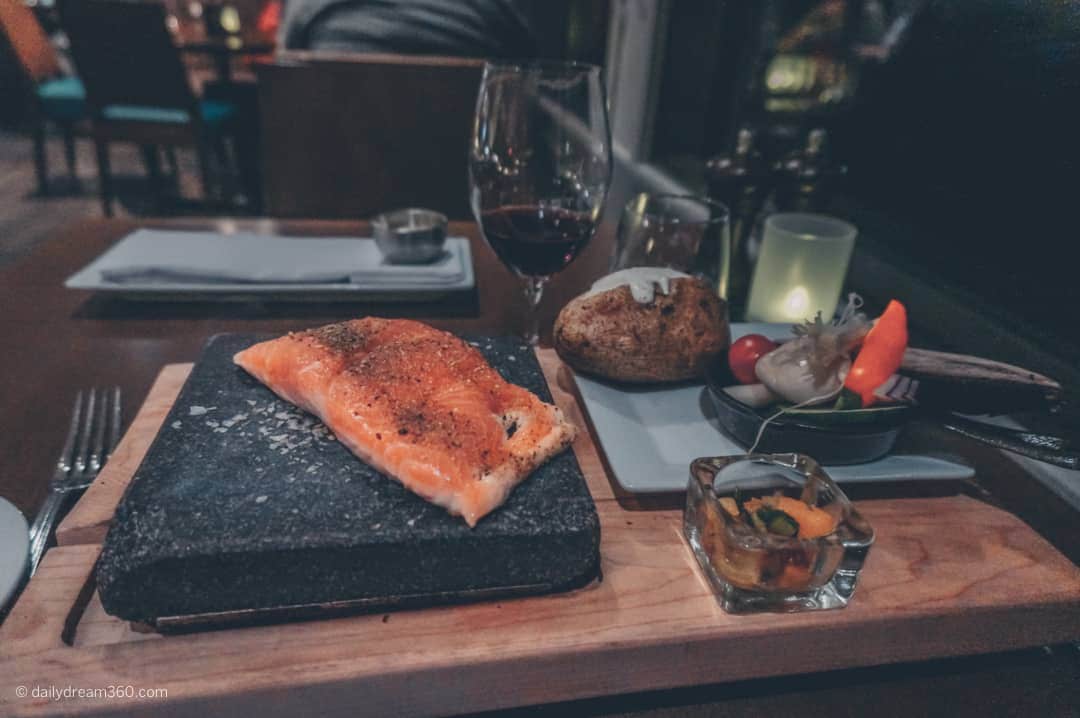 Since I had steak on night one and because my curiosity got the best of me, I decided to order the Salmon on night two. Again presented raw on the hot stone. The stone if you are wondering can stay warm for an hour, so you have plenty of time to enjoy your dinner as you cook it piece by piece.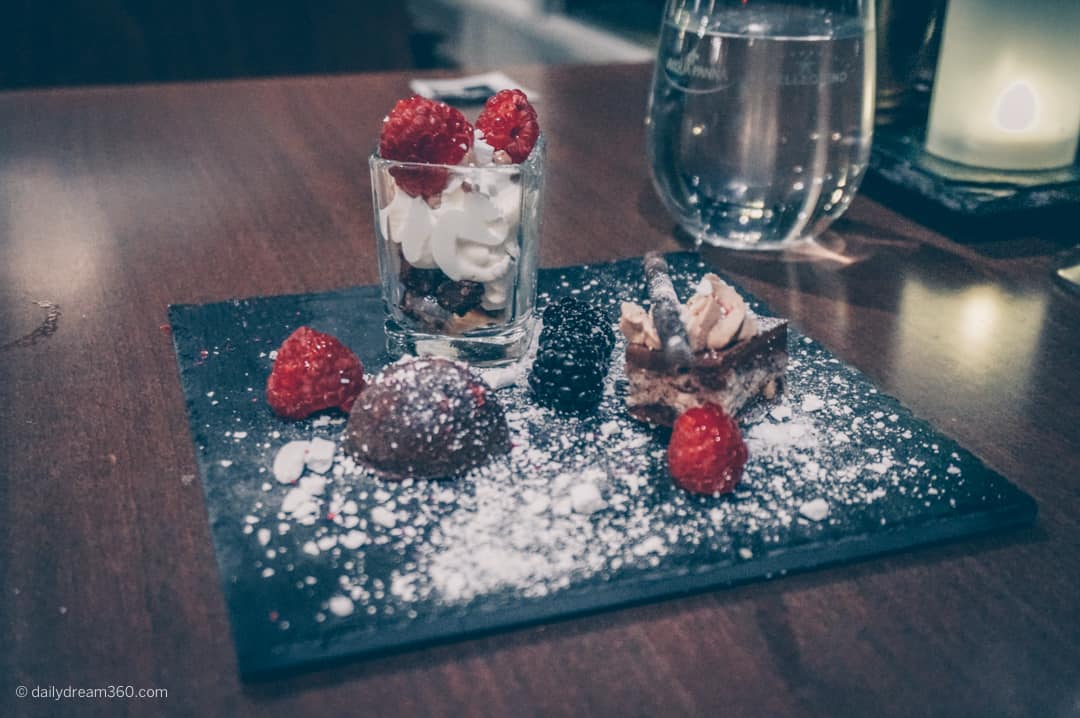 On night two I also decided not to skip dessert. This cold rock platter included chocolate done three ways and was delicious.
Read more: Tips for Planning a Dream Canadian Winter Getaway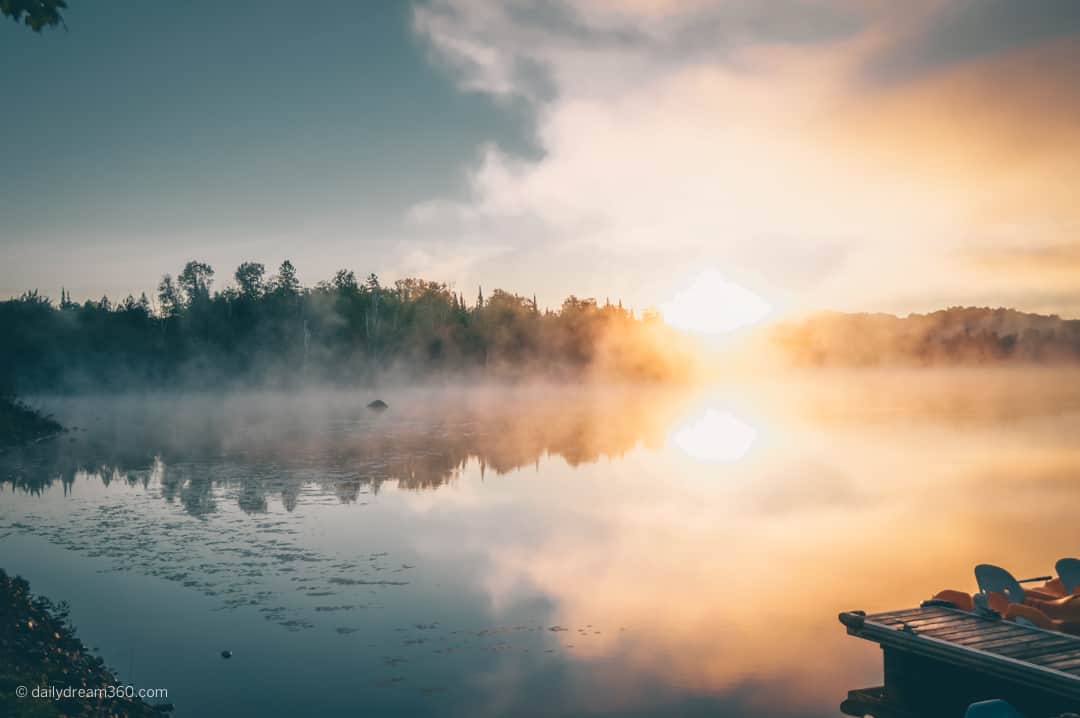 Esterel Resort and Spa from Sunrise to Sunset
I was going crazy taking pictures at the resort. I woke up super early in the morning to catch the sunrise over the mountains and lake.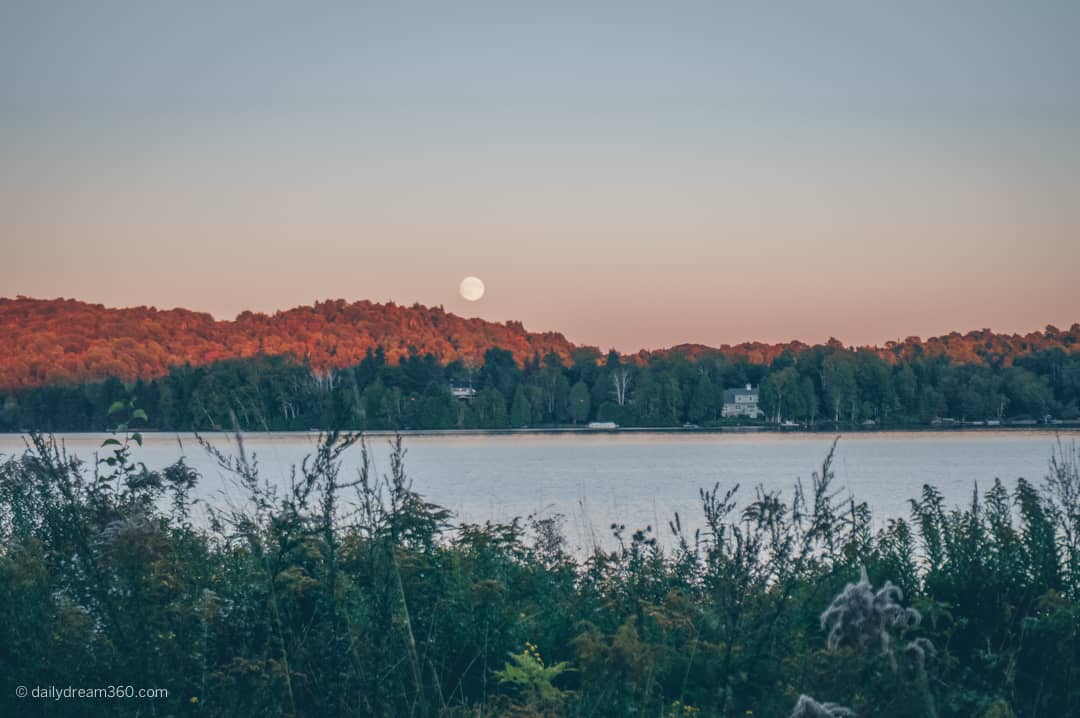 Then as I was eating dinner, I had this spectacular view of the moon rising as the sunset. The colours in the sky, the fresh air and cooling temperatures just made the entire day a whole dream. This resort offers luxury accommodations, a relaxing and invigorating Scandinavian Spa and impressive dining options. All this tucked away on a mountain lake amongst beautiful nature.
What more can I say? A Dream. You can read more reviews on the Esterel Resort at TripAdvisor.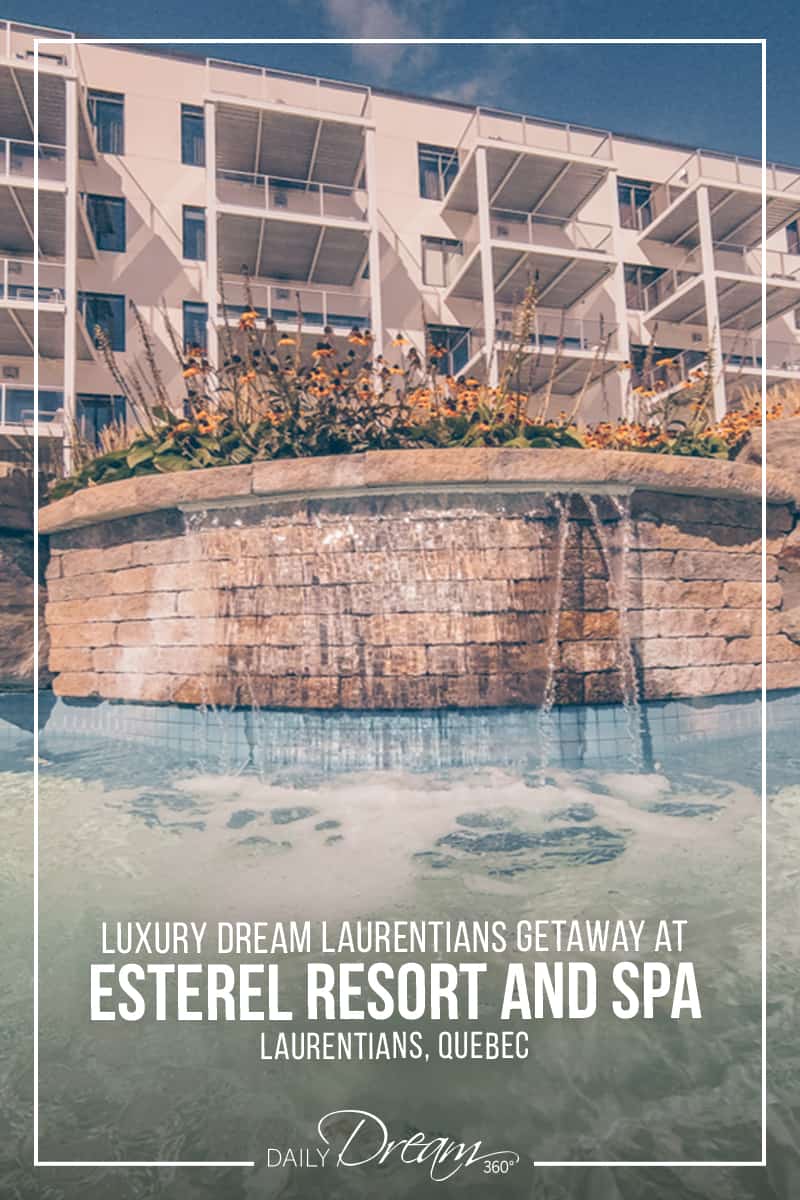 I won a two-night stay at Esterel Resort and Spa. Quebec Tourism and Tourism Laurentians provided some travel assistance, however, as always the opinions expressed in this post are my own.