This article may contain affiliate links. Clicking on or purchasing products we recommend through a link may earn a small commission. Read our disclosure and privacy policy page for details. *COVID-19 TRAVEL ALERT – Travel recommendations offered on this site are not to encourage you to travel against travel advisories.
Airport luggage trends in 2018 and 2019 have many manufacturers designing their bags and luggage in Urban styles for travel use. No doubt, you've seen the sleek brushed grey fabric bags on social media channels. In my search for these modern urban styles, I found myself on eBags.com comparing a lot of models. I realized that eBags has its brand of luggage and handbags and I decided to test them out.
About eBags Online Store
Based in Denver Colorado, eBags is one of the top online retailers for travel bags and accessories. Their passion for smarter travel inspired the design of their eBags collection of brands. While shopping for the brands you know and love – keep an eye out for the eBags version, they may surprise you with their little upgrades and design ideas.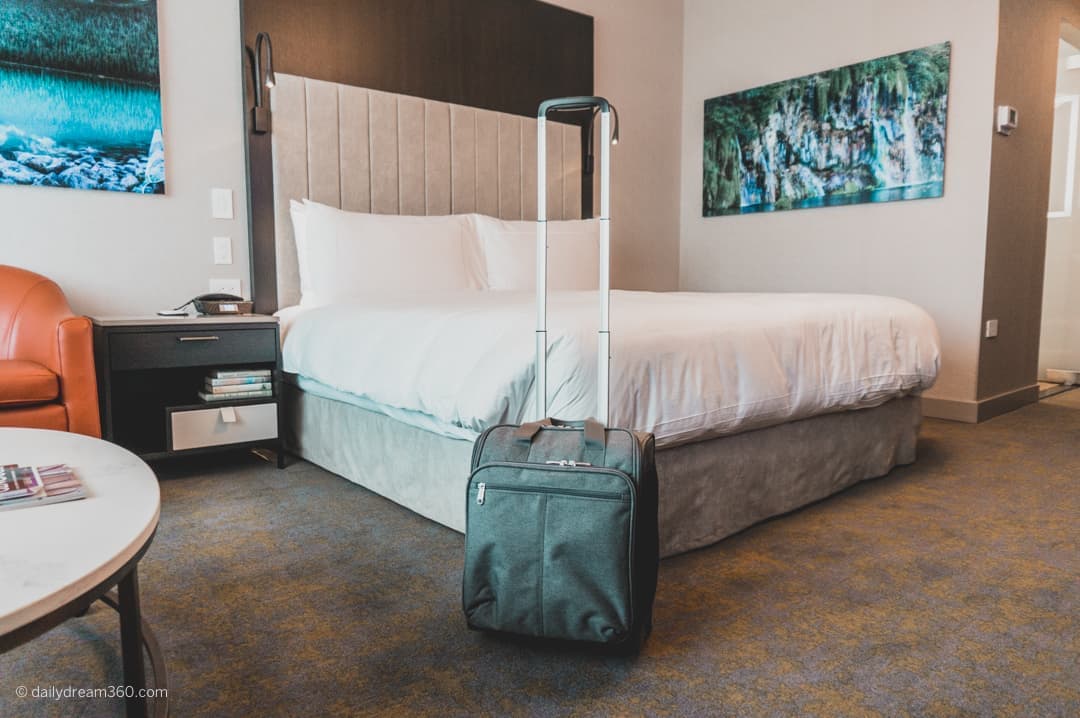 eBags Kalya Underseat Carry-on 2.0 with USB Port
I am obsessed with these underseat carry-on bags. They are little smaller than a standard carry-on, but for shorter trips on small planes with tiny luggage compartments, they make life so much easier. Most airlines will make you skycheck your roller bags, but these bags don't always have to be sky-checked.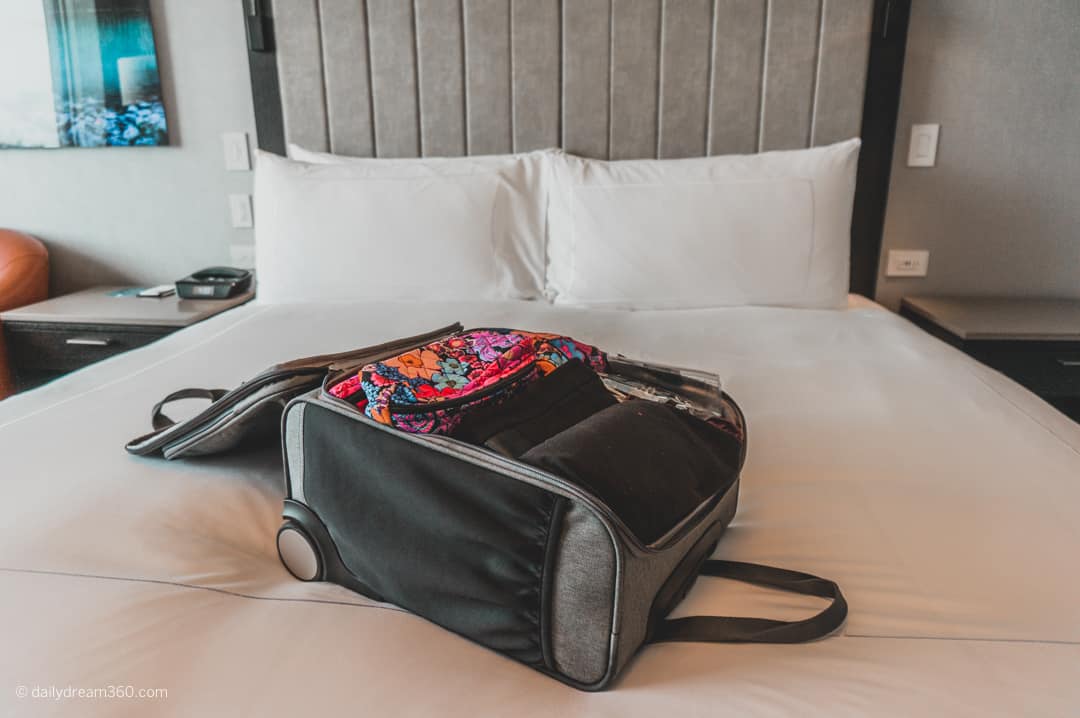 Also, there are times when I need to check a carry-on sized bag so I can bring just a little bit more stuff but don't want to lug a larger piece of luggage. When going to and from the airport, it sits comfortably above my standard carry-on bag for easy transport.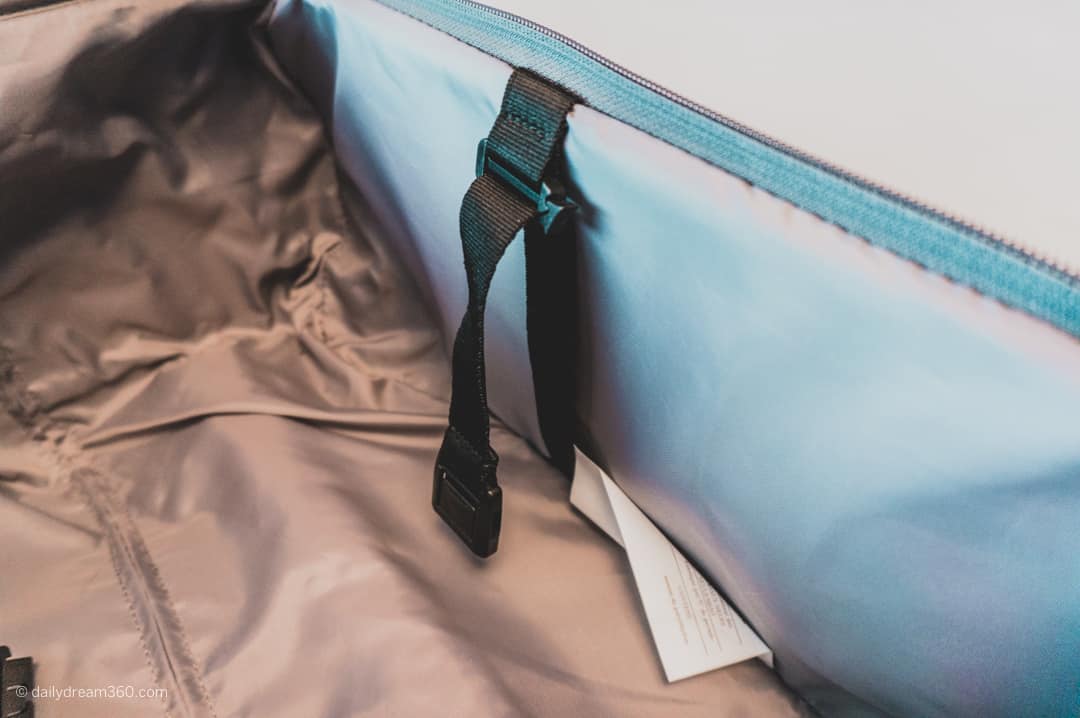 What I love about the Kalya Underseat Carry-On
Inside straps connect to the side the compartment – easier to use
Square shape provides lots of room for packing cubes and gear
The shape of the luggage allows for a tote to sit comfortably on top
Large inside laptop sleeve
The front pocket is organized with slots for an iPad and other business essentials
Side pocket for umbrella or large water bottle
USB port and a zippered pocket for power bank (not included in this model)
Strap at the back for luggage handles
What I disliked about the Kalya Underseat Carry-On
Due to the square shape of the bag, it topples over. Other under seat carry-ons are sleeker on the top to avoid the bag from tipping when full.
There is no special place to put a luggage lock – the zippers have no luggage lock loops. This is not good when you need to store your bag at a hotel concierge.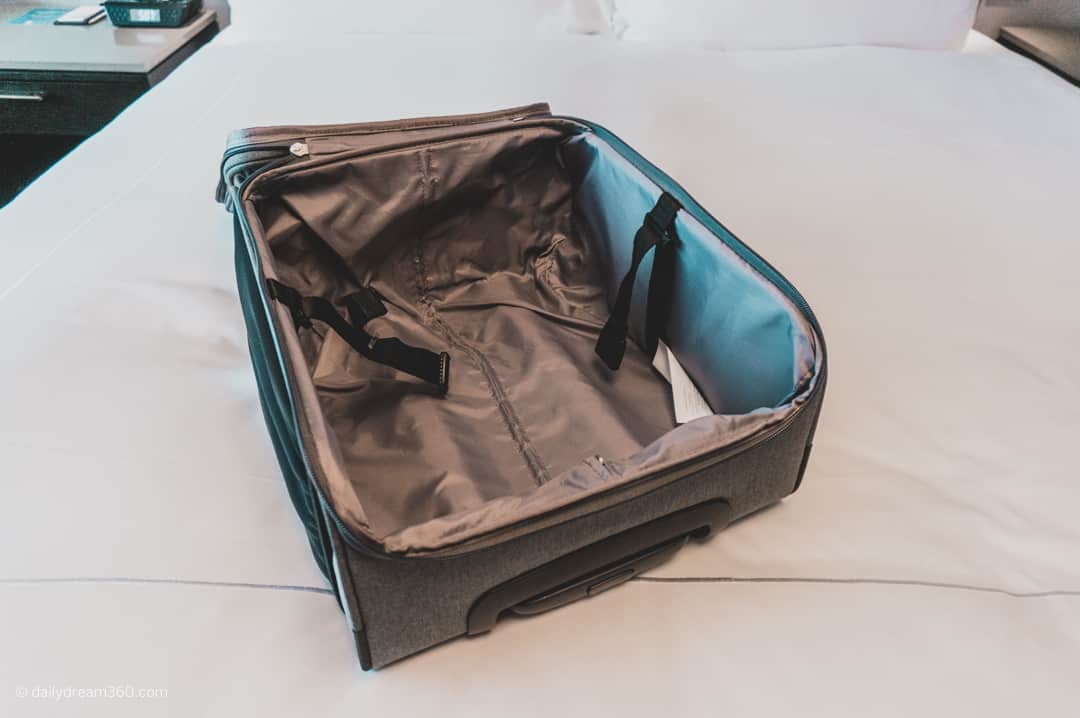 eBags Kalya Underseat Carry-on Product Specifications
Size: 17″ x 13.75″ x 10″
Weight: 5 lbs 2.3kg
Where to Buy: Amazon US | Amazon CA | Amazon UK | eBags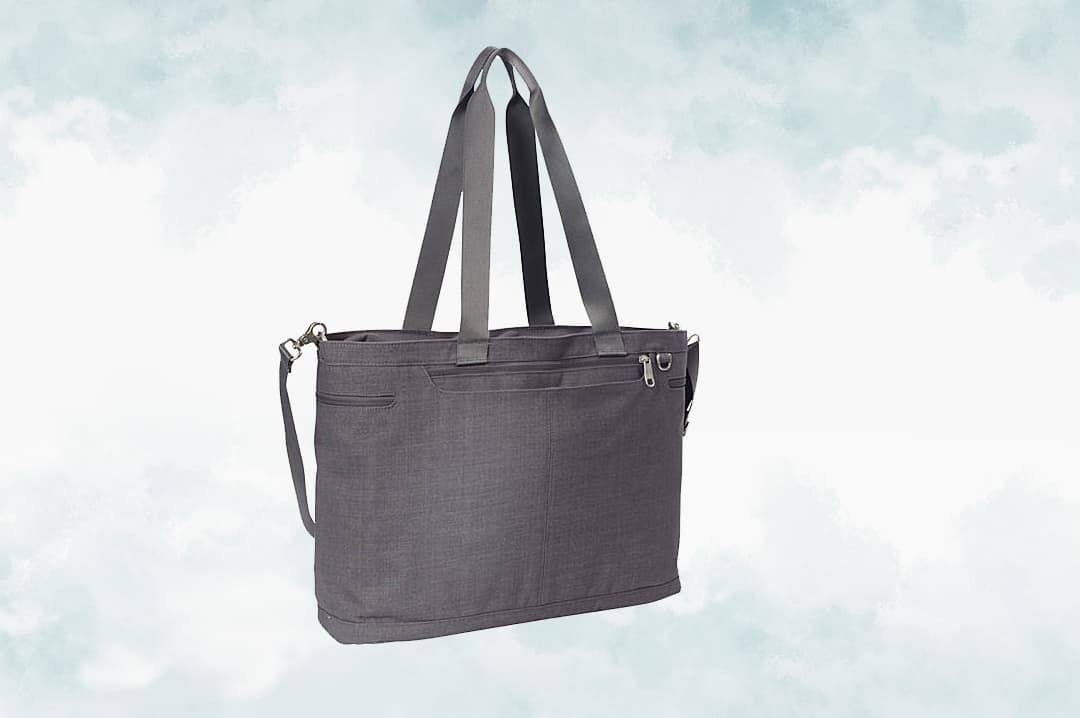 eBags Savvy Laptop Tote 2.0 with RFID Security
I have a laptop tote bag already, and after seeing this one, I'm a bit sad I didn't do more research. What I love about this travel tote bag is that it also comes with a removable shoulder strap, so you can carry it hands-free on your shoulder vs lugging it like a purse.
There are so many pockets for organization inside and outside the tote, and its sleek design is not as bulky as my current tote.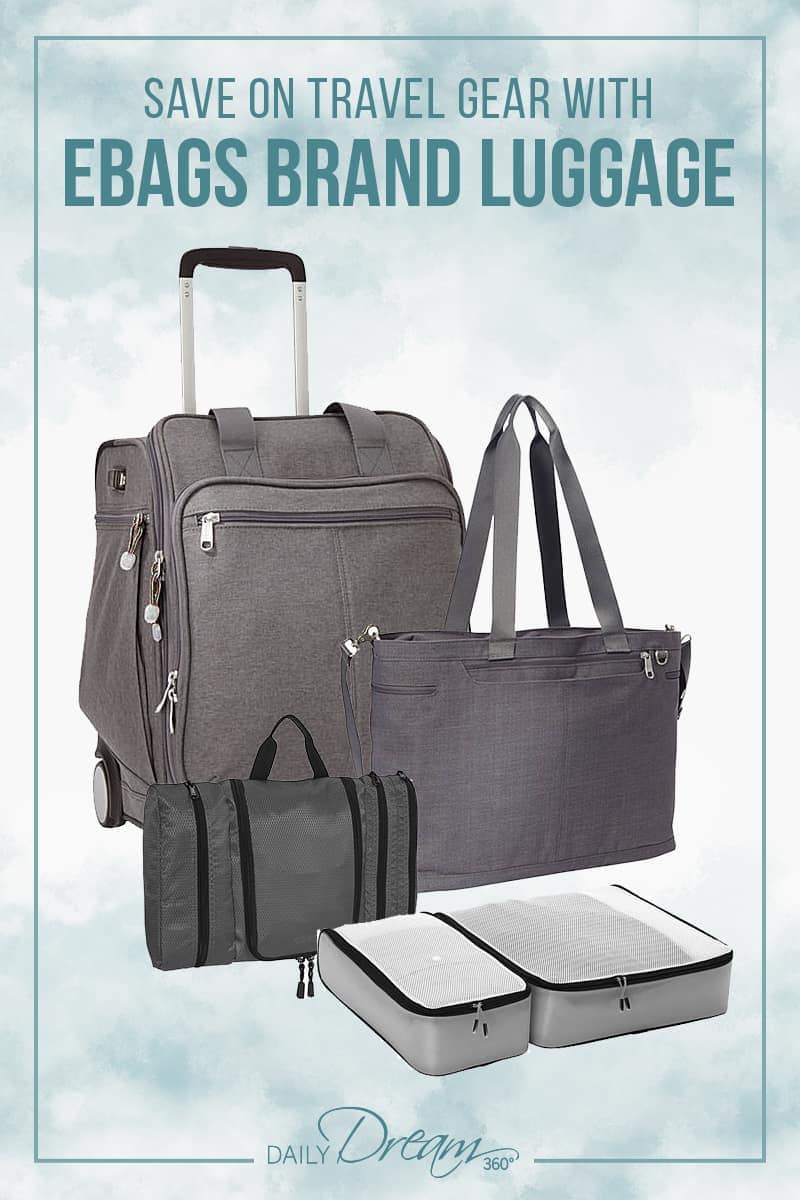 eBags Savvy Laptop Tote Product Specifications
Size: 19″ x 10″ x 1″
Weight: 2lbs
RFID security card slots
Inside added laptop compartment
Two inside pockets with elastic tops
Zippered inside pocket
Luggage strap on back for luggage handles
Removable, adjustable shoulder strap
Where to Buy: Amazon US | Amazon CA | Amazon UK | eBags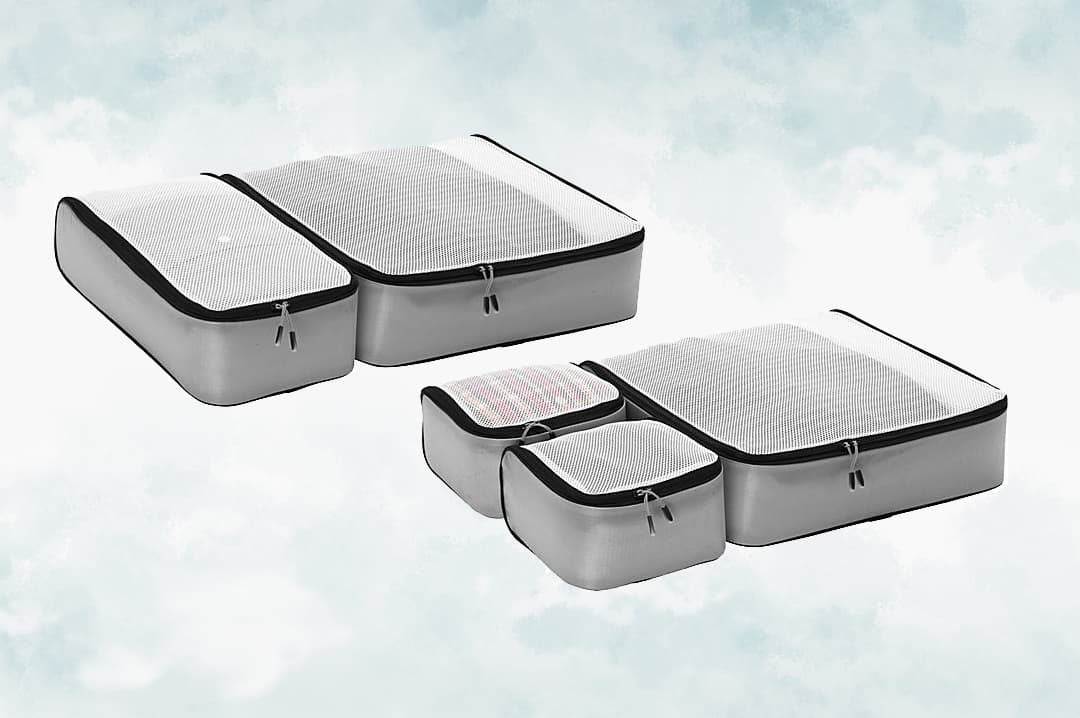 eBags Ultralight Packing Cubes
They come in many kit combinations, but what I love about the eBags packing cubes is the variety of sizes. Depending on which luggage you are packing in, sometimes you have smaller gaps to fill, and the old standard packing cubes just don't work.
These packing cubes have mesh tops so you can see what you have packed inside. These are similar, but not as sturdy as Austin House brand packing cubes which are my favourite. Packing cubes are must-have travel gear in my opinion.
Read more: Discovering Austin House Travel Accessories and Essentials
They come in long slim sizes, square cubes and larger sizes for heavier clothing items. These packing cubes also come in a variety of colours including the new trendy gray. You can purchase these individually or in sets depending on which ones you like.
Where to Buy: Amazon CA | Amazon US | Amazon UK | eBags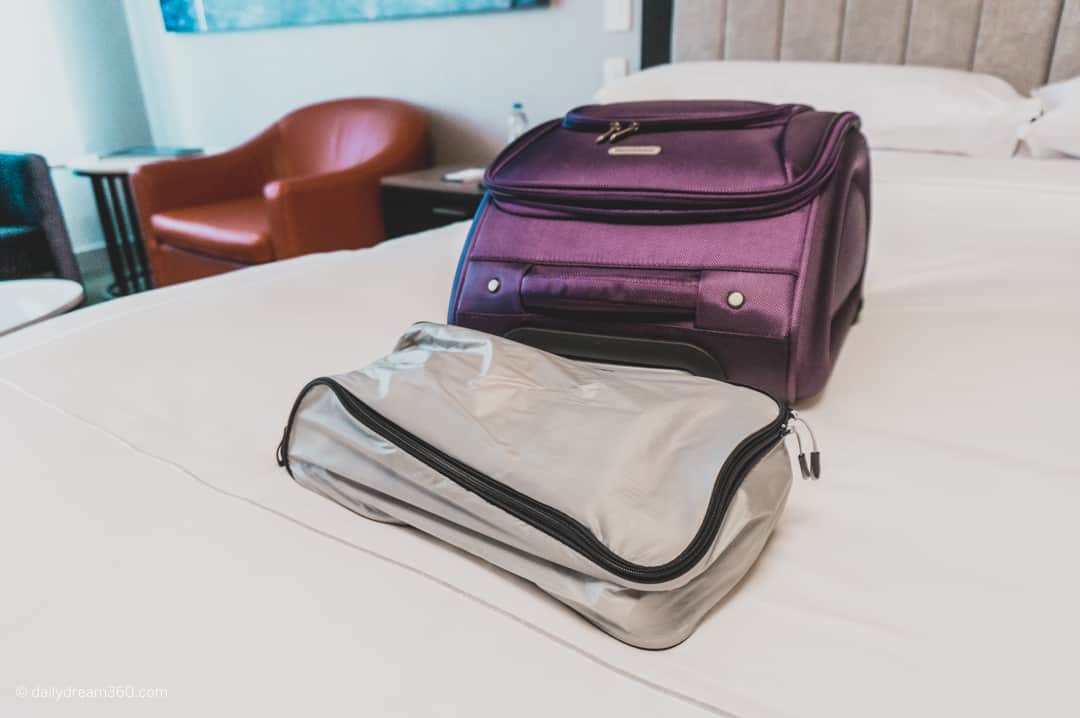 eBags Ultralight Toiletry Cube – Slim
Another challenge for me is finding the perfect toiletry bag. When I first opened my eBags slim cube, I thought it looked flimsy, and I didn't know what to make of it. But once I started loading my stuff, I instantly fell in love.
The bag has plenty of pockets for things, and it folds up slim, so it doesn't take up a lot of room in your bag. When you reach the destination, you hang it on a hook in the hotel room, and it is all there perfectly organized for you.
The cons for me is that there is no sealed pocket for liquids, so if something leaks it is going all over the stuff inside the cube. The material should block it from leaking inside your luggage though. Another con is that this bag does not work as a countertop bag. The way the pockets inside are placed, it really must be hung vs laid out on a counter.
This is great for smaller trips when I need a few toiletry items, and I don't want the bag to take up too much room in a smaller suitcase.
Where to Buy: Amazon CA | Amazon US | eBags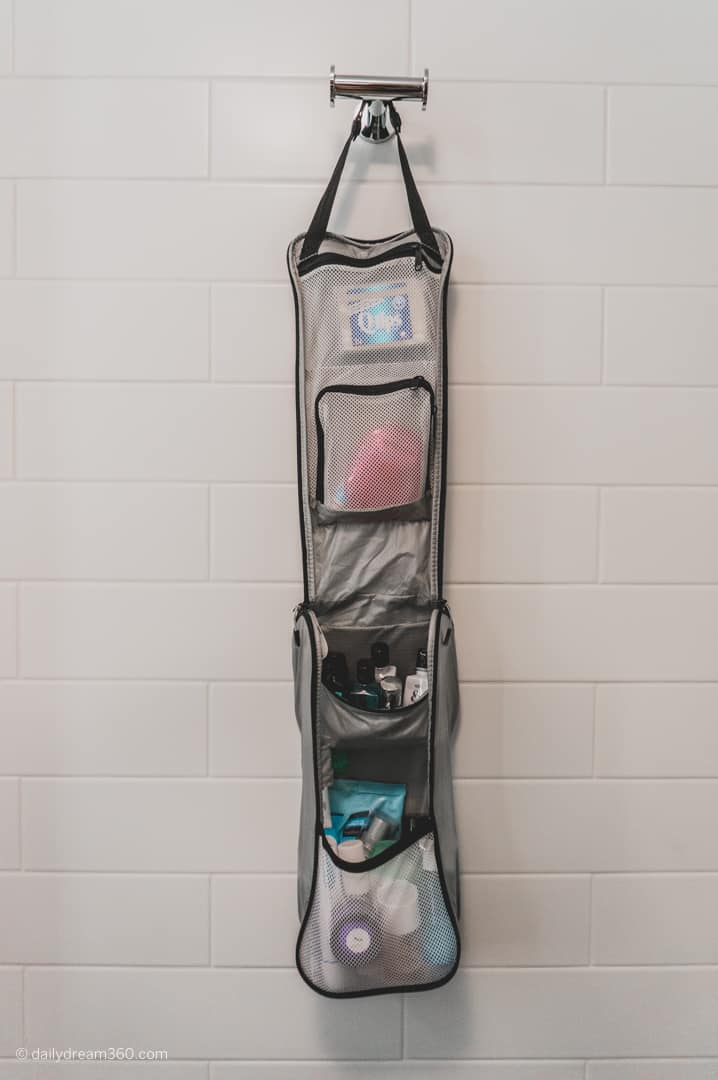 eBags Ultralight Toiletry Cube Pros
A double snap hanging loop strap which you can resize for: hooks, towel bars or shower curtain rods
Great for hanging anywhere
Lots of mesh zipped compartments
Lots of compartments for small bottles and essentials
Slim design is great for packing
eBags Ultralight Toiletry Cube Cons
Doesn't work well on the counter due to the shape of internal pockets
The material is thin, not sure if I trust it for keep leaks out of luggage
Bottles shift around inside when closed as the pockets are loose when it is not hanging.

eBags Flat Toiletry bag
One of the biggest challenges with Toiletry bags is how bulky they can get. The Flat toiletry bag model works well for this and makes it a great style for trips where you have to pack and unpack as you stop in several places in one trip.
The eBags Flat Toiletry bag has a tiny flimsy hook and its pockets are huge. When travelling carry-on only the little bottles swim in the large side pockets. However, if travelling with full-size bottles, this bag is excellent in that it has so many pockets to organize a variety of your toiletries. I love that super slim pocket which is great for my electric toothbrush.
I wish they could make a version of this bag for carry-on only sized bottles. Like a mini Flat Toiletry bag, that would be my go-to for my own travels!
eBags Flat Toiletry bag Pros
When it is closed up, it is flat and takes up minimal space in luggage.
There are many pockets, some with zippers, different widths, some mesh
Thick material, waterproof lining to keep things from leaking
eBags Flat Toiletry bag Pros Can be a pro and a con
The pockets are long – like there were designed for full sized bottles – this can be a plus when travelling on long trips where you are flying with regular sized products, but for those who use smaller containers there seems to be a lot of wasted space or pockets where things fall out because you are stacking things.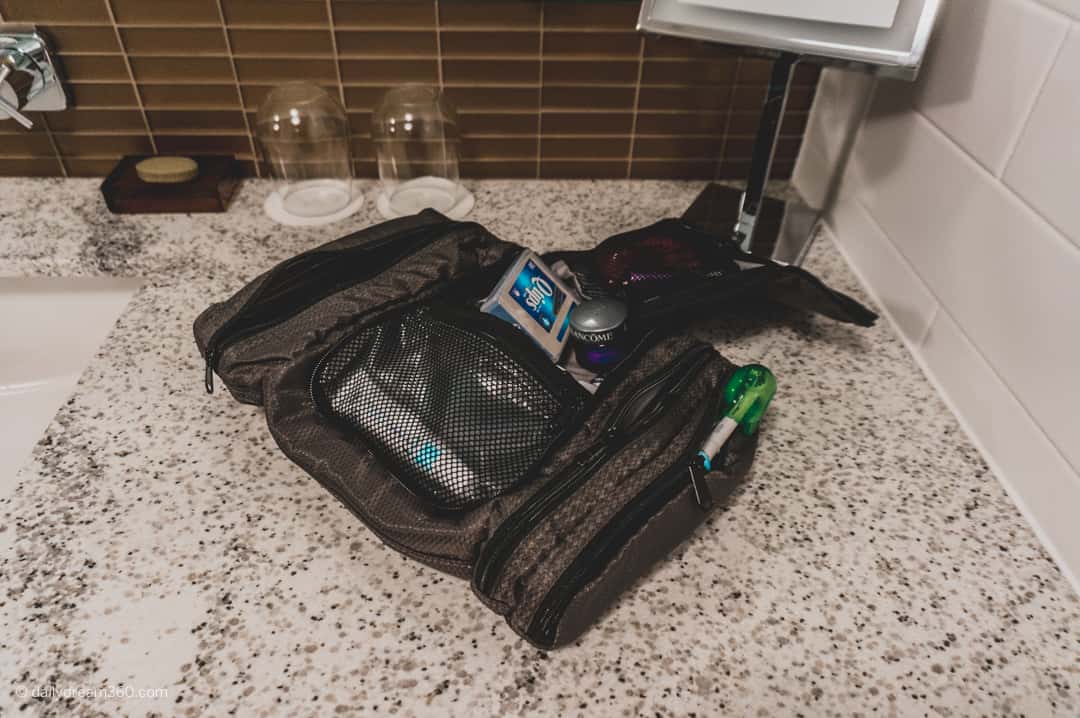 eBags Flat Toiletry bag Pros Cons
Again when on the counter it is awkward and doesn't work well.
The only hanging element is a hook or the handle
With smaller bottles, the long outside pockets can be awkward.
Where to Buy: Amazon CA | Amazon US | Amazon UK | eBags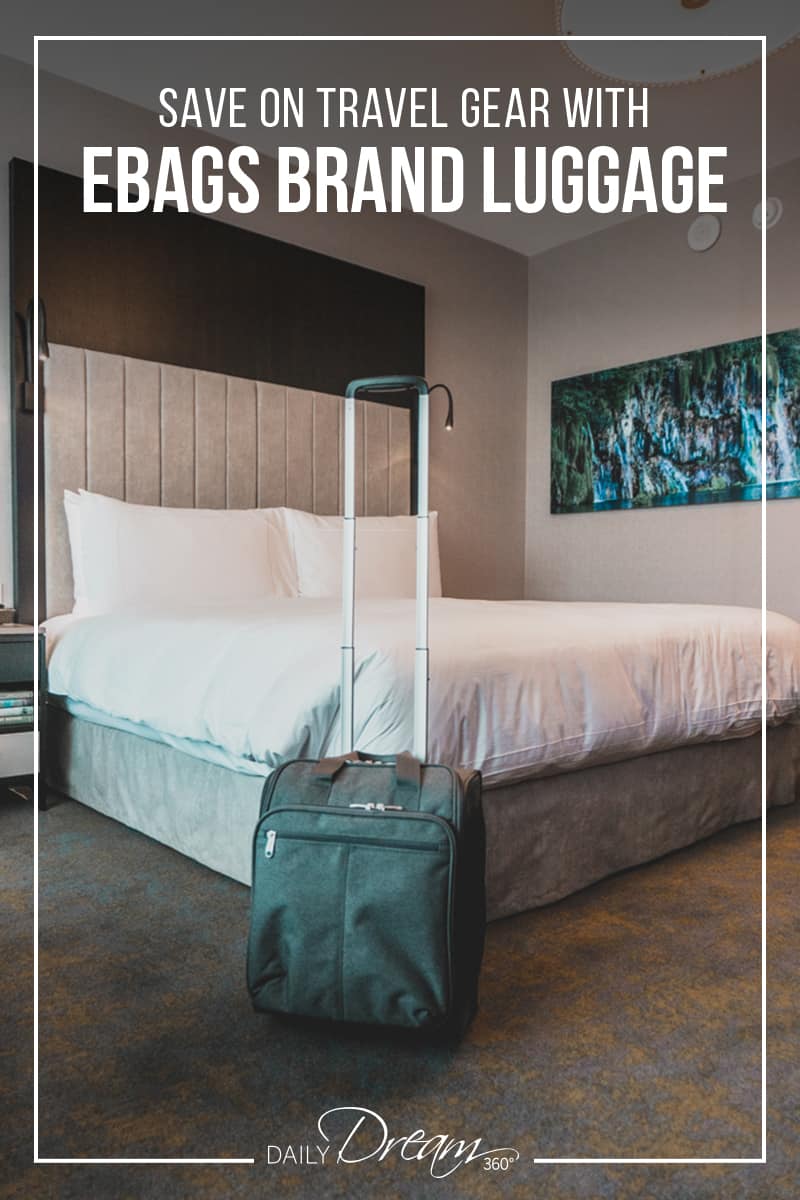 Other Luggage Brands I love!
Disclosure: I received items from eBags for review. Opinions in this post are my own.