This article may contain affiliate links. Clicking on or purchasing products we recommend through a link may earn a small commission. Read our disclosure and privacy policy page for details. *COVID-19 TRAVEL ALERT – Travel recommendations offered on this site are not to encourage you to travel against travel advisories.
I'm finding my visits to the Art Gallery of Ontario increase each year. When first heard about AGO First Thursdays event, I just had to see what it was all about – and get a look at what's been going on at the AGO. Now I'm hooked!
AGO First Thursdays
Held on the first Thursday of the month from 7:00 pm – 11:30 pm, the AGO transforms itself into an exclusive nightclub. Live DJs or bands are brought in to perform, and there is plenty of food and drinks on hand to get the party going.
Start Your Night at AGO Bistro
I'm sad to see it go. I started my first visit to First Thursdays at Franks restaurant which is now the AGO Bistro. Franks was a place you went not only for dinner but to see some of their famous cocktails first hand. The drinks were inspired by artistic works of art and were an entirely new genre of art in my opinion.
This drink was called Monet's Garden and featured a gin mixed cocktail which was poured over edible flowers, fruit and dill with a dry ice concoction. The result was a delicious and beautiful cocktail which set the tone for the nite. I'm going to miss this bar.
AGO First Thursdays Vibe
Every first Thursday of the month the Art Gallery of Ontario is transformed into a trendy nightclub. Live musical acts or DJs play loud music, and guests enjoy cocktails and bites to eat. This crowd is a diverse group of yuppies, students, artistic types and art goers. The first two floors of the gallery were the busiest and most crowded.
Sample Some Delicious Eats
There were some food stations located throughout the bottom floors of the gallery. For just $5 you can sample the unique plates of food prepared for the event.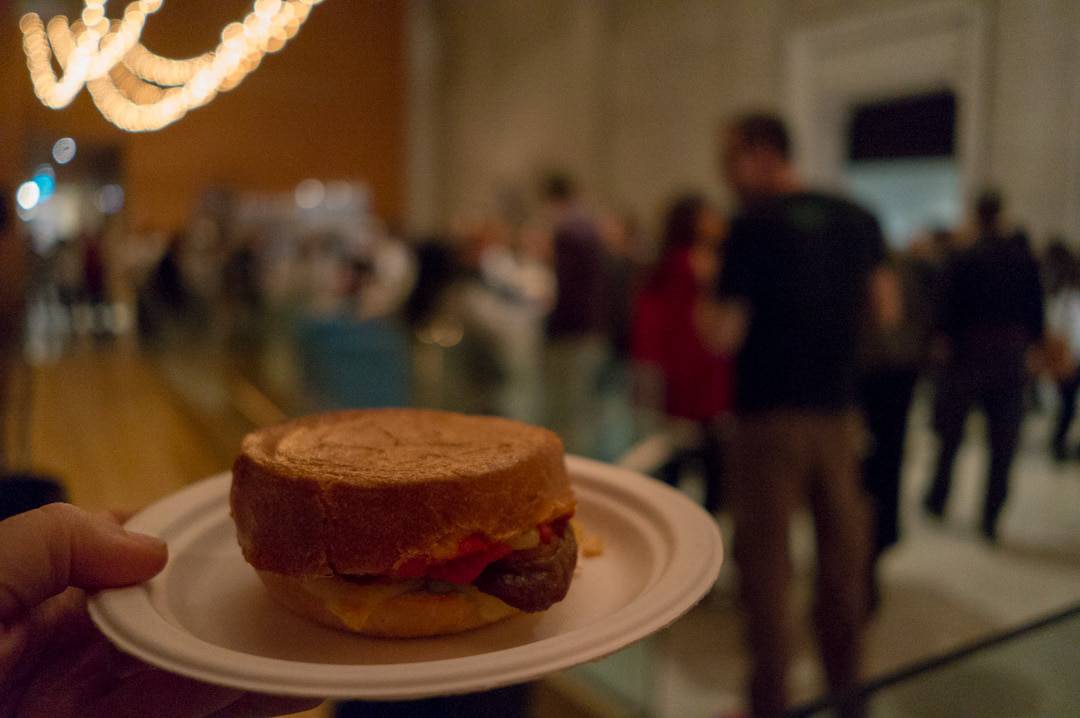 I had an Eggplant Parmesan sandwich pictured above and a shrimp and noodle stir-fry pictured below.
Not a bad way to grab a bite to eat in the city on a chilly night. $10 was all my dinner cost, and it was delicious.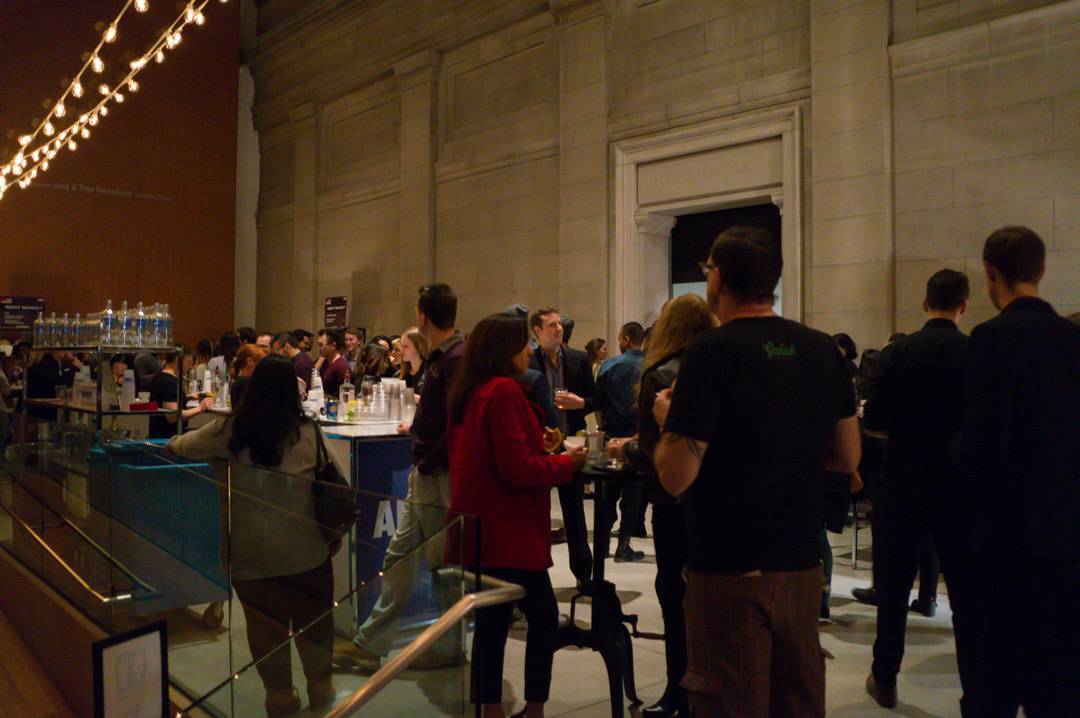 There were bars set up throughout the bottom two floors of the gallery, and the back room was where most of the food stations were set up. The lobby of the art gallery was filled with partygoers all looking to grab a cocktail at one of the cash bars and mingle amongst the installations on the first floor.
Double Your Ticket – Check out an AGO Exhibit
There are still some less busy exhibits in the art gallery that you can find a quiet moment in. The upper floors of the AGO were less travelled as music lovers stayed and partied downstairs. That said, AGO First Thursdays is not the place to go for quiet reflection of art.
Be sure to head to the back staircase in the art gallery where you can snap a pic of this view of the city.
AGO Yayoi Kusama: Infinity Mirrors Exhibit
This month I was fortunate to have a friend with an AGO membership invite me to attend not only First Thursday but the new Yayoi Kusama: Infinity Mirrors Exhibit. The spectacular exhibit runs until May 27, 2018 (let's hope it get extended because it is a must-see.) I recommend trying to get a timed ticket for this exhibit on one of the AGO First Thursday event nights.
There are 6 rooms transformed with mirrors and lights to reflect Yayoi Kusama's love for the world of dots. This exhibit is very different in that your ticket is timed and so is the time you get to spend in each room.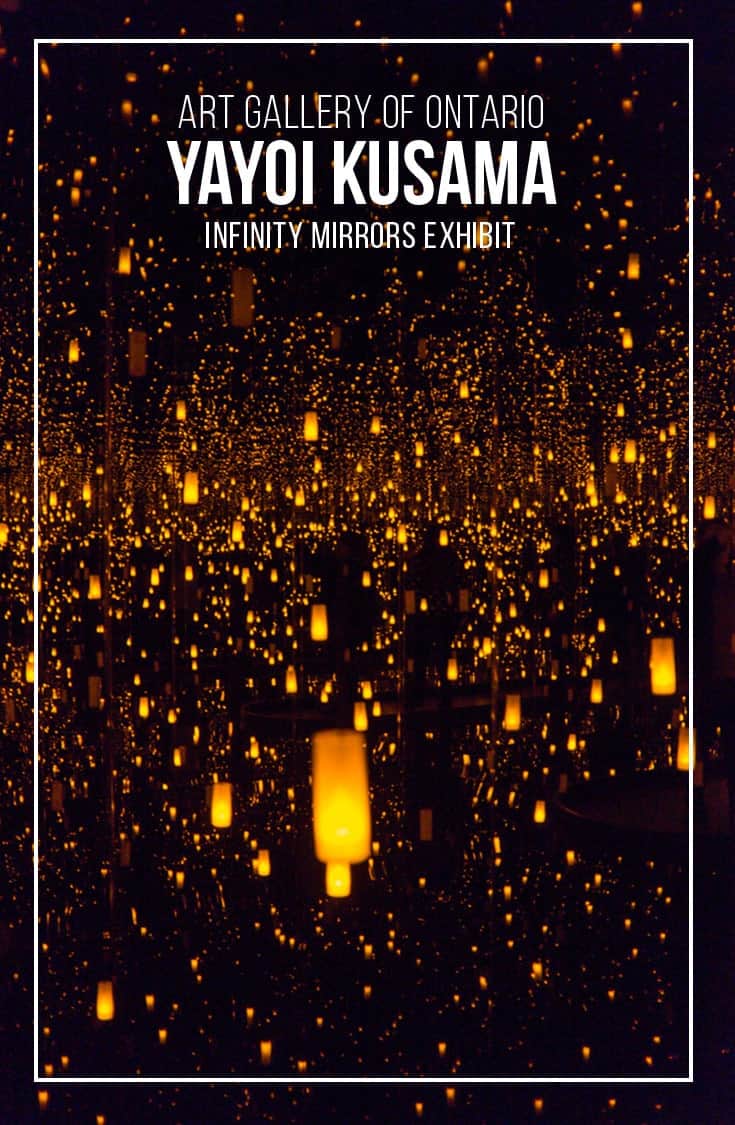 AGO Yayoi Kusama Infinity Mirrors Tips
All tickets to this exhibit are timed. This ensures that participants arrive at a particular date and time.
There are 6 rooms – 5 you walk inside and one is a peek inside box.
These are timed immersive experiences, some rooms you get 30 seconds and some 20 seconds.
Bags are left outside the room in a cubby.
Only 2-3 people are allowed in the room at any given time.
A knock on the door signals your 5 second warning and then the door will open and your time is up.
Don't focus so much on taking pictures. Look up and around and enjoy the moment it is spectacular.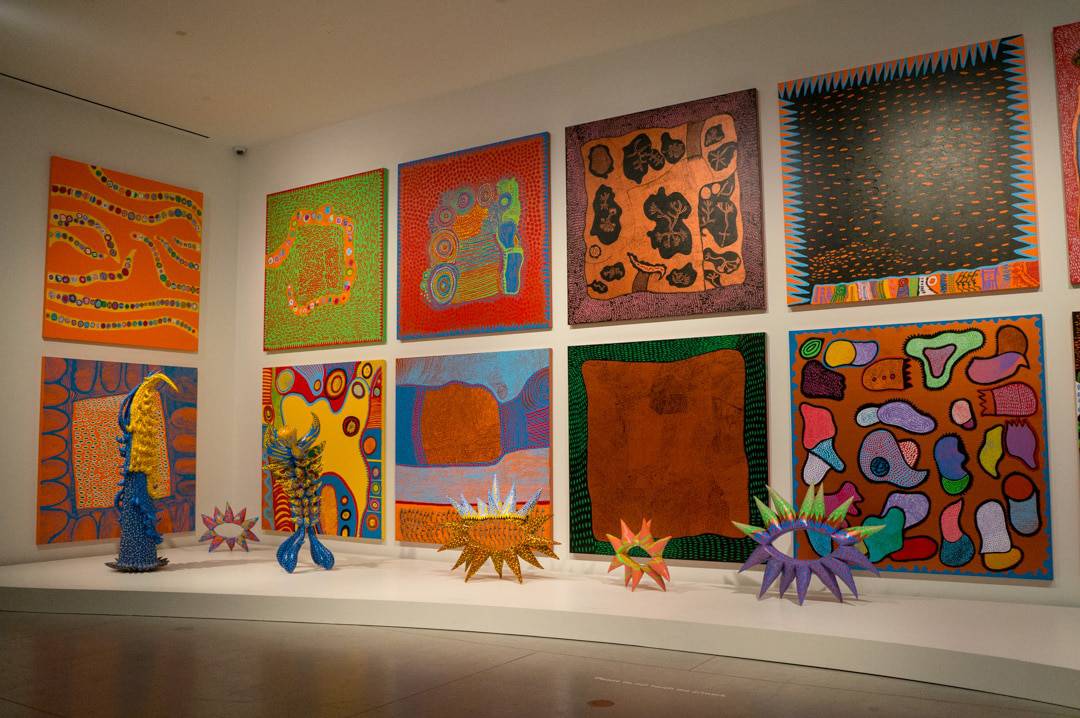 Be sure to check out the other art displays and sculptures in the exhibit. It is easy to get caught up in the waiting to get into an infinity mirror room, but there are lots of other things to see. For more information on this exhibit and to purchase tickets check out the AGO's website here.
AGO First Thursdays Tips
Buy your tickets in advance; the event often sells out.
Get there early:

During winter months the coat check line up will be long.
Don't miss out on yummy food. I noticed that by 10 PM some of the items at the food station had run out. More food was brought out, but not as exotic as when we first got there.

Drinks and food are not permitted in galleries and exhibits; there are designated areas for eating and drinking.
The dress code at the AGO First Thursday event was mixed, from casual student to dressy.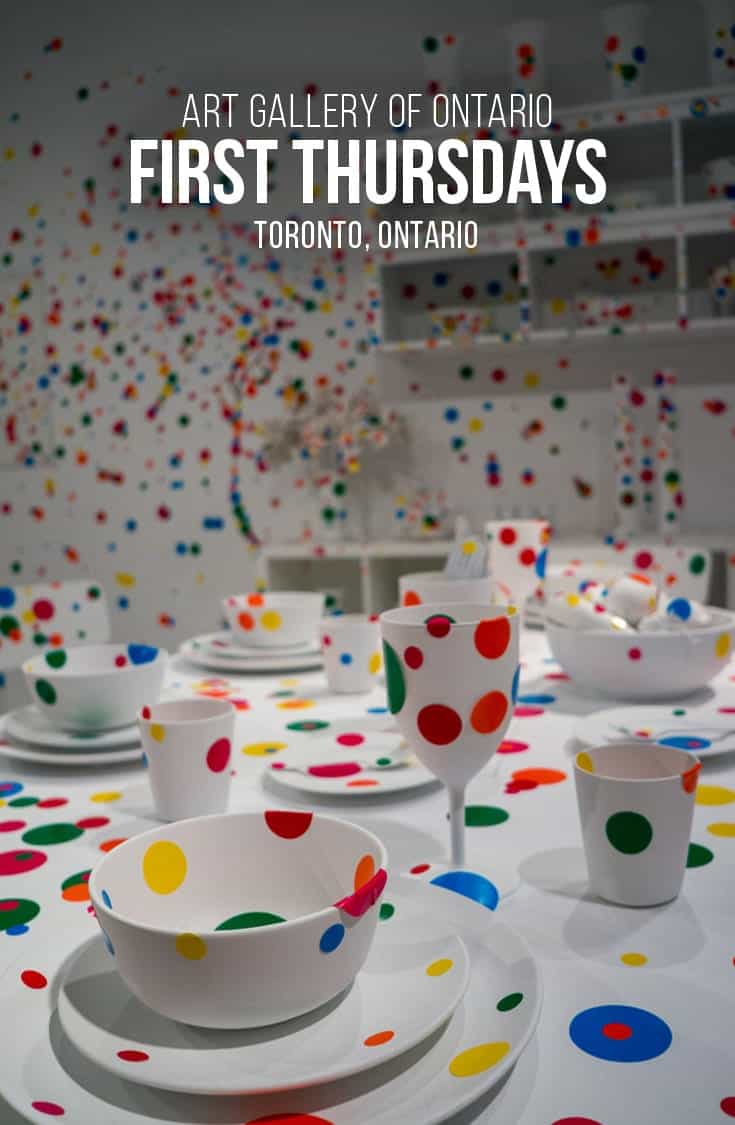 More to see and do in Toronto:
A media pass was provided by the AGO to attend this event one time, I attended again at my own cost, however, as always the opinions expressed in this post are my own.