This article may contain affiliate links. Clicking on or purchasing products we recommend through a link may earn a small commission. Read our disclosure and privacy policy page for details. *COVID-19 TRAVEL ALERT – Travel recommendations offered on this site are not to encourage you to travel against travel advisories.
I have stayed at many different types of hotels depending on my travel needs, and when I'm booking, I often ask myself these questions. Is the hotel clean? Is the staff friendly and helpful? Is it in an excellent location? What amenities does it have? How much does it cost compared to other hotels in the city? So when booking a recent trip for a photography excursion in Old Montreal, I wanted a hotel that was close enough to Old Montreal that I could walk there quickly, I didn't want to spend over $200 a night, I wanted it to be well run and I wanted it to be a beautiful place to stay (like a 4 or 5 star). Too much to ask in Montreal? I'm happy to report it is not! The Zero 1 Hotel in Montreal fulfilled all expectations and more!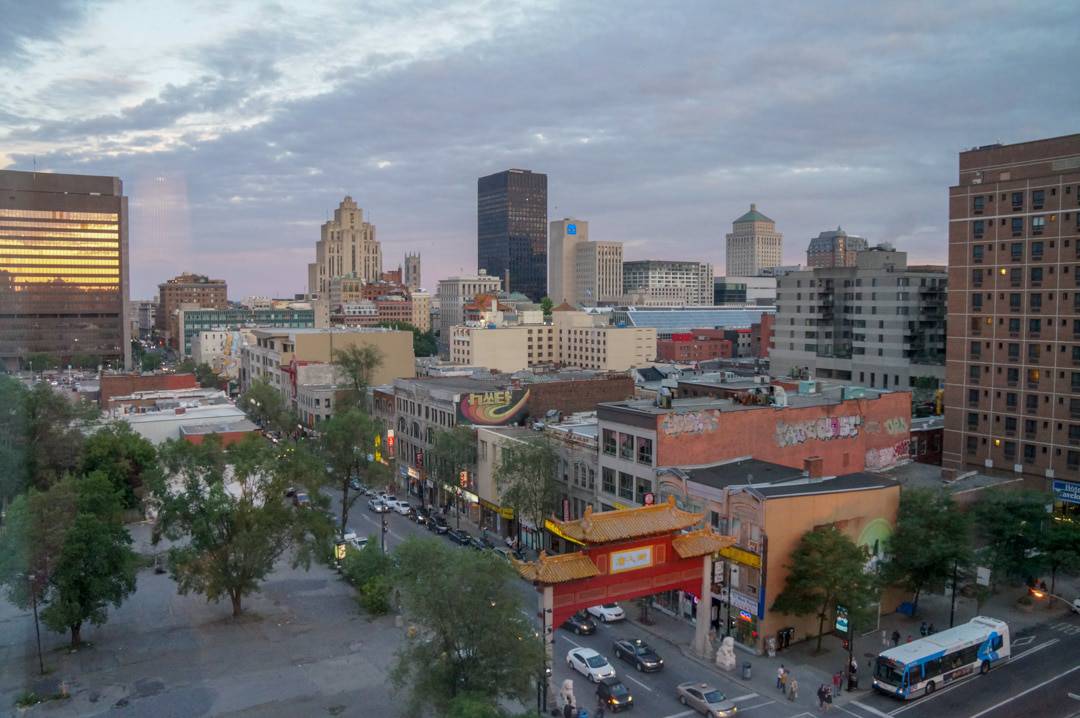 Zero 1 Hotel Montreal Quebec
Zero 1 Hotel: Location
Located just steps from Chinatown and Old Montreal, the Zero 1 Hotel felt to me like it was steps from everything! Located on the corner of Boulevard Saint-Laurent and Boulevard René-Levesque we were a mere two short blocks from the Metro's Station Saint-Laurent on the Green line and a short walk away from Station Champ-de-mars on the Orange line. The famous shopping street Rue Sainte-Catherine was one block away as was beautiful Old Montreal.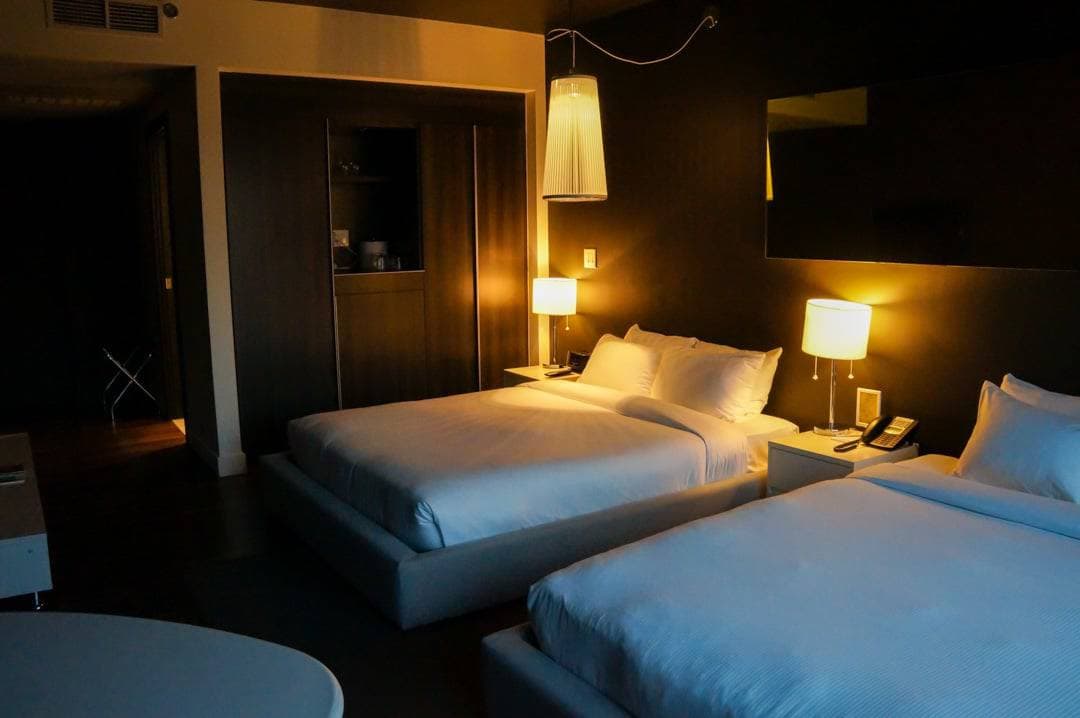 Zero 1 Hotel: The Hip Room
I stayed in the Hip Room which is a favourite room in the hotel, a little bigger than the Pop room, but the rooms include the same features:
Clock radio with iPod/iPhone dock (there were ports for two phones)
Microwave oven
Mini-refrigerator
Coffeemaker and coffee
Ironing board and iron
Hair dryer
32-in. flat-screen TV
IP telephone
Free WiFi
Free local calls
Philosophy Bath products
Our room had two very comfortable Queen size beds, and like many boutique hotels, everything had its place. The wall unit featured a sink, microwave, mini refrigerator and plenty of closet storage. There was also a small table and chairs to sit at to do some work.
I have to make note that each room in the hotel had it's own free wi-fi to connect to! I'm a travel writer so being able to jump online and do the things I need to do without being on a slow overused free hotel wi-fi network is a major perk! Other hotels should look into this!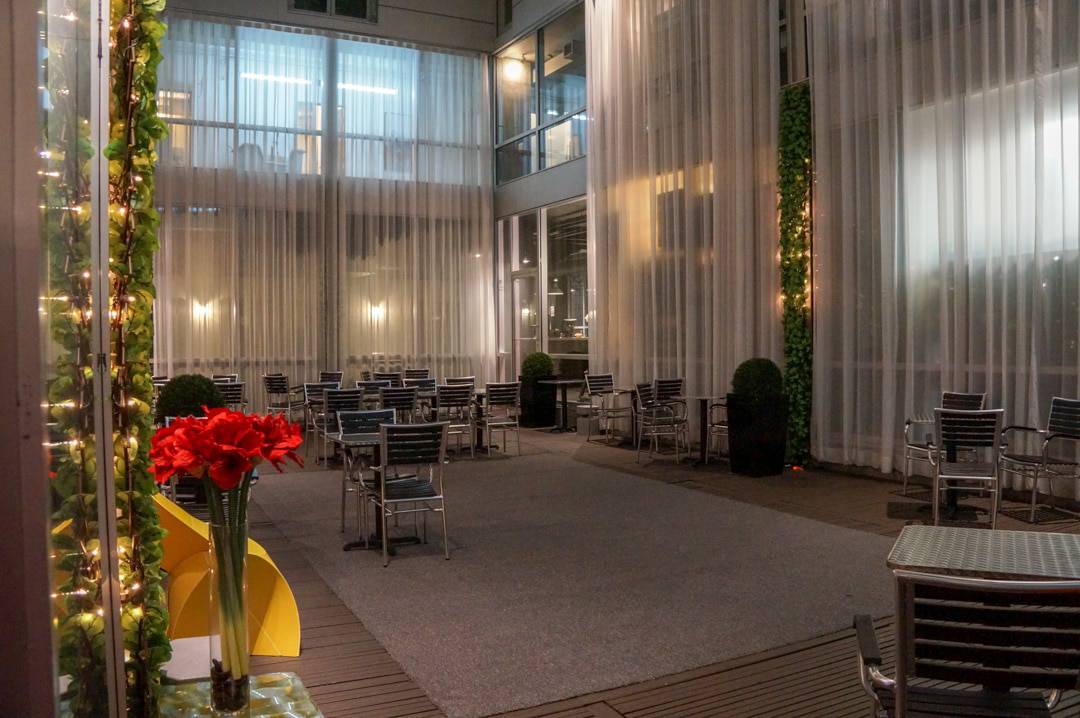 The Zero 1 Hotel Amenities
The main floor of the hotel is quite spectacular. The modern lobby is funky and unique with lots of seating and unique decor. There are a few little lounge areas hidden off to the side with street views where you can also sit in with a bit of privacy.
The main floor also has a small gym and the hotel restaurant Pasta Tutti Giorni which featured a complimentary breakfast for guests. The breakfast was simply a choice between a muffin and beverage or toast and a beverage. Personally, it was the perfect little breakfast as we indulged in the fantastic food scene in Montreal all weekend!
Also, a great feature at the hotel is the open-air courtyard. Entrance is off the lobby, and this courtyard is inside the hotel but opens above so it has sort of an I'm indoors, but I'm outdoors in the fresh air feeling! There were all sorts of comfy loungers and tables and chairs in the courtyard a great place to grab a cup of coffee or to sit with your laptop and do some work.
A Word about Parking
Parking at the hotel is offsite as this is a downtown location. It is very common for hotels to do this which means you will have to pay a $25 per day Valet/parking fee. It is a bit awkward when you are coming in for the first time, but you can park your car in a particular hotel zone on Rue St. Laurent next to the hotel and bring your bags into the front lobby for check-in. The hotel's valet staff will then take care of your car, and if you need your vehicle, you need to give them 30 minutes notice. For us, this was not an issue as we didn't use our car during the trip but for someone that needs their car during their stay, they may find this an inconvenience. I felt the parking charge was quite reasonable when I compared it to some of the other hotels I stayed at.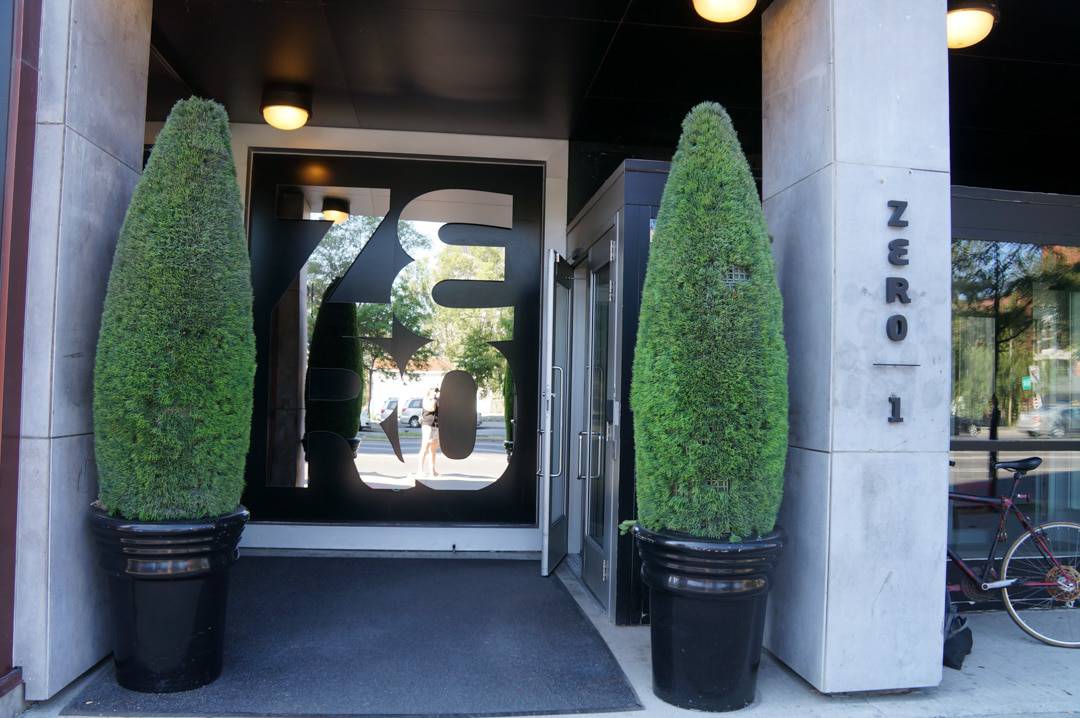 The Hotel Zero one is ideally located for any trip to Montreal; the staff is so friendly and helpful. This stylish boutique hotel is an excellent spot for business travellers, tourists visiting Old Montreal and solo travellers. The hotel's rates are quite reasonable given its quality and location. There is even a Couche-Tard convenience store located at the back of the hotel if you want to grab some drinks or munchies!
Lots to see and do in Montreal
Travel support in the form of a media rate was provided by Tourism Montreal and Hotel Zero 1.