This article may contain affiliate links. Clicking on or purchasing products we recommend through a link may earn a small commission. Read our disclosure and privacy policy page for details. *COVID-19 TRAVEL ALERT – Travel recommendations offered on this site are not to encourage you to travel against travel advisories.
As Montreal celebrates its 375th anniversary and I started planning my summer trip to the city, I received the perfect book to review. This is the third book in the 300 Reasons to Love travel guide series, and as luck would have it, the recommendations were all about one of my favourite Canadian cities Montreal, Quebec.
The 300 Reasons to Love Series
I've already written a review for 300 Reasons to Love Paris (see post here) and love how these guide books use local travel experts to create a complete guide of an insider's perspective on some local tourist attractions mixed with a few hidden gems.
300 Reasons to Love Montreal, Claire Bouchard
Author Claire Bouchard has been living in Montreal for over 20 years, and this guide is filled with her favourite explorations. With more than 300 things to do in the city, she put together a fascinating list of things I didn't even know about places I have already visited. I've walked across the Jacques Cartier Bridge more times than I can remember and had no idea there was a time capsule placed in the bridge's cornerstone. (Reason #13)
If trying to decide between 300 incredible suggestions is too daunting, Claire narrows them down to her top 5 picks on the first pages of the book. With a list of 5 of her picks for best restaurant, cafe, microbreweries and more. Each list also lists the Reason # so you can quickly jump to the more detailed explanation behind that pick.
Claire has an extensive list of suggestions, from restaurants, cafes, bars and breweries to outdoor terraces, parks and even a few local characters to keep a look out for during your stay.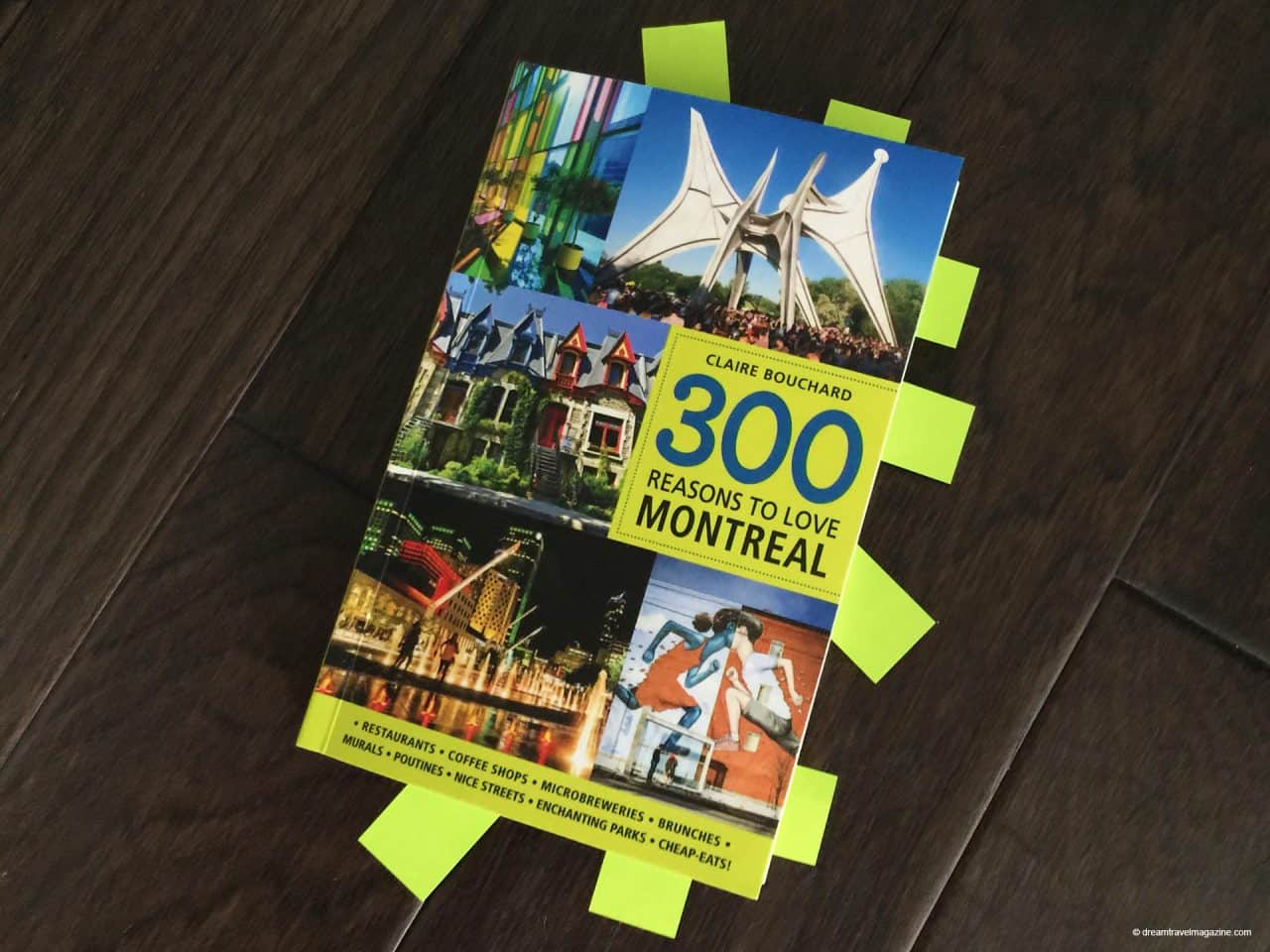 It has been a few years since I visited Montreal, so I was glad to see some of my favourite spots mentioned in the guide. It means I have less than 300 reasons to look out for on my upcoming trip!
Disclosure: I did not receive compensation for this post. A copy of this book was given to me for review purposes only. This page may contain affiliate links. Clicking for additional information or to make a purchase may result in a small commission. For more information read our disclaimer.