This article may contain affiliate links. Clicking on or purchasing products we recommend through a link may earn a small commission. Read our disclosure and privacy policy page for details. *COVID-19 TRAVEL ALERT – Travel recommendations offered on this site are not to encourage you to travel against travel advisories.
Changing your life involves many things and for me taking on a declutter challenge was very effective. Before I take on anything new, I need to get rid of the old. I find clearing my house of all the "stuff" that has been accumulating over time, also helps me clear my mind and create a clean slate for the months ahead.
There's a real correlation between productivity, wellness, and a clean working or living environment. And home decluttering is a great place to start. Simply put decluttering your home and creating your dream living space will enrich your life in many other ways.
If the mere thought of spring cleaning your home puts dread in you're heart, you're not alone. But it doesn't have to be painful, dull, or tedious. And what you get in return is worth the time that you put in. I want to point out this is NOT a 1-week challenge. It's seven days where you set the intention to tackle one goal. Today's goal preparation. Figuring out what you need to declutter, where most cleaning will take place and what things you'll need to be successful.
Create Your Organized Living Space
If you're ready to get organized, increase your well-being, and give yourself a fresh start, then join my 7-Day Declutter Challenge. I invite you to take part in this challenge. It's only seven days, and it covers the main areas in your home that tend to get the most cluttered, disorganized, and untidy. So, let's get started.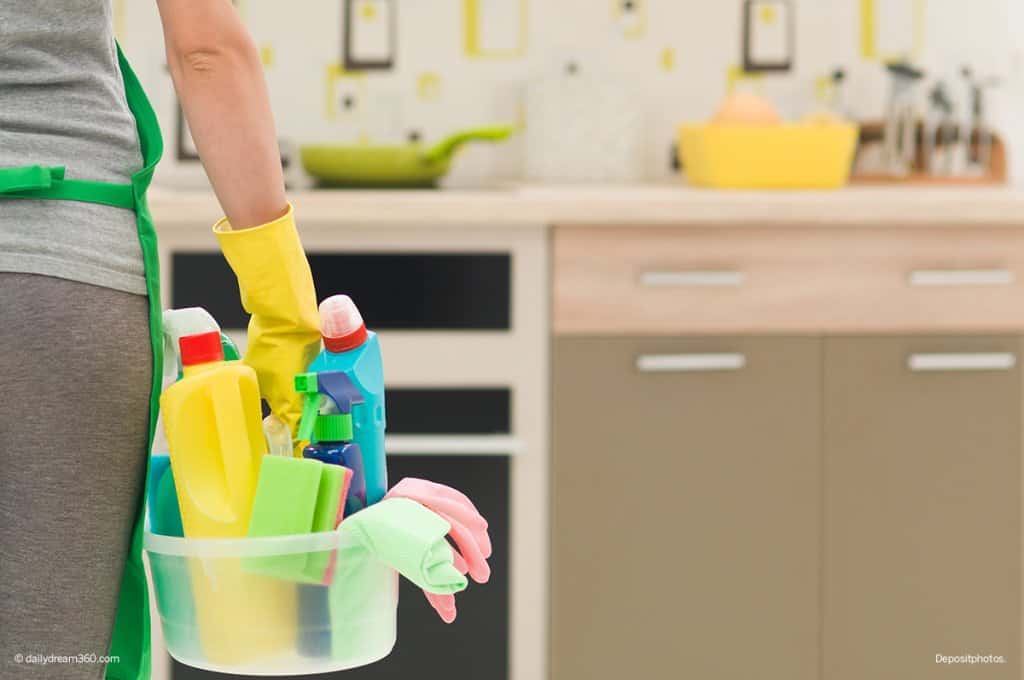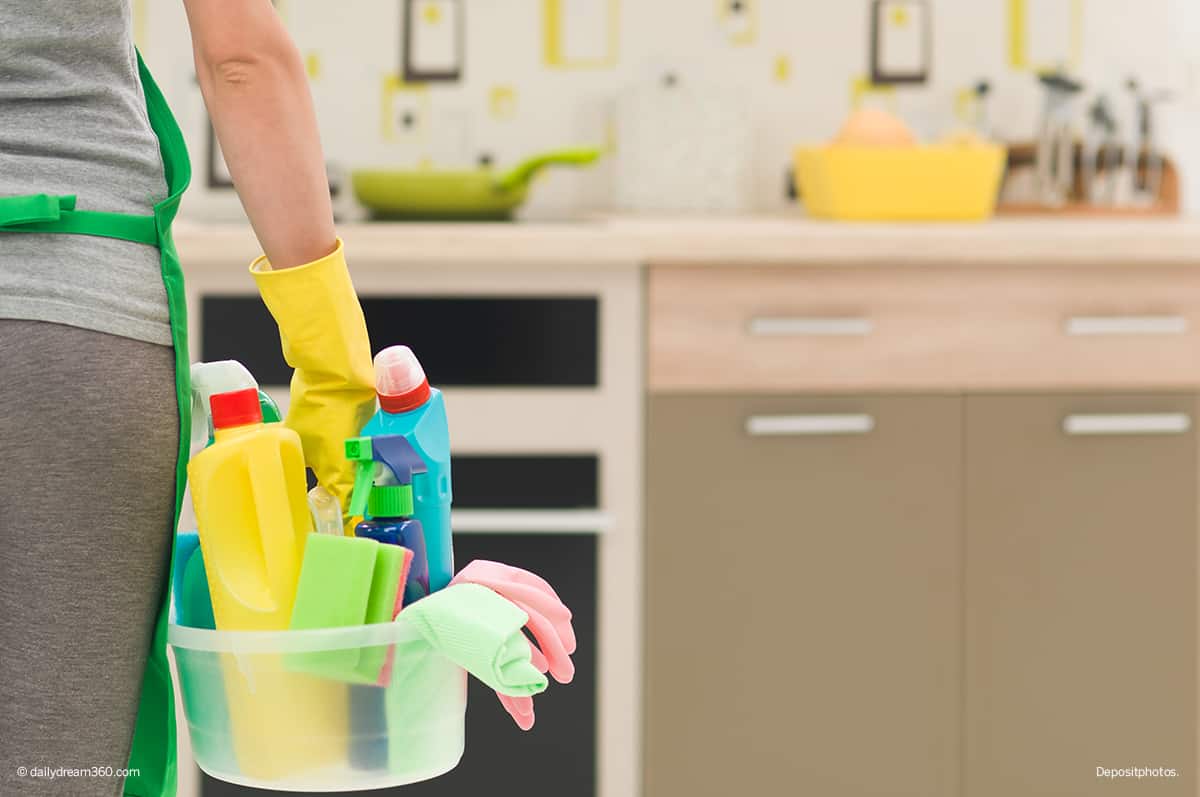 Dream it.
We all want that clean, workable space that makes it easy to find the things we need fast. We also want to come into an area and feel inspired, unbothered, and comfortable. But when a space is overwhelmed with stuff, it leaves us feeling anything but relaxed.
Wouldn't it be nice to create living areas in your home that make you feel happy, encouraged, and at-ease? This is the goal of the 7-Day Declutter Challenge. I want you to have a space you are grateful and happy to be in. A place you can sit and look around and admire. A place you can close your eyes and do some dreaming without worrying about everything you need to be doing.
Let's go over how we're going to get you to that dream space.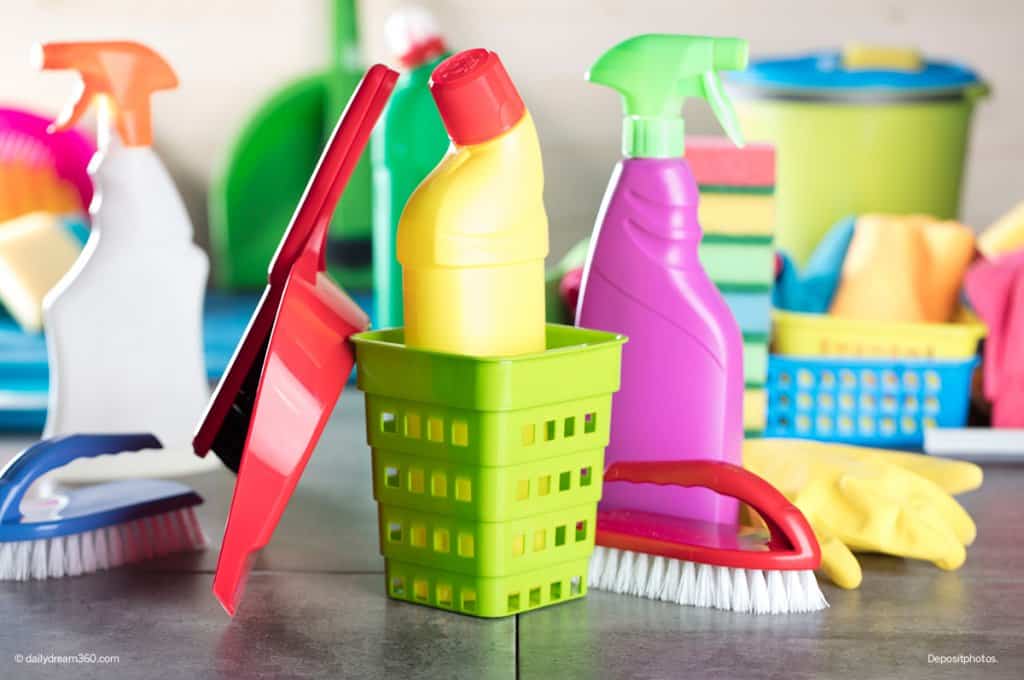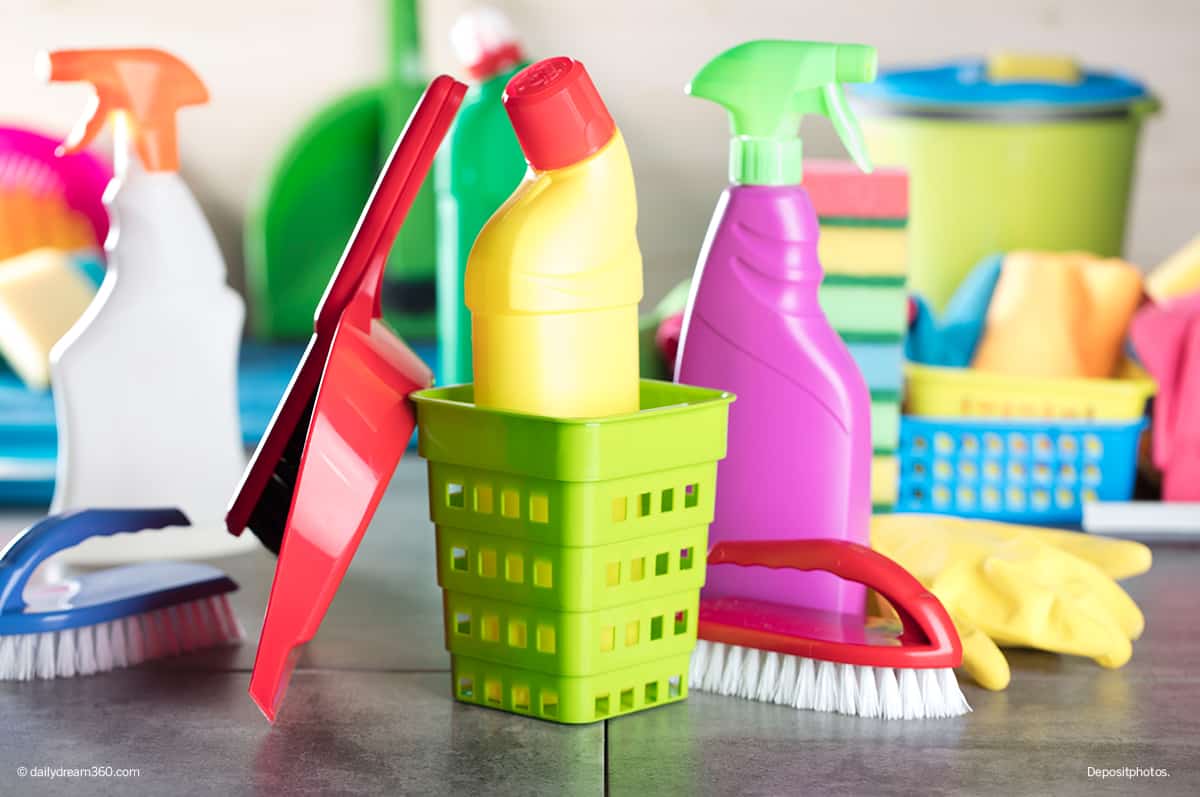 Plan it.
The 7-Day Home Declutter Challenge
Every day of the challenge, we'll tackle something new. Have a look at the list below to see what's in store for the program.
1 – Declutter challenge preparation and Declutter Your Home Checklist
2 – Decluttering and Organizing Closets
3 – Cleaning Bathrooms
4 – Decluttering Bedrooms
5 – Organizing the Living Spaces in Your Home
6 – Creating a Dream Organized Kitchen
7 – Decluttering and Organizing Your Home Office
That's it – 7 days, 7 areas. 7 ways to make life that much easier.
Where to Start Decluttering?
For some decluttering can be overwhelming. The biggest challenge will be where to start decluttering in your home? You may follow experts like Marie Kondo and her Tidying Up style or you may want to go at your own pace and tackle one decluttering goal at a time. I created the challenge for those that like small actionable steps and goals.
If you are like me, a single self-employed woman finding the time during the week when you are working may make a 7-day challenge very difficult. So it is important to set goals that you can actually achieved. Which is why I broke this down to 7-day and different areas in your home that may be easier to tackle on a weekend.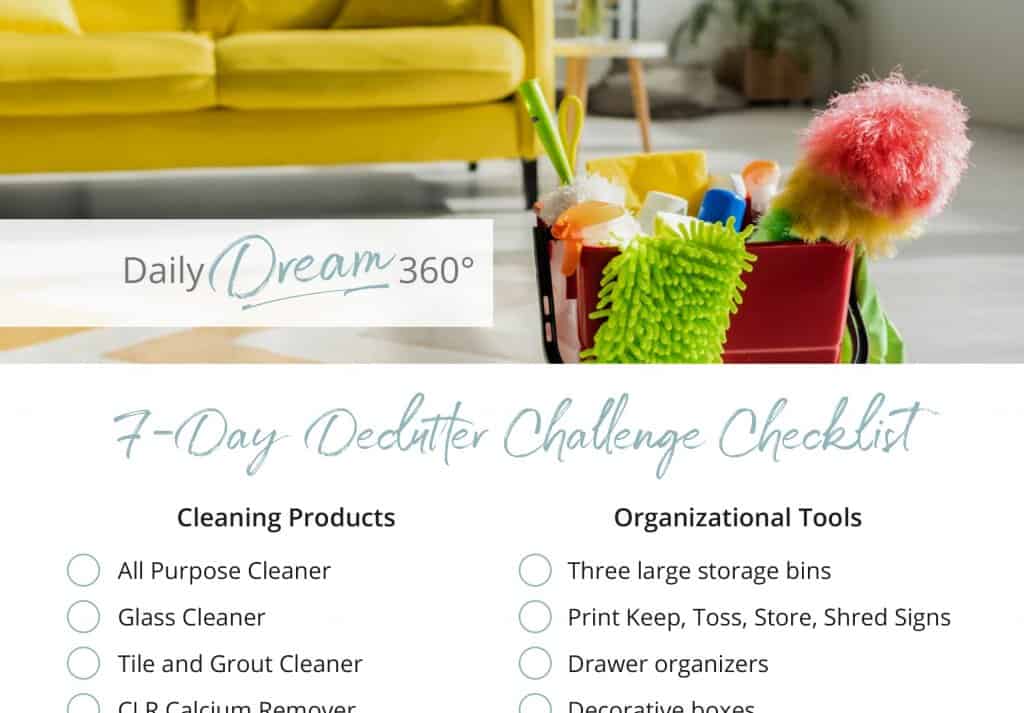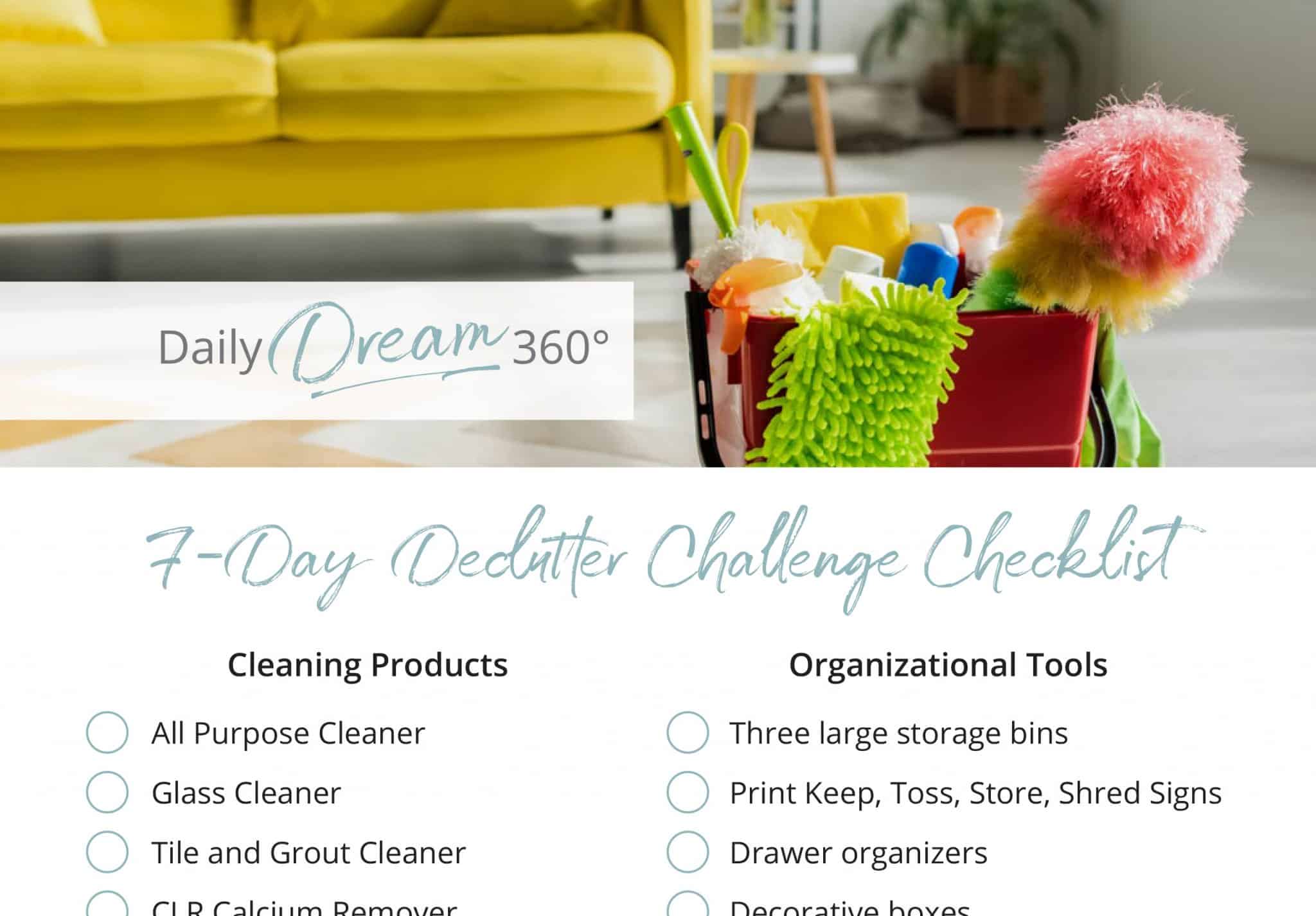 Declutter Your Home Checklist
Since this is the first day of this decluttering challenge, we'll focus on how you can prepare for the other seven days. We put together a declutter your home checklist you can go through to make sure you have everything you need to conquer this home organization and cleaning challenge. Download it here.
If you would like access to our exclusive downloads area where you can access all our checklists and printables sign up for our newsletter.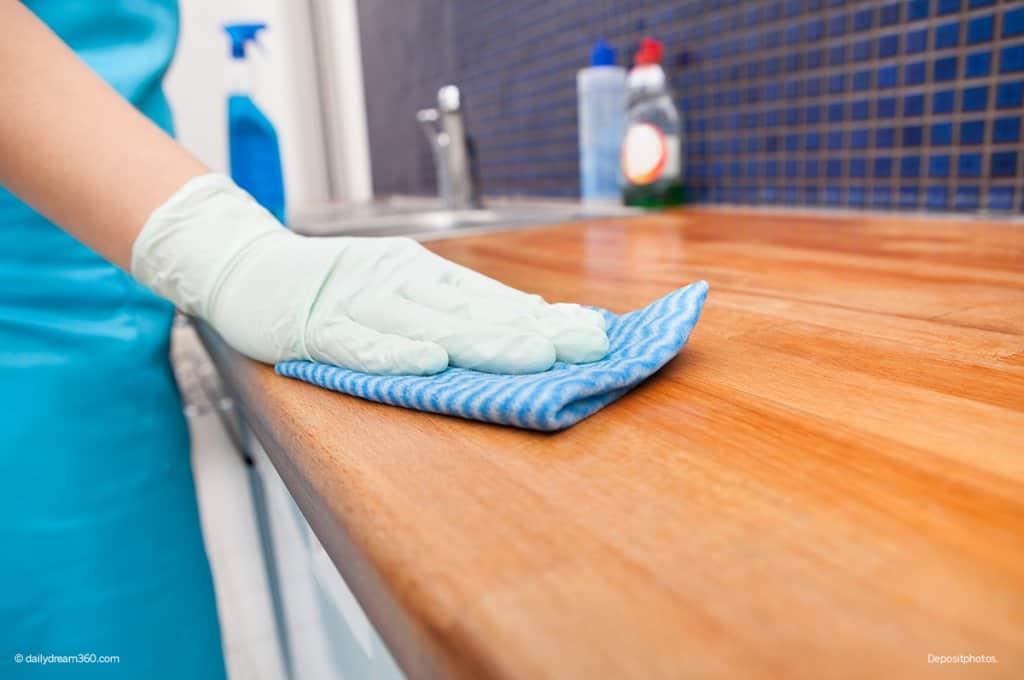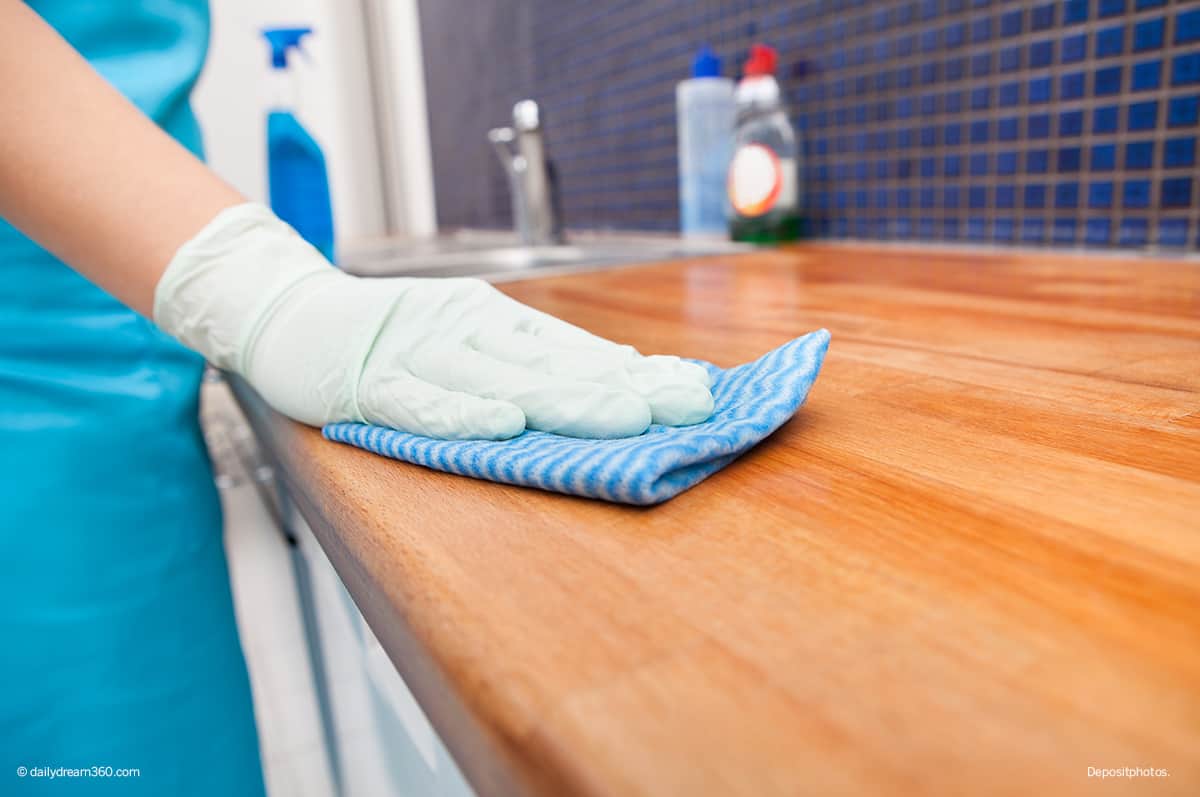 Live it.
Preparing to Declutter Your Home
To start decluttering your home, there are some essentials you'll need to have in your arsenal. Let's go through them and why you need them.
Cleaning Solutions:
The choice is yours if you want to use your everyday products like Mr. Clean cleaning solutions or all-natural options like Nature Clean. You'll use these products to disinfect and deep clean everything from cupboards to tiles. Make sure you have cleaning products specific to the areas you will be tackling
Bathroom Cleaner Products
Stock up on your favourite bathroom cleaners which include: toilet bowl cleaning, CLR Calcium remover and tile cleaners.
Kitchen Cleaning Products
For the kitchen you'll want grease fighting cleaners, floor cleaners and disinfecting sprays and wipes.
Other Cleaning Solutions to Have on Hand
For a deep clean in some areas of your home consider stocking up on mold and mildew fighters, glass/window cleaners and carpet stain removers.
Cleaning Tools:
You can't use any of the above if you don't have the right tools on hand to work with them. I suggest the following:
Microfibre cloths
Feather duster
Vacuum cleaner
Toothbrush
Scrub brush
Paper towels
Magic erasers
Hand vacuum
Traditional mop or steam mop
Home Organization and Storage Solutions:
Once you take stock of everything you have and what you want to store or toss, you'll have a good idea of what storage solutions to have on hand. It can be as simple as a couple of plastic bins or as detailed as vanity organizers. Here's a list of a few things to consider when you are analyzing your space for storage solutions:
Shower caddies
Under-cabinet storage
Plastic bins
Drawer organizers
Hampers and baskets
Shoe storage
Closet storage
Motivation to Declutter Your Home:
For some the biggest challenge about taking on a spring cleaning or decultter your home challenge will be how to get motivated to clean when overwhelmed by mess? We're going to be cleaning and organizing for a few days, so we'll need something to keep us energized and focused. Some love to work in complete silence, but I'm not one of those people.
If you find you need something to help keep you motivated, like me, check out these ideas:
Music: Jam along to your favourite radio station or playlist as you clean and organize your home.
Podcast: Use the time to discover an educational or entertaining podcast while you are decluttering a room.
Audiobooks: from classic reads to recent bestsellers, audiobooks will help keep you stimulated for hours helping you forget you are cleaning. You can download these free from your local library app.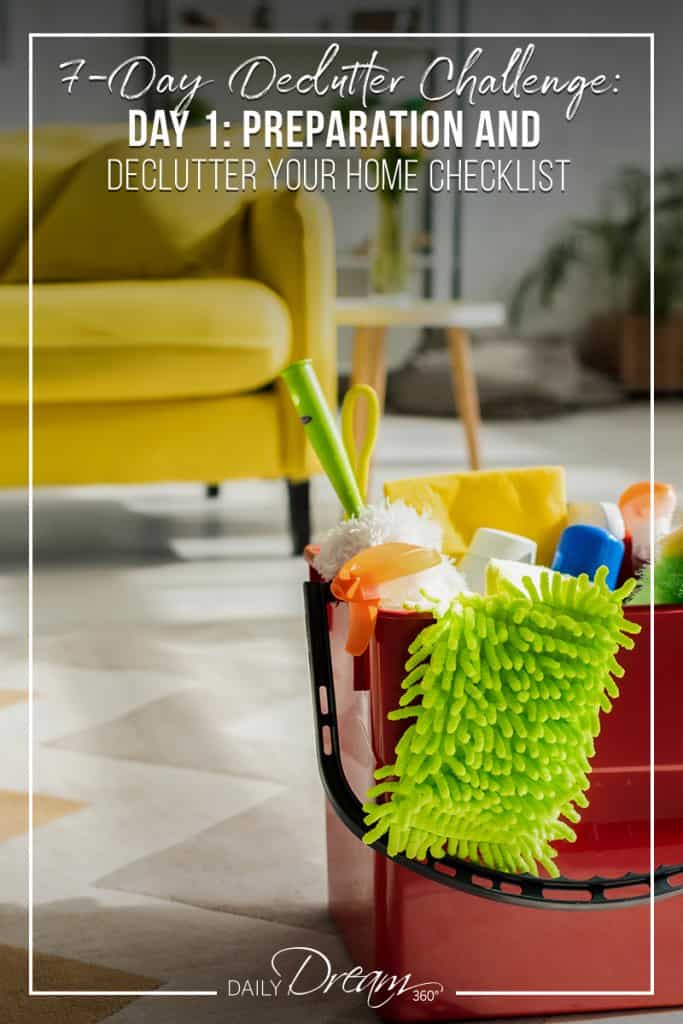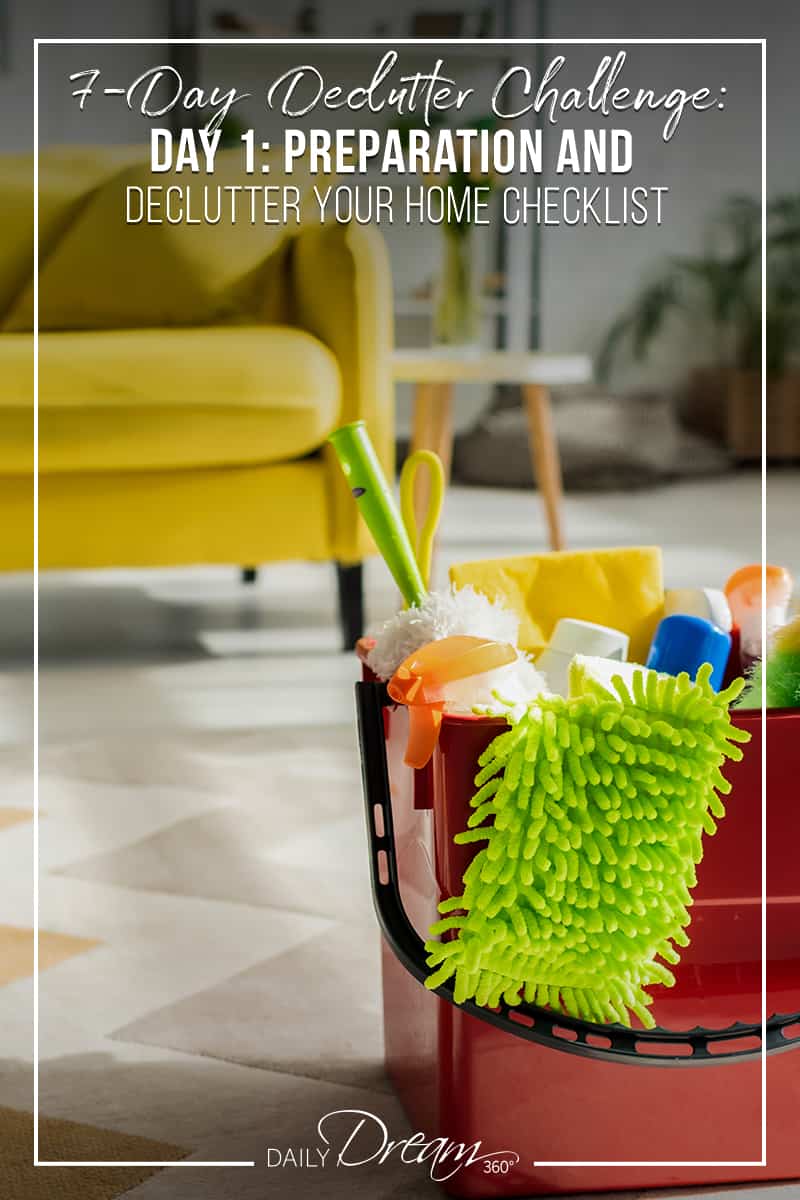 Are you ready? Let's go! The 7-Day Decluttering Challenge Starts Now!
For each day of the 7 Day Declutter Challenge a new article will be posted focussing on a different part of your home. So, if you miss one day or join the challenge late, you can still take part.
Next up in the 7 Day Declutter Challenge, Day 2: Decluttering and Organizing Closets.
Want to Jump ahead? Here is the entire 7-Day Declutter Challenge, feel free to tackle each space in your home in whatever order you like.
1 – Preparation and Declutter Your Home Checklist
2 – Decluttering and Organizing Closets
3 – Decluttering Bedrooms
4 – Cleaning and Organizing Bathrooms
5 – Organizing the Living Spaces in Your Home
6 – Creating a Dream Organized Kitchen
7 – Decluttering and Organizing Your Home Office