This article may contain affiliate links. Clicking on or purchasing products we recommend through a link may earn a small commission. Read our disclosure and privacy policy page for details. *COVID-19 TRAVEL ALERT – Travel recommendations offered on this site are not to encourage you to travel against travel advisories.
It's day seven! YES! We made it! Organizing and decluttering your home isn't easy, but you pulled it off. You've made it this far, so let's finish strong with how to declutter your home office.
If you have a jam-packed filing cabinet, overflowing drawers, or an office table hidden somewhere underneath piles of paper, you're not alone. There is a reason I saved this one for day 7 and that is because my office looks like an explosion went off in the middle of it.
But don't worry. We're going to turn your office space back into your temple of solace where you can get your work done and let your creativity flow. So without further adieu, let's get on with it.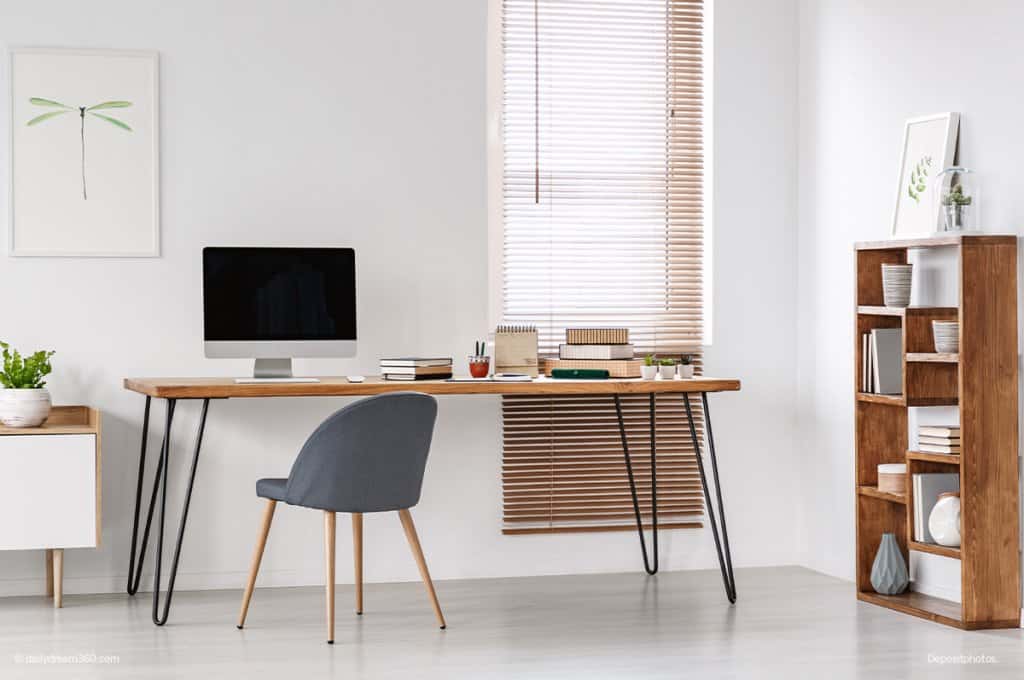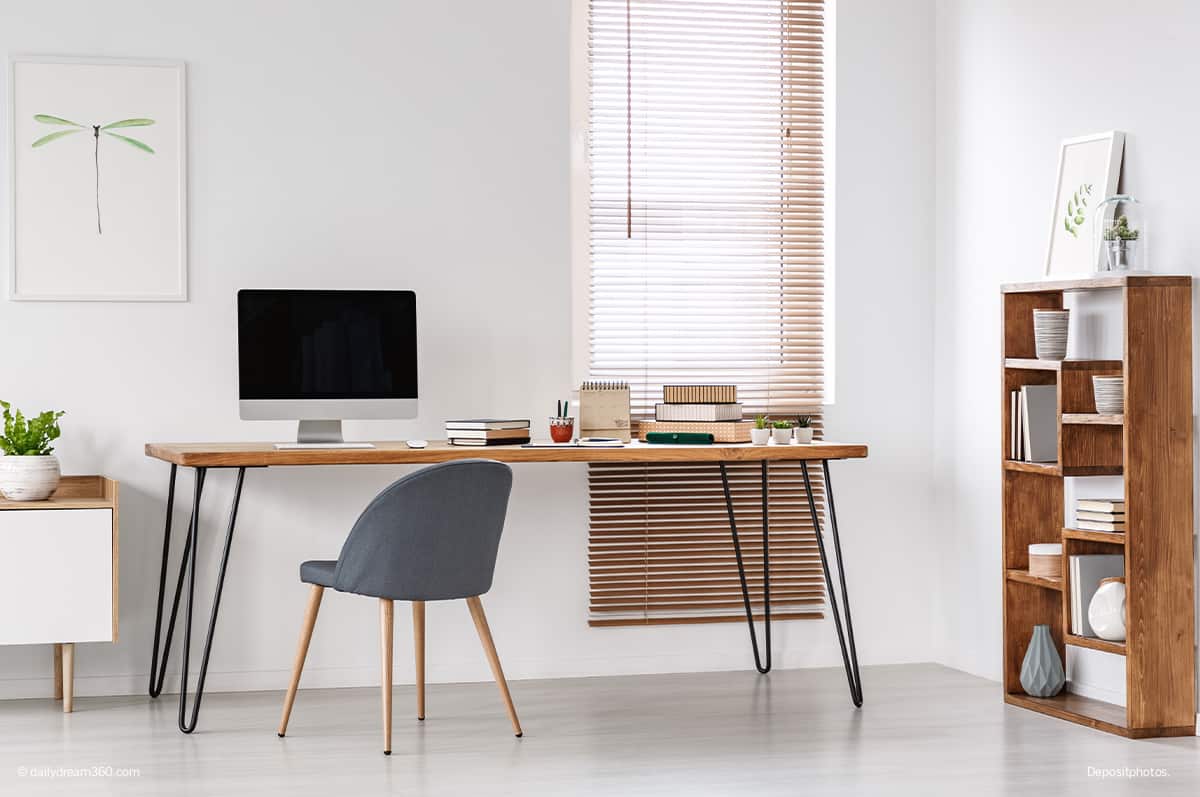 Dream it.
If you're planning a trip that involves a pool, lake, or beach of any kind and you don't want to buy a special waterproof camera or action camera, then a waterproof pouch for your phone could just be the solution you are looking for. Most of us have replaced our cameras and choose to travel with our phones and while there are some water-resistant models out there, protecting your phone with a waterproof pouch could save you a costly repair or replacement.
A Decluttered Office Space Inspires Creativity
The office should be a place where you can get away from distractions and get to work. We usually do our best work in this space, but we do a lot of hoarding here, as well. If you're like me, you keep everything from photo albums to old tax documents in the office. While you may not want to get rid of these items, you can undoubtedly find homes for them or store them away.
A dream office will have everything at your fingertips or in easy to find locations within the room. It should spark your imagination and motivate you to finish your tasks. Offices don't have to be fancy, but they should help you be as productive as possible.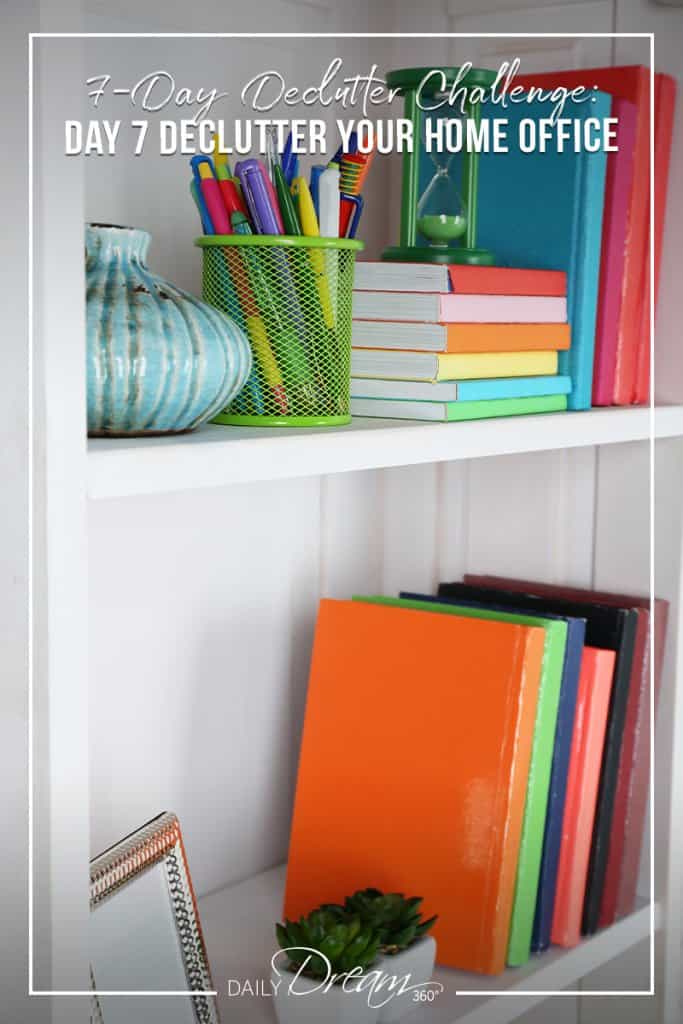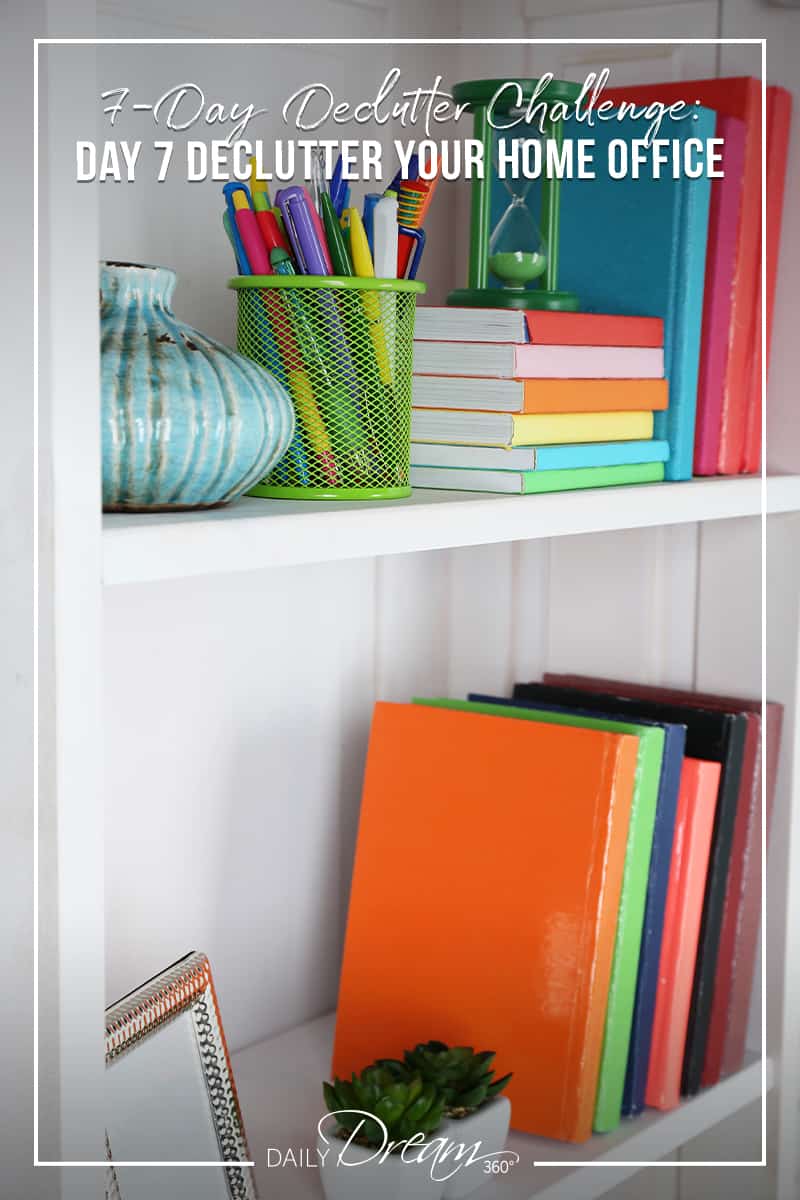 Plan it.
Tools You Can Use to Declutter Your Office
There are all kinds of gadgets, products, and organizing systems, you could buy for the office. But let's keep it simple and concentrate on clearing the clutter and either working with what you have or making a few essential purchases.
Items you may want to have on hand include the following:
Four bins – Keep, Toss, Store, Shred – since we'll mostly be dealing with papers in the office, a designated bin for shredding will be helpful.    
Shredder – anything with your personal information, or others, should be shredded. You probably already own one of these, but if not, definitely invest in a cross-cutting shredder. 
File folders – if you don't already have these, go out and get some. And don't forget to buy labels too.
Mail organizer – consider putting this in the office if you don't already have one in your foyer or front entrance.
Drawer organizer – use to keep all of your items together.
Small containers – use similarly as a drawer organizer.
Label maker – Great for putting labels on the outside of cabinets, boxes or for organized filing.
Cleaning products – disinfectant wipes, feather duster, furniture cleaner.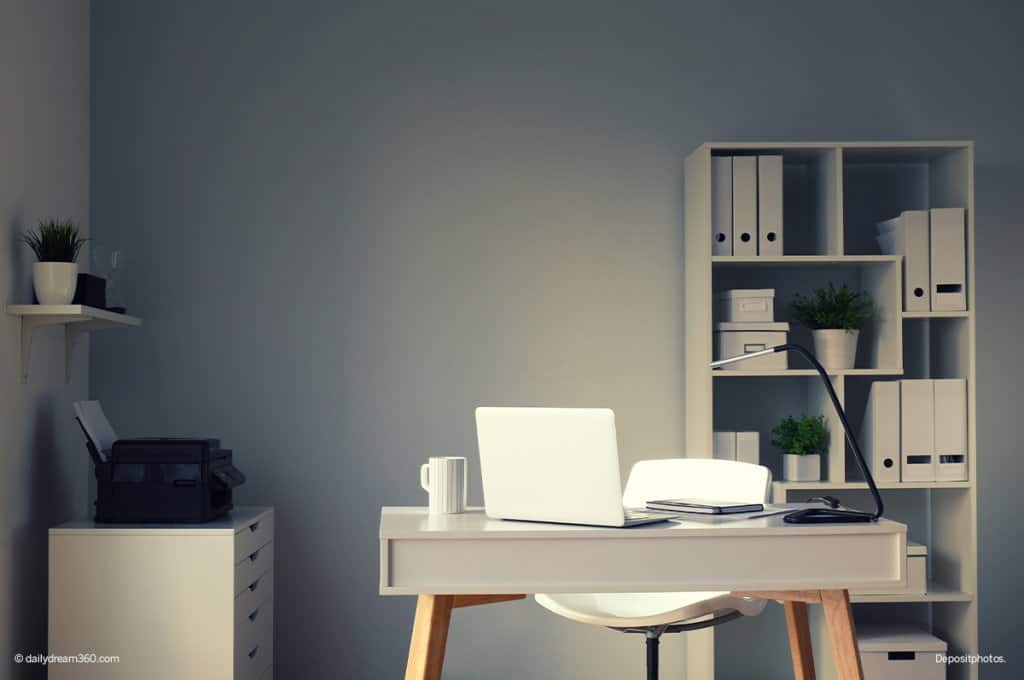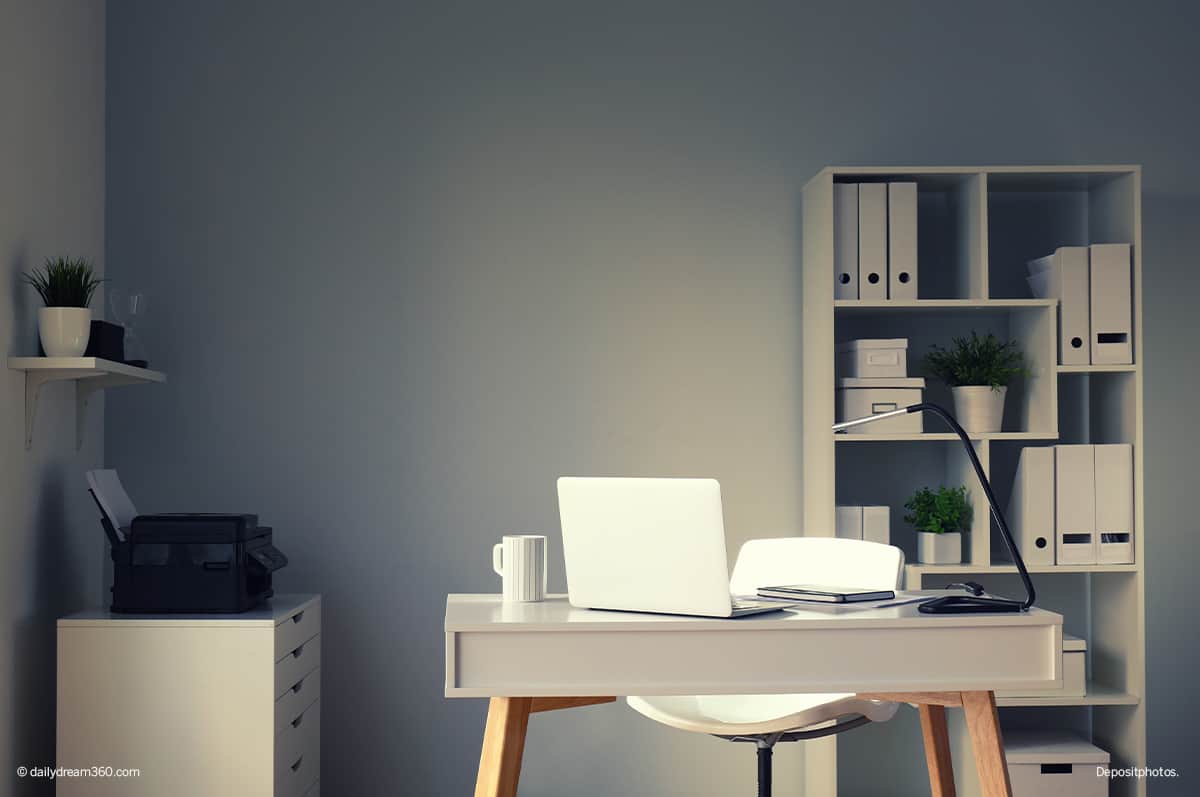 Live it.
Steps to Declutter Your Home Office
Clearing Paper Clutter in Your Home Office
Work methodically to gather and sort papers that are on the desk and other surface areas. Use your four bins to decide if you will keep, toss, store or shred these documents. Papers or mail that you need to act on immediately can be placed in the keep bin and taken care of once you're finished.
Create digitized versions of important papers you want to have a record of but don't necessarily need to keep as hard copies. You can scan them or take a picture. Remember to organize these files in your computer with the appropriate labels. Once you have a digital copy, you can toss the original.
Cleaning and Decluttering Bookcases and File Cabinets in the Home Office
Once your surface areas are clear of papers, you can see what's left to do. I recommend tackling any open shelves or bookcases and storage cabinets in your office.
Use the Keep, Toss, Store bins again to organize all the items on your bookcases. This is the best way to empty those shelves so you can do a deep cleaning and then figure out what will go back on the shelves.
Use boxes, magazine holders and other organization tools to sort the items you are keeping on the shelves in an organized order.
Go through your filing cabinet and use the four bins to sort their contents. Digitize what you can, file documents to keep appropriately, and toss what's unnecessary.
Decide what papers/files to place in storage. Don't feel obligated to keep years worth of tax information and other important but accumulating documents in your office. Designate a time frame and spot for these important documents and be sure to clean out one year's worth at tax time.
Label all the folders in your cabinet; this will make finding what you need so much easier.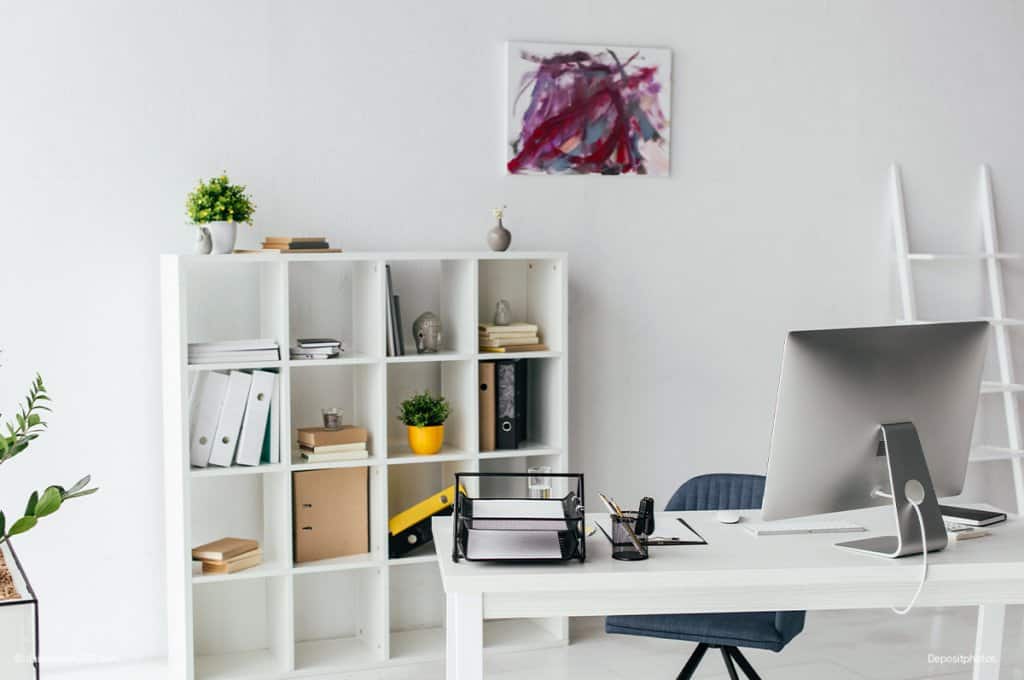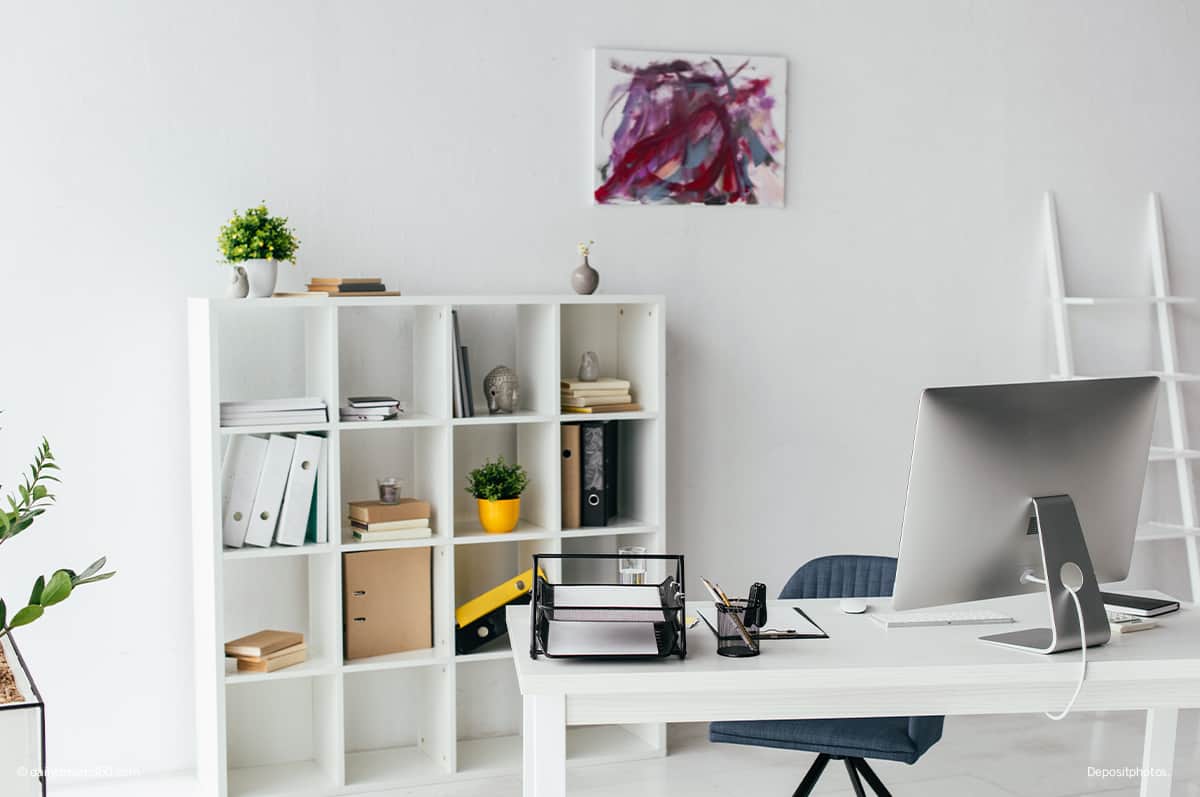 How to Declutter Your Home Office Desk
Decide if all of the supplies and gadgets on your desk are helping or hindering you. Remove items that you don't use often and find a home for them in a nearby drawer or cabinet. Or get rid of them if they serve no purpose.
Decide if all of the supplies and gadgets on your desk are helping or hindering you.
Remove items that you don't use often and find a home for them in a nearby drawer or cabinet. Or get rid of them if they serve no purpose.
If your desk has drawers, remove the contents of your drawers and decide whether you really need everything in them.
Use drawer organizers or small containers to organize similar items together.
Dust and wipe surface areas with a disinfectant wipe or furniture cleaner.
Handy tip: Tired of seeing a tangle of cords and cables under your desk? There are plenty of smart and inexpensive solutions available to help you tame them. You can take the DIY route and use simple twist ties or velcro ties or purchase cable organizers like clips, sleeves, and more. The choice is yours.
That's it! We're all done! Give yourself a pat on the back. I hope you feel accomplished, confident, and organized. With your house finally arranged the way you've always dreamed, you can sit back, relax, and enjoy.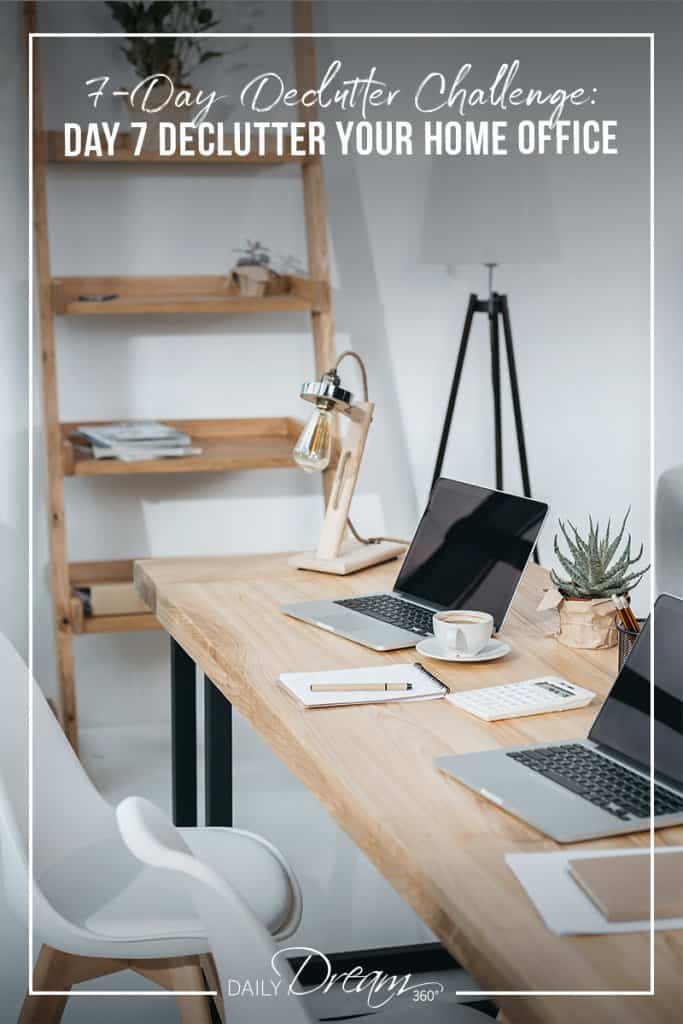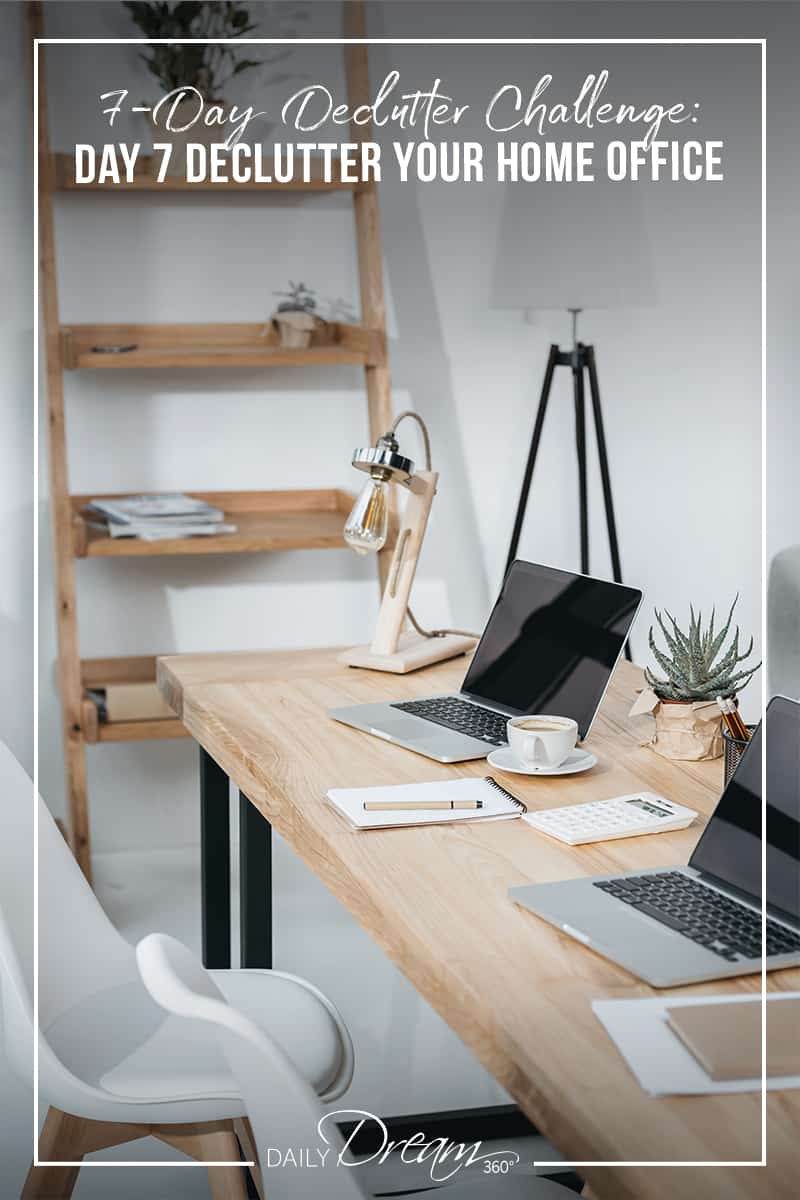 Our Complete 7-Day Declutter Challenge
Joined us today? Want to see what you missed? Here is the entire 7-Day Declutter Challenge, feel free to tackle each space in your home in whatever order you like.
1 – Preparation and Declutter Your Home Checklist
2 – Decluttering and Organizing Closets
3 – Decluttering Bedrooms
4 – Cleaning and Organizing Bathrooms
5 – Organizing the Living Spaces in Your Home
6 – Creating a Dream Organized Kitchen
7 – Decluttering and Organizing Your Home Office