This article may contain affiliate links. Clicking on or purchasing products we recommend through a link may earn a small commission. Read our disclosure and privacy policy page for details. *COVID-19 TRAVEL ALERT – Travel recommendations offered on this site are not to encourage you to travel against travel advisories.
It's Day 5 in the 7 Day Declutter Challenge. We've only got two more days to go – but don't start the celebration just yet. Today we're taking on living areas. We use these spaces to gather, eat, rest, work, and play. We do most of our living in these areas, and they can become the most cluttered. 
Whether you live alone or have a large family, keeping your living areas free of clutter can be difficult. But if you plan your spaces wisely and declutter often, cleaning up on a daily basis won't seem like an impossible task. 
Let's see what you can do to make your living areas more welcoming and organized.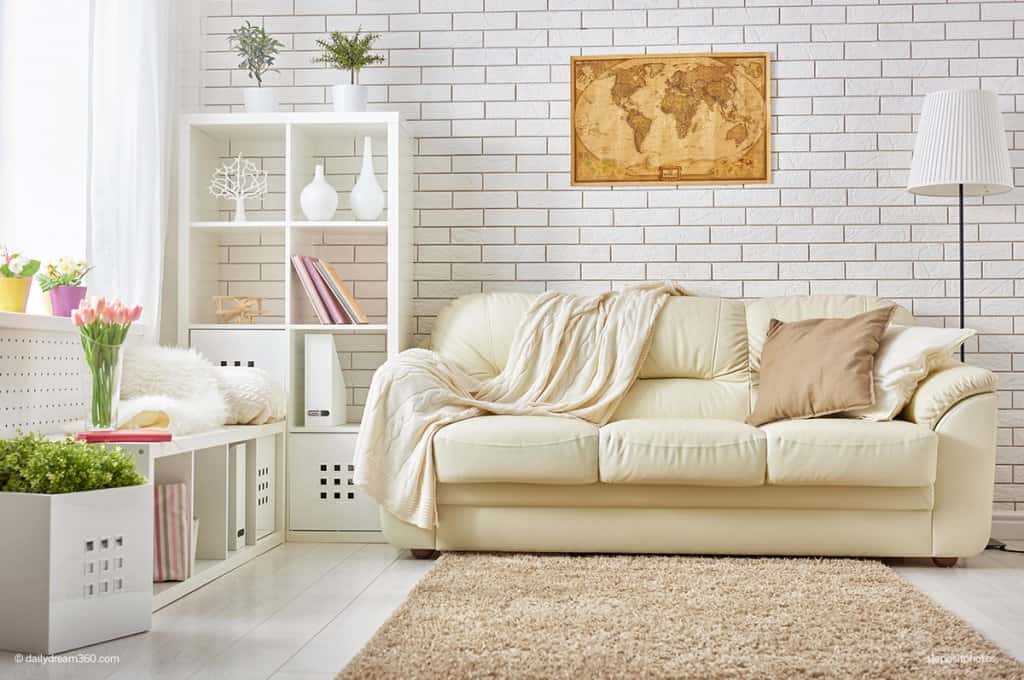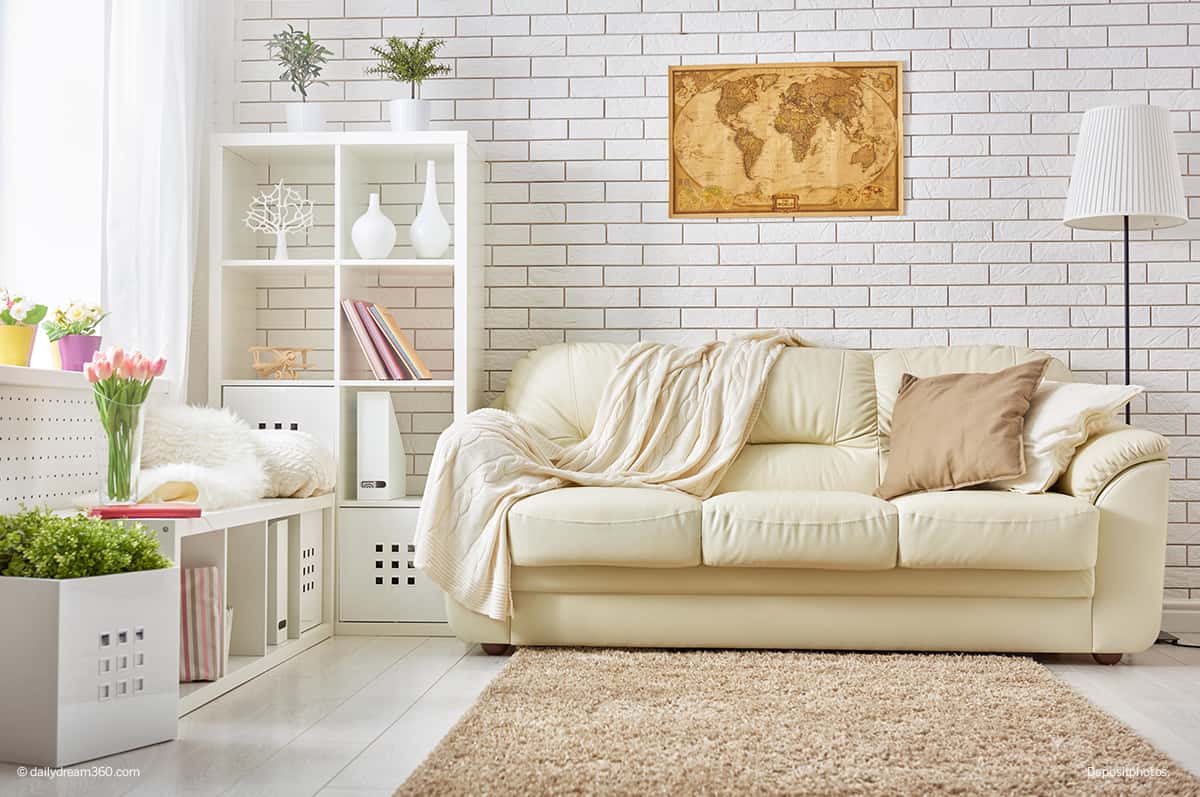 Dream it.
Organized Living Rooms Straight Out of a Magazine
Your living room, dining room, and family room are the areas most often seen by visitors to your home. And where your family does most of their congregating.
These areas have many purposes and are often the showrooms of the house. We want them to be warm, functional, and inviting spaces that make us feel happy and at ease – where we can welcome guests but also settle in for a family game night. 
It doesn't take a lot to improve the look and feel of your living areas. A little decluttering, organization and cleaning will ensure these rooms continue to be the stars of your home.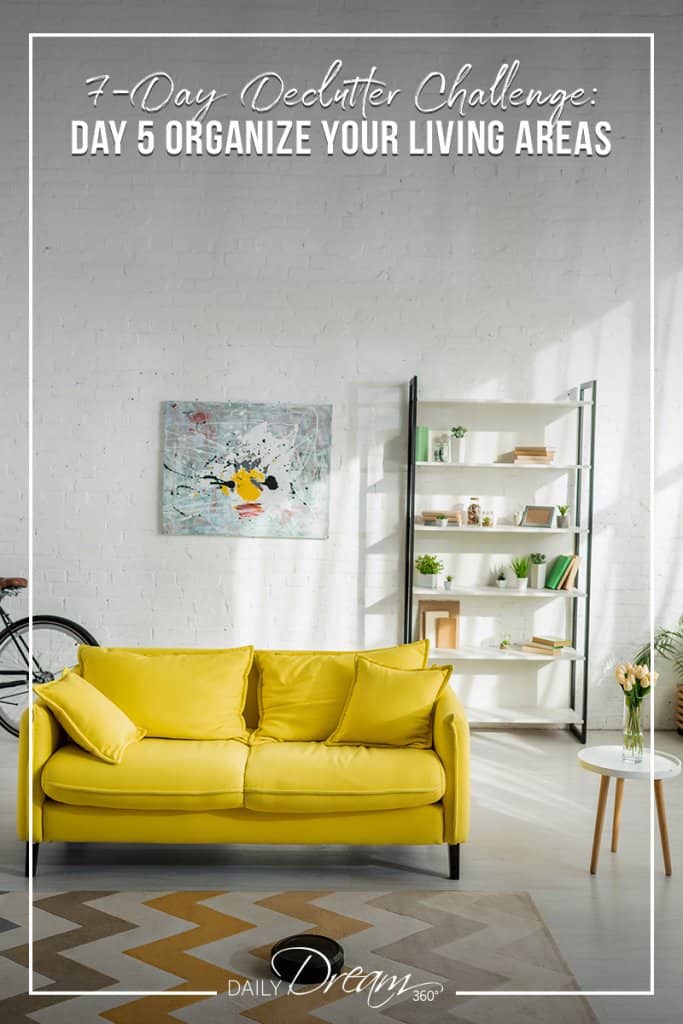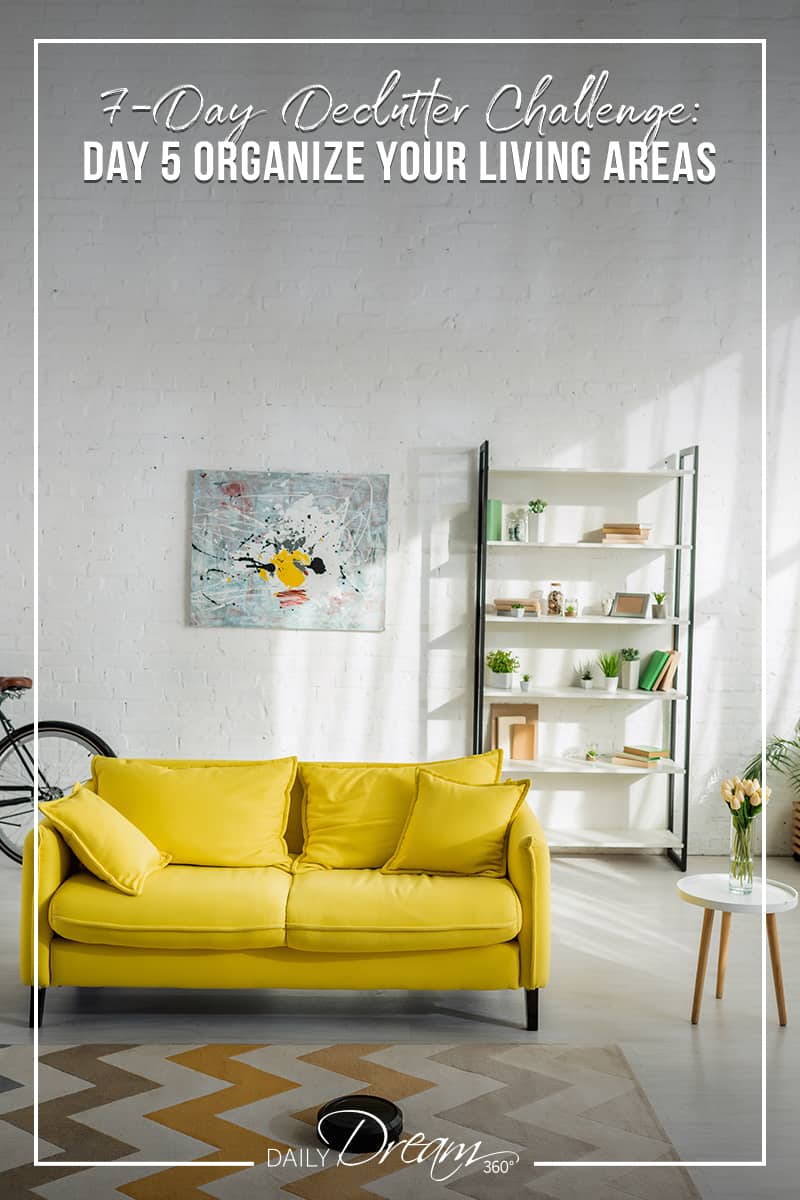 Plan it.
Tools For Organizing Your Living Room
It's easy to see how living spaces get chaotic. From entertaining to regular family activities, these rooms do it all. So, to make sure they stay looking their best, here's a list of items you'll want to have on hand.
Keep, Toss, and Store bins – useful for sorting items.
Decorative containers – use to control clutter on shelves, coffee tables, and entertainment consoles.
Permanent storage solutions – no need to break the bank here and buy an expensive unit. But if you have books, entertainment devices, or kids' toys that don't have a home, permanent storage is a great solution.  Simple purchases like a bookcase, a mounted shelf, a toy organizer, or an entertainment centre can be your saving grace.
Cleaning products – disinfectant wipes, feather duster, furniture cleaner, glass cleaner, vacuum, mop.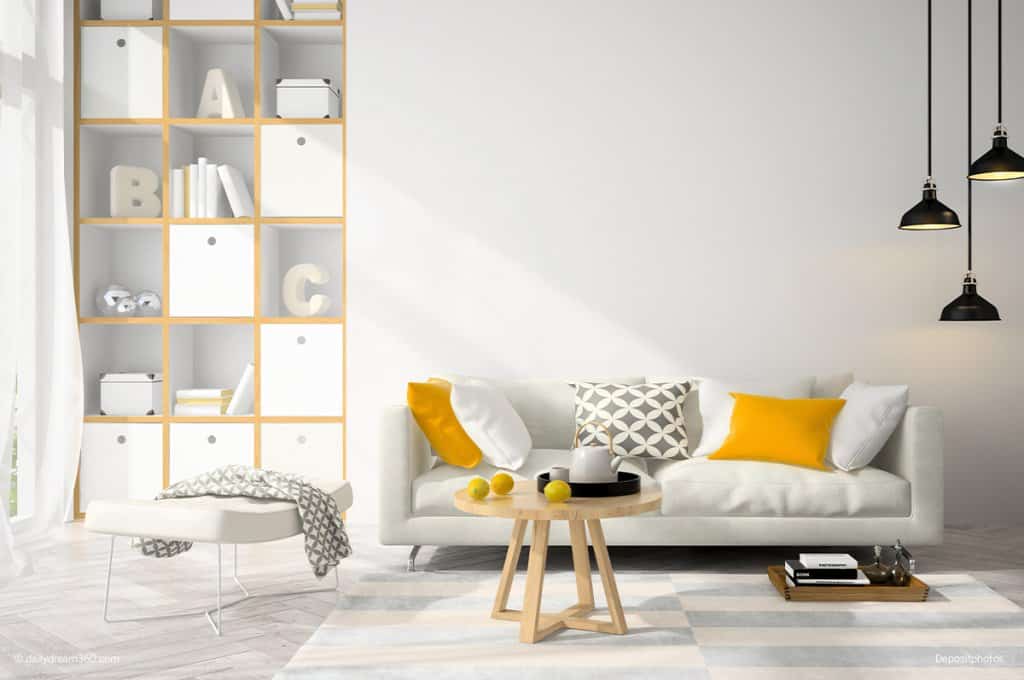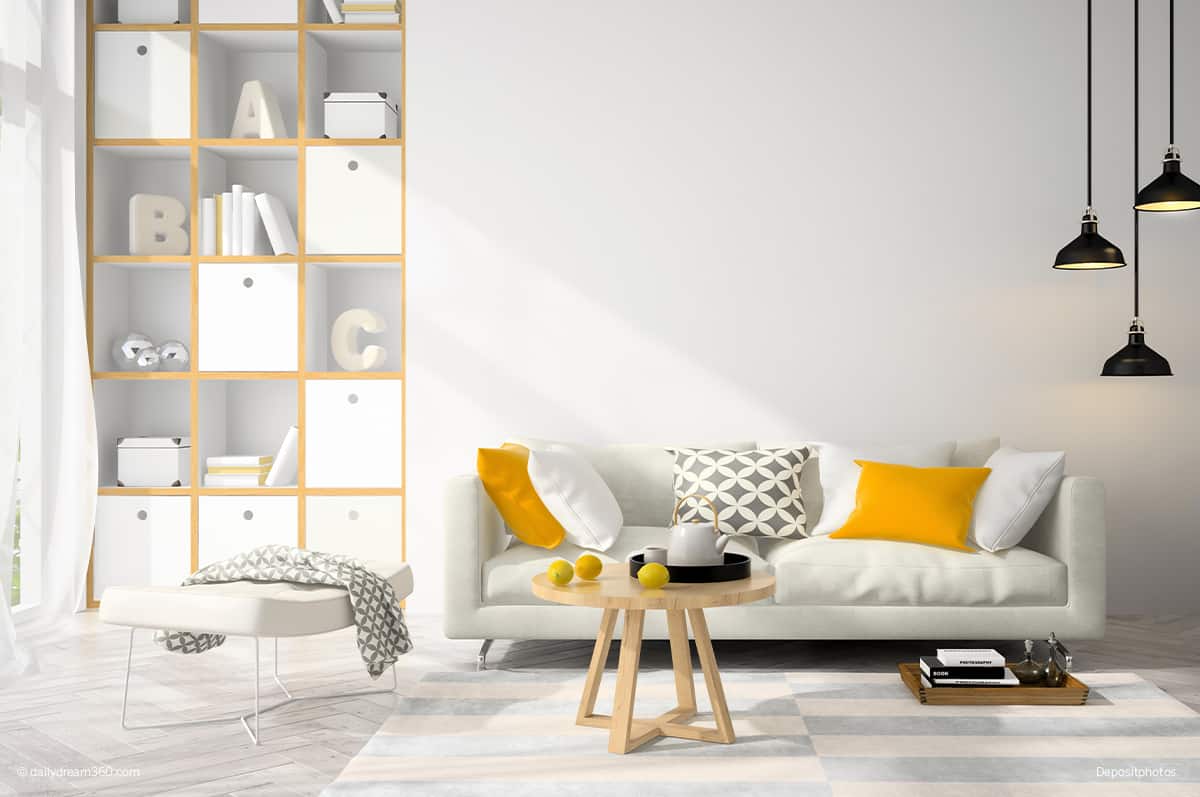 Live it.
Cleaning and Organizing Your Living Room
It's finally time to get down to some cleaning. Depending on the size of these rooms and how much clutter is in them, you may not be able to do all of these areas in one shot. That's okay. Take your time with Day 5 as you want to make sure you do a thorough job in each of these living spaces.
Be brutally honest. Let's face it; we all tend to hang onto things longer than we should. Now is the time to say goodbye to broken, never been used, or useless items. 
With that thought in mind, here are the steps you'll need to tackle each of these living areas.
Steps for Cleaning Your Living Room
Assess the room, and start removing items that shouldn't be there in the first place. Amass them in a bin and distribute them to their rightful locations (can be done at the end).
Go through your bookcases, consoles, side tables, and cabinets, one at a time. Take items out and use the three-bin system to decide if you will keep, toss, or store these items. Remember, things you want to keep, put back on your shelves or in your cabinets. Items you want to toss, donate, recycle, or dispose of them. And items you want to store, place in your designated storage location (garage, basement, attic, etc).
Before replacing any items, clean the inside of cabinets, shelves, and tables. Replace items.
Put all toys away in the toy bins or toy organizers. If you need to, go through these items first and decide if your kids still play with or use them.
Clean in between the crevices of your furniture. Lift up cushions and remove the items you find there – you will be surprised at what the couch can collect. Vacuum the inside of the sofa.
Make use of decorative baskets and bins to store games, remotes and gadgets, miscellaneous items, and charging cables. 
Don't forget to clear the tops of surfaces like the tv console and side tables. Clean with a feather duster and furniture cleaner.
Use window cleaner to clean mirrors or glass on furniture.
Handy tip: Tired of seeing mail on your tables and other surfaces in your living areas? Keep a mail sorter in the front area/foyer or the office for handy storing and organizing.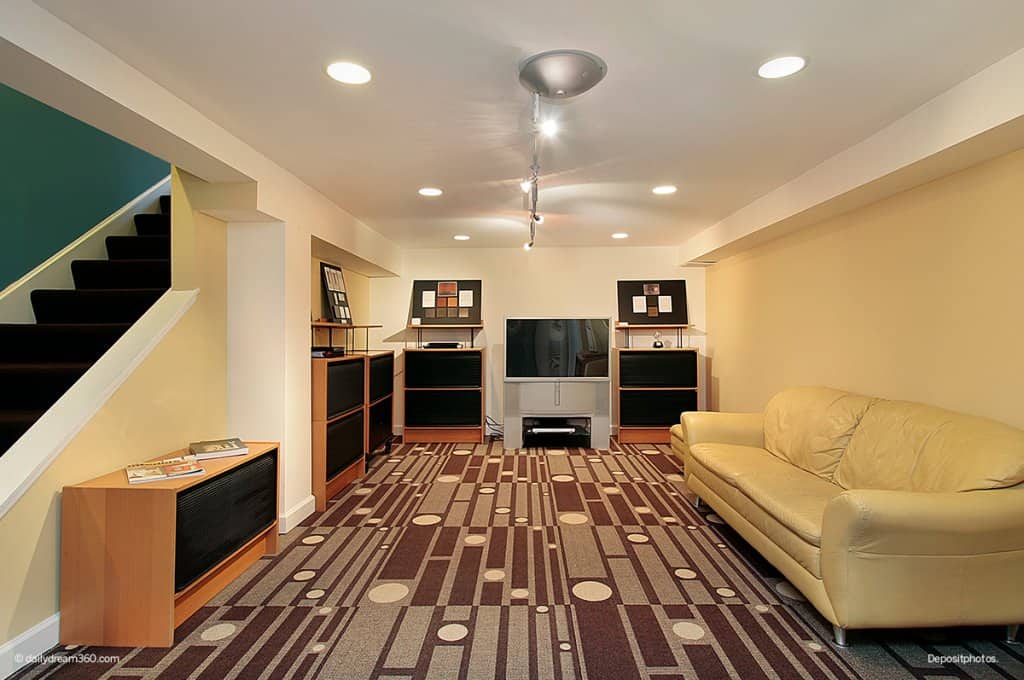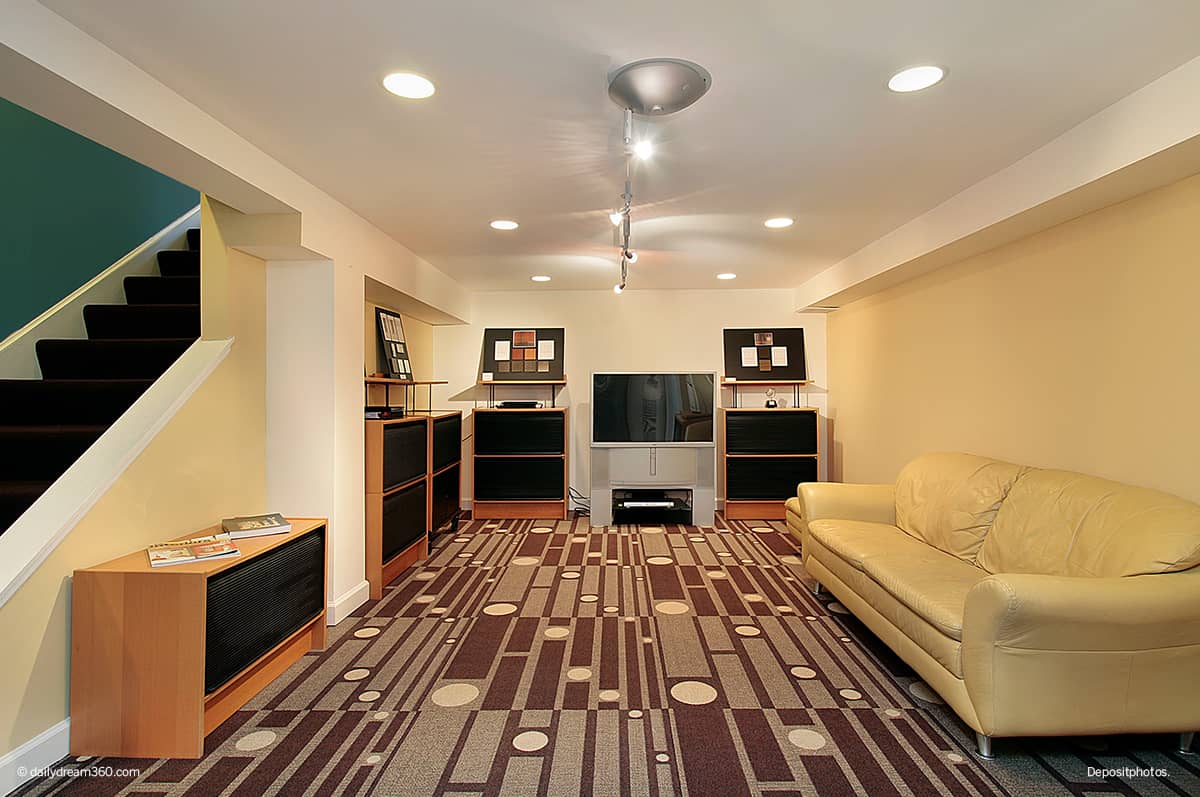 Don't Forget the Basement Play Spaces
Another space you need to remember are game rooms or playrooms in the basement. Use the tips above to tackle those rooms too. Keeping gaming consoles organized in bins or plastic drawers, organizing toys in chests and on toy shelves.
Almost there. Day 6: Organizing the Kitchen is up next!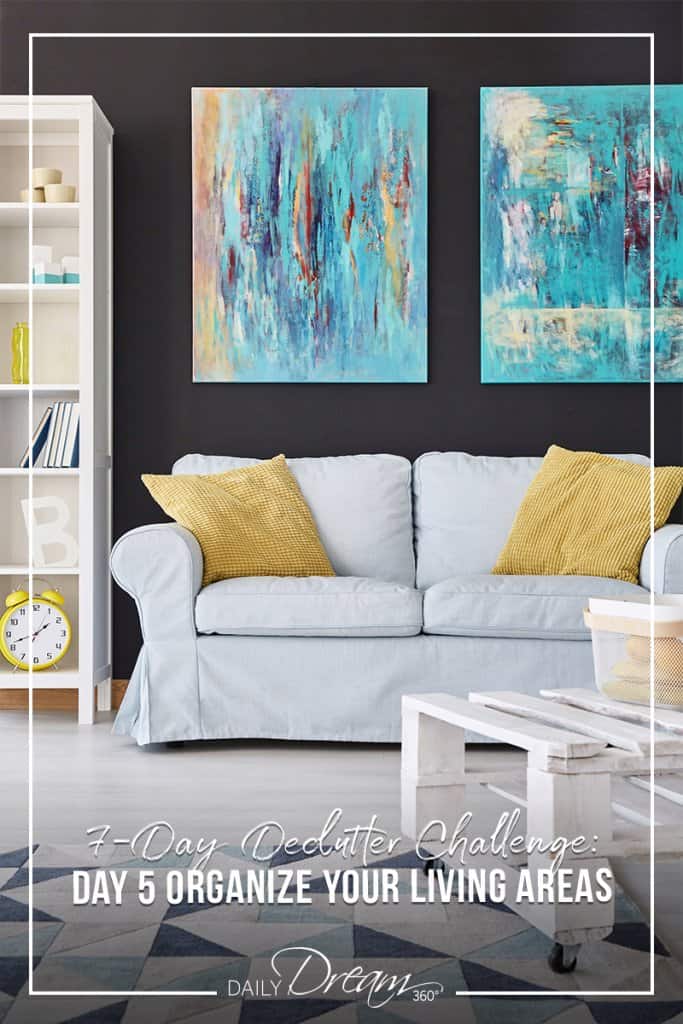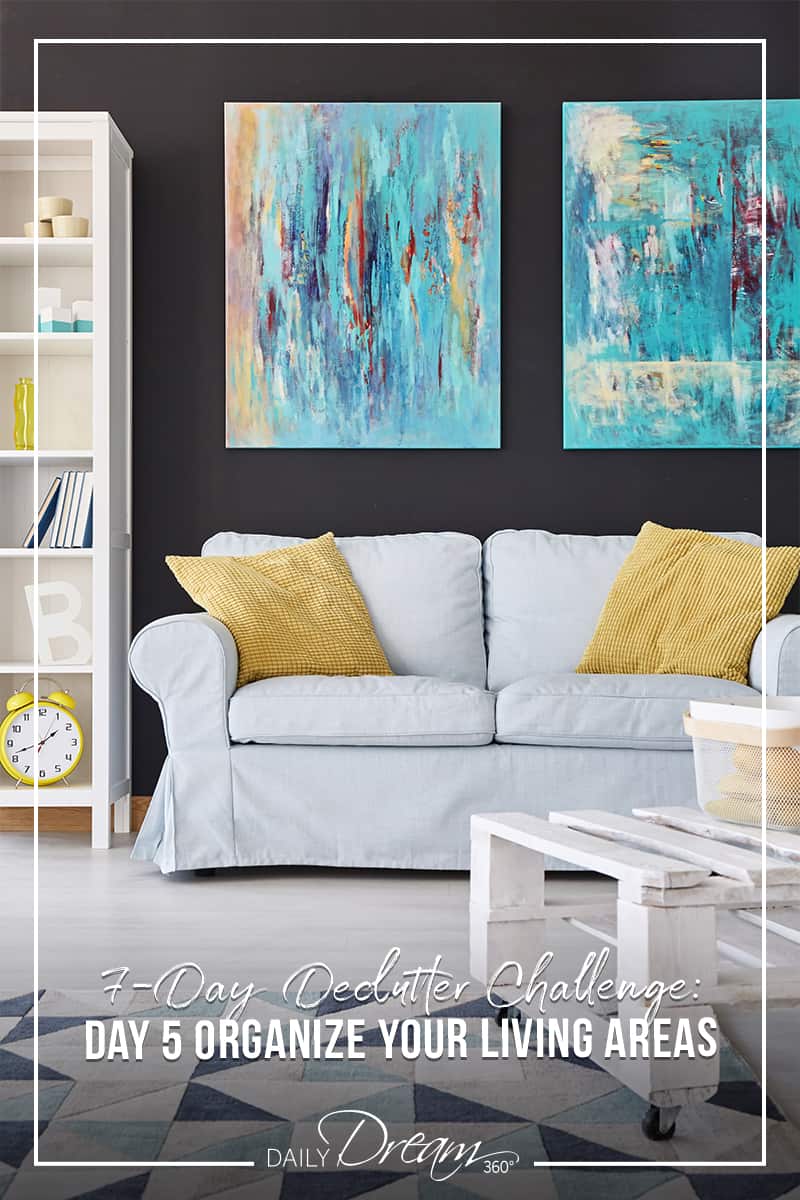 Keep it Up! Your Almost Through the 7-Day Declutter Challenge
Missed a day? Want to Jump ahead? Here is the entire 7-Day Declutter Challenge, feel free to tackle each space in your home in whatever order you like.
1 – Preparation and Declutter Your Home Checklist
2 – Decluttering and Organizing Closets
3 – Decluttering Bedrooms
4 – Cleaning and Organizing Bathrooms
5 – Organizing the Living Spaces in Your Home
6 – Creating a Dream Organized Kitchen
7 – Decluttering and Organizing Your Home Office