This article may contain affiliate links. Clicking on or purchasing products we recommend through a link may earn a small commission. Read our disclosure and privacy policy page for details. *COVID-19 TRAVEL ALERT – Travel recommendations offered on this site are not to encourage you to travel against travel advisories.
When I first started doing yoga, it was at home in my living room with a DVD I found in a sale bin. Now I've created a little peaceful sanctuary where I can practice regularly at home. Here are some basic yoga essentials and the best yoga equipment for practicing yoga at home.
It doesn't take much to start practicing yoga at home, and if you've decided to skip the yoga studio, you can create a beautiful space in your home. I have some tips on things you can do to make an at-home yoga space for your practice.
Dream it.
If you're planning a trip that involves a pool, lake, or beach of any kind and you don't want to buy a special waterproof camera or action camera, then a waterproof pouch for your phone could just be the solution you are looking for. Most of us have replaced our cameras and choose to travel with our phones and while there are some water-resistant models out there, protecting your phone with a waterproof pouch could save you a costly repair or replacement.
I'll start by saying I live in a Condo, so I know it is possible to create a spot for an at-home practise even with limited space. Like me, you may have a dream of a complete yoga studio in your home, but for many of us, that is not exactly possible.
If you can roll out a mat, you have a yoga space. Start with a location for your mat and use some of the yoga essentials in this post to store your gear and create a space you'll love.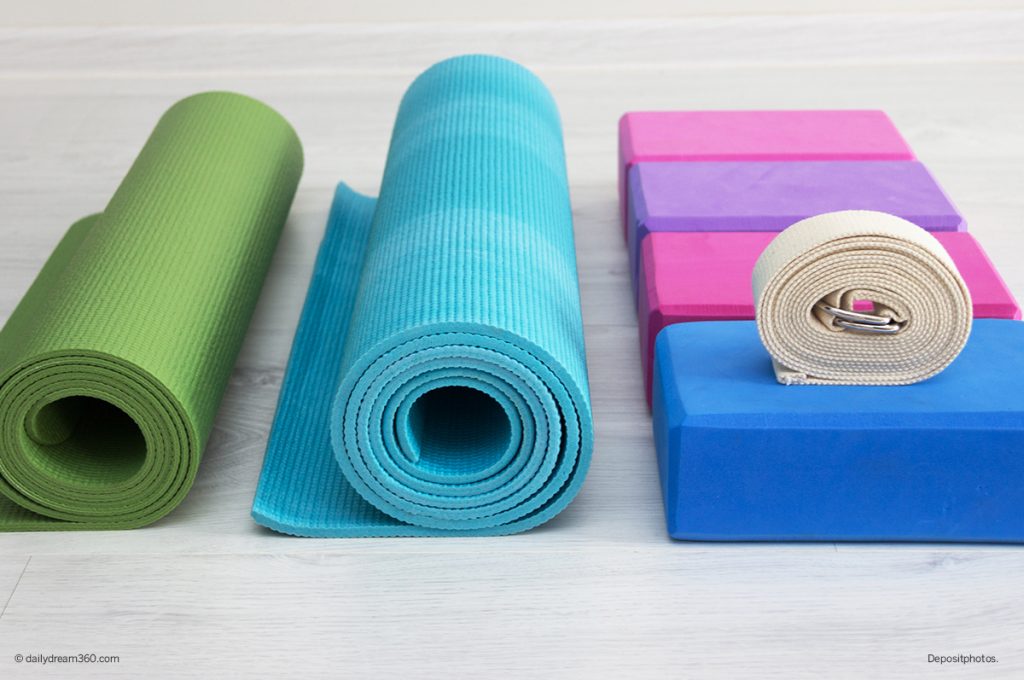 Plan it.
Yoga Essentials to Get Started with Yoga at Home
Again you don't need to spend a small fortune on yoga gear. You can find yoga equipment at affordable price points at Walmart, TJMax, Winners and even the dollar store. However, you'll want to make sure you don't make a rookie mistake when it comes to your mat.
Yoga Mat Buying Guide
The Yoga Mat is an essential item for starting a yoga practice. I can write a post on buying a yoga mat; however, to start, here is what you need to know about buying a Yoga mat.
Read more: Sugarmat Designer Yoga Mats and Accessories
Yoga Mat Thickness
A mat's thickness is a tricky decision. Many like having a thick yoga mat to offer some cushion for specific yoga poses, however too thick and too squishy will make some of the balance poses more difficult.
Generally, the super-thin mats are best for travel. A standard yoga mat, which is between 1/8 and 1/4 inch thick, is your best bet for general Yoga practice.
Yoga Mat Material and Texture
The yoga mat's material is essential if you have allergies to things like latex or rubber. If you are concerned about the environment, you may want to choose a mat created with recycled products.
The material may also affect how sticky the mat is or how smooth the mat is. A smooth, sticky mat may be too thin while a textured mat can provide some traction but is not as sticky. Choosing a material is a matter of preference for your practice, how soft and spongy you want the mat to be, how firm and supportive will depend on your mat's material.
Other Essential Yoga Accessories
Yoga Block: These are available everywhere and don't have to be expensive or fancy. Many yoga blocks come in basic yoga starter kits.
Yoga Strap: If you are a beginner, a yoga strap can help with some of the bending poses. That said, I have had yoga instructors give me a tie or old piece of fabric to use as a strap. My recommendation is if there is a strap in your beginner yoga kit, then great.
Yoga Blanket: For some of the sitting poses, having a yoga blanket, you can roll up for extra support is handy. I have a Yoga towel that I use to cover my mat in hot yoga sessions, and at home, I use it as a yoga blanket in a few poses where I need a little extra support.
Yoga Bolster or Pillow: Like the yoga blanket, the bolster pillow is a long, sometimes cylindrical pillow that adds comfort and support for some yoga poses. As I got older, I started to take therapeutic yoga classes, pillows and bolsters help when your body needs some additional support in some of the poses.
Essential Yoga Clothing
It's up to you how fancy you want to get with your yoga clothing. I've been OK with the Tuff Athletics yoga pants I found at Costco. However, some having the right "uniform" helps to inspire them, so I've put together some essential yoga clothing.
Affordable Yoga clothing options can be found at Joe Fresh, Old Navy, Walmart and Costco. You can also find some higher-end options from your favourite sports brands like Nike and Adidas or specialized Yoga clothing stores like Lululemon.
The key to your yoga clothing should not be the price tag but your ability to do the movements. You want breathable fabrics that don't get in the way of your poses.
Yoga Pants: Many prefer slim fit yoga pants; however, you'll find pants with wide legs. Yoga pants come in various lengths, which include shorts, capris or long legs.
Yoga Shirts and a Supportive Sports Bra: A simple t-shirt will do the job as any athletic tank. The key is not to wear anything with a restrictive neckline or sleeves that limit your ability to move. For some, a yoga specific top with a built-in sports bra is enough support and comfort for a practice. However, for others, you may want to wear a proper athletic bra underneath for maximum support.
A light jacket: at home, this extra piece may be unnecessary; however, depending on how long you are resting in Savasana or how cool your space is, you may want to start or end your practice with a yoga jacket.
Yoga Apps and Classes You Can Do at Home
There is no shortage of yoga DVDs, apps or YouTube videos out there encouraging yoga practice. Here are a couple of great options.
Yoga with Adriene: By far, one of the most popular free yoga video instructors out there. Follow her YouTube channel and take one of her Yoga challenges. She has plenty of inspiration for beginners.
Down Dog Yoga App: There are some great free yoga teachings for beginners on this app. If you want to purchase the premium features, wait for their sales to buy a one-year subscription for as low as US$25. The average rates are $60 – 80/year. 
Gaiam: I still have many of my Gaiam DVD classes; however, the company has gone online with their Yoga Studio Mind & Body App. Like the down dog app, there are several in-app purchases you can make. What's appealing to this app is that it works with the latest generations of Apple TV.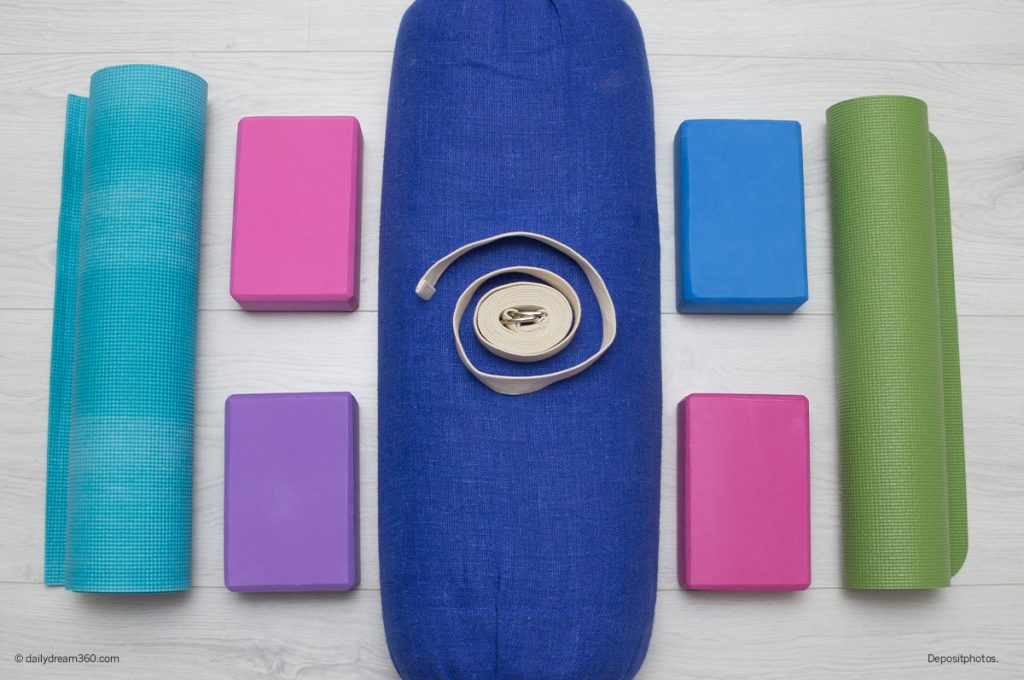 Live it.
Creating Your At-Home Yoga Space
Even if you only have one place to roll out a yoga mat in your home, there are a few things you can do to enhance your space.
Declutter and Make Space for Your Mat
If you have a nearby bookcase, consider a declutter of the shelves closer to the floor where you can add some green plants, calm lighting or other inspirations trinkets. Generally, you want the space around your mat to be clear of distractions.
Read more: 7-Day Declutter Challenge: Day 1 Declutter Your Home Checklist
At-Home Yoga Storage Solutions
If you are going to use this space, often consider adding a basket to store your mat and accessories or if you have the wall space, think a Yoga organizer unit that can keep your essential yoga gear.
Add some Peaceful Touches and Set the Mood of Your At-Home Yoga Space
Plants, electric candles, crystals and other peaceful décor items can help create a calm space for you to practice. Consider your at-home yoga space can double as a meditation space, so relaxing lighting and music mixed with calming colours and natural elements will set the mood.