This article may contain affiliate links. Clicking on or purchasing products we recommend through a link may earn a small commission. Read our disclosure and privacy policy page for details. *COVID-19 TRAVEL ALERT – Travel recommendations offered on this site are not to encourage you to travel against travel advisories.
One of the things I want to share is that I'm not perfect. I'm not living an Instagram filtered life with perfect weight loss results, a thriving business and unlimited dreams. I try to share these moments on my social channels because I know how easily our lives as content creators can appear – so styled and dreamy. Today I want to talk about setting goals and even when I don't succeed – it's OK.
Dream it.
If you're planning a trip that involves a pool, lake, or beach of any kind and you don't want to buy a special waterproof camera or action camera, then a waterproof pouch for your phone could just be the solution you are looking for. Most of us have replaced our cameras and choose to travel with our phones and while there are some water-resistant models out there, protecting your phone with a waterproof pouch could save you a costly repair or replacement.
Life is Not a Perfectly Curated Instagram Feed
To be honest, I did dream of living that perfectly styled and dreamy life. I am living it in many ways, but often I find myself reminding myself that this is not the case. I have to remind myself to choose happiness over the long list of things that are not working in my life right now.
During a pandemic, this list is long. Business is down, health commitments are losing steam, and this world of phases and "new normal" we live in can feel like too much.
None of Us are Perfect, and That is OK
I'm not living a styled, filtered, perfect life. I know you can all see this if you are following my posts on my social media channels. I had not worn makeup since March 15th when this all started, and I'm sharing selfies as often as I can. Hair blowouts and perfect makeup is not happening these days. It's not real, and I decided when this pandemic hit here in Canada that I'm going to keep sharing my life.
Right now, it is not about press trips and perfection. It's about the goals I have set for myself and pushing through to make them happen.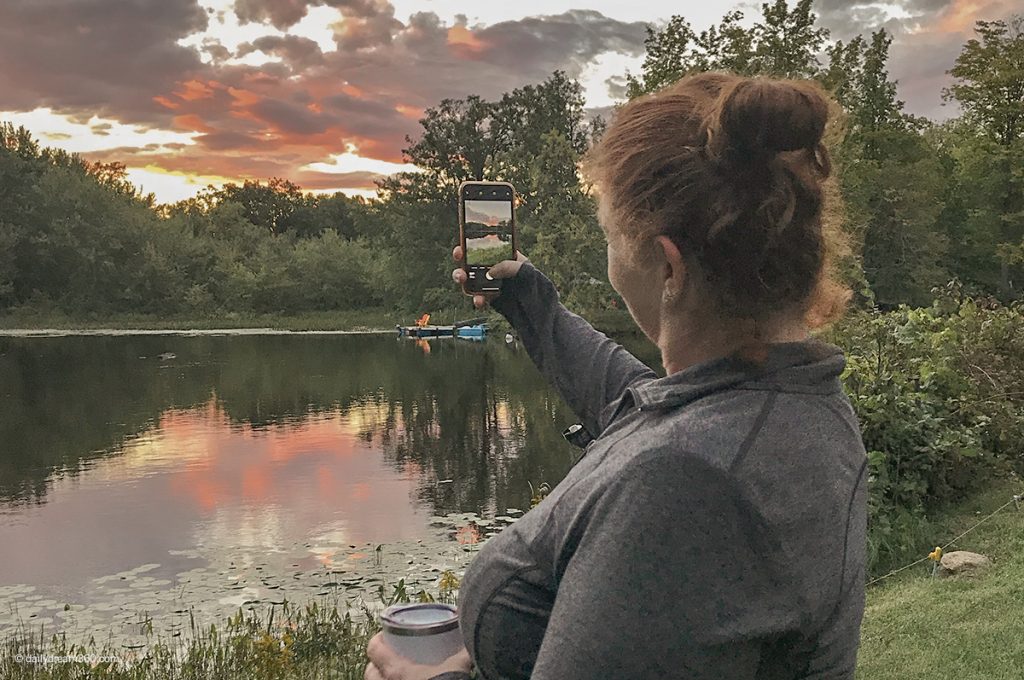 Plan it.
Don't Let Setting Goals Make You Feel Bad.
It is the beginning of October, and while many of us are gearing up for fall, winter and the holiday season in the times of a pandemic, I often find myself looking at the year that has passed and where I am with my goals.
It's a crazy world out there, so not reaching goals right now should not set you back. I won't let it hurt me or make me feel bad. Because the goal isn't there to crush me, its there to motivate me and help me set intentions and plans of actions to achieve things.
Health Goals – My Biggest Challenge
I have been chasing a healthy life, a perfect body and a better me my whole life. Today at 50, I realize how foolish and childish those dreams were. It's not about being a specific size or wearing certain clothing. I can photoshop the shit out of the perfect look and body.
For me, my current weight loss goals are about being healthy, strong and being able to do things I love. When travelling, that means being able to get on a bike and do a bike tour—being able to walk for miles and miles. I want the challenge of a hike to a beautiful scenic waterfall or view.
Being healthy for me is not worrying if I'm going to get that pre-diabetic diagnosis because I don't control how much sugar I'm eating. Which let me tell you a few years back was pretty fricken Scary.
The COVID Promise I Made to Myself
When this pandemic started and my friends started posting their Sourdough starters, cookies, bread, and other comfort foods on their social media feeds, I made myself a promise. I told myself this lockdown and crazy time in my life is an opportunity. Even I can commit myself and come out of this pandemic ahead, or I can look back at it as time wasted.
Choose to be ahead I told myself. I decided to maintain my commitment to my health goals and live the story I wanted to tell—the story of a strong girl who reached for the stars in business, health and life. Every day there is something to challenge this thought, but every day I remind myself – it doesn't have to be perfect – it just has to be.
Live it.
Forgetting All the Commitments I Made that I Failed At
In September, my brother added me to his family plan on the Peloton App. Both my brothers have Peloton Bikes, and they swear by their purchase as the most significant thing in their lives. I've made so many health equipment purchases. I'm scared to add them all up from big equipment purchases like stationary bikes, treadmills and other little fad devices like the thigh master or push-up wheel.
Despite all my failed commitments and goals – I keep pushing on.
Don't Give Up – Change and Adapt.
I remember years and years ago listening to a Tony Robbins CD series. He was talking about Sylvester Stallone and how he chased his Rocky dream. The many ways he pivoted to get his movie made with him as the leading role.
"IF IT IS NOT WORKING, CHANGE YOUR APPROACH, CHANGE YOUR APPROACH, CHANGE YOUR APPROACH."

Tony Robbins
It's something that I heard decades ago but has stayed in my head. If something is not working in my life, if I feel stuck or like I'm swimming backwards – change my approach.
Set a Goal and Don't Be Afraid to Achieve it or Not Achieve it
On September 13, I joined the app, and I'm happy to tell you that I have not missed a day on the Peloton mission. I'm not saying I'm doing 2 hour long workouts every day. The great thing about this app is that it doesn't matter where you are starting from – they give you the space to start at your level.
It's not about how good you ride if you run vs walk or the length of your workouts. You can start with 5 minutes a day. The point for me – I've opened that app at least once every day. Even as I search through beginner workouts that are 20 or 30 minutes in length vs an hour, I find myself coming off that treadmill, bike or mat in a sweat.
It's Not About Equipment and Clothing but About Your Determination
No, I don't have Peloton branded equipment, but I do have a yoga mat, some hand weights and a condo gym filled with equipment. So I preload the workouts and do fun walks, power walks, hikes and spin classes in the condo gym. In my living room, there is yoga, cardio dance and strength training.
What's important right now – It's not something I dread every day. The instructors are motivating and remind me that I showed up. I hope the condo gym doesn't close again. But something I tried to do during the first lockdown was to work out and stay as healthy as possible. There were weeks I was better than others. But this month, I find myself living the story I want to tell.
I'm enjoying myself, challenging myself, and it feels so good to start the day that way. I may not be eating the perfect low carb diet, but that scale stays steady or dropping. I'm not going backwards. That was my commitment, and in my way, I'm doing it. Without being judgemental or hard on myself and my friends – you don't have to be hard on yourselves either.
What's Your October Goal?
It's October – download a tracker and set a goal for October. You can share it here on the Facebook Page. Yes, Holiday Season is coming, and that means big dinners, possibly another lockdown, but that doesn't mean the end of your dream. Whatever it is, I want you to know that you can achieve it. Let's do it!