This article may contain affiliate links. Clicking on or purchasing products we recommend through a link may earn a small commission. Read our disclosure and privacy policy page for details. *COVID-19 TRAVEL ALERT – Travel recommendations offered on this site are not to encourage you to travel against travel advisories.
I'm always a little nervous when I go on trips, especially iconic cities in the US known for their food scene. In Texas, it was all about eating big! Big plates of food, piles so high I could eat off them for a week. In Chicago, it's deep dish pizza and Philadelphia its hoagies and cheesesteaks. So to combat unhealthy eating during vacations and business trips, I decided to focus on the healthy options. In this post, healthy travel in Philadelphia.
Healthy Travel Itineraries
Losing weight while travelling is hard no matter what type of trip I take. On press trips, I have little say on the planned itineraries, as to what I do and eat. At conferences, food is prepared for the masses and often served cold with no selection what so ever. On vacation, there is that desire to try the local cuisine, and it is easy to overindulge.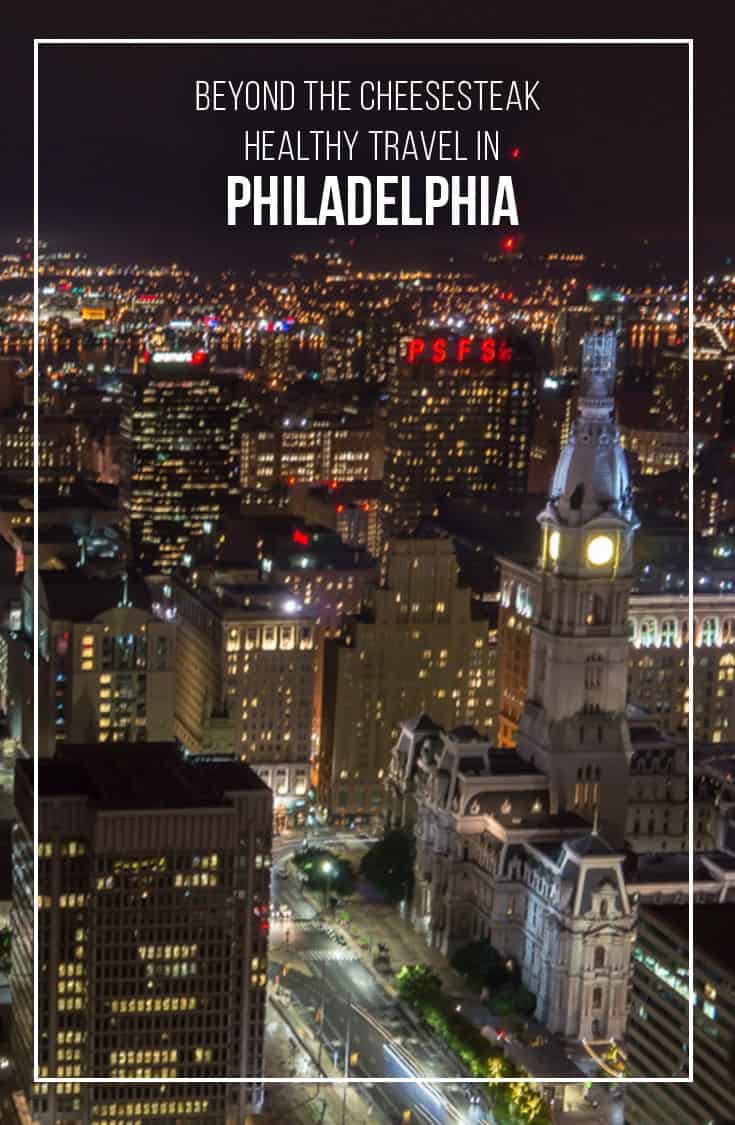 I am determined, however, to find the balance during my trips of enjoying what the place has to offer and making healthier choices. I was delighted to visit Philadelphia and discover there is much more to it than cheesesteaks and museums.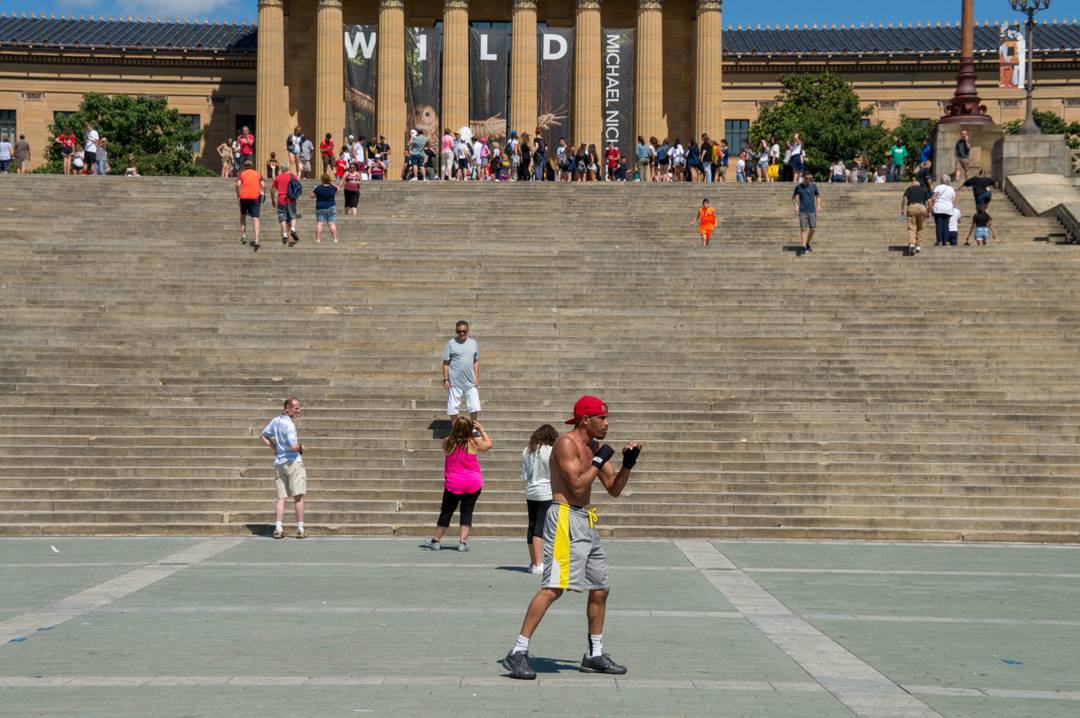 "Eye of the Tiger" The Rockey Steps
Even if you're not looking for a healthy activity visiting the iconic Rocky statue and running up the steps in front of the Philadelphia Museum of Art is a popular tourist past time. It was one of the first things I did. First off, I thought this was going to be a huge thing, and challenging as stair climbing usually is. These steps, however, are not as steep, making them much easier to climb.
While I wasn't sprinting, the mild jog up was fun and the view at the top spectacular. So much so, I returned that night to reshoot it. Running up the steps also made me feel less guilty about my first Philadelphia restaurant: Talula's Garden. See: Enjoy an Inspired Dinner at Talula's Garden Philadelphia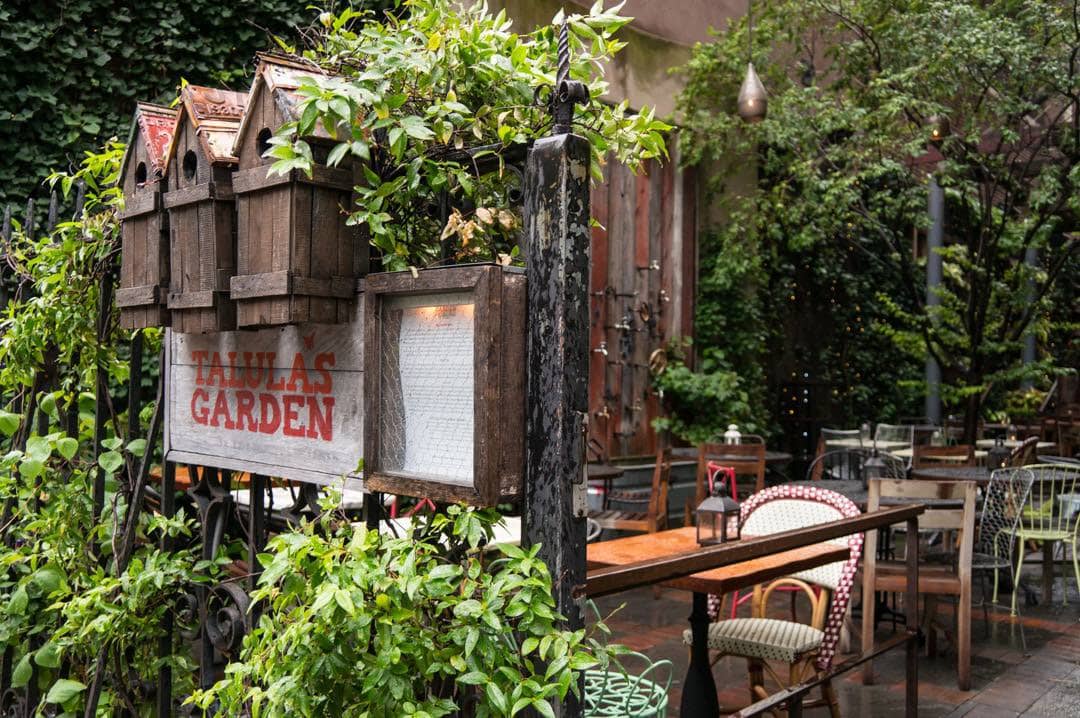 Dinner at Talula's Garden
If you want to find a healthy place to eat in a city, you likely won't go wrong at a restaurant whose chef is passionate about farm-fresh ingredients. Aimee Olexy is just such a chef, and her menu is filled with healthy choices and some indulgences too. From appetizers including seasonal soups and salads, themed cheese trays to pasta dishes and main courses which can be paired with a variety of vegetable side dishes I leave you with this photo and a promise to share a more detailed post soon.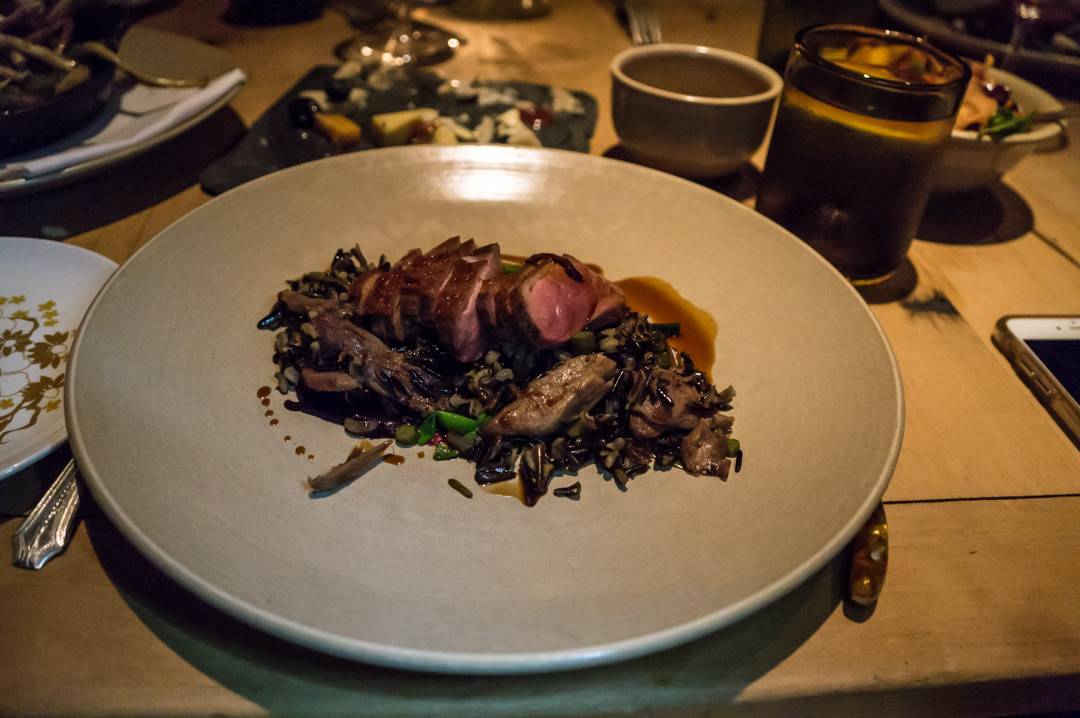 Philadelphia is a Walkable City
Make sure your Fitbit and Apple Watches are charged as they will be tracking steps throughout your stay. I averaged 18,000 – 20,000 steps each day.
Philadelphia's Schuylkill River Boardwalk
This inner city trail system runs along the banks of the tidal corridor between the Fairmount Dam and the Delaware River. The result is a magnificent trail system which runs along the river bank and over water filled with healthy activities.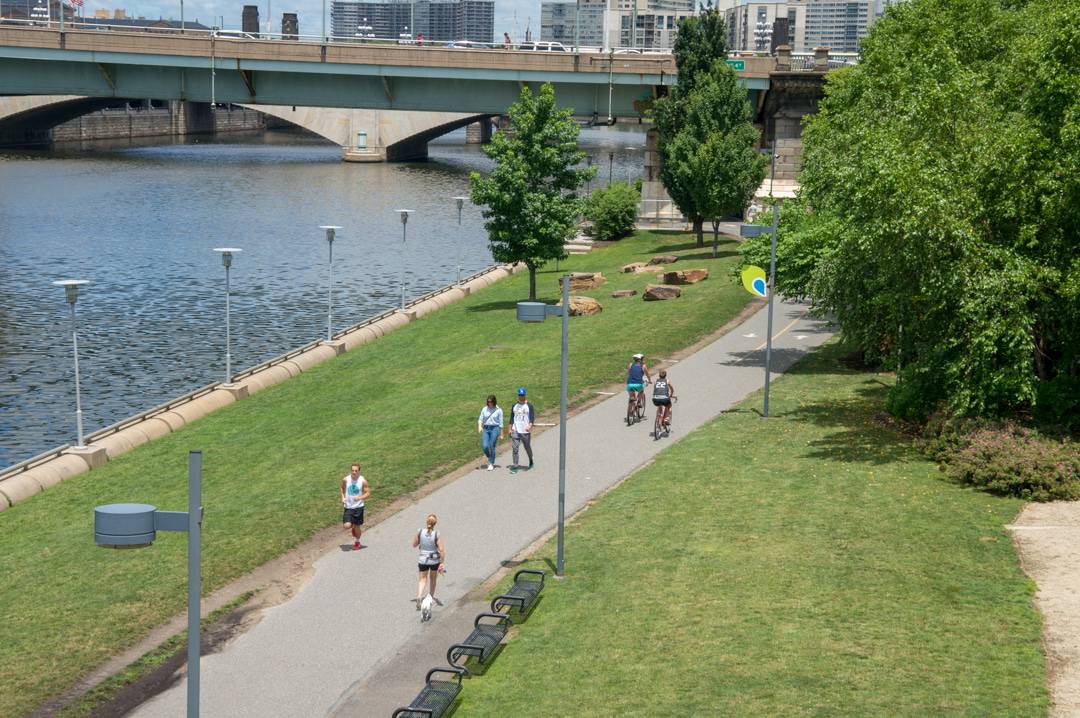 Rent a bike and ride along the trails, rent a kayak and challenge yourself on the river which flows with the tide. Run or walk along with the many fitness buffs making their way across all day long.
Lunch 24 Restaurant
Before or after your walk along the trail grab lunch at 24 Restaurant. Their menu features some salads and pizza's prepared in their stone oven.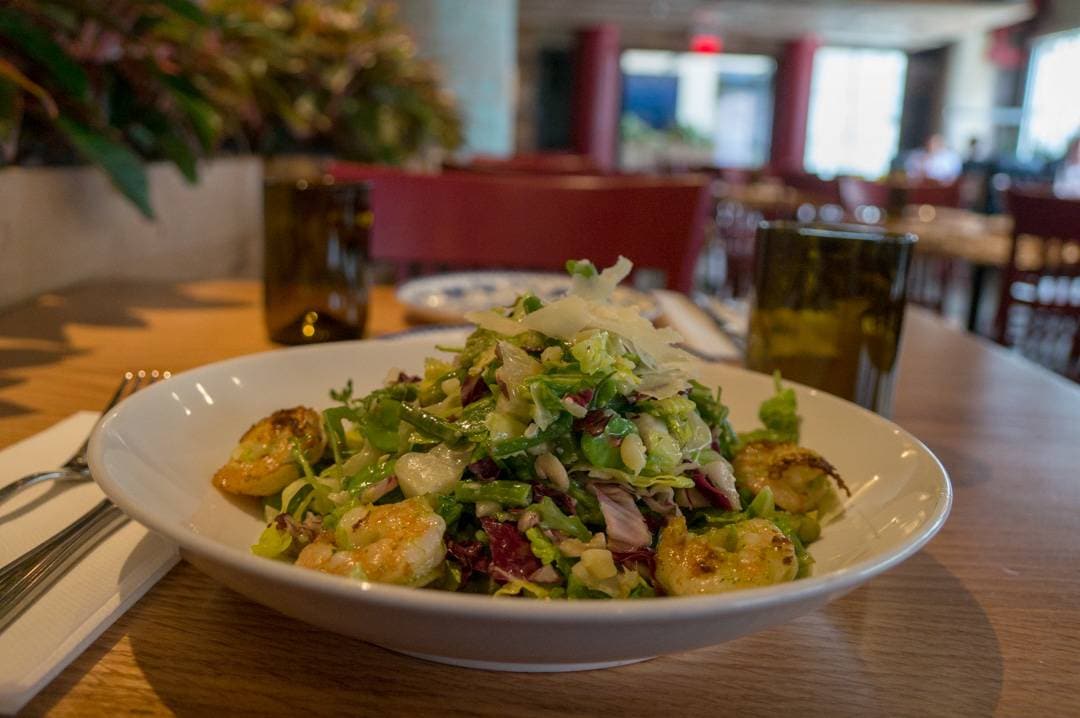 Philadelphia's Water Front Trail
Amongst the piers of the Delaware River, you'll find the long boardwalk which runs under the Ben Franklin Bridge. Penn's Landing hosts many festivals and its neighbour Spruce Street Harbour Park is also a happening place both day and night.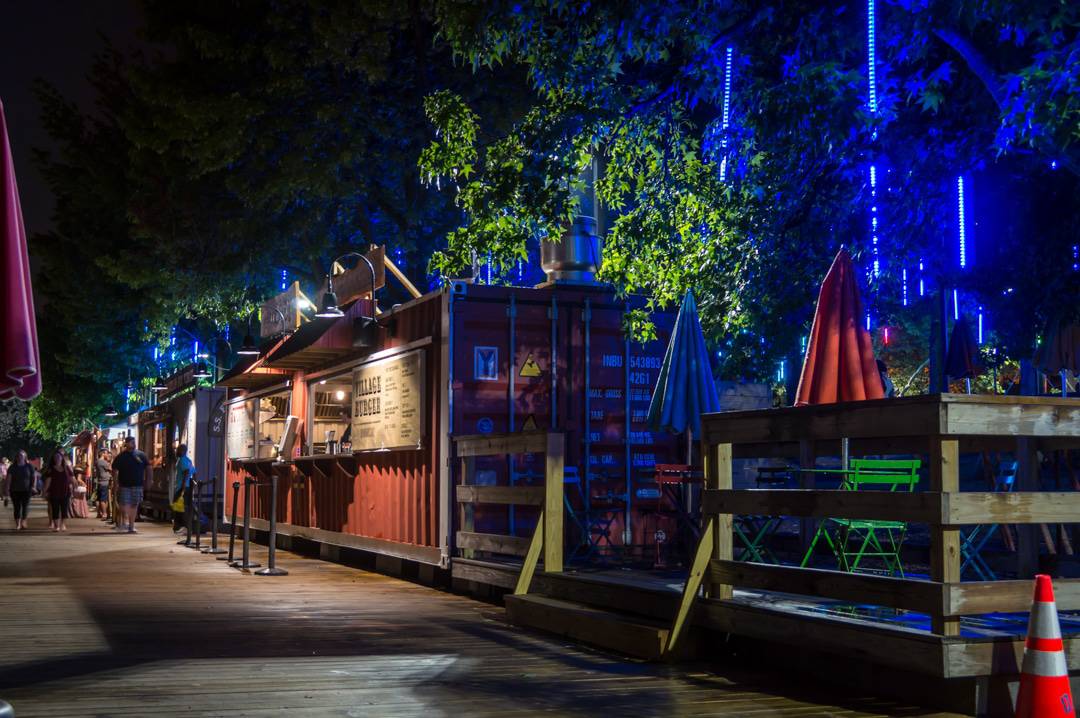 Swing and relax on one of the many hanging outdoor hammocks, enjoy the urban beach and taste some delicious food from the many vendors on the boardwalk and the floating garden.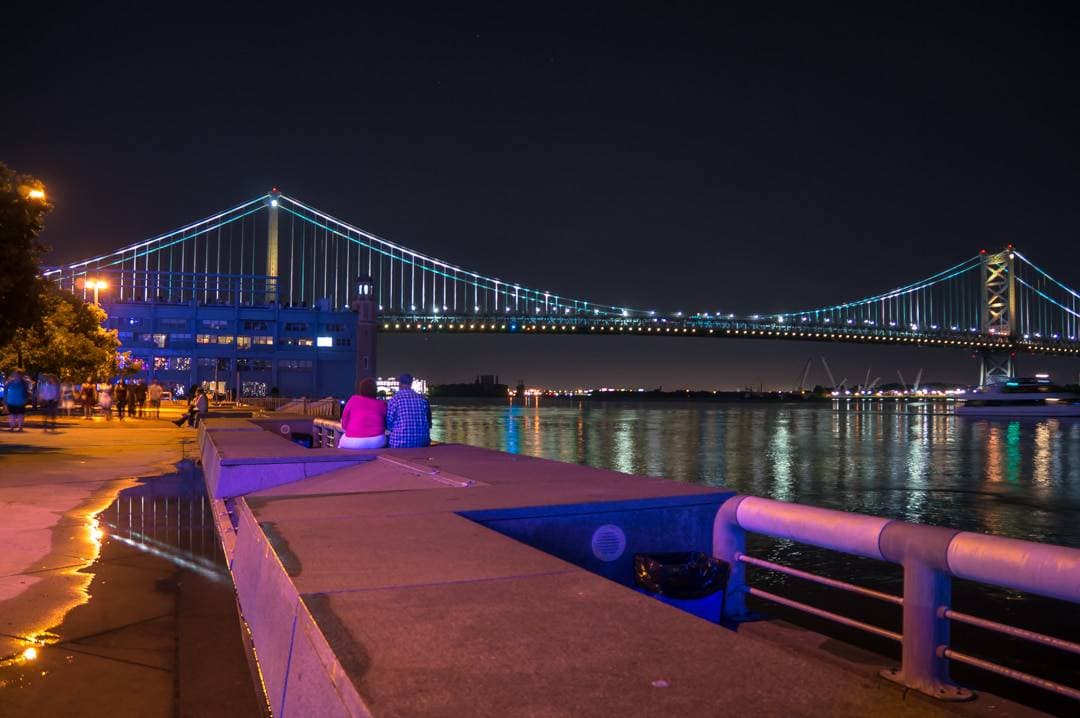 Downtown Walkable Grid System
Part of Philadelphia's rich history is in its design. William Penn planned this grid system which makes the downtown streets very walkable and so easy to navigate around.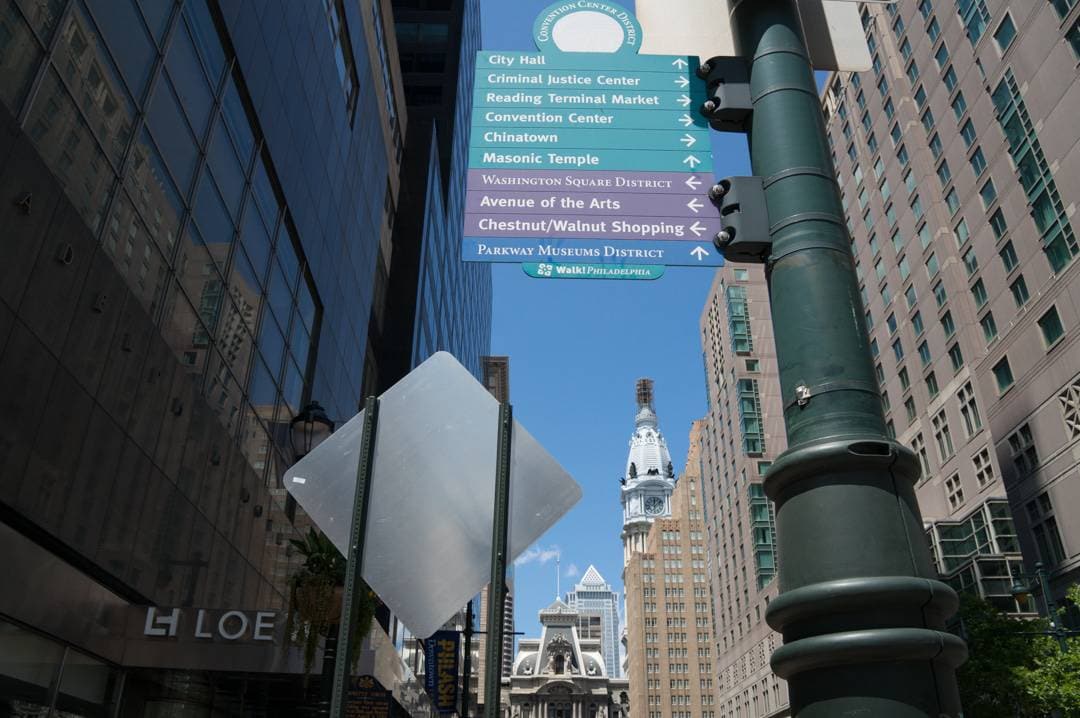 There are helpful directional signs everywhere in the city which helped guide me through the historic district, to Reading Terminal Market and the more I walked around, the more comfortable I got figuring out which direction to go. 1st street is located on the waterfront, and city hall sits tall right in the centre of the city.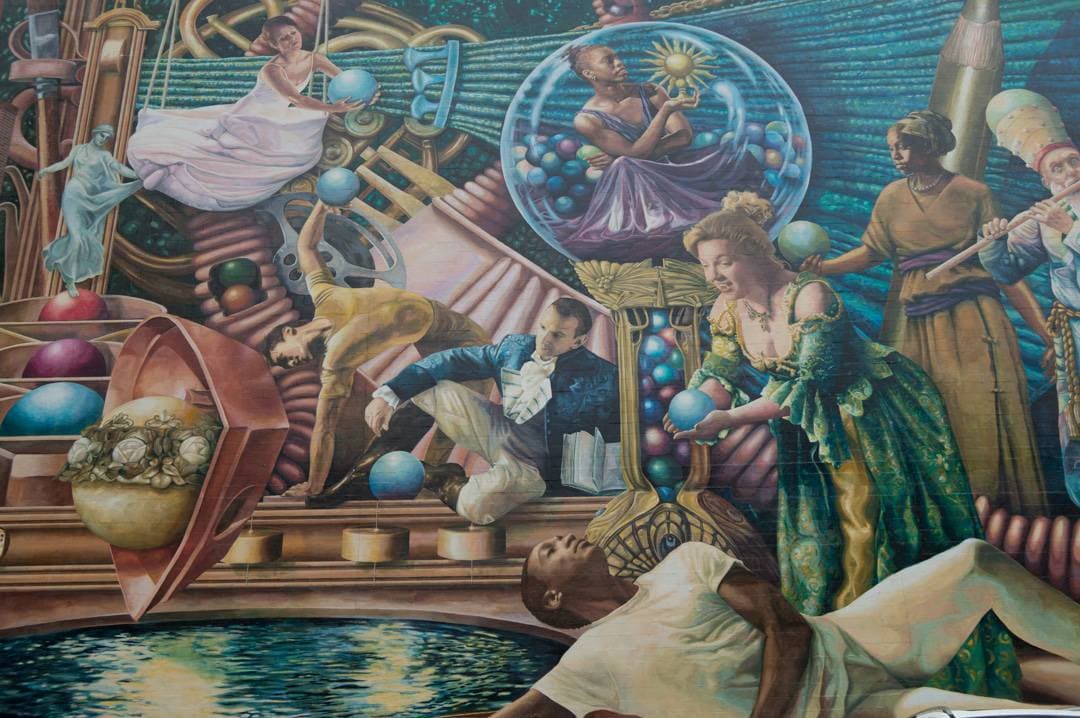 There are also some walking tours you can take through the city. I followed one of the mural mile walks to discover some of the impressive murals located on city walls.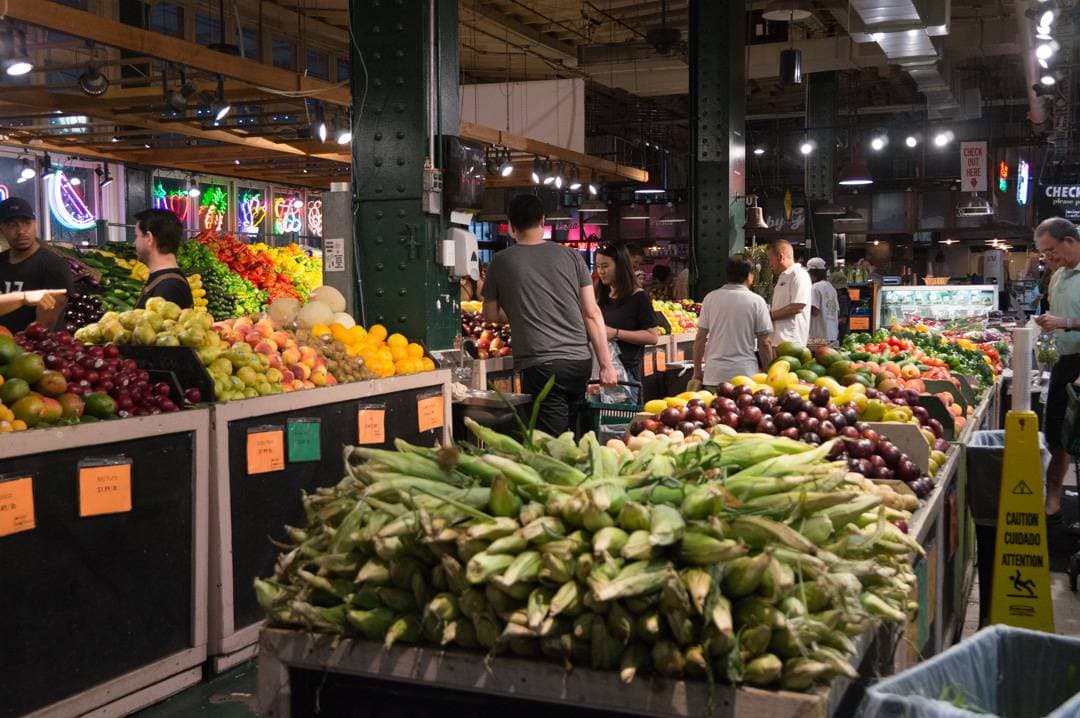 Lunch: Reading Terminal Market
There are a lot of unhealthy places to eat inside the market. However, there was also lots of great fresh fruit and vegetables, prepared salads and smoothies. It is a crowded spot, so make your way through the aisles and enjoy the chaotic sounds and smells of this farmers market. Note some stores are not open seven days a week, I was sad to miss Beiler's Donuts and Salads on Sunday when I walked through. I guess I'll have to catch them when I come back!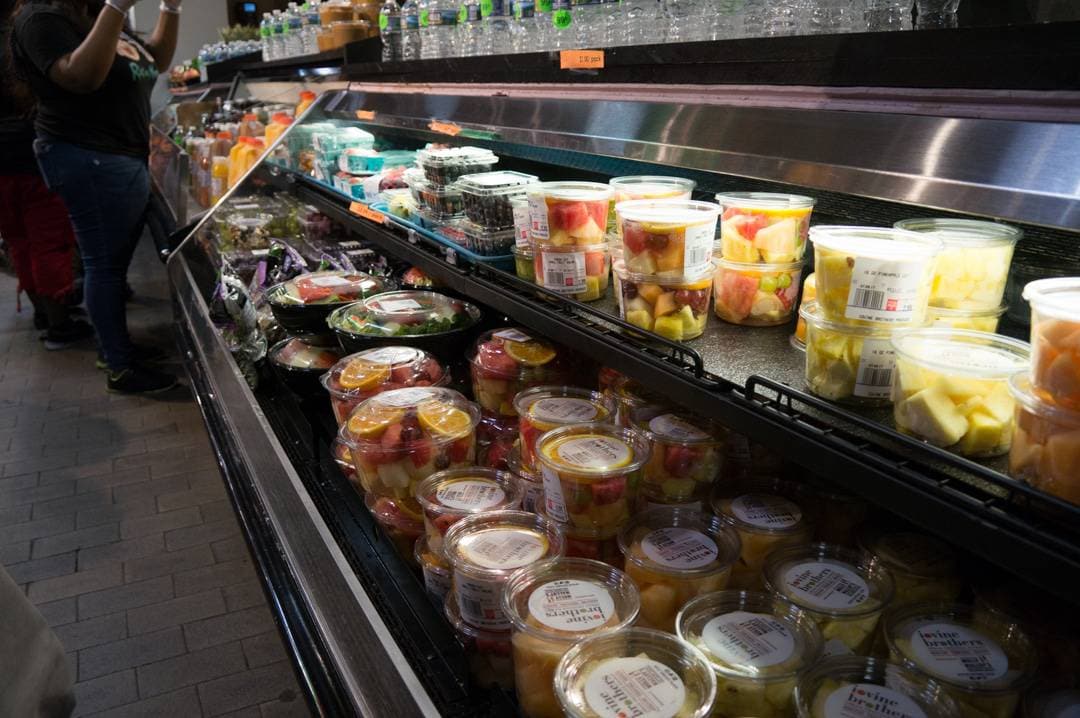 Meditate at the Shofusu Japanese House
The 1.2 acre Japanese Garden is located within Philadelphia's West Fairmont Park. I visited on a rainy morning but found the sounds of the rain in the pond and on the house roof just added to the tranquillity.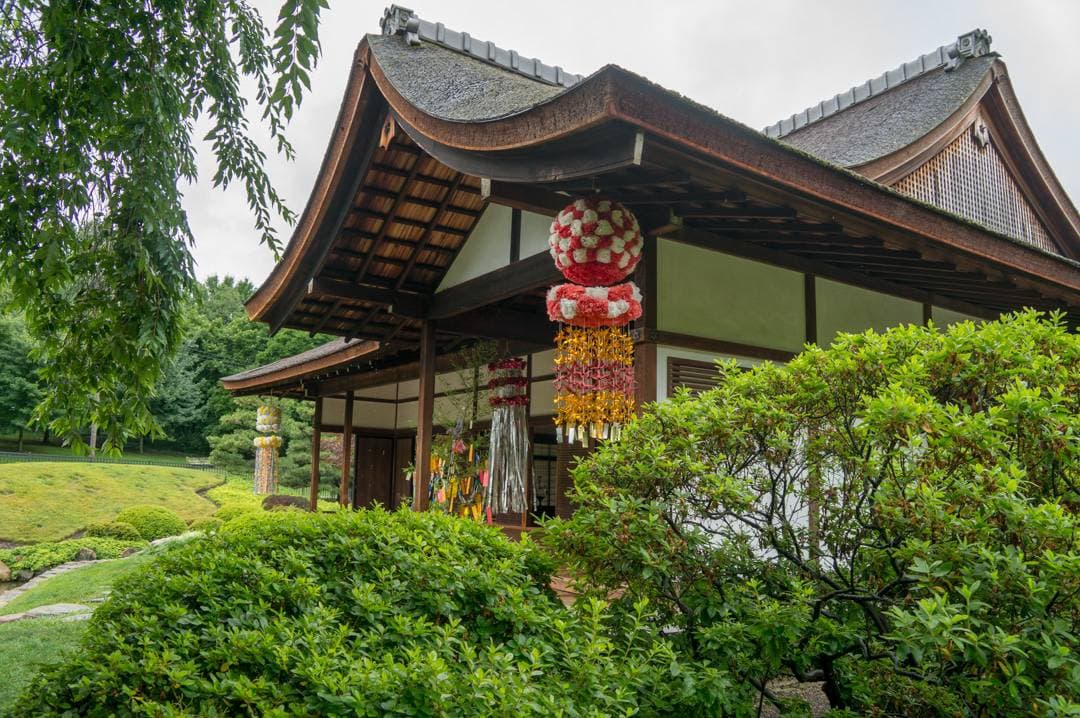 You can walk the gardens, feed koi in the pond or sit in the house and tearoom. Be prepared to remove your shoes when walking through the house. Bring socks, or you'll have to wear nylon socks they provide.
Read more: Best Day Trips from Philadelphia: Things to see in the Countryside of Philadelphia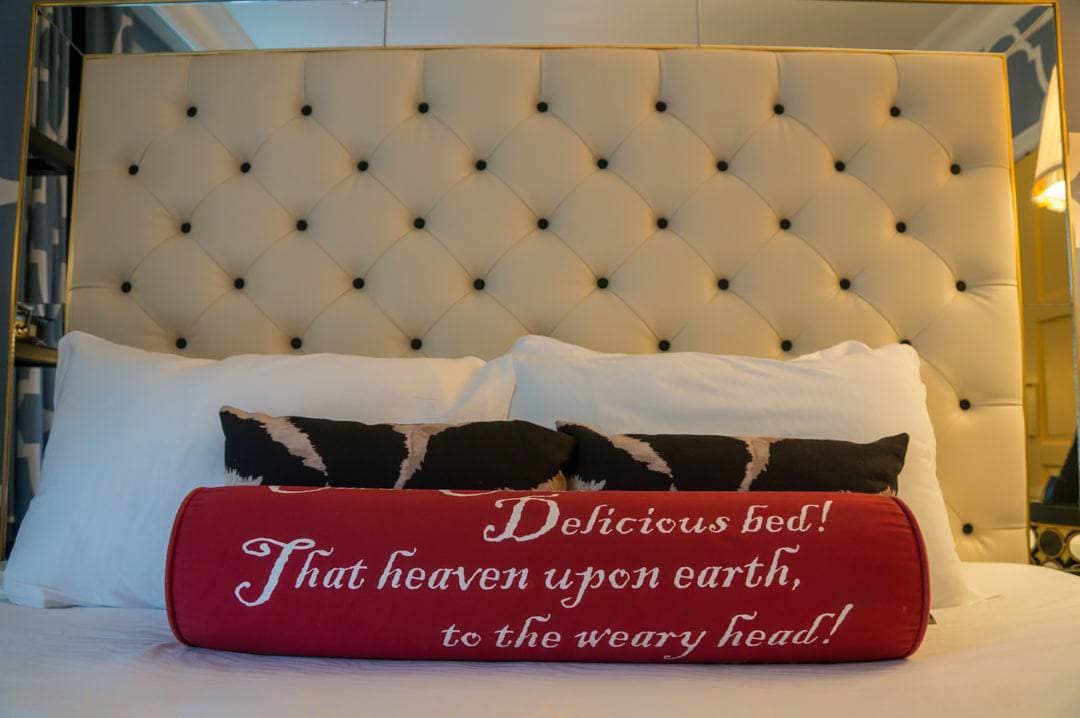 Stay at Kimpton Hotel Monaco
What's so healthy about staying in a hotel? Well, this hotel's location will make walking anywhere in Philly easy. Steps from the waterfront, Reading Terminal Market and smack in the middle of Philadelphia's historic village you won't go wrong with this hotel. They also have a convenient bike share of their own so, you can always grab a bike and head off into the city for a ride. I didn't find a Yoga group in the park across from the hotel, however since the hotel also provided a yoga mat in the room, it was nice to know that there are free pop-up Yoga classes in the park by the hotel. We had some rainy mornings, so the timing didn't work out for me. More about the Kimpton Hotel Monaco can be found in this post: Kimpton Hotel Monaco Philadelphia Sweet Dreams and Location.
For more healthy travel tips see these posts: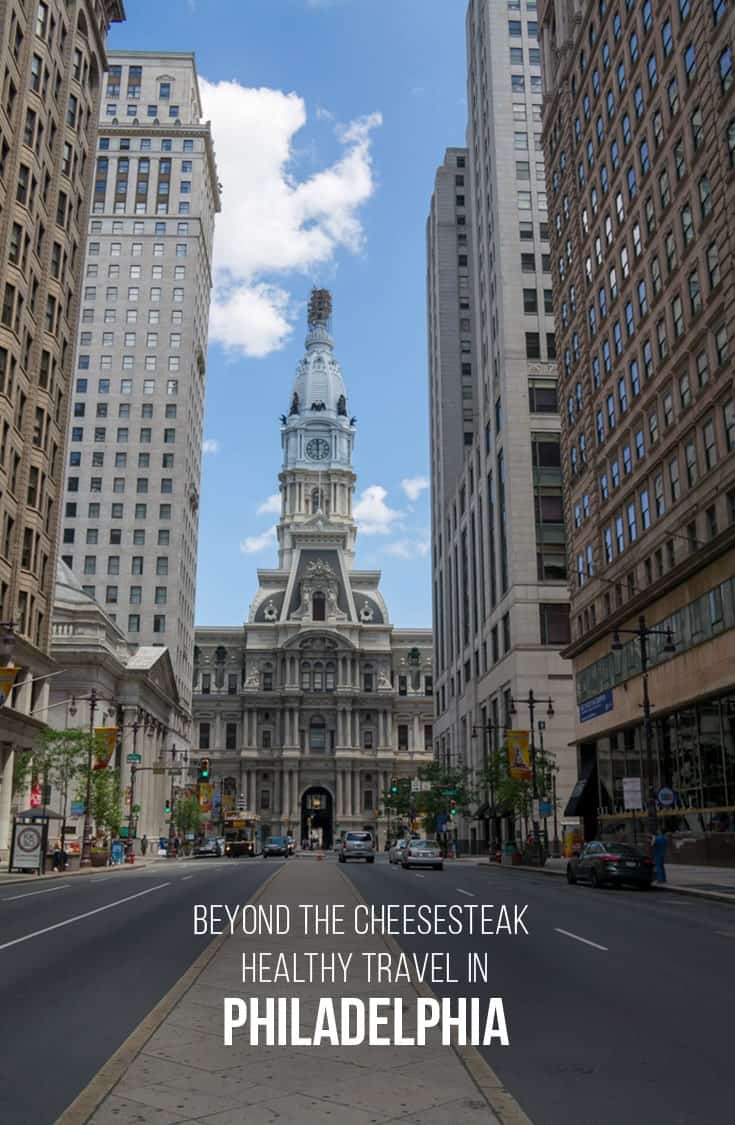 Disclosure: This post is the result of a dinner I had on a press trip with Visit Philadelphia, however, the opinions in this post are my own.