This article may contain affiliate links. Clicking on or purchasing products we recommend through a link may earn a small commission. Read our disclosure and privacy policy page for details. *COVID-19 TRAVEL ALERT – Travel recommendations offered on this site are not to encourage you to travel against travel advisories.
This past year I have made significant changes in my life which include cleaning up my diet and adding regular exercise to my routine. A clean eating approach minimizes sugar and processed foods in your diet and focuses on healthy fresh ingredients. The result was a 75-pound weight loss and a great outlook on life, but as someone who travels a lot during the year, I had to create some strategies for healthier eating while on vacation and business trips which still allowed me to indulge and enjoy myself. I thought I would share some of my tips to avoid gaining weight on vacation.
How to Avoid Gaining Weight on Vacation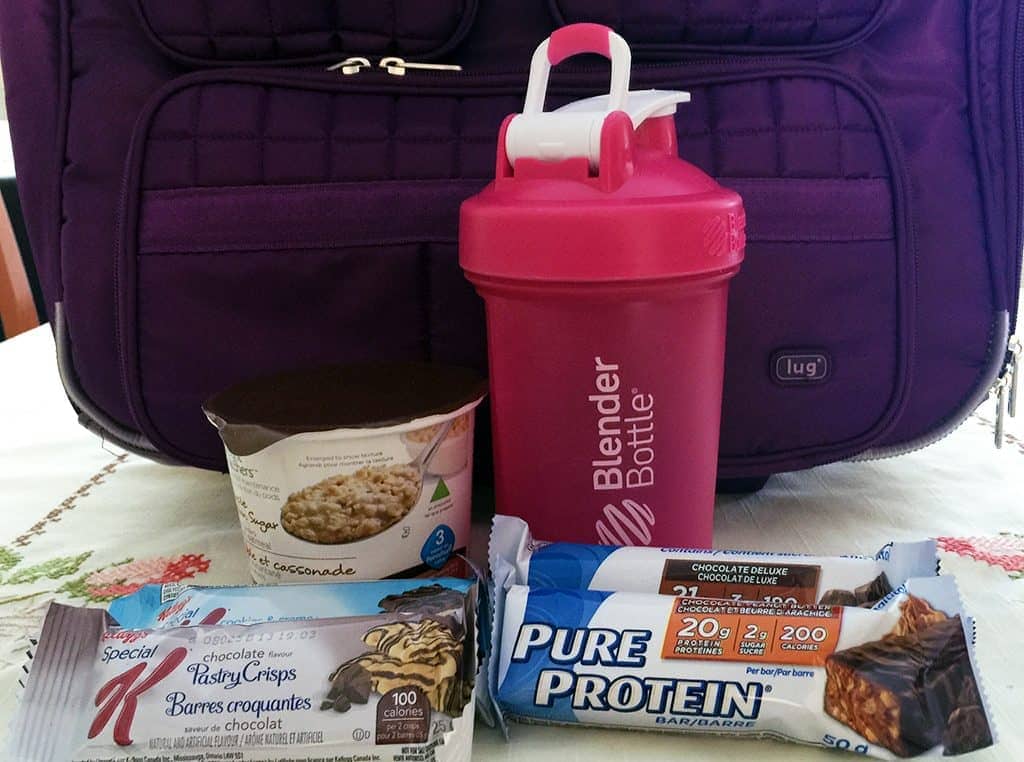 Before You Leave – Pack Your Healthy Strategy
My strategy for a trip always starts at the packing stage. Now when I travel I pack things like Weight Watchers oatmeal cups, protein powder and protein bars and Special K snacks. Sometimes I don't touch these during my trip but, when there is a lack of healthy breakfast choices, I might choose one of these options instead. It's always better to be prepared rather than have something filled with sugar and empty calories that you won't enjoy.
Another packing tip is to pack those sneakers and some leggings in your bag. Chances are your hotel will have a workout room, or you can take a long morning walk to get a little more activity into your day. If you pack this "healthy plan" in your suitcase, you are more likely to implement it when you are on the road.
My morning walks: My favourite time to get my activity in during a trip is in the morning. On a beach vacation, I love getting up early to see the sunrise on the beach. I save the best beach chairs and then go for a walk around the resort. It's like having the entire resort and beach all to yourself!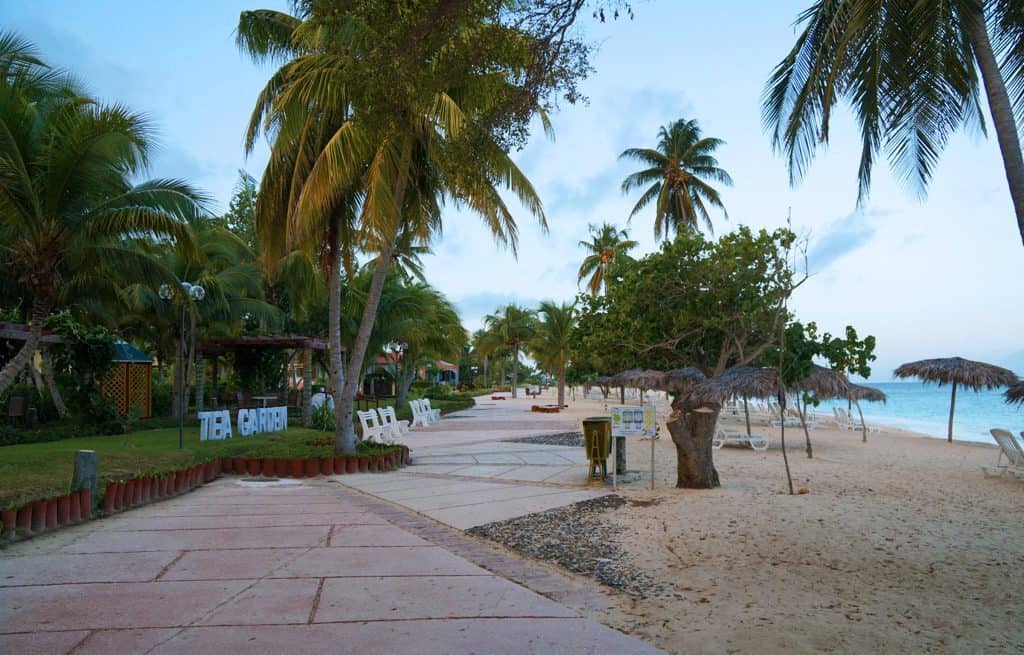 This past December I put on my comfy boots and hit the road for a long morning walk in Buffalo! The concierge at the hotel looked at me like I was crazy when I asked for directions to the city's waterfront, but I had a fantastic (envigorating) morning walk which meant I didn't have to feel guilty about what I was eating that day. As it turned out, I took a road trip to Paula's Donuts for a sweet treat that very same day!
Look at Each Day as a Whole
My strategy when travelling is to look at my day as a whole, with a healthy start to breakfast I can splurge later in the day. I minimize the sugar or carb intake as much as possible throughout my meals to allow myself treats like drinking wine with dinner or enjoying a fantastic dessert. If I know I'm going to a fancy place for dinner, for example, I'm going to start my day with a healthy breakfast and probably stick to a salad for lunch so that I can enjoy some of the extras at dinner. My primary goal is not to have three high calorie meals and high calorie snacks throughout the entire day. Balancing when I splurge in each day is the difference between gaining 1-2 pounds on a vacation vs gaining 5-10 pounds.
Breakfast Start Your Day the Healthy Way
Breakfast is one of those meals that I don't splurge on. I focus on eating a protein-rich breakfast with eggs and some fruit being my go to breakfast. Avoid the toast, bagels and pastries that hotels put out in their breakfast buffets. Save your vacation indulgences for later in the day. If you are eating breakfast on the go reach for your protein shake or oatmeal – just add water, supplement with some fruit and go!
Pick Your Splurge Lunch or Dinner
Don't downplay the ordering of a salad during your vacation. Sometimes we feel like we are missing something when we order the salad versus a bigger high-calorie meal. I have had some pretty amazing salads on my journey and these big salads allow you to feel less guilty about the big dinner you are going to have later.
One of my tricks is taking pictures of everyone else's meals while enjoying my healthy option. Often when I'm travelling, you will see that I skip the rice or potatoes and focus on fish and veggies or chicken and veggies.
I mean let's be serious unless the chef is world renowned for making the best rice and potatoes are you missing something by telling the waiter to skip it and just add extra vegetables? If I go to Italy sure I will order pasta and pizza Margherita but otherwise I'd rather have a fantastic glass of wine and an excellent dessert than a serving of rice or pasta any day!
You Don't Have to Skip Dessert
You've all seen the fantastic pictures of desserts on my blog, and I'd be lying if I told you that I never eat dessert. However, I do take a lot of pictures of everyone's food around me and try to stick to my plate! I'm not going to tell you to eat only part of it, or don't taste other people's desserts because frankly, I feel like all the right choices I make during my trips means I can enjoy my vacation and have a piece of cake! Especially if it is chocolate!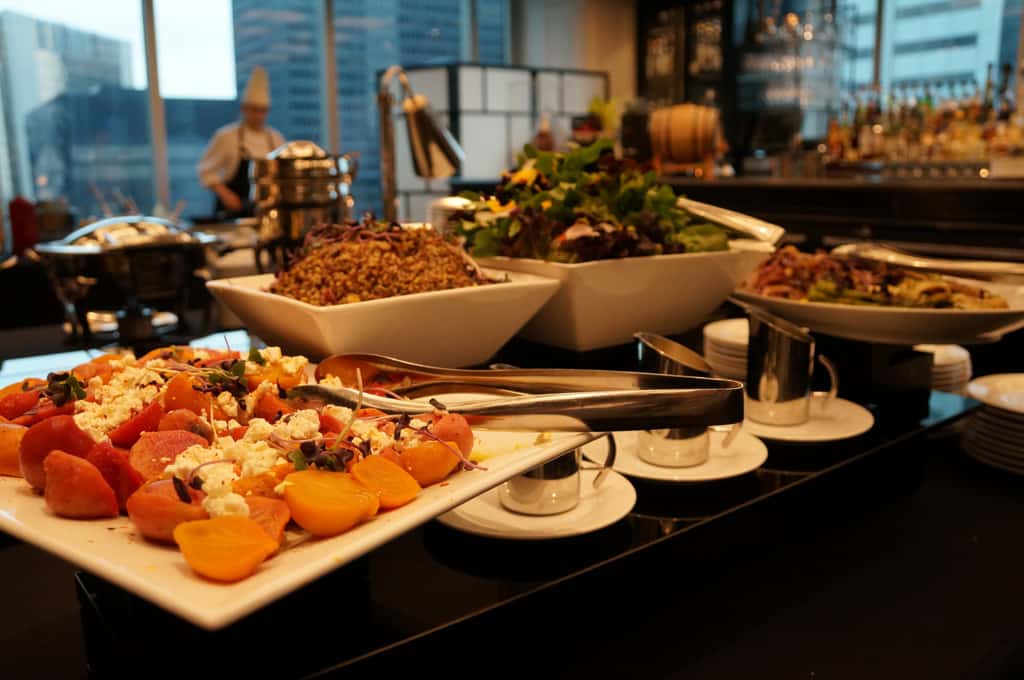 Tips for Dealing with All-Inclusive Vacation Buffets
All inclusive vacations can be a real hurdle for people, but I'm here to tell you it doesn't have to be. Last year on a trip to Cuba I lost 2.5 pounds because of my healthy eating strategy. My most important plan was only to get one plate of food per meal. At breakfast, I went to the Omelette bar and fruit bar and skipped the bread, pastries and other high-calorie extras.
For lunch and dinner at the Buffet, I stuck to the same strategy but tried to fill half my plate with veggies and the other with protein minimizing the rice and potatoes and staying away from the bread. This meant I could go up and grab a scoop of ice cream or a little dessert without too much guilt.
One trip to the buffet for each meal – no seconds, no I'll start with a small plate, then get a second more substantial plate etc. One trip to the main and then one for one dessert. Remember you don't have to eat everything on display – pick something and stick with it.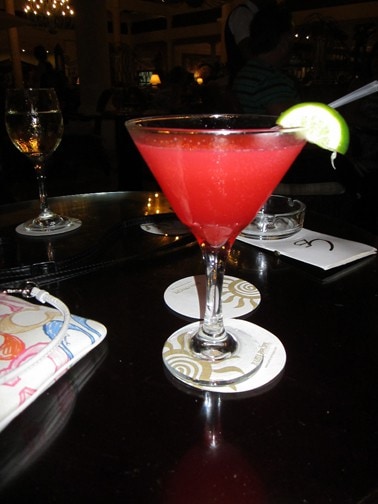 Beware the tropical rum punch! Remember that the tropical drinks are loaded with sugar. If you are taking advantage of all-inclusive bars, make sure you are filling up with water as well. Personally, I save my drinking for the evenings and mostly drink water during the day. I love having wine with dinner, and a Spanish Coffee is always a must when I'm on vacation.
How to Avoid Gaining Weight on Vacation Wipe the Slate Clean When You Get Home
The most important thing to remember is to end the vacation when you get home! Wipe the slate clean and start your healthy eating routine as soon as you get back.
In the days after my trips, I often restrict the sugar and carbs for a mini detox. I drink lots of water and focus on veggies and protein until that little vacation bloat disappears (usually 2-3 days). Then I bring back the fruit and healthy grains and get back to my regular routine!
Last year I committed to my health goals, and despite the many trips I took I managed to lose weight. Sure I had some disappointing weigh-ins after some of my trips but, I never gave in!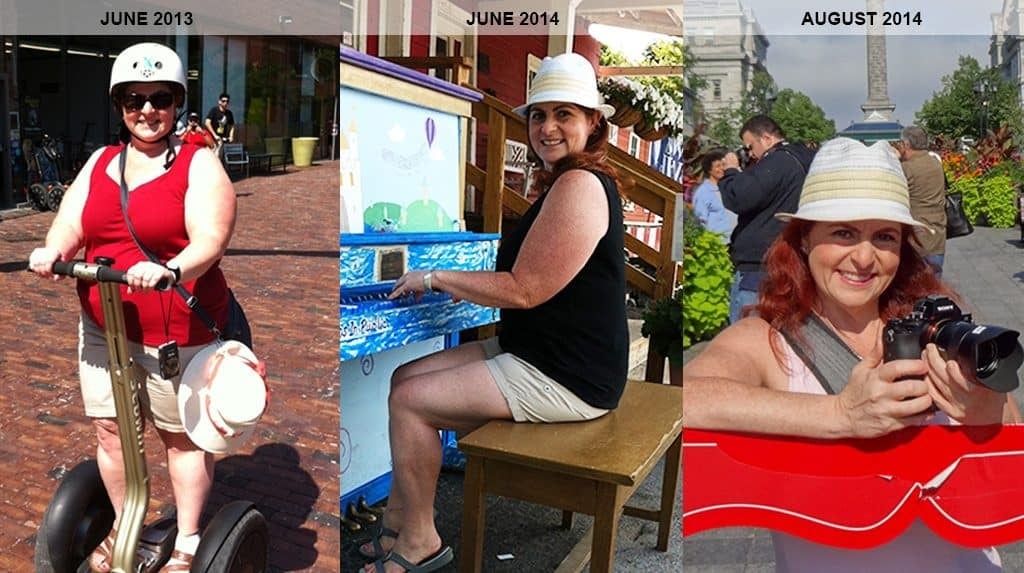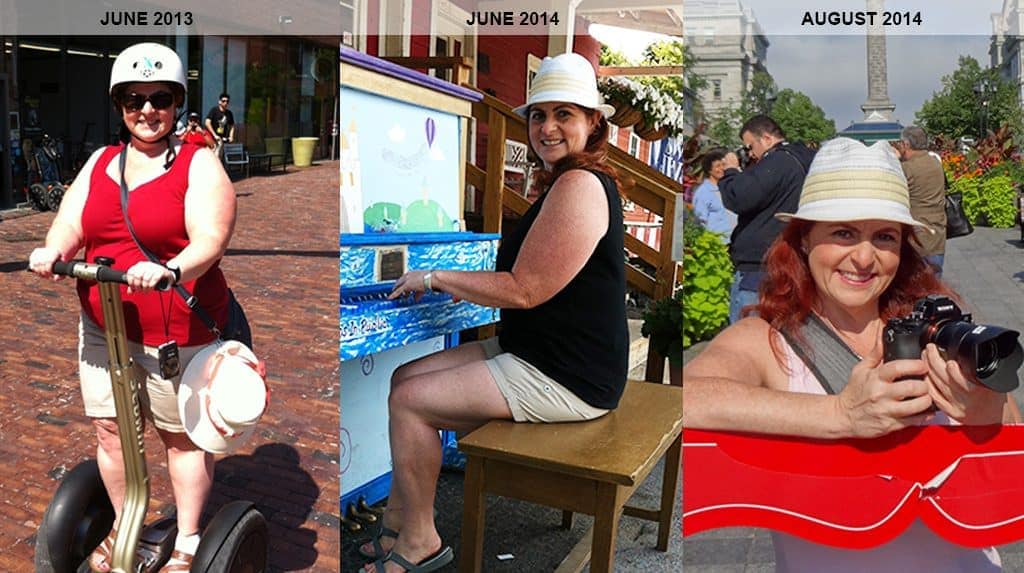 Do you have some healthy vacation strategies to share? I'd love to hear about them! Please share your tips in the comments below.