This article may contain affiliate links. Clicking on or purchasing products we recommend through a link may earn a small commission. Read our disclosure and privacy policy page for details. *COVID-19 TRAVEL ALERT – Travel recommendations offered on this site are not to encourage you to travel against travel advisories.
I'm driving up a freeway just outside of Buffalo New York. My only guide is the Google Maps app running on my iPhone telling me where to go. I have to laugh as I think about how I'm going to explain this little side trip to all of my friends and all of you reading this blog – because I'm driving blindly through the suburbs of Buffalo to eat a donut!
That's right you read that correctly! I heard in my Buffalo travels that there was this donut place that served "the Best Donuts in Western New York" and I asked my contact at Buffalo tourism about it. He, of course, started gushing about this fantastic place and that was it – I decided to take a bullet for all of you and do some formal Canadian doughnut testing at Paula's Donuts.
Paula's Donuts, Buffalo New York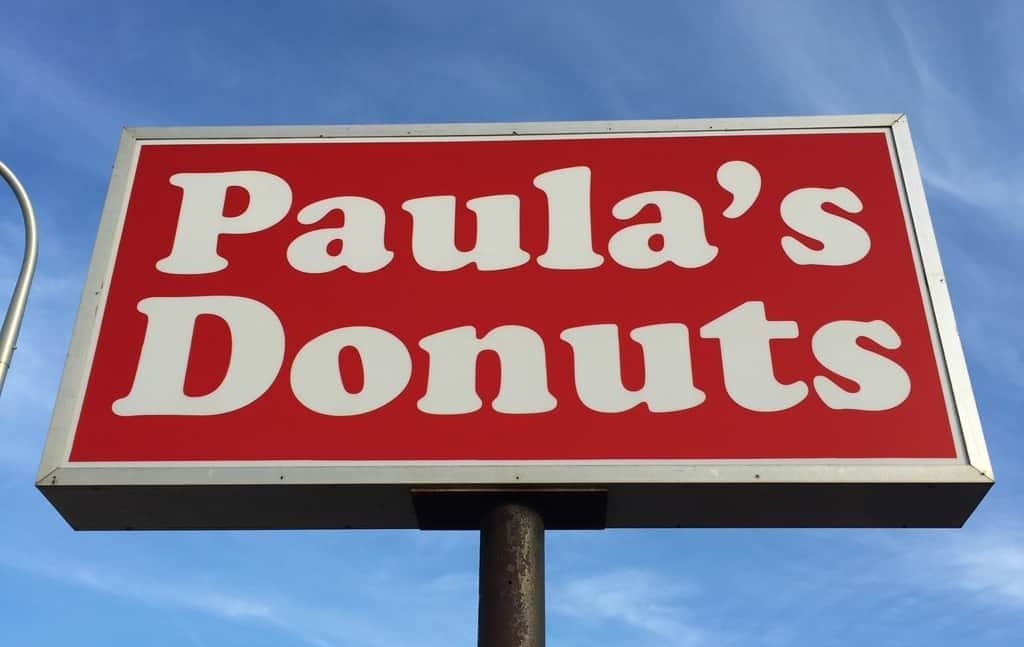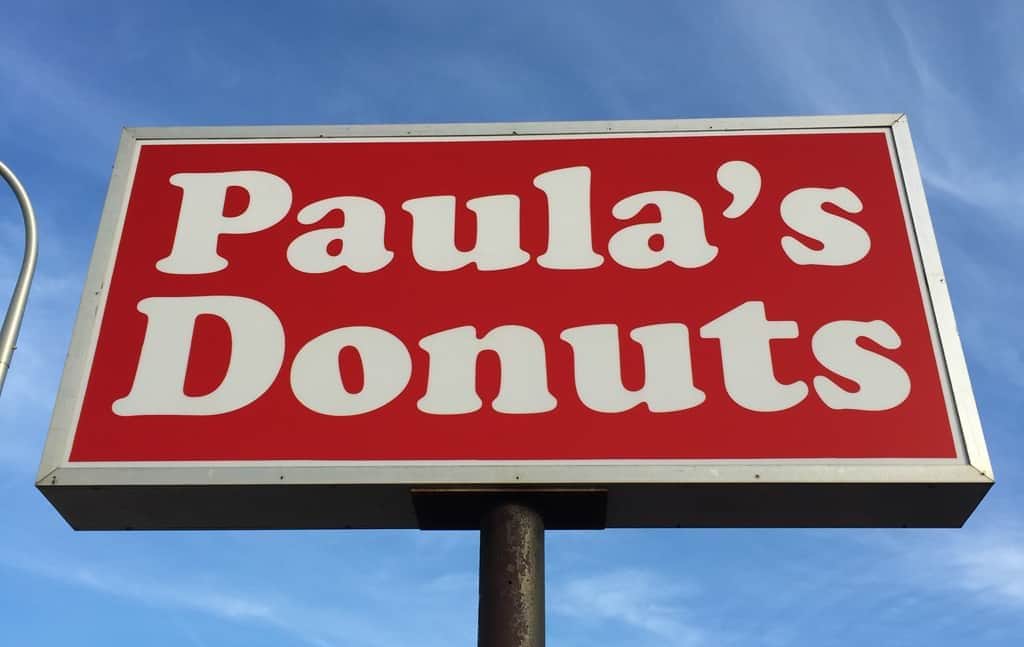 The Google map app led me to a small strip mall in Tonawanda just five minutes from the Boulevard mall for you Cross-Border Shopping Canadians! So of course now I'm thinking "really the "best doughnut" is going to be found in a strip mall?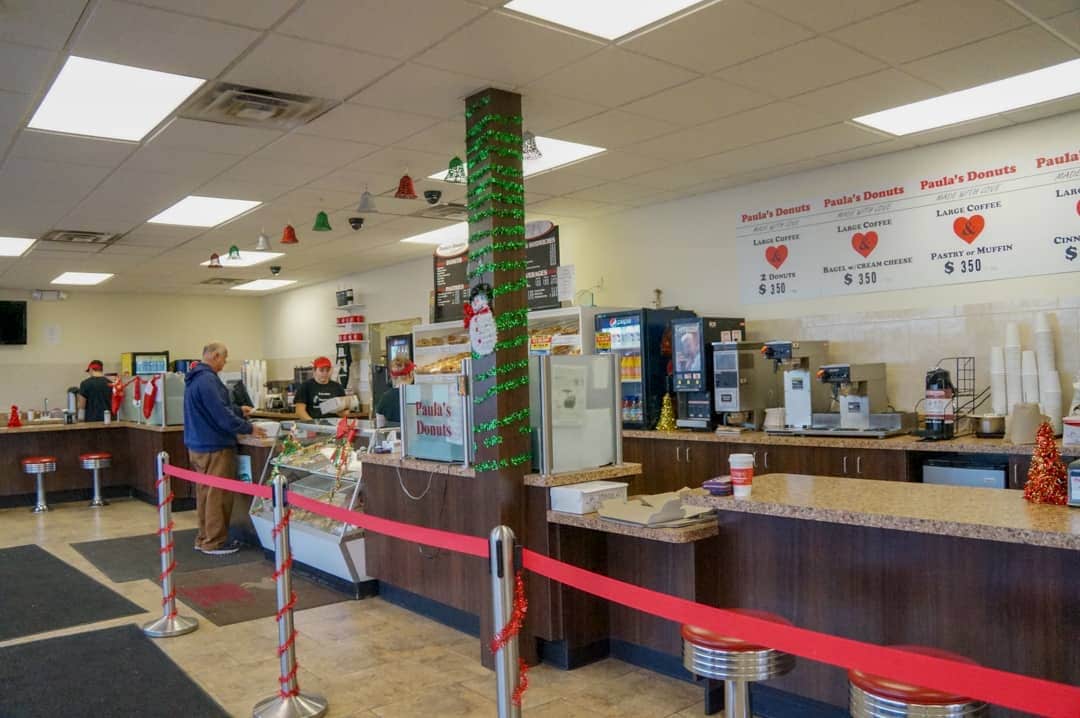 I'm in line at Paula's and staring at the wall of donuts before me, and I'm thinking about the last time I ate a donut and how am I going to choose just one.
Ok, confession time – all the pictures of food I post on Instagram – well I don't always eat that food. My secret is that the people I travel with order these things and I take pictures of their food, while I eat Salmon and Veggies. I'm not going to say I haven't indulged in a sweet treat or dessert while on the road but, let's say the last place I thought I'd find myself is standing in front of a wall of donuts.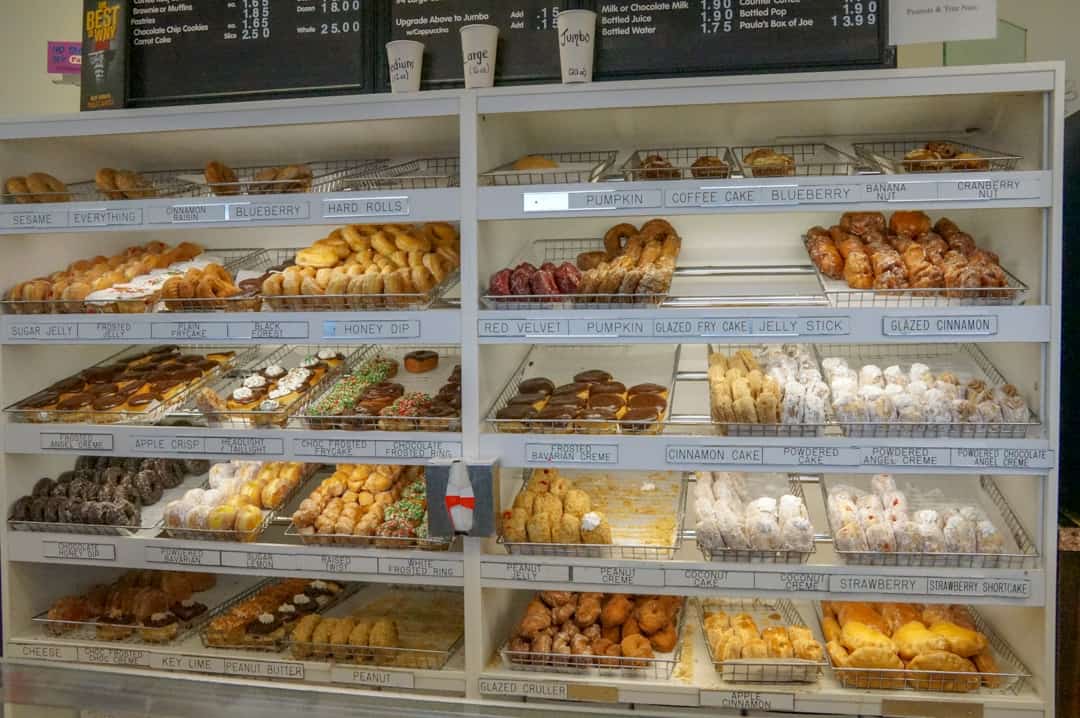 The people in line both in front of me and behind me are raving about the donuts. "Oh gosh, I don't know if I should get the red velvet or frosted jelly." The smart man she was with told her to get both. I'm listening to them all shout out their favourite flavours, and they all sound delicious – of course to me I'm already having a sugar brain meltdown as I breathe in the sweet tasting air around me.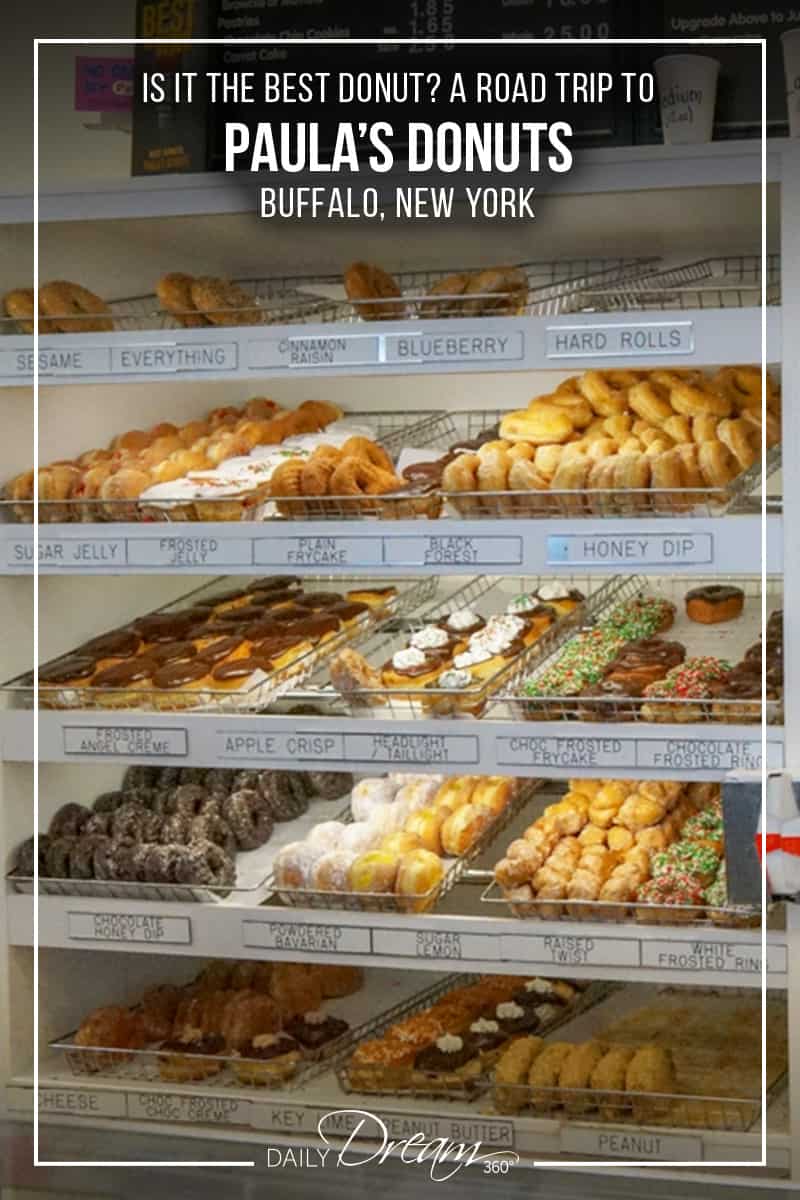 I get to the counter, and I don't know what to do. I felt like a Starbucks newbie, and I just looked at the wall and looked at the girl at the counter completely frozen. She was eager to take my order and move the line along, but I stood there unable to speak. "First time here?" she said. I nodded, but in the corner of my eye on the bottom rack, I saw the words Peanut Butter.
Peanut Butter and Chocolate are like my favourite combinations, and I tell her this openly, and she nods "Oh yes you are going to love this one!" So I order it with a coffee and sit at an empty table and look at the donut in front of me. I don't know what to do!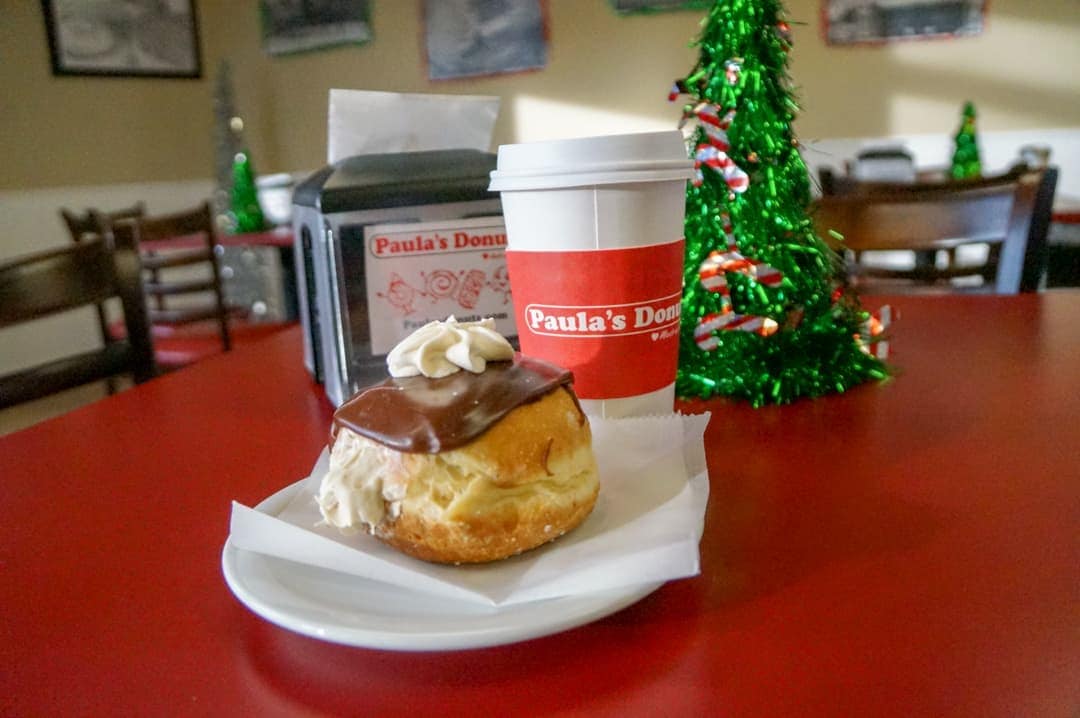 I think people in the store thought I was nuts because I had my Sony NEX camera with zoom lens out taking pictures of this donut, then my iPhone to take photos for Instagram. I was tweeting and texting and staring at this fantastic masterpiece in front of me. I don't know how much time passed before I was able to lift this donut up to my mouth but – OMG!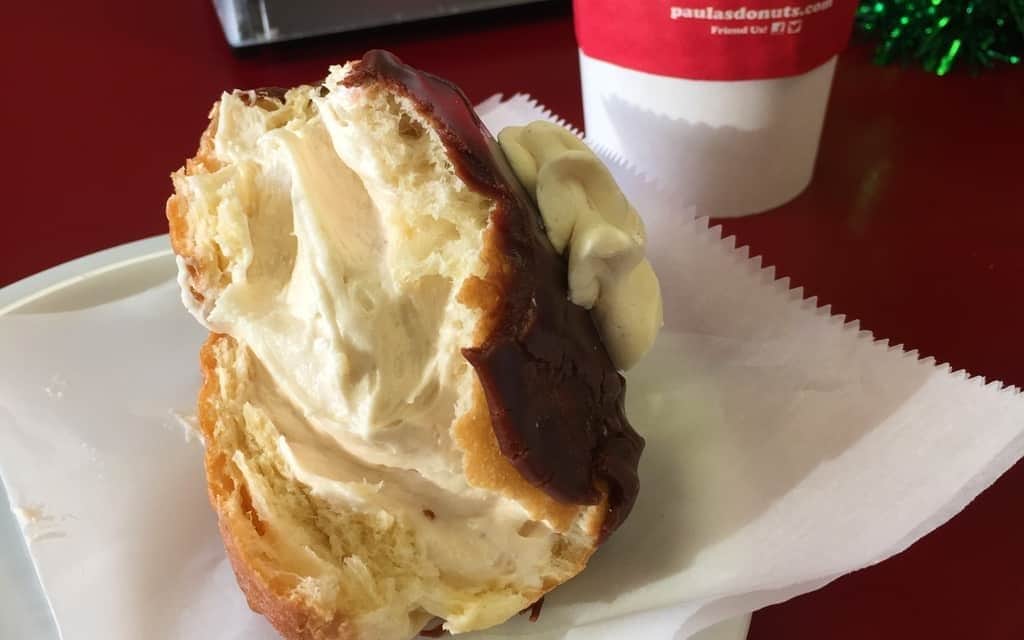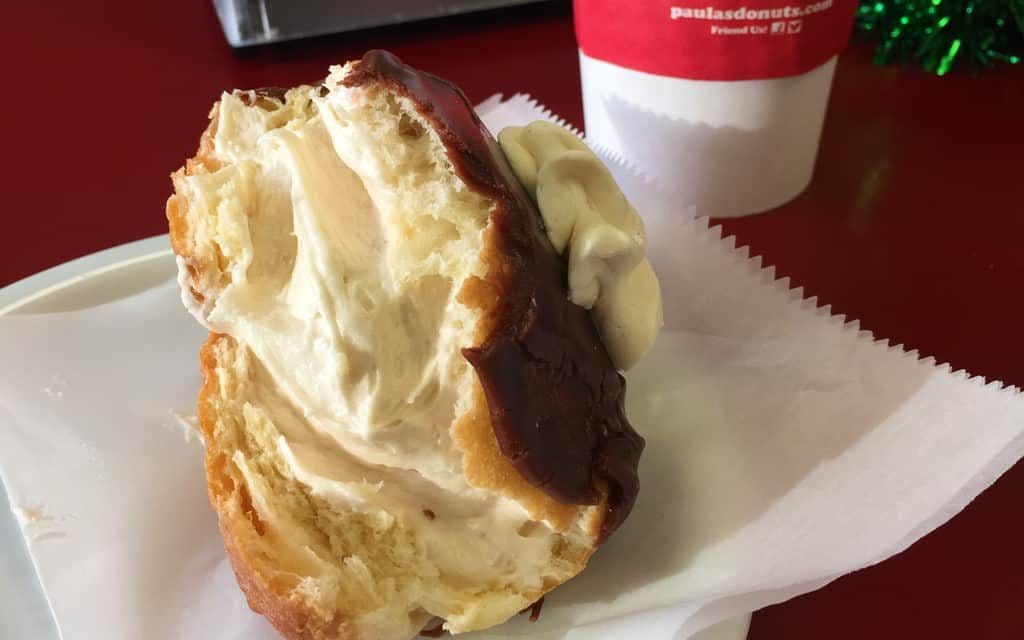 First of all this particular donut, the Peanut Butter was so big I couldn't open my mouth wide enough to take a bite of it. So I dig into it with my fingers and inside is heavenly fluffy angel cream filling that tastes like Reeses Pieces. Outside the donut is glazed with the richest and tasty chocolate I think I have ever eaten. The dough is light and fluffy, and all the flavours are melting in my mouth like a donut explosion. OK, I'm going to say it – I think this is the best donut I have ever eaten – hands down!
Paula's Donuts A Family Affair – Meeting Paula's Daughter
After my "donutgasm," I decided I had to get some photos of the place so I can share this fantastic Donut store with all of you. I met Paula's daughter who tells me about the two locations and how her mom started making donuts over 16 year's ago. Ensuring freshness, all the baked items are made on site at the store. Their motto is "Donuts made with Love!" and you can genuinely see this as her family is all 100% behind it.
Then she says "do you want to take a box home with you?" OMG! I think as I'm still tasting the angel cream filling. I managed to escape the store with no donuts a decision I have regretted from the moment I walked out, but now that I know it is there (how did I not know about this place before now?) I am pretty sure I will be stopping by for "a sweet fix" again very soon!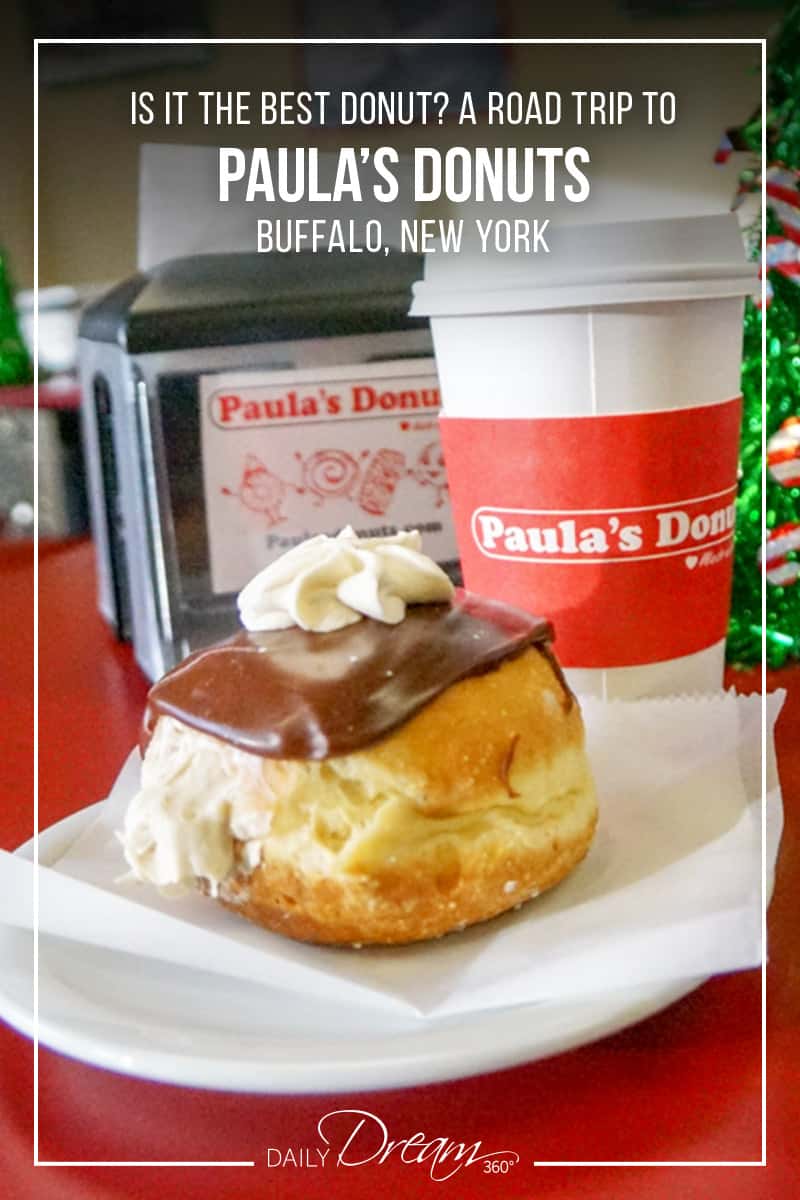 Paula's Donuts – Just 5 minutes from Boulevard Mall
If you are driving from Fashion Outlets to Walden Galleria you can jump off the I-190 to NY 324 and follow it until you reach Sheridan drive. It is located smack dab in the centre of both malls around the corner from the Boulevard Mall.
Paula's Donuts
2319 Sheridan Drive, Tonawanda, NY 14150
For more things to do in the Buffalo area see:
Have you been to Paula's Donuts? Do you have a Buffalo favourite spot you think I should visit? Share your stories in the comments below, I'd love to hear them.