This article may contain affiliate links. Clicking on or purchasing products we recommend through a link may earn a small commission. Read our disclosure and privacy policy page for details. *COVID-19 TRAVEL ALERT – Travel recommendations offered on this site are not to encourage you to travel against travel advisories.
My first trip to Texas, I had no idea what to expect. Cowboys on horseback herding cattle or sprawling metropolitan cities. I didn't do much research either, I just showed up at my first destination, Fort Worth and fell in love instantly. We spent a few days in the city, and I've compiled a list of things to do in Fort Worth Texas.
Dream it.
If you've never been to Texas, Fort Worth is my suggestion on where to start. Not because it was my first Texas experience but because there is a perfect balance of cowboy culture and urban experience.
Downtown Fort Worth is compact, walkable and filled with things to do. Its Stockyards district is filled with cowboy culture in historic buildings with western gear shops, saloons and hotels. Together they provide the perfect modern urban city vibe mixed with life from the old west.
Plan it.
Getting to Fort Worth Texas
I'm going to speak to my fellow Canadians for a minute, the ones in the Greater Toronto Area or the Provinces of Ontario and Quebec who make quick trips to Florida in the winter. I'm going to talk to you now because you may not know this but that short 3-hour flight to Florida or the 1-2 day drive – well it will get you to Texas too!
Fly to Dallas/Fort Worth Airport
The Dallas/Fort Worth airport has no shortage of direct flights from Canada. My flight from Toronto was 3 hours (the same as a flight to Florida). This ease of travel had me wondering why haven't I been to Texas before?
Read more: A Guide of Things to do in Dallas Texas in One Day
Drive to Fort Worth
Depending on your starting point, there is no shortage of highways to get you to the city. From Toronto head to Detroit and follow I-75 to Indiana. There you'll follow the 469 to the I-70 through Illinois. You'll pass through Missouri and Arkansas until you hit Texas where the I-30 will take you to Fort Worth.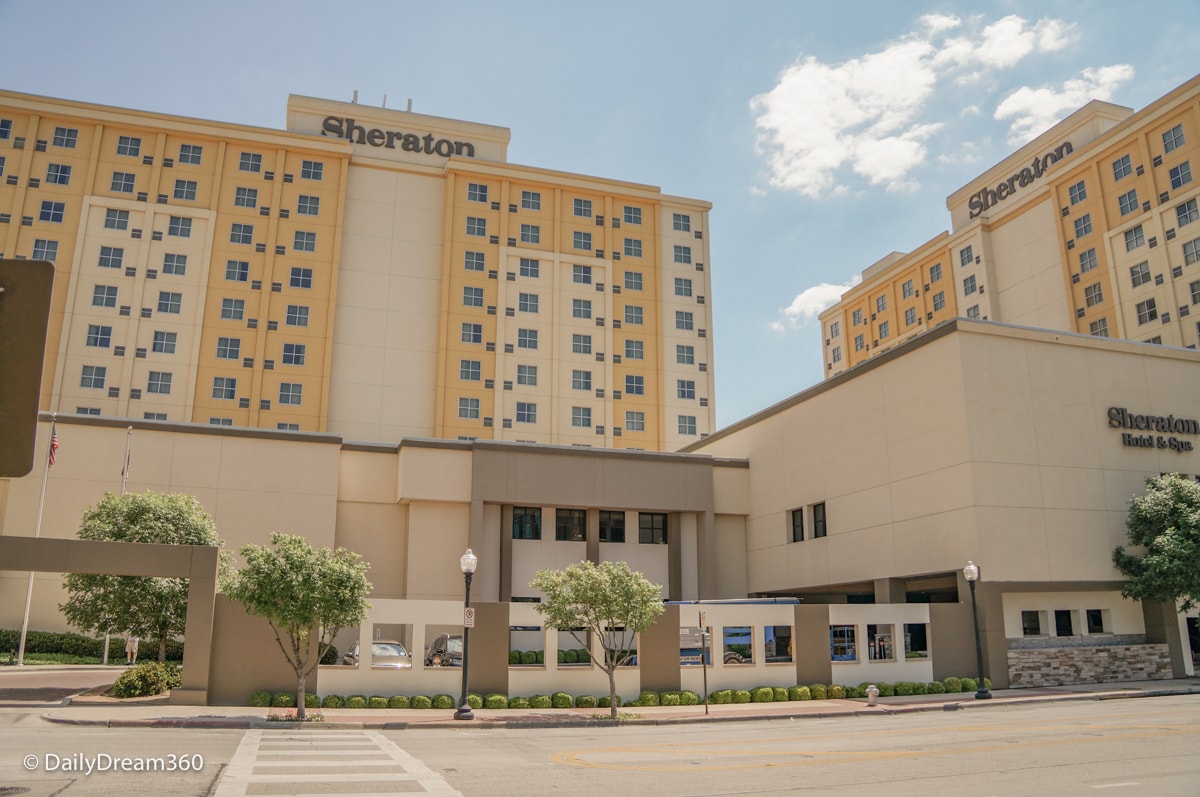 Where to Stay in Fort Worth
I stayed at the Sheraton Fort Worth Downtown. Since we stayed the hotel has been renovated, however, I would classify it as a budget hotel. If you want something a little fancier you'll find Fort Worth has many hotels to choose from for any budget. The Sheraton's location was great, steps from the Fort Worth water gardens and downtown area.
| | |
| --- | --- |
| | |
|  Downtown Sheraton Fort Worth | Stockyards Hotel |
| My Review | TripAdvisor Reviews | TripAdvisor Reviews |
| See availability and pricing. |  See availability and pricing. |
| Trip Advisor | Expedia | Hotels.com | Trip Advisor | Expedia | Hotels.com |
Live it.
Things to do in Fort Worth Texas
My focus during my stay in Fort Worth was exploring the historic Stockyards and its Downtown Core. I did make a quick stop in Southside, where I had a fantastic lunch (details below). There are a lot of things to see in Fort Worth, so I will start with the Stockyards and then move to the Downtown core.
Things to do in the Fort Worth Stockyards
I don't think you can visit Fort Worth and not head to the historic Fort Worth Stockyards district. Texas is famous for many things, but the history of its western culture is on full display here.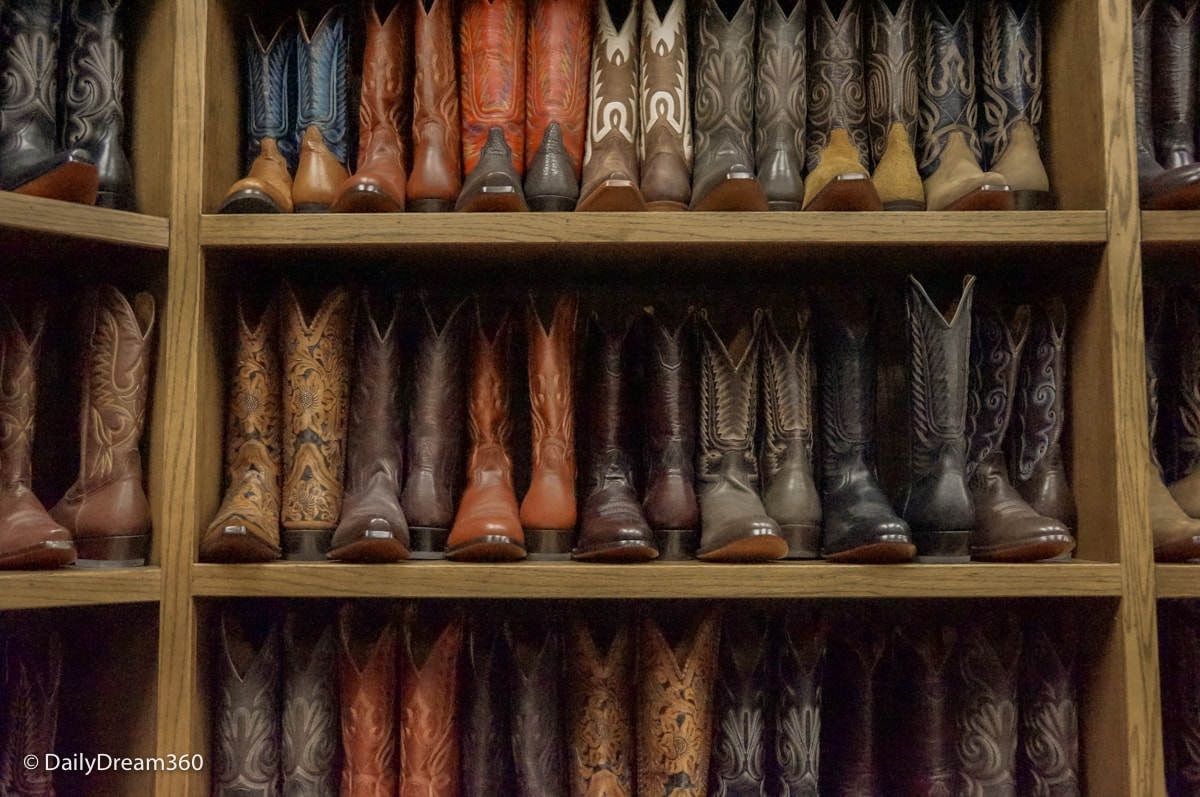 Shopping for Western Wear
I had a mission when I arrived at the historic Stockyard's district, and that was to buy my very first pair of cowboy boots. The best part of this neighbourhood is that you will find boots for every budget.
Read more: Gear Up in Texas! Shopping for Western Wear in the Fort Worth Stockyards

Grab a Drink in the Saloon
You'll find many pubs to choose from here. They all have that historic western vibe and are a great place to grab a drink or a bite to eat.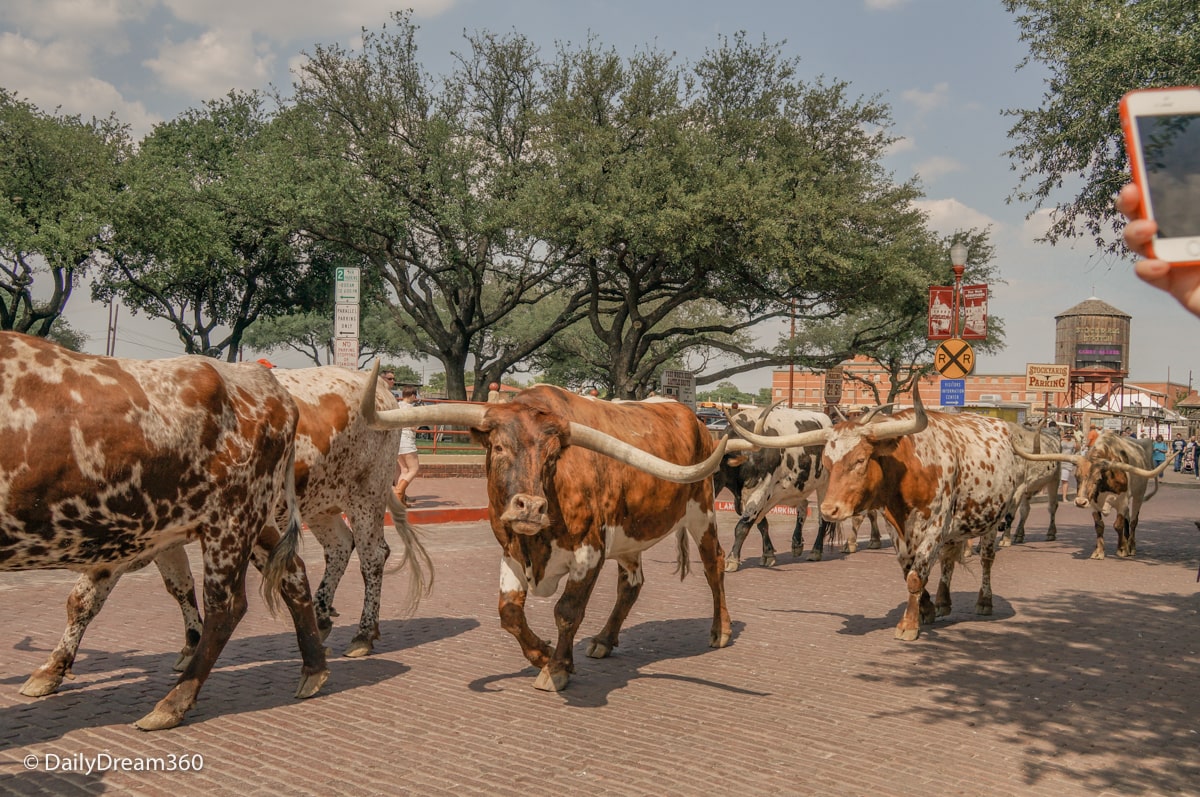 The Stockyard's Cattle Drive
The most crucial detail for visiting the Stockyards is making sure you are there for one of the two Cattle runs straight through the main street of the district. The Herd rides through the alley at 11:30 AM and 4:00 PM every day.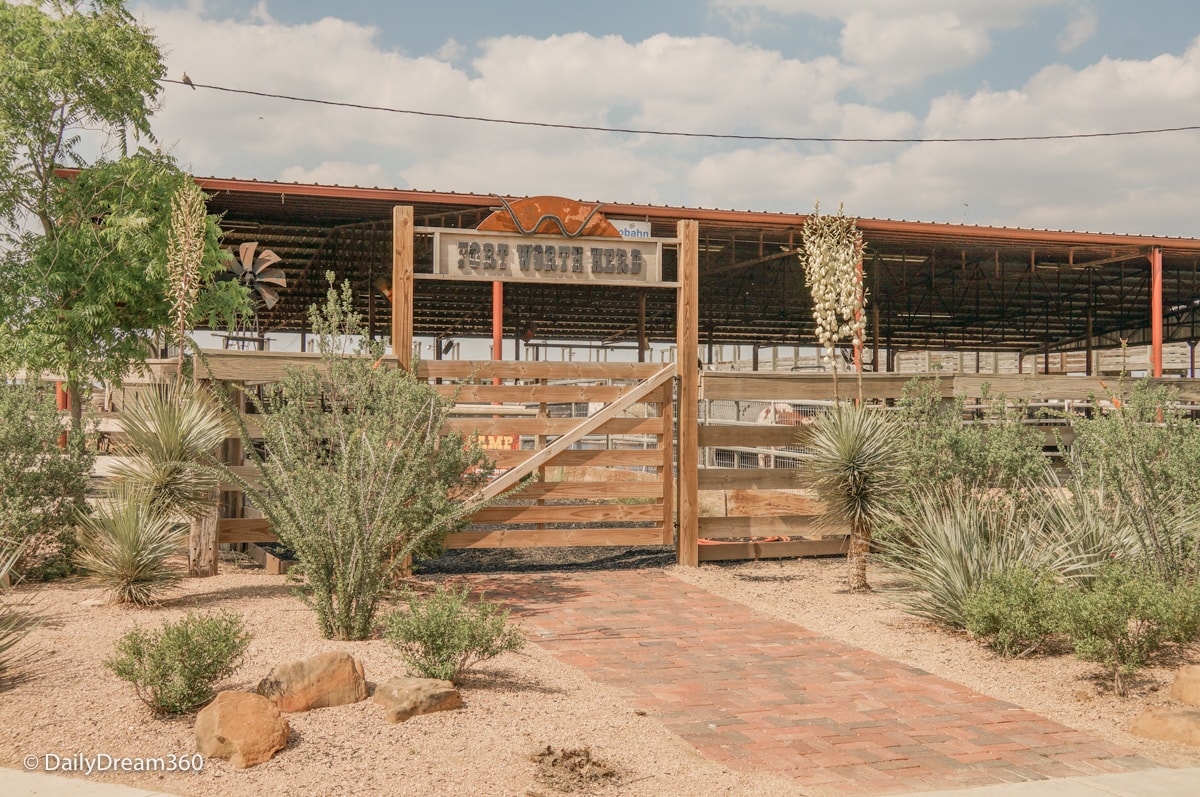 You can also explore the Herd's pens all day in the Livestock Exchange building. Photographers will find some exciting captures here.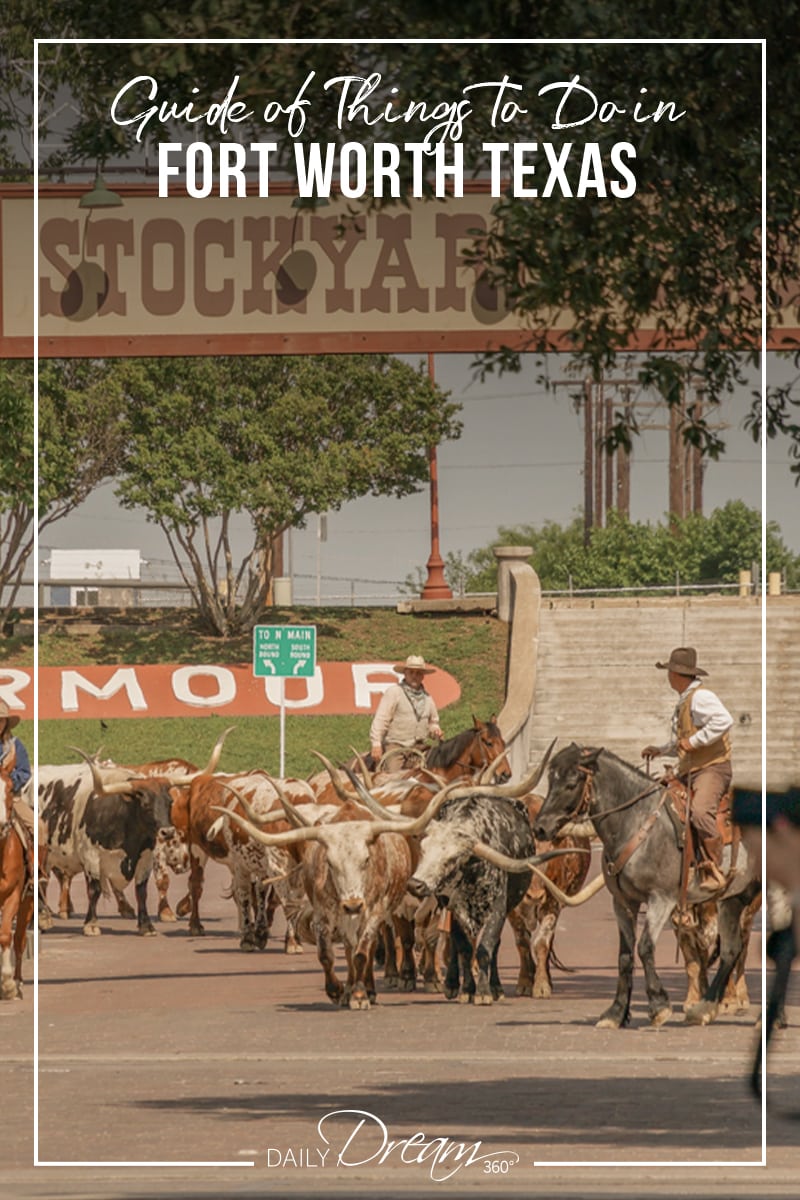 Dinner at Coopers Texas BBQ
We had dinner at Coopers Texas BBQ. One can't visit Texas and miss eating at one BBQ restaurant. Coopers was a casual vibe, and there was plenty of different cuts of meats to choose.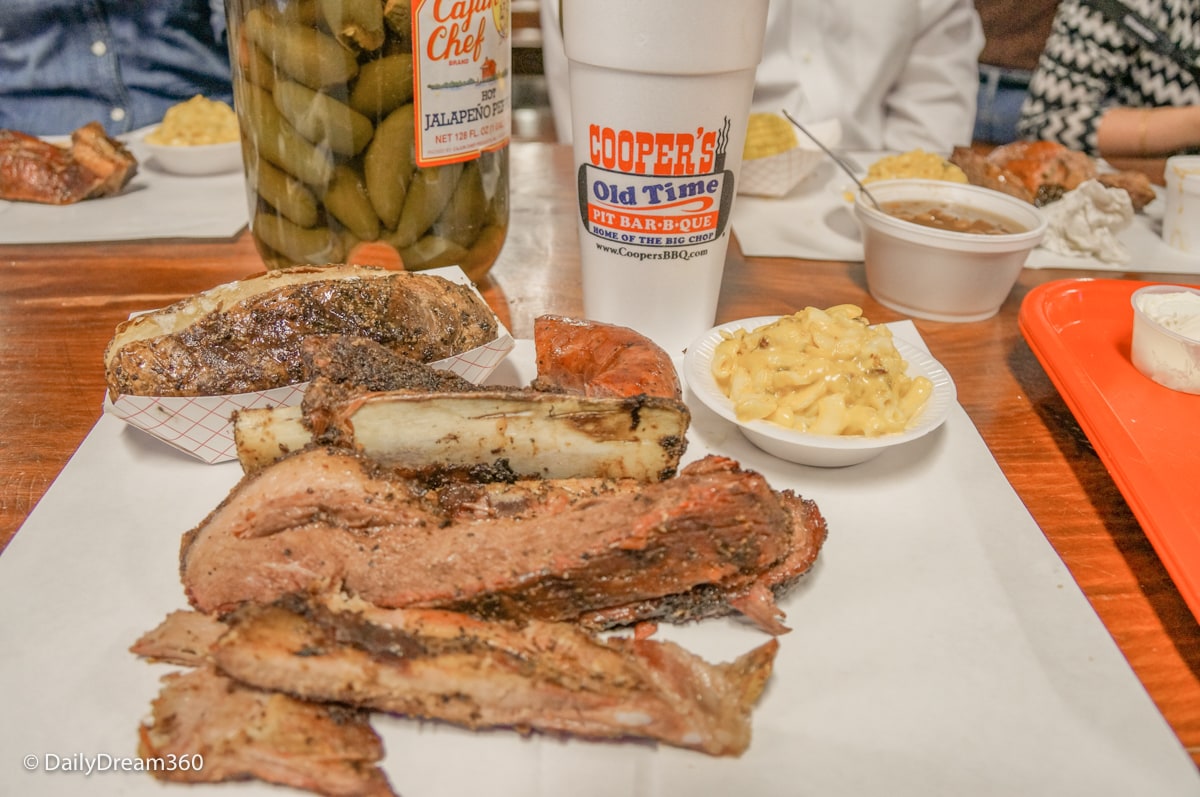 You pick the meat you'd like from the BBQ, and it is weighed, there are also several sides to choose from and beverages. The sitting area is family-style, long tables where you can share your selections amongst your friends.
Read more: Coopers Old Time Pit BBQ A First Timer's Guide to Texas BBQ

Stockyards Rodeo
I know Animal sports is not for everyone, but the Stockyards Championship Rodeo is part of Texas culture. The show is quite extraordinary, and if you happen to be able to catch one, you'll be amazed by the sheer size of this coliseum and the intensity of the competitions these cowboys enter.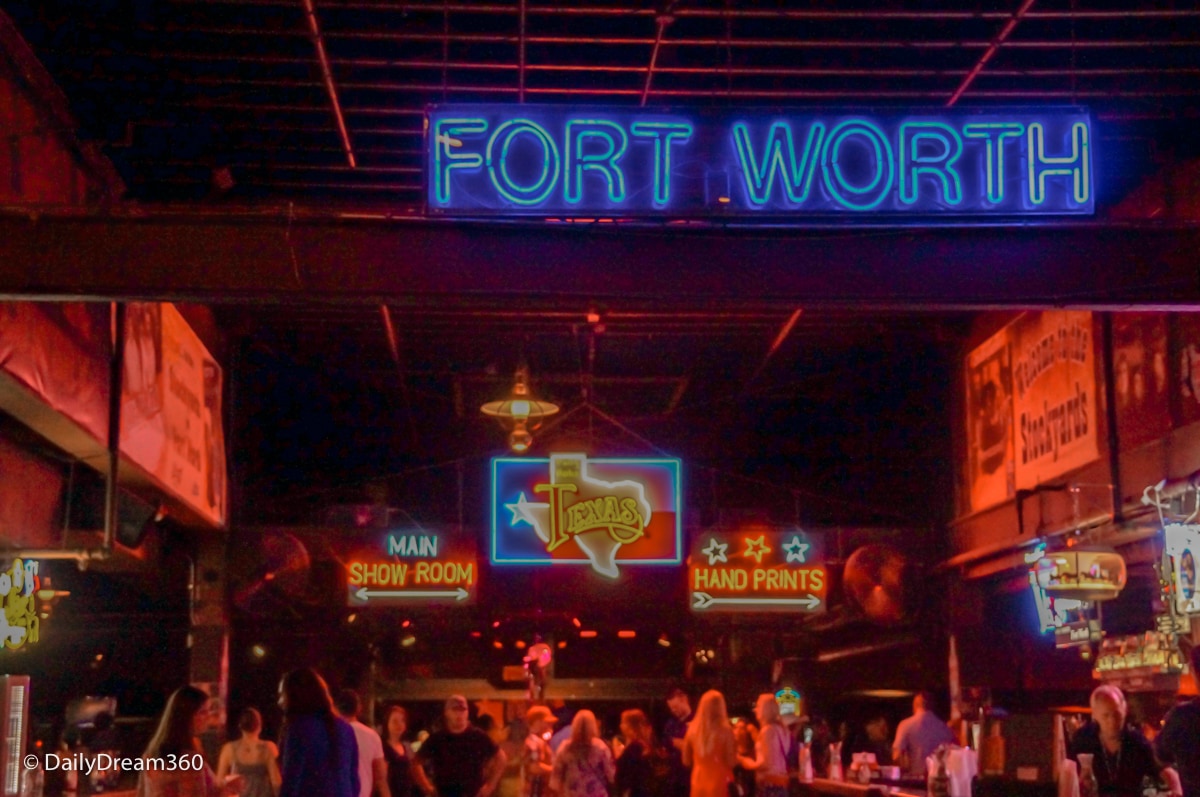 Billy Bob's Texas Honkytonk
Some of the world's most prominent country artists have performed at Billy Bob's Texas, and I hope you'll be lucky enough to catch a show. If not I still recommend a visit to unwind, enjoy some brews or cocktails and enjoy live music, food, dancing and more.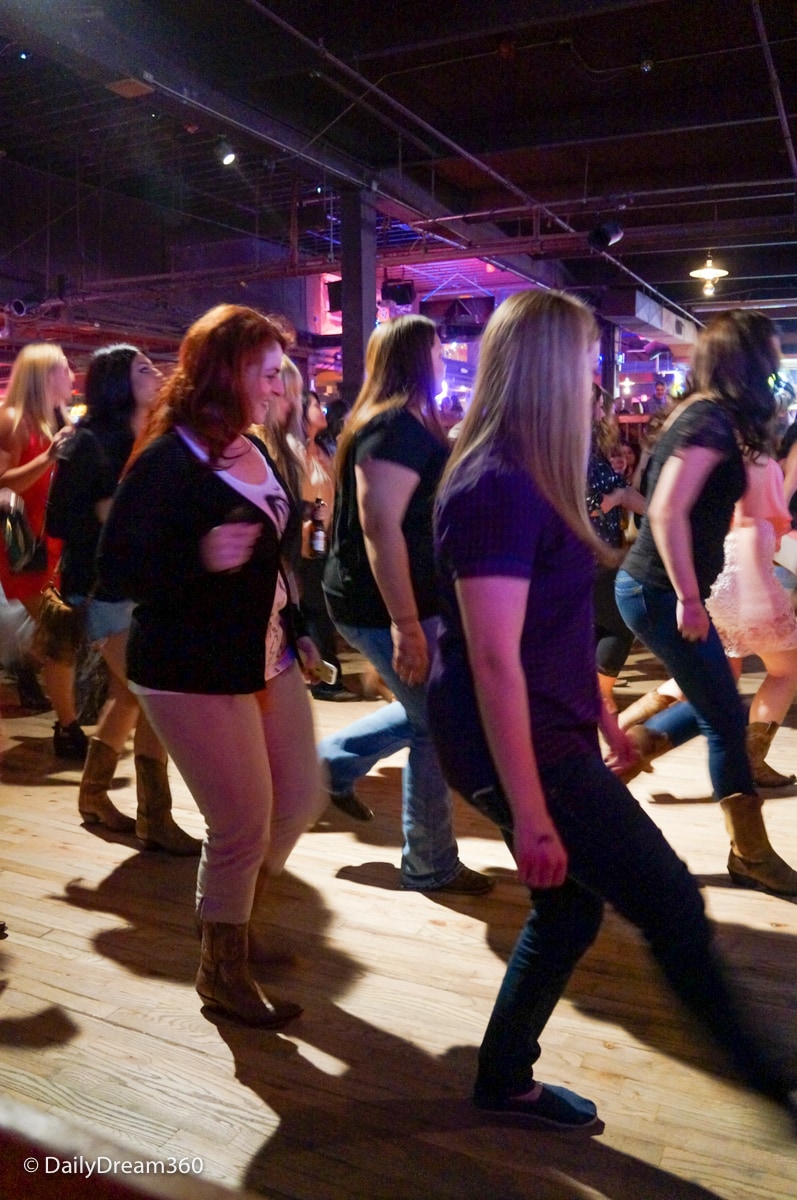 When in Texas, one must try line dancing right?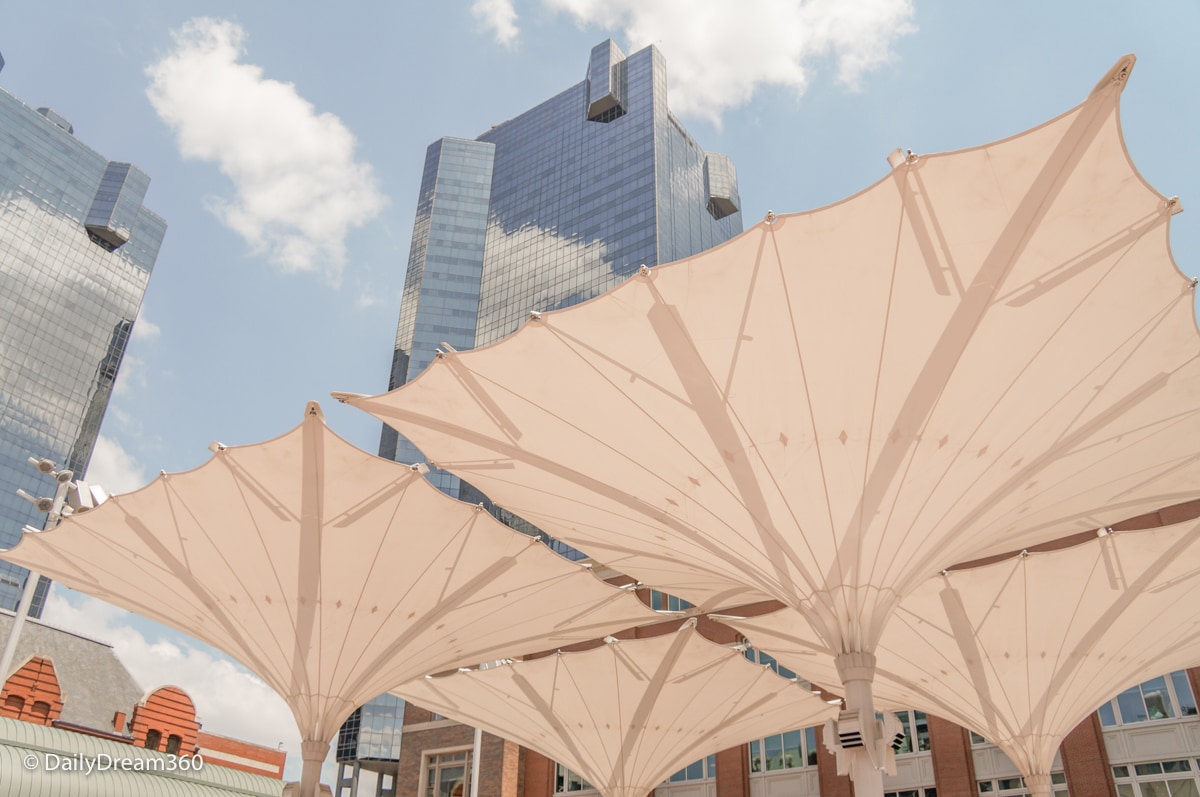 Things to do in Downtown Fort Worth
There was a lot to do and see in Downtown Fort Worth so much actually that I don't know how I'm going to fit it all into one post! So here goes! We did a walking tour of the city, and I thought I'd share some of the highlights.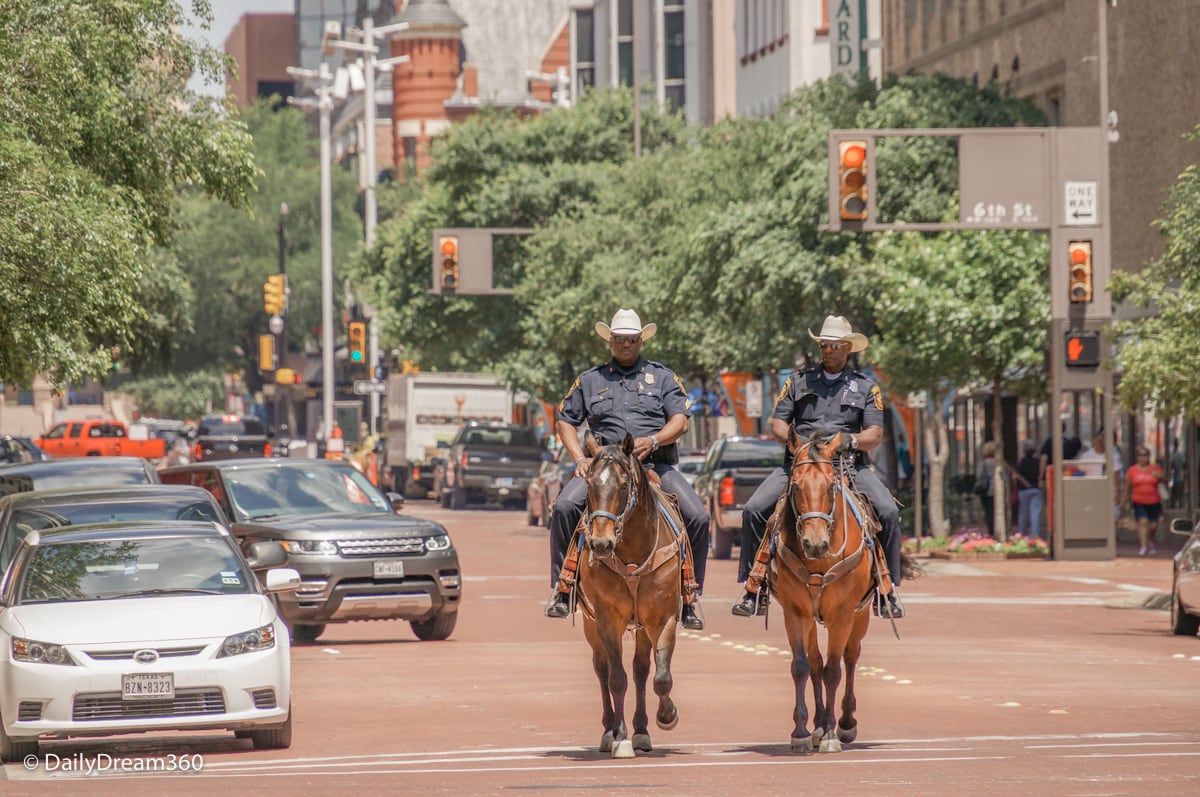 The interesting thing about Fort Worth is that you are amongst a city with cars driving through, tall office buildings and then you see two horses with mounted police officers in cowboy hats strolling along the street, and you remember this is not just an American city it's an American city with cowboy culture!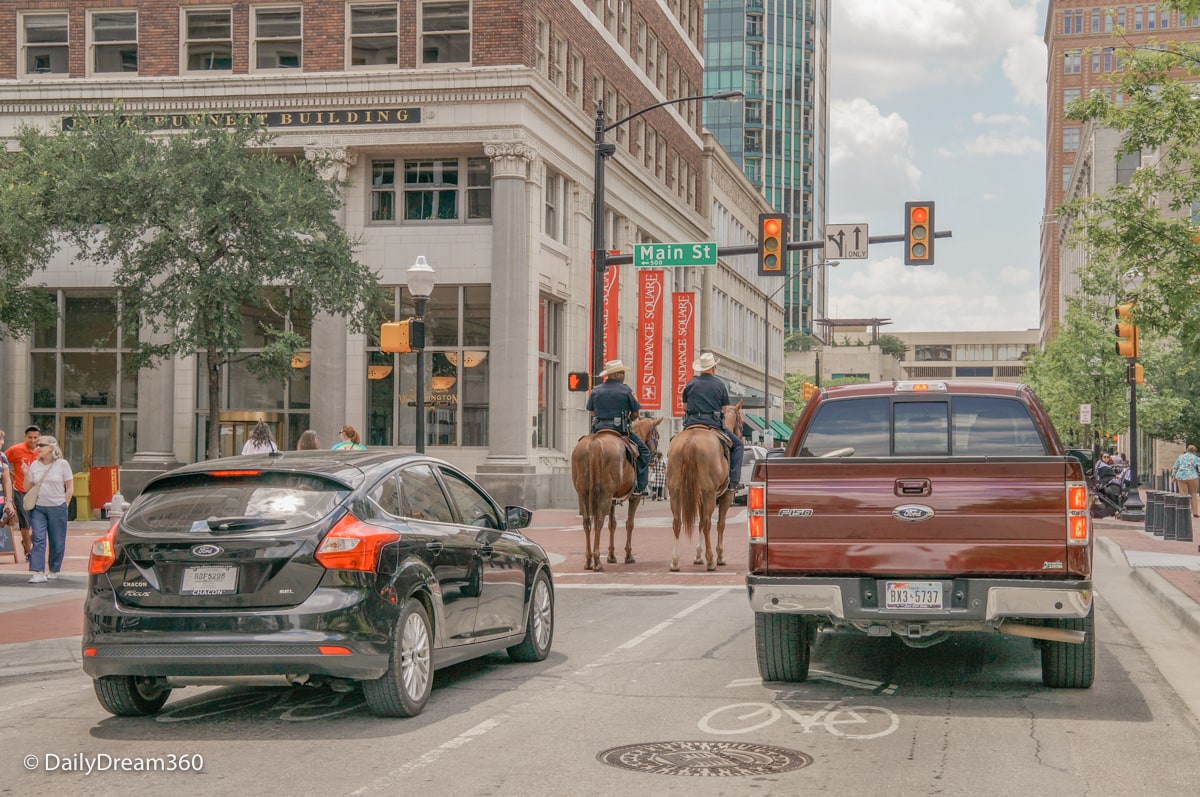 I apologize to the city's Mounted Police officers as I was practically stalking them to get multiple photos in the downtown core. In case you were wondering, the horses in Fort Worth do obey traffic signals!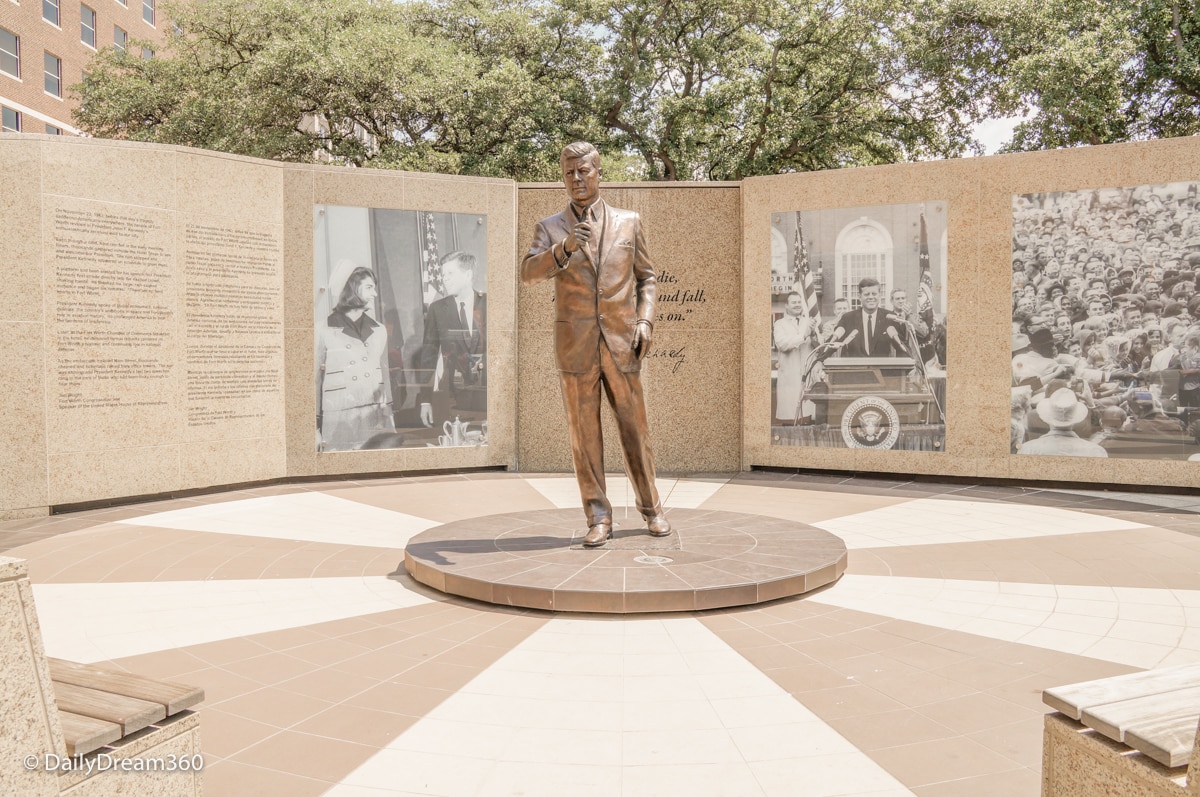 John F. Kennedy Tribute Fort Worth Texas
President John F. Kennedy made some very historical speeches during his visit to Fort Worth, Texas and sadly they were his last public speeches before his assassination. This tribute features a giant bronze statue of the president and around him are walls with a few of his famous quotes. There is also an app you can download that will take you through a guided tour of the tribute.
Cool off at Fort Worth Water Gardens
I stumbled upon these incredible water features just outside the Sheraton Fort Worth Hotel. The water garden hides in this little concrete park, but the moment I stepped inside I was taken away from the city and into a tranquil oasis.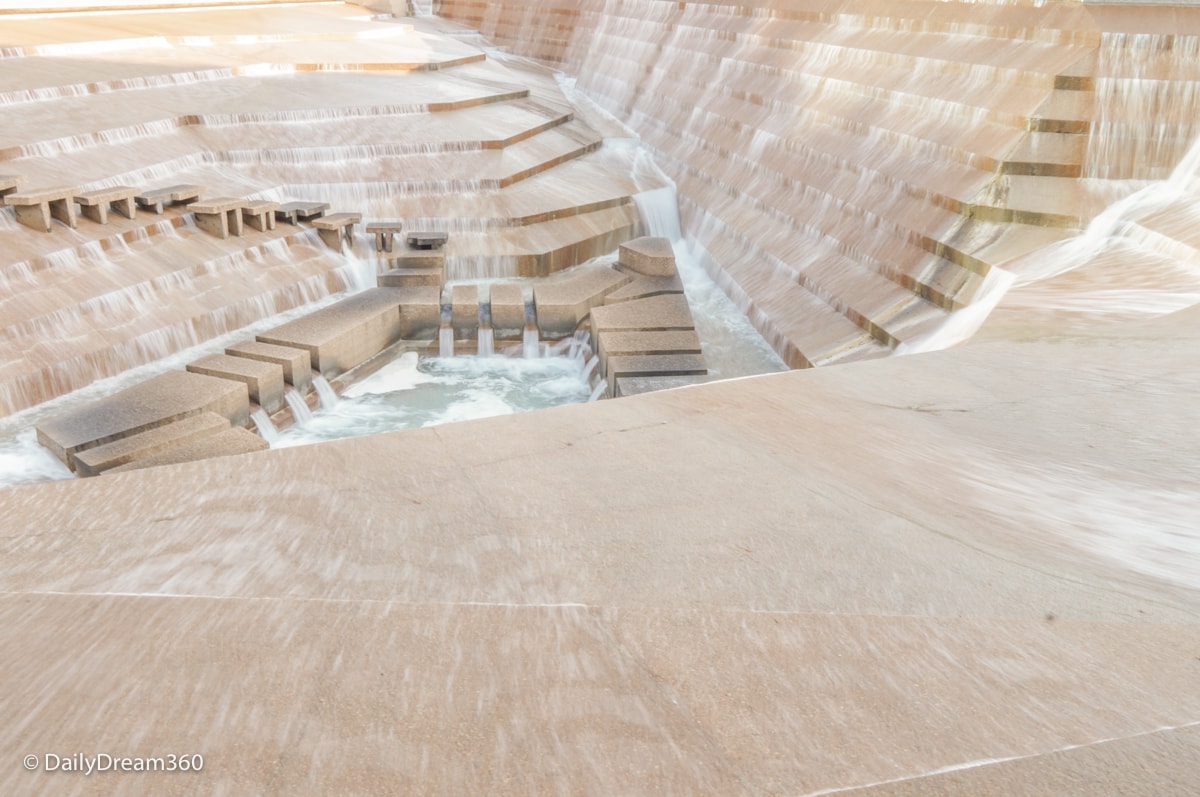 The main waterfall featured running water down the concrete walls into the middle pond below. There was a set of stairs with gaps in between that started at the top of this meditation pond and then slowly got smaller as you walk down to the center. With water running all around and between the gaps in the stairs, this walk was not for the faint of heart. I managed to get down only halfway before chickening out.
In the hot sun, it was great to take a moment at the aerating pool which featured spray fountains under large oak trees — the perfect balance of water mist and shade.
I forgot I was in the city for a moment as I sat in the oasis of the Quiet Pool, located down a flight of stairs amidst tall concrete walls. As I walked down the stairs, I had no idea what I was going to see, but then as I turned the corner a tranquil and serene scene taken out of the pages of a tropical paradise.
The Fort Worth Opera House
Even if you don't get the opportunity to catch a show, you may want to plan your walk by the Fort Worth Opera House.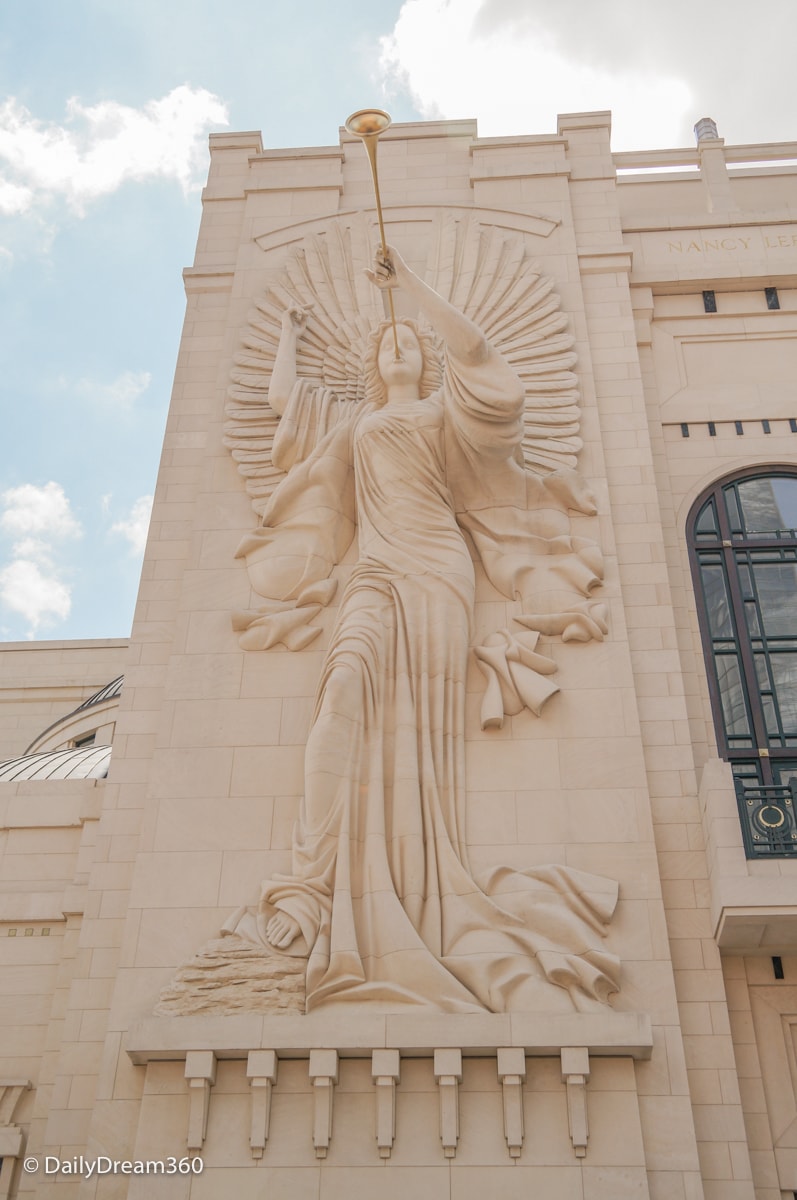 Likely you've seen photos of the beautiful Bass Performance Hall. Outside on its wall massive 48-foot tall limestone statues of angels blowing horns.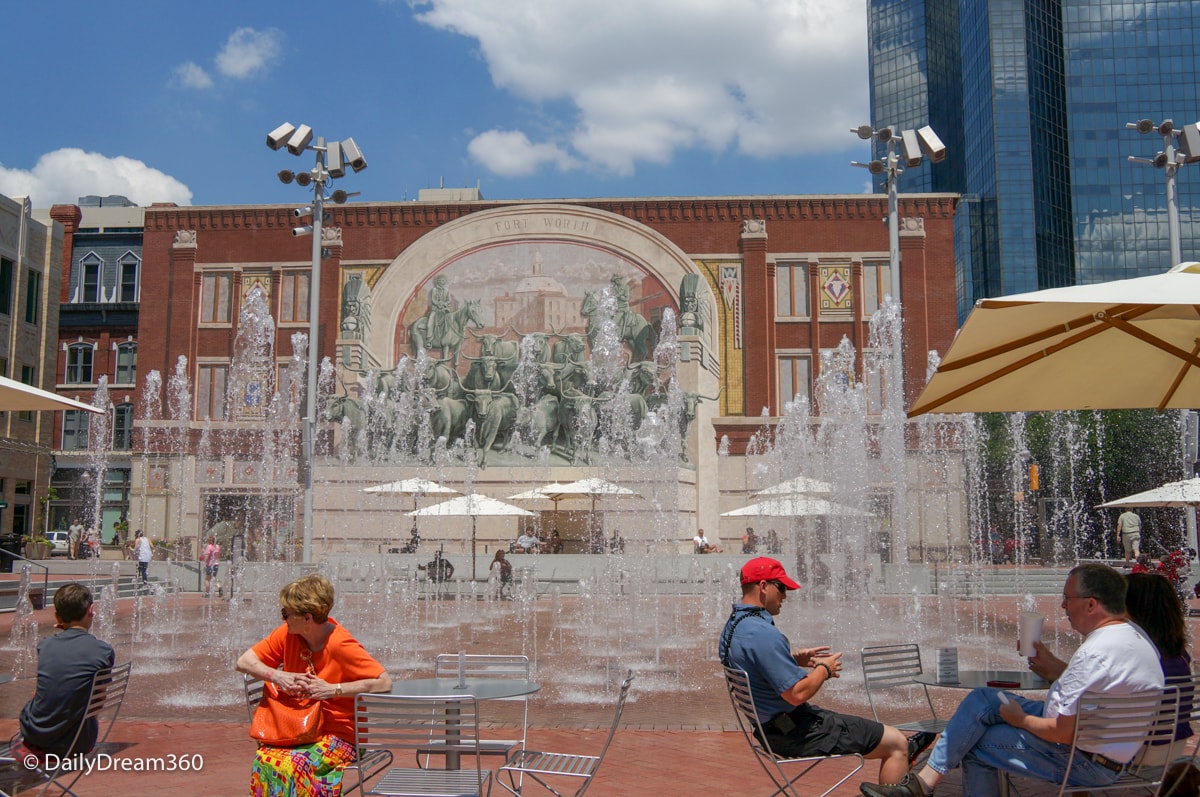 Sundance Square, Downtown Fort Worth
The epicentre of downtown Fort Worth is at Sundance Square, a neighbourhood spanning 35 blocks. The district features both modern towers and historic buildings which house plenty of shops, restaurants and entertainment venues.
There were more water features in Sundance Square, including a large number of fountains shooting water up from the ground. There were many spots to sit under an umbrella and watch the fountains as they changed their pattern. At 2:00 in the afternoon a screaming horde of children made their way into the fountains to enjoy a splash (the only time they are allowed to do this).
Preservation of the historic buildings in the city of Fort Worth is evident as you walk through the Sundance Square district. There are plenty of landmark features mixed with modern buildings in the background.
Lunch at Bird Café in Sundance Square
While you are in Sundance Square stop into Bird Café for lunch. If you are early enough or make a reservation, you can get a spot on the patio and keep an eye on the action in Sundance Square.
Bird Cafe has a different take on dining serving up delicious small plates. That's what they said, but as I learned quickly, "Everything is bigger in Texas!". We had a great lunch with appetizers and main dishes and the most refreshing basil-infused drinks.
Must-see Fort Worth Museums
Hit the city's Cultural District where you can explore five museums within walking distance. Here are a few of my favourites.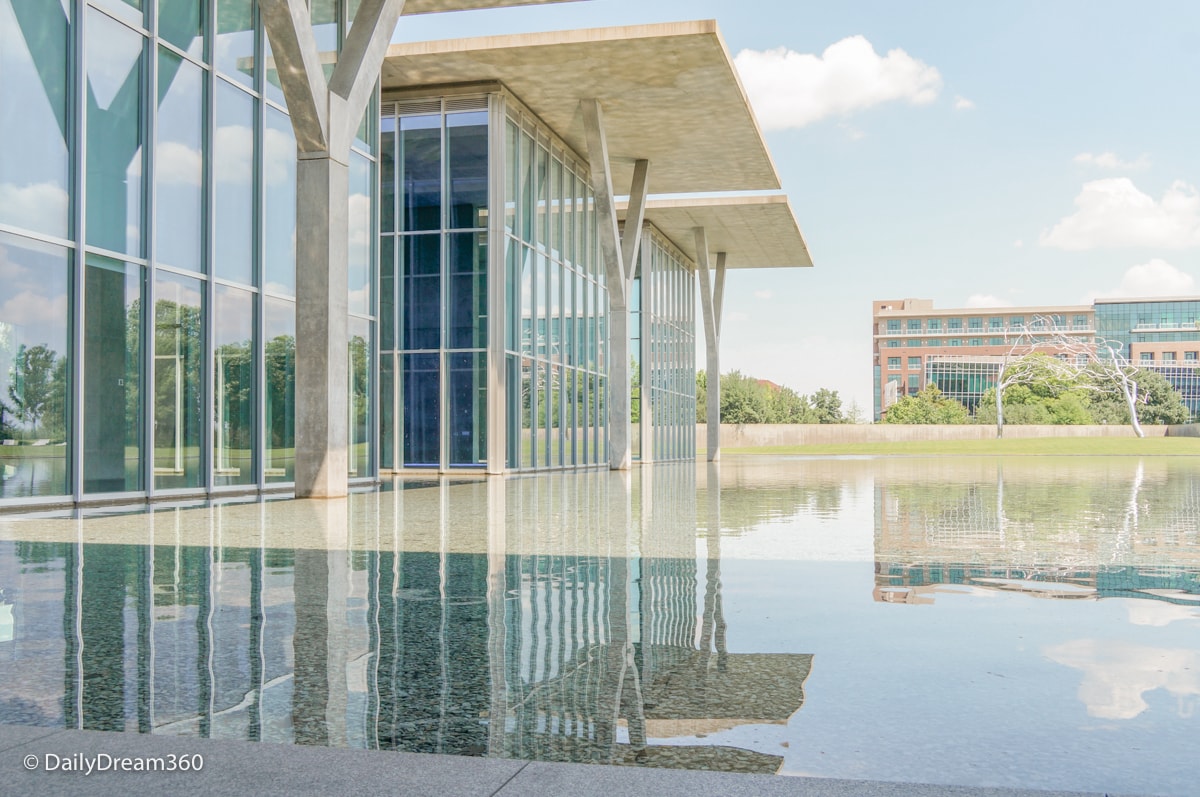 Modern Art Museum of Fort Worth
I know that modern art is not for everyone, but I just loved exploring the Museums tranquil grounds. Surrounded by water and several modern sculptures and exhibitions throughout it is a must for museum lovers.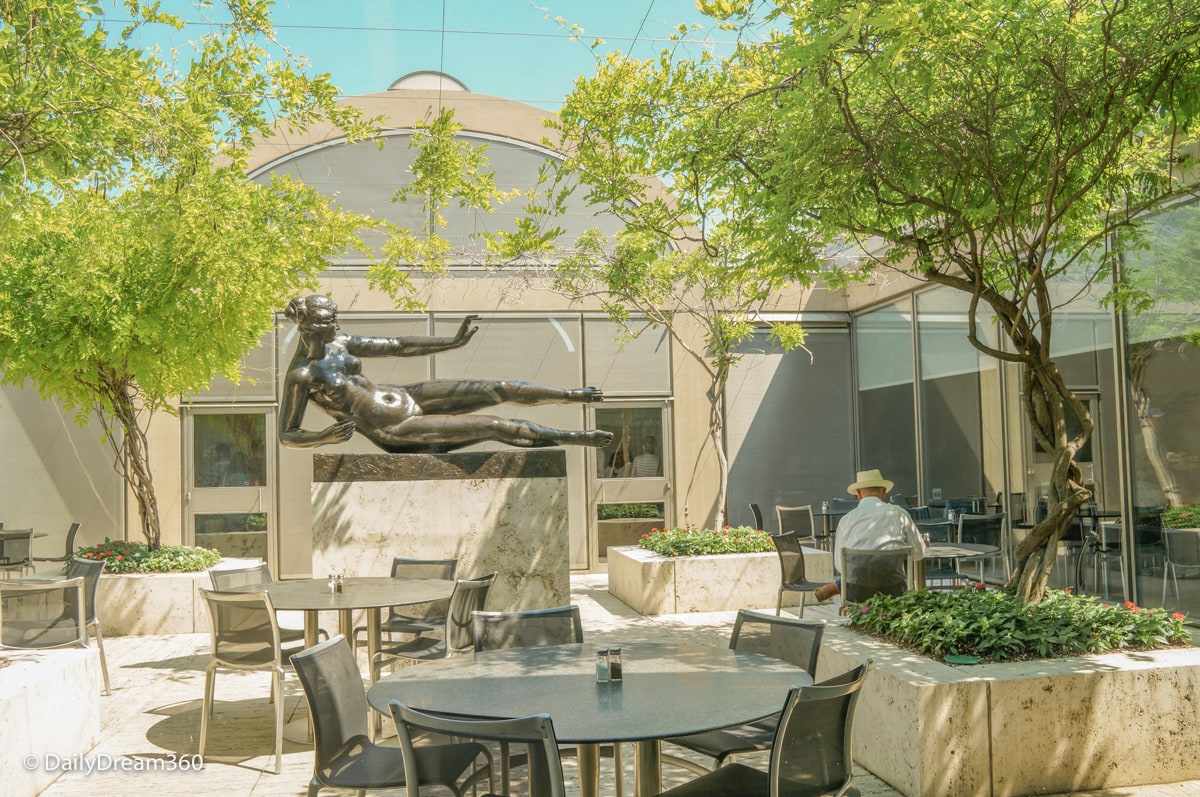 Kimbell Art Museum
I could not believe this museum had free admission. The Kimbell collection of art had my jaw dropping a few times. Amongst the many exhibits on display, I stood still in front of Monet, Picasso, Matisse, Rembrandt and Michelangelo's first known painting. It's free, and I'm telling you, don't miss this.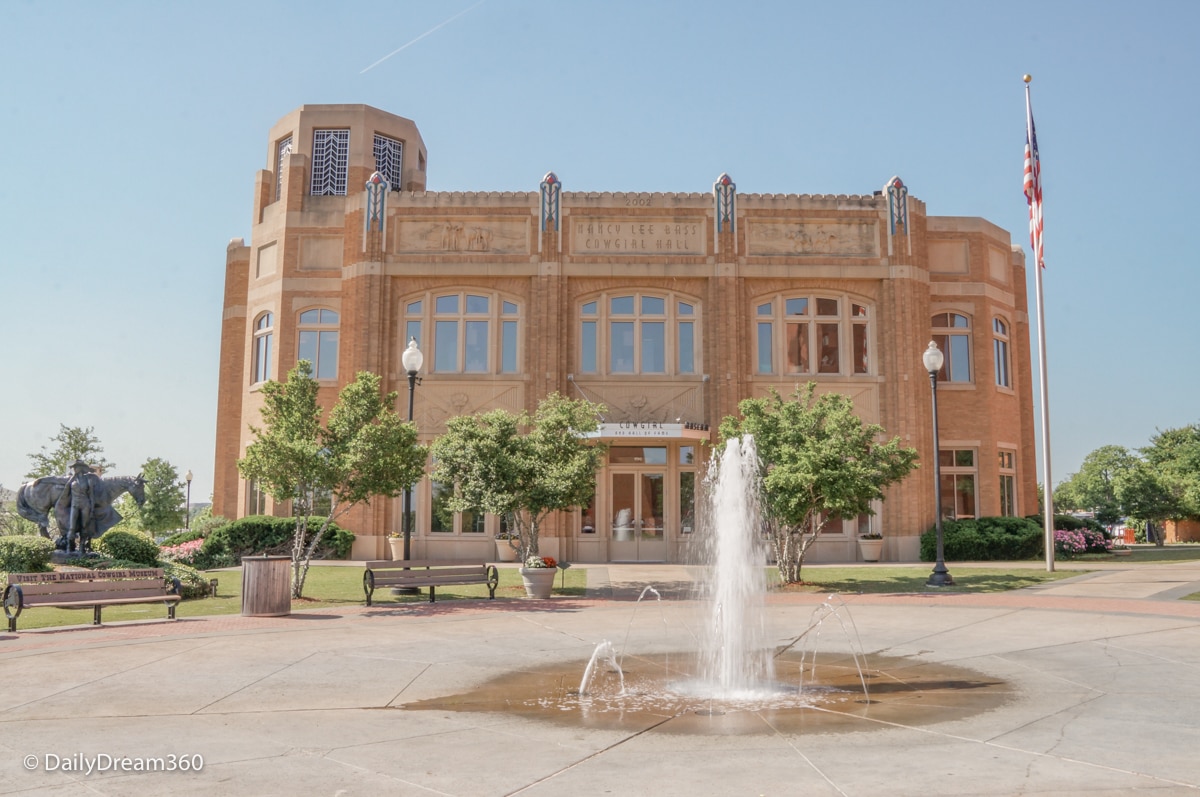 National Cowgirl Museum
The only museum in the world is dedicated to the many women of the American midwest was an inspiring visit. Learn all about the many cowgirls through history and their contributions to ranching, rodeos and more.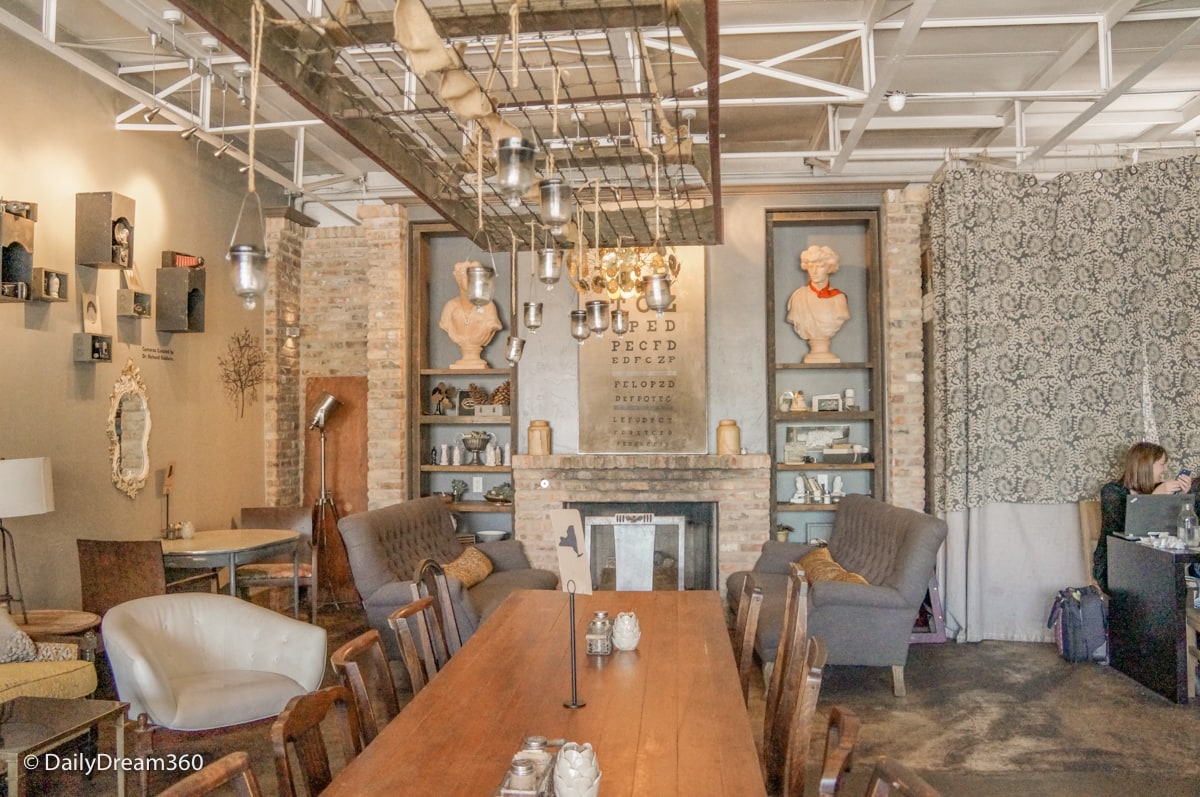 Fort Worth's Southside Neighbourhood
Visit Brewed the Locals Living Room
If you get the chance, make your way out of downtown Fort Worth to Fort Worth's Southside neighbourhood. We had a great lunch there sitting in the mismatched dining room filled with repurposed stuff.
Brewed is a casual space to explore craft coffee, cocktails, and beers. The menu was filled with shareable plates, great salads, burgers and an all-day breakfast. I wish I had more time to explore this neighbourhood – but you know it is on my list for the next trip!
I had a wonderful time in Fort Worth, Texas, but I feel I've only scratched the surface of what it has to offer. There are many beautiful boutique hotels in the city, shops and restaurants that I did not have enough time to explore since getting there is a mere 2-hour flight away – I have a feeling I will be planning another trip to the city very soon!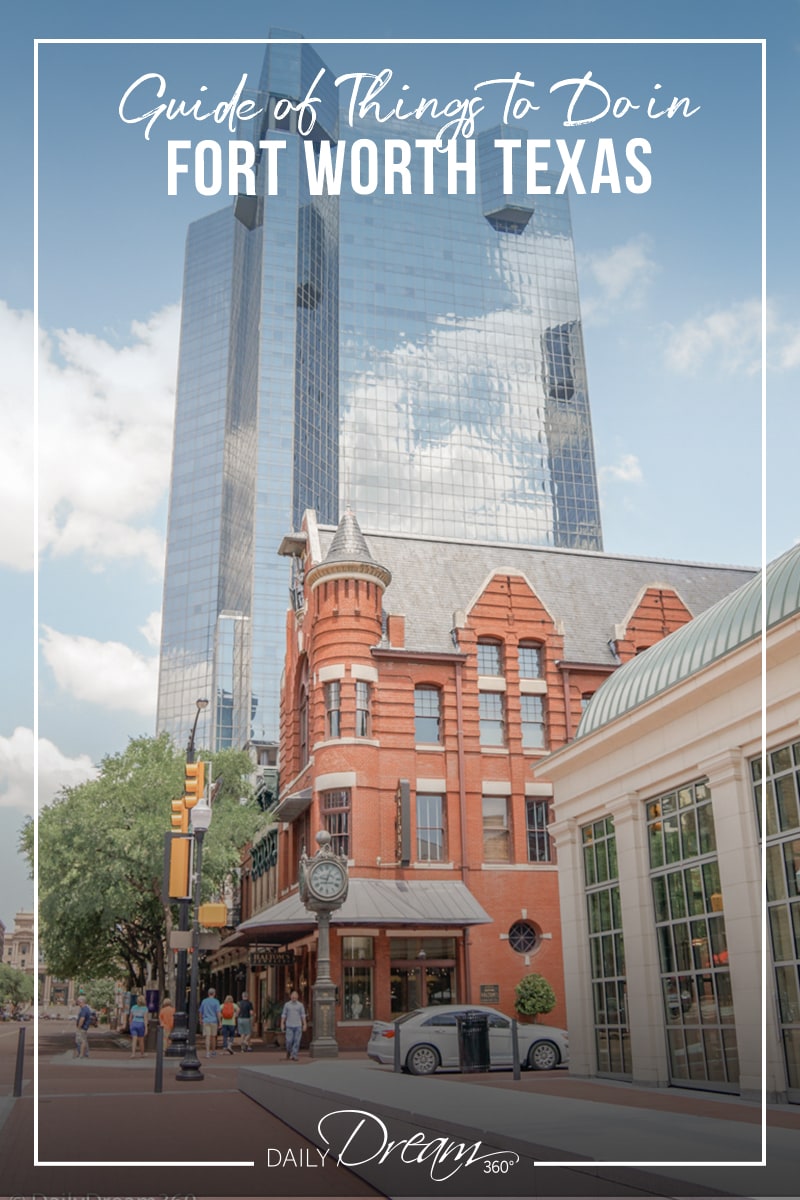 Travel assistance provided by Texas Tourism and the Fort Worth Convention & Visitors Bureau on a Media familiarization trip, however, the opinions expressed in this post are my own.