This article may contain affiliate links. Clicking on or purchasing products we recommend through a link may earn a small commission. Read our disclosure and privacy policy page for details. *COVID-19 TRAVEL ALERT – Travel recommendations offered on this site are not to encourage you to travel against travel advisories.
As many plan road trips to explore the fall colours in Ontario, there are more reasons to get out and explore the province. Autumn brings with it a series of Ontario fall fairs, festivals, art exhibits and events happening throughout the region. In this post, we share the best Ontario fall fairs you should add to your fall road trip list.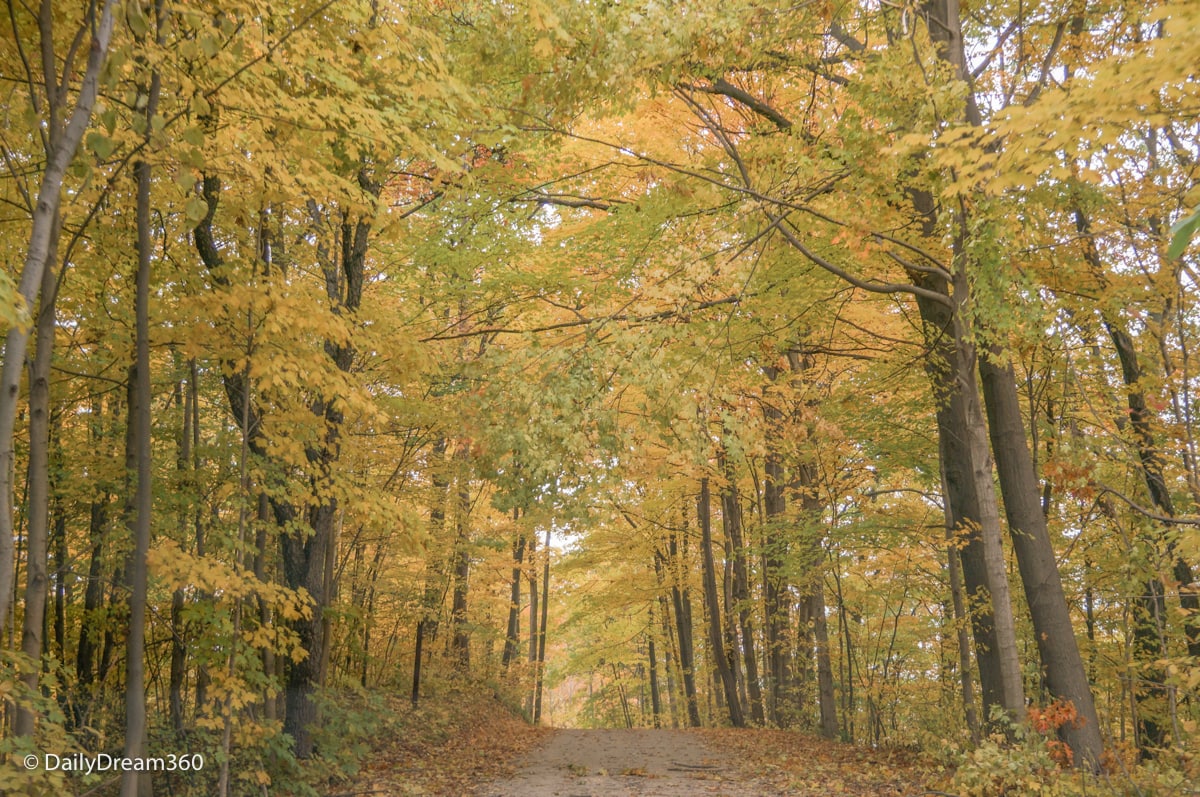 Dream it.
For me, it was a travel writing assignment on Ontario agricultural fairs that introduced me to Ontario's small-town fairs. I found myself driving down country roads surrounded in full lit colourful trees. Leaves in yellow, orange and red surrounded me as I drove down unpaved roads exploring a different side of Ontario.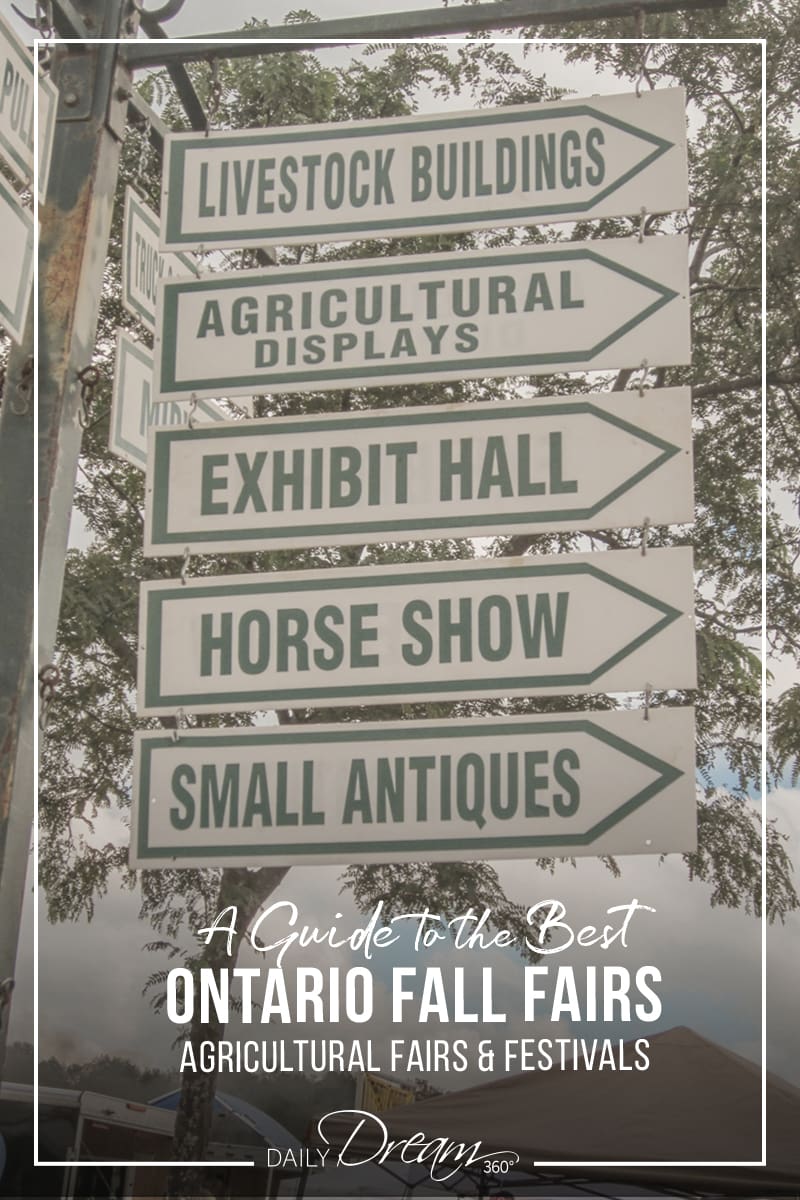 Plan it.
If you are looking for a list of Ontario fall fairs by date, visit the Ontariofairs.org website. Here they list all the festivals that run in the province between March and November. You can search for Ontario fairs by date, region or name.
In the fall the agricultural fair circuit is especially meaningful because it aligns with the harvest. It's a showcase of all the food that is grown here in our province, and it is the freshest produce you will ever see.
What to expect at an Agricultural Fair
All fairs have similarities in that they showcase agricultural produce and animals, bring their communities together with food, entertainment, agricultural competitions and exclusive shows. Most fairs have most of or a combination of the below activities.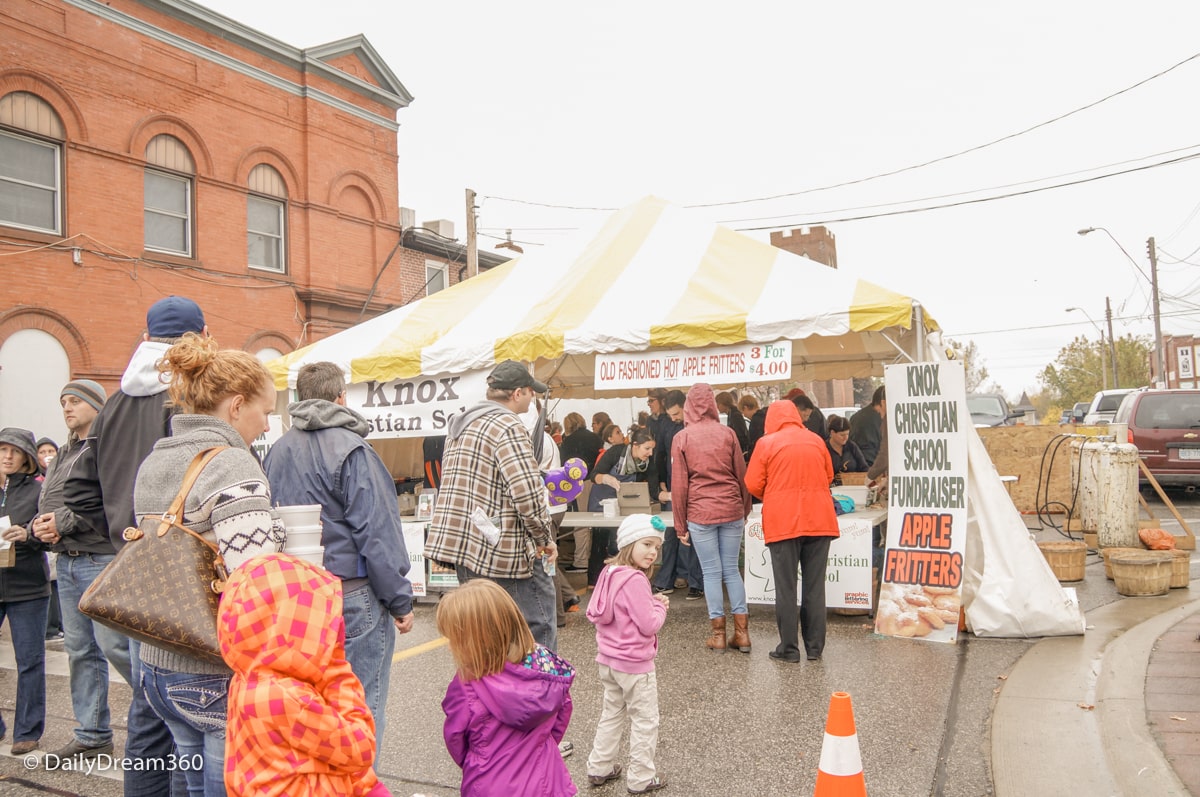 Ontario Fair food
Local delicacies, community barbeques and traditional fair food can be found at agricultural festivals. Depending on the location, you may find specific ingredients or food featured at an Ontario fall fair. Apples at the Bowmanville apple festival and their famous apple fritters all baked with love under a tent at the festival.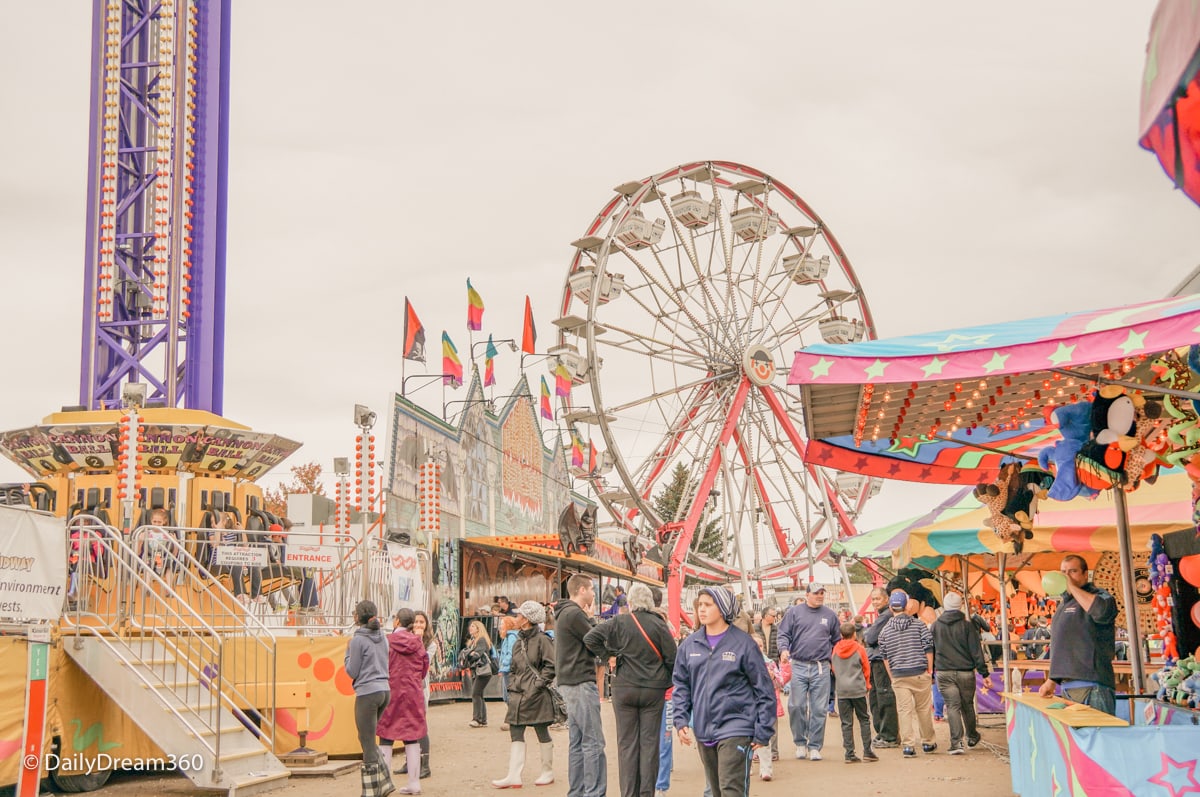 Ontario Fall Fair Amusement Games and Rides
Even the smallest towns I've visited manage to bring a few rides into their fairs. Some of the more significant fairs have full amusement park areas with Ferris Wheels, Horse Carousels and scarier rides like the Zipper.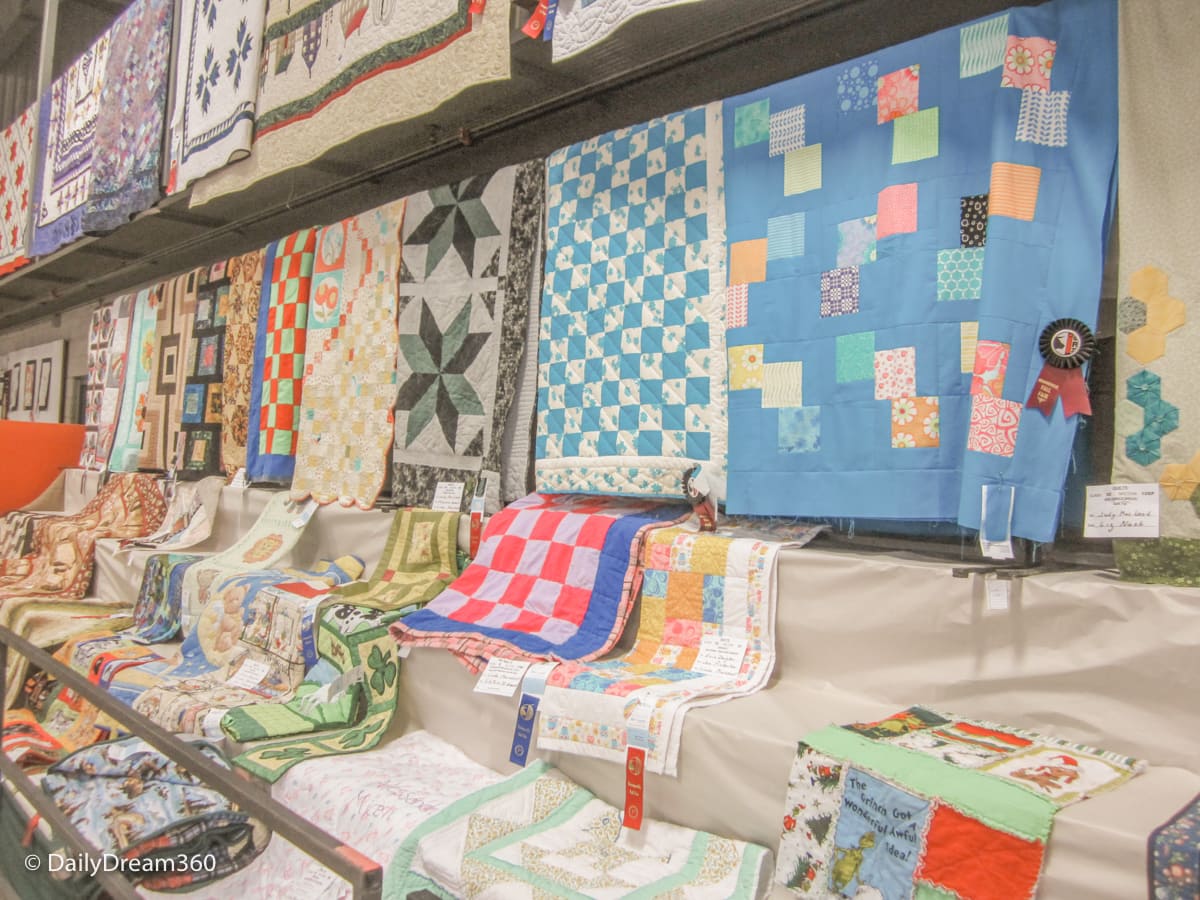 Ontario Fairs Art and Craft Display's
Local artists feature their creations both in competitions and fair exhibits. You may find yourself shopping for local goods or admiring the works of painters, flower arrangers and quilters who submitted their best work for a prize.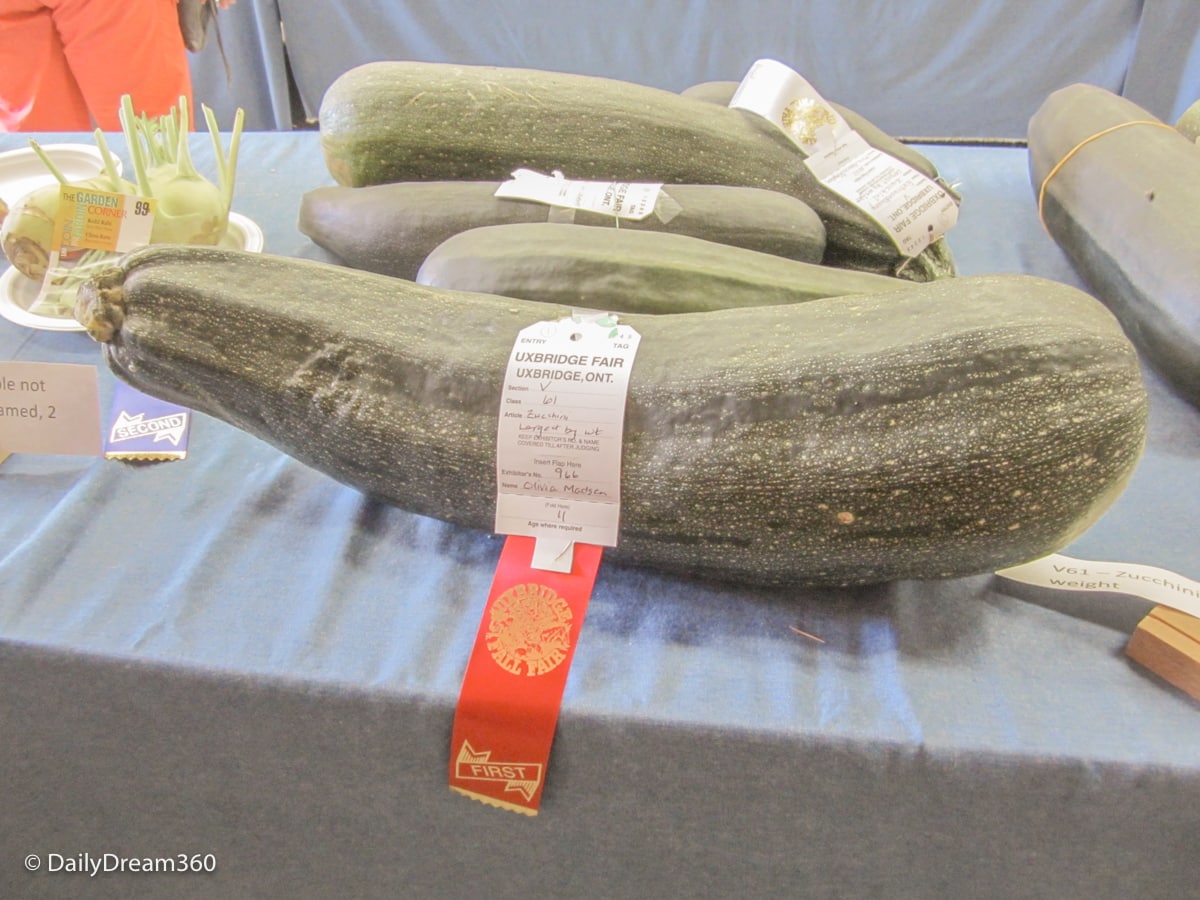 Fall Fair Agricultural Competitions
Competitions at the fairs include best in show animals, horse jumping, horse pulls, tractor pulls and a series of produce competitions. Popular competitions include the giant pumpkins, but I have seen everything from decorative pumpkins, most towering corn stalk, scarecrow decorating, jam & preserves and more.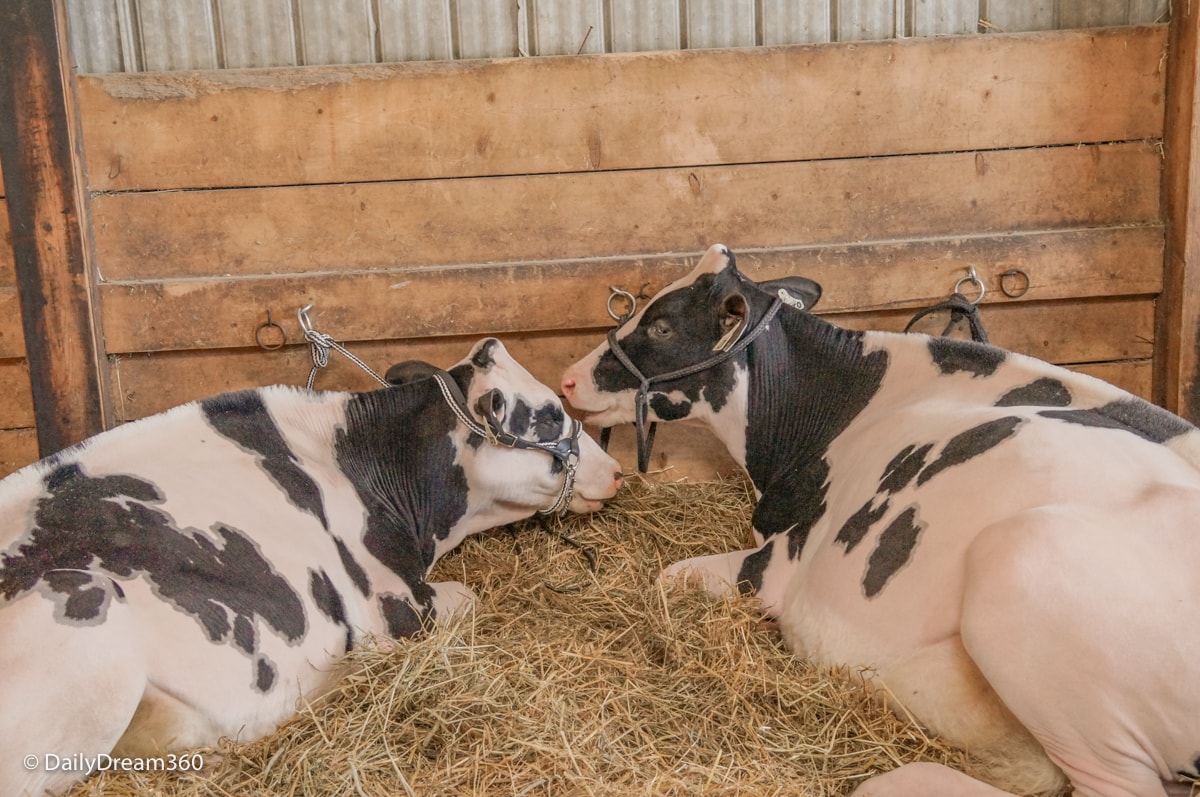 Animal Displays and Competitions
When animals are scheduled to compete, they are often kept in barns and buildings where they can be groomed for their competition. These areas are usually open to the public who can walk through the stalls and see many of the animals on display. Talk to their farmers, and you may even get an up-close experience like my visit with these kissing cows.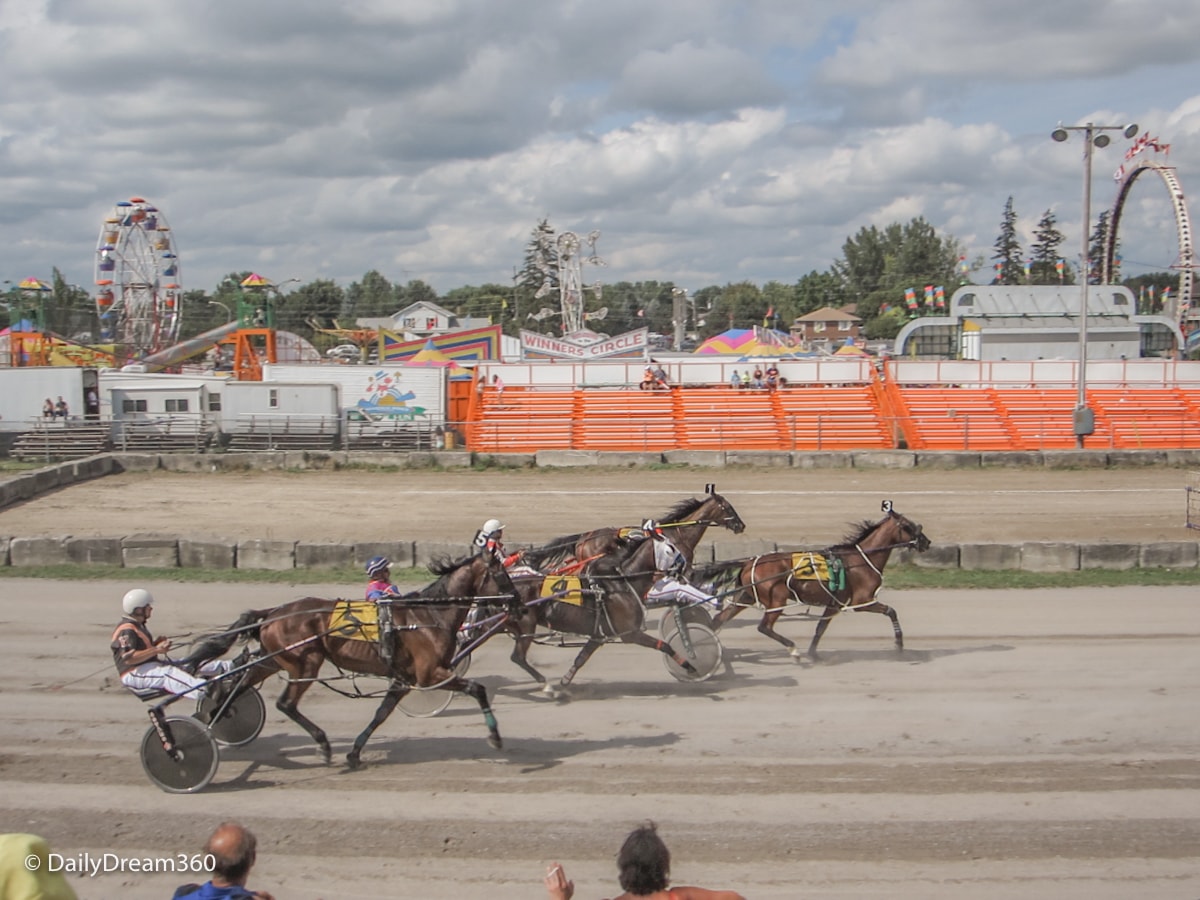 Ontario Fall Fairs Special Events
Be on the lookout for exclusive shows and events at the fair. These include demolition derby's, truck and tractor pulls which feature some pretty entertaining vehicles and drivers. These sports shows are quite popular in these rural communities.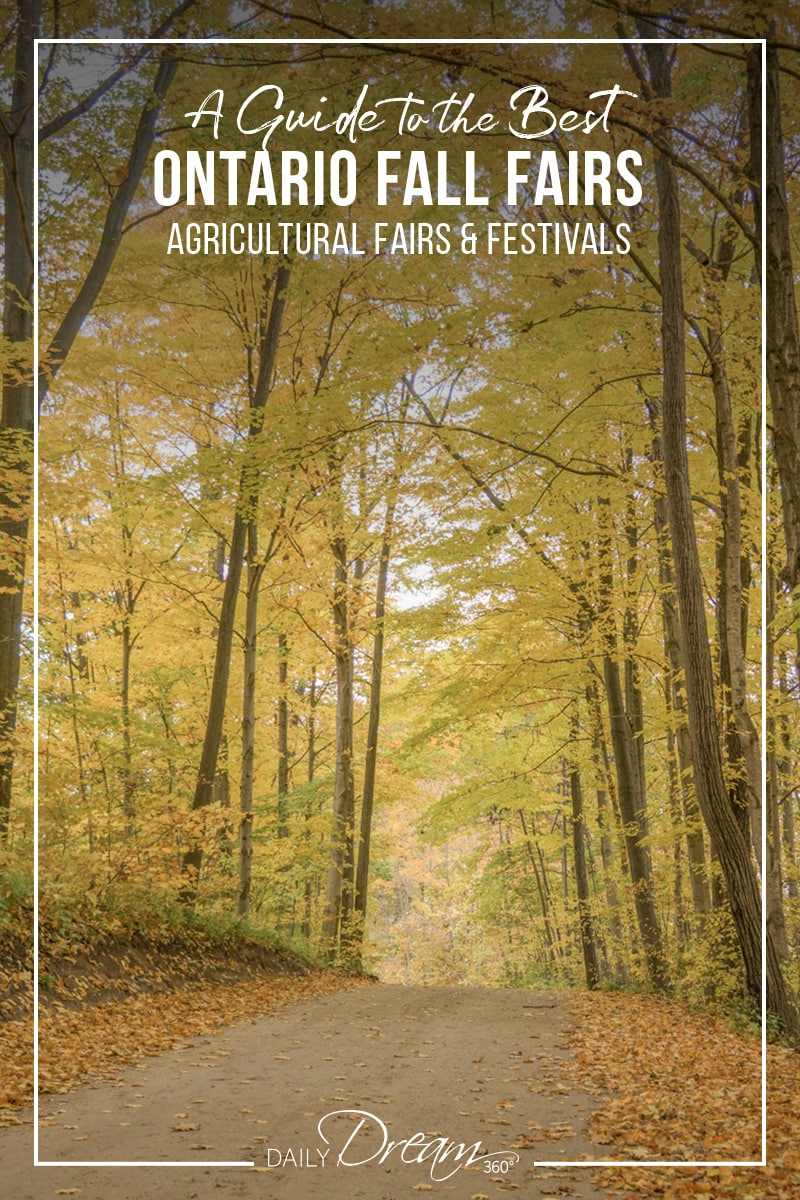 Live it.
The Best Ontario Fall Fairs
My assignments through the years have brought me to explore many of Ontario's Fall Fairs. I drove far and wide to visit farming and equestrian communities in the province. I saw things I had never seen before. Some like horse pulls left me a little unnerved others were sheer entertainment like truck and tractor pulls or demolition car derbies.
With each town, I visited, I felt the warmth and inviting the love of their communities. How they all knew one another and supported each other. I sampled their local music, food and got an inside look at the rural life in the province, and it was all magic.
(Fairs are listed in order of dates they typically run each year, check Ontario Fairs websites for details.)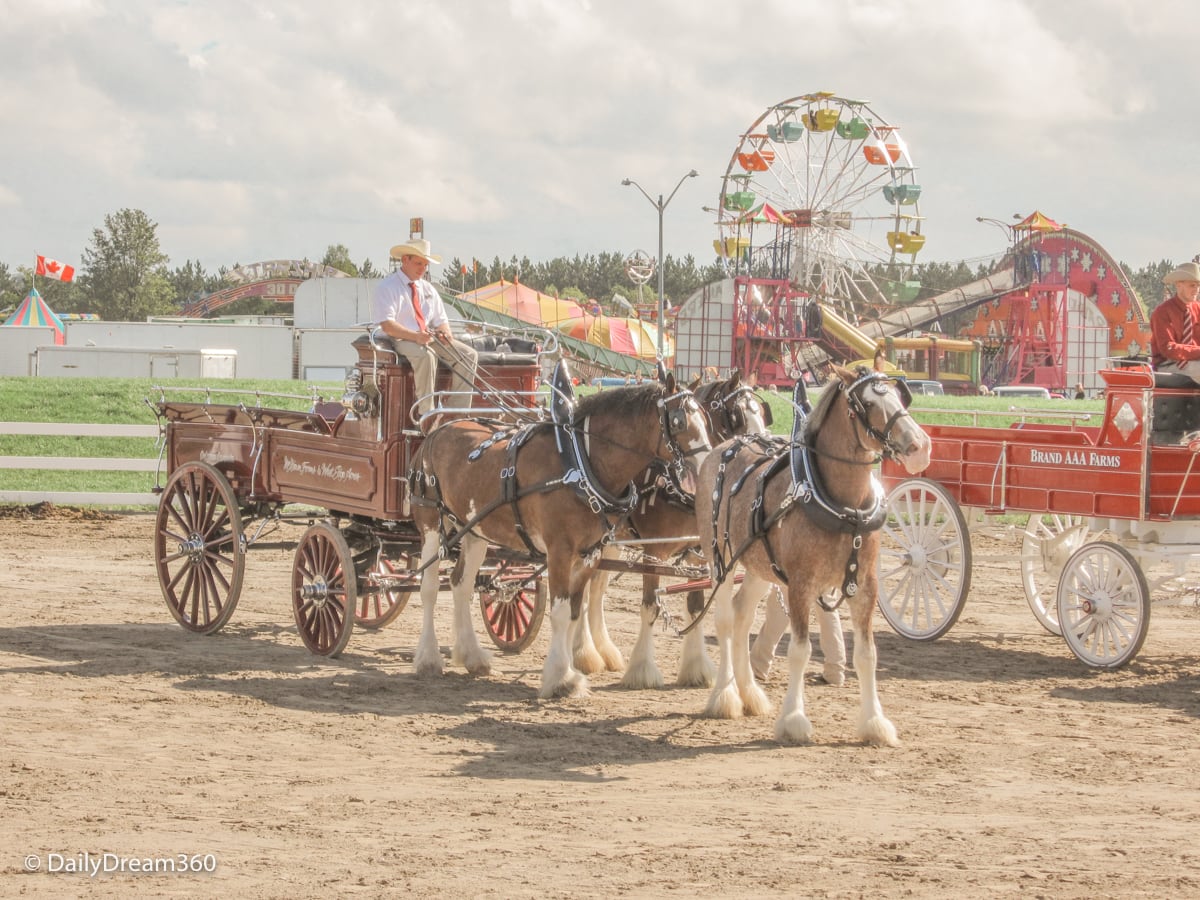 Orangeville Fall Fair
Orangeville's fair features their love for all things equestrian. They had several horse competitions which the entire region comes out to experience. There is plenty more to see and do during the 3-day festival including agricultural displays from competitions and a huge midway area. Here are a few of my favourite highlights from the fair.
Traditional Horse Competitions: I loved the horses and buggies who came before the judges in the competition. I loved the way they put a spotlight on traditional farming in the community.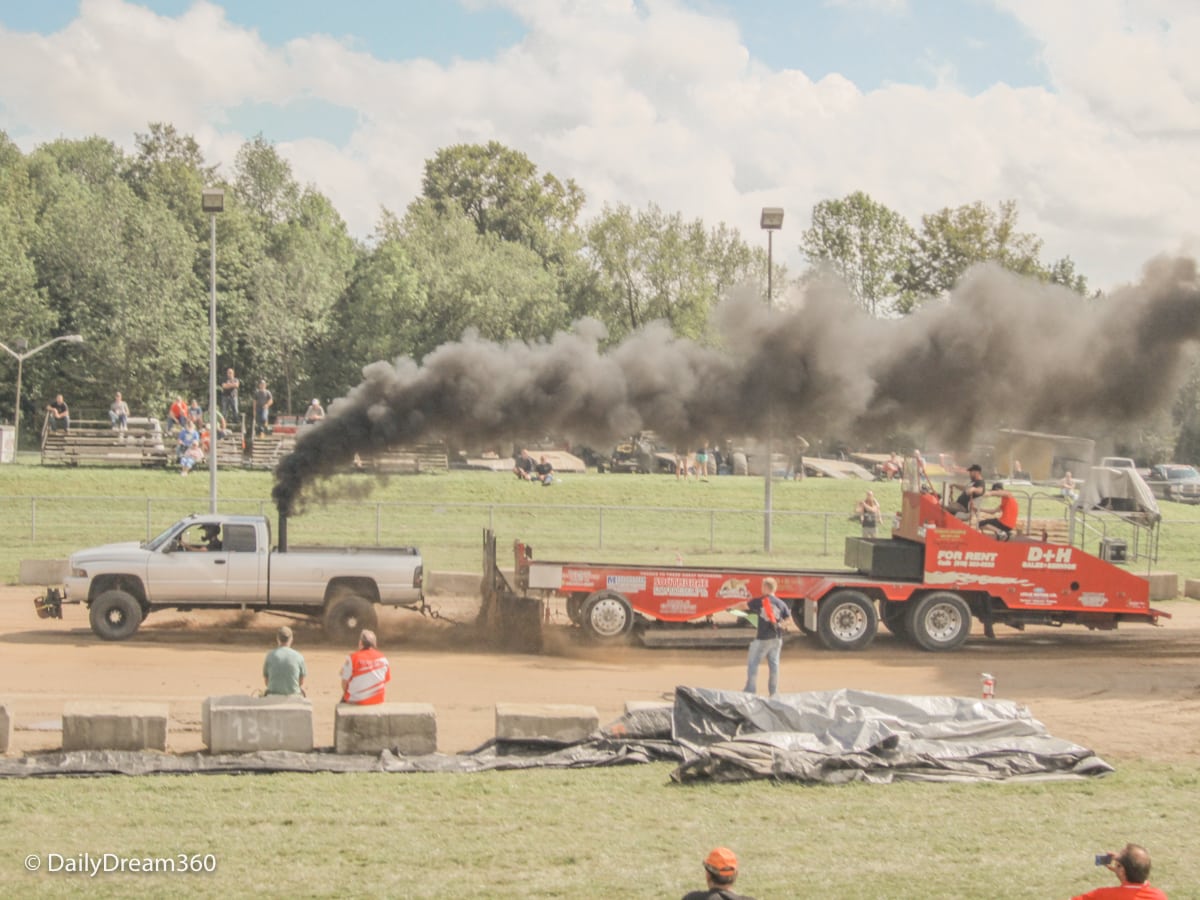 Truck and Tractor Pull: My visit to the Orangeville fall fair holds a special place in my heart. It was the first time I experienced a truck pull. This is an exciting sport where 4×4 trucks in several weight categories compete to pull a weighted trailer the farthest.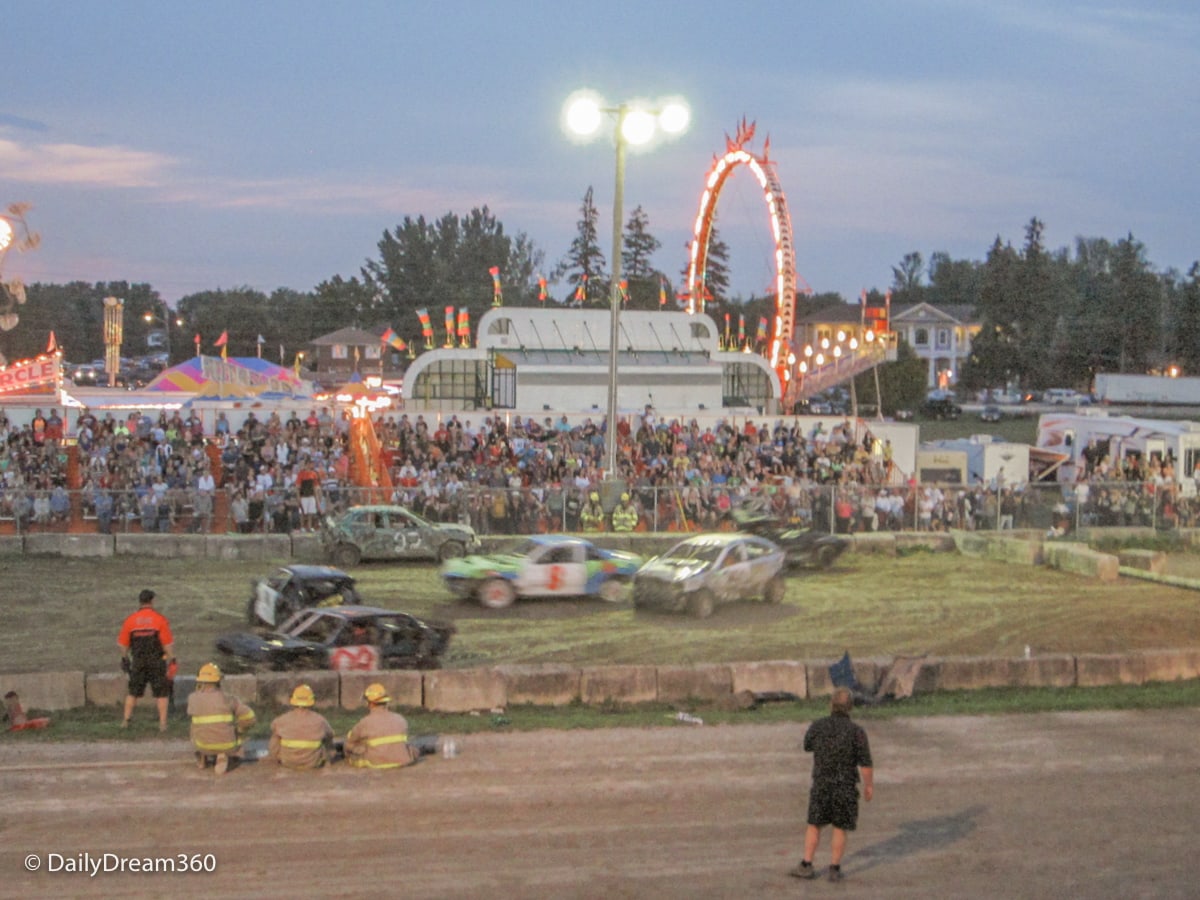 Port Perry Fair
If you are looking for entertainment Port Perry will not disappoint. As far as activities and things to do, Port Perry has more bang for the buck. They have everything from a great midway; a horse pull, truck and tractor pull and a demolition derby. My first year at the fair I also witnessed Ontario Harness Racing.
I had never witnessed a demolition derby before and was quite shocked to see so many families taking in the event. The demolition participants dressed up their cars in fun themes, and this indeed was an exciting event to sit and watch with the kids.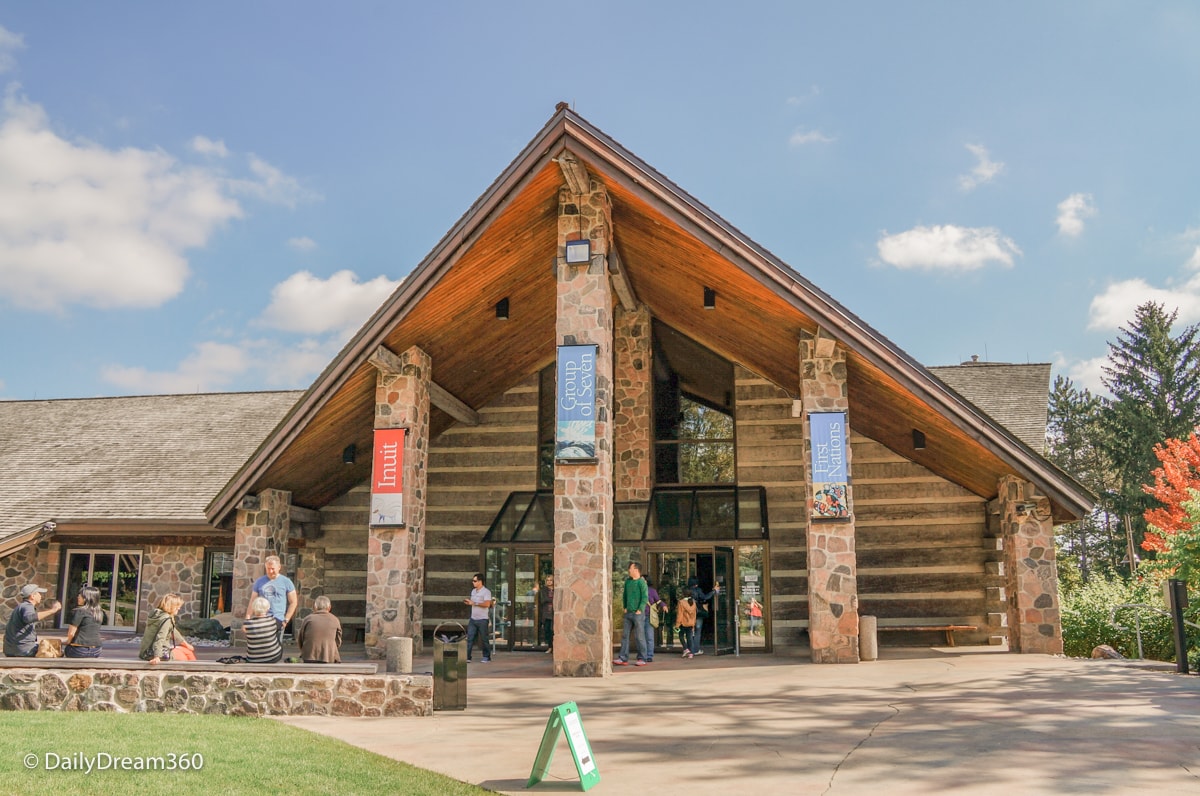 Culture Days Ontario
Keep an eye out on your fall calendar for the Culture Days weekend usually held at the end of September. During this weekend, many of Ontario's art galleries, theatres and museums open their doors to celebrate culture days.
It is a great way to get out and explore what is happening in the province and can add several free activities to any Ontario weekend getaway.
Read more: Downtown London Ontario Opens its Doors during Culture Days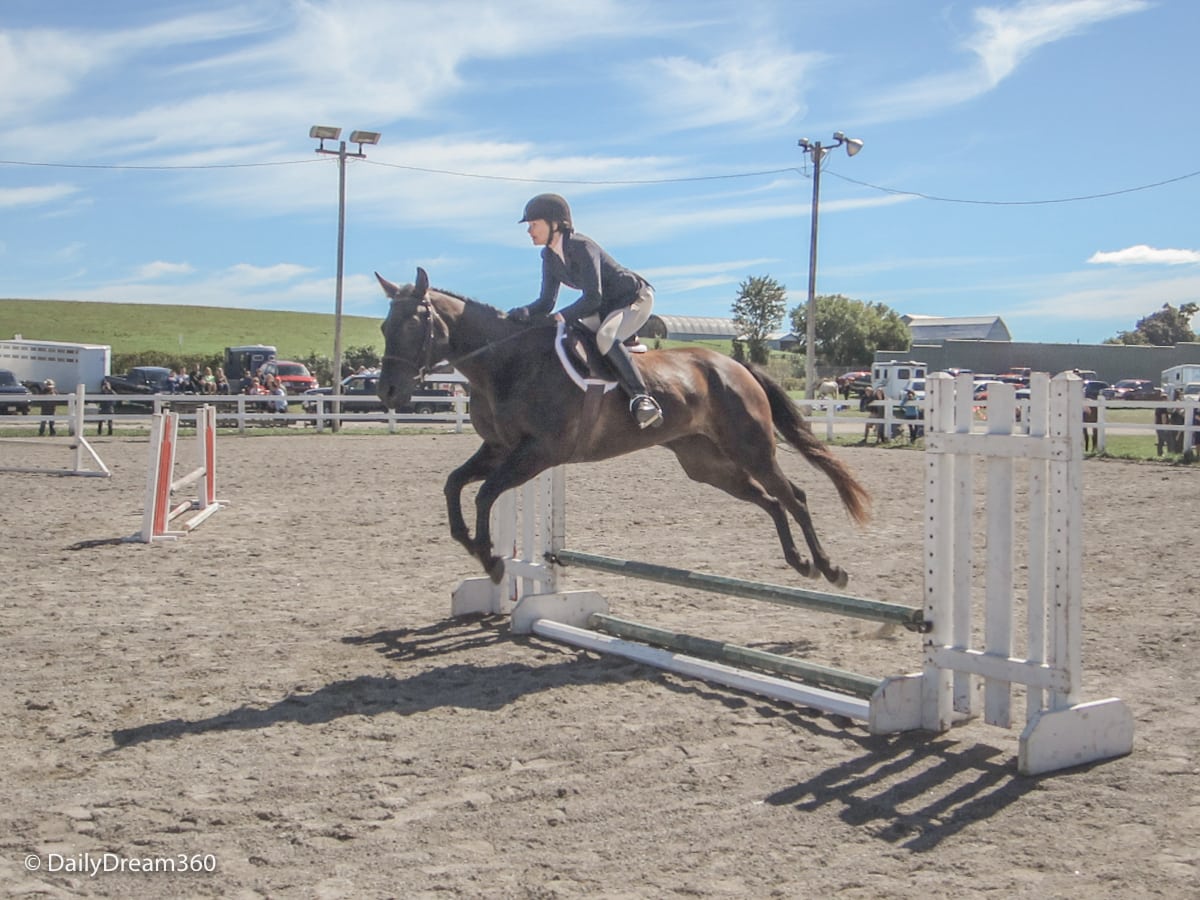 Orno Fall Fair
The Orno fall fair had plenty to do and see. There were great opportunities to sit at the sideline of some exciting horst jumping competitions. Riders ranged in aged as they competed in their categories and it was heartwarming and heartbreaking at the same time to watch the youngest riders struggle to get their horses to jump.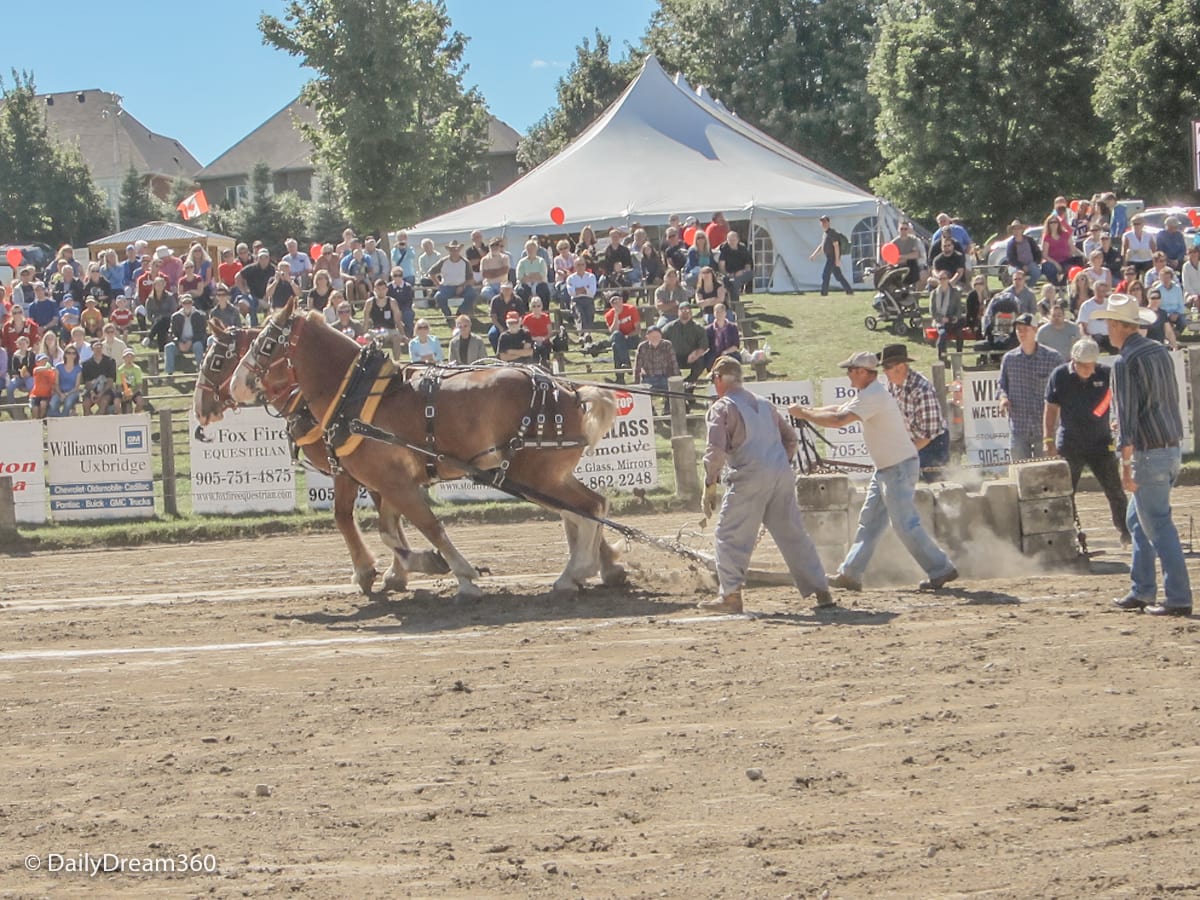 Uxbridge Fall Fair
Another horse filled fall fair can be found in Uxbridge Ontario. Here I witnessed my first Horse Pull. I remember how shocked I was when I first saw these massive horses pulling concrete blocks. The horses are so well trained and the owners very careful about how much weight their teams could pull. However, I'm still a little uneasy about this one despite its popularity at many other Ontario fall fairs I have attended.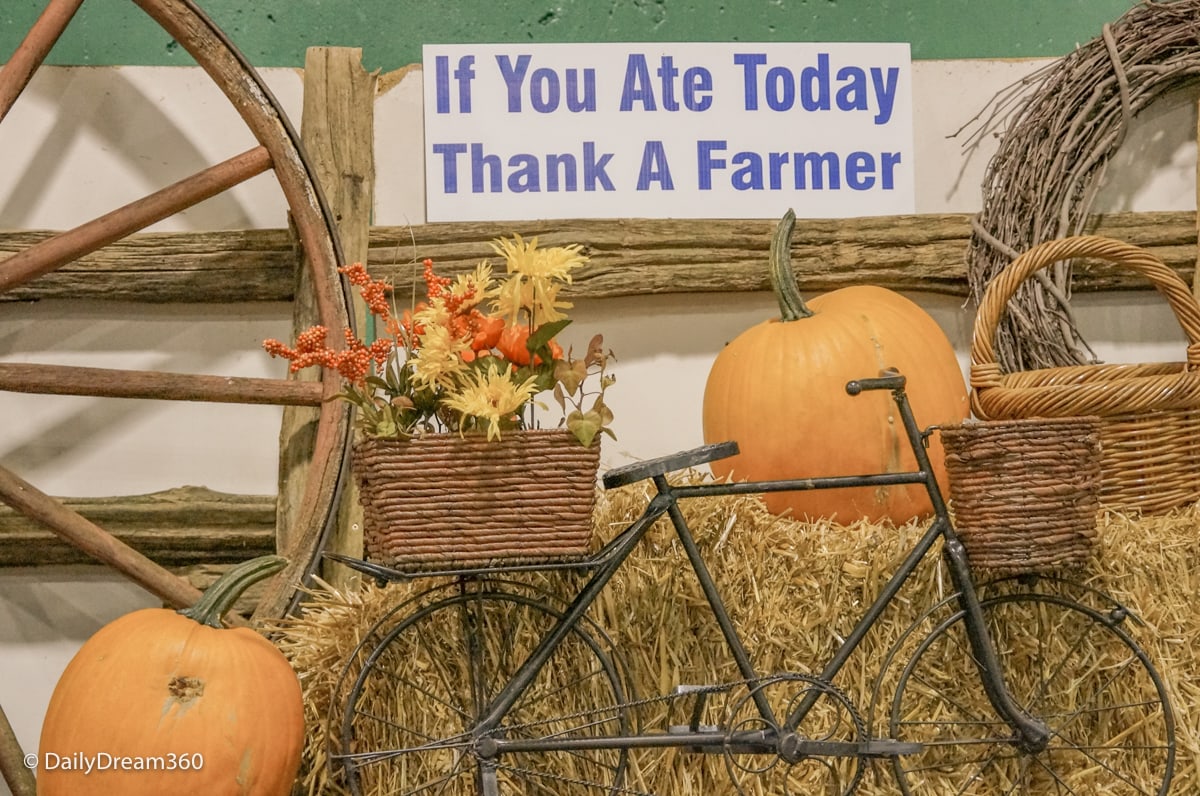 Grand Valley Fall Fair
We can't forget the farmers, and on a cold day in Grand Valley, there were plenty of exhibits to remind us what these fall fairs were really about. Their hockey arena filled with exhibitors showcasing their art, produce and fall displays.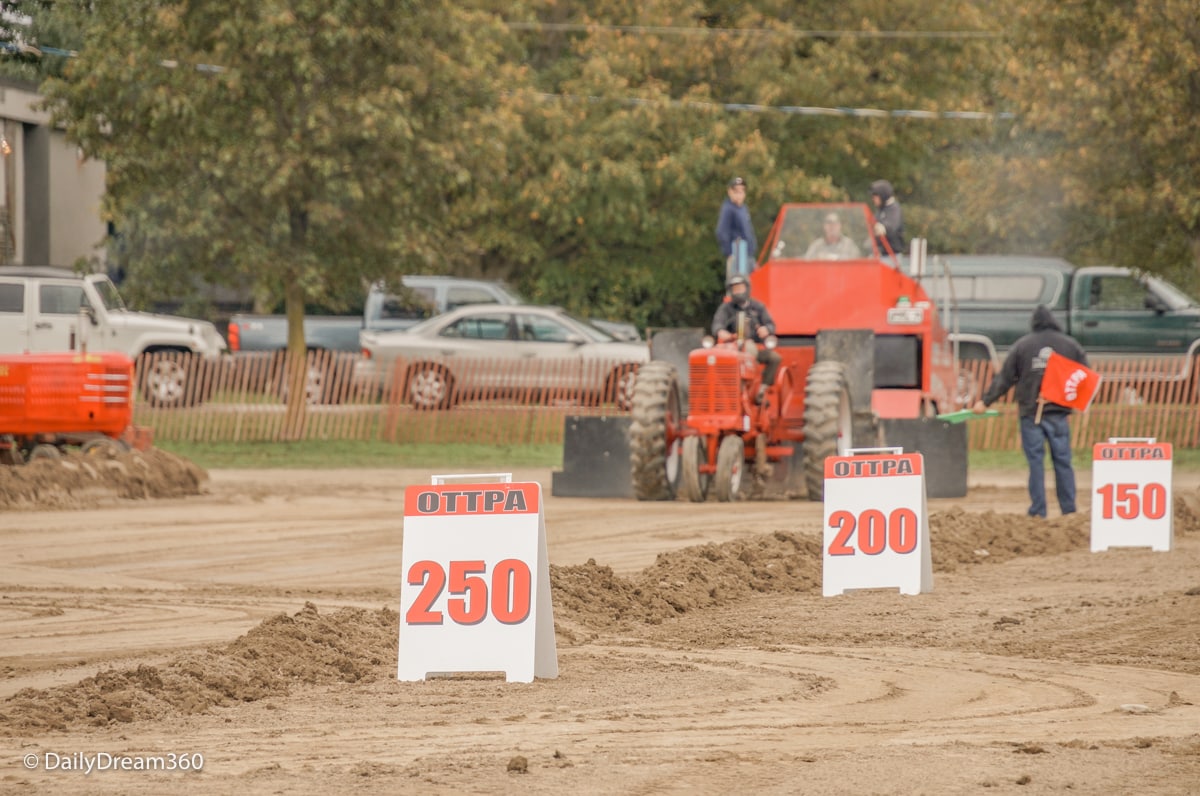 Outside tractors waged war on one another in a tractor-pull competition. The crowd sat covered in blankets on the stands and now and then run inside the area to warm up.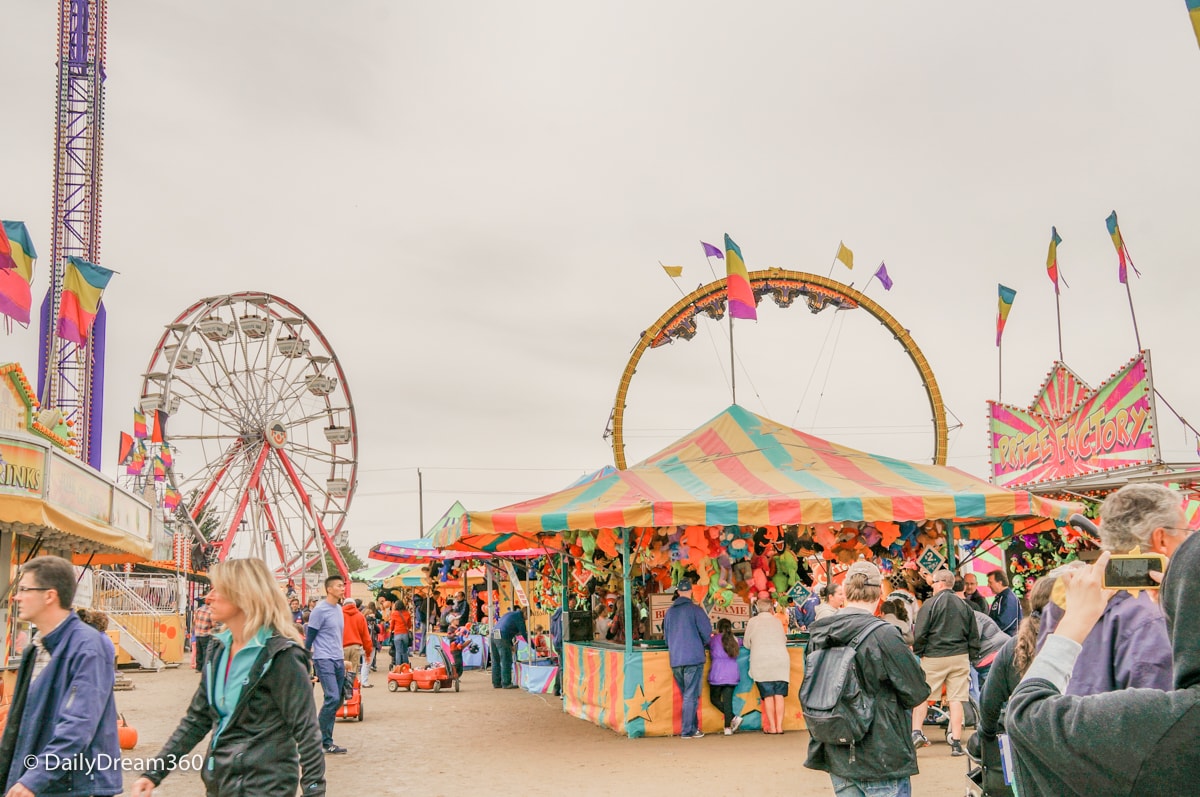 Markham Fair
The Markham Fair is Canada's largest 4-day agricultural fair, and at some point, you have to attend it. It is what I would call the bucket list fair. The massive Markham fairgrounds are filled with just about every type of agricultural competition you can imagine.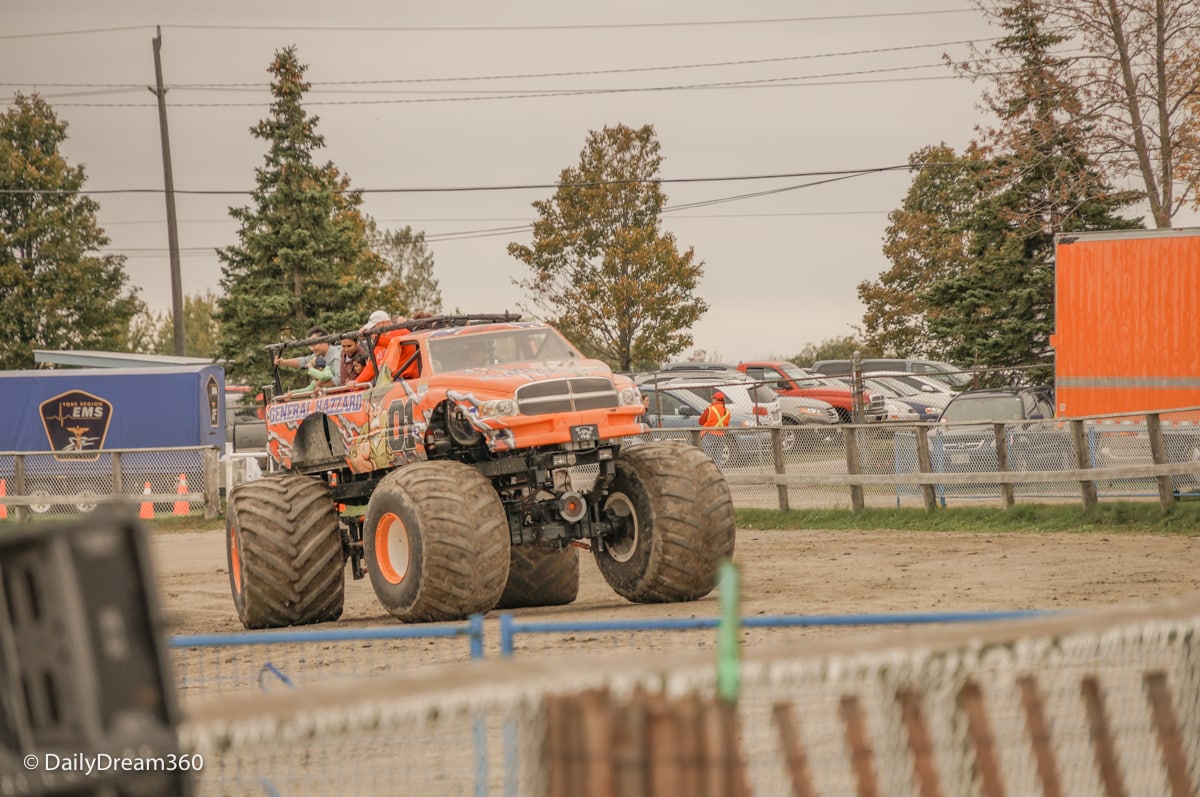 Attendees can get rides on monster trucks; there are plenty of agricultural exhibits, shopping pavilions, food and a massive midway to enjoy. This is a fun day for the whole family.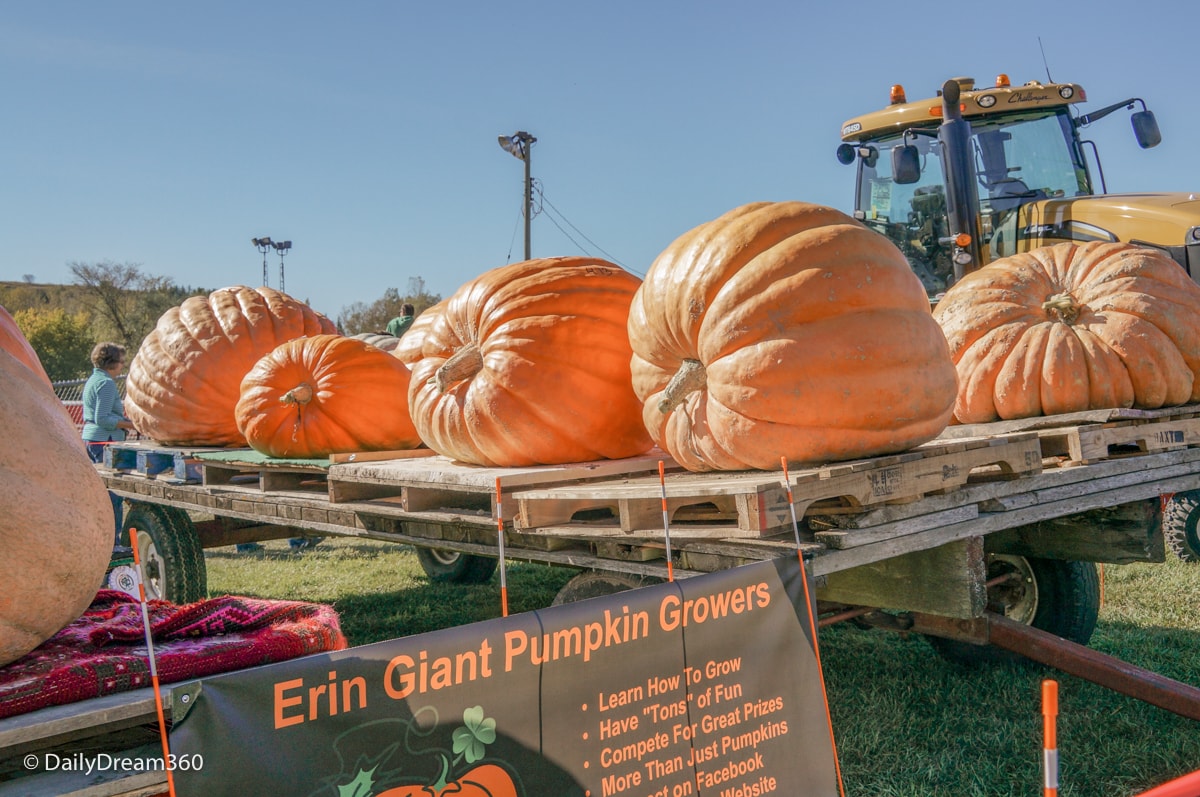 Erin Fall Fair
The small town of Erin has a special place in my heart. It was one of the first small towns I visited when I started this website. One Saturday morning, I made my girlfriends wake up at a crazy hour, and we drove through the country to explore Erin.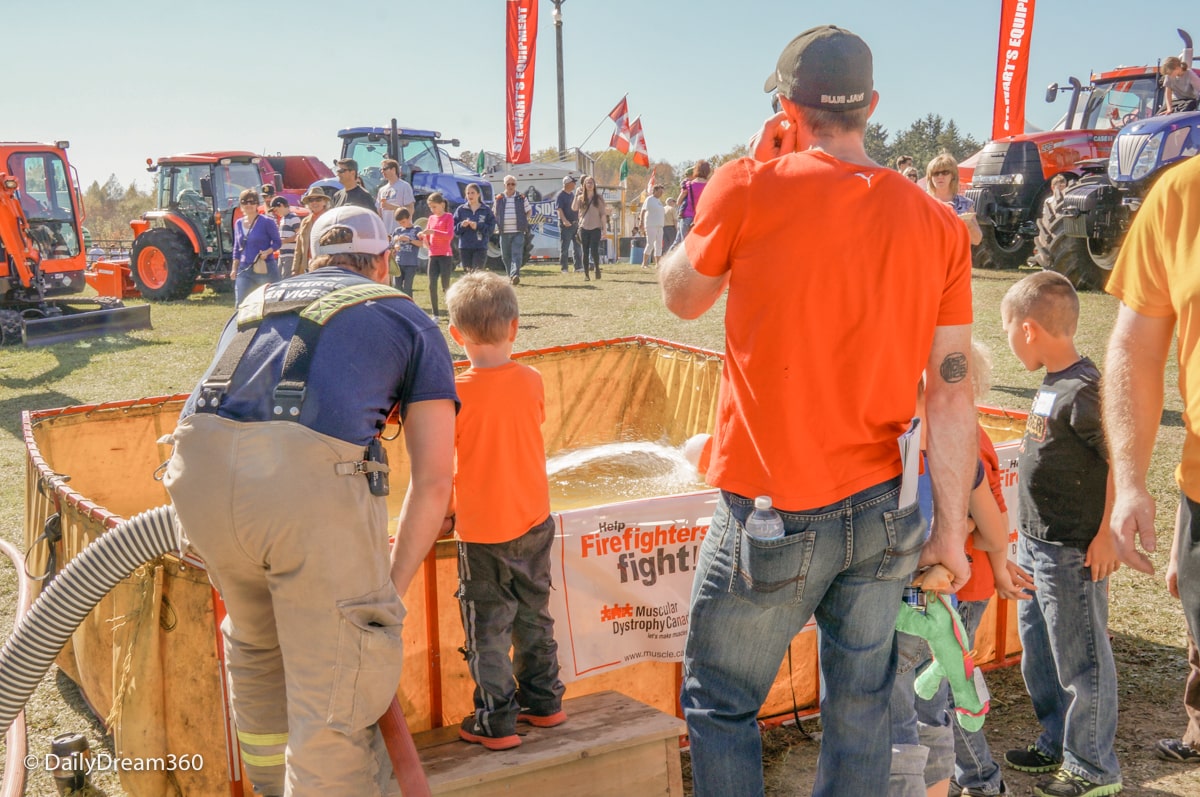 Logically I had to make my way back to see their fall fair. It made the small-town feel bigger in my opinion: cattle competitions, giant pumpkins, firefighters giving small children a miniaturized fire fighting experience. The entire community was there to showcase their town and region.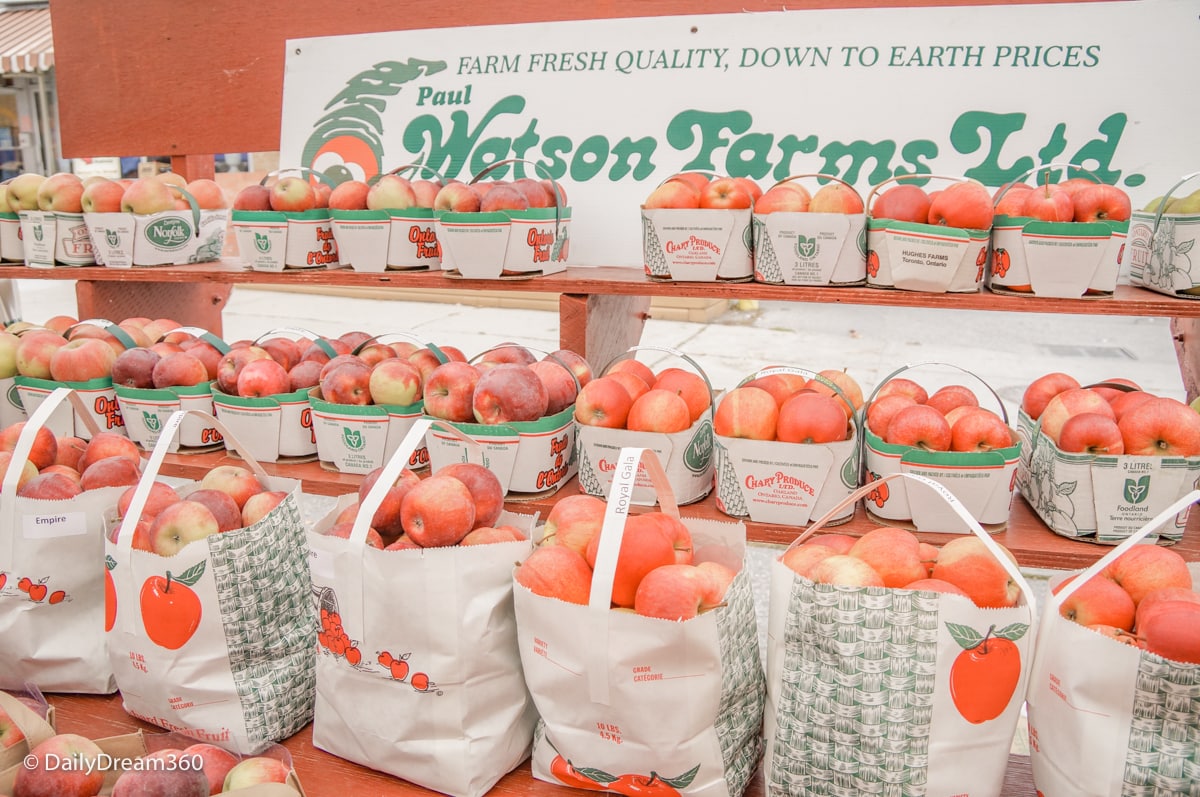 Bowmanville Apple Fest
The city of Bowmanville proves that a little rain doesn't dampen the spirits of a great festival devoted to fresh Ontario apples! Many people in the town told me, "it always rains at apple fest." This does not dampen the mood at all; everyone comes out to participate regardless.
This is more of a street festival than traditional agricultural fair. So if you love apples head to Bowmanville, they have apples and anything you could make with apples on display on their main street.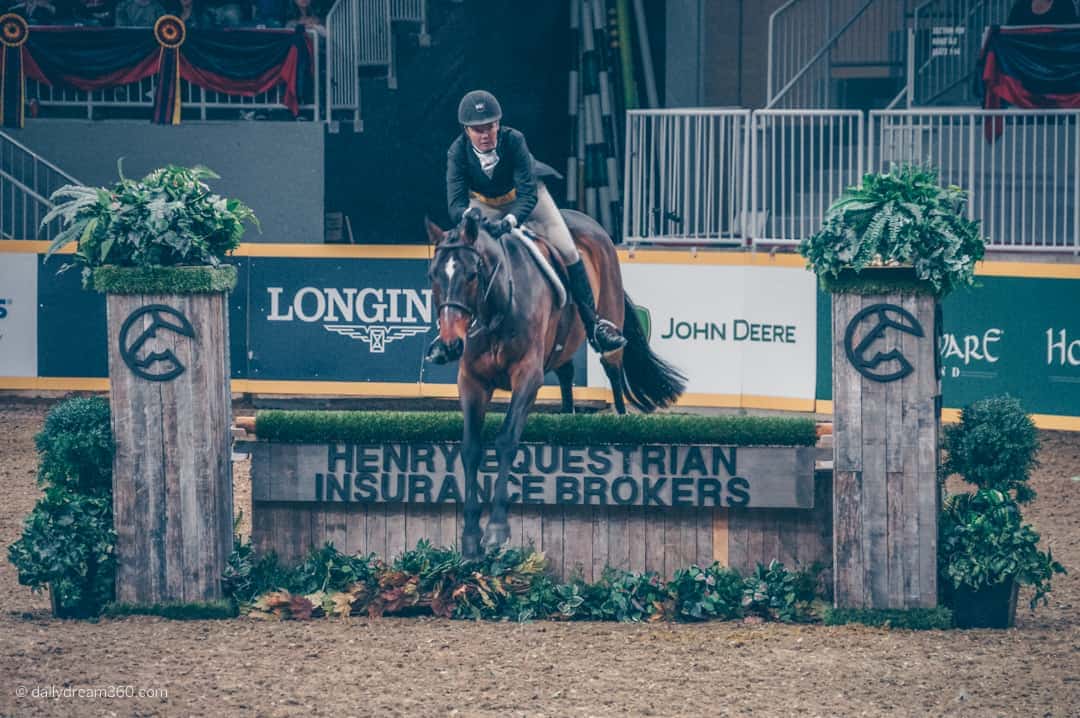 The Royal Agricultural Winter Fair (Toronto)
Wrap up the fall fair season at the Royal Agricultural Winter Fair held in Toronto. This is a vast indoor fair held at the Enercare Centre on the exhibition grounds. It has been running since 1922 and features horse competitions, super dog shows, shopping pavillions, food, entertainment and more.
Read more: Top 10 Things to Do at The Royal Agricultural Winter Fair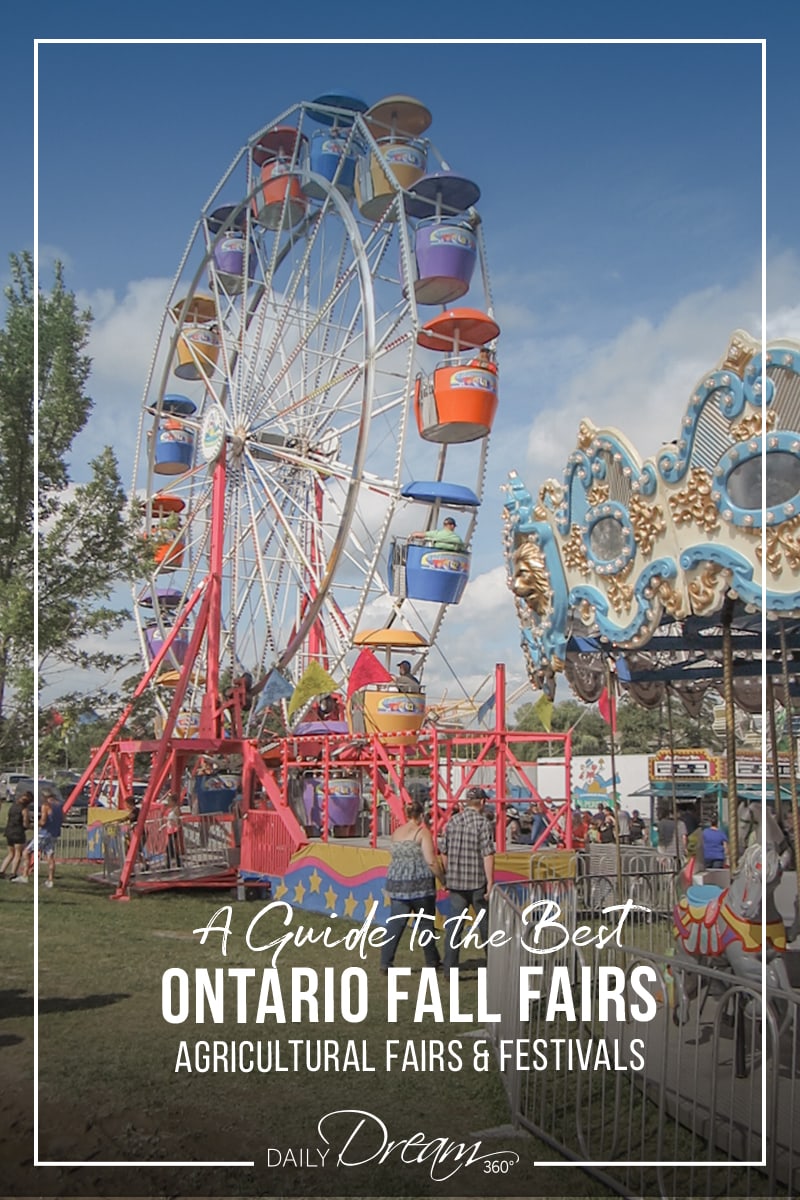 Do you have a favourite Fall Event or activity? Share your fun fall trips in the comments below!