This article may contain affiliate links. Clicking on or purchasing products we recommend through a link may earn a small commission. Read our disclosure and privacy policy page for details. *COVID-19 TRAVEL ALERT – Travel recommendations offered on this site are not to encourage you to travel against travel advisories.
When we first arrived in Zagreb, we wandered around aimlessly looking for places to each. Bars situated in pedestrian walkways were plenty, but where to sit down and enjoy a meal? To help I've put together a list of where to eat and drink in Zagreb Croatia based on our favourite spots.
Dream it.
I had a dream about exploring Croatia's coast and visiting cities like Split and Dubrovnik. That is how it started, but soon this trip evolved into a multi-city vacation of my dreams. The tour had many stops but started and ended in Zagreb.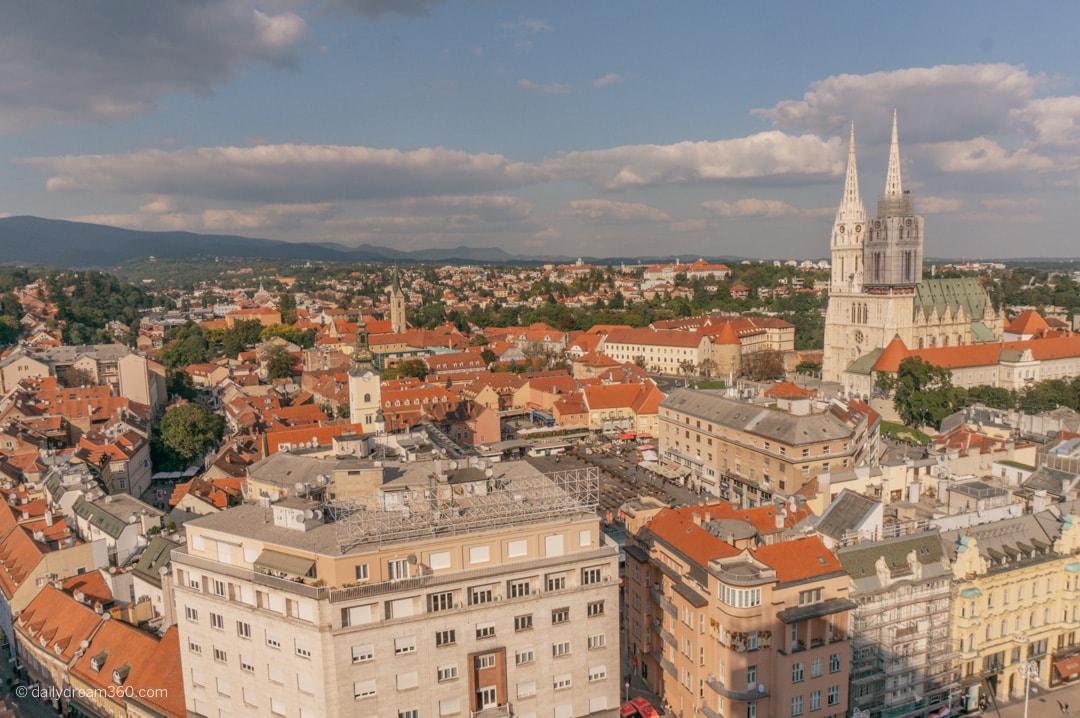 It was Air Transat who offered direct flights to Zagreb Croatia during the summer season, and when I saw the 14-day land and cruise multi-city tour, it was fate. The tour included two and a half days to explore Zagreb before we headed to Split for a 7-day cruise. Upon returning from that cruise, we had another day to explore Zagreb.
Read more: Island Hopping in Croatia 7-Day Adriatic Cruises from Split to Dubrovnik.
With three days on our schedule it meant we had a lot of time to discover some great places to eat in Zagreb!
Plan it.
Best Time to Travel to Zagreb
I recommend the shoulder seasons Spring, late summer and early fall. The temperatures are a bit milder, there are fewer crowds, allowing you to roam the city freely. We arrived in Zagreb in late September and temperatures were perfect. 23-25 Celsius during the day and it dipped down to 16 -18 Celsius at night.
Flights to Zagreb
I fly out of Toronto, so having both Air Canada and Air Transat offers direct flights to Zagreb during the summer season is a bonus. What appealed to me about Air Transat is how they positioned the trip in a 14-day organized multi-destination tour.
Getting Around Zagreb
You'll love how walkable the city is. Their streetcar service was excellent and easy to navigate. Depending on where your hotel is located, there is a streetcar that will take you right into the heart of Zagreb: Ban Jelačić Square.
This is the heart of downtown Zagreb and where you will be right between the upper and lower city. The upper city is the old historical part of Zagreb and the lower city, the more modern downtown core.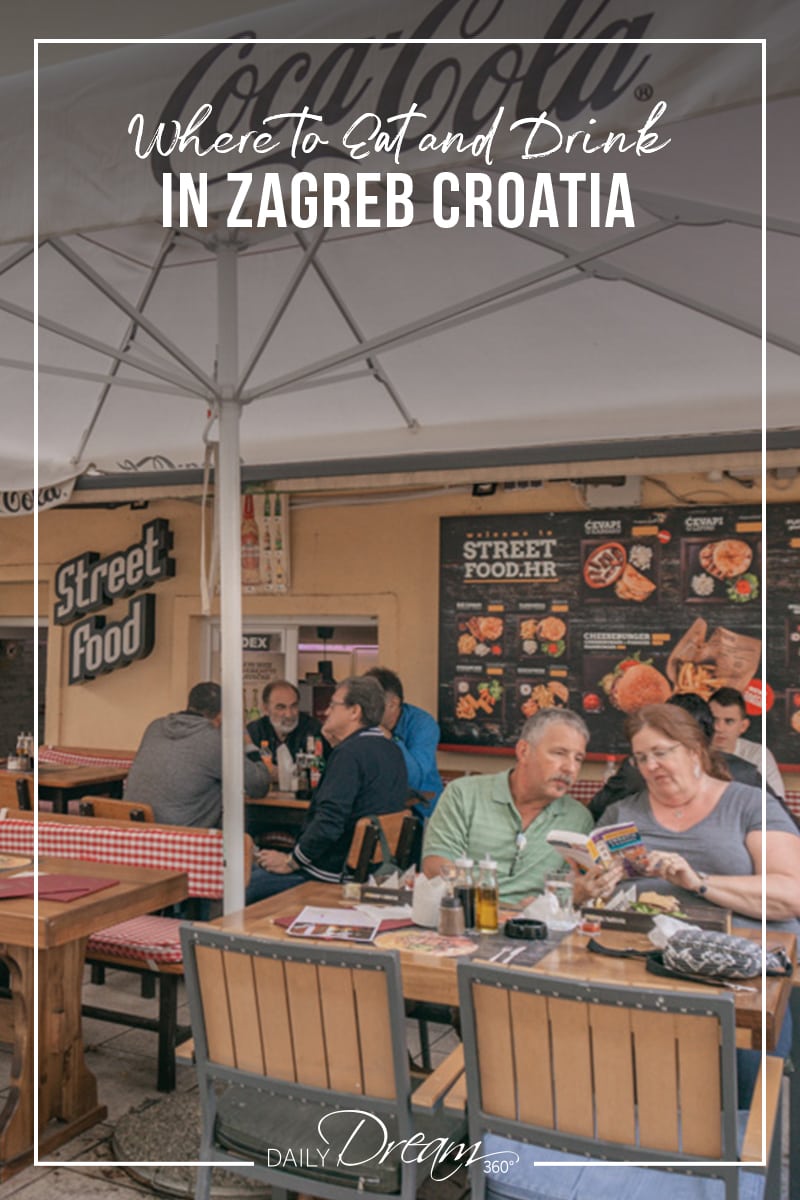 Zagreb Metro/Transportation
You will figure out the Zagreb metro quite easily. All the streetcars run into Jelačić Square they run to the end of their line and then return. Tickets are very affordable and available at little newsstands called Tisak located everywhere in the city.
Where to Stay in Zagreb
Hotel International Zagreb Croatia
This hotel is commonly used by tour operators and had several busses run through during our stay. The rooms are standard European rooms, nothing fancy but a comfortable place to sleep.
The hotel offered a buffet breakfast each morning which was the perfect start to our day. The International Zagreb was an easy 20-minute walk into the old city.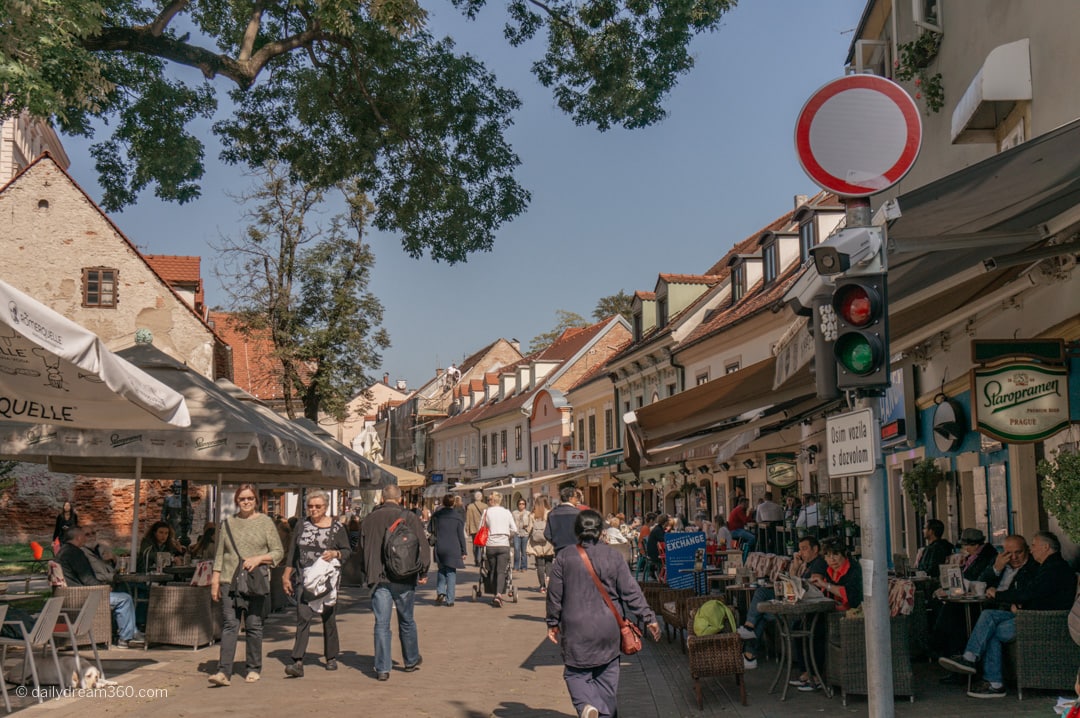 Live it.
Where to Eat and Drink in Zagreb Croatia
With two days to explore the city, we had a lot of time to figure out where we wanted to eat. We quickly discovered that Tkalčićeva Street was the place to be. Lined with patios at cafes, bars and restaurants, this street had everything in terms of where to eat in the city.
Read more: One day in Zagreb Things to Do and What to See in Zagreb Croatia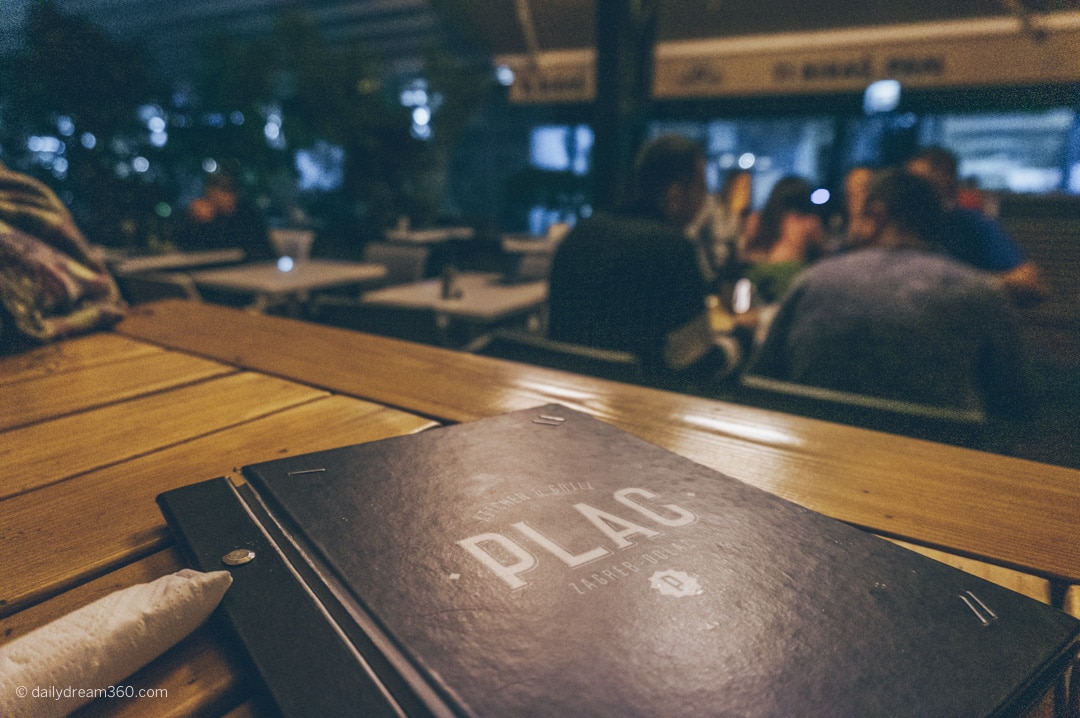 Plac Kitchen and Grill
Our first mission was to find Plac Kitchen and Grill. This was recommended to us by a friend, and we decided the best way to ensure a great first meal in the city was with this referral. After checking into our hotel, we walked toward Jelačić Square to begin our hunt for the restaurant.
I say hunt because despite trying to locate Plac on a Google map, we wandered around a bit before we came across it. Plac is situated in a long alley of restaurants below the Dolac market.
I'm a carnivore and low carb eater, so finding great protein sources is always my goal when picking restaurants on vacation. In Croatia, this was a simple task. Ćevapčići, a spicy kebab type meat, served with either flatbread, fries or as skewers of meat was my favourite. There is an assortment of grilled meats available at Plac Kitchen.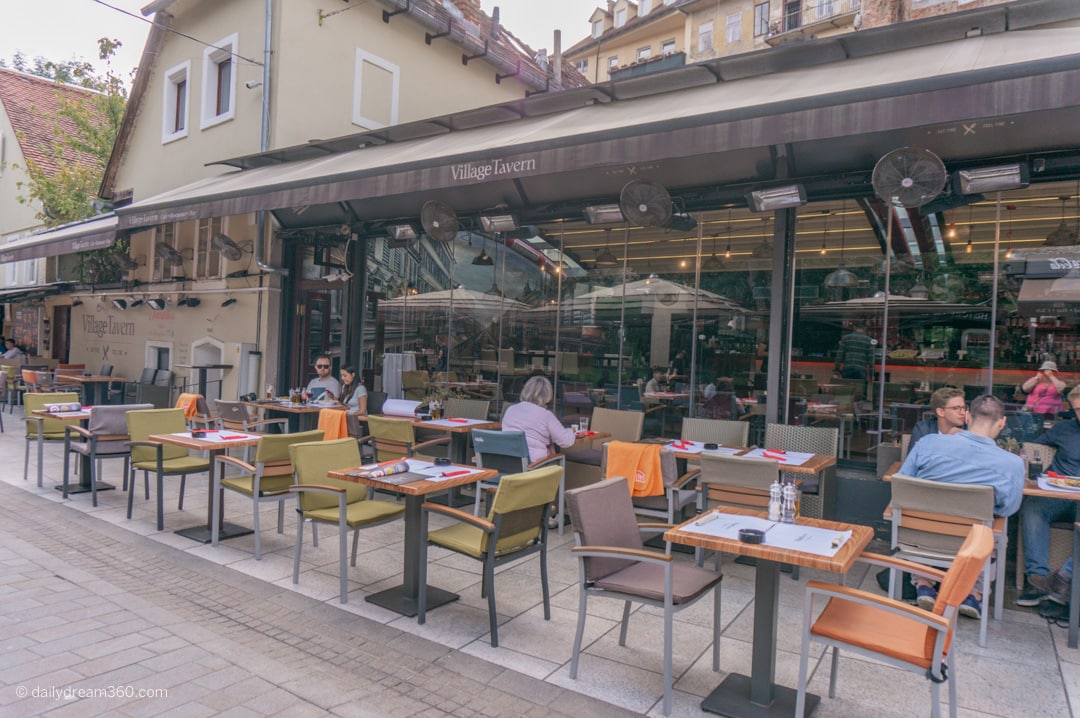 Village Tavern Restaurant
As we explored Tkalčićeva Street, we were stopped by a waiter at Village Tavern who showed us the menu. After our lovely chat with him and decided to add Village Tavern to our mental list of places to eat in Zagreb.
We enjoyed a lovely dinner on their patio, which had heaters and provided the added entertainment of people watching. Both of us decided to share a platter of grilled vegetables and meats.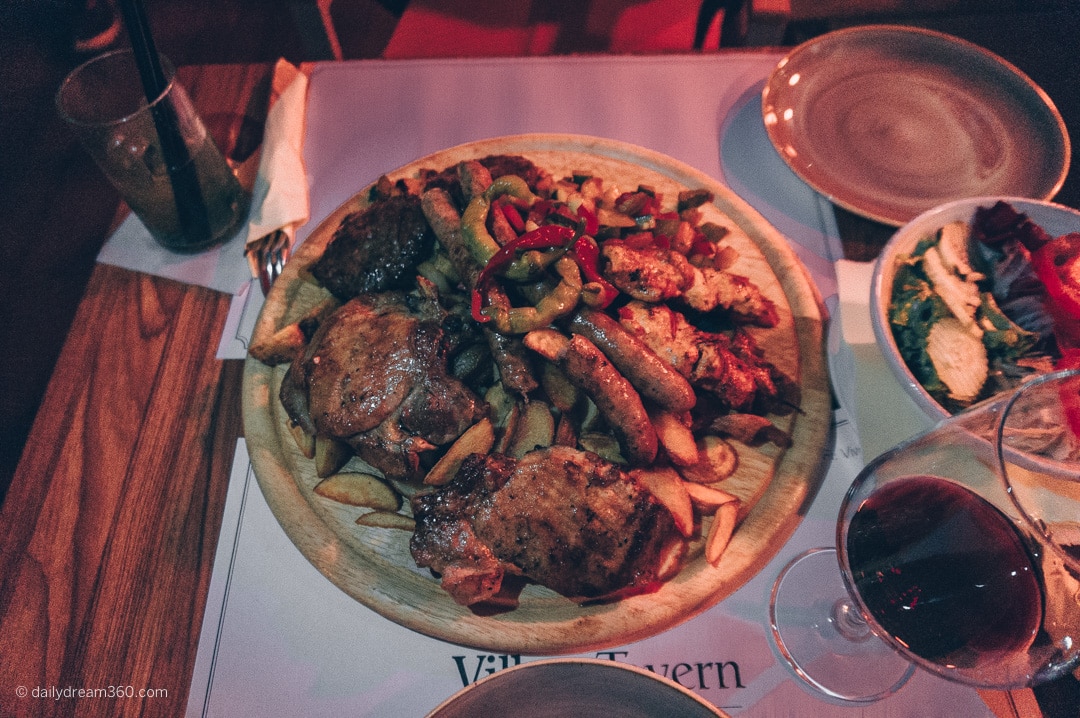 We loved this restaurant so much we ate there twice! Returning on our last night in Zagreb for a toast to ending our fantastic vacation. We both agreed this was our top pick for where to eat and drink in Zagreb.
Melo Medi Bar
If you are looking for a casual grill and bar, I recommend Melo Medi. It too is located on Tkalčićeva Street. As we explored the city on our walking tour, we noticed this spot was popular. If you're looking for something low-key, there are plenty of grilled options at Melo Medi. I had the Ćevapčići again, and it was the perfect choice after a day of walking the city.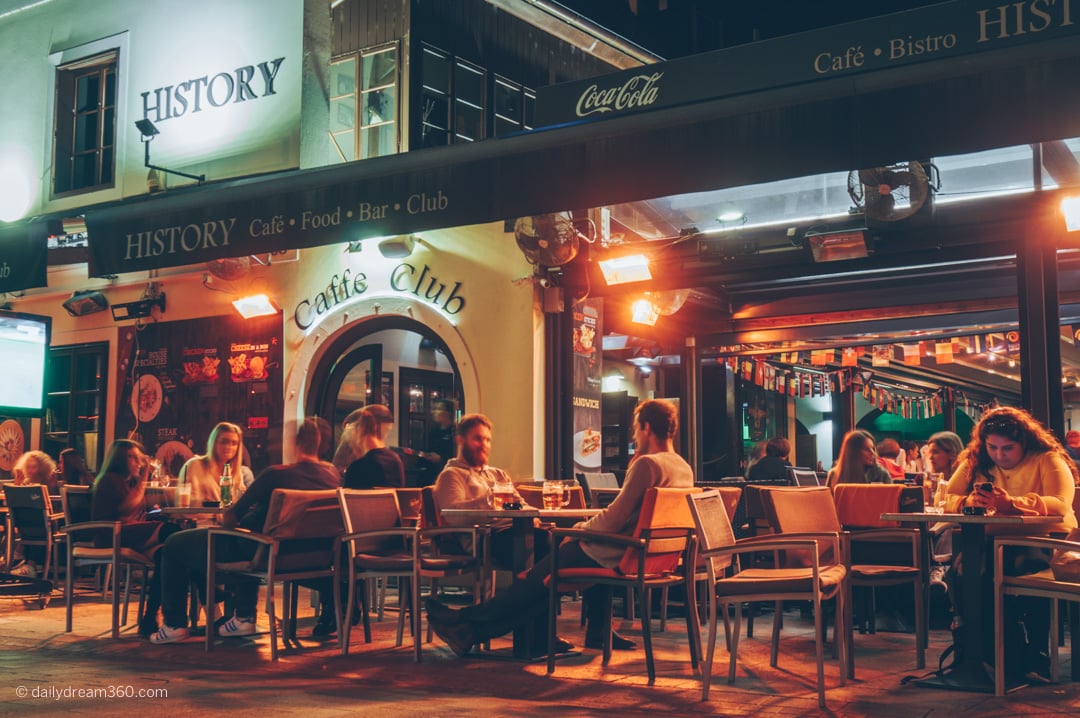 Where to Drink in Zagreb: Hit the Bars
Of course, I can't leave out the drink part of where to eat and drink in Zagreb. There are too many places to grab a drink to mention. The pedestrian streets are an excellent place to start. Downtown Zagreb has many bars located in the centre of the pedestrian walkways and in the old town on Tkalčićeva Street you'll find patios and patios of bars like History Cafe which had great eats and was a popular spot for cocktails and beer.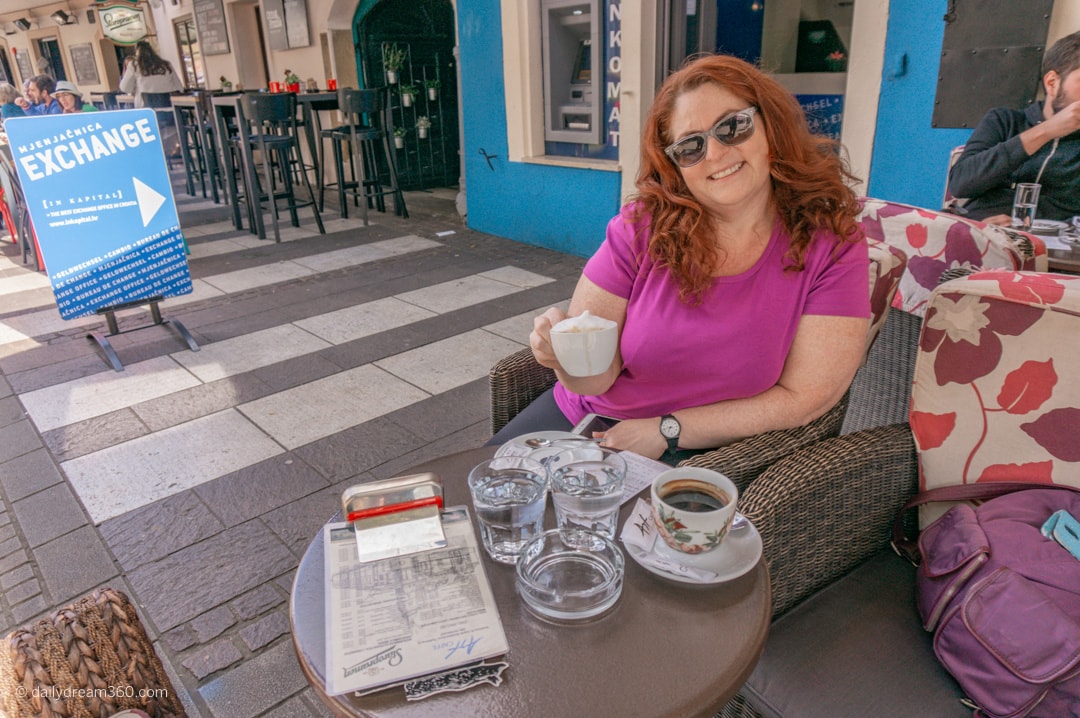 Where to go for Desserts and Coffee in Zagreb
Victory Art Caffe
When walking for hours, a colourful couch where servers bring coffee is bound to grab your attention. That was how we discovered Art Cafe. They had free wi-fi, bright cozy chairs and super friendly staff. Oh, and the coffee was great too. It was the perfect spot to stop and chill, catch up on emails, and people watch.
La Struk
If you visit Zagreb, you have to carve out some time to visit La Struk. Here they serve the traditional Croatian dish known as 'štrukli.' Our walking tour guide and friends who have visited the city all put Struk high on their lists, so we decided we too had to try it.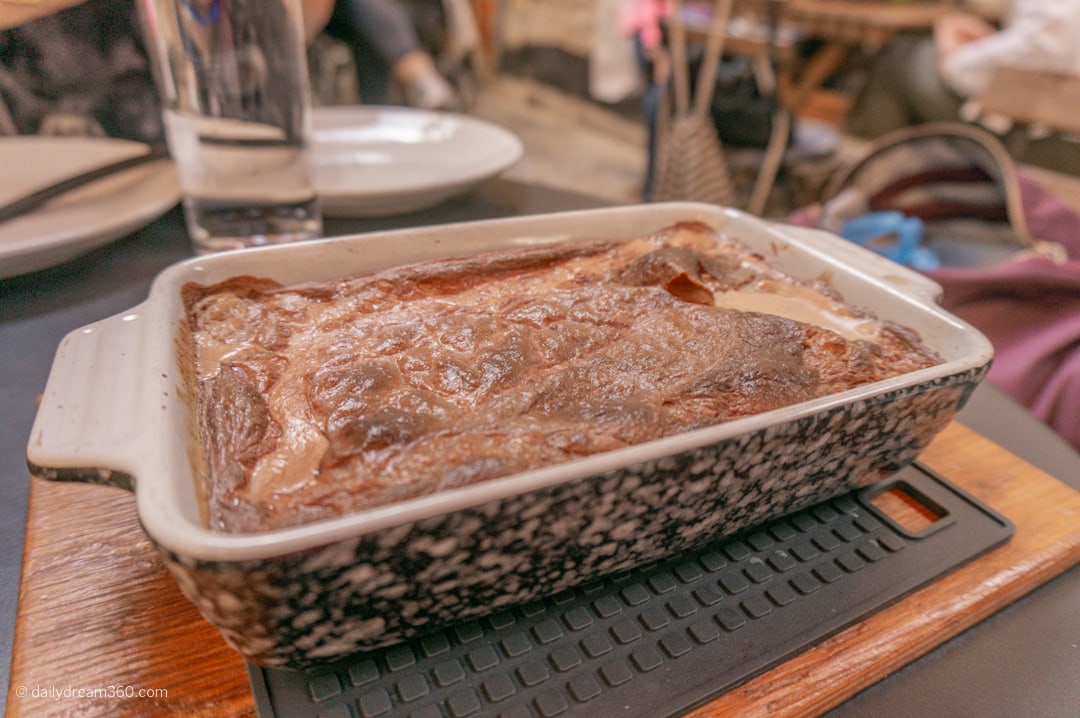 What is štrukli? Strukli has savoury and sweet options. It is a cheese pastry with a filling mixture of cottage cheese, eggs and sour cream which is spread over pastry dough. The pastry is rolled and placed in a baking dish, covered with clotted cream and baked. The result is a delicious lunch or dessert, depending on your menu selection.
For Snacks Hit the Markets in Zagreb
If you are looking for a healthy snack, some nuts, local delicacies take a walk through the local markets in Zagreb. My list of where to eat and drink in Zagreb would be incomplete if I didn't include the farmers' markets.
There are two markets in particular where you will find something to nosh on. The biggest is the Dolac located in the upper part of the old town near the cathedral which features fruit, vegetables and more. The main Jelacic Square has a souvenir market but there are a number of vendors with some delicacies like donuts and chocolate you might want to visit.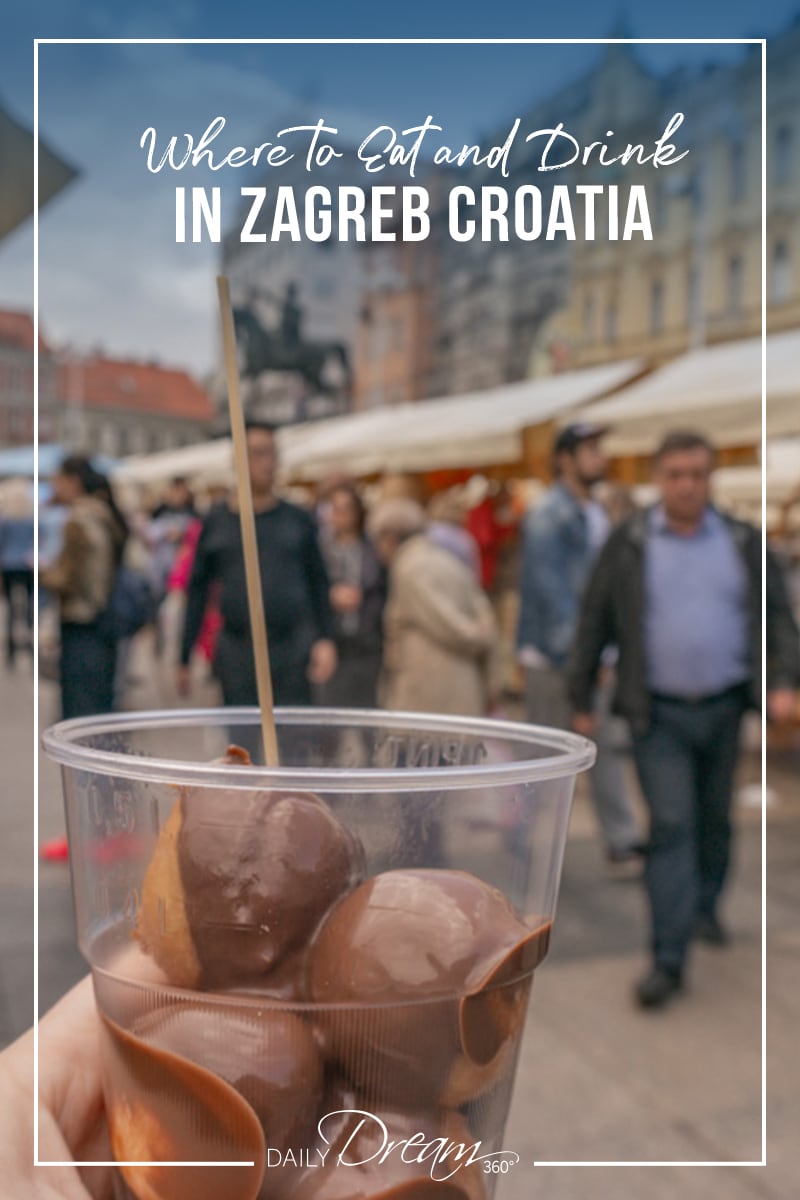 Are you planning a trip to Croatia? Check out these posts for more ideas.
Disclosure: I won the flights to Croatia with Air Transat. Transat provided a media rate for our Discover Croatia multi-destination tour. All other expenses were my own as are the opinions in this post.