I've written a few posts about the Cowboy culture in Fort Worth Texas including where to buy Western Wear and a look at Texas BBQ at Cooper's Pit BBQ and today I'm going to share the urban side of the city with a look at Downtown Fort Worth a compact urban centre with lots of trendy neighbourhoods, great restaurants, museums and parks.
Downtown Fort Worth Texas
There was a lot to do and see in Downtown Fort Worth so much actually that I don't know how I'm going to fit it all into one post! So here goes! We did a walking tour of the city and I thought I'd share some of the highlights.
John F. Kennedy Tribute Fort Worth Texas
President John F. Kennedy made some very historical speeches during his visit to Fort Worth Texas and sadly they were his last public speeches before his assassination. This tribute features a large bronze statue of the president and around him are walls with some famous JFK quotes. There is also an app you can download that will take you through a guided tour of the tribute.
Fort Worth Texas Water Gardens
I stumbled upon these amazing water features just outside the Sheraton Fort Worth Hotel. This amazing water garden was totally hidden in this little concrete park, but the moment I stepped inside I was taken away from the city and into a tranquil oasis.
The main waterfall featured running water down the concrete walls into the middle pond below. There was a set of stairs with gaps in between that started at the top of this meditation pond and then slowly got smaller as you walk down to the center. With water running all around and between the gaps in the stairs this walk was not for the faint of heart. I managed to get down only halfway before chickening out.
Read more: Texas Surprises with an Urban Vibe mixed with Country Chic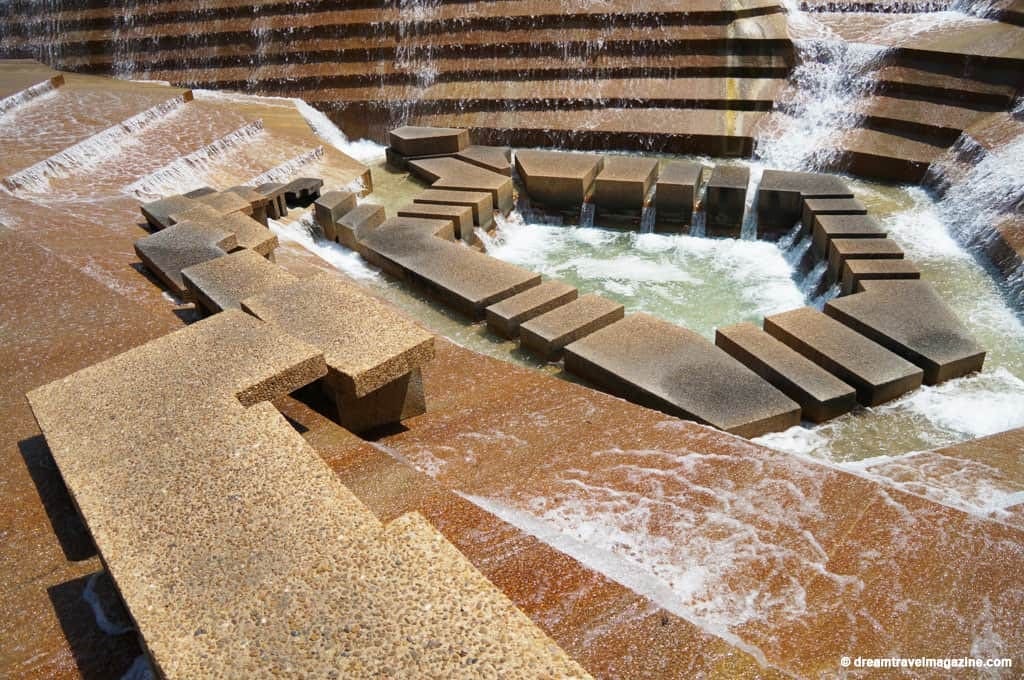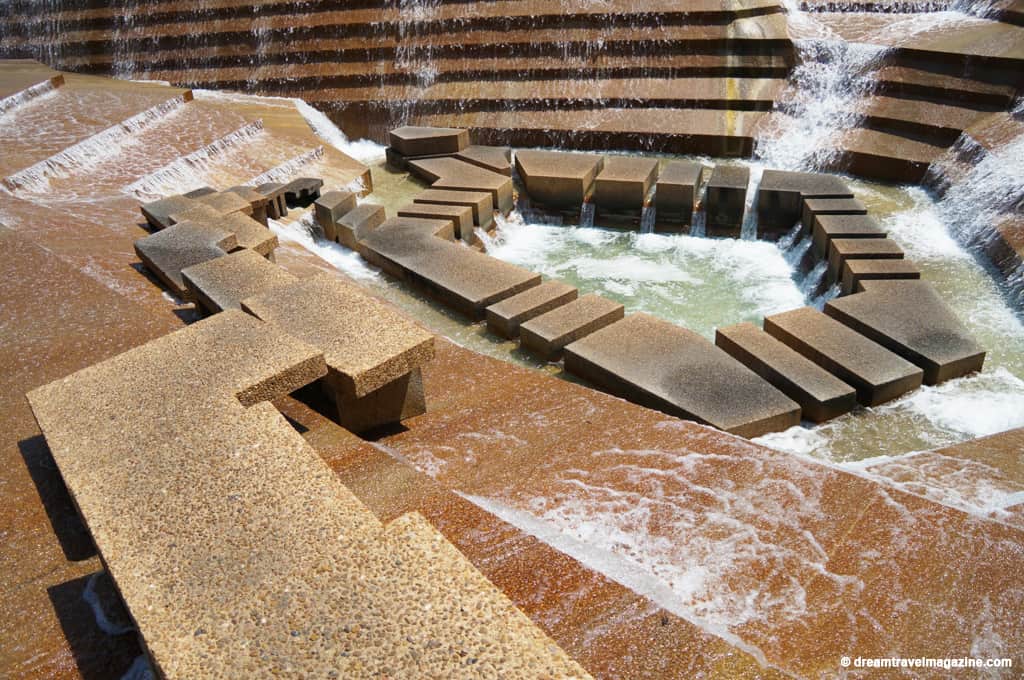 In the hot sun it was great to take a moment at the aerating pool which featured spray fountains under large oak trees. The perfect balance of water mist and shade.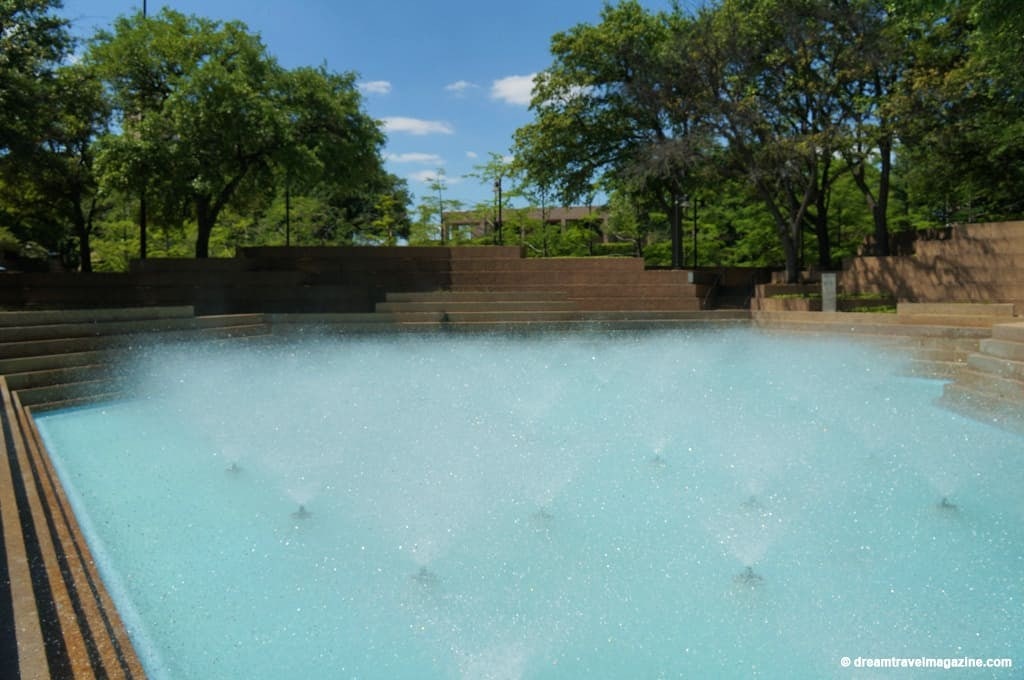 I forgot I was in the city for a moment as I sat in the oasis of the Quiet Pool, located down a flight of stairs amidst tall concrete walls. As I walked down the stairs I had no idea what I was going to see, but then as I turned the corner a completely quiet and serene scene taken out of the pages of a tropical paradise.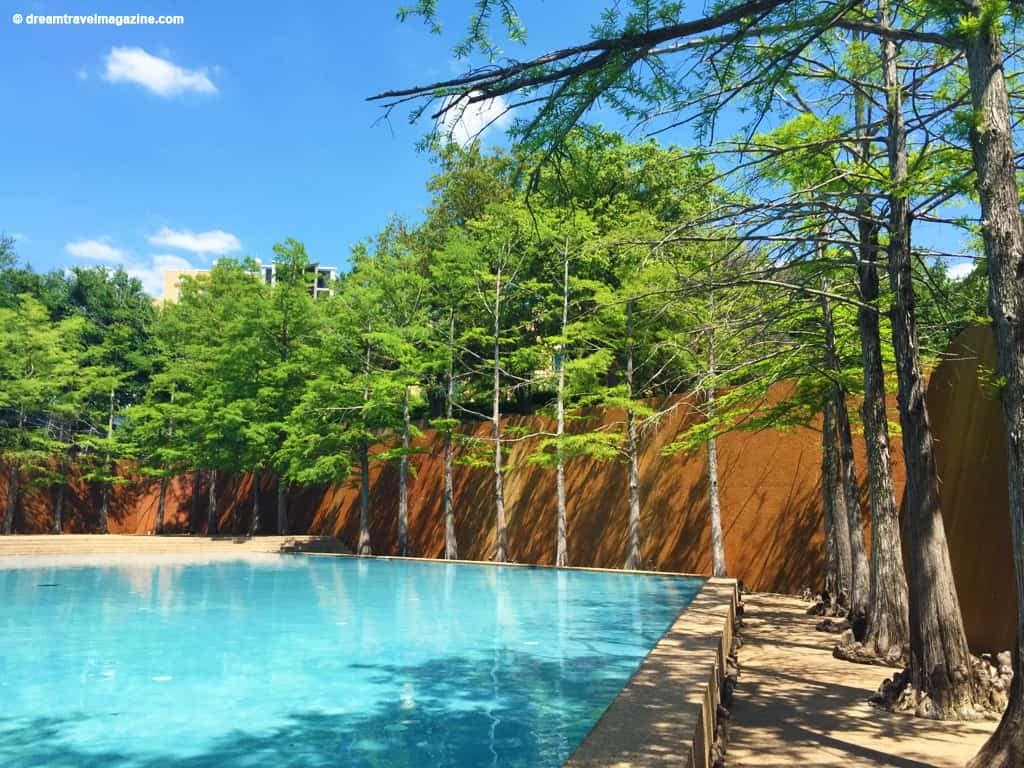 Cowtown: Downtown Cowboy Culture
The interesting thing about Fort Worth is that you are amongst a city with cars driving through, tall office buildings and then you see two horses with mounted police officers in cowboy hats strolling along the street and you remember this is not just an American city it's an American city with cowboy culture!
I apologize to the city's Mounted Police officers I was practically stalking them to get this one shot! The horses in Fort Worth do obey traffic signals!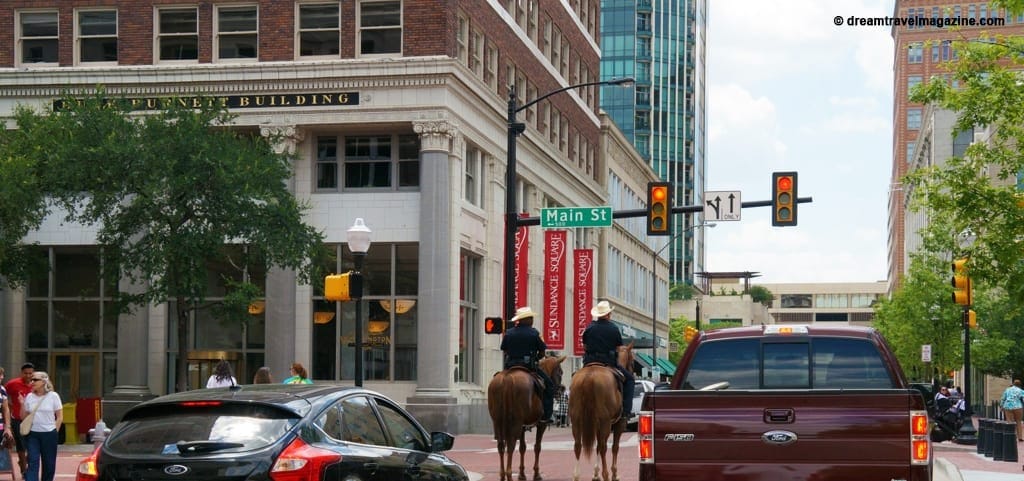 I can't talk about Fort Worth Texas without mentioning its Opera house. Sadly I did not get to go inside, or to see an Opera (which is now on my list for my next visit) but the building is breathtaking and has the most beautiful statues hanging on its side that I recommend you at least walk by it on your own visits.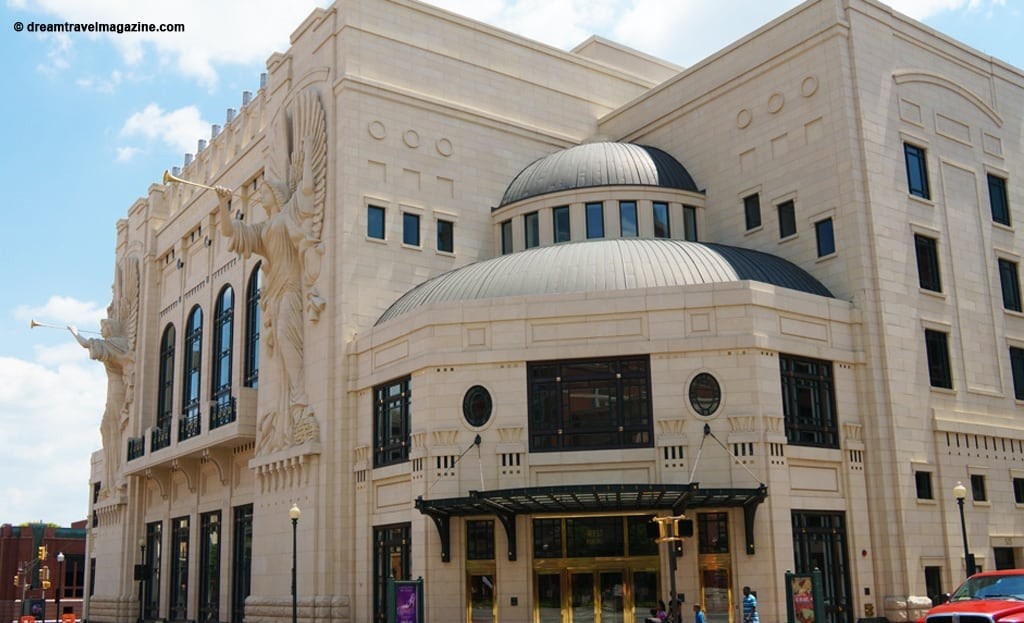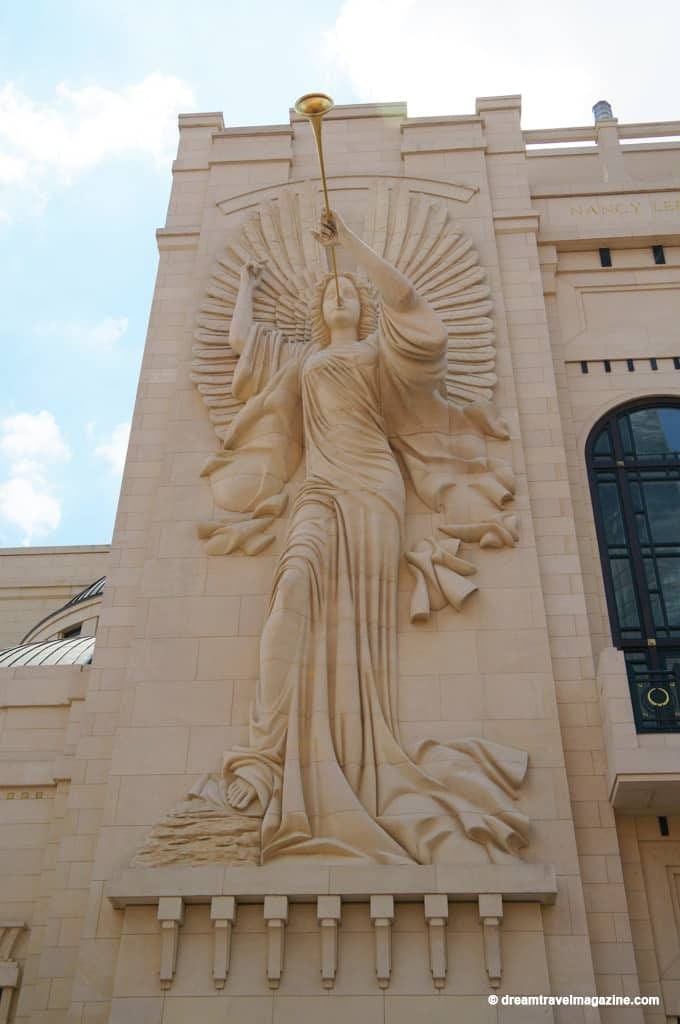 Sundance Square, Downtown Fort Worth
The epicentre of downtown Fort Worth is Sundance Square a neighbourhood spanning 35 blocks. The district features both modern towers and historic buildings which house plenty of shops, restaurants and entertainment venues. The beautiful Sundance Square Plaza sits in the middle of this neighbourhood and is an absolute must stop on your visit to Fort Worth.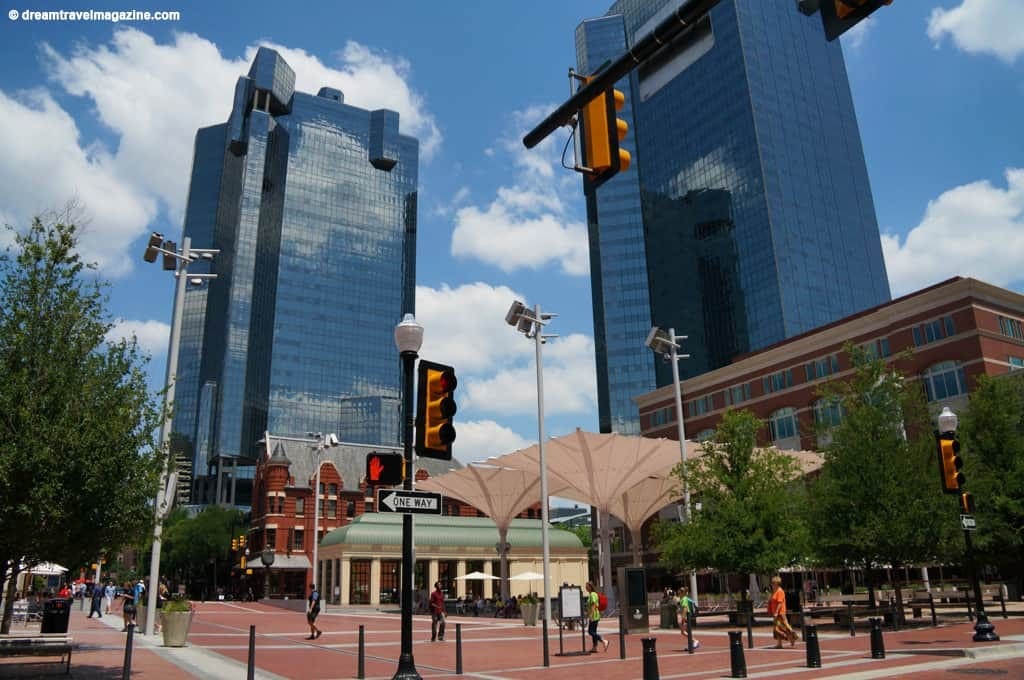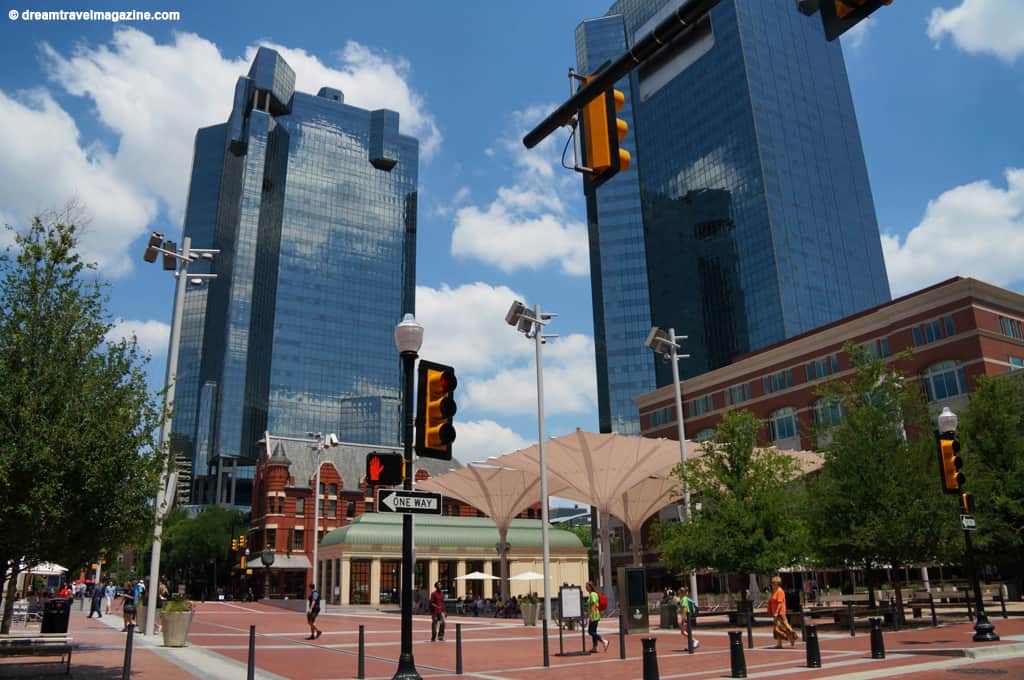 There are more water features in Sundance Square including the large number of fountains shooting water up from the ground. There were many spots to sit under an umbrella and watch the fountains as they changed their pattern. At 2:00 in the afternoon a screaming horde of children made their way into the fountains to enjoy a splash (the only time they are allowed to do this).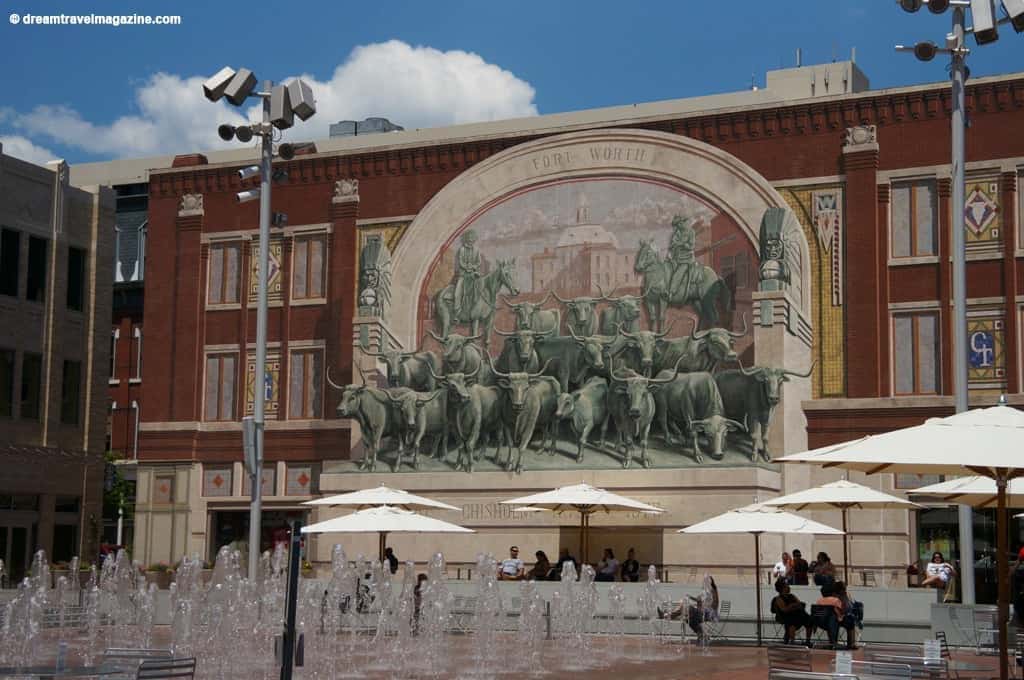 Preservation of the historic buildings in the city of Fort Worth is evident as you walk through the Sundance Square district. There are plenty of historic features around with the modern buildings in the background.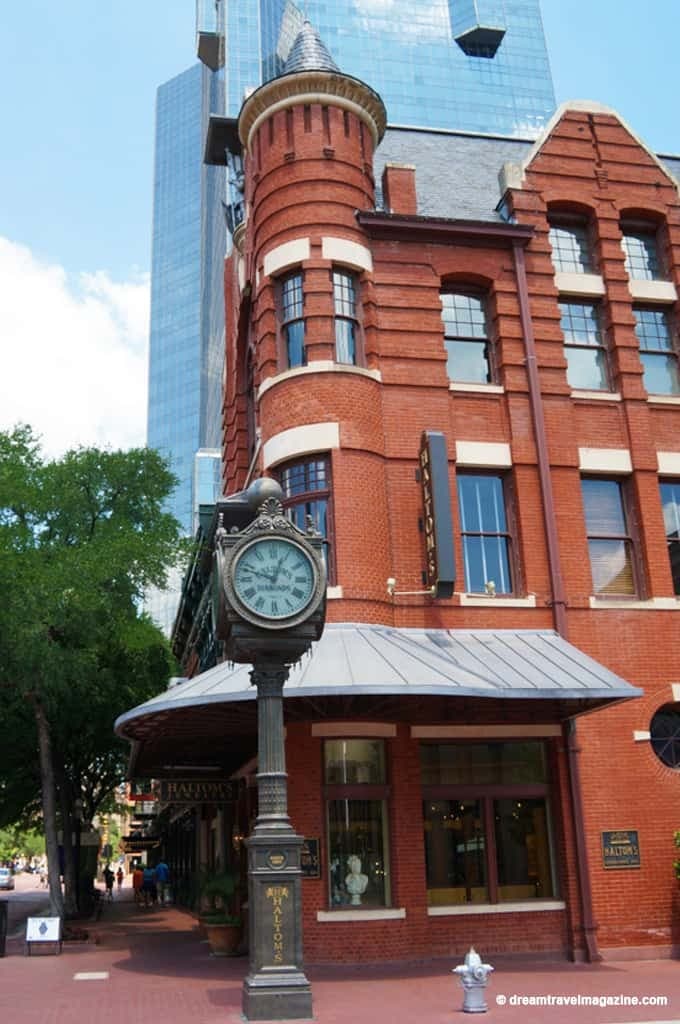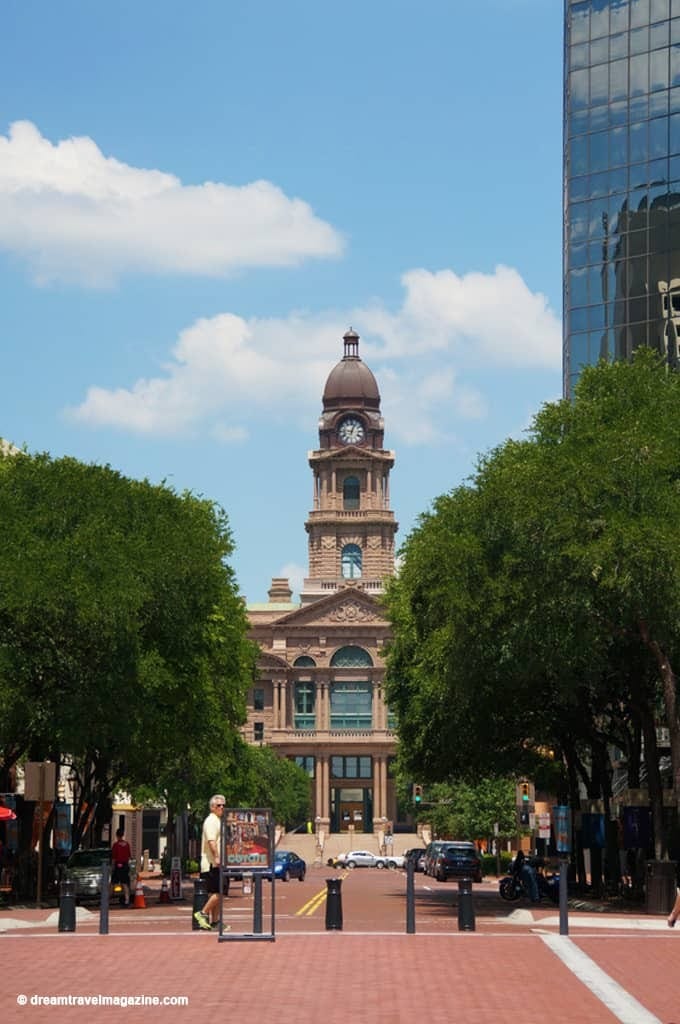 I am putting this on my list of things to do in Fort Worth on my next visit as well, it just looked like so much fun! We saw these fun Cowtown cycle parties driving through the city all day, a great way to tour the city, enjoy some beer and get some exercise while you are at it!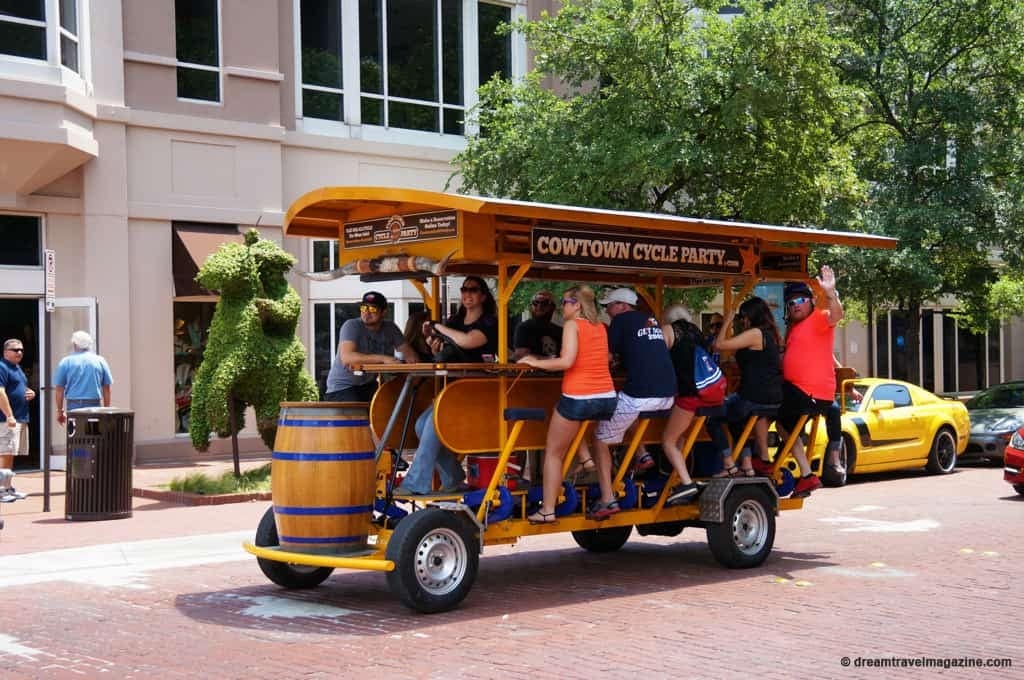 Lunch at Bird Cafe
We ended our long walk through downtown Fort Worth on the patio at Bird Cafe which sits in Sundance Square Plaza. Bird Cafe has a different take on dining serving up delicious small plates. That's their take on their restaurant, however the reality that "Everything is bigger in Texas!" will hit you even at Bird Cafe. We had a great lunch with appetizers and main dishes and the most refreshing basil infused drinks. A full review of the restaurant is coming soon.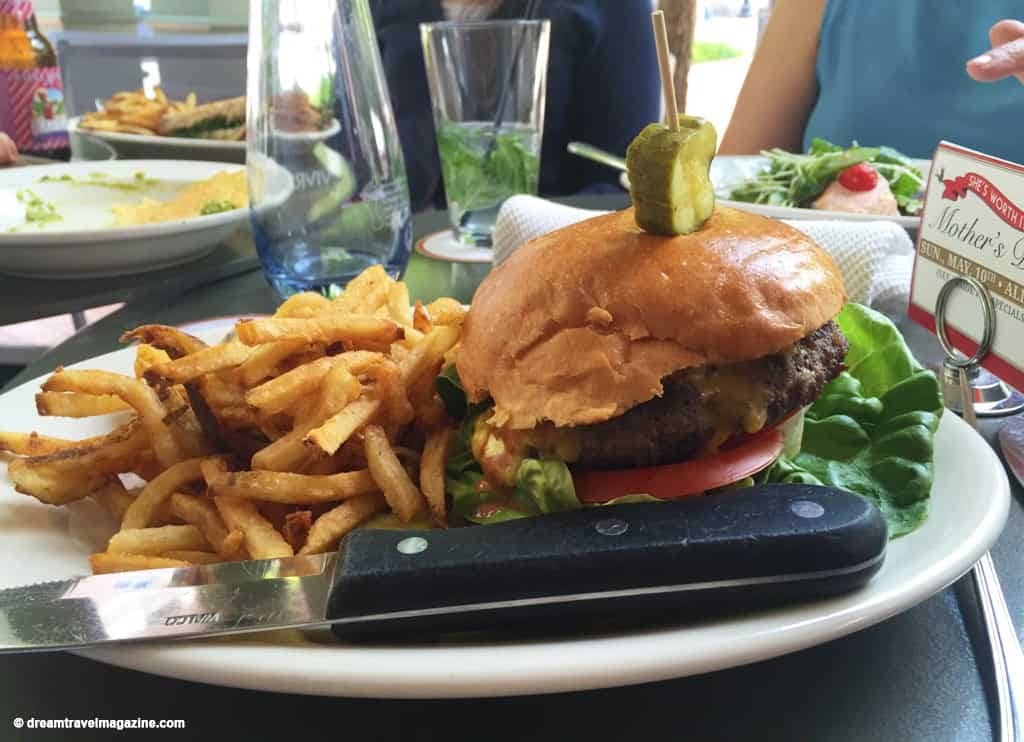 I had a wonderful time in Fort Worth Texas, but I feel I've only scratched the surface of what it has to offer. There are many beautiful boutique hotels in the city, shops and restaurants that I just did not have enough time to explore, since getting there is a mere 2 hour flight away – I have a feeling I will be planning another trip to the city very soon!
Read more: Hotel Review: Sheraton Fort Worth Hotel and Spa Texas
Travel assistance provided by Texas Tourism and the Fort Worth Convention & Visitors Bureau, however, the opinions expressed in this post are my own.