This article may contain affiliate links. Clicking on or purchasing products we recommend through a link may earn a small commission. Read our disclosure and privacy policy page for details. *COVID-19 TRAVEL ALERT – Travel recommendations offered on this site are not to encourage you to travel against travel advisories.
She closes the door to my private room inside the Salt Spa of St. Augustine, and I look at the egg-shaped pod filled with water. I still have so many questions. I open the door and ask her if I should remove my earrings. Then I close it, and another question pops into my head. Each time I shut the door I look at that pod and think why is this messing with my head so much? How difficult can it be to float inside a salt tank?
The Salt Spa of St. Augustine Florida
Located on Cordova Street in the historic district in St. Augustine Florida, the spa was just a few blocks from the main strip of shops and cafes. The main floor of the building is used for salt therapy treatments including the salt float tanks, the Himalayan salt cave and a sauna treatment room.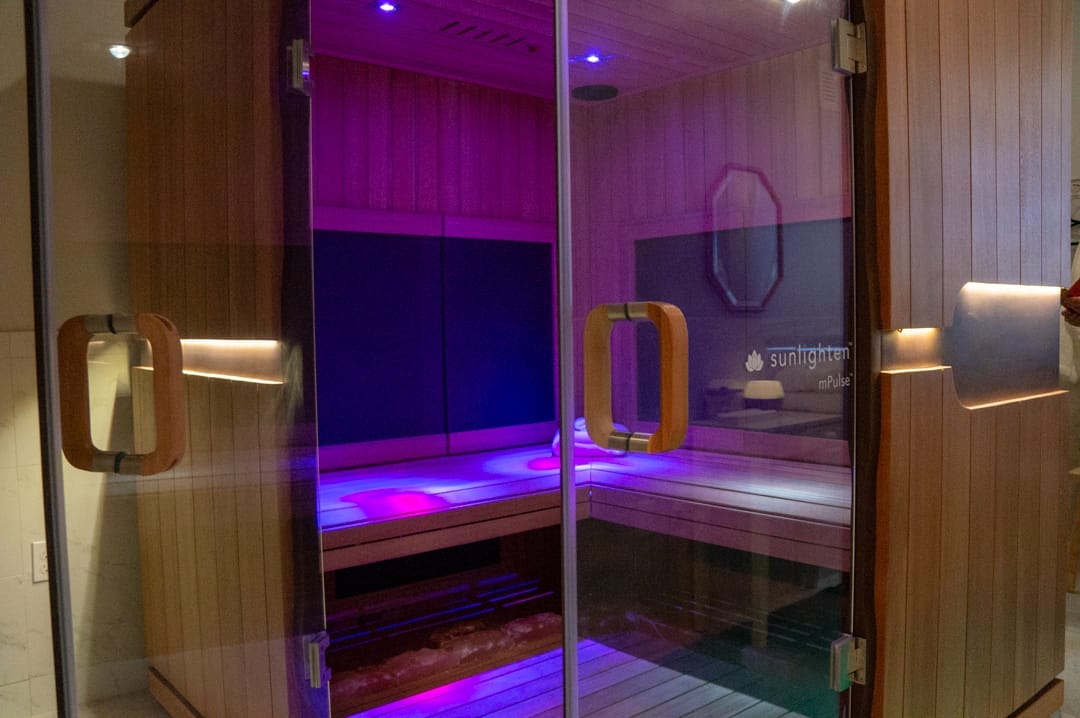 Benefits of Salt Therapy Treatments
This little spa is the perfect host for a completely relaxing experience no matter which treatment you choose. Salt Therapy dates back to the 1950s and is known to help treat skin conditions like eczema and psoriasis and respiratory ailments like asthma, bronchitis, colds and flu.
I detail the benefits of salt therapy, salt cave and salt tank treatments in this post: Benefits of Salt Therapy Treatments. Salt Tank Float and Resting in a Salt Cave.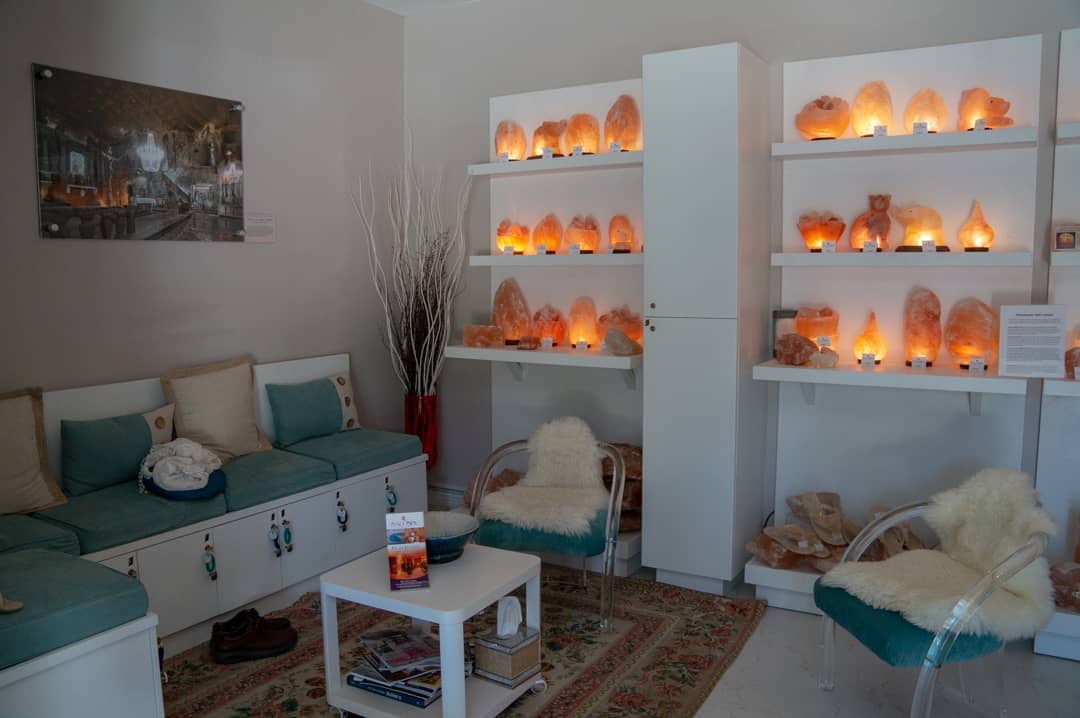 What You Need to Know Before You Soak in a Salt Tank
The salt pod is filled with 1000 pounds of Epsom salts which is heated to body temperature.
Had I been told this is a sensory deprivation pod, I think I would have passed on this experience entirely. The idea of a saltwater soak reminded me of floating in the Dead Sea and this experience I loved. However, lying in complete silence, inside a closed pod filled with salt water and floating for 1 hour… well I had my doubts.
Where my anxiety or fear about this salt soak started was when I was discussing the list of things to do before a soak in a salt tank. Beyond the most apparent worries:
1. I'm going to float in a saltwater solution inside a closed egg-shaped tank
2. I will be in the dark enclosed pod for 1 hour with nothing but my thoughts

Salt Tank Pre-Soak Checklist
I was looking at this pre-soak checklist and wondering what I was getting myself into.
Please refrain from consuming any caffeine at least two hours before floating.
We don't recommend shaving before the soak.
Any skin cuts and abrasions on the body will give you an unpleasant stinging sensation.
If you wear contact lenses, bring a container to remove them.
If you coloured your hair in the last two weeks you will have to wear a plastic swim cup and neck noodle to prevent the colour from being stripped from your hair.
We also ask that all floaters should not apply any hair products and lotions on their skin the day of the float.
In case someone has done that they can take a shower to remove it before the float. Showering is not an option and everyone is required to do that prior to entering the pod.
There are some things that will not make a float possible:
Spray tan or bronzing lotions, any infectious skin disease or wounds and incontinence.
For the first time floaters, the experience might be specially tailored based on individual needs.
People that have anxiety or high-stress level in their lives can't handle well a total isolation and darkness. We recommend for all those clients to choose a favourite relaxing music from youtube and we will connect it to their pod. We also recommend that a soothing blue light should be left on in a pod.
Any of those things can be eliminated, and one can float in a total darkness and quietness to experience full sensory deprivation a state we last experienced in our mother's womb.
Salt Tank Soak at Salt Spa of St. Augustine
Before the soak, I had a few emails with Beata, mostly about the checklist above. Then she greeted me at the door like I was an old friend she had known forever.
Walk Through The Pre Soak Ritual with Beata
I think Beata was totally confident in me and my ability to handle an hour in the tank. I was not sure what demons were going to creep up if any. Would I be an emotional wreck at the end of this? I realized shortly before she closed the door of the room that she knew exactly who I was and that I would be fine.
How do you ask? She made a comment about me being the type of person that always needed to be on time and was very organized and thorough and I thought how can she possibly know this about me? We had been talking for a while before my soak, she was asking me questions and I had a million for her, but in that short time, Beata knew me as if we were friends for several years.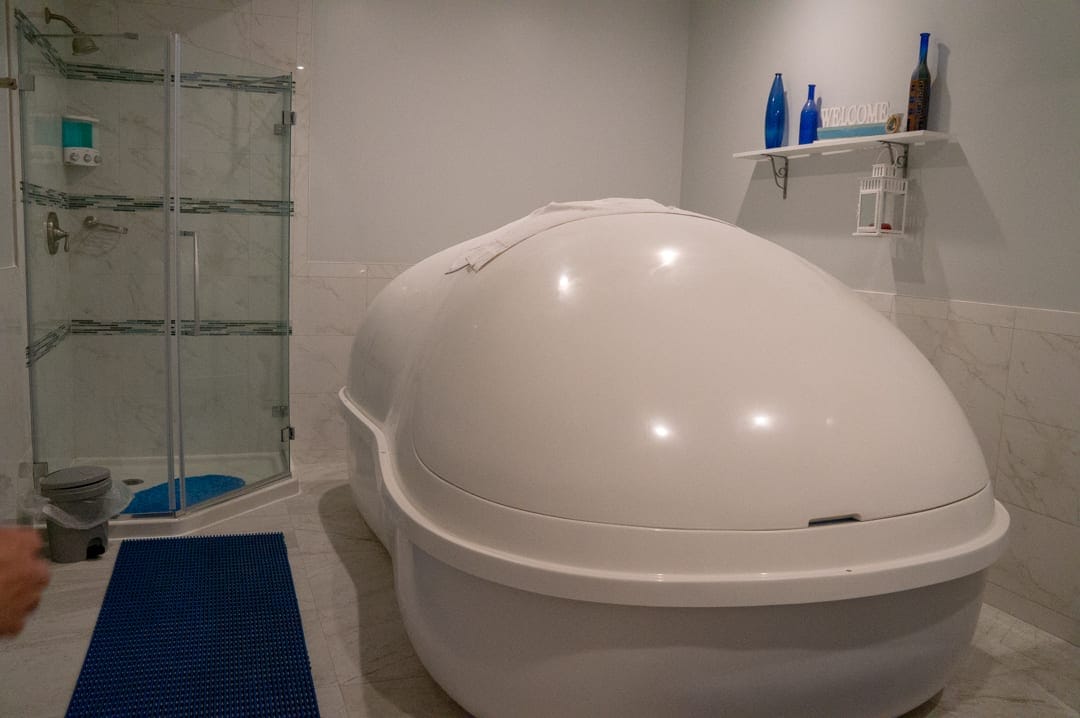 Starting a Soak in the Salt Tank
Before getting into the tank, I approached the little shelf and ran through the everything she told me as she walked me through the room. I gathered my hair into the loose fitting shower cap. This keeps little hairs from sneaking out and getting the salt water in your eyes. Then I grabbed the little ear foam plugs and inserted them into my ears.
FYI, in case you are interested, the soak is done in the nude, you have the room all to yourself so it is a completely private place. Originally I thought I would be wearing a bathing suit because all the photos I saw when I was researching this had women in bathing suits, but no need to worry about your bathing suit being ruined as you don't wear one.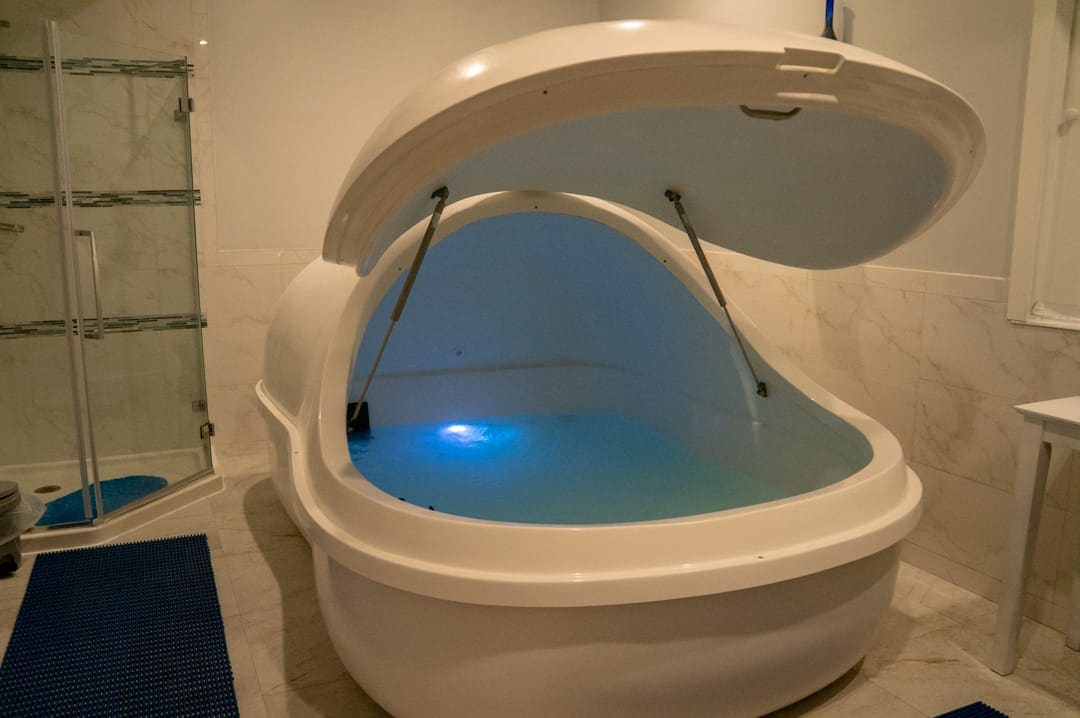 Getting Inside the Salt Tank
I made my way to the tank and sat on the side. I put one foot in and then another and lowered myself carefully into the tank to avoid a splash. Then I looked up at the handle of the tank door. I probably should have closed that down with me as I was getting inside.
I got up on my knees inside the shallow tank and reached for the handlebar and pulled down. The pod was still lit up inside and I saw the red button which she told me to press 1 time to signal that I'm ready to start.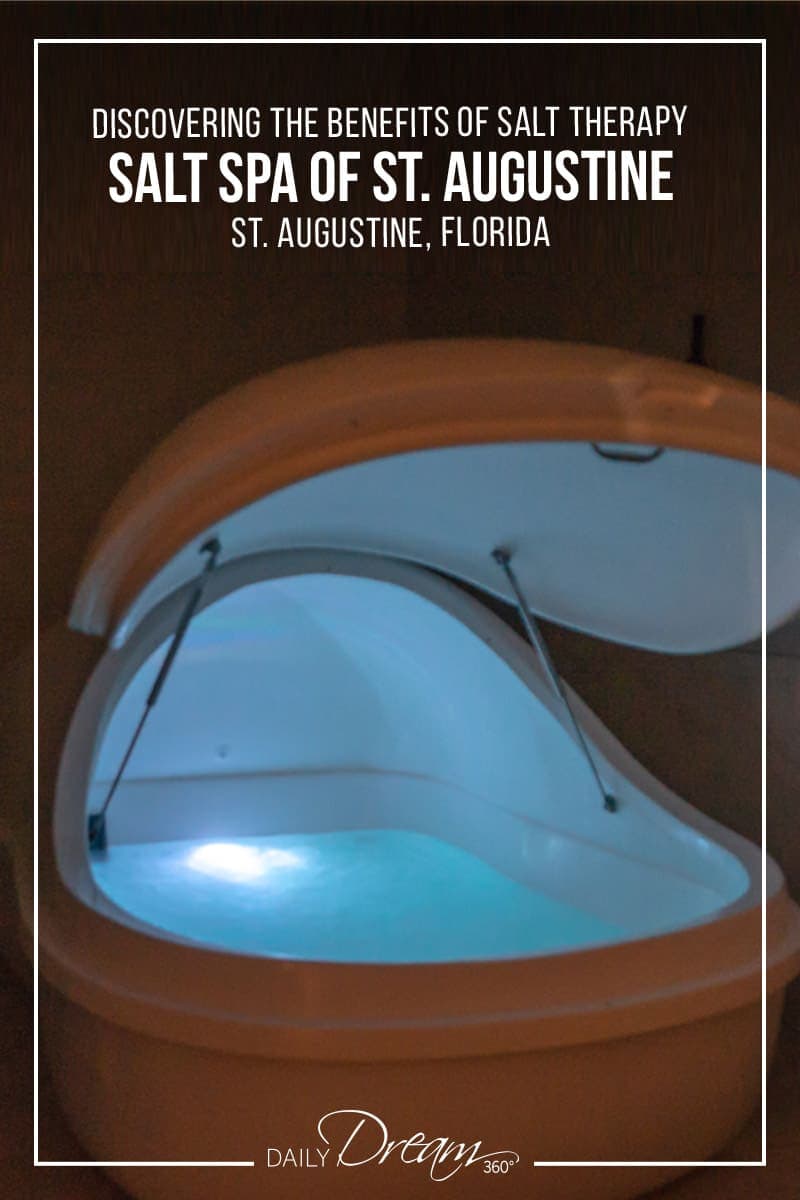 Floating in the Sensory Deprivation Salt Tank
As I floated in the water, I heard a muffled version of her voice say something I could not recognize but calmly tried to get into a comfortable float position. Then I realized I forgot the neck foam thing she told me I can use to keep my head up above the water.
My first fear bubbling up inside was about finding a comfortable position to float and feeling my body resist this position. My neck was a bit sore as was my shoulder and I remembered the research I did and how it is normal to feel some of your general aches and pains, or injuries at first.
As I lay there, I felt the side of the tank on my left arm and then I floated away and felt my feet touch another side and then my right hand grazed another. This went on for a bit as my body settled. My neck was still bothering me so I decided to raise my hands above my head in a different float position. I carefully raised my arms at the side of my head and body, to avoid any splashes. I lay in that position, with my hands above my head for a while and then my second anxiety started to kick in. The bubbles.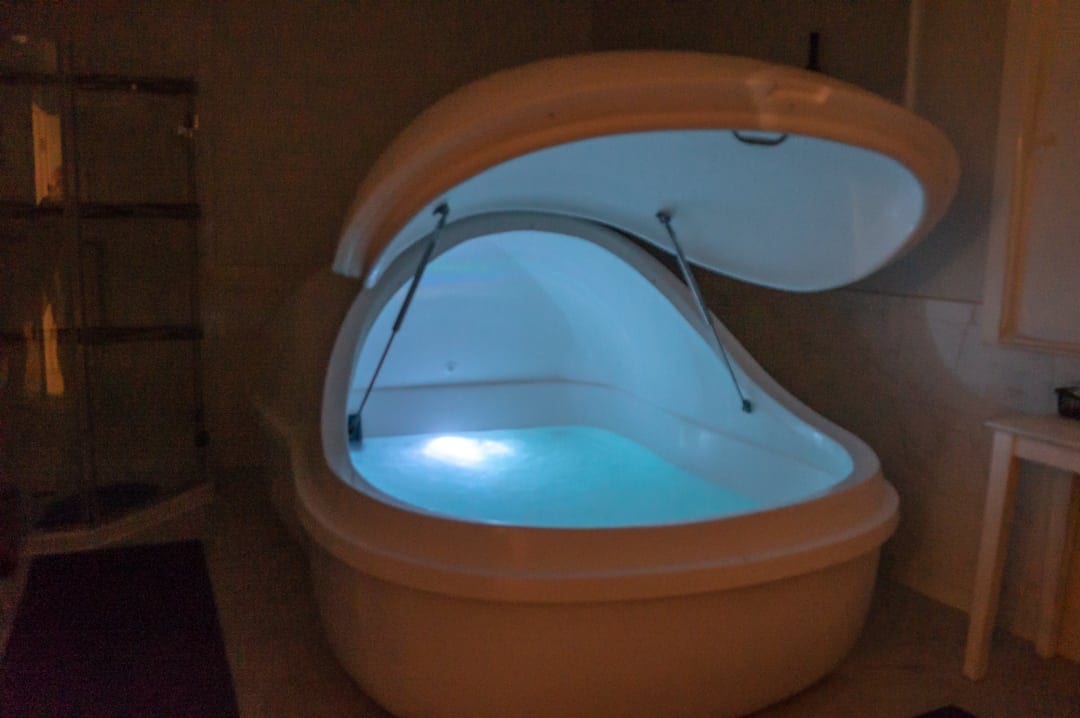 During the Soak in a Salt Tank
I felt little bubbles tingling which was water seeping in through the shower cap and I felt a sensation in my ear which was the earplugs. I don't know how long I lay there thinking Did I put those earplugs in my ears correctly? Should I stop and check? Is water leaking in my ear?
I switched positions again, and at some point, the thoughts and worries just faded away. At one point I thought I heard some music. Every so often I felt the side of the tank touch my hand or foot but mostly when I adjusted my arms from above my head back to my sides. The rest of the time I was floating in place and not feeling or thinking anything.
In fact, I'm not sure, but I think I may even have fallen asleep in there. Then I heard the muffled sounds again. I knew she would signal me when the float was over. I reached up for the salt pod handle and opened the door to the darkened room.
Post-Salt Soak in the Tank Ritual
The last step was a good shower to remove all the saltwater residue. There is body wash, shampoo and conditioner available in the salt pod room. I got dressed and made my way outside to the lounge ready for my next treatment.
Note: if you'd like bring some essentials like hair serum, spray for after your soak. There is a hairdryer in the salt room and a bathroom outside the salt tank room where you can put yourself back together after your soak.
There was a feeling of accomplishment and astonishment upon finishing my soak. In the lounge, I was talking to a lovely woman who travelled to St. Augustine specifically for a salt soak. We laughed about all the strange worries, the feeling we had heard music even though the pod is completely silent. I was even more relieved and excited to feel like I had everything I just experienced was totally normal.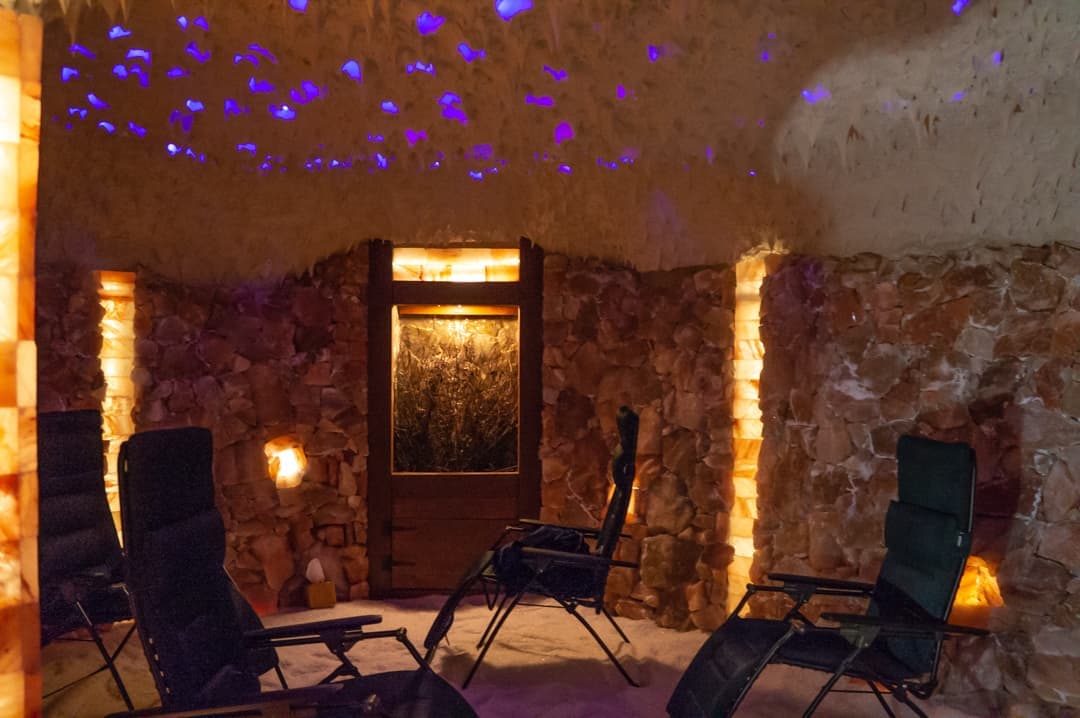 Himalayan Salt Cave Nap at Salt Spa of St. Augustine
The salt crunched under my feet as I made my way to one of the zero gravity chairs. Beata was there to make sure I was comfortable and even covered me in a blanket. The room was cool at 69 degrees (20 C) with 60% humidity. Under the blanket I was cozy.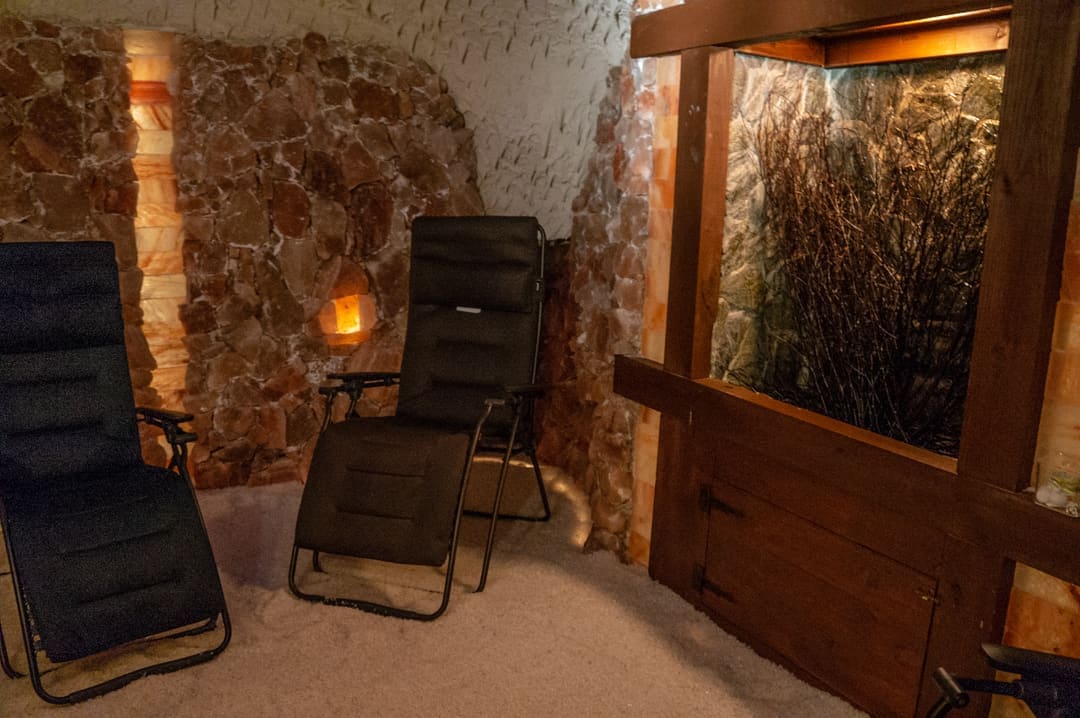 The cave itself has dimmed lighting with infrared lights peaking out on the ceiling. The walls, floor and ceiling, are covered with salt. The damp salty air is infused with pink and red Himalayan salt known as a drug-free treatment for respiratory and skin conditions.
In this treatment, you are fully dressed, so dress comfortably. The experience is more about shutting down, relaxing and breathing in the benefits of the salt-filled air.
I pretty much slept the entire time I was in there. It was very relaxing, especially right after my salt tank soak.
Consider this cave a place to nap, relax, clear your mind and breathe in the salty air.
Salt Therapy is an Affordable Spa Treatment
As far as spa treatments go, I found the prices for a Salt Soak or Rest in the salt cave quite reasonable. Both treatments together were under $100 and I've paid more for one spa treatment at other spas. In fact, this experience has me researching salt spa services back home here in Toronto.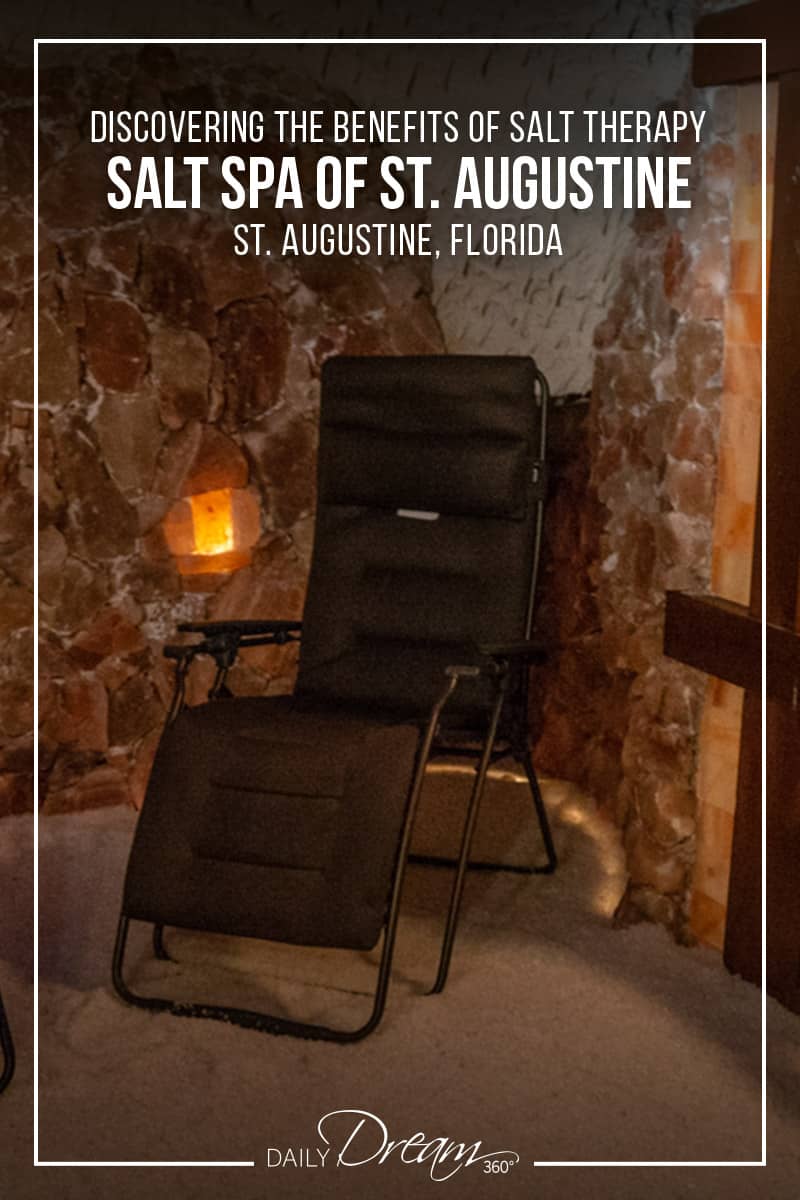 The Result of My Salt Spa Therapy
Most of the benefits of salt therapy are shown after numerous treatments. That said, I have to say that for a few days after my treatment, my skin was soft and clear even in the humidity, very hot temperatures and Florida sun. it was a very relaxing afternoon and I loved the opportunity to shut off my phone and just relax in silence for a few hours.
For more information about the Salt Spa of St. Augustine see their website here.
Plan a Northeast Florida Roadtrip
Discover more of Northeast Florida just a short1.5-hour drive from Jacksonville Airport!
Disclosure: Travel assistance provided by Air Canada, Florida's Historic Coast and Visit Florida on a press trip that was part of a 4-day vacation prize package. The opinions expressed in this post are my own.