This article may contain affiliate links. Clicking on or purchasing products we recommend through a link may earn a small commission. Read our disclosure and privacy policy page for details. *COVID-19 TRAVEL ALERT – Travel recommendations offered on this site are not to encourage you to travel against travel advisories.
Located outside the historic part of St. Augustine, the Tryp by Wyndham, was the perfect hotel for our girlfriends getaway.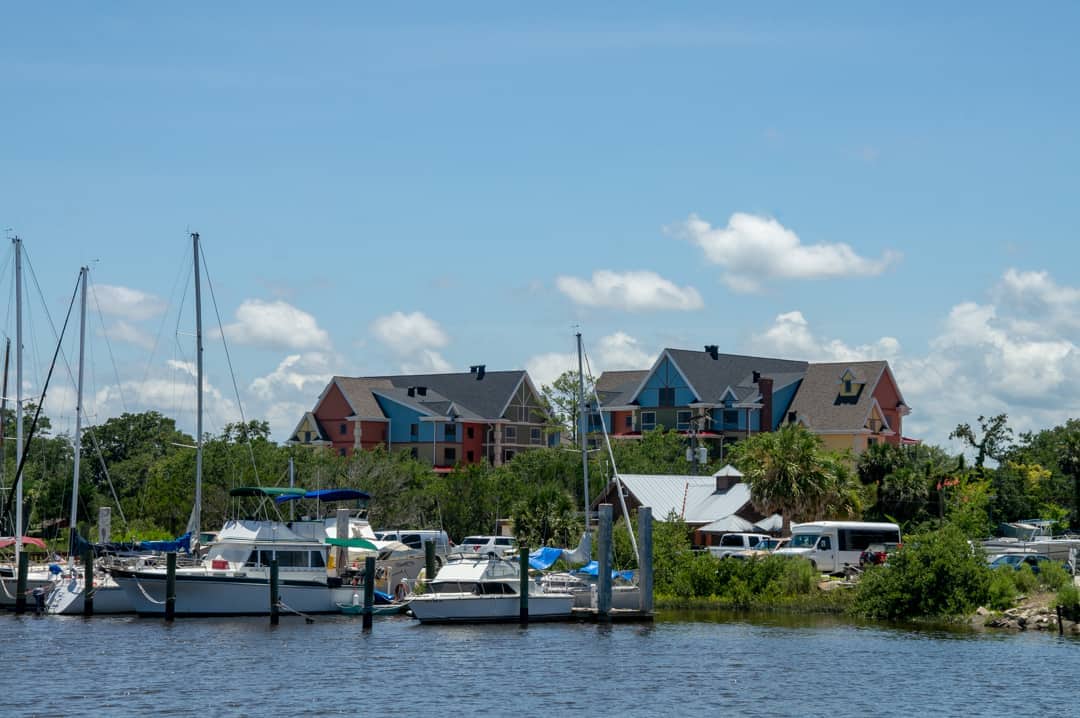 Tryp St. Augustine Location
To some being located outside the historic district might not feel ideal. However, it was much closer than we initially thought. It is about a 30-minute walk into the heart of the historic district, but in summer when it was super hot and humid, we didn't want to make that walk.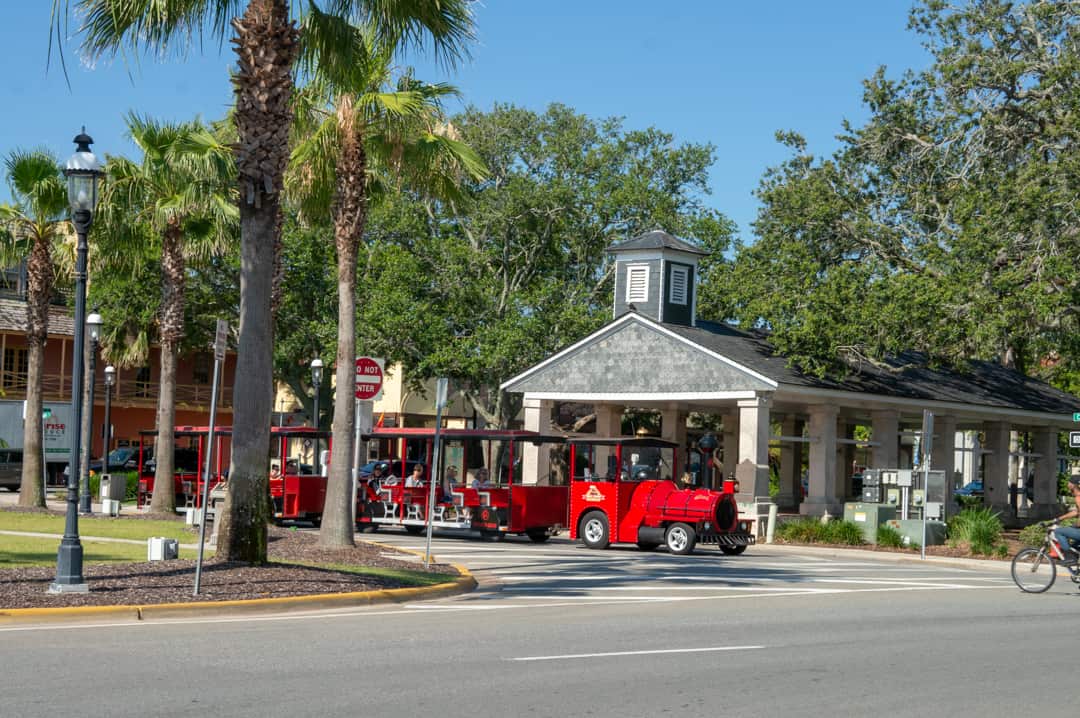 The Ripley's Red Train had a stop at the St. Augustine winery which was about a 5-8 minute walk to the Tryp hotel. On our first day, the hotel called the Red Train company, and someone came over to pick us up and take us down to the main station. For details visit Ripley's Little Red Train website.
In the evening, when the red train was no longer working, we took an Uber into town. We also discovered the very convenient Explorer service which is $3 per person. They can not pick up and drop off at the hotel as their vehicles can't travel on the highway, but they can pick up drop off at the corner of the road into the historic district, which is less than 2 minutes walk from the Tryp lobby.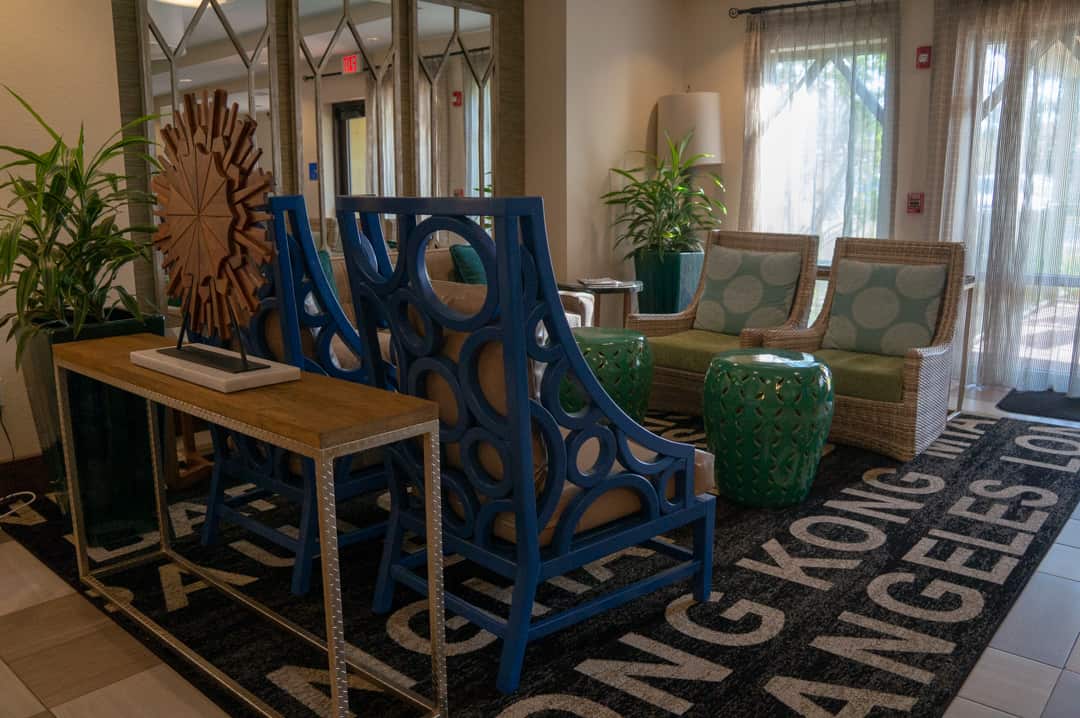 Tryp St. Augustine Lobby and Business Centre
The hotel had a spacious lobby with lots of seating. There were also two computers which were connected to a printer which we found very useful for mapping out directions and printing them off. The hotel had a bar/restaurant where they served breakfast b, t we chose to eat in town.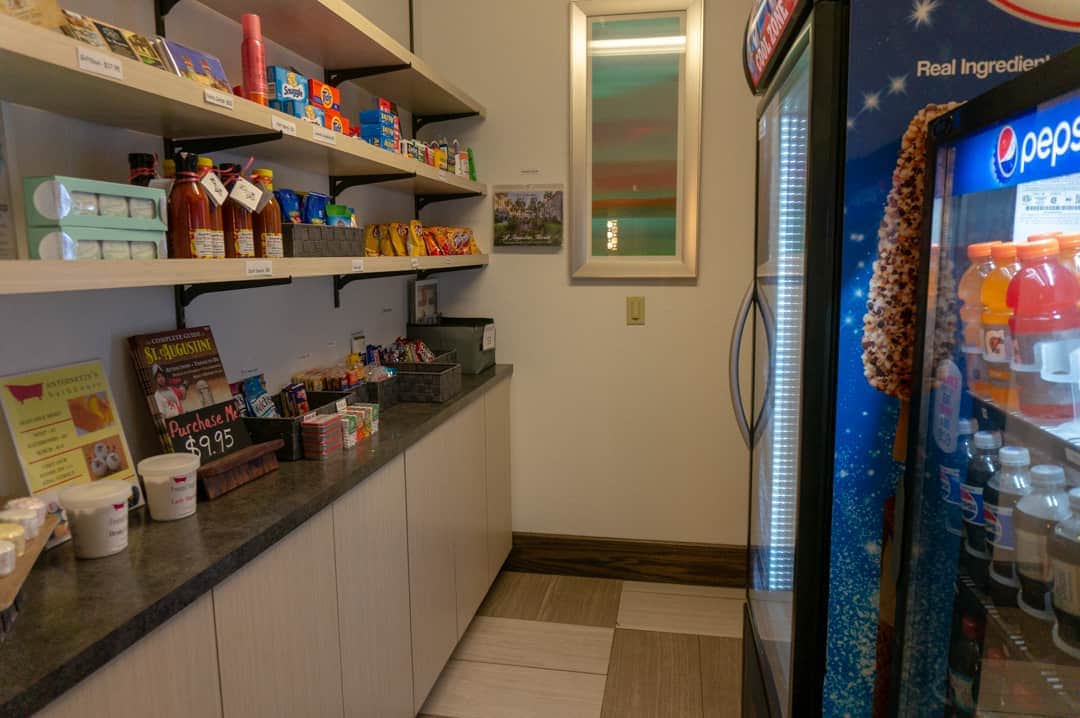 The lobby also has a small snack and shop for any necessities or quick snacks you wish to purchase.
Read more: Where to Eat in St. Augustine Florida

Tryp by Wyndham St. Augustine Double Room
We were in a double room which was very spacious and had everything we could possibly need. It was actually the perfect setup for two girls travelling together.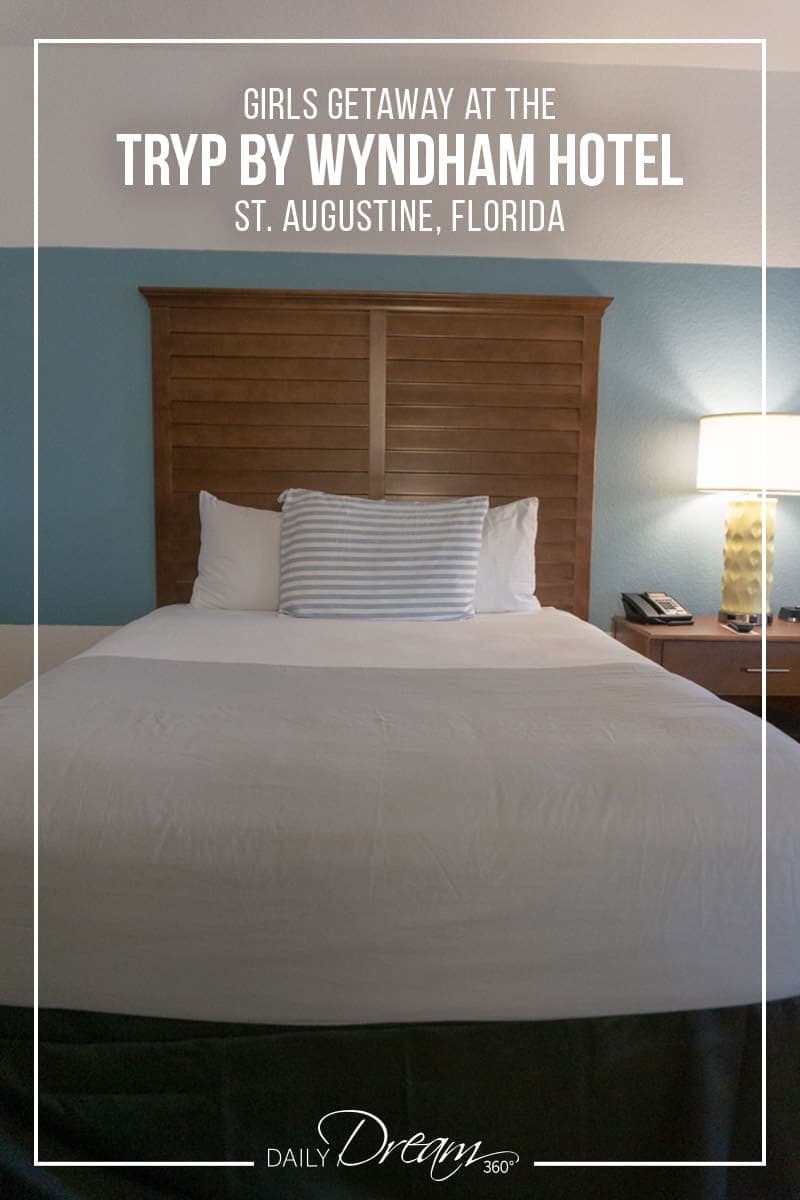 The beds were very comfortable and there were lots of pillows. We had a sitting area and a desk to work at.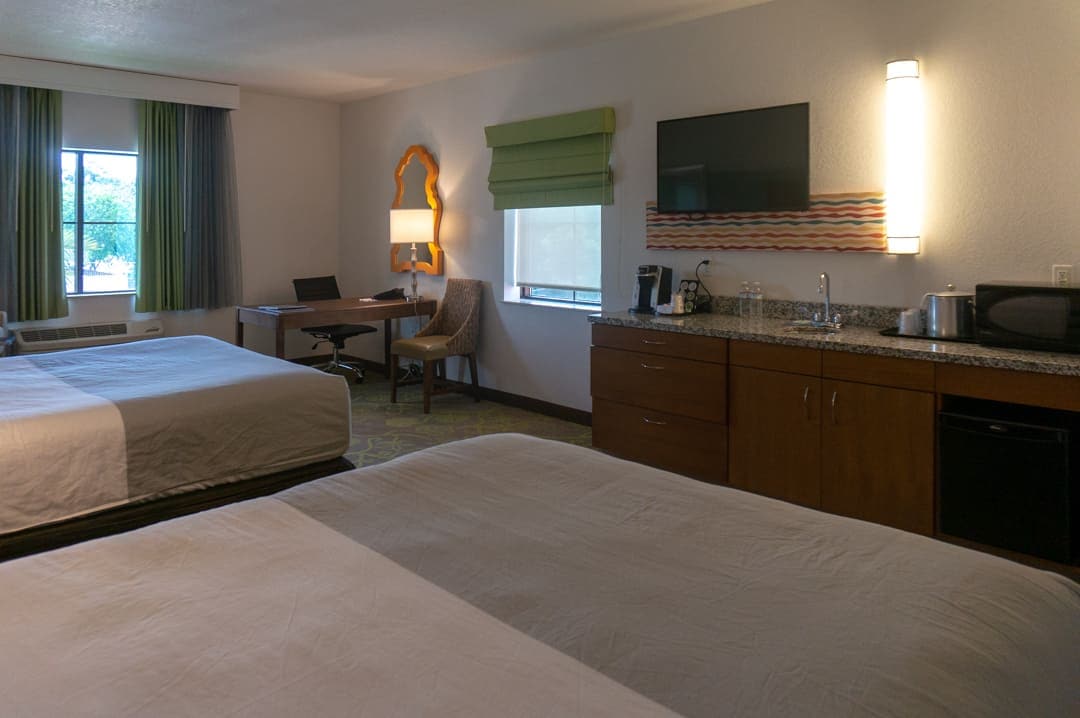 Kitchenette Was Awesome
Having a little kitchenette with a microwave, refrigerator, sink and Keurig Coffee machine was very handy. I'm travelling on Keto these days so being able to stock the fridge with cheese snacks was really great.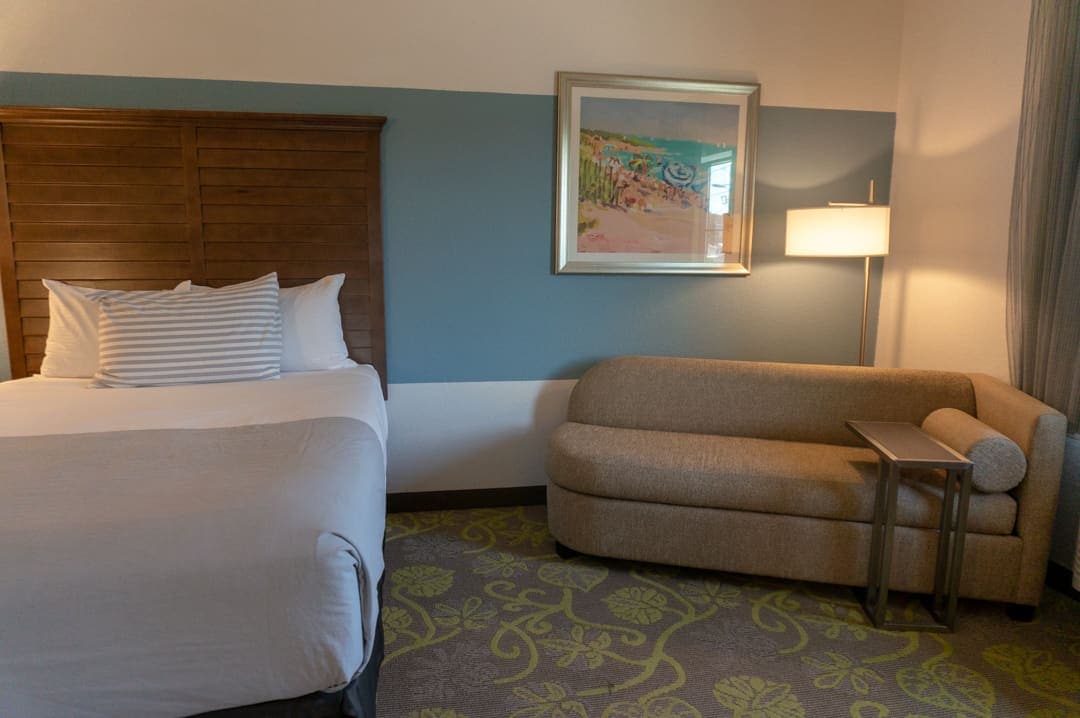 We were given a bottle of water each day in our room. Toiletries were also stocked daily and I liked how they smelt and how they cleaned my hair. Especially in hot, humid weather or after a dip in the pool. If you are travelling carry-on only, you can rely on these toiletries.
Tryp by Wyndham St. Augustine Hotel Amenities
The Hotel had a fitness room which had a few cardio machines and some weights.
The salt water pool was lovely and in the afternoon the patio had some shady areas to sit in if you didn't want to be directly in the sun. The water was the perfect temperature making this a great spot to cool off at in the afternoon before heading back to the city for dinner.
Read More: Discovering the Benefits of Salt Therapy at the Salt Spa of St. Augustine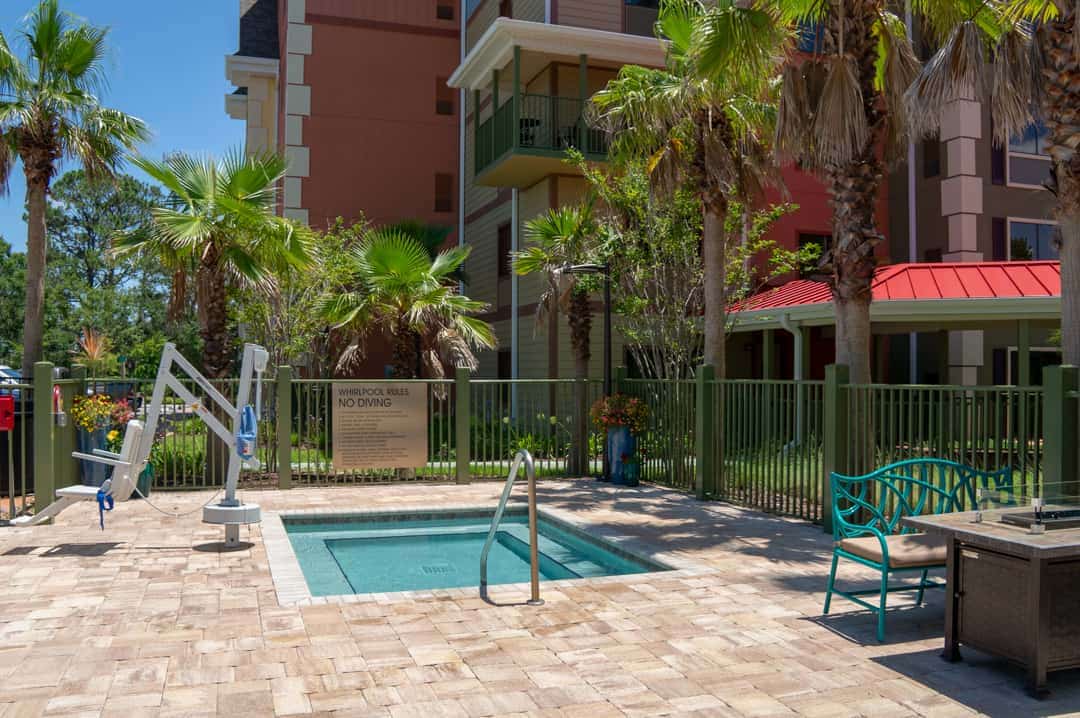 If you are looking for a newer property with larger rooms that is just outside the historic district of St. Augustine the Tryp by Wyndham St. Augustine might be a great option for you. If you don't mind a 30-minute walk into the city or the transportation options of the Red Train, Explorer and Uber it is definitely worth considering.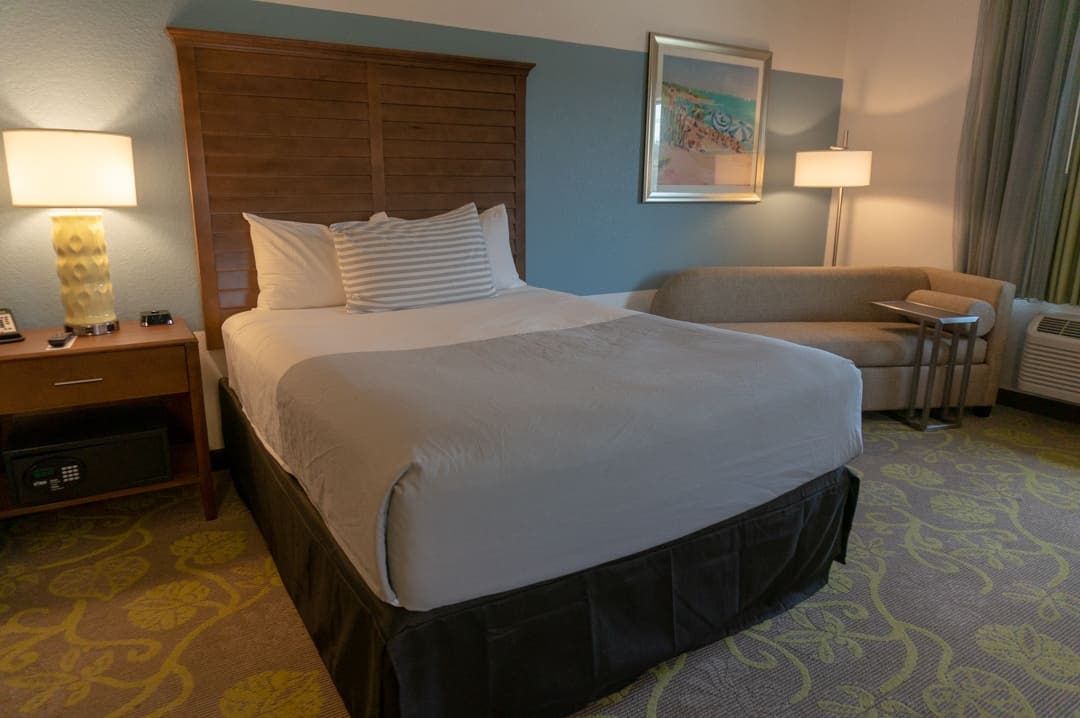 Plan a Northeast Florida Roadtrip
Discover more of Northeast Florida just a short1.5-hour drive from Jacksonville Airport!
Disclosure: Travel assistance provided by Air Canada, Florida's Historic Coast and Visit Florida on a press trip that was part of a 4-day vacation prize package. The opinions expressed in this post are my own.