This article may contain affiliate links. Clicking on or purchasing products we recommend through a link may earn a small commission. Read our disclosure and privacy policy page for details. *COVID-19 TRAVEL ALERT – Travel recommendations offered on this site are not to encourage you to travel against travel advisories.
On a recent trip to Eastern Cuba, I traveled through three cities in 4 days. With so many popular destinations and attractions in each, I decided to divide it all up and create individual travel guides. In this post, I share a list of things to do in Santiago de Cuba. If you are going to visit Cuba, consider its second largest city and home base to the Cuban revolution as a must-see destination.
See post: Discover The Real Cuba: 3 City Dream Tours in Eastern Cuba
Travel Off The Resort in Cuba a Guide to Santiago de Cuba
It doesn't matter if you are staying at an all-inclusive resort or planning an off the resort adventure in the Eastern part of the country, there are options available for everyone. From guided bus tours through the region to one-day excursions finding a tour is as simple as visiting your hotel's tour desk or talking to your travel agent.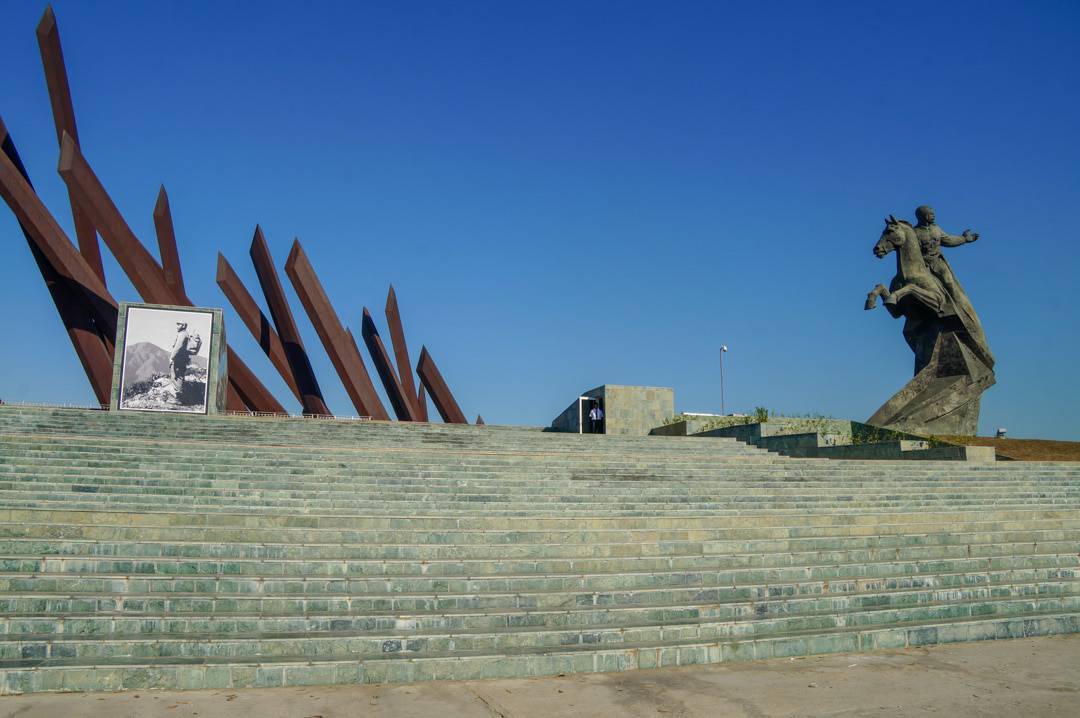 Best Attractions in Santiago de Cuba
Revolution Square and Museum
Driving by the impressive monument was enough to convince us to stop and take a look. Antonio Maceo Revolution Square features an enormous statue of Antonio Maceo on a horse inviting people into the city. The 23 spears represent machetes which were the weapons used during the independence fight. The museum features a tribute to Maceo's life with photos and artifact displays.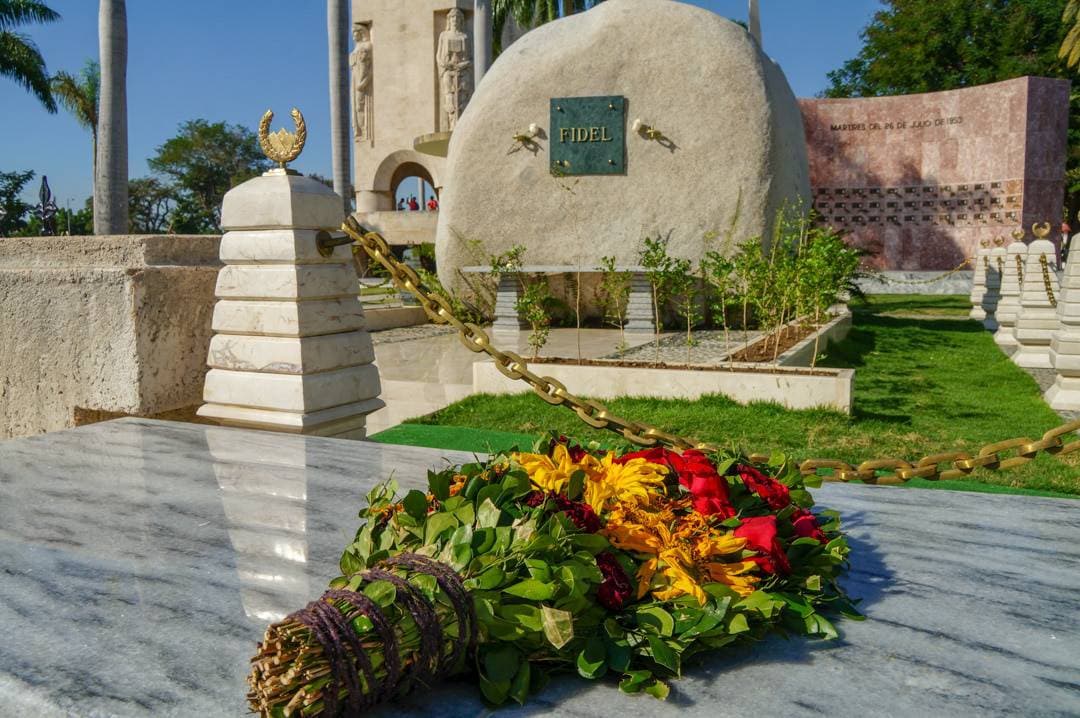 Santa Ifigenia Cemetary
Now home to Cuba's fallen leader Fidel Castro, Santa Ifigenia Cemetary is the second largest cemetery in Cuba and features grand monuments and mausoleums of some of Cubas most famous people. From fallen soldiers, political figures, to musicians and prominent families like Bacardi there is much to see for history buffs.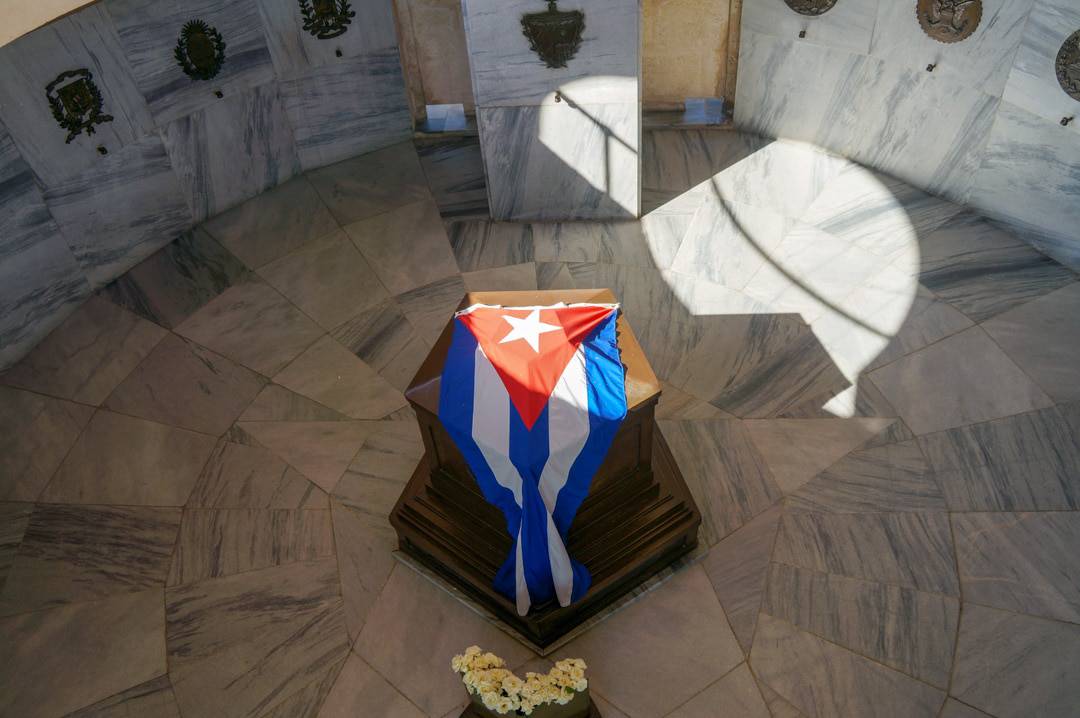 Before Castro's burial, the principal attraction was the mausoleum built for José Martí a national hero in the country. The hexagonal design ensures that sunlight is always shining on the casket draped in a Cuban Flag.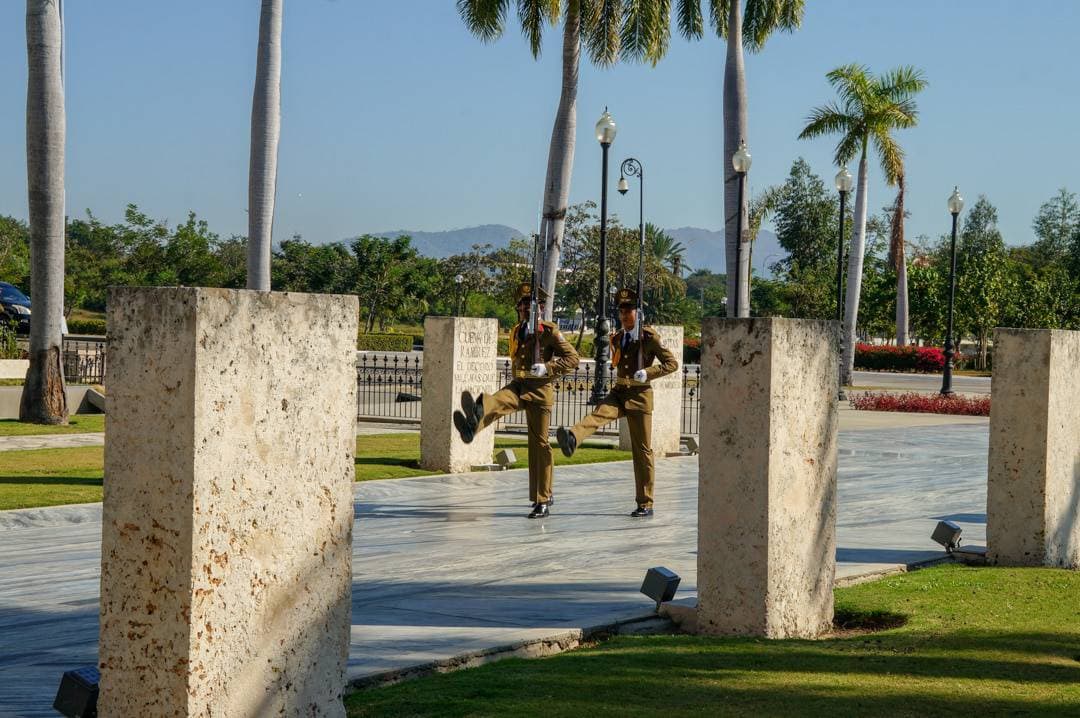 Every 30 minutes music blares signaling the changing of the guard ceremony. The guards march towards José Martí's casket, and a single guard near Fidel Castro also exchanges posts during this ceremony. It is interesting to note that many of the grave sites have very ornate structures and tombstones on them, however, Fidel Castro has a very simple grave. He was a man of the people, and it was his wish that his tombstone is simple. The massive rock he stood on to give one of his famous speeches during the revolution was transported here.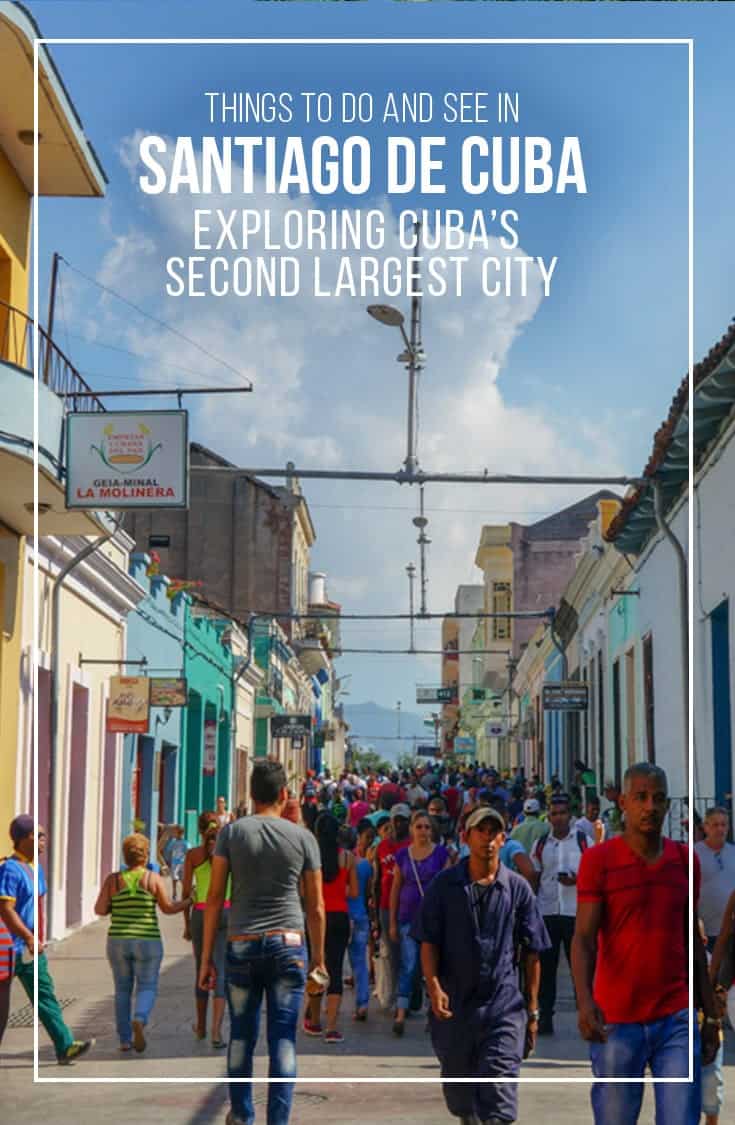 Downtown Santiago de Cuba
The spirit of Cuba can be found easily in its streets. In the many squares throughout downtown, musicians will be playing traditional Cuban music while younger kids gather with their smartphones to connect to wifi in these community hotspots. Streets packed with pedestrians and vendors can be seen everywhere, and there is no shortage of classic cars driving around.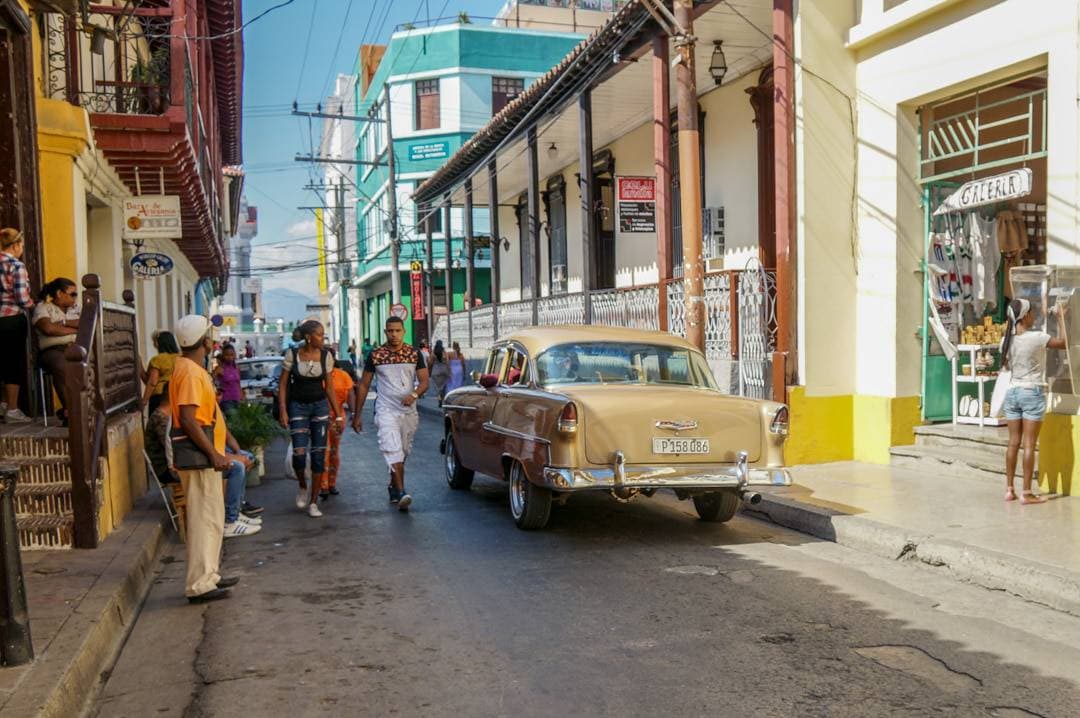 Note that stores and vendors in Santiago de Cuba will display blue signs signaling that they except the CUC or Cuban currency used by tourists. You may find some of the vendors do not accept this money so keep an eye out for the CUC designation.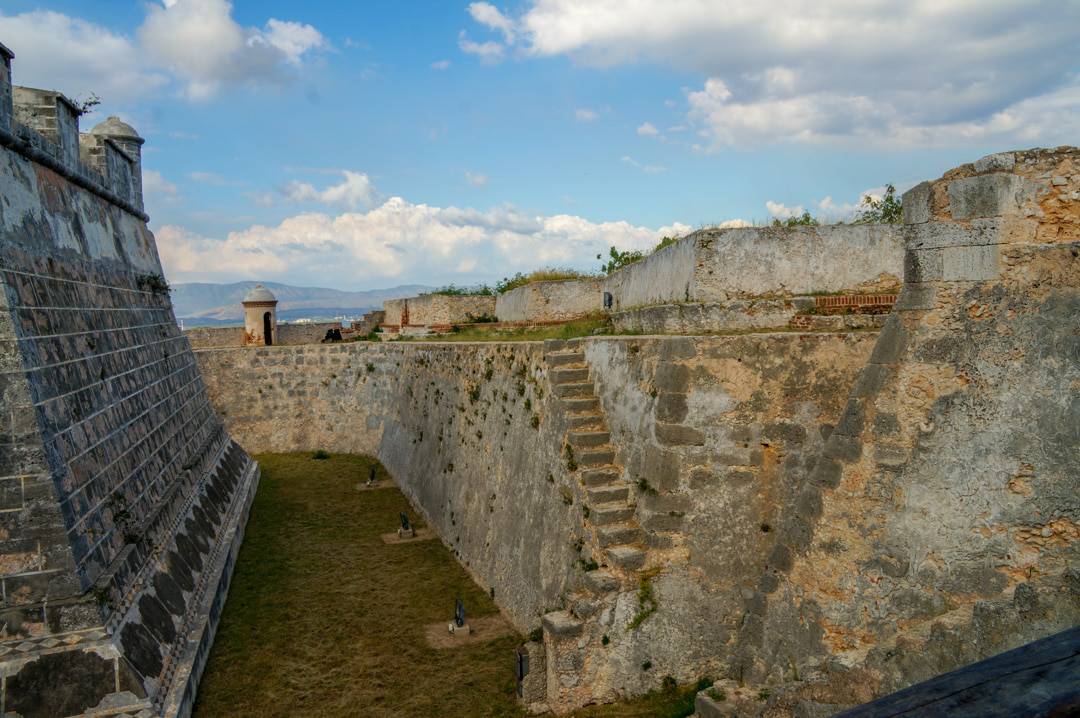 Castillo de San Pedro de la Roca (El Morro Castle)
This rocky fortress is showing its age, and I worry that it will not be open to the public forever. Crumbling steep stairways lead you through the many levels of this fortress built in stages to protect against Caribbean wars in the 17th and 18th centuries. A Unesco World Heritage site, the fortress is a popular stop on many tour excursions which you can book at your hotels.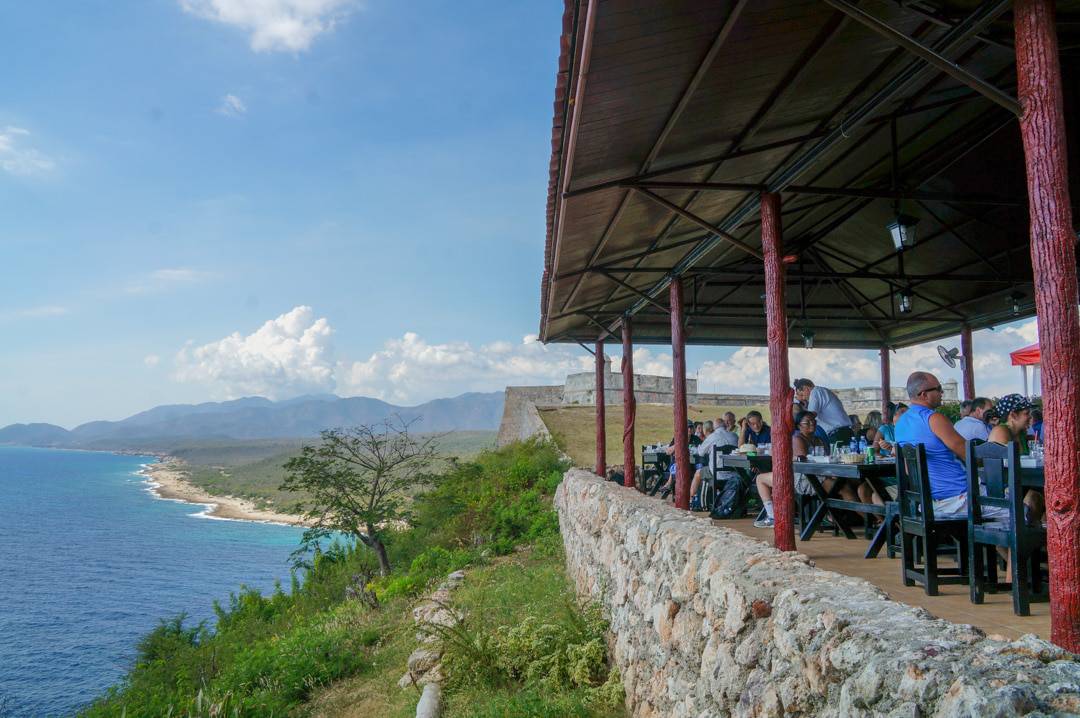 The El Morro restaurant is also a good choice if you are looking for a bite to eat. Lunch includes commonly served Cuban items such as fish, chicken, rice, and salad.

Tropicana Nightclub
There are two Tropicana nightclubs in Cuba one in Havana and one in Santiago de Cuba. They put on a high-end spectacular musical each night. Themed dances and musical numbers run for the one and half hour show.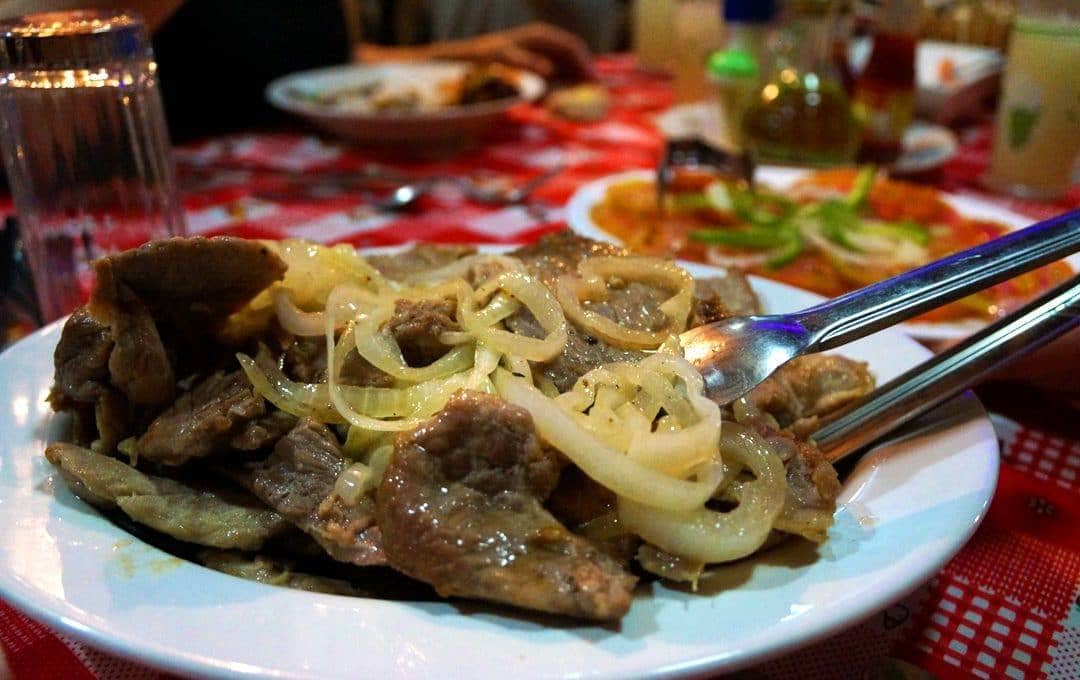 Best Eats in Santiago de Cuba
Compay Ramon Restaurant
I think this was my favourite restaurant in Cuba, so much so I will be devoting a post just on my experience here. Ramon Guilarte is an interesting character dressed in traditional Cuban farmer attire who will not only entertain you with his love for traditional Cuba; he will fill your belly with delicious food.
The rum flows freely in his patio restaurant and plate after plate of delicious and flavourful food was brought to our table throughout our dinner. In all my trips to Cuba, I don't remember every eating food with seasoning! This is now on my must stop list if you are in the region. You must make reservations in advance. Check your hotel's tour desk for more information.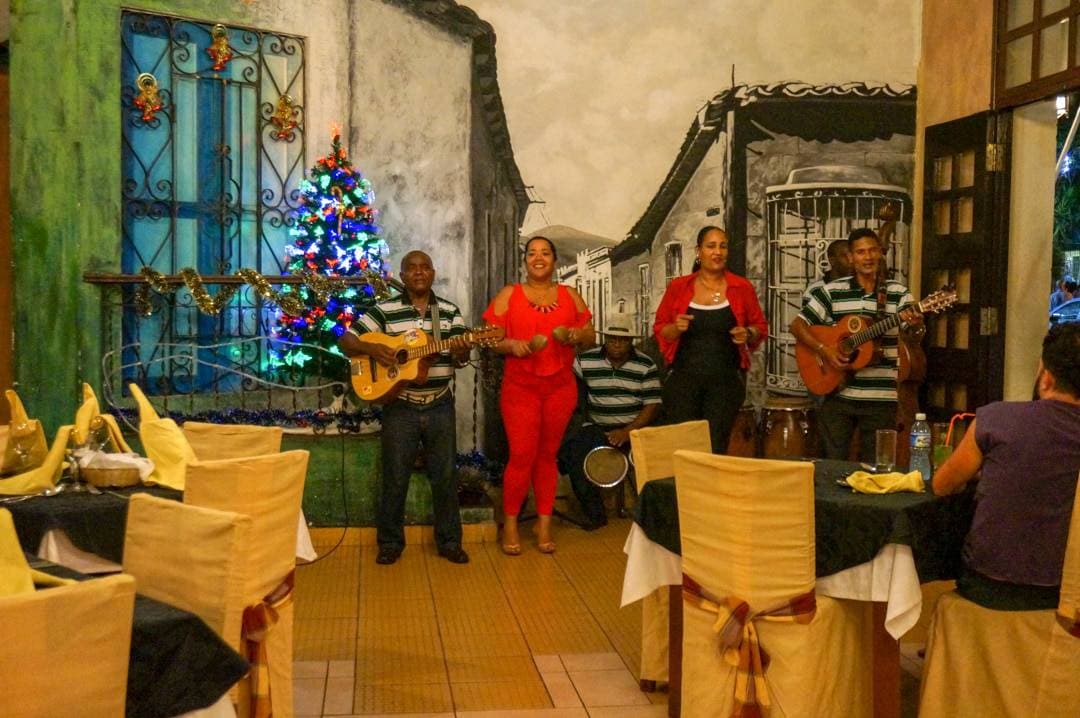 Matamoros Restaurant
We had a lovely dinner in this downtown Santiago de Cuba spot. With live musicians serenading us we enjoyed a big dinner which included plates of chicken, fish, fried plantains, and rice.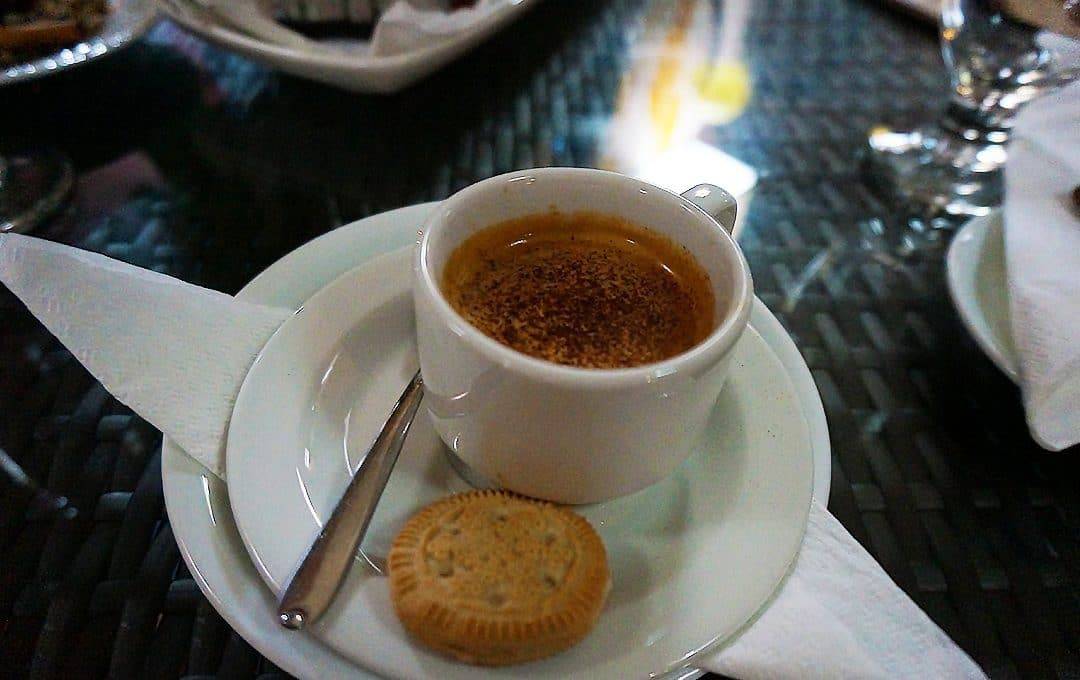 Constantin Café
Across the street from Matamoros, Constantin Café was the perfect stop for a caffeine fix before our stop at Tropicana Nightclub. Serving Cuba's Serrano coffee, they have a full menu of coffee options and are open 9-9 each day.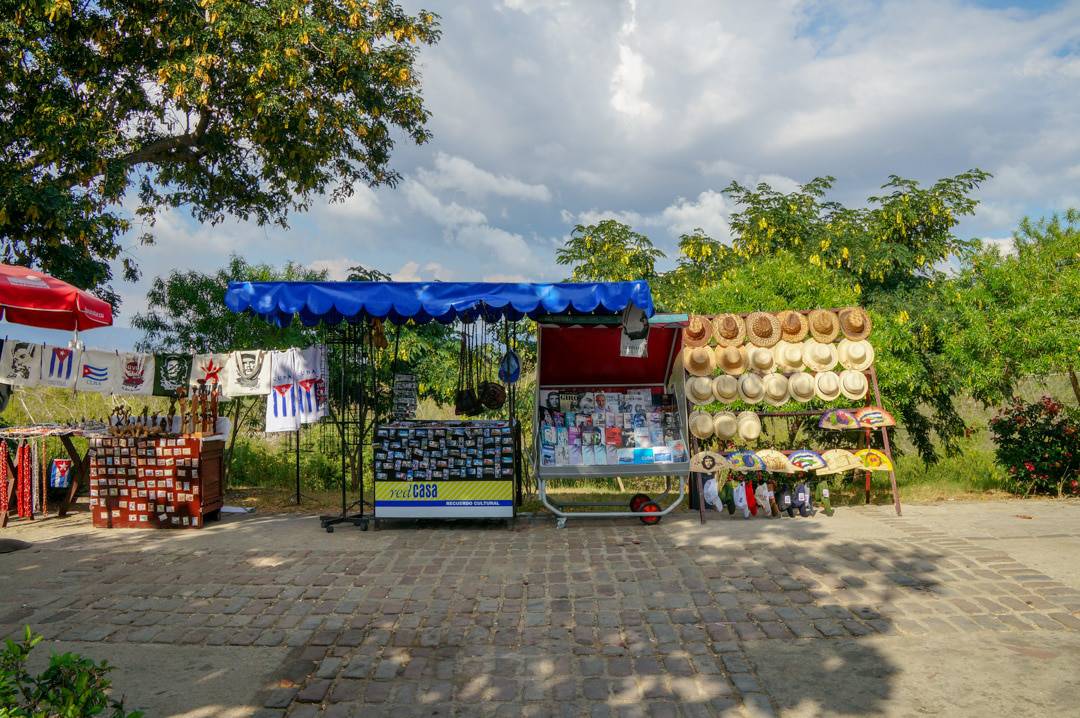 Shopping Stops in Santiago de Cuba
Vendors at El Morro Castle
If you are looking for good buys on Cuban souvenirs, then be sure to take a close look at all the vendors at Fortress mentioned above. I say this because is one of the first shopping choices I had on my trip and later I realized they had good bargains and variety of products there. From domino sets, carvings, paintings to other trinkets you will likely find a good deal here.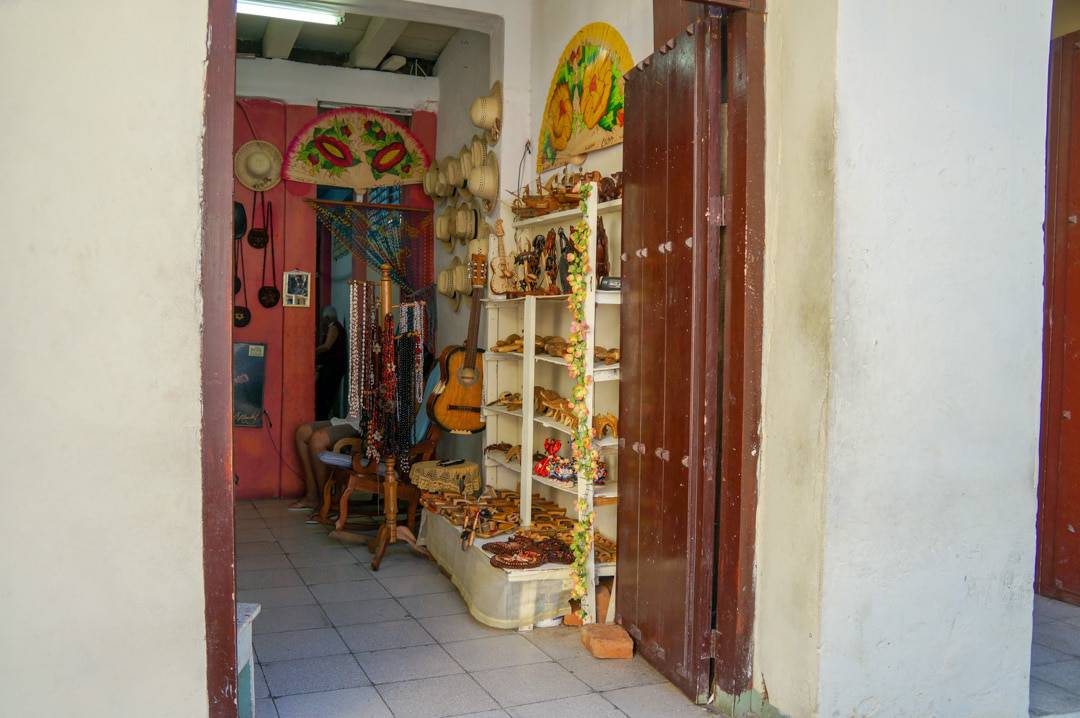 Enramadas Pedestrian Shopping Street
In downtown Santiago de Cuba the main shopping street to look for is Enramadas. Filled with cafes, pubs and little stores, it is a must visit even if you're not shopping.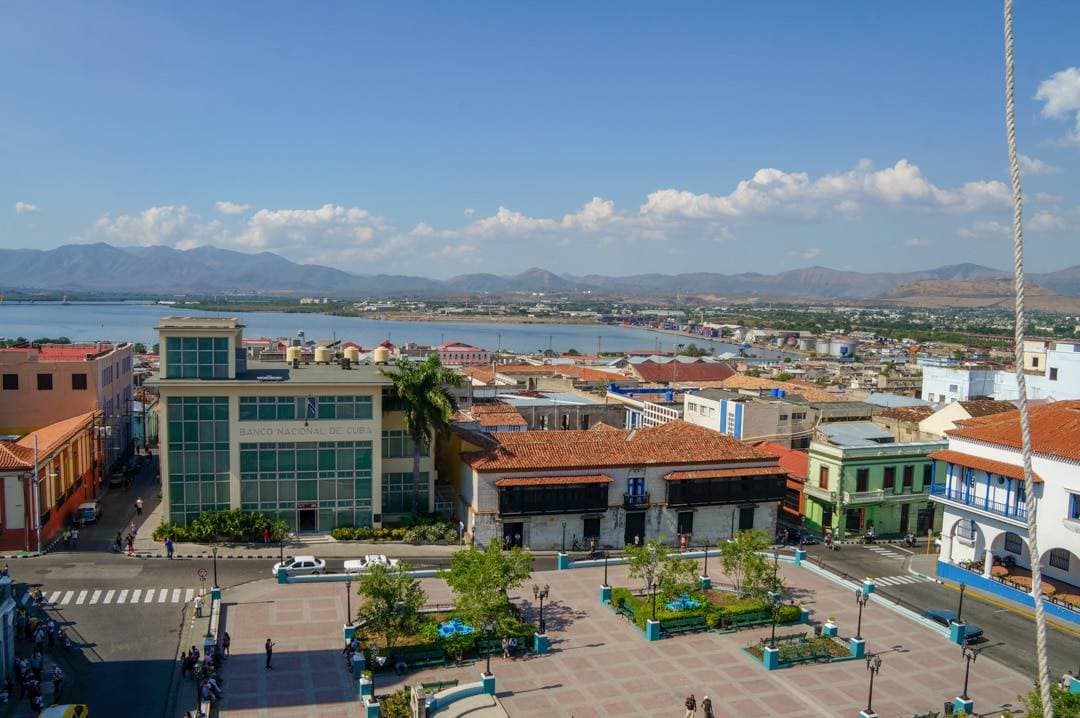 Santiago de Cuba Best Views
Hotel Casa Granda Rooftop Patio
Once you reach Santiago De Cuba's Cespedes Square, keep an eye out for Hotel Casa Granda. Take the elevator in the main lobby up to the 5th floor. They have an incredible rooftop patio with a 360-degree view of the city of Santiago de Cuba from above. Be sure to grab a good seat and order a refreshing mojito while you are there – I promise you won't be disappointed.
Melia Hotel Santiago de Cuba Rooftop Patio
A top the Melia hotel is another rooftop patio with a panoramic view of the city by day and night. Many of the hotel's rooms also offer spectacular views of the city and the mountains surrounding it.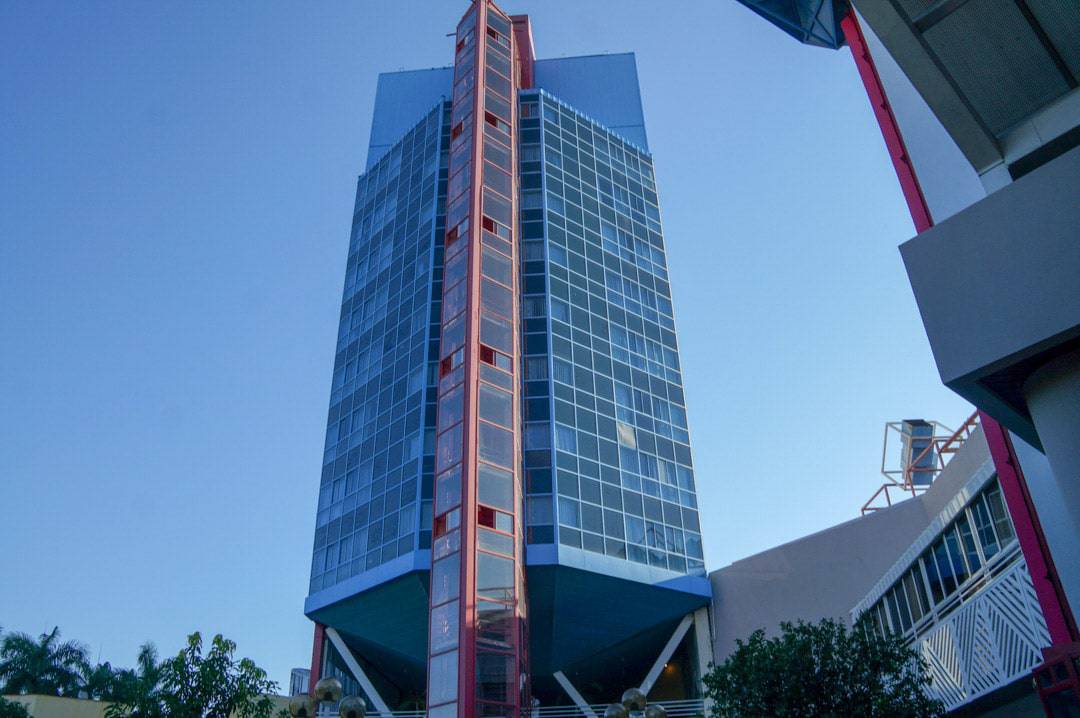 Best Hotel in Santiago de Cuba
Melia Santiago de Cuba
This hotel is not an all-inclusive option. However, the Melia Santiago de Cuba is the perfect place to stay if you are doing a city tour of Santiago de Cuba. Located close to many of the attractions and the downtown core Melia's rooms offer a spectacular view of the city. The non-smoking hotel has wifi services available (with the purchase of a wifi card) both in the lobby, and I was able to get service in my room too. There is no beach in the city center, but their pool offers a great Oasis away from the heat.
For more on this hotel: Review: Melia Santiago de Cuba Hotel. You can also read reviews on the Melia Santiago de Cuba at TripAdvisor.
Daily Dream 360° Cuba Coverage
See these posts for more Cuba travel planning ideas: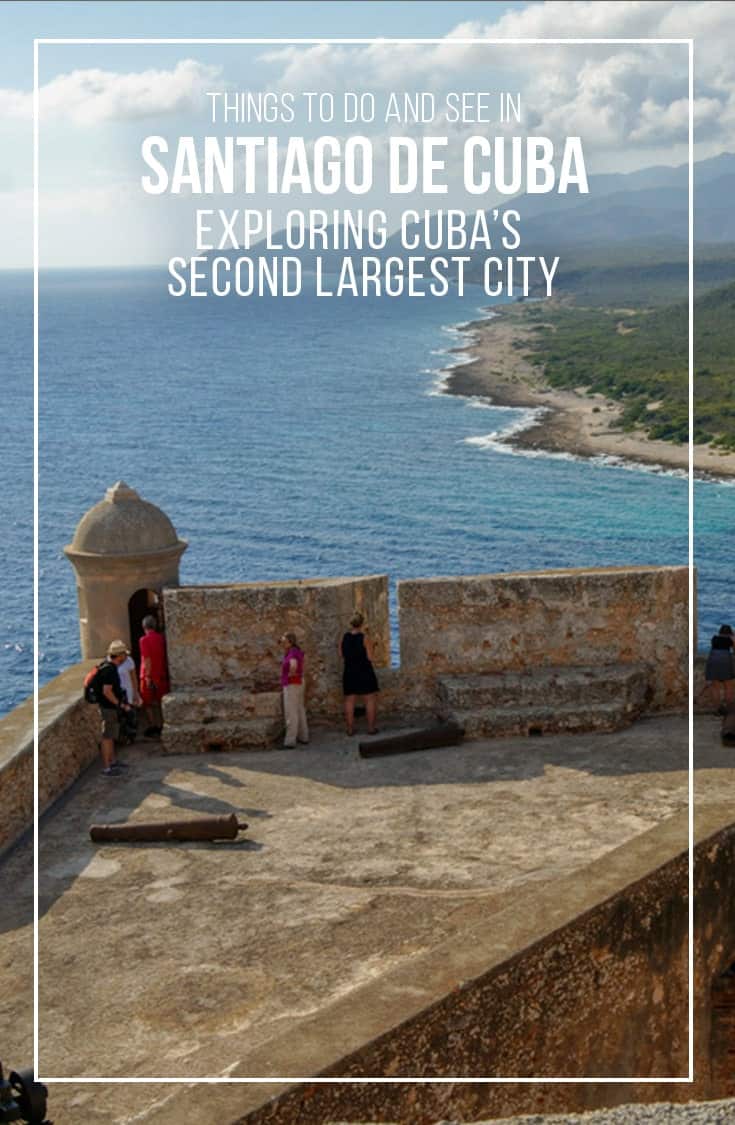 For help planning your dream trip to the Real Cuba:
Cuba Tourism: Consulate General of Cuba – Tourism Section
Tour Operator: Cubatur (use the "translate this page" option on Google Chrome)
Note: You can book many of these tour options directly with your hotel's tour desk in Cuba or through your travel agency.
Travel assistance provided by the Ministry of Tourism of Cuba however, the opinions expressed in this post are my own.