This article may contain affiliate links. Clicking on or purchasing products we recommend through a link may earn a small commission. Read our disclosure and privacy policy page for details. *COVID-19 TRAVEL ALERT – Travel recommendations offered on this site are not to encourage you to travel against travel advisories.
Have you jumped on the face roller beauty crazy? Likely you have seen these gemstone face rollers on one of your social media feeds. When I first got one in a beauty box myself, I thought, what does this face roller do? What are the benefits of a face roller? Which gemstone roller should you choose? So many questions, so let's understand face massage and rollers.
Dream it.
If you're planning a trip that involves a pool, lake, or beach of any kind and you don't want to buy a special waterproof camera or action camera, then a waterproof pouch for your phone could just be the solution you are looking for. Most of us have replaced our cameras and choose to travel with our phones and while there are some water-resistant models out there, protecting your phone with a waterproof pouch could save you a costly repair or replacement.
What are the Benefits of Face Rollers
I started looking everywhere for real facts on this beauty craze. Is it going to make us younger or decrease signs of aging – that is debatable. It will depend on if you are using anti-aging creams and serums with the roller.
However, there are several reported benefits of rolling these gemstone rollers on your face, including:
It helps spread skin creams and serums over your face.
Stimulate blood flow and improve blood circulation.
Soothe and cool the skin.
Decrease puffiness or under-eye bags.
Clear your sinuses.
So how does the roller perform these miracles? The rolling action helps increase the lymphatic drainage of the face, and this is known to get rid of toxins, stimulate blood flow and reduce swelling and puffiness.
Read more: Vichy Neovadiol Line Up of Anti-Aging Skincare Products For Mature Skin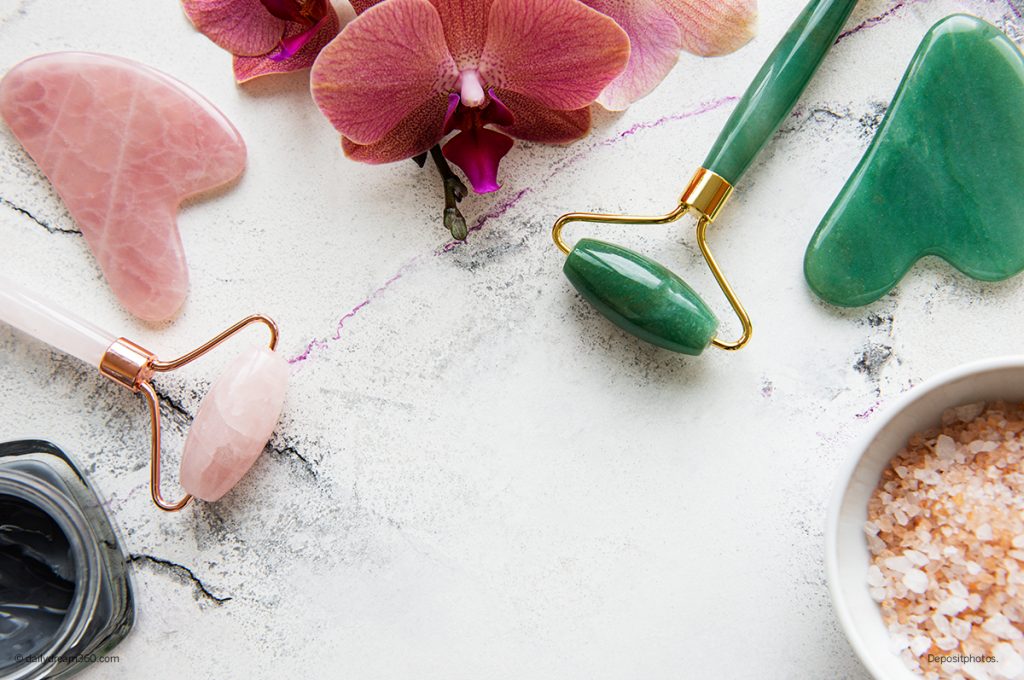 Plan it.
How to Use a Facial Roller
Using the tool is very easy. Apply a little of your favourite anti-aging skin cream or serum to your face and gently roll the jade roller upward (try not to roll down).  Use the large roller for areas like your cheeks and forehead and use the slimmer roller for areas under your eye, lip area or creases beside your nose. 3-5 Rolls in each area on your face should do it.
Start with your the base of your neck and roll up towards the jawline.
Then move to your cheeks and cheekbones rolling upward and outwards towards the hairline.
Don't forget to roll above the lips and in the creases next to your mouth.
Roll along your brows and up your forehead to your hairline. 
Tip: To soothe and cool your skin, store the face roller in the refrigerator.
How Often Should You Use a Jade Roller?
You can add this beauty tool to your daily skincare regiment. When applying your skin cream or serums, use the roller to spread the lotion on your face.
Read More: Best Foundation for Aging Skin Over 50
Types of Crystal Face Rollers
When researching which face roller to buy, you will see that there are many different types of face rollers on the market today.
Read more: Essential Beauty Products You Can't Live Without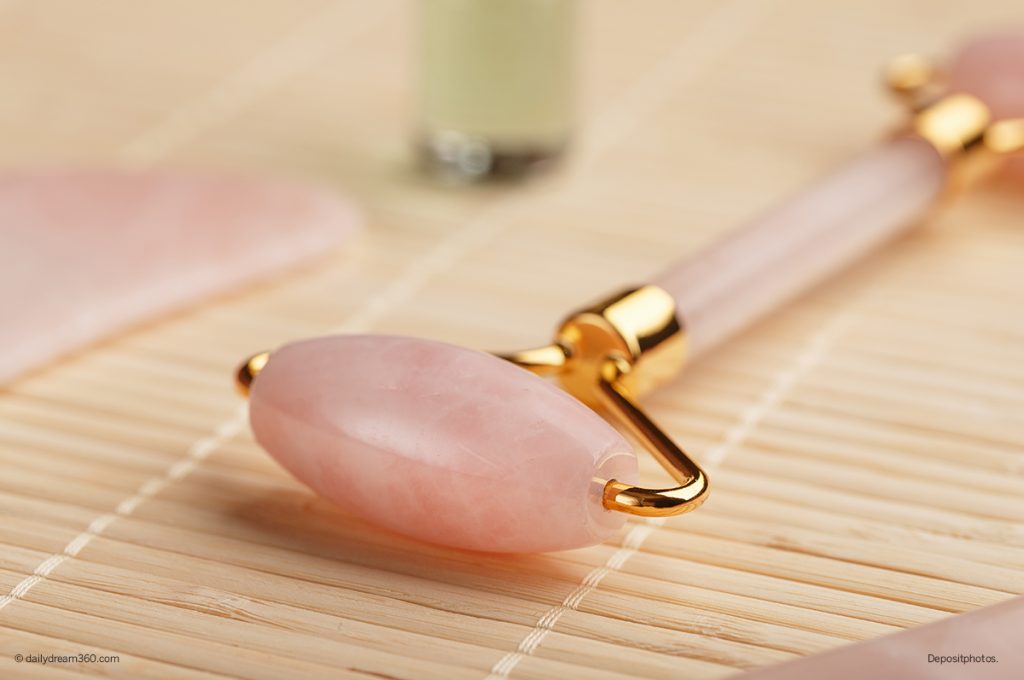 Live it.
Which Gemstone Facial Roller Should You Choose
If you believe in the healing power of crystals, you might be interested to learn the additional healing benefits of each one.
Benefits of Jade Facial Rollers
Jade is a stone often referred to as the lucky crystal that promotes love, gentleness and nourishment. Jade, commonly used in Chinese medicine, stays cool, making it great for face massages.
Benefits of Rose Quartz Face Roller
Rose Quartz is a crystal that represents self-love and care. Many believe it can attract love.
Benefits of Amethyst Face Rollers
Amethyst is a crystal known as the cure-all. It's healing properties are said to help relieve stress, soothe irritability, balance mood swings, and curb fear and anxiety.
Benefits of Obsidian Face Rollers
The Obsidian stone is known as a cleanser and believed to shield against negative energy. As a face roller, this stone promotes detoxification of the skin, although there is no scientific proof.
Benefits of Textured Face Rollers
Many of the crystal rollers are now available in textured models. In addition to the stone's benefits, the textured roller offers deeper penetration into the skin without puncturing it.
Benefits of Electric Face Rollers
If you have the budget, you may want to invest in a 2-in-1 roller with a crystal roller but also offers a microcurrent or vibration to help stimulate the skin further.