This article may contain affiliate links. Clicking on or purchasing products we recommend through a link may earn a small commission. Read our disclosure and privacy policy page for details. *COVID-19 TRAVEL ALERT – Travel recommendations offered on this site are not to encourage you to travel against travel advisories.
One of the things I thought I was going to have to give up when I reduced the sugar in my diet was baking. However, I'm learning to take low carb ingredients like Carbquik® and make sugar free baking fun. Today I am sharing a sugar-free biscotti recipe great for keto and low sugar diets.
Dream it.
If you're planning a trip that involves a pool, lake, or beach of any kind and you don't want to buy a special waterproof camera or action camera, then a waterproof pouch for your phone could just be the solution you are looking for. Most of us have replaced our cameras and choose to travel with our phones and while there are some water-resistant models out there, protecting your phone with a waterproof pouch could save you a costly repair or replacement.
When I first switched to a low-sugar diet, a company sold sugar-free biscotti in our local low-carb store. When that company closed, I was devastated, having a little crunchy treat with my afternoon coffee was a favourite part of my day.
I started researching sugar-free recipes and looked for the easiest low carb biscotti recipe I could find.  They all seemed very complicated. Then I discovered Carbquik flour and decided it was trying to master a sugar-free biscotti recipe.
Plan it.
Making Sugar Free Biscotti with Carbquik® and Carbalose®
What is Carbquik Flour?
Carbquik's main ingredient is enzyme-enriched wheat. The Carbquik® and Carbalose® combination create a flour-like product with minimal carbohydrates. The promise is you can make almost any recipe calling for a baking mix, so from biscuits and pancakes to cookies and scones, there is much to create.
Read more: See more Carbquik Recipes here.
Alternative Low Carb Biscotti Recipe with Almond Flour: you can use other gluten-free bake mixes or almond flour in this recipe.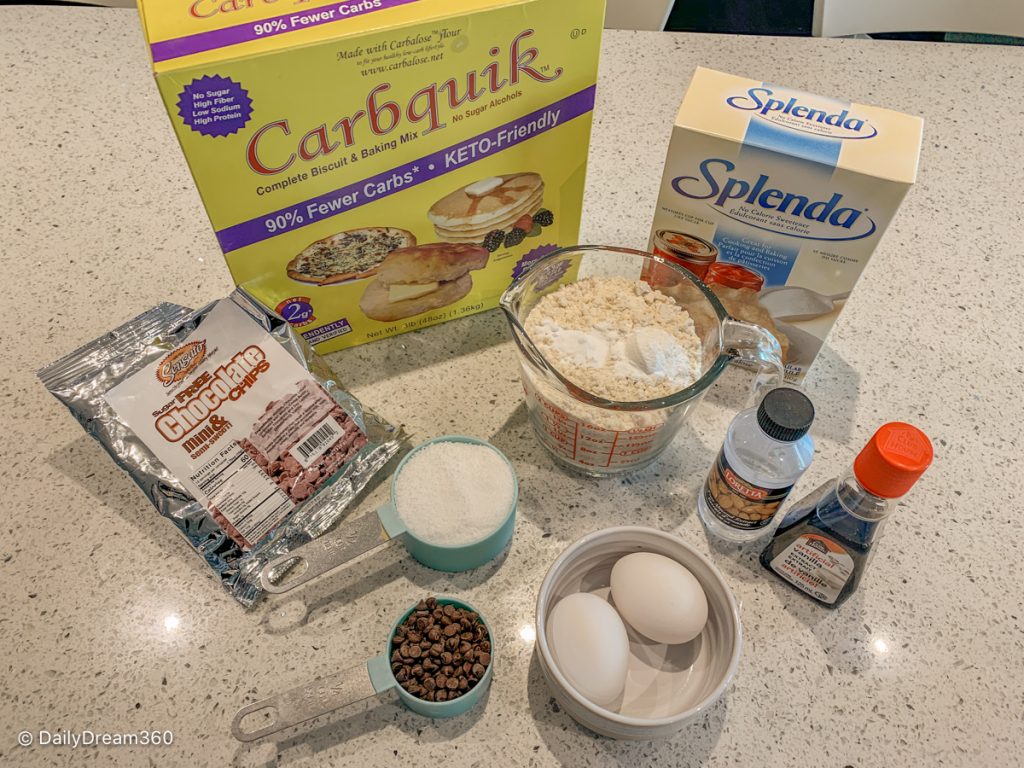 Low Carb Biscotti Recipe Tips
You can make plain biscotti flavoured with the almond extract, or you can add some nuts or sugar-free chocolate chip to the mix. My tip is first to prepare the dough and add your extras after you have divided the biscotti dough in two.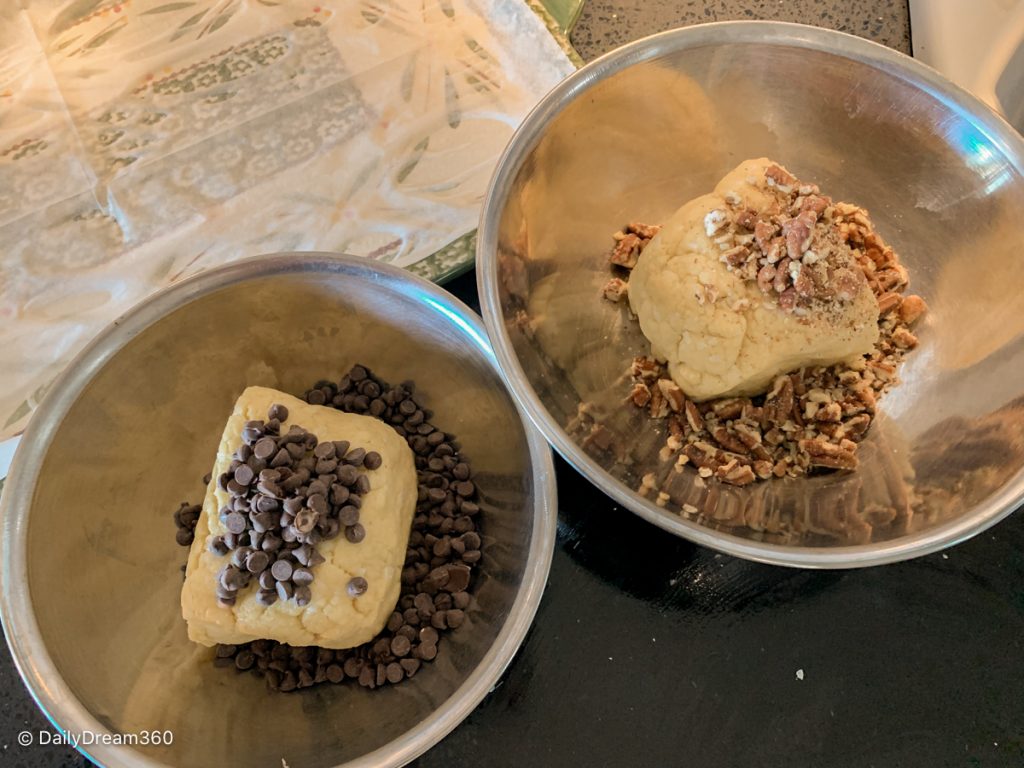 That way, you can make two different types of biscotti in one batch. Mix the sugar-free chocolate chips in with the dough and then form long rectangular log shapes. Ensure you spread these out on the baking sheet, as the log will expand in the oven when baking.
You will want to slice the two loaves while they are still slightly warm. Then place the slices onto the cookie sheet to dry off in the oven.
Some helpful tools you will need for baking these biscotti include:
Live it.
Easy to make sugar-free biscotti recipe made with low carb Carbquik flour. Add chopped pecans, sugar-free chocolate chips or your favourite flavour to the mix and enjoy.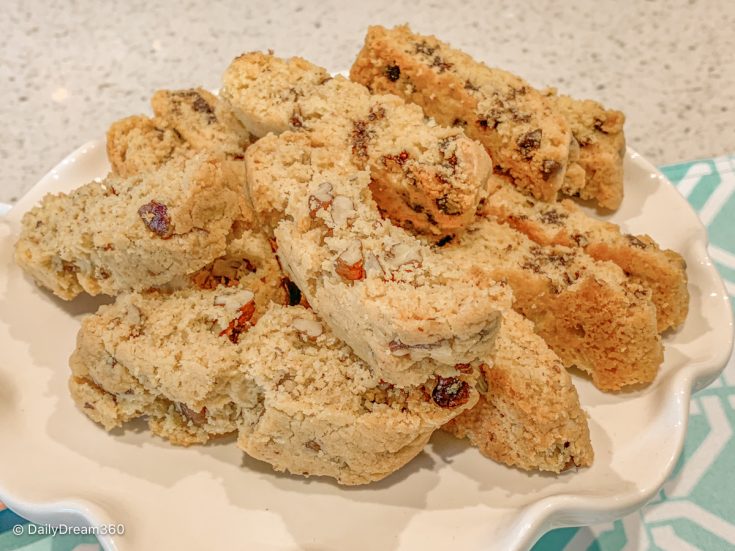 Yield:

36 Pieces
Low Carb, Sugar-Free Biscotti Recipe with Carbquik®
Additional Time:
20 minutes
Easy to make sugar-free biscotti recipe made with low carb Carbquik flour. Add chopped pecans, sugar-free chocolate chips or your favourite flavour to the mix and enjoy.
Ingredients
1/2 cup Canola Oil
1 cup baking SPLENDA® or erythritol sweetener
2 Large Eggs
1/4 tsp. almond extract
2 cups Carbquik
1 tsp. Baking Powder
1/2 tsp. Baking Soda
1/4 Cup Pecans (optional)
1/4 cup Sugar-free chocolate chips (Optional)
Instructions
Preheat the oven to 350°F. Line 2 cookie sheets with parchment paper.
In a mixer blend the oil and baking SPLENDA® together.
Add eggs, one at a time, mixing well after each addition. Add extract. Continue mixing until blended.
In another bowl, mix Carbquik, baking powder & baking soda. Add the flour mixture into the oil and egg mixture in the mixer until blended. (add more oil to the dough if it appears crumbly.
Divide the dough into two. If you would like to add nuts, sugar-free chocolate chips to the mix you can add it to the entire dough mixture or use two different flavour combinations.
Shape each half of the dough into a log approximately 2 inches wide by 12 inches long.
Bake in a preheated 350°F oven for 20-25 minutes.
Remove the baking sheet from the oven and cool for 5 minutes. Turn oven off.
Slice the warm loaves with a sharp knife into 36-48 slices, approximately 1/2 inch wide.
Place the sliced biscotti back on the baking sheet on their sides and put back in the oven (which is turned off) to dry out for 15 to 20 minutes.
COOL and store in airtight container.
Notes
Add nuts, dried foods and other flavours to the recipe.
Nutrition Information:
Yield:
36
Serving Size:
1
Amount Per Serving:
Calories:

46
Total Fat:

4g
Saturated Fat:

1g
Trans Fat:

0g
Unsaturated Fat:

4g
Cholesterol:

10mg
Sodium:

35mg
Carbohydrates:

1g
Fiber:

0g
Sugar:

1g
Protein:

1g
The information contained in this website is for general information purposes only and is not meant to substitute professional dietary advice or treatment. Please see our Nutrition Disclaimer for details.