This article may contain affiliate links. Clicking on or purchasing products we recommend through a link may earn a small commission. Read our disclosure and privacy policy page for details. *COVID-19 TRAVEL ALERT – Travel recommendations offered on this site are not to encourage you to travel against travel advisories.
My heart was beating out of my chest and my throat raw from screaming. I braced myself for the next round keeping a watchful eye on the silver-haired women on either side of me. Both were inching closer and ready to pounce. The sound of music got louder, as the float approached. The people in the crowd started screaming.  "Hey, Mister throw me something!" I was terrified to get hit with the beads, but at the same time praying I could grab something before these women beside me snatched up the loot. The float moved slowly by and the frenzy to catch and collect the beads grew wild. Then a marching band marched behind the float while we reset waiting to repeat the excitement. This was the parade scene during  Mardi Gras in Lafayette Louisiana.
Dream it.
The Dream of Celebrating Mardi Gras in Louisiana
For many, the dream of celebrating Mardi Gras starts in New Orleans. The beads flying in the air as bands play music in the street is a vision many of us have. Then there are the techniques people use to get the attention of those bead throwers. When I thought about it I have to be honest I didn't see myself in the middle of all that Mardi Gras Chaos.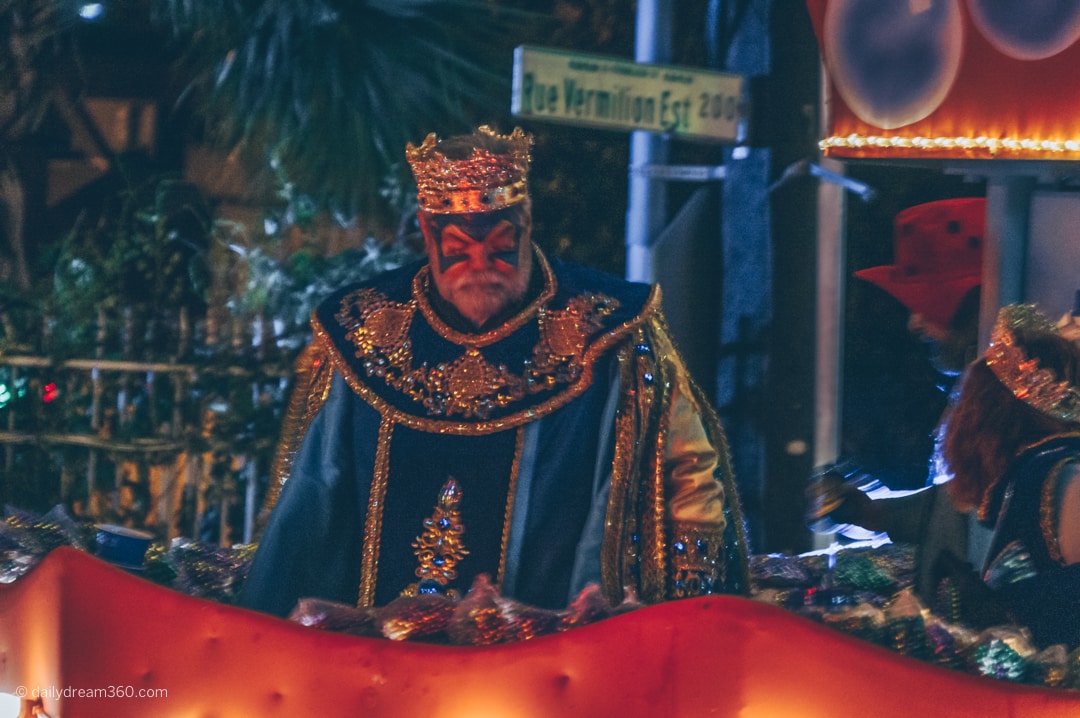 Then I learned of Lafayette, Louisiana and the promise of a family-friendly Mardi Gras party. I started to rethink my anxiety about what the crowded streets of New Orleans were going to be, and I wondered, maybe this is a great way to introduce me to the concept of Mardi Gras? A smaller, family-friendly approach to Mardi Gras in the heart of Louisiana's French community.
The more I thought about Lafayette, the more I realized this was the perfect introduction to Mardi Gras. I knew nothing about Mardi Gras; I just knew I wanted to experience it and the famous Louisiana Acadian culture.
Seafood, King Cake and Beignets. What a dream.
Plan it.
Getting to Lafayette
Flying into Lafayette Regional Airport LFT
From Toronto, I flew United Airlines to Houston with a connecting flight to Lafayette's regional airport (LFT). Depending on your departure airport you'll find that by air you will be travelling to Lafayette's airport with connections from either Dallas, Houston or Atlanta.
A word of caution. I had just over an hour layover in Houston for both my flights and both times there was a delay. I barely made my flight into Lafayette and never ran so fast through an airport as I did that day. Both times in Houston I had to run through the airport to catch my flights. Leave time for connections as space on the regional plane is limited.
Getting Around Lafayette LA
I recommend a rental car or your car if you plan on driving to the city. Getting around to the various attractions and neighbourhoods around the area will require a vehicle. That said during Mardi Gras transportation is limited on Parade days so be sure to plan and arrive before the parade route road closures are in place.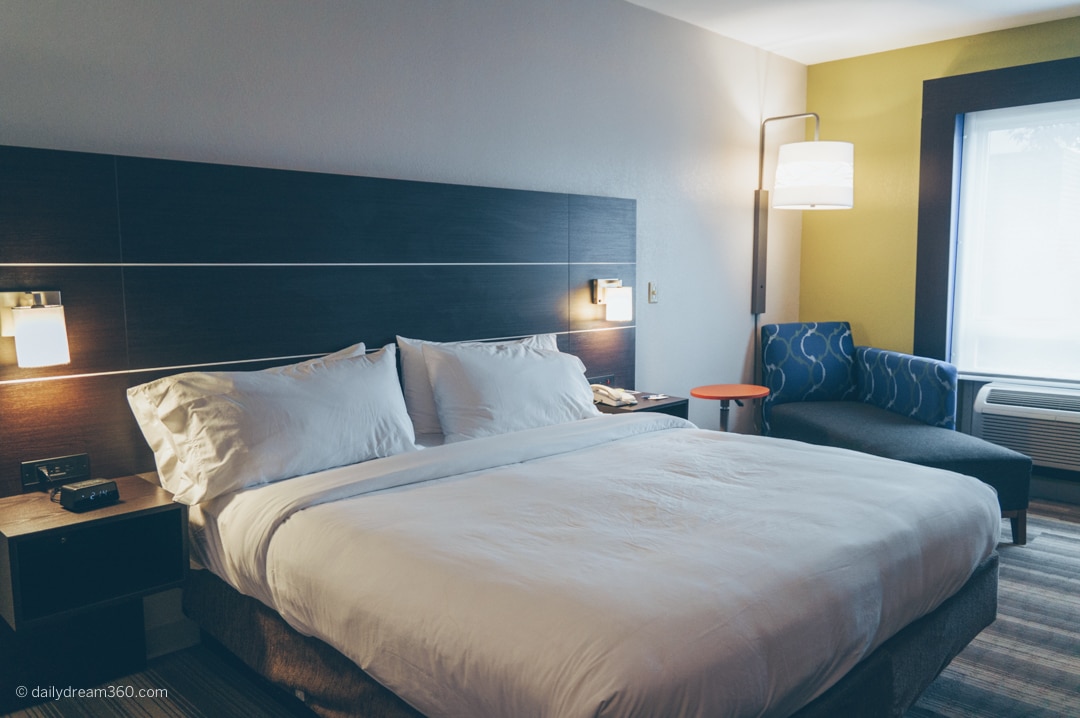 Where to Stay in Lafayette
Most hotels are scattered around the Lafayette area and include popular hotel chains like Hilton, Holiday Inn, Marriott etc.
Holiday Inn Express Hotel & Suites Scott-Lafayette West
We stayed at the Holiday Inn Express just outside the Lafayette city centre. The location along the highway was perfect for our site seeing as we visited rural communities nearby, the city centre and popular attractions that required a bit of a drive.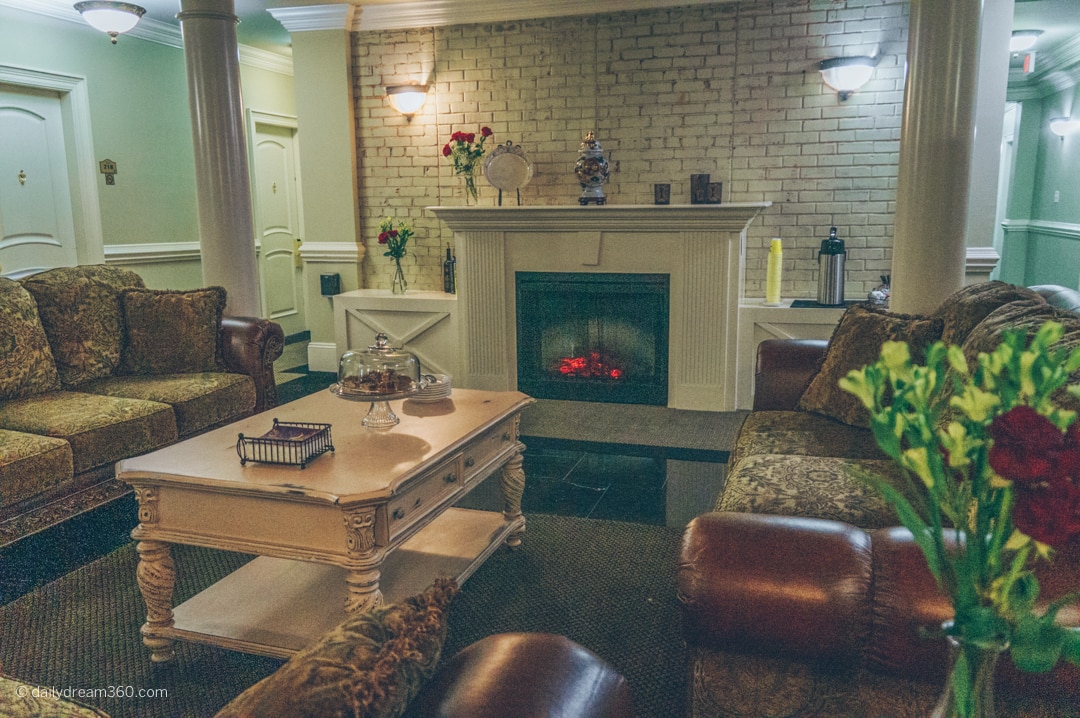 Hotel Juliet
If you would like more of a boutique hotel experience, the Hotel Juliet is located right in downtown Lafayette. It was steps from local shops and restaurants and provided a lovely intimate lodging experience. For access to parade routes, this is a great place to stay.
Packing for Mardi Gras in Lafayette
I have to admit, that with all my planning and preparation I was a bit surprised by the weather on this trip. It was hard to pack for as the weather kept changing in the weeks leading up to my departure. At one point the temperature was 26°C, and on another day it was 2°C so a modified spring packing list which included a few winter items would have been ideal.
If you'd like to get in on the fun and dress for the Mardi Gras events, consider packing some face stickers and other bling to take along with you. Don't worry about beads, hats and other Mardi Gras clothing, but I wish I had packed some costume make up for this trip.
What You Need to Know about Mardi Gras Parades
The scene from the intro was my very first Mardi Gras parade held by the Krewe of Bonaparte. Each Krew has a mission, for Bonaparte, it is to encourage young people to participate in the tradition of Mardi Gras in Acadiana.
Krewes are organizations that sponsor the parades and events in the region during the Mardi Gras Festival period. There are at least 20 Krewes in Lafayette which run several events during the Mardi Gras festival including parties, family fun days and of course Mardi Gras Parades.
You can see a full schedule of all the Mardi Gras parade and event details at Lafayette Travel.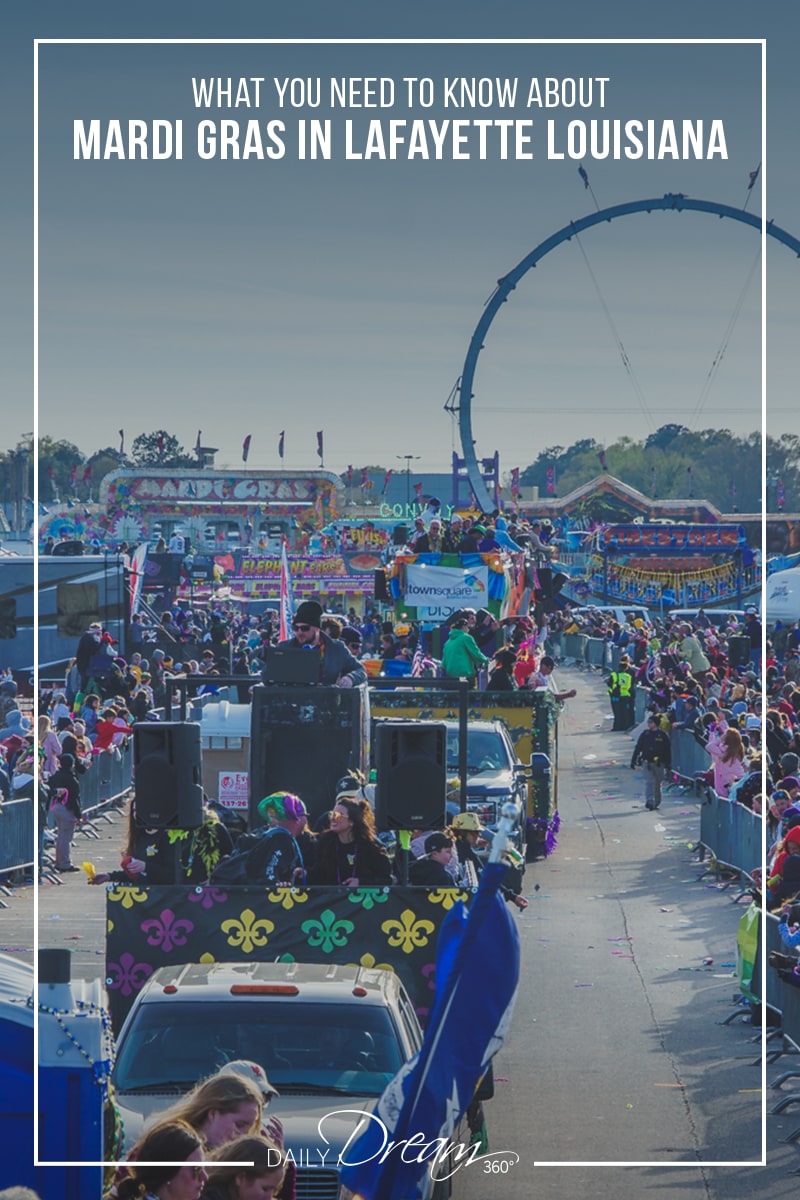 When is Mardi Gras?
The dates change according to the Catholic Church calendar. What you need to know to plan your trip is that Mardi Gras day is 46 days before Easter the day before Ash Wednesday. Celebrations, however, start weeks before 12 days after Christmas. For travellers, the heart of the events is in the previous 1-2 weeks leading up to Mardi Gras day.
What You Need to Know about a Mardi Gras Parade in Lafayette LA
Here are a few tips for attending a Mardi Gras Parade.
Arrive early: The most important tip is to get downtown to the parade route early. Road closures will make it hard to get in and out of the area. Find a spot along the route and hang on to it.
Bring a folding chair if you can as you may be waiting at least an hour for the parade to start. Once the parade starts, everyone will be standing.
Don't worry about being right up at the barricades we were three rows deep and were still able to catch lots of beads and prizes.
Stay alert some of the beads are bulky, and other toys and souvenirs are being thrown into the crowd.
People can be very competitive about retrieving beads, so keep it light and enjoy the fun!
As with all large crowd celebrations, be sure to keep your bags close to you. An anti-theft bag or backpack would be ideal for keeping zippers locked.
Read more: Travelon has the Right Anti-Theft Bags in Styles you Want
Tips for Families Attending Mardi Gras Parades
Place a note in your child's pocket with information on how to contact you. Should they get lost it will help police services return your children to you. Find a spot where you and your family can stand comfortably; make sure your children know to stay behind the metal barricades.
Live it.
Lafayette's 360° Celebration of Mardis Gras
Little did I know when I arrived in Lafayette, that I would be getting a complete view of how Mardi Gras is celebrated. During my five day adventure, I discovered the history behind it, participated in rural community and city celebrations and even found myself on a float throwing beads in a parade.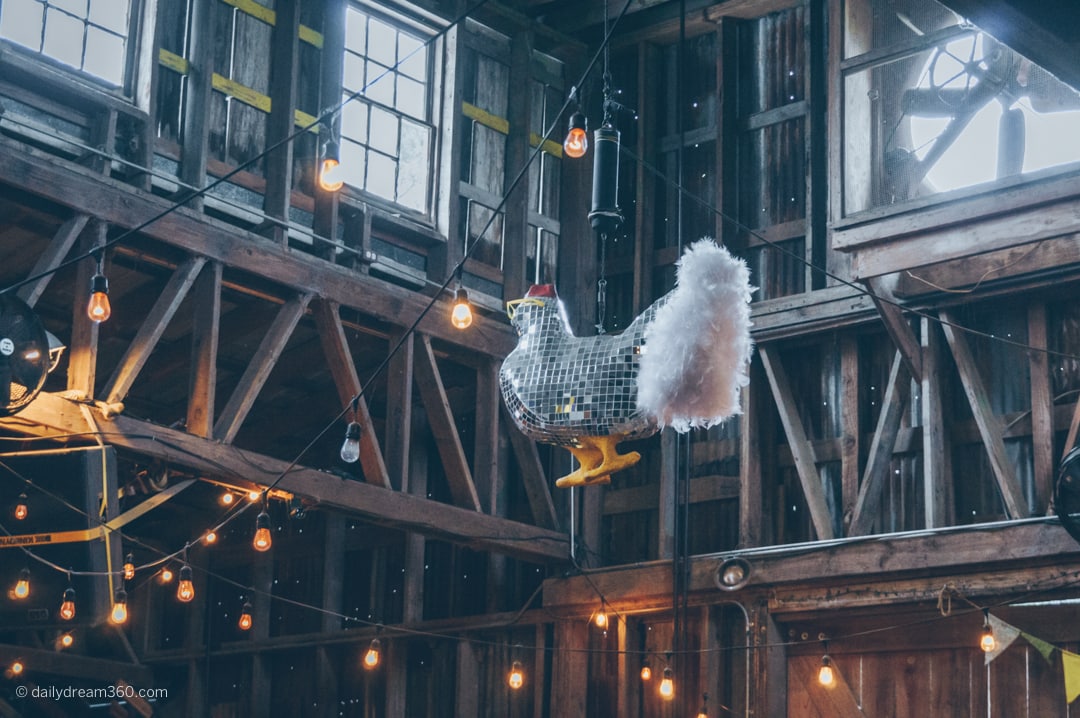 Rural Mardis Gras Celebrations
Lundi Gras Boucherie
A disclaimer on this Mardi Gras tradition for animal lovers this may offend you. The day before Mardi Gras each year a Pig is butchered, and the best local chefs take various pieces to create dishes that the crowd enjoys later.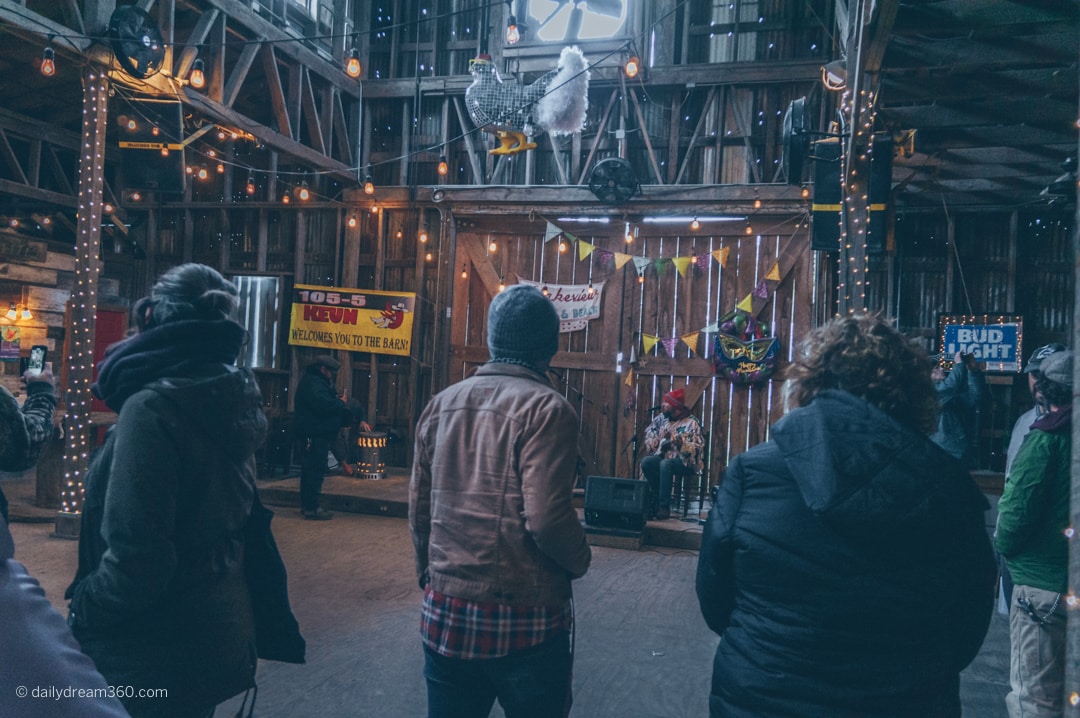 The event takes place in Eunice Louisianna at Lakeview Park. It was a cold morning, so we huddled inside the disco barn as Zydeco musicians performed. Attendees of the annual event enjoyed the time talking to the chefs about their cooking and split time between the band and celebrations in the barn and the cooking activities.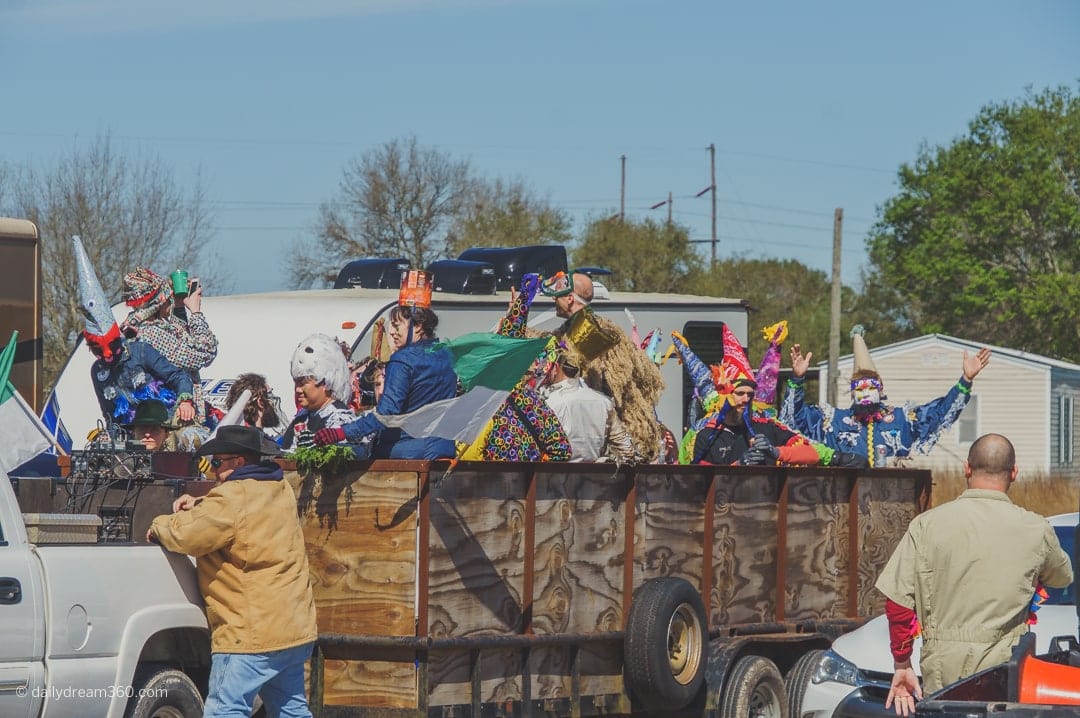 Courir de Mardi Gras Ossun Louisianna
The most exciting part of my trip to Lafayette was not the many parades I attended but, a rare look at what Mardi Gras used to be. On Mardi Gras day, we rode behind the riders of the Courir de Mardi Gras in Ossun Louisianna.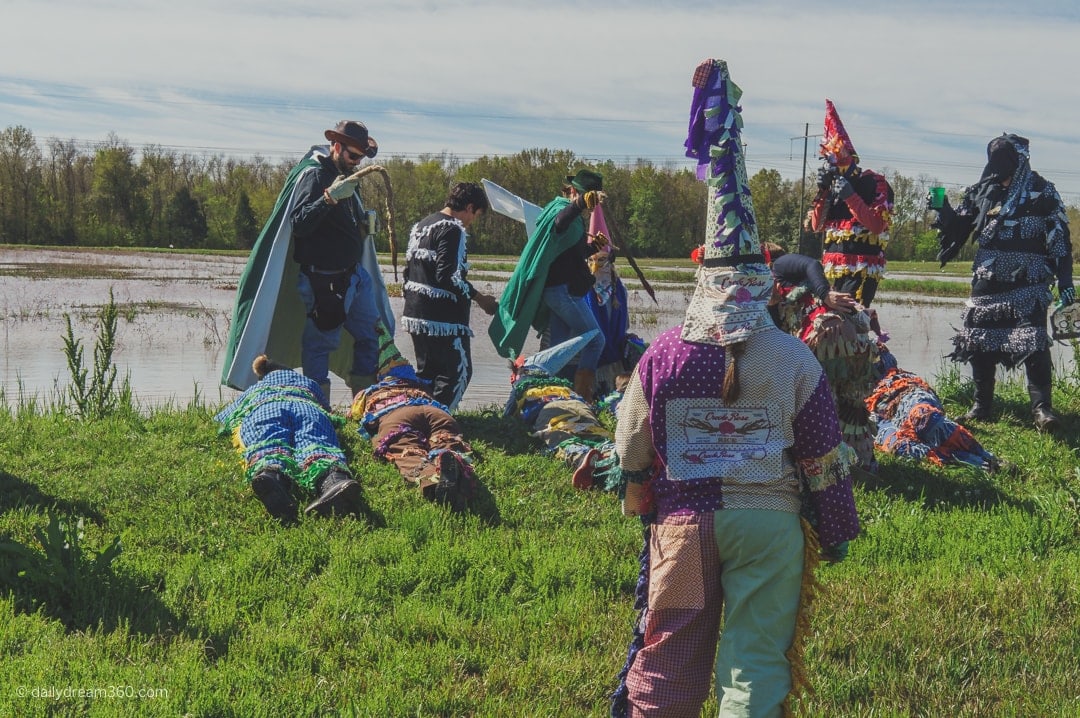 I didn't know anything about the history of Mardi Gras until I found myself surrounded by revellers dressed in their traditional Mardi Gras costumes begging me for coins. I watched the new riders get initiated and kept a safe distance back so as not to get accidentally sucked into the "fun." It was a bit of chaos, these clown-like riders playing tricks on people, chasing chickens, all while singing and dancing around the community.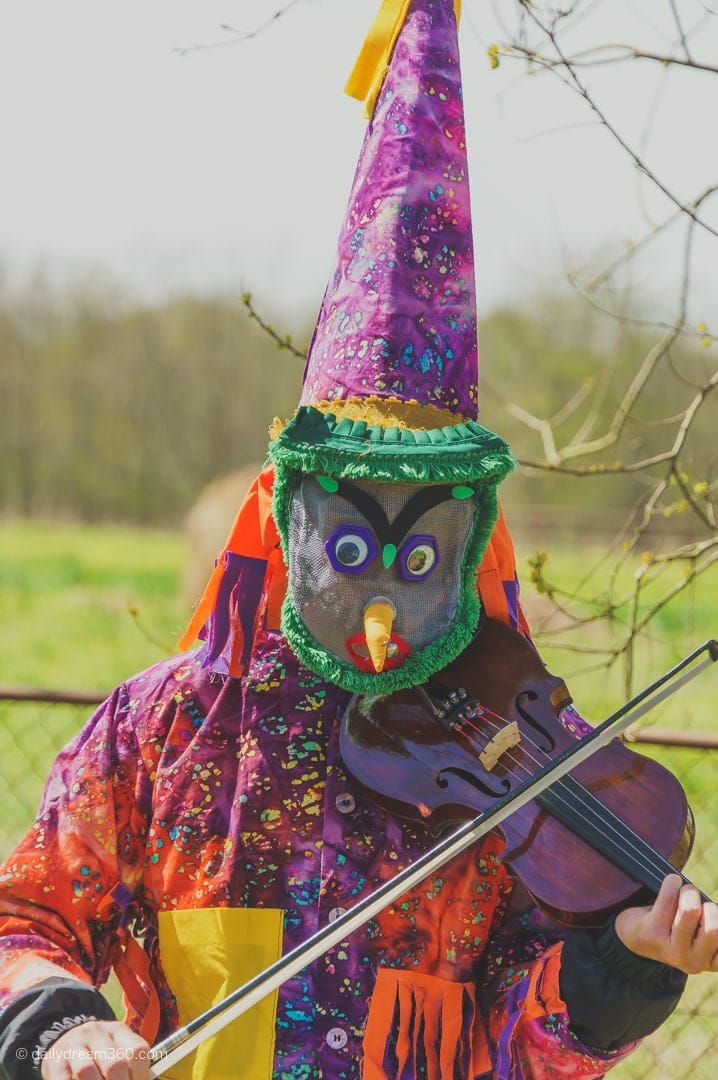 This celebration rooted in medieval times is centred around Le Capitaine, a caped man who looks like a pirate. He leads this crew of riders around town as they beg the residents for money and ingredients for their communal Gumbo.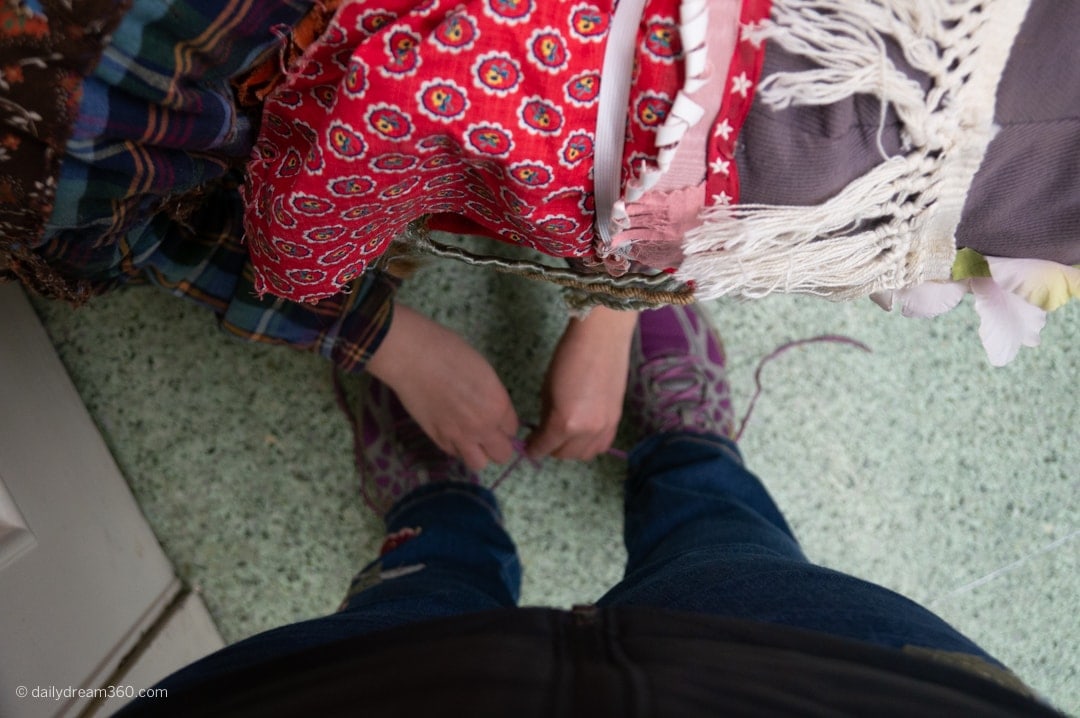 They stop at houses and local businesses in their community singing, dancing, playing tricks on those around them as they complete their mission.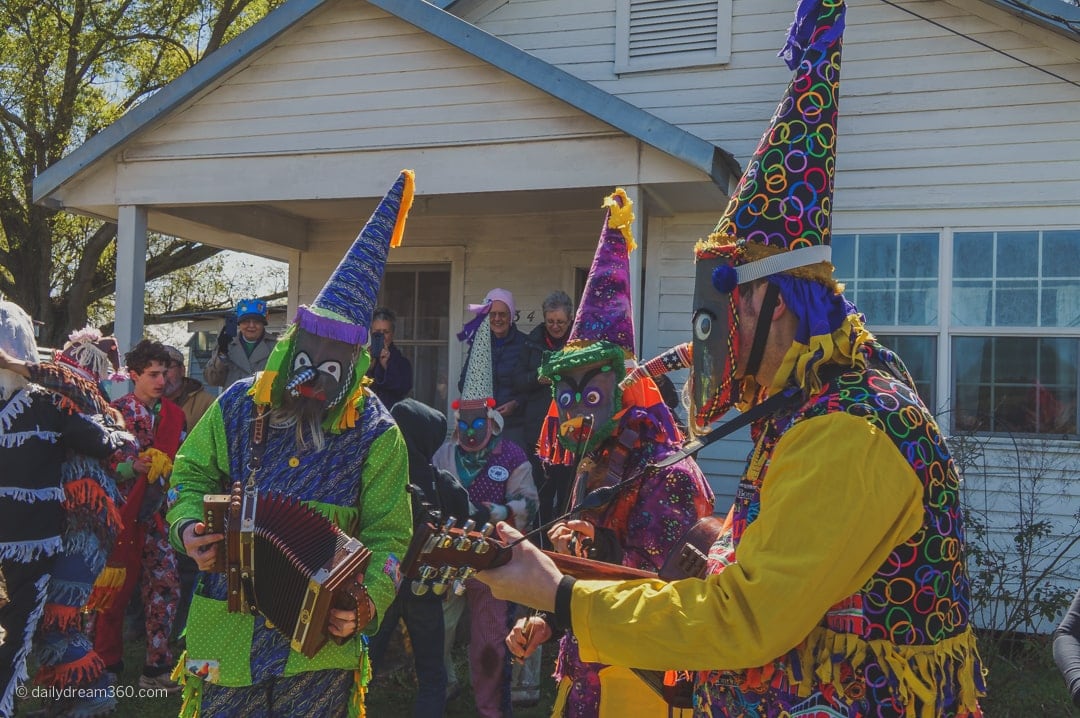 While this was a private affair, there are Courir de Mardi Gras events held which travellers can participate. I enjoyed this so much just watching it all go down around me I've added this to my bucket list. One day, I'm going to be a rider!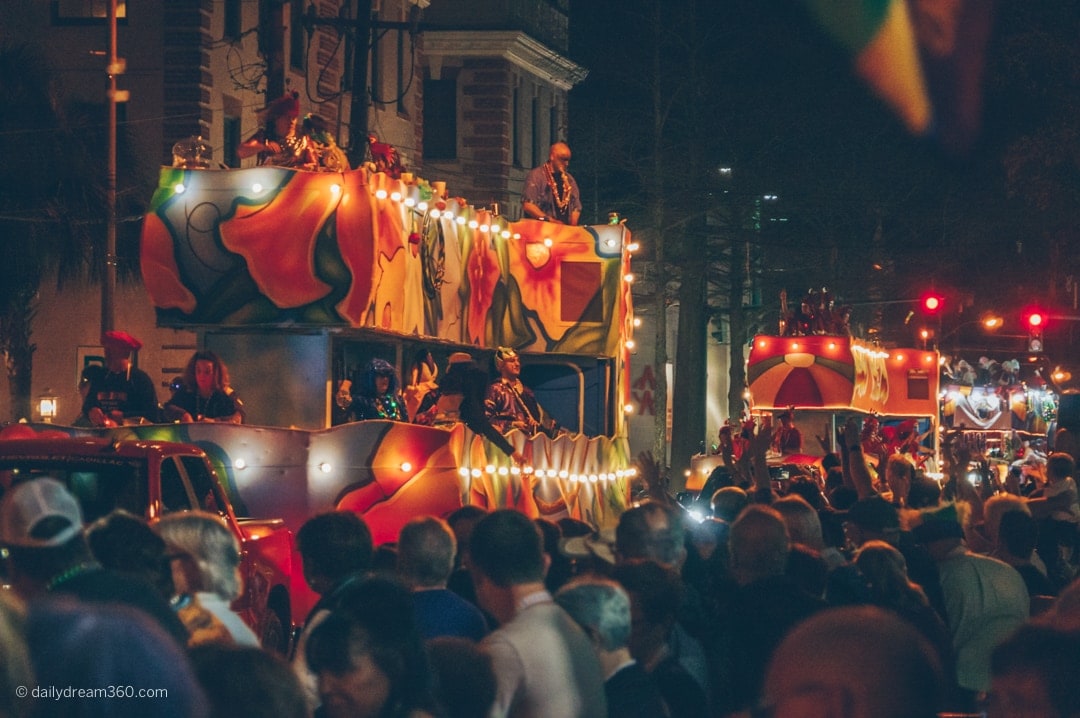 Things to do in Lafayette during Mardi Gras
Parades Leading Up to Mardi Gras Day
Krewe of Bonaparte Mardi Gras Parade Lafayette LA
This Friday night parade was set to start at 6:30 PM, however, we made our way to the grandstand area much earlier. With the many road closures and the crowds gathering it is better to arrive earlier.
Read more: Fun Things to do in Lafayette.
Find your spot anywhere along the fences. Honestly, the beads and prizes being thrown are thrown everywhere. You can be right up against the metal railings or stand back a few rows; it is all the same.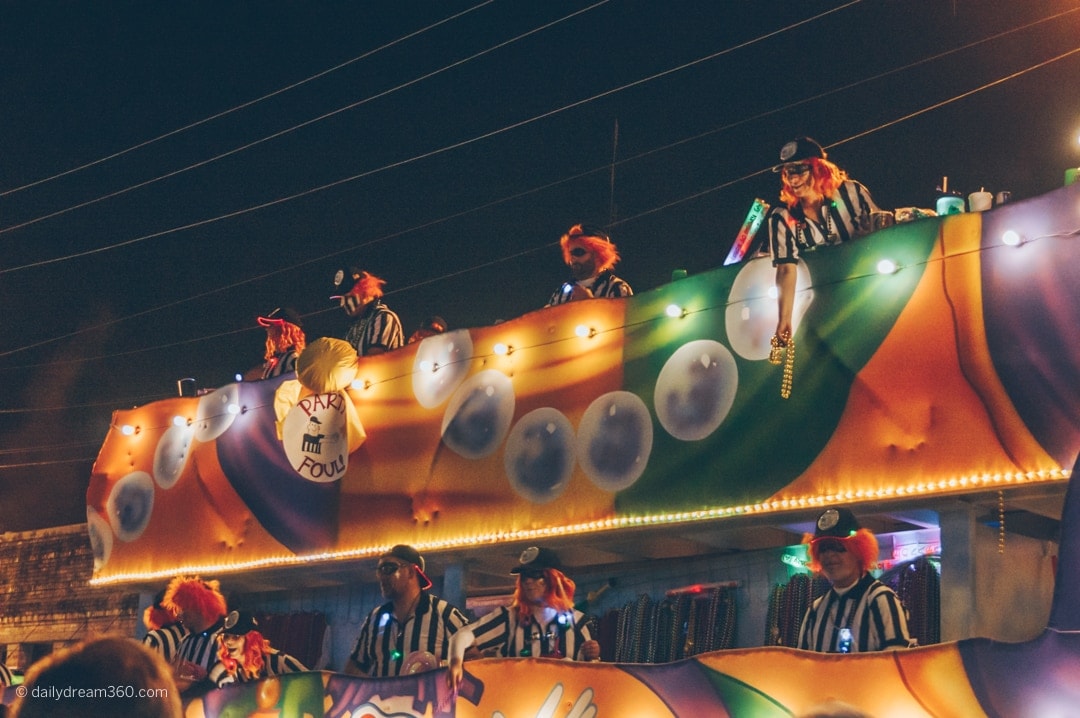 In dreaming this experience up, I didn't quite understand how scary it is, to be standing below looking up at a float as plastic bead necklaces showered down from above. My heart was racing, and I was terrified to get hit with them.
Competition to catch and gather loot was high at the Bonaparte Parade. People were snatching beads right out in front of me directly before I was able to make a catch. If they fell at my feet someone was there to snatch those away too.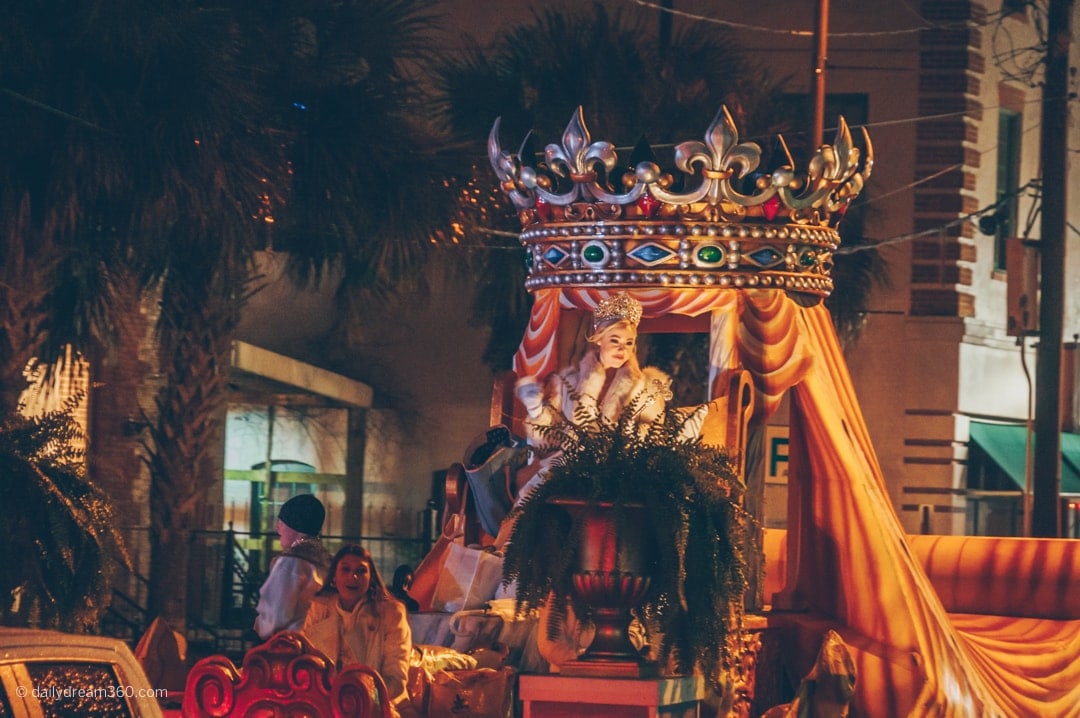 Queen Evangeline Mardi Gras Parade Lafayette LA
The little girl in me loved the Queen Evangeline parade. Kings and Queens sat in front of the floats as they threw beads down on the crowd.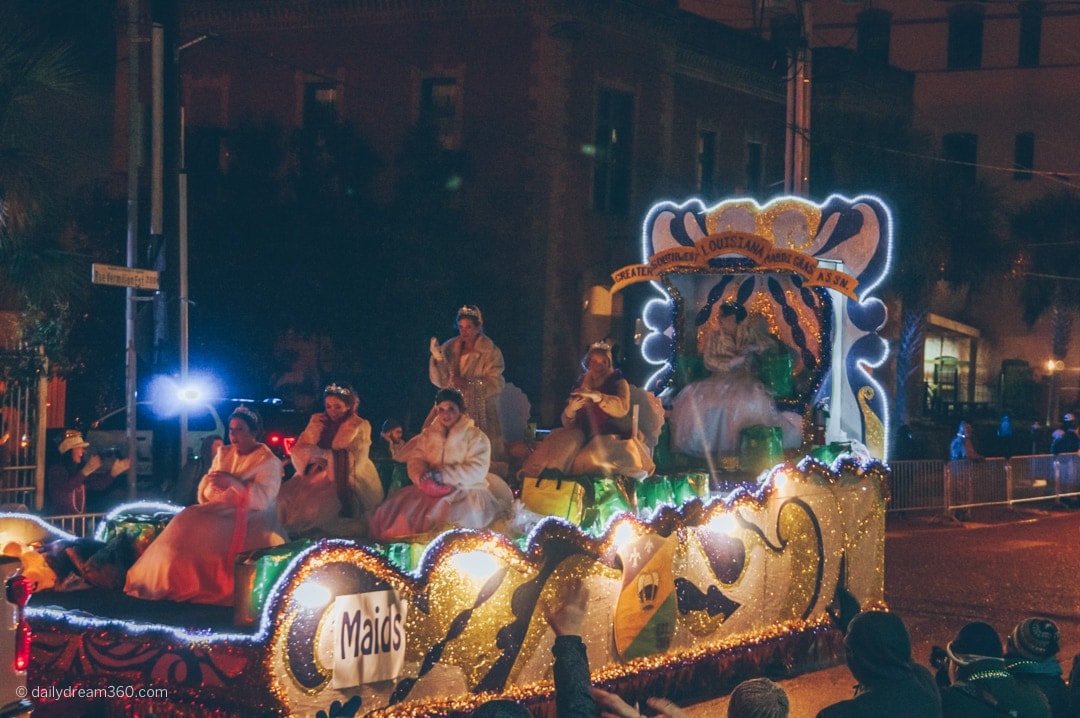 I was much more prepared for this parade too. I knew where to stand, how to fight for my beads and enjoy the night.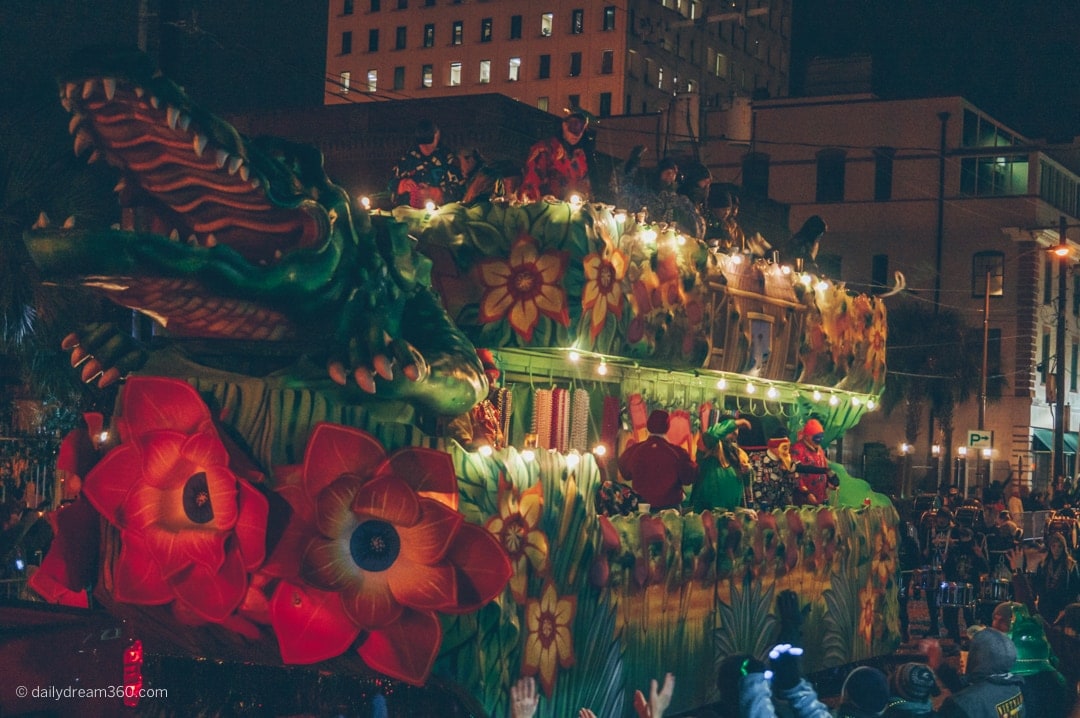 Family-Friendly Mardi Gras in Lafayette LA
The great thing about the parades in Lafayette was the family-friendly factor. It was delightful, and people of all ages from the community were so happy to share their stories and tips. I had so many conversations with people asking me where I was from and offering me help and suggestions.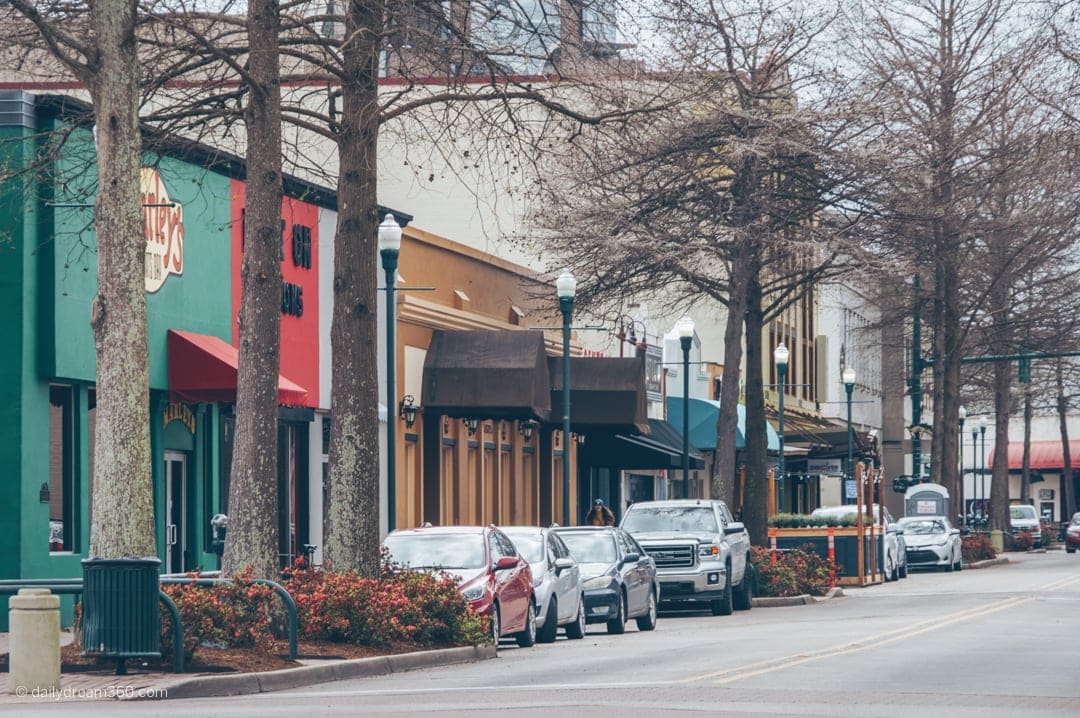 Mardi Gras Day in Lafayette
On Mardi Gras day we attended the Independent Parade. This time however we were on the floats and throwing the beads. This parade route was 4 miles long and snaked through several Lafayette neighbourhoods.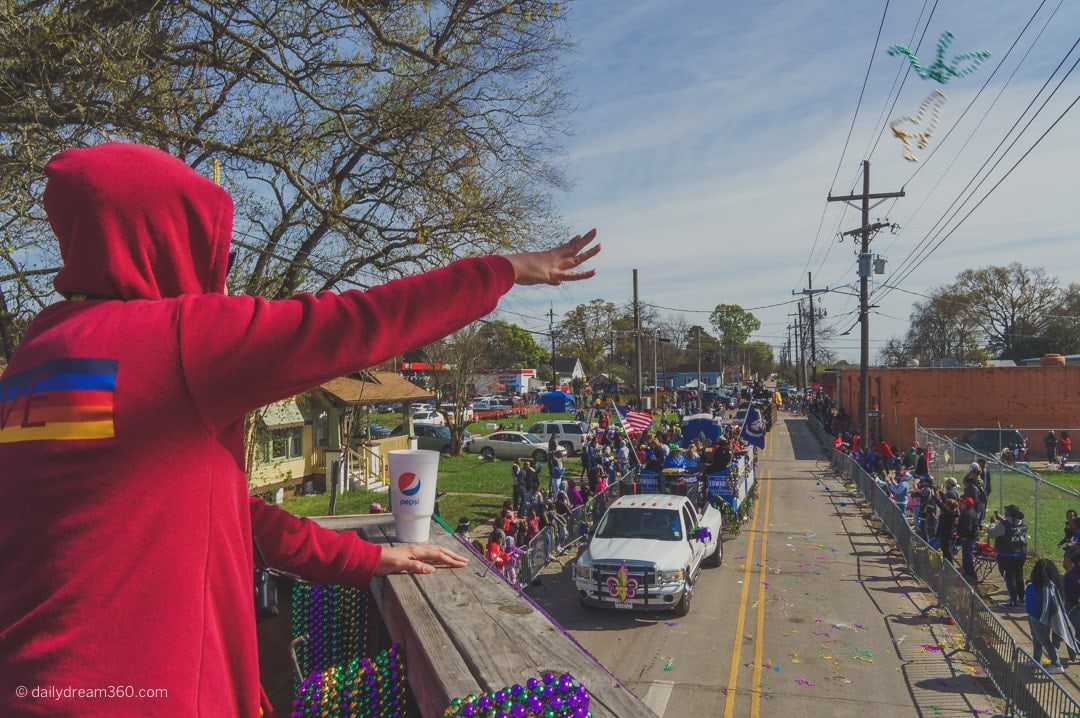 The Independent parade is the longest and biggest parade of the festival. It runs for most of the afternoon on Mardi Gras Day.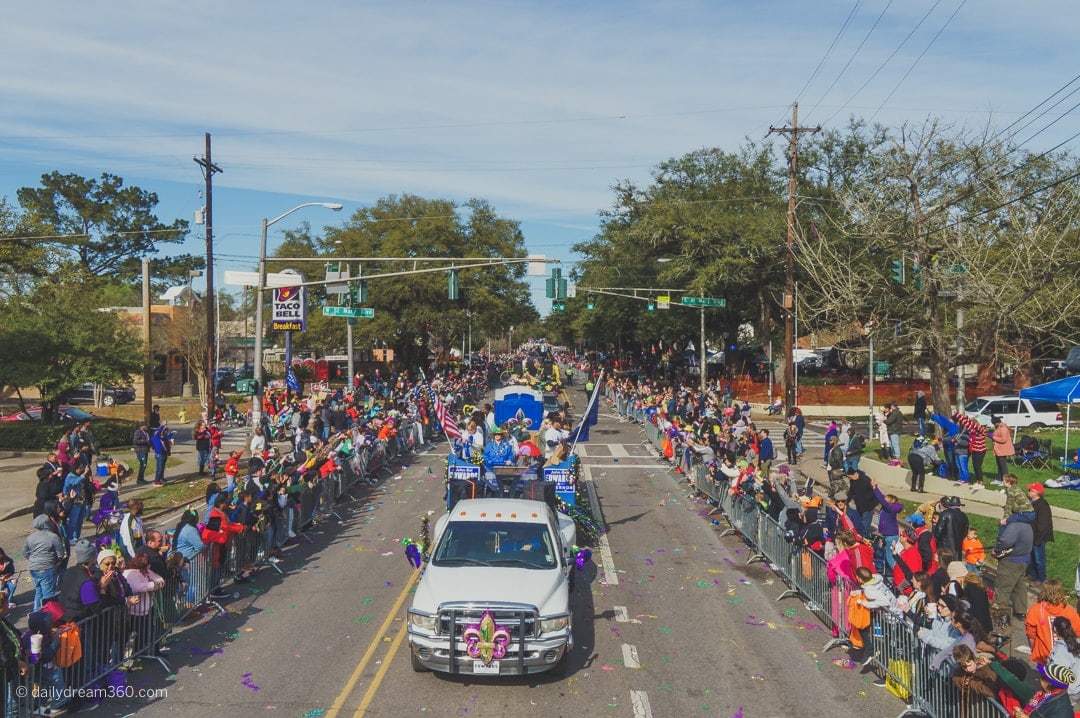 Lafayette Shops and Cafes Close for Mardi Gras
One thing to be aware of is that on Parade days many local shops and cafes shut down their stores. There were many closures or early closures in the town so be sure to call ahead to check and see if the places you want to see are open.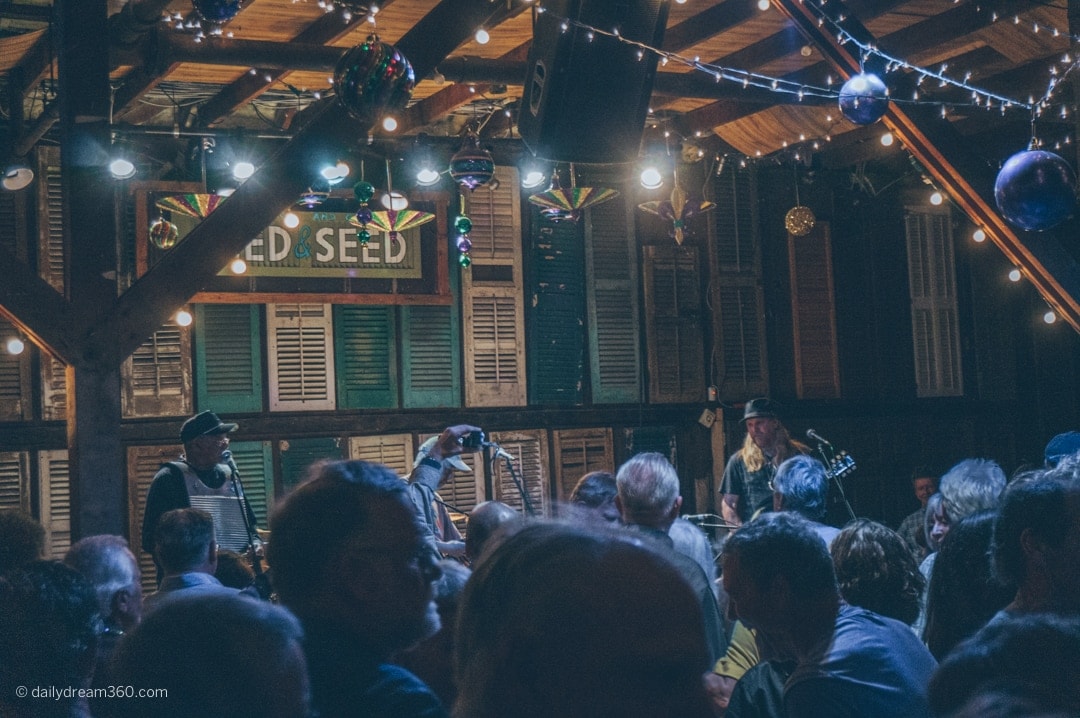 Experience Lafayette's Zydeco Music Scene
This community spirit was alive everywhere we went in the city. While I'll be sharing more details about what to do in Lafayette and area in another post, you can't celebrate Mardi Gras without a taste of the Zydeco music scene.
Feed N' Seed
Inside the barn was a toe-tapping beat I was getting into before we even walked inside. Then I was standing on a wooden dance floor in a bar decorated with string drop lights, and I felt like I was at a Footloose dance party.
That's the scene at Feed N' Seed bar. Couples of all ages were dancing to the beats as the band played continuously for hours. It was my first taste of Zydeco music, and I was hooked immediately.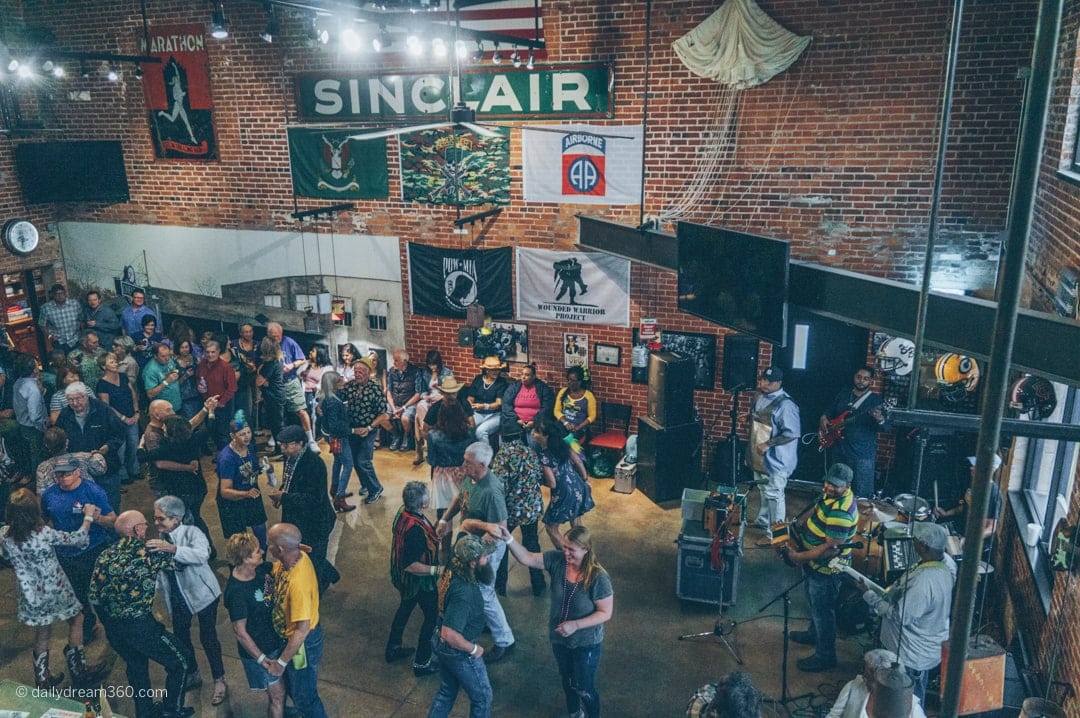 Buck & Johnny's Zydeco Breakfast
On a Saturday morning, we made our way to Buck & Johnny's, and I believe my mouth was gaping open when I saw the line down the block of people waiting to get in. This restaurant isn't about the food it is about entertainment. Many of the people in that line were there to dance and enjoy Chubby Carrier, and his band entertain the crowd.
It is a great way to start your day. Toe-tapping to the now-familiar beat of Lafayette's Zydeco community. I got so hooked to it I have a playlist on my phone now. Buck & Johnny's located in the Breaux Bridge community has lots of little antique shops, boutiques and more to visit.
Read more: Things to do in Lafayette (coming soon).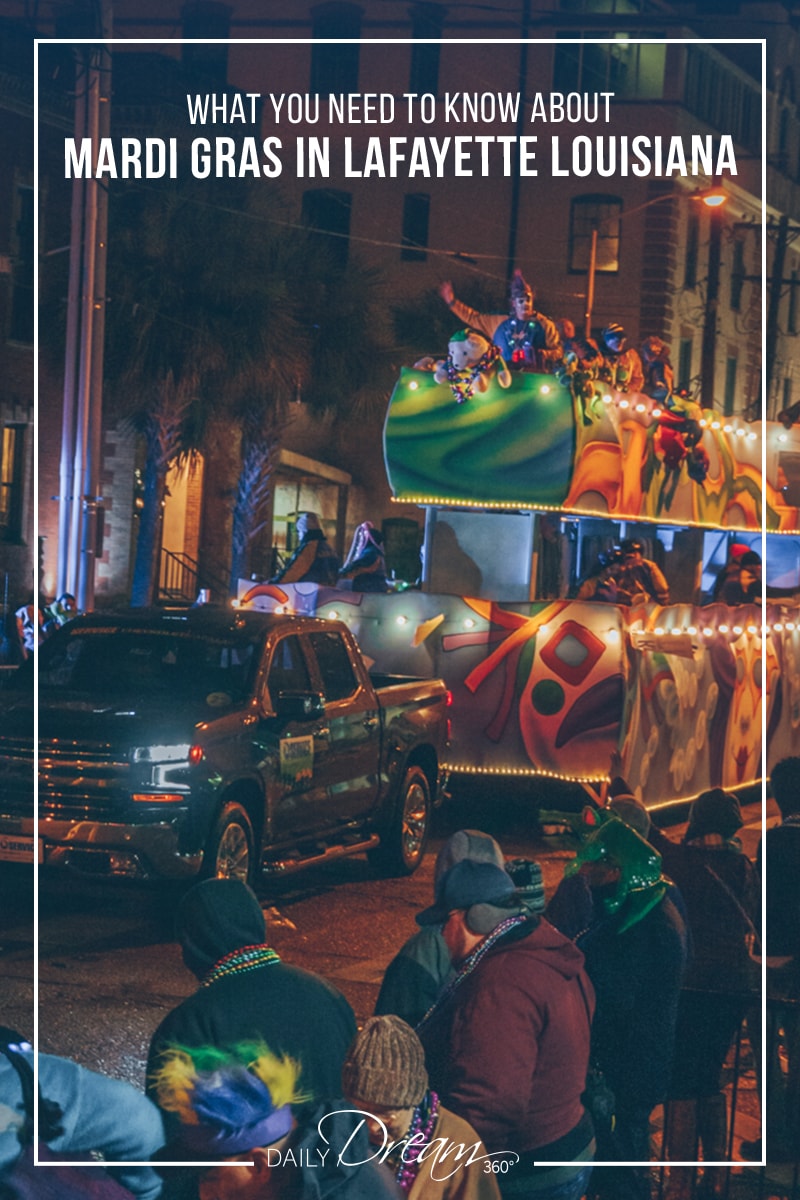 Travel assistance provided by Lafayette Travel during a media FAM trip.