Packing for a spring vacation can be daunting. Weather can be warmer during the day and cooler at night, and there is always a chance of rain. We believe it is possible to travel in style no matter the season, so we put together a Stylish Spring packing list for a 7-day trip itinerary.
Dream it
Inspiration for Your Spring Vacation Outfits
This packing list is great for women planning a trip during those tricky spring months. You may have a combination of sightseeing, special dinners and entertainment during your vacation where you want to look your best.
Then there is the weather. Some days may be very warm others cooler and of course, there is always the rain. We hope this spring travel packing list provides inspiration for your spring vacation outfits.
Plan it
7 Day Packing List: Spring Vacation Outfits
When mixing and matching your wardrobe, you don't have to compromise on style and colour. Choose complimentary spring tones and items you can easily dress up or down. Here is a breakdown of all your spring travel packing essentials by category.
See most of the items on our list at our Amazon Store!
Canada Store | US Store
Accessories
It's spring so expect a little sun to peek out now and again. Remember to bring a hat and sunglasses for super sunny days. The most significant challenge will be with your shoes, depending on weather conditions you may want comfy closed-toe shoes or sandals. Don't over pack, choose sneakers for sightseeing and casual sandals for day or night.
Don't forget to pack some jewellery to add to your outfits, especially if you have some special celebrations or fancy events planned during your trip.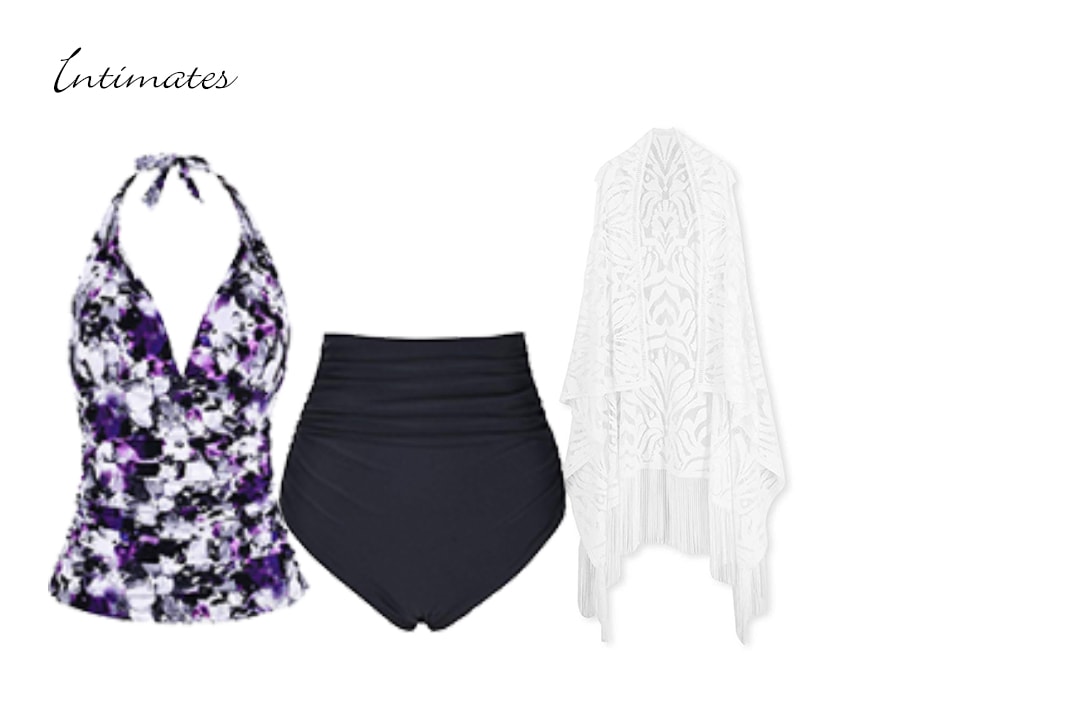 Delicates and Essentials
Hopefully, you will get a chance to go for a swim on your trip. Don't forget seven days worth of essentials and choose colours and styles which you can wear under casual clothing or your evening attire. Pack a pair of socks or two just in case things cool down a bit more than you expected.
| | | | |
| --- | --- | --- | --- |
| | | | |
| Painted Silk Scarf | Women's Beach Cover-up Kimono | Halter Tankini Swim Top | High Waist Tankini Bottom |
| BUY NOW | BUY NOW | BUY NOW | BUY NOW |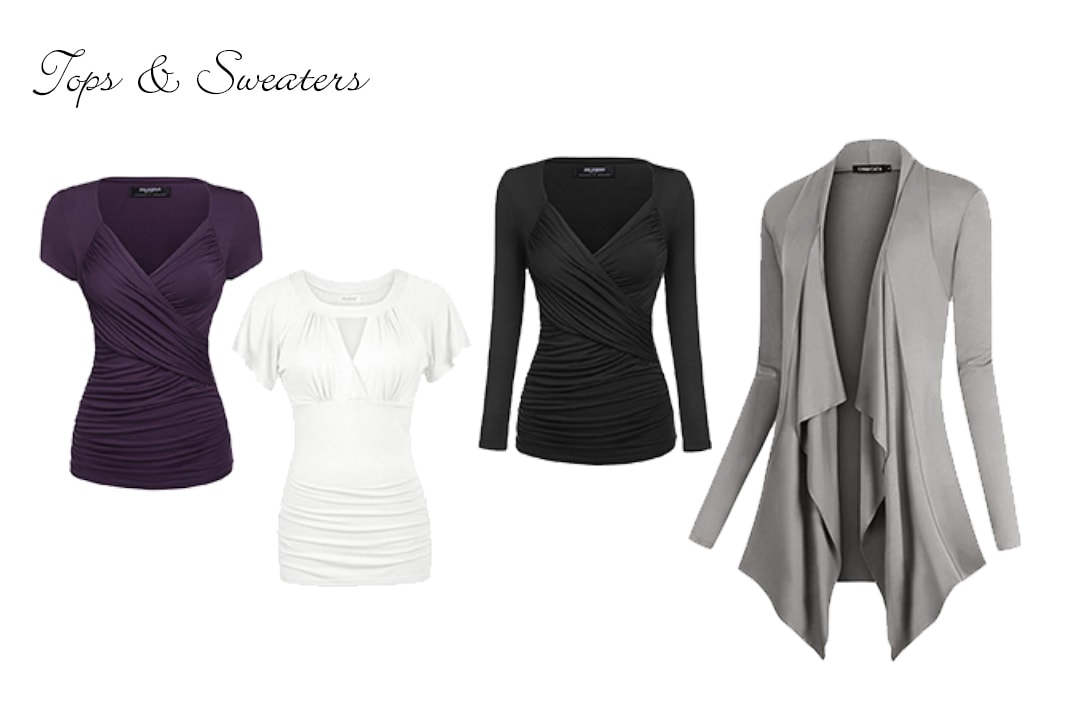 Tops and Sweaters
Your choice of clothing on a spring vacation may be a combination of warmer long sleeve shirts and cooler t-shirts or blouses. Add a light sweater and plan to layer to manage the change in temperature.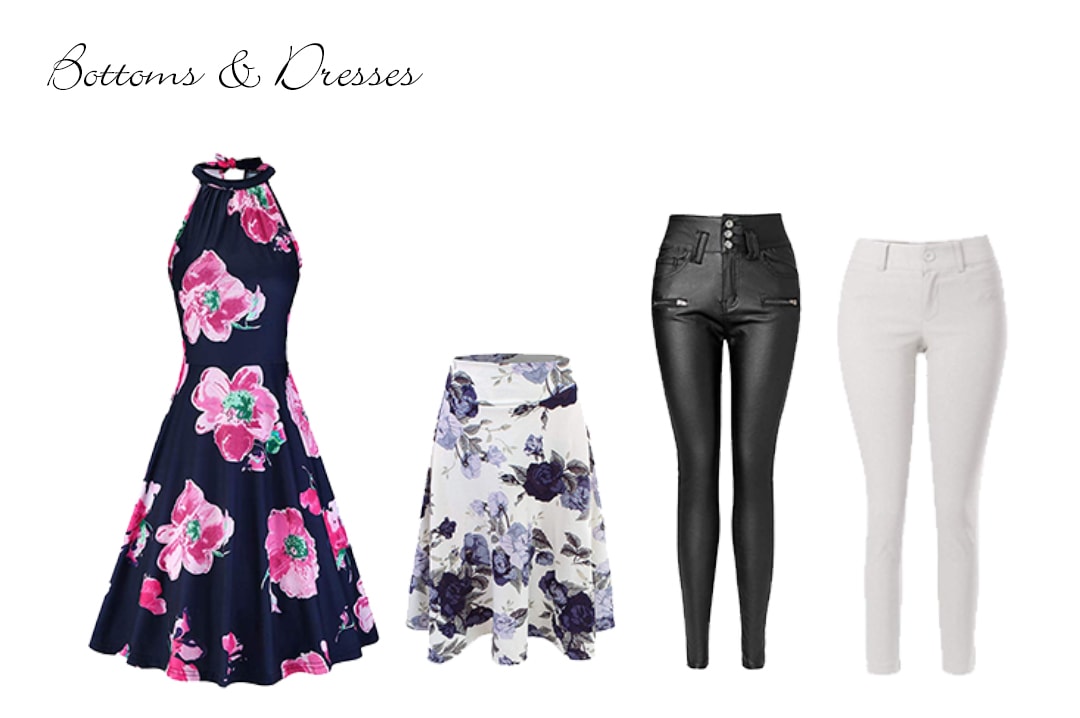 Bottoms for Warmer Days and Cooler Nights
Same rules apply for your bottoms as they do for your tops. Again have a combination of items for warmer weather and some for cooler. Skirts and skorts are ideal for day or night and in warmer or cooler temps. A simple pair of nylons or tights can help for colder days. Capris pants can also pull double duty on complicated weather days.
| | | | |
| --- | --- | --- | --- |
| | | | |
| Women's Halter Neck Floral Sundress | Black Faux Leather Skinny Leggings | Boot-Cut Dress Pants | High Waist Midi A-Line Skirt |
| BUY NOW | BUY NOW | BUY NOW | BUY NOW |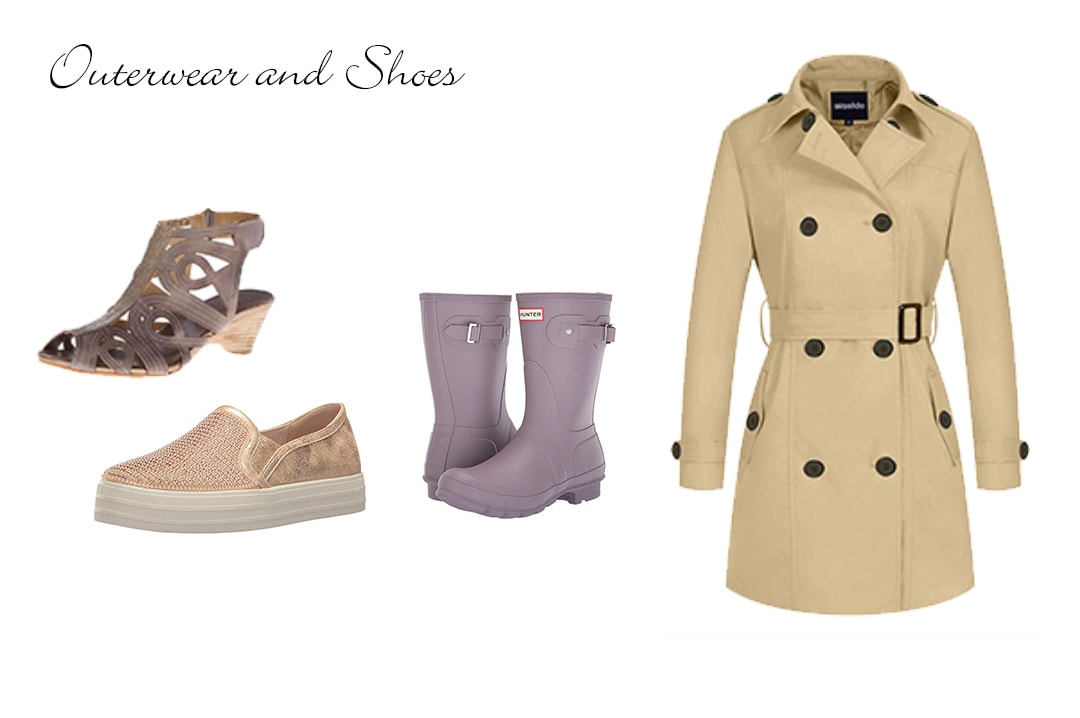 Outerwear and Shoes
Having the right footwear that fits in luggage can also be a challenge. Picking the right shoes will also depend on the weather, if it calls for a lot of rain you may want to pack a pair of stylish rainboots or waterproof hiking shoes. For warmer weather try some gladiator sandals or a fancy pear of sneakers.
| | | | |
| --- | --- | --- | --- |
| | | | |
| Women's Flourish Gladiator Sandal | Sketchers Street Fashion Sneakers | Hunter Short Rain Boots | Womens Trench Coat |
| BUY NOW | BUY NOW | BUY NOW | BUY NOW |
Live it
Spring Break Essentials Travel Packing List
Rain or shine, we hope you have fun when choosing your spring vacation outfits. It's all about preparation and colour coordination. Being able to take outfits and mix and match them for both cooler and warmer temperatures and then being ready for rain.
Be sure to see all our packing list posts here. For access to all our packing list downloads and other exclusive resources, sign up today!