This article may contain affiliate links. Clicking on or purchasing products we recommend through a link may earn a small commission. Read our disclosure and privacy policy page for details. *COVID-19 TRAVEL ALERT – Travel recommendations offered on this site are not to encourage you to travel against travel advisories.
I've written previously about how to use a capsule wardrobe for travel packing, and today I'm sharing some tips on how to build a spring capsule wardrobe. A capsule wardrobe consists of several clothing items and accessories that can be worn interchangeably as a variety of different styles.
Dream it.
If you're planning a trip that involves a pool, lake, or beach of any kind and you don't want to buy a special waterproof camera or action camera, then a waterproof pouch for your phone could just be the solution you are looking for. Most of us have replaced our cameras and choose to travel with our phones and while there are some water-resistant models out there, protecting your phone with a waterproof pouch could save you a costly repair or replacement.
The Spring season can be a little tricky. Weather can be warmer during the day and cooler at night, and the chance of rain. I believe it is possible to build an excellent spring capsule wardrobe by properly layering several clothing items, shoes and accessories.
Read More: How to Pack Light with a Stylish Travel Capsule Wardrobe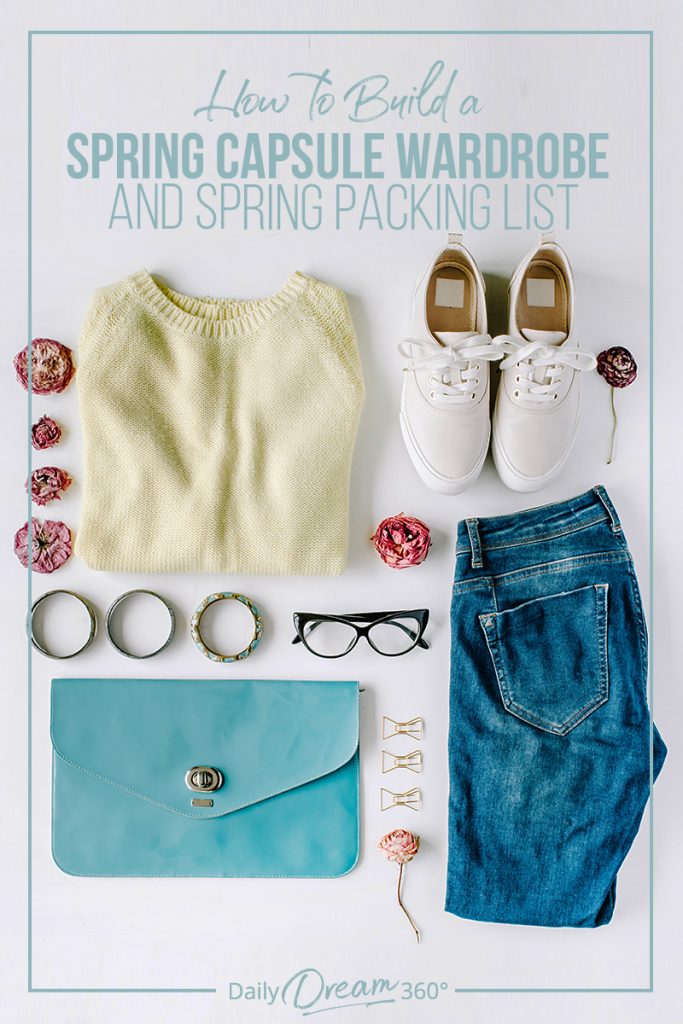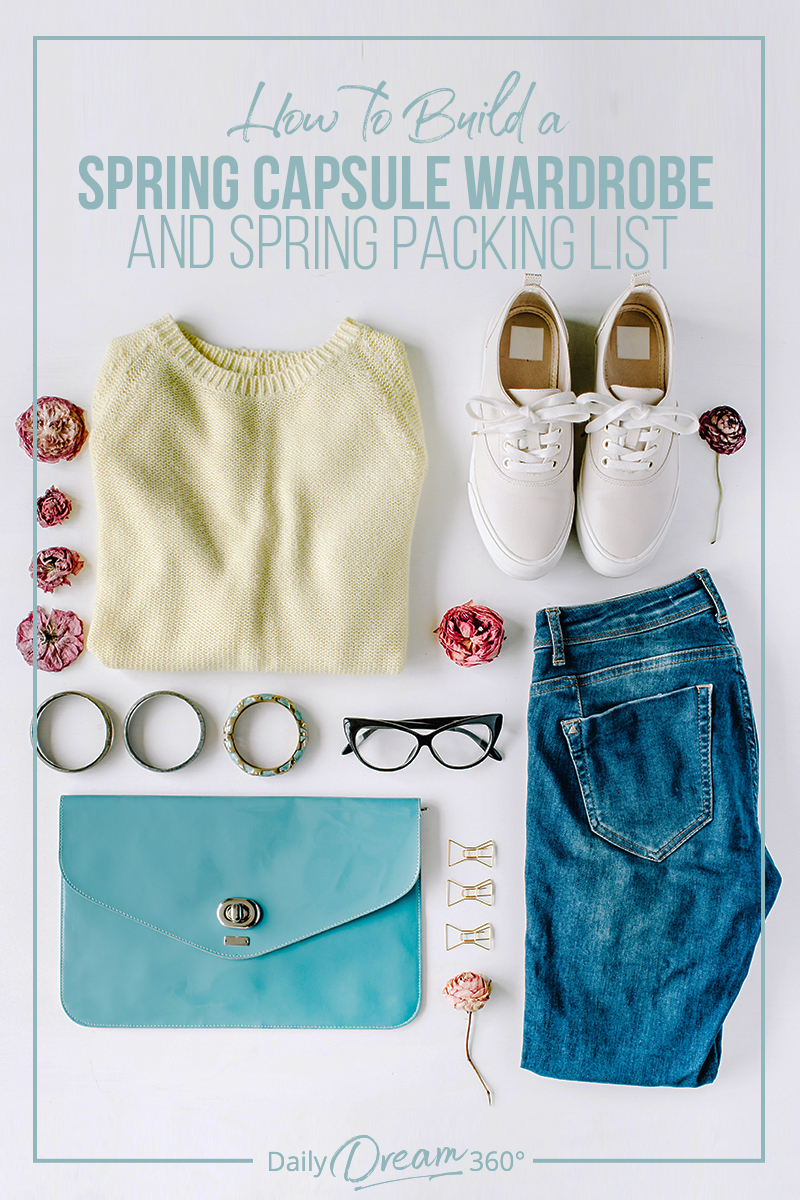 Plan it.
Inspiration for Your Spring Capsule Wardrobe
There are some steps to help you build a Spring capsule wardrobe. You will achieve the most success but coordinating a few things before you start buying clothing items.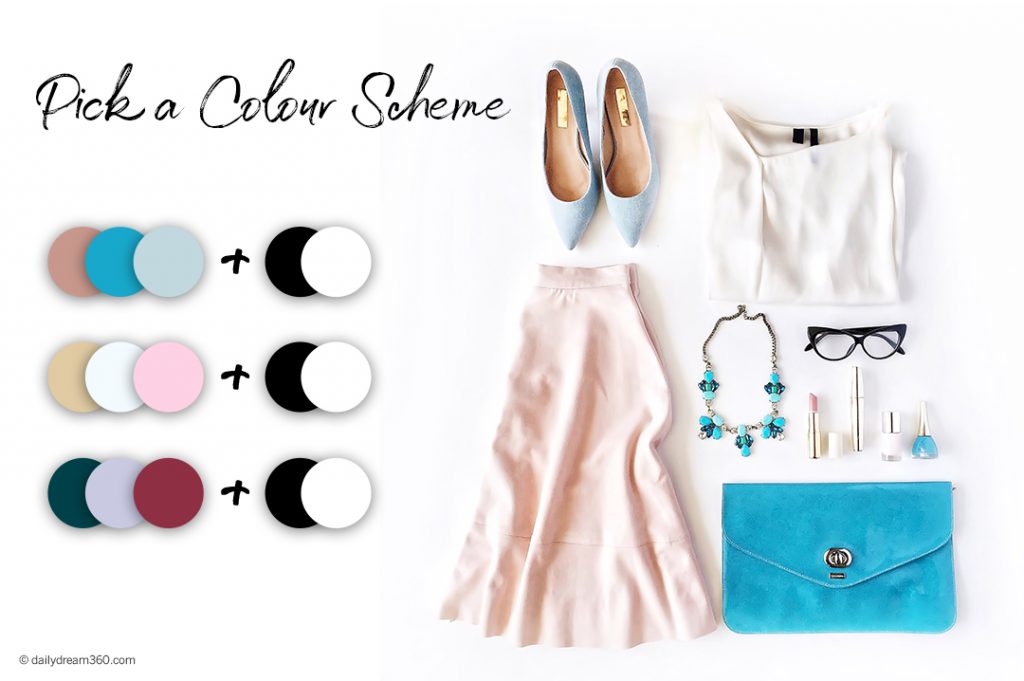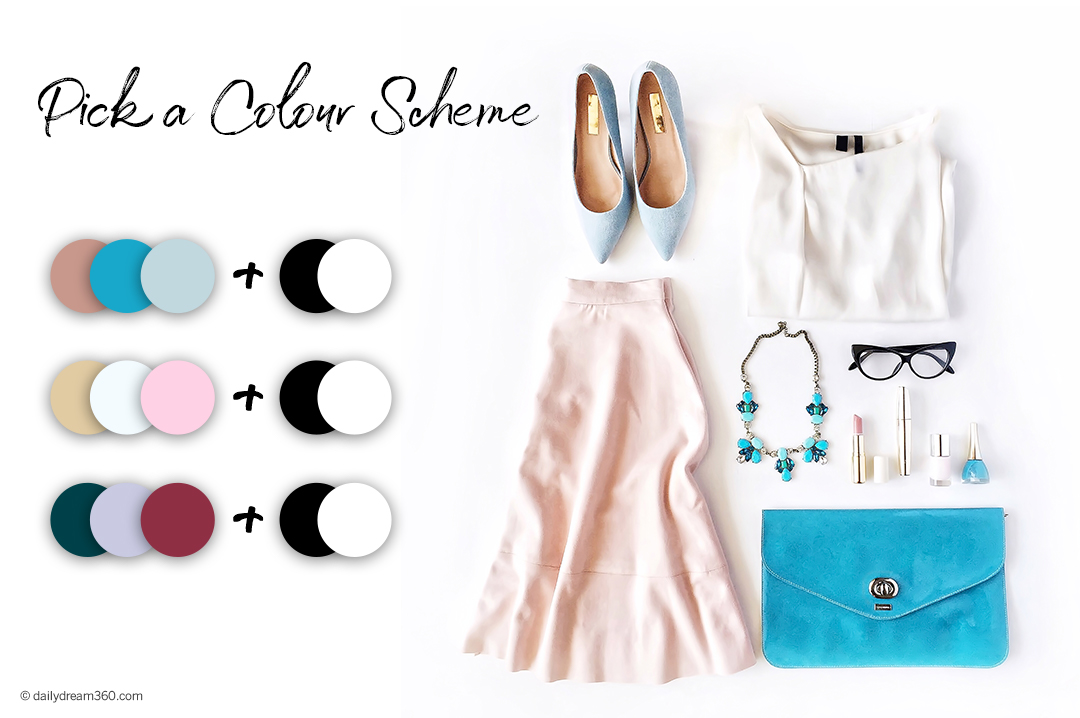 1. Select A Colour Palette
When choosing your spring wardrobe, the colour pallet is the most crucial factor. Every item you wear needs to match or work with another for this to work. Start with one must-have Spring fashion piece in your wardrobe, and then choose two complementary colours that work with this garment. So your colour pallet should consist of 3 complimentary colours.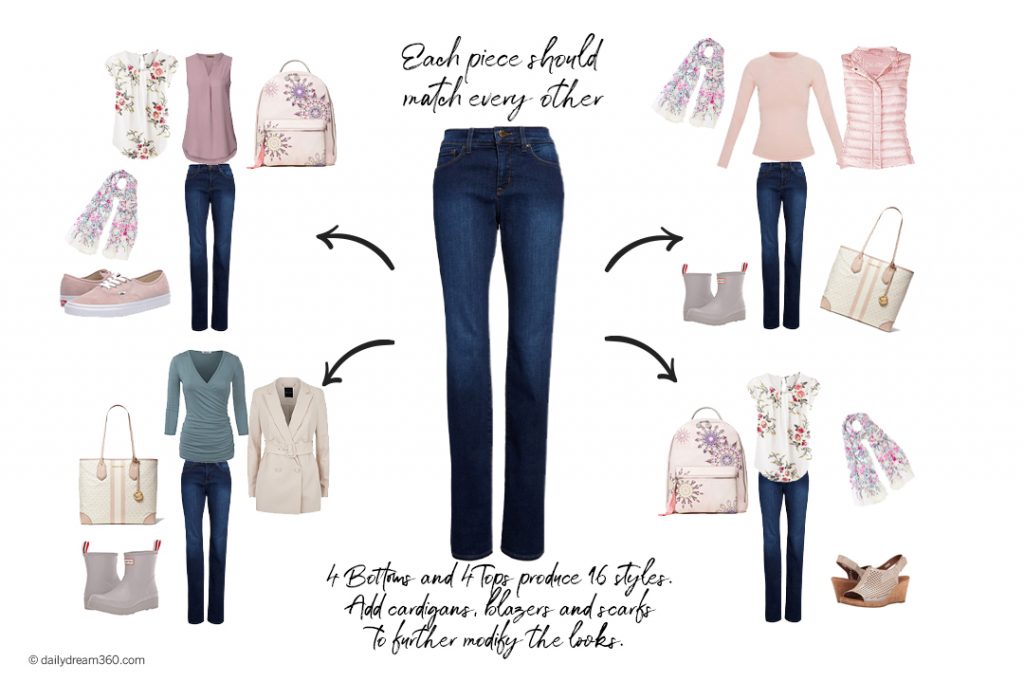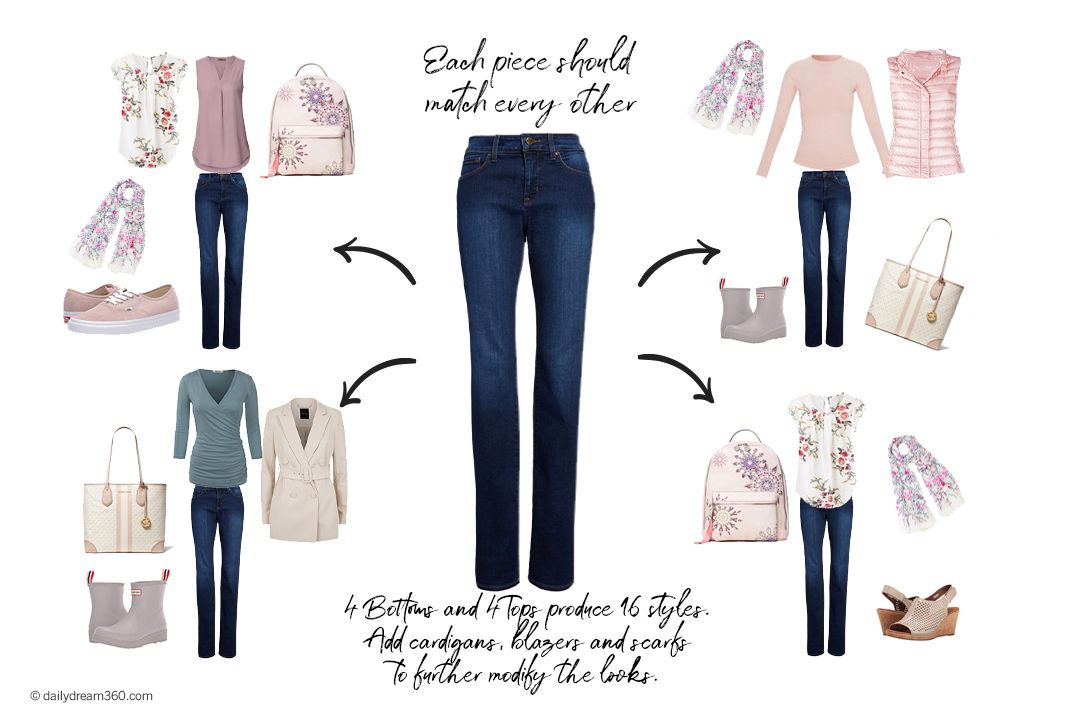 2. Make a List of Items You Will Need
With as little as 18-20 individual items, you can create a 2-week wardrobe with over 20 different looks.
Four bottoms
Four tops
1 Dress
2 Outerwear items
Three shoes
2 Bags
1-2 Scarfs or Belt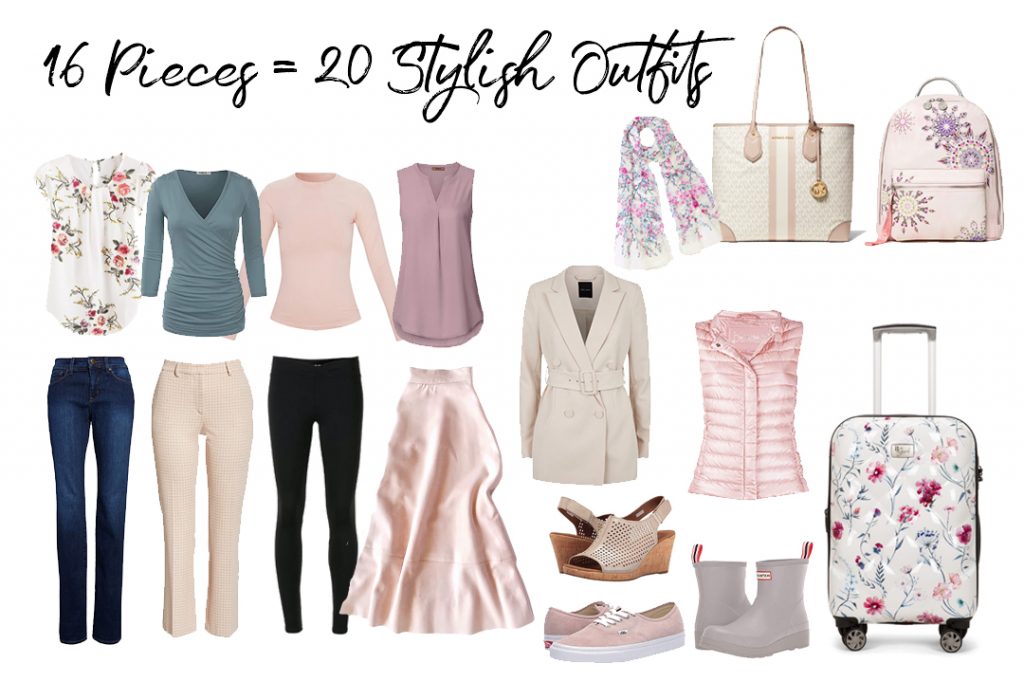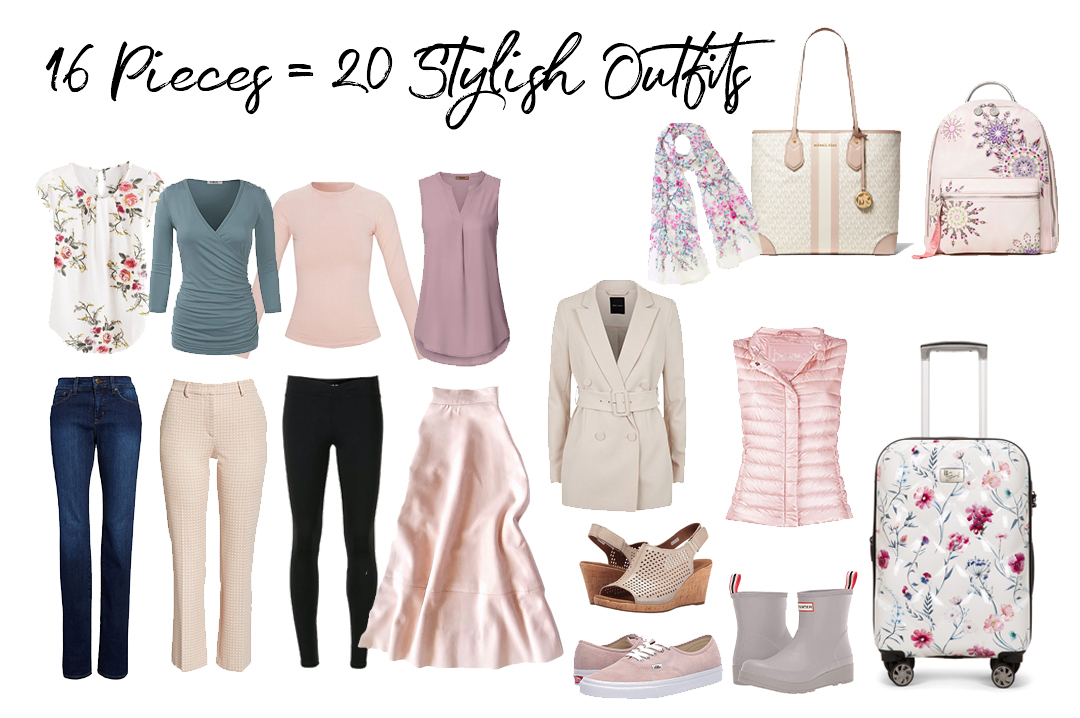 Turn Your Spring Capsule Wardrobe into a Spring Packing List
This Spring capsule can also be used as a packing list. Great for women planning a trip during those tricky spring months. You may have a combination of sightseeing, special dinners and entertainment during your vacation where you want to look your best.
Then there is the weather. Some days may be warmer and others cooler, and of course, there is always the rain. We hope this spring travel packing list inspires your spring vacation outfits.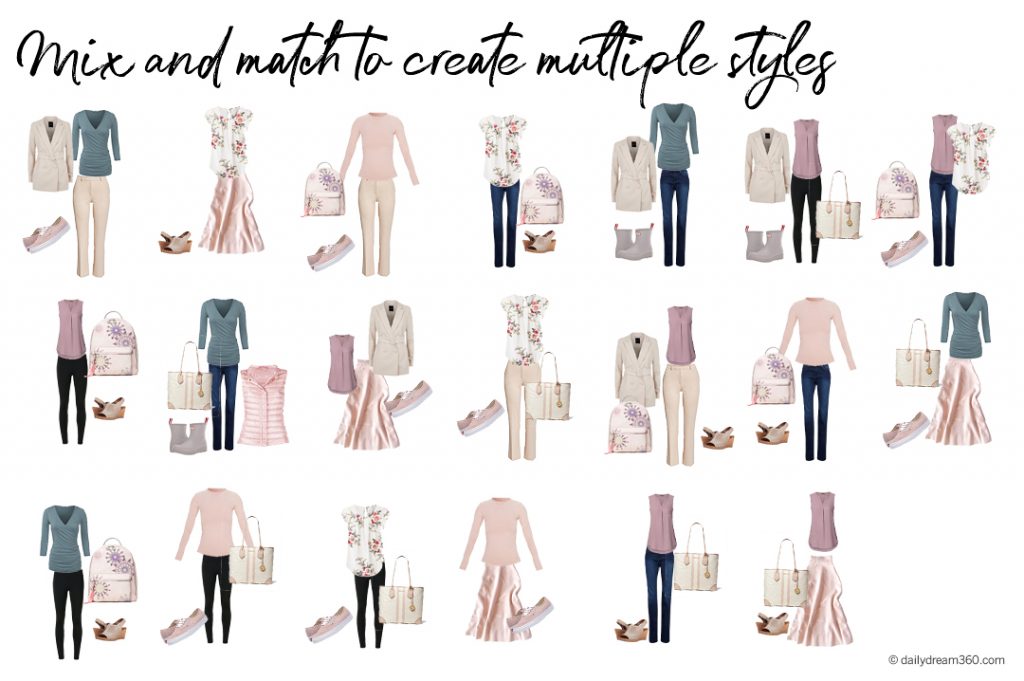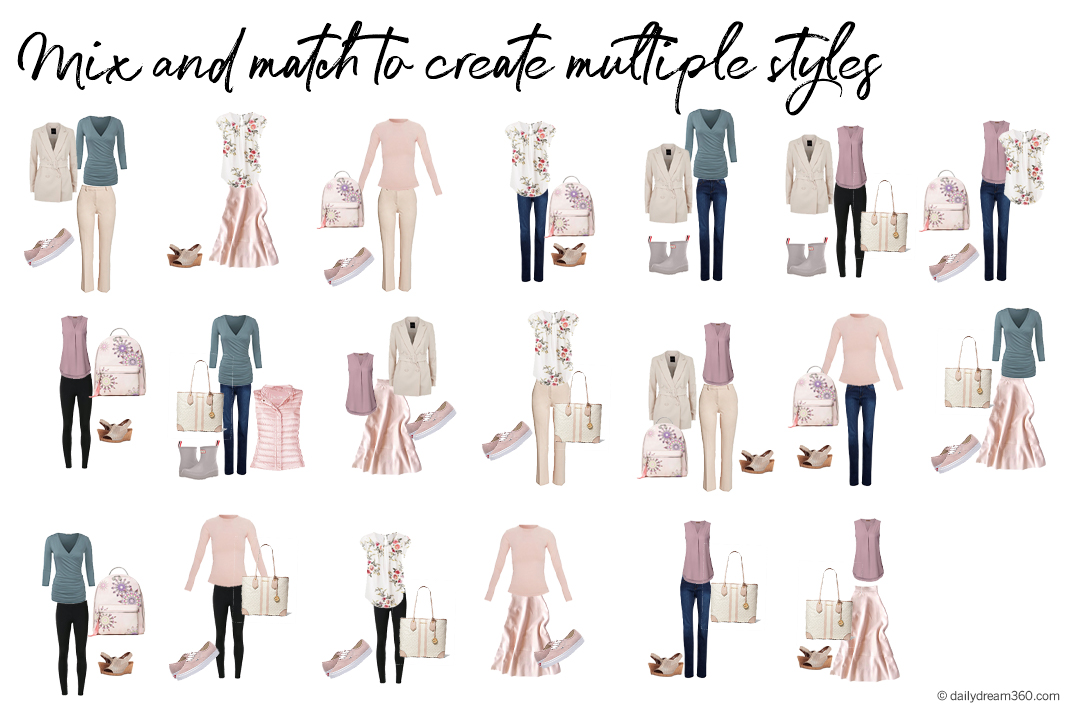 Live it.
Items You Need to Build Your Spring Capsule Wardrobe
When mixing and matching your wardrobe, you don't have to compromise on style and colour. Choose complimentary spring tones and items you can comfortably dress up or down. Here is a breakdown of all your spring travel packing essentials by category.
See most of the items on our list at our Amazon Store!
Canada Store | US Store
Capsule Wardrobe Spring Accessories
It's spring, so expect a little sun to peek out now and again. Remember to bring a hat and sunglasses for super sunny days. The most significant challenge will be with your shoes, depending on weather conditions you may want comfy closed-toe shoes or sandals.
Don't forget to include some jewelry or a silk scarf to add to your outfits.
Capsule Wardrobe Spring Tops and Sweaters
Your choice of clothing for a spring vacation may be a combination of warmer long sleeve shirts and more relaxed t-shirts or blouses. Add a light sweater and plan to layer to manage the change in temperature.
Capsule Wardrobe Spring Bottoms
The same rules apply for your bottoms as they do for your tops. Again have a combination of items for warmer weather and some for cooler. Skirts and capris pants are ideal for day or night and in warmer or colder temps. A simple pair of tights can help for colder days.
Capsule Wardrobe Spring Outerwear and Shoes
Having the right footwear doesn't have to be a challenge. Picking the right shoes will also depend on the weather if it calls for a lot of rain you may want to have a pair of stylish rain boots or waterproof hiking shoes. For warmer weather, try some gladiator sandals or a fancy pair of sneakers. Shoes that you can dress up and dress down comfortably are your best bet.
Rain or shine, we hope you have fun when choosing your spring capsule wardrobe. It's all about preparation and colour coordination. Being able to take outfits and mix and match them for both colder and warmer temperatures and then being ready for rain.