This article may contain affiliate links. Clicking on or purchasing products we recommend through a link may earn a small commission. Read our disclosure and privacy policy page for details. *COVID-19 TRAVEL ALERT – Travel recommendations offered on this site are not to encourage you to travel against travel advisories.
The trick to light travel packing is in the clothing you pack and how you can mix and match the pieces into several outfits. In this post, I share my solution on how to pack light with a stylish capsule wardrobe for travel. I also include a downloadable outfit planner to help you figure out what items of clothing you need to pack and how to stylize them.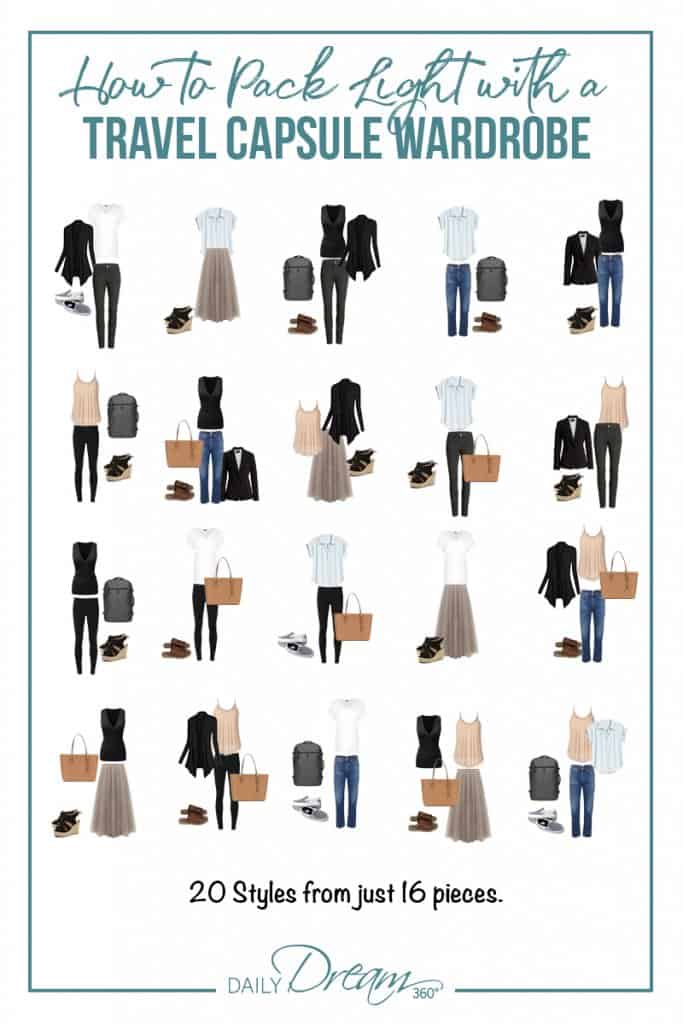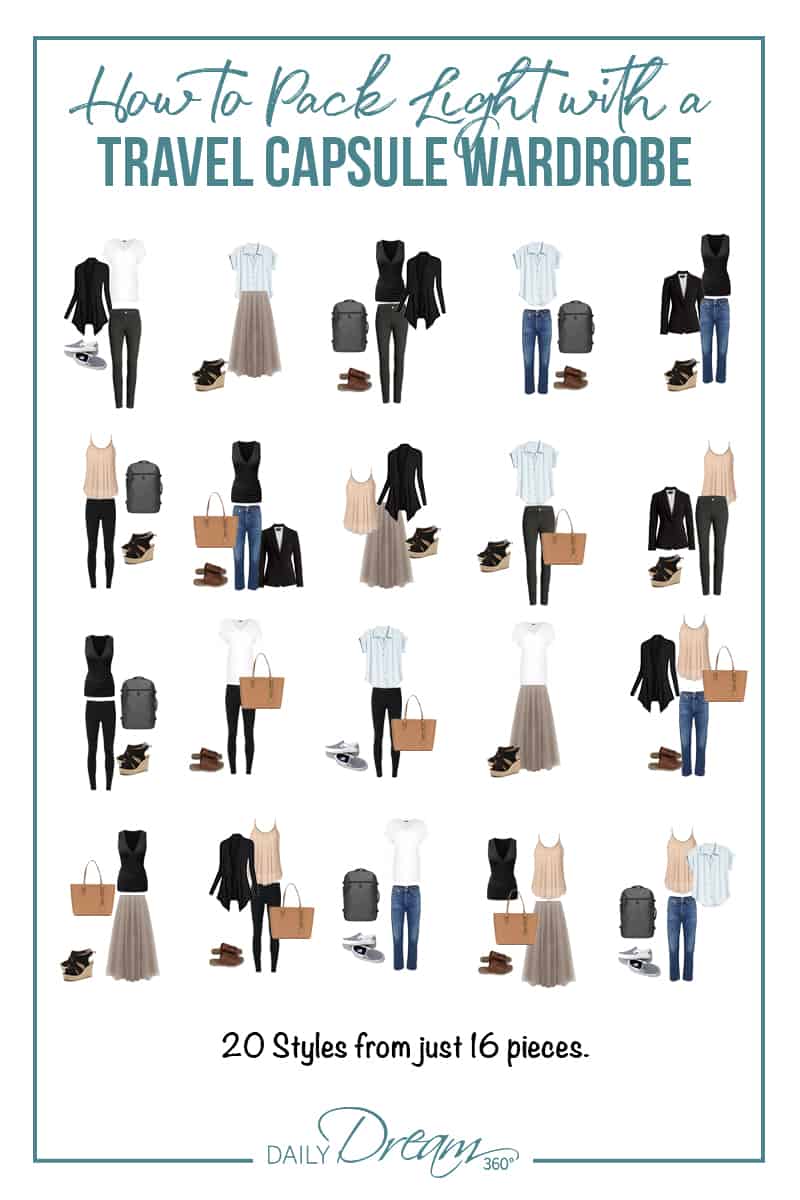 Dream it.
If you're planning a trip that involves a pool, lake, or beach of any kind and you don't want to buy a special waterproof camera or action camera, then a waterproof pouch for your phone could just be the solution you are looking for. Most of us have replaced our cameras and choose to travel with our phones and while there are some water-resistant models out there, protecting your phone with a waterproof pouch could save you a costly repair or replacement.
When I started this website, I was that girl with the large suitcase at the airport. I packed anything I thought I might need on vacation. I ended up wearing 1/4 of the things I packed. On press trips, other bloggers rolled their eyes when I checked a bag. I quickly realized I have to be smarter about the way I pack.
Then the airlines started charging for checked bags, and I immediately knew I have to learn how to travel smarter. I have struggled with this for a long time, but the best solution for me was to figure out what to pack by figuring out what activities I was going to be doing and how I can shuffle my travel wardrobe to match everything.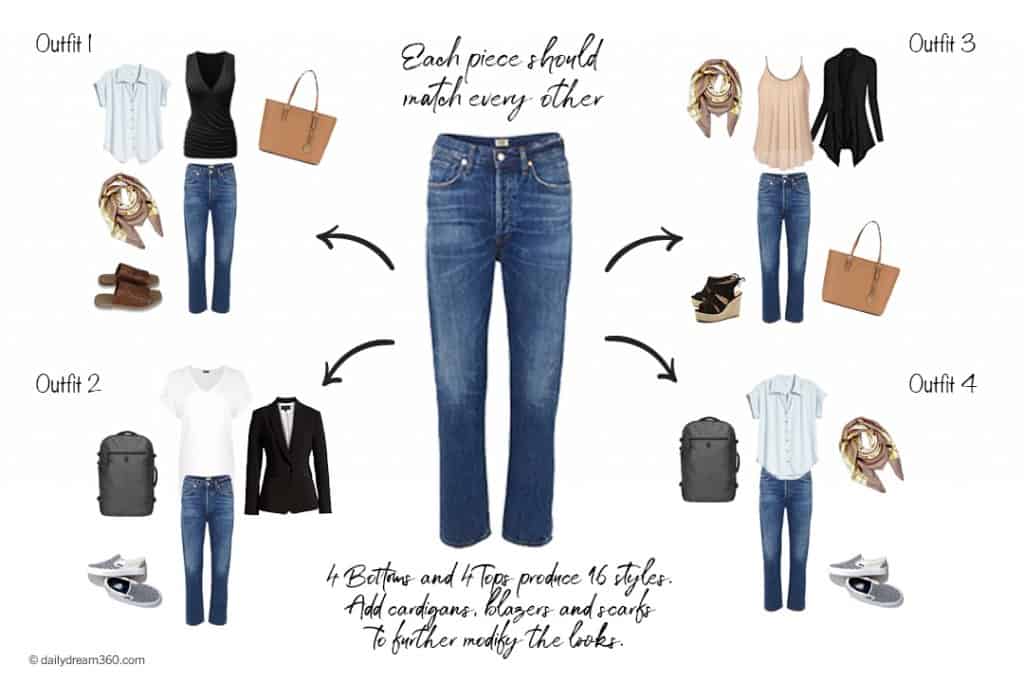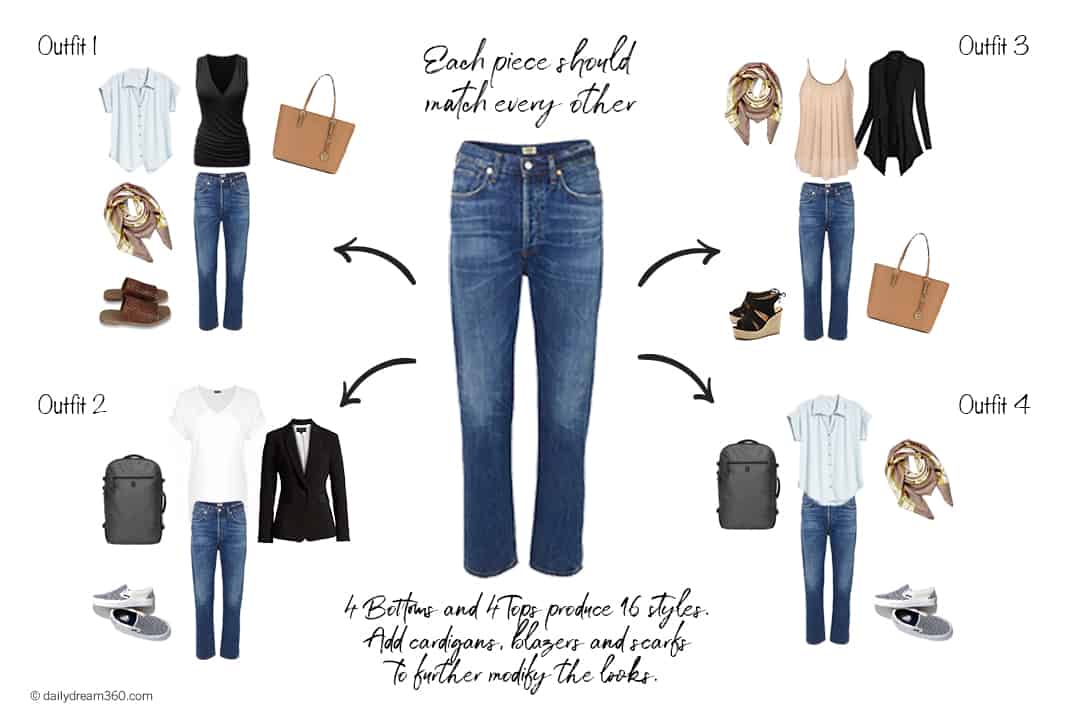 Plan it.
Use a Printable Outfit Planner to Sort Through What to Pack
1. Think About The Destination and the Weather Forecast
Start with the weather. The time of year you are travelling will affect the items you are packing. Check the weather forecast for each day and start to think about the type of clothing you will need for the weather forecasted.
2. What Activities Will You Be Doing 
Think about the activities that you have planned for your trip. Will you be attending a special event like a wedding? Will this be a casual trip with a few evening dinners or cocktail activities? When thinking about your travel wardrobe, you will need to have a rough idea of the types of things you will be doing on your trip.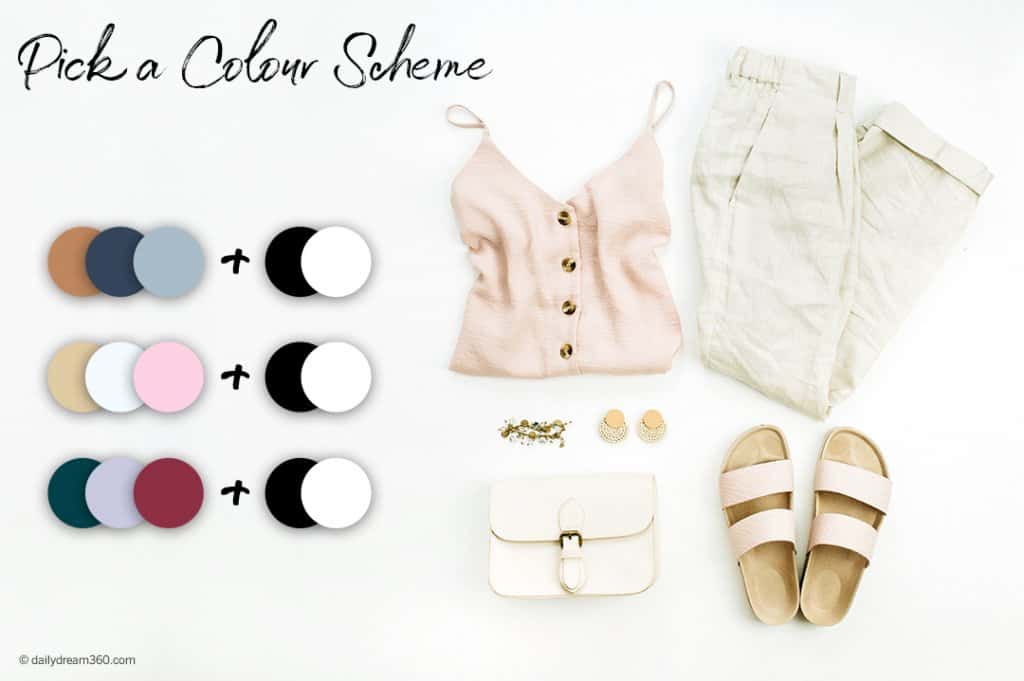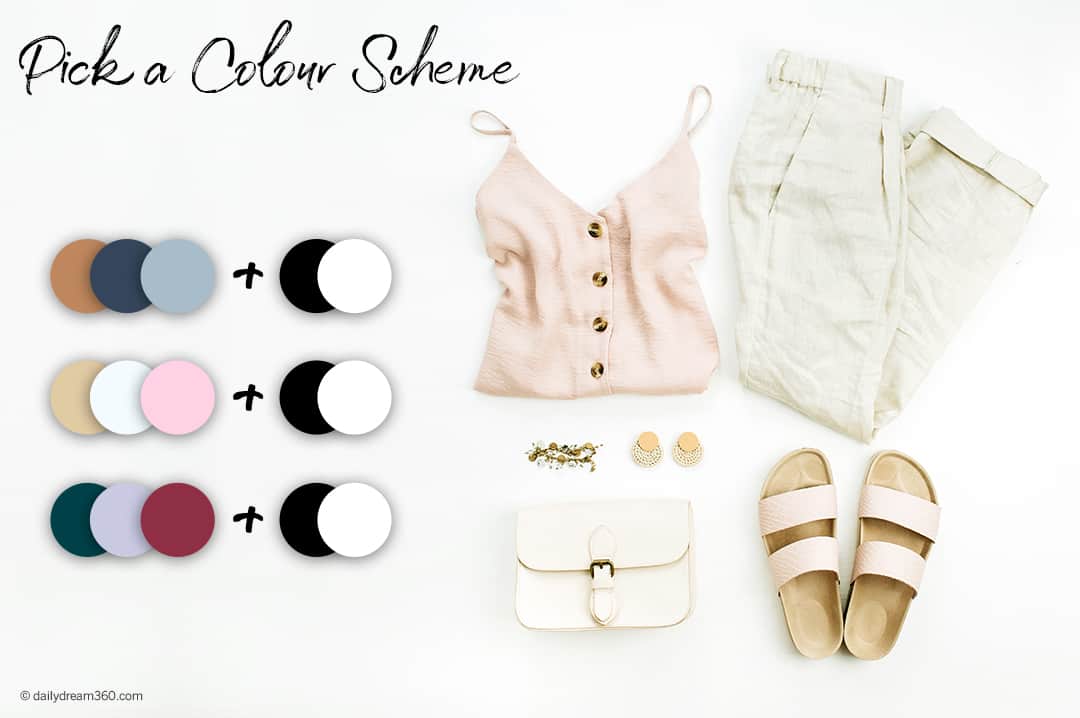 3. Select A Colour Palette for Your Travel Wardrobe
When choosing your travel wardrobe, the colour pallet is the most crucial factor. Every item you pack needs to match or work with one another for this to work. Start with one must-have fashion piece in your wardrobe, which you can't travel without and then choose two complementary colours that work with this garment. So your colour pallet should consist of 3 complimentary colours.
4. Create A List of Travel Wardrobe Ideas
Download our travel outfit planner as a guide to pick and choose which items you should pack for your trip.
Subscribe to our newsletter and get access to all our printables on our downloads page. Already a subscriber access the downloads page from your weekly or monthly email.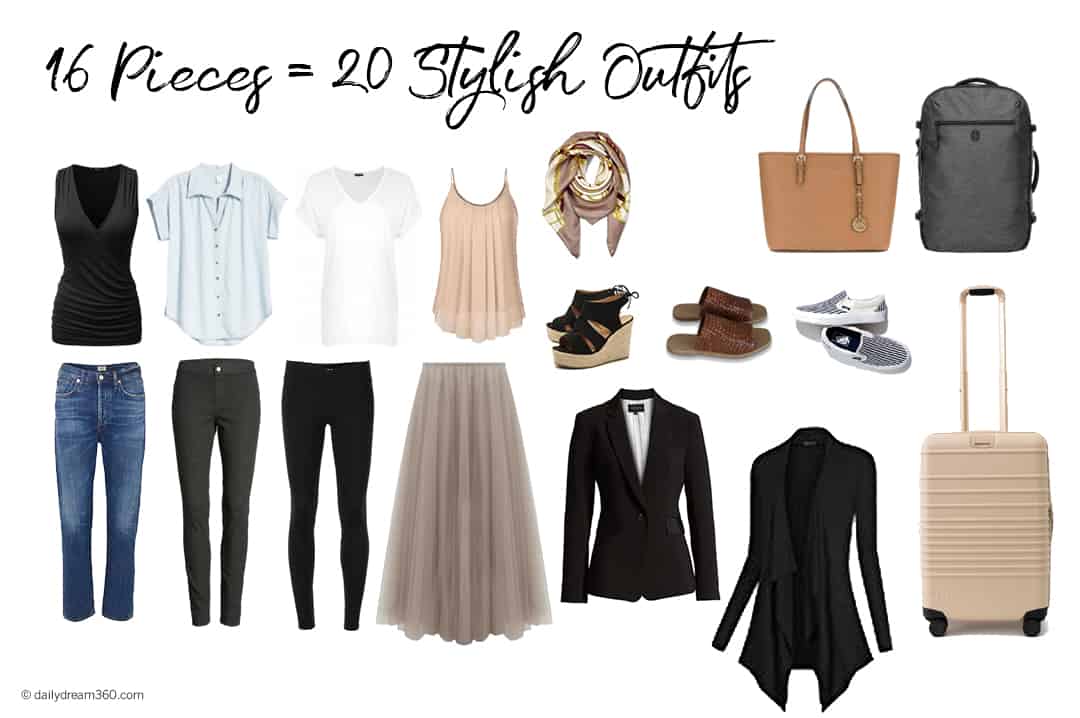 Need some packing list inspiration see these posts:
Live it.
5. Finalize the Items You will Pack
With as little as 16-20 individual items, you can create a 2-week wardrobe with over 20 different style looks.
Four bottoms
Four tops
1 Dress
2 Outerwear items
Three shoes
2 Bags
1-2 Scarfs or Belt
You may need to add a bathing suit, gym outfit or special occasion dress to your wardrobe, but your core travel wardrobe should be several items you can mix and match to create multiple looks.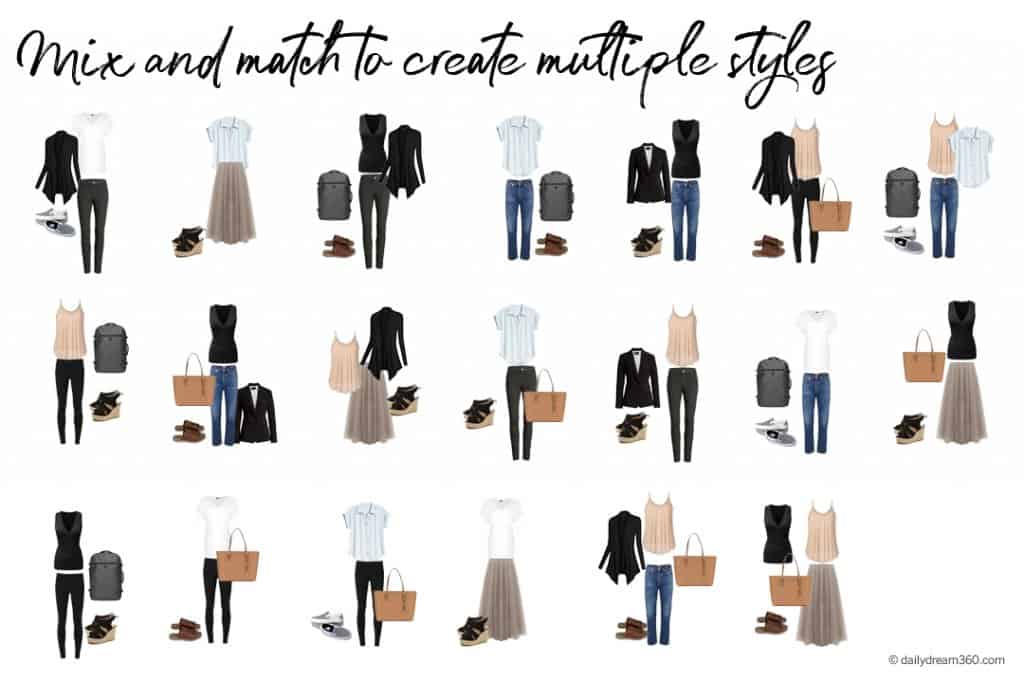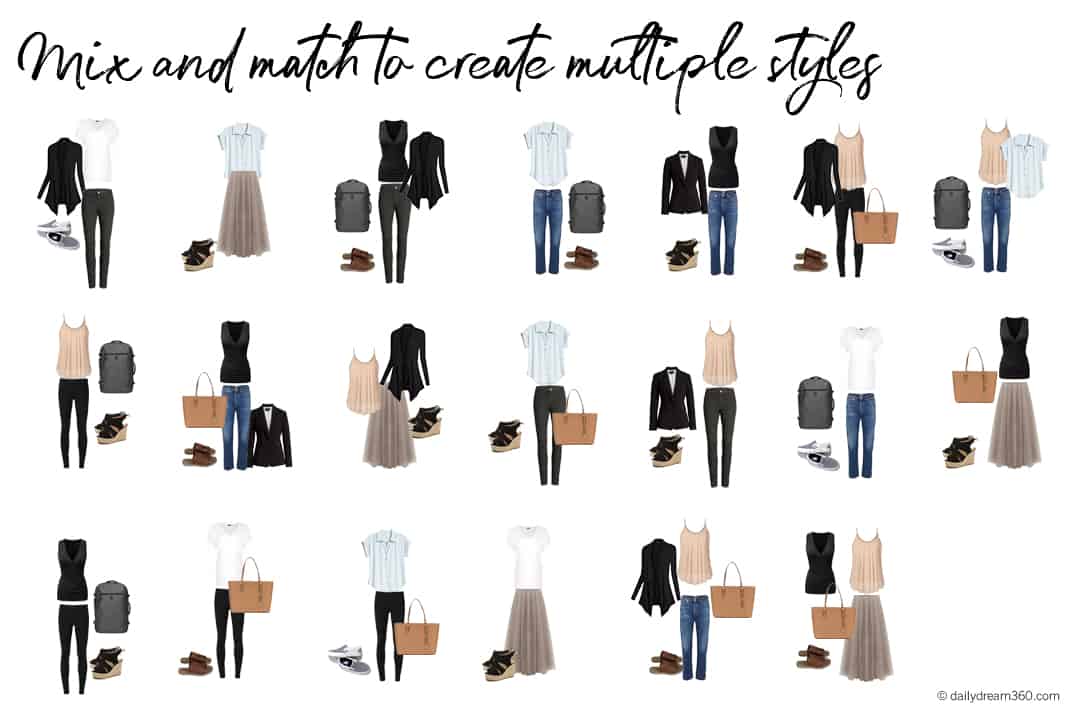 Tips to Plan Your Mix and Match Travel Wardrobe
Stick to the clothes you know and love, don't try to be someone you are not. In the end, you will wear what makes you feel the most comfortable. Pick items you enjoy, like your favourite pair of jeans or leggings. 
Quick Travel Wardrobe Planning Checklist
Do all the tops chosen match well with the bottoms you selected?
Did you pack outerwear that can also match well with all the items you chose?
Are the items thin and comfortable enough for layering?
Do you have items that work in case the weather shifts colder or warmer?
Did you consider accessories like a silk scarf or belt to liven up an outfit?
Bookmark this post to your favourite Packing Pinterest Board!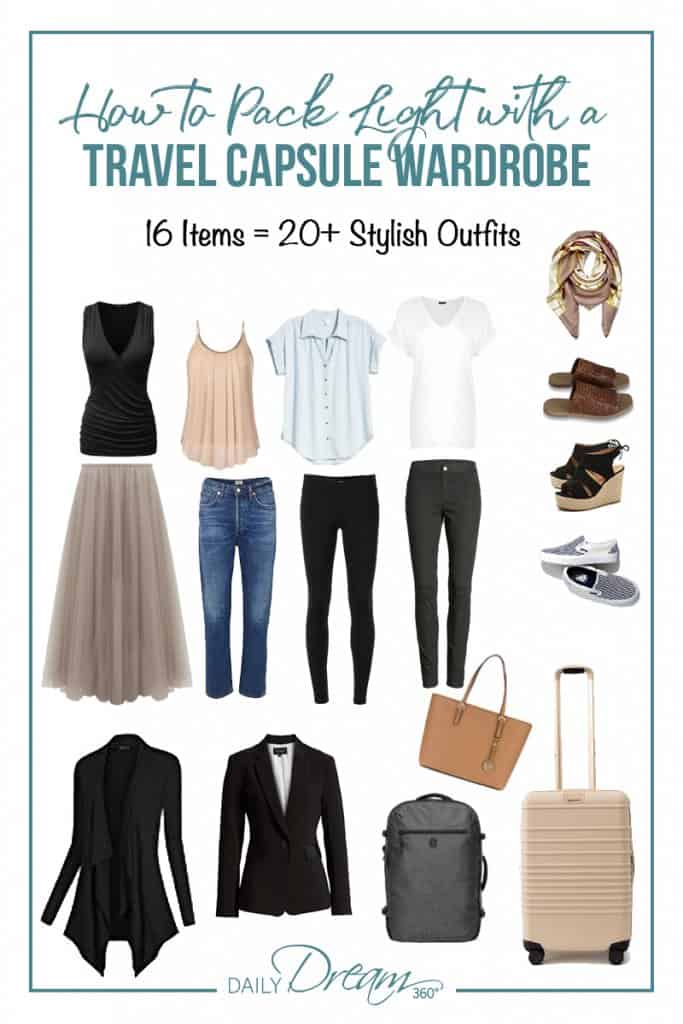 The Items You Need in Your Travel Capsule Wardrobe
Here are a few of my favourite clothing items in my travel capsule wardrobe. I've also put similar items into my Amazon storefront: US Store | Canadian Store
Pack 4 Tops for your Mix and Match Wardrobe
In addition to complimentary colours and finding tops that you can dress up or down, think about layering your clothing items. Tank tops are super for wearing under a button-down blouse or with a blazer.
For warmer seasons, choose thin fabrics so that you can layer with ease without overheating and if your travelling in winter, this layering can also help keep you warm.
4 Bottoms in Your Capsule Wardrobe for Travel
A good rule of thumb is to pick items that you can dress up and down. Make sure each bottom works with each top. Choose fabrics you will be comfortable in for the various activities in your trip plan. Leggings, stretchy jeans, pants and skirts are all great layering pieces.
Outerwear or Layering Tops
Button-down shirts, blazers and cardigan sweaters are fantastic when layering tops to add some glitz to your outfits. From light silk wrap shirts, cotton cardigans to smart blazers, make sure the pieces you choose work with every top and every bottom and your outfit choices will be endless.
Best Shoes for a Travel Capsule Wardrobe
The hiccup for most travellers trying to pack light is the number of shoes, or the space their shoes take up in their luggage. The shoes you choose must fit the activities you will be doing on your trip.
If you have a lot of walking and sightseeing to do, you'll need good walking shoes with support. Shoes that are comfy and casual are a must, and for those special events, black sandals or boots can help dress things up.
Accessories and Capsule Wardrobe for Travel Essentials
Finally, a great printed scarf can add some flare and also work as a belt for some outfits. Jewelry, belts and scarfs take up little room but can help change a wardrobe.
Your handbags are also going to aid in styling travel outfits. Remember to choose bags that work for your travel plans from airport, sightseeing, carrying a camera and travel essentials by day and night.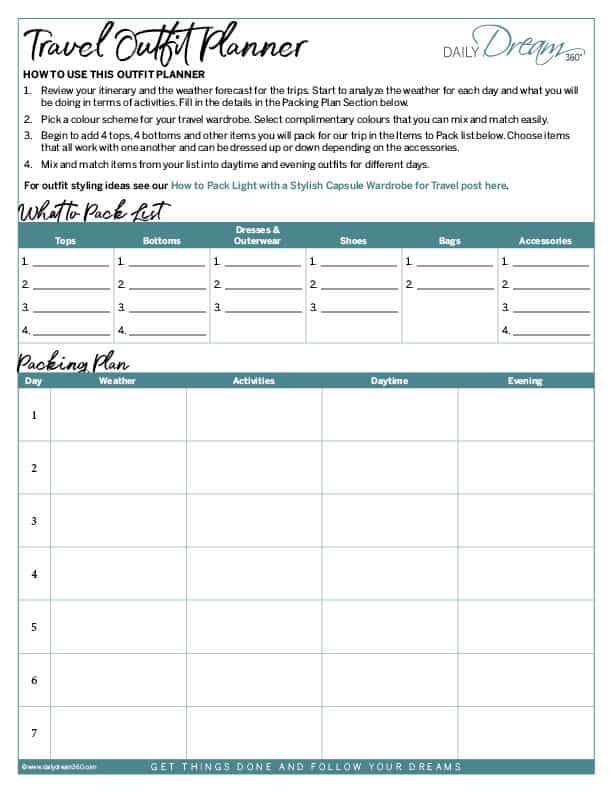 Download our Printable Travel Outfit Planner!
Are you looking for more packing inspiration? Join our mailing list for exclusive travel tips, priority access to giveaways and access to our downloads page where you can download any of our files and our Outfit Planner printable.