In this post, I share a remote destination in the Province of Quebec. Often on the bucket lists of many Canadians, the Magdalen Islands are located in the Gulf of St. Lawrence and planning a trip there requires a little advanced research. Here is a travel guide of what you need to know to plan a trip to Les Iles de la Madeleine in Quebec Maritime.
Dream it.
About The Magdalen Islands (Iles de la Madeleine)
If you have not heard of these islands, then let me share this dream destination with you! The small archipelago sits above Prince Edward Island and Nova Scotia but is part of the province of Quebec as it lies off the coast of the Gaspé peninsula.
There are six major islands connected by roads and bridges, and a small island (Entry Island) which is only accessible by Ferry. The islands have a population of just under 13,000 people.
In winter, the islands are known for their seal observation excursions as thousands of harp seals make their way down the ice near the islands to give birth. The window for these excursions is tiny and planning this trip requires a lot of preparation.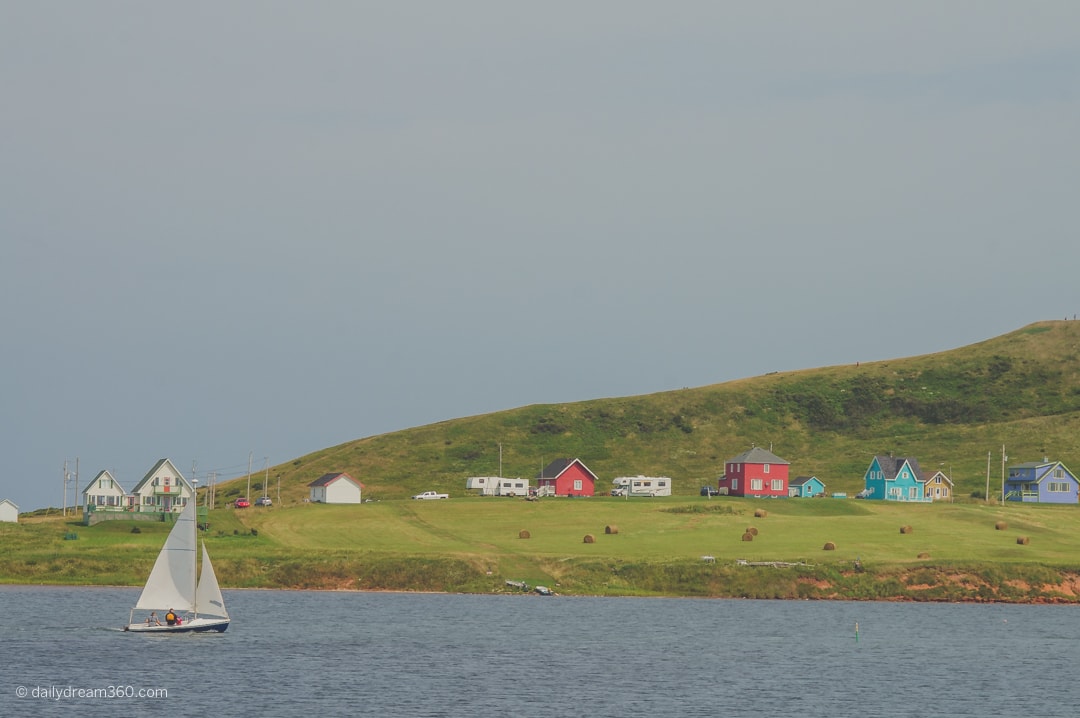 In summer the Island's primary travel season the Madelinots welcome the lucky travellers to their communities. Once on the islands, you will have access to 300 km of white sand beaches, breathtaking landscapes of green hills, dunes, red clay cliffs and roads that drive through blue waters all surrounded by blue sky.
On the islands you'll find colourful little houses dotted along hillsides, you'll see sailboats, ocean surfers and will drive through communities filled with artisan shops, great restaurants and cafes.
Plan it.
What You Need to Know When Planning a Trip to the Iles de la Madeleine
The first and most important thing to know about Îles de la Madeleine is that you have to plan ahead. Your priority should be how are you getting there; in fact, most hotels will ask you this before they let you book a room.
How to Get to Iles de la Madeleine, Quebec
Airlines that Fly to Iles de la Madeleine
Air Canada
Your best bet for flying into the island is with Air Canada express which operates out of Montreal, Quebec City and the Gaspé. As a Star Alliance partner, it will be easier to find flights into these cities and connect to the islands.
Check flights: TripAdvisor | Expedia | Travelocity
Be prepared for delays, the Iles de la Madeleine Airport (YGR) is located on Havre-aux-Maisons Island and at times can be delayed slightly due to high winds.
Be sure to check out your transportation options once you reach the island as you will need to rent a car or bike to travel around.
CTMA Ferry to Îles de la Madeleine from Prince Edward Island
If you are planning a road trip through the Atlantic Provinces of Canada or Quebec's Maritime region, and plan on visiting the islands via Ferry, you will have to make a reservation well in advance.
IMPORTANT! As I said, many hotels on the island won't allow you to book a room until you have confirmed your transportation on the island. The ferry books up very quickly so be sure to make this your first step if planning a road trip to the islands.
The ferry operates year-round however be sure to check the calendar for availability and days when the boat runs.
Cruises to Îles de la Madeleine
Another popular way to visit the islands is with CTMA cruise from Montreal. These one-week cruises run every Friday from mid-June to the end of September. The cruises offer three day stays on the islands with guided tour packages to explore the many attractions.
See more on CTMA Cruises: TripAdvisor | CTMA Website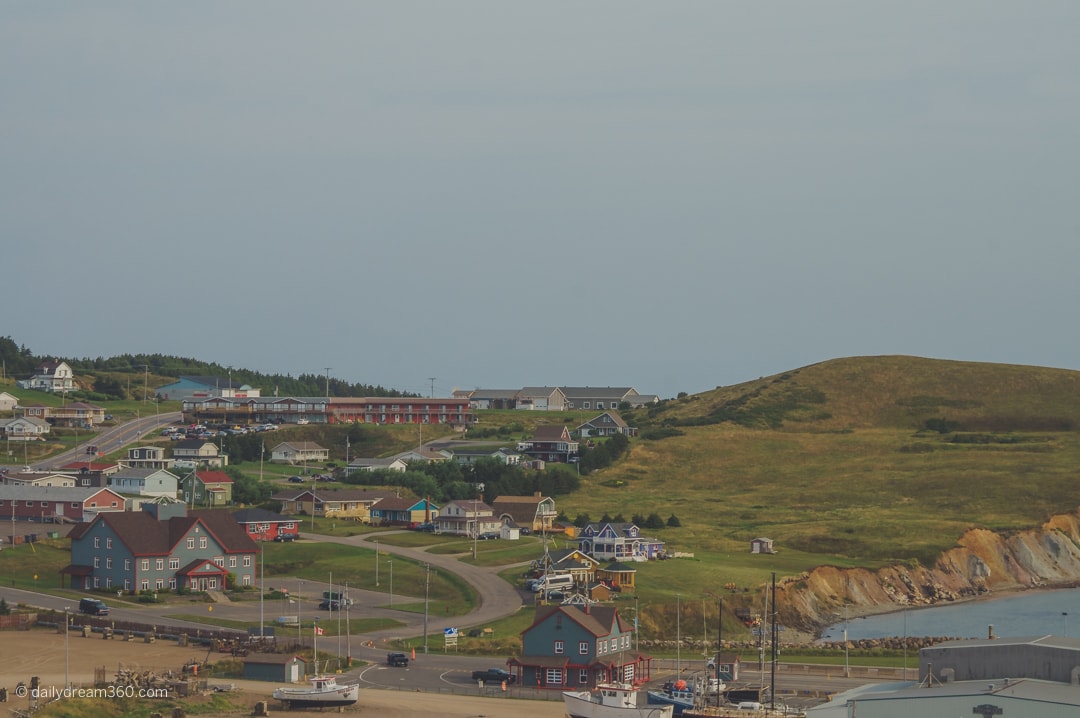 Transportation and Getting Around: Îles de la Madeleine
Unless you are travelling by car, you will need to arrange transportation to get you around the archipelago. There are also several tour companies that can guide you around the island. Otherwise, your modes of travel will be car rental or bike.
Car Rental on Îles de la Madeleine
There are a handful of companies that offer car rentals on the island. Be sure to arrange this in advance as vehicles are limited. There is only one car rental company located inside the airport, and its vehicles are often booked.
Check car rental rates: Expedia | Travelocity
Bike and Motorbike Rentals
Another popular method of transportation on the islands is by bike. The many scenic roads offer a great backdrop as you hop through the five islands.
Packing Essentials for a trip to the Islands
The islands are very casual generally speaking. Plan for a breezy coastal vacation with some nature activities. Here are some travel packing suggestions.
Island Summer Style
Nature Hikes
Live it.
The Islands and Regions of Îles de la Madeleine
Îles de la Madeleine has several attractions scattered across the islands which you can plan to experience. Here is a breakdown by islands.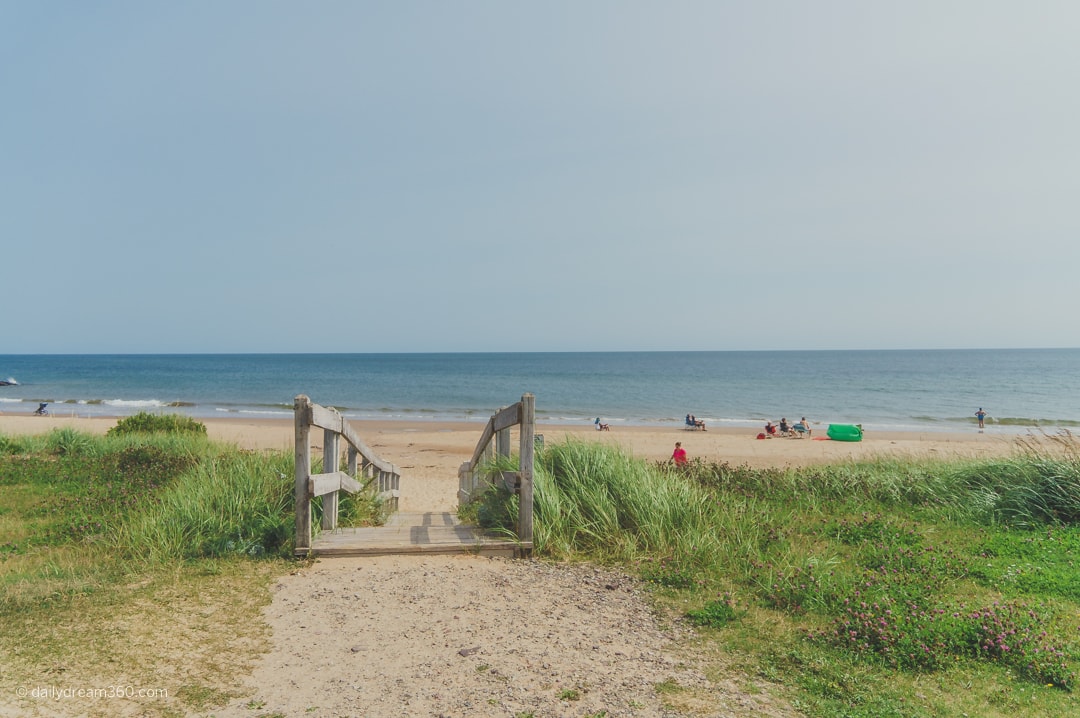 Ile du Havre-Aux-Maisons
I feel like the best place to start is the island where the airport is located. If you arrive by cruise ship or ferry, you will land on Cap-Aux-Meules Island.
This island is relatively rural, has very few trees and is dotted with colourful houses. Here are a few attractions in Havre-Aux-Maisons which I recommend.
Dune du Sud Beach
Red sandstone rock formations line the shore at Dune du Sud Beach which is a must-see. The landscape is beautiful as the ocean waves crash on the white sand which sits next to spectacular red rock formations.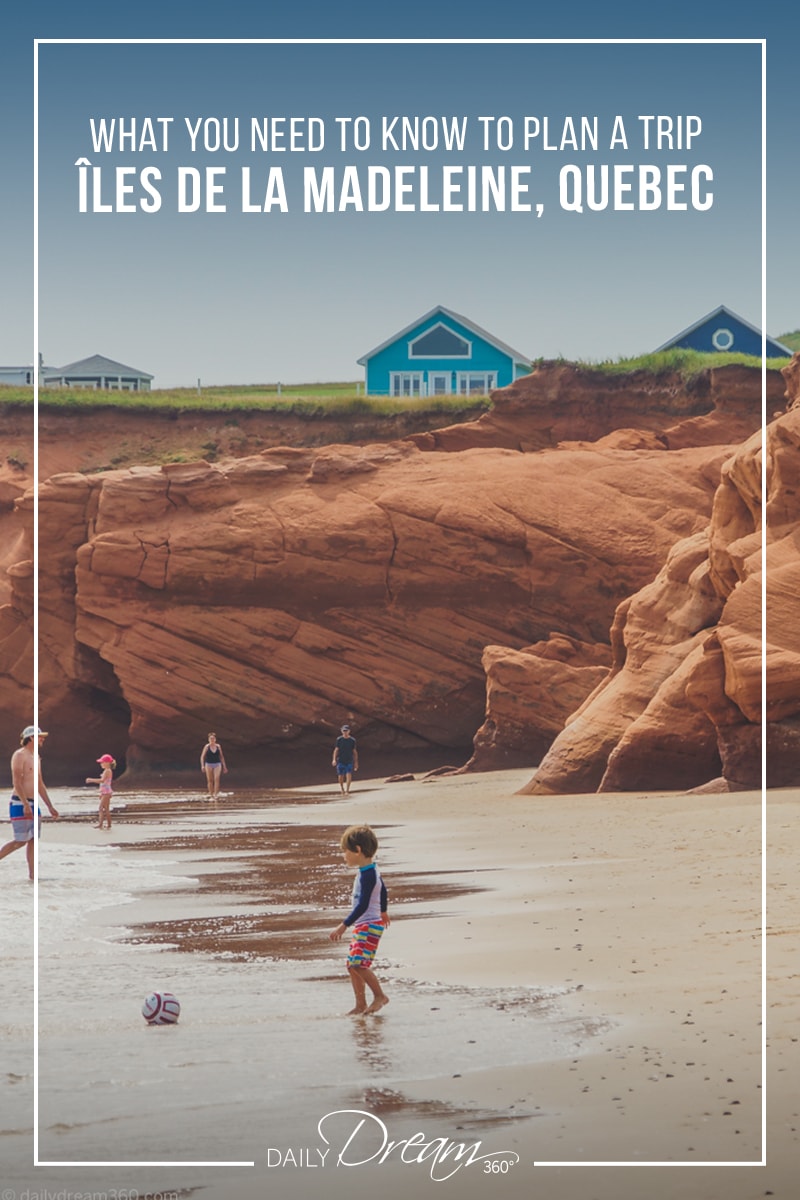 Locals and tourists visit the beach to picnic or dip in the water and enjoy a beach day. Bring a boxed lunch and enjoy some time soaking up the sun.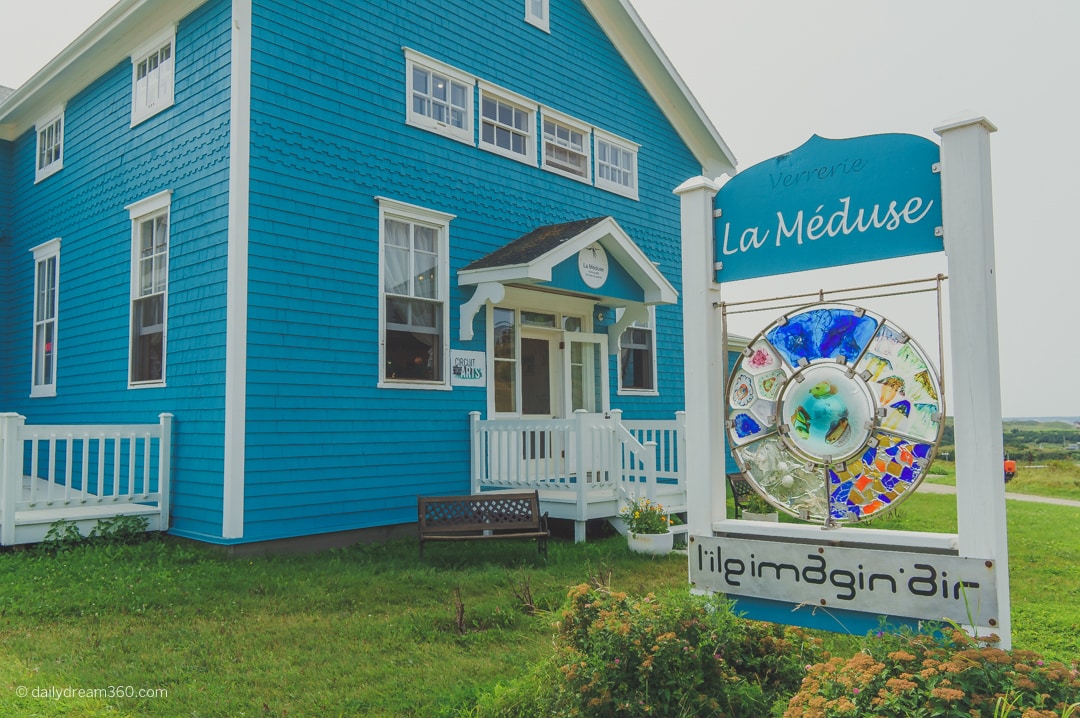 Verrerie La Méduse (Glass Blowing shop and Studio)
As you drive south along the main highway towards the Cap-Aux-Meules, I suggest a stop at Verrerie La Méduse a glass blowing studio and boutique. | Reviews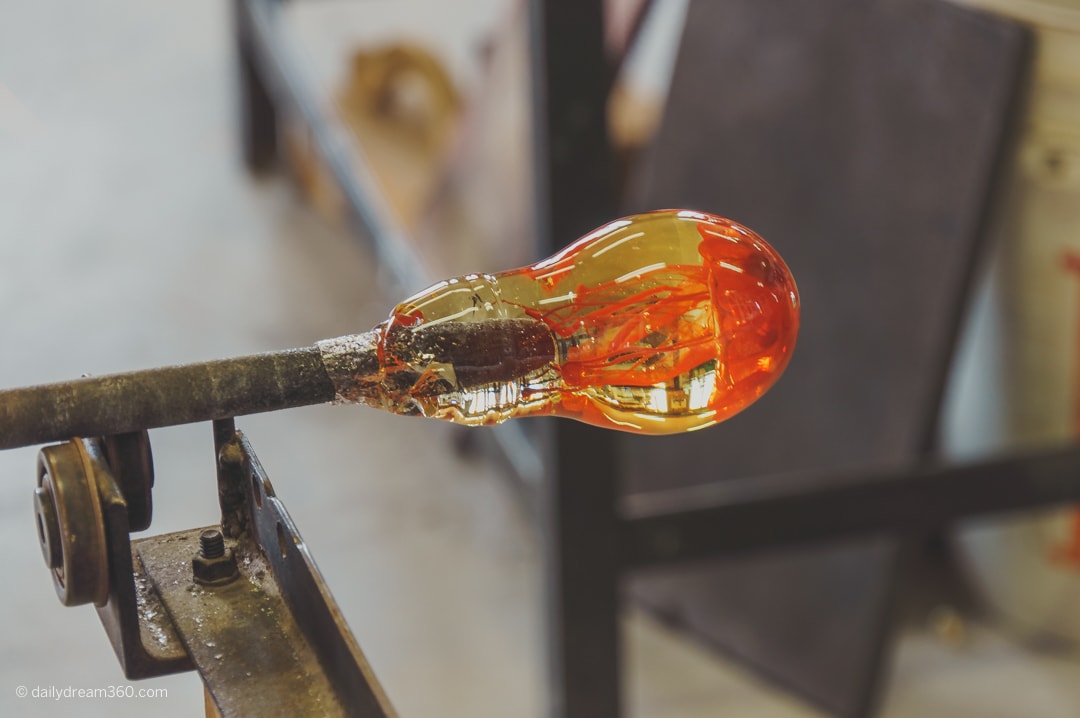 Take a workshop and learn the art of glass blowing or watch it from the seating gallery.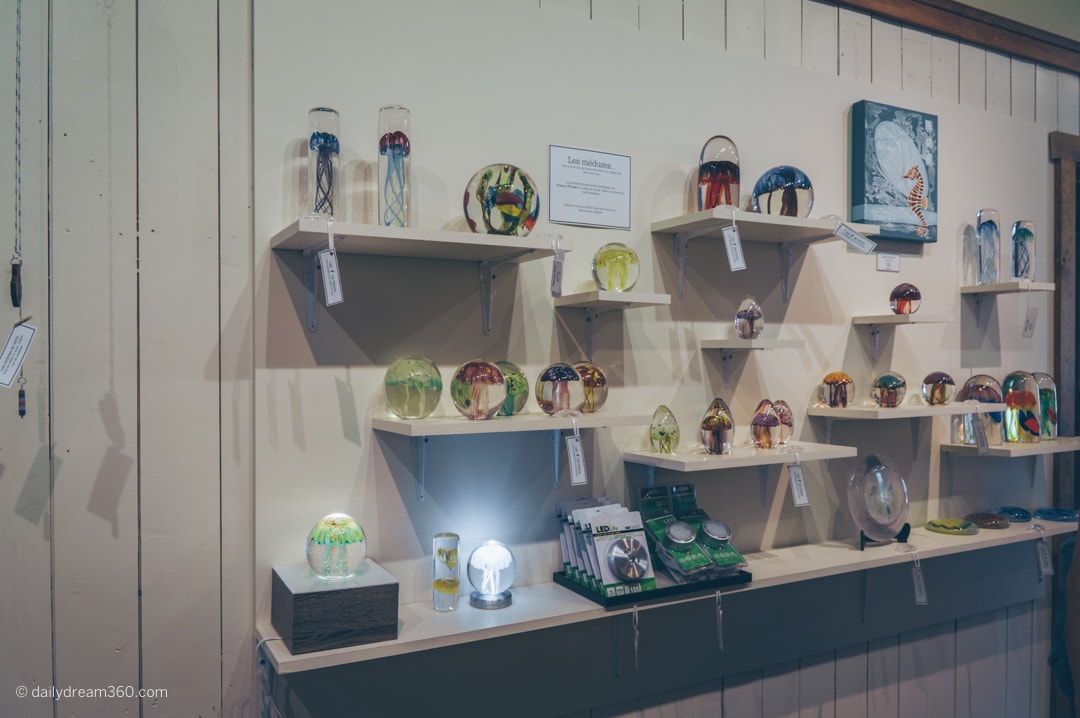 Save time to browse the lovely shop filled with artistic pieces of all shapes and sizes. There are lots of glassworks on display from small paperweights, to larger pieces.
Be on the lookout for the shop's most well-known piece a jellyfish which floats inside the glass art.
Fromagerie du Pied-de-Vent Cheese Factory
When in Quebec you must sample the local cheeses, and the Pied-de-Vent is an Iles de la Madeleine favourite.
The cheese is served in the many hotels and restaurants on the islands you won't be disappointed if you stop for a tasting here. | Reviews
Le Fumoir d'Antan (traditional Smoked Herring museum and store)
As Herring depletes from our oceans so does this traditional delicacy. Once a significant player in the fishing industries of the Quebec Maritime the Fumoir d'Antan explores the history behind this island staple.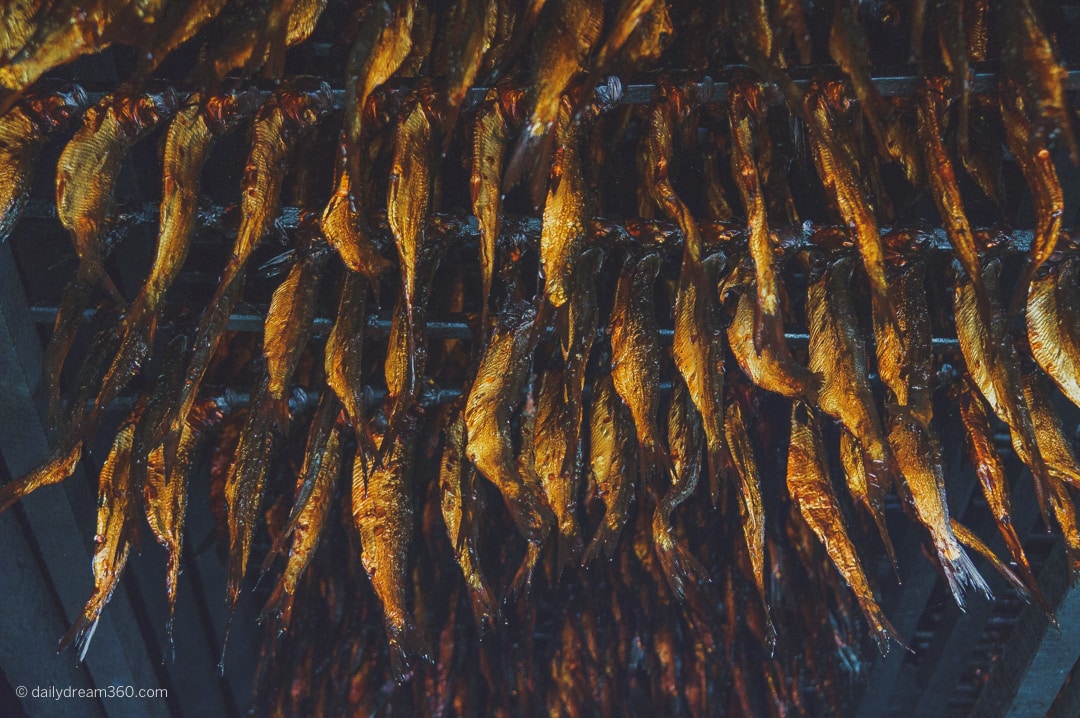 Take a tour and see how smoked herring was produced and take a look inside the smokehouse which is still active today. Then head inside to the store for a tasting. I didn't know how I was going to feel about it, but so glad I tasted it as it was delicious. | Reviews
Cap Alright Lighthouse
You may want to stop many times along the scenic road as you head from Havre-Aux-Maisons into Cap-Aux-Meules island. An excellent place to stop and take a look is at the Cap Alright Lighthouse. This historic little lighthouse was built in 1928 and is one of the last lighthouses built on the islands.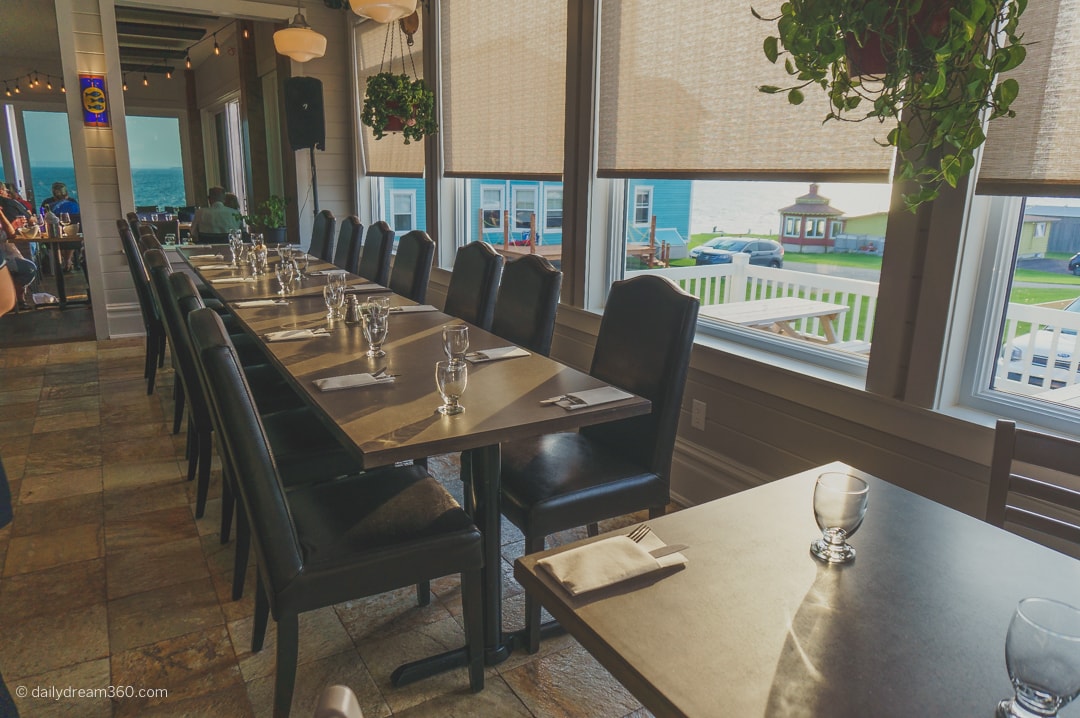 Dinner Domaine du Vieux Couvent Restaurant
If you are looking for a place to eat with a view of the Gulf as the sun sets, you will appreciate the Domaine du Vieux Couvent. The restaurant is located in the hotel of the same name. A musician played the piano as we dined on seafood and other Quebec inspired cuisine.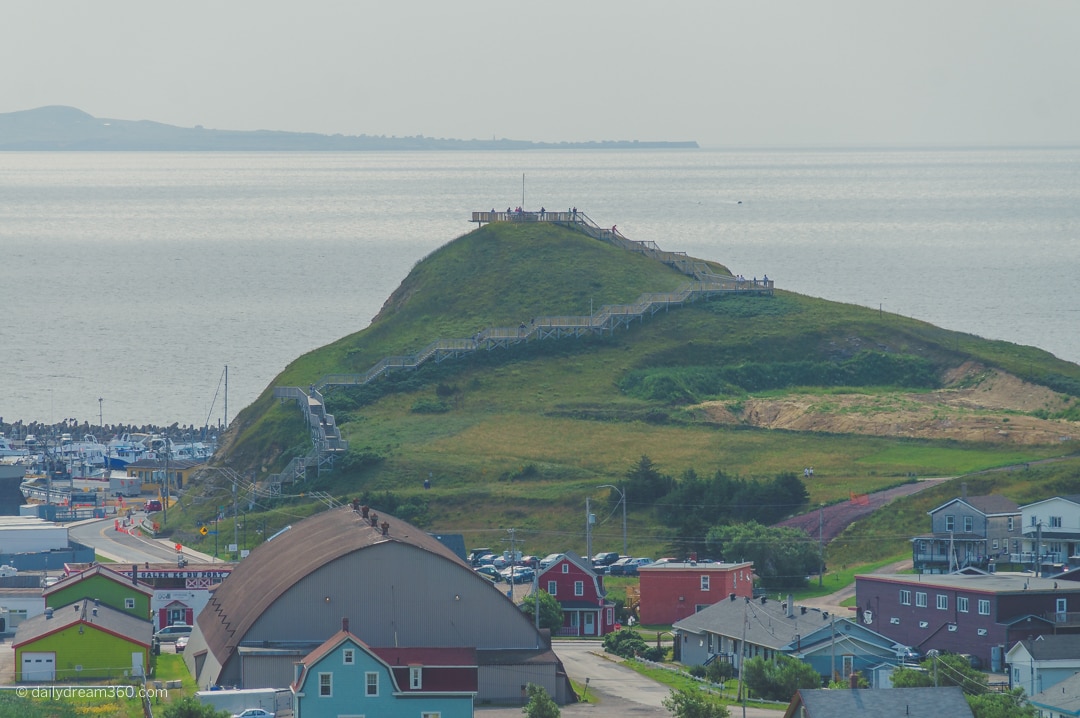 Cap-aux-Meules Island
One of the bigger Magdalen Islands Cap-aux-Meules has plenty to do and see. It was also where our hotel was located which was very central to the touring we did on the three southern islands.
When you arrive by boat, this is the island that you will see first. The Port is located in the downtown area of the island which has many shops, restaurants and other essential services that serve the islands.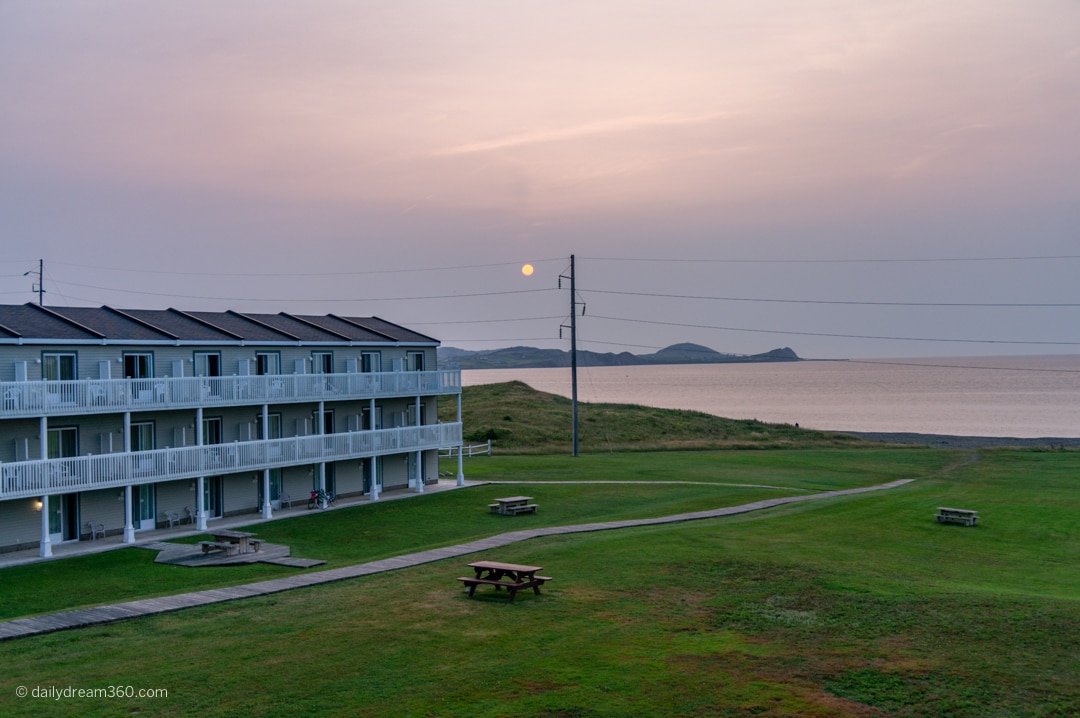 Hotel Château Madelinot
The Chateau Madelinot has 112 rooms that face the seaside. The hotel had an indoor pool, a restaurant and a bar. Outside there is a large open area with picnic tables that lead down to the beach. More on this hotel in an upcoming post.
Check Rates and Reviews: TripAdvisor | Expedia | Travelocity
A l'Abri de la Tempête Microbrewery
If you need some suds head to where the locals go. Every year they create seven limited-edition brews in addition to all the other beers they offer. The place is packed with locals, and they have more beers than you will be able to taste in one visit. | Reviews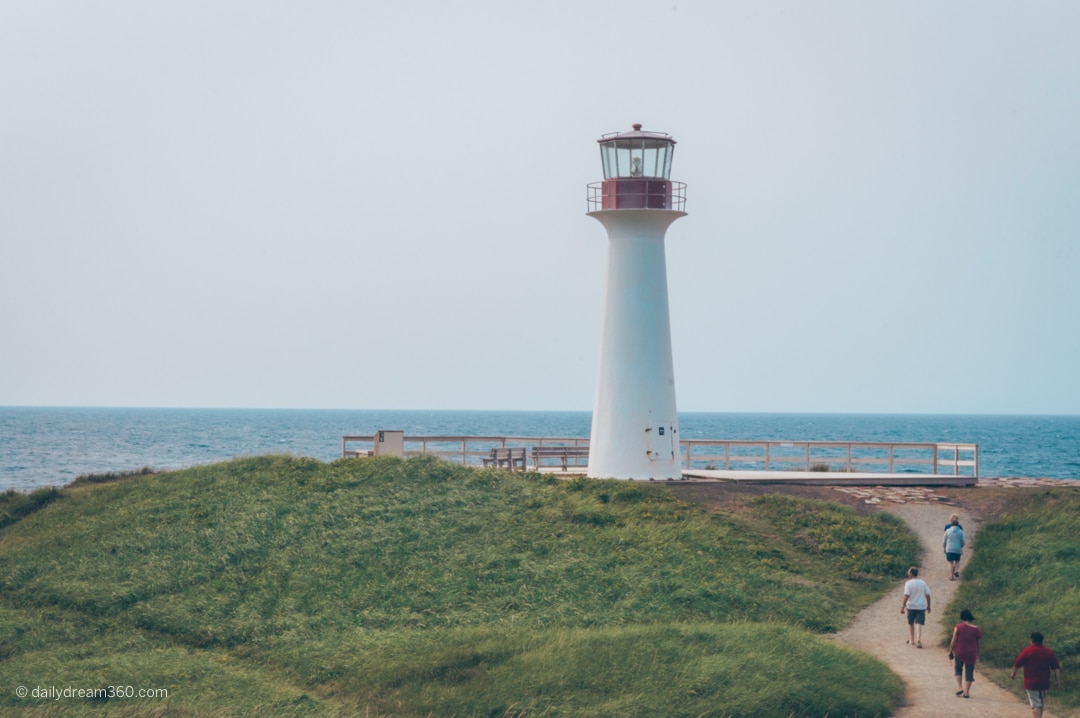 Cap Hérissé Lighthouse
If you like to drive around and discover Iles de la Madeleine will not disappoint. It is very difficult to get lost here, and there is no shortage of spots to stop and take some photos.
The lighthouse at the Cap Hérisse was one of these spots. We had a great view of the other side of the island and drove through many streets with the lovely colourful houses dotted along the way.
Dinner Le Table des Roy Restaurant
By far one of my favourite places to eat on the islands. If you ware visiting Iles de la Madeleine even for a day, you have to make a reservation here. It is a popular spot, and like the Ferries, many make reservations months (or even years) in advance. | Reviews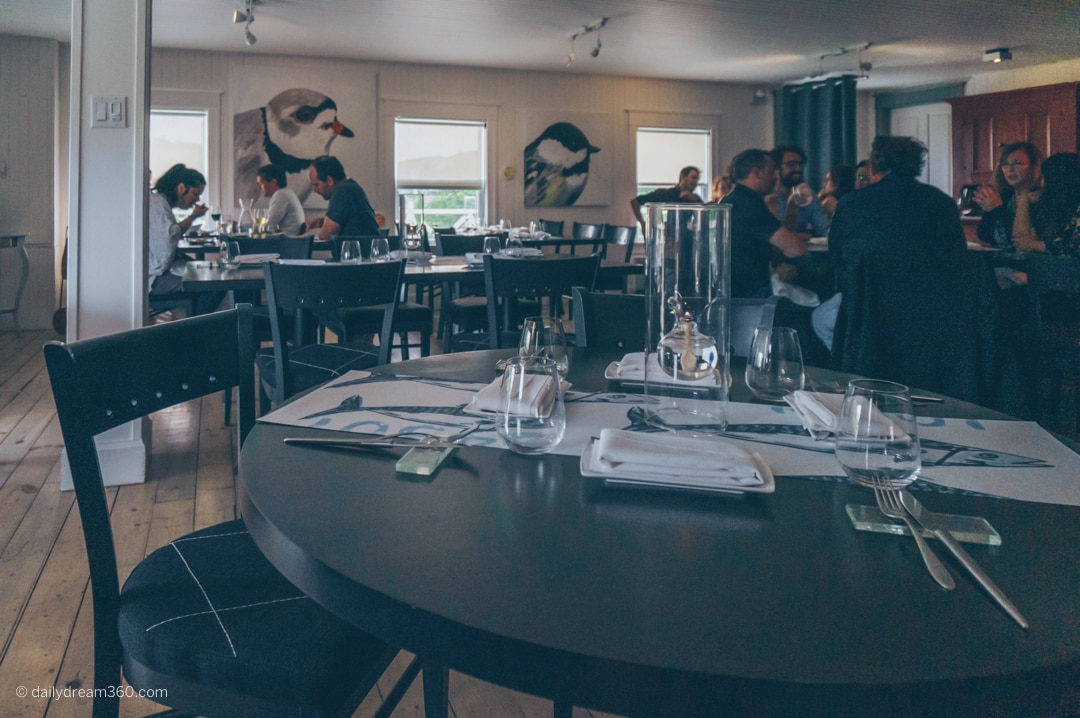 Chef Johanne Vigneau prepares a menu filled with options from the "sea or the earth." Of course, when you live on a group of Islands in the middle of the Gulf of the St. Lawrence being able to source your ingredients locally becomes even more important.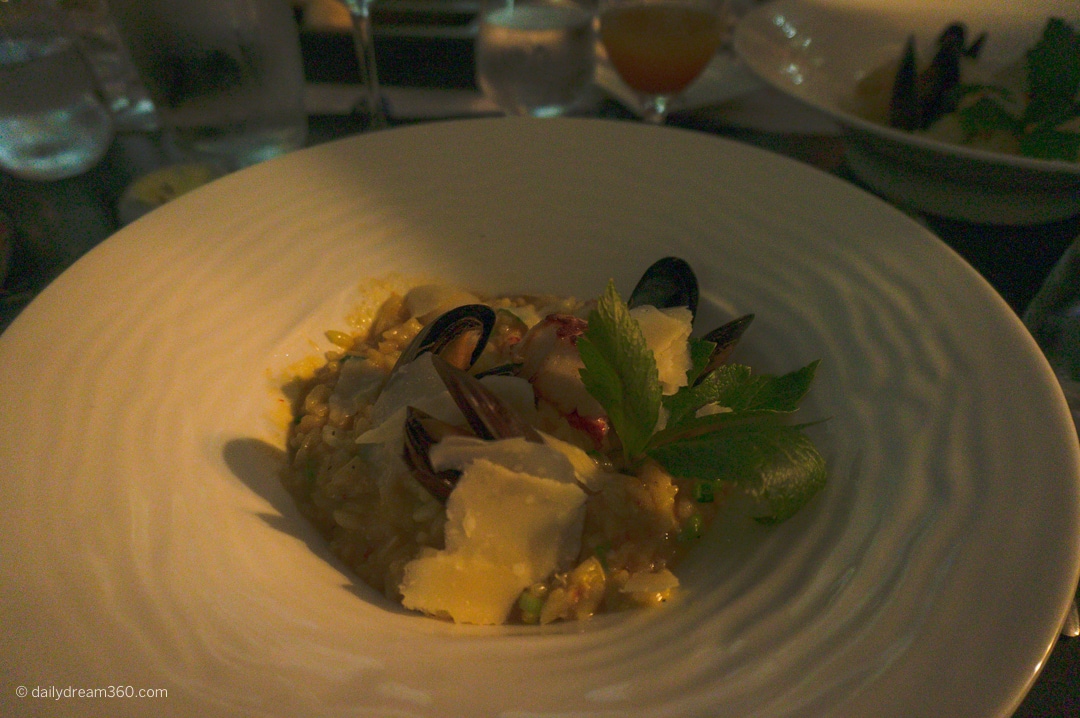 One of the dishes she is most known for is her Seafood Risotto. I usually try to pick healthier things to eat, but when I realized that people book reservations (and cooking classes) just to taste and master this dish, I was sold. It was honestly one of the best Risotto's I've ever had.
Leave room for dessert another item that chef Johanne is famous for is her Maple Souffle. I don't know how she created a souffle with maple syrup but it was delicious and something I'll dream about for the rest of my life!
Gourmande de Nature
As if running the most popular restaurant on the island isn't enough, Chef Johanne also owns and runs Gourmande de Nature. This shop and café is a great place to buy local ingredients, and I highly recommend you book a cooking class.
We had a hands-on class cooking with chef Johanne as we prepared appetizers and the main course which we later sat at a table and enjoyed. We learned how to use some of the ingredients famous to the islands including dried herring and local cheeses.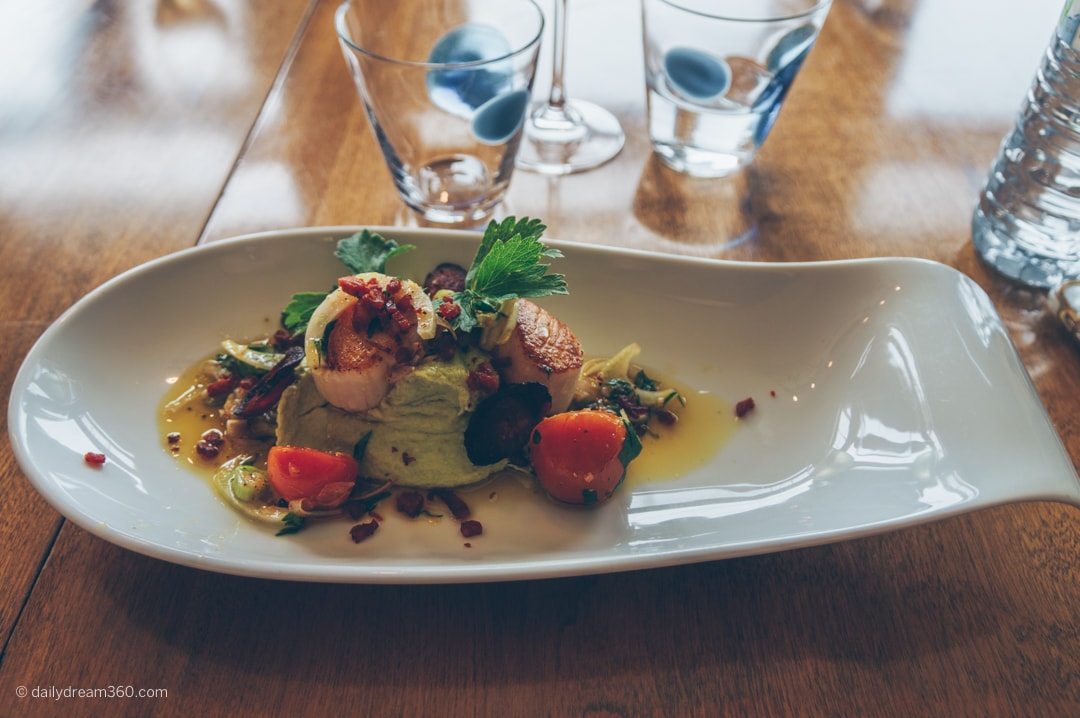 These classes have 6-12 people and last 3 hours. There are also classes including scavaging for ingredients on the island with chef Johanne. As you can imagine these classes book up fast too. So be sure to plan ahead. | Reviews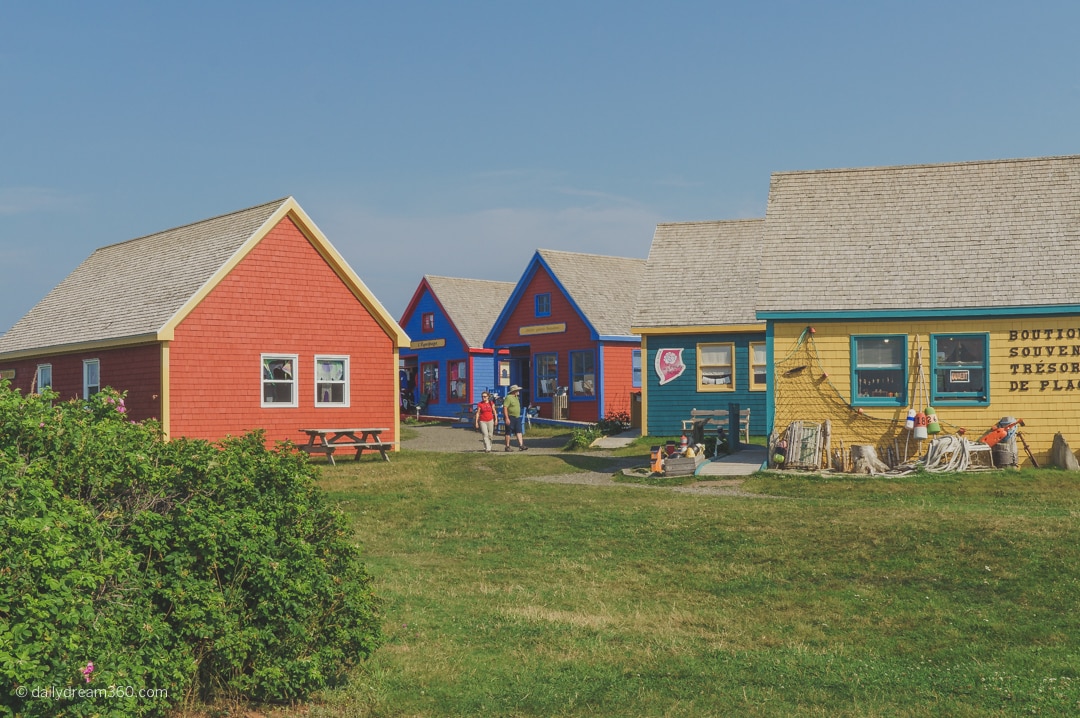 Shopping Village Site de la Côte Park
Be sure to carve out some time to explore the Site de la Côte public park. When we walked over, we enjoyed some live musicians playing for a local event being held there.
The many tiny buildings house little boutique stores and artisan galleries. This was a great place to shop for local souvenirs, crafts and products. I wish we had more time to explore it.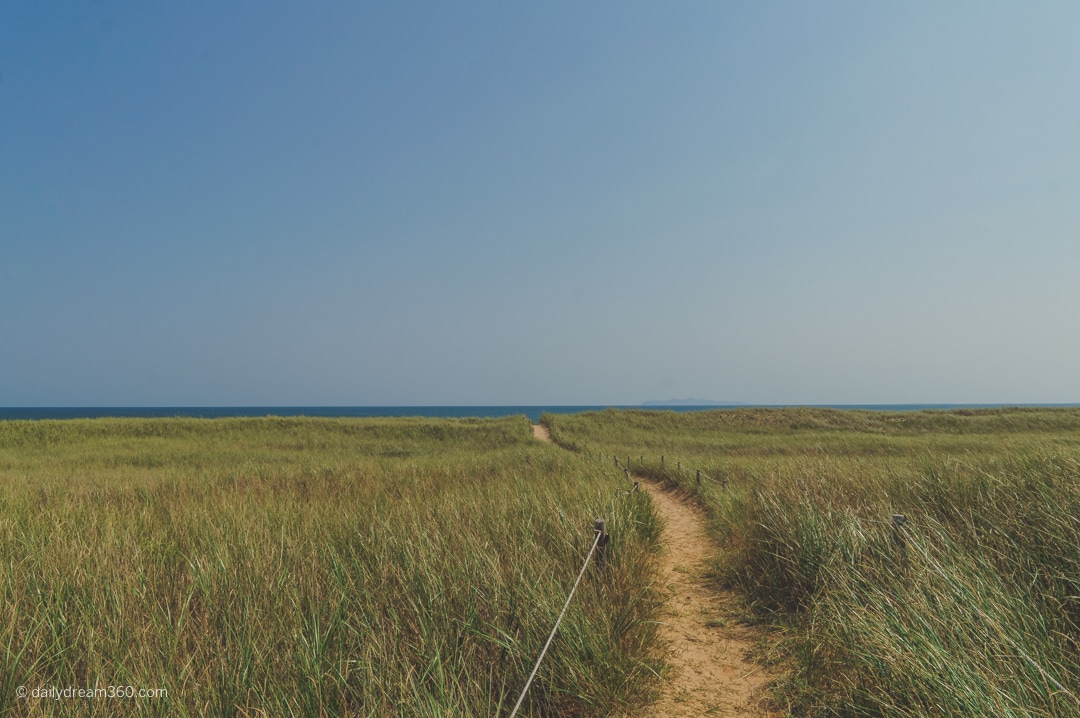 Havre Aubert Island
La Grave Region on the Havre Aubert Island is breathtaking. There are several places to stop your car and park. We walked down this long path to a beautiful white sand beach which we had to ourselves.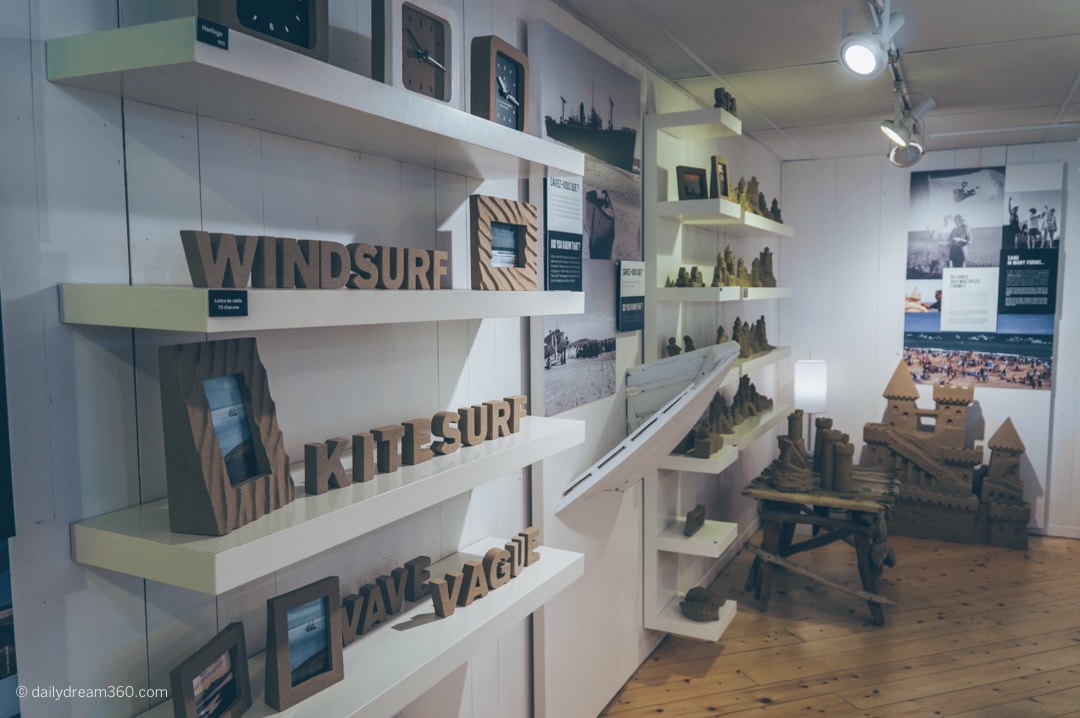 Atelier Côtier
This incredible shop sits at the entrance to the historic shopping village, and it is filled with beautiful sand art and souvenirs. Formerly known as Artisans du Sable, this family has perfected the art of taking sand from the island and sculpting it into magnificent pieces of art. | Reviews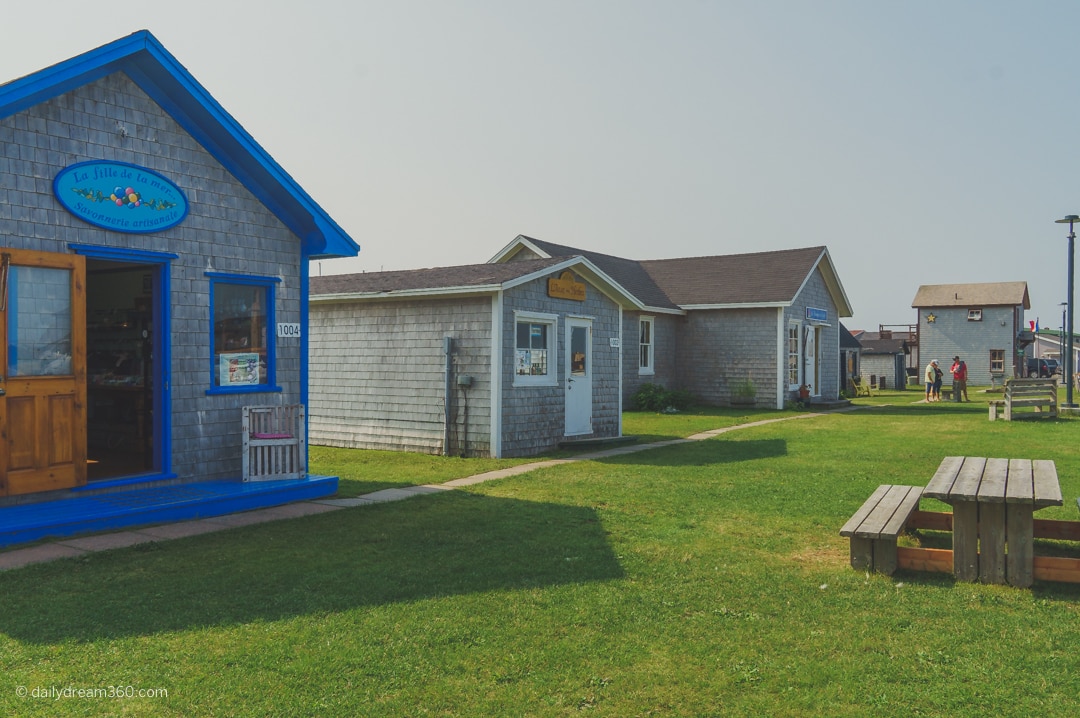 Shopping La Grave Historic Village
A short walk down from Atelier Côtier is the historic shopping village of Havre Aubert Island. Here you will find many little boutique shops filled with artisan works, local clothing providers, souvenirs, bakeries and cafes.
Ile de la Pointe Aux Loups
I had the most amazing drive from Havre-Aux Maisons to Grand-Entrée. The narrow roads had breathtaking views of the ocean amongst white dunes with smaller communities dotted along the way.
Every few kilometres was a spot to turn off and park your car. I followed one of the paths through the dunes to the view above.
Ile De Grosse Ile
Drive towards Grande-Entrée you may want to take a detour and discover some of the tiny fishing villages on this island. There are also more beaches here, and I saw many places to stop and park the car on my way.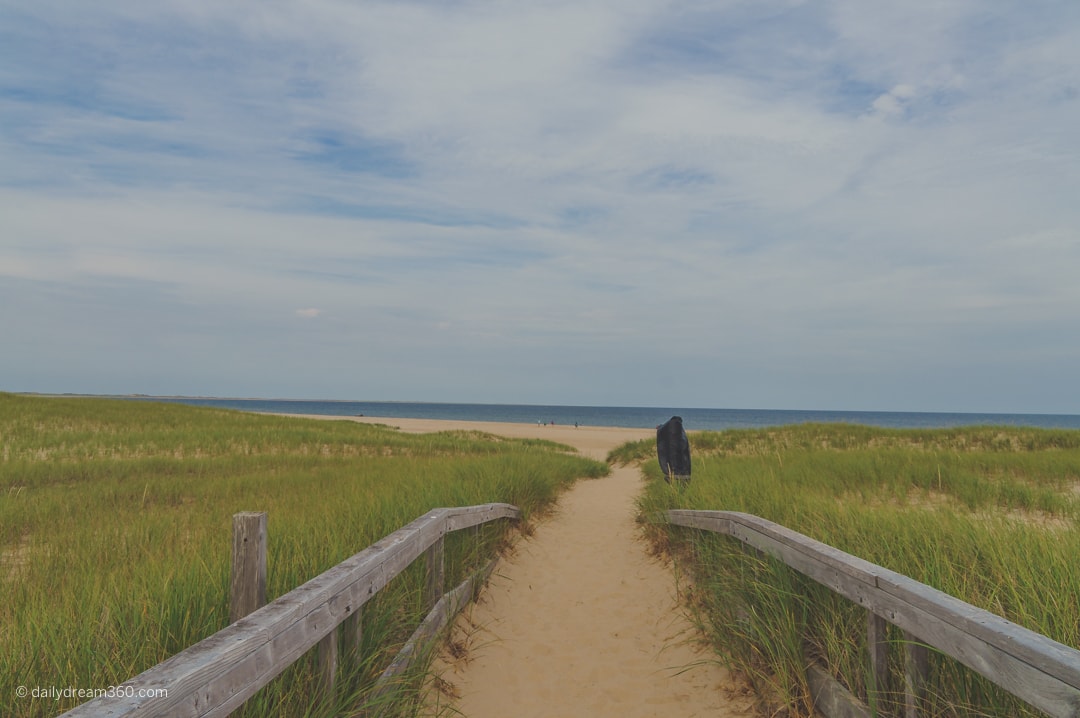 Grande-Entrée Island
Old Harry Beach
Luckily the mood on the island is very laid back as I had many OMG, stop the car moments on my drive to Grande-Entrée. A local recommended that I stop at Old Harry beach and I'm so glad I listened. I had to remind myself that I was actually in Canada in the Province of Quebec as I strolled here.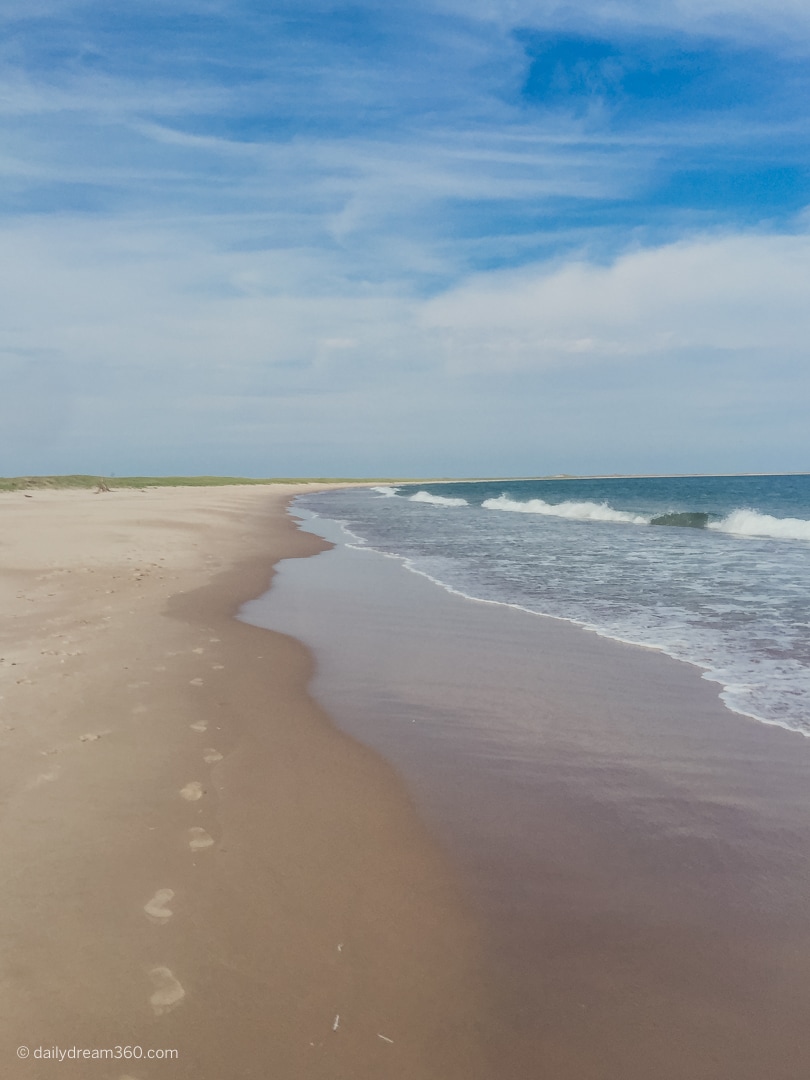 Auberge La Salicorne Resort
There is too much to say about Salicorne Resort in just a few paragraphs. This lodge is a full-service resort filled with excursions and activities from nature hiking, clay mud baths, water activities and more. The best part, you don't have to be a guest at the resort to take part in all these excursions.
See Reviews: TripAdvisor | Expedia | Travelocity | Hotels.com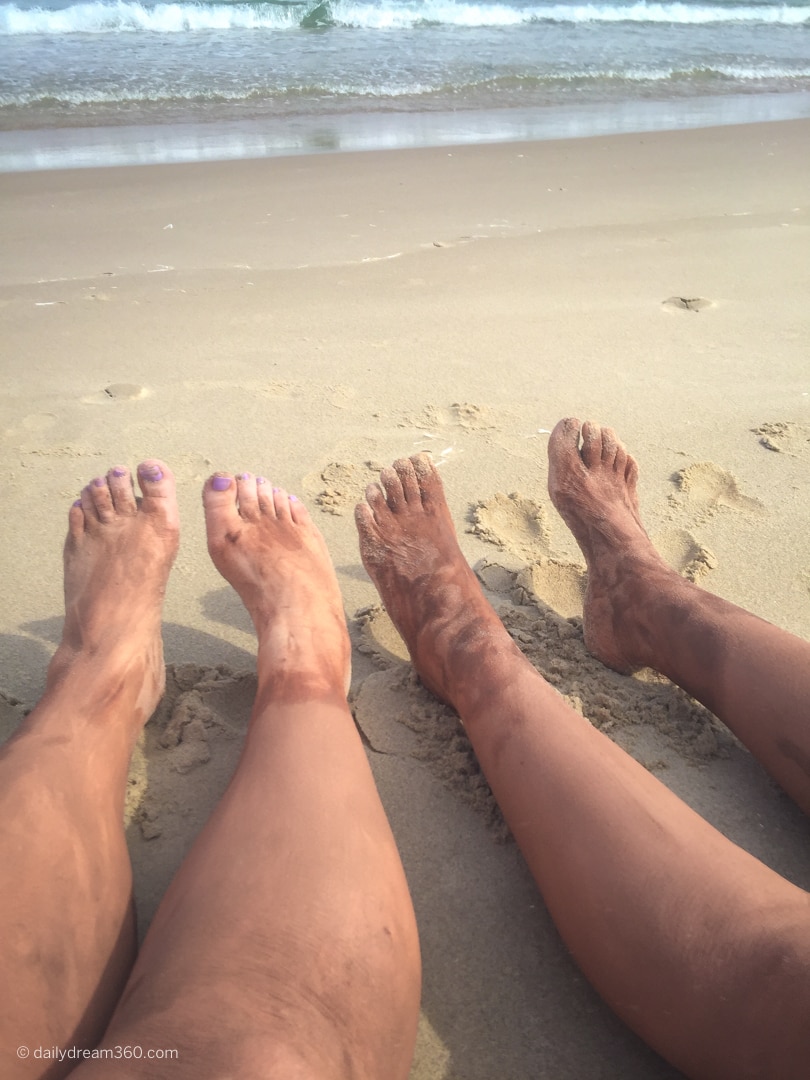 Dream Experiences and Excursions
I only had one night here, and now I'm determined to make my way back and do a week-long health and wellness retreat. I did some excursions which I will detail in another post soon.
My guide at Auberge la Salicorne took me on a nature walk where we sampled berries and plants from the Islands nature reserve. We walked to Old Harry beach where we covered ourselves in the Island's famous clay, and I also did some amazing hikes along the red clay cliffs.
There are many unusual coastal paths and walkways on Grande-Entrée island. You do not have to be a guest of the resort to discover them, but more details on everything I saw with my guide from the resort will be coming very soon.
Pointe de la Grande-Entrée
If you are going to visit Ile De Grande-Entrée why not visit its farthest point. There you will find little shops next to a marina to explore.
Île d'Entrée (Entry Island)
I did not get a chance to visit Entry Island which is only accessible by Ferry. There is no road crossing here, and the Ferry takes 45 minutes to cross. This Island is more of a day excursion where you will go in with the morning ferry and leave on the evening ferry.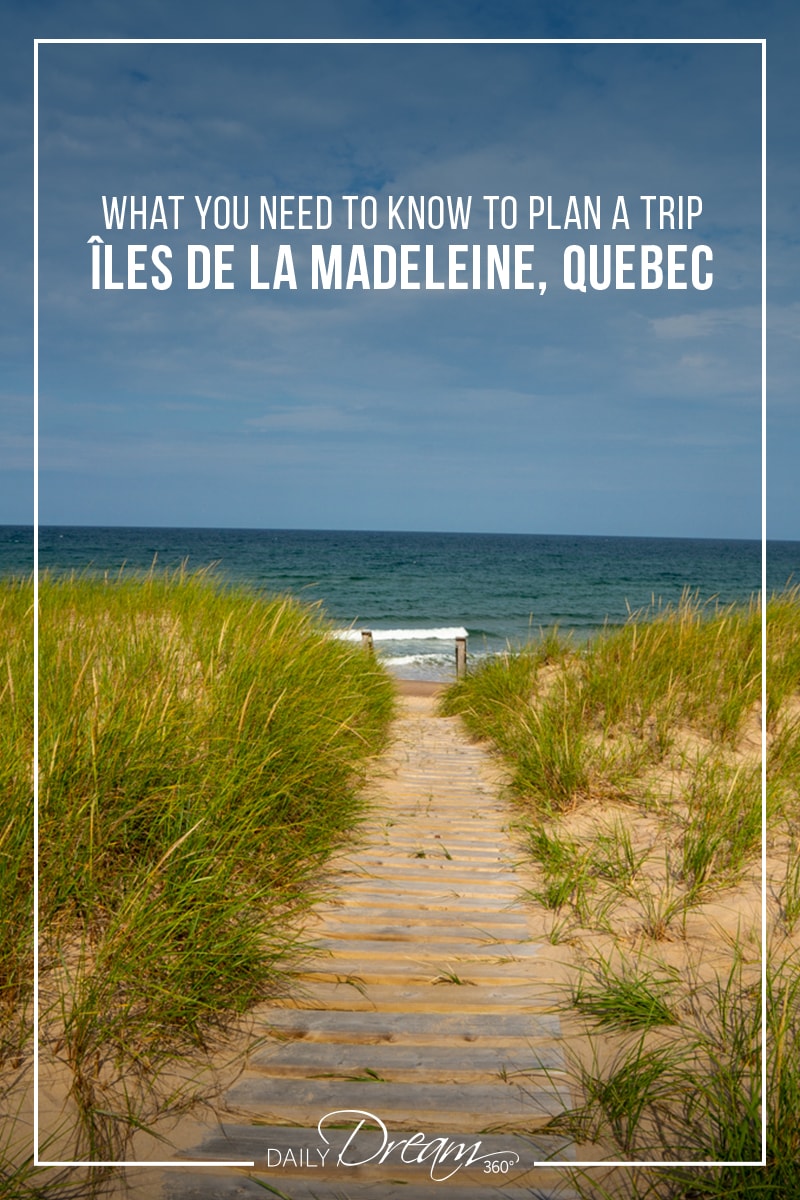 I won a 4-day media guided trip to Iles de la Madeleine with travel assistance provided by The Province of Quebec, Quebec Maritime and Iles de la Madeleine Tourism boards.
XOXO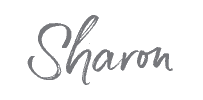 Quebec
Quebec Maritime