This article may contain affiliate links. Clicking on or purchasing products we recommend through a link may earn a small commission. Read our disclosure and privacy policy page for details. *COVID-19 TRAVEL ALERT – Travel recommendations offered on this site are not to encourage you to travel against travel advisories.
Most people who write reviews on Kenn footwear focus on their hiking shoes and boots. This summer, however, I have been sporting a new pair of sandals and had to share them with all of you. The Keen Dauntless Strappy II sandals are both stylish and comfortable and survived a long summer of walking.
Keen Style Savvy Sandals
Perfect for sightseeing, these leather upper Keen Sandals are stylish and support your feet. They have a cork midsole and elasticized straps which were great when my feet swelled up in the heat. These elasticized straps gave just the right amount of give, so the shoes still stayed snug on my feet.
Keen Women's Dauntless Strappy II Sandals
These sandals have a beautiful brown leather upper with a Maroon elastic embellishment and were ideal for walking around in shorts or dressing up in the evenings with a pair of leggings or a summer dress.
Sizing
I noticed that in this shoe I needed a half size smaller than normal. Luckily returns to Keen were very easy and within a few days, I had the right size shoes delivered to my home.
Shopping is Easy at Keen's Website
Returns and Exchanges with Keen
The process for returns and exchanges is straightforward.
Put the shoes back in the original packaging they were delivered in
Go to their website and print off a return/exchange slip
Tape as per instructions on the package
Take to Canada Post
Then I just had to reorder the sandals with the correct size. Within a few days, they were shipped back to me in the right size. Very simple. I always hesitated to buy shoes for this very reason. I'm never sure if they are going to fit properly. Now that I know how easy it is to rectify the situation I will not hesitate to order online with Keen Again.
It took a few wears before I was able to break in my Dauntless Sandals. Because of the leather upper, it needed a few wears to soften up the leather. However, with the give of the elasticised straps, this was not too difficult a process. I didn't have blisters when breaking these in, just a few sore and red spots.
Great Sandals for Sightseeing
I travel a lot and this summer I had many city tour type trips. I wore my shoes all day long, and they provided great support for my feet, so they were not as sore as they usually get when I walk around for miles. For me, the real test of a great sightseeing shoe is being able to wear them for 6-8 hours of mostly city street walking. These shoes passed my test!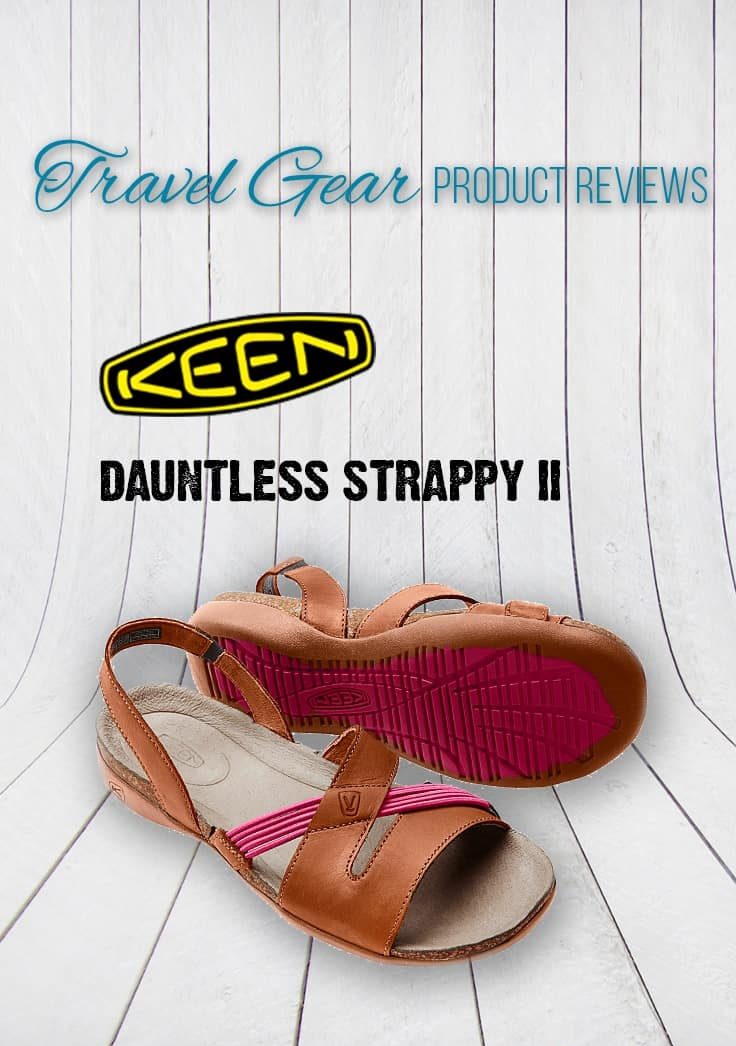 Add these shoes to some more of my travel favourites:
Disclosure: I did not receive compensation for this post. I received a pair of Keen Dauntless Strappy II sandals for review purposes only.