This article may contain affiliate links. Clicking on or purchasing products we recommend through a link may earn a small commission. Read our disclosure and privacy policy page for details. *COVID-19 TRAVEL ALERT – Travel recommendations offered on this site are not to encourage you to travel against travel advisories.
I love different experiences on my travels and when I get the chance to try something different I love sharing it with all of you. Lofts on Pearl in Buffalo New York provides a unique loft hotel experience in a great location in downtown Buffalo. The building housing this hotel was initially built in 1878, it was later bought by a developer who turned it into Loft style apartments. In 2012, the last of the apartment leases expired and all the suites were renovated into the Lofts on Pearl hotel.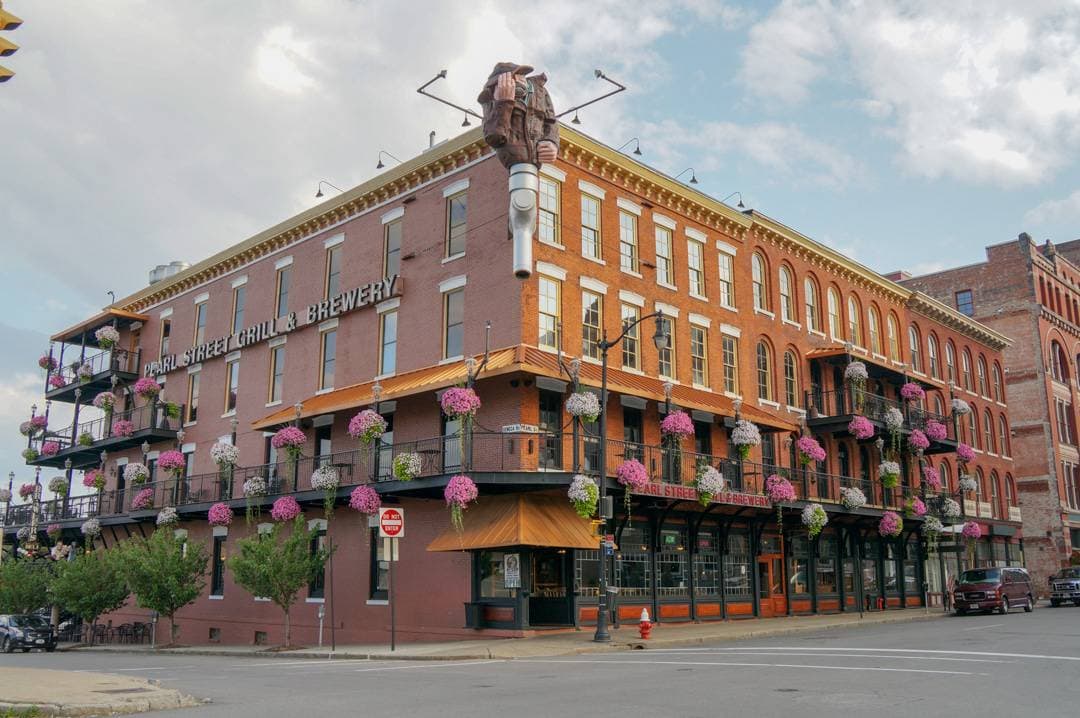 There are 28 2-bedroom suites in the hotel and four 1-bedroom suites, and they are all fully furnished suites. The hotel is located next to the Pearl Street Grill & Brewery where guest at the Lofts on Pearl can park their vehicles and enjoy a complimentary breakfast. The included breakfast is a small continental breakfast, or you have the option of using your breakfast voucher as a $5 coupon off breakfast (which was still a good bargain.)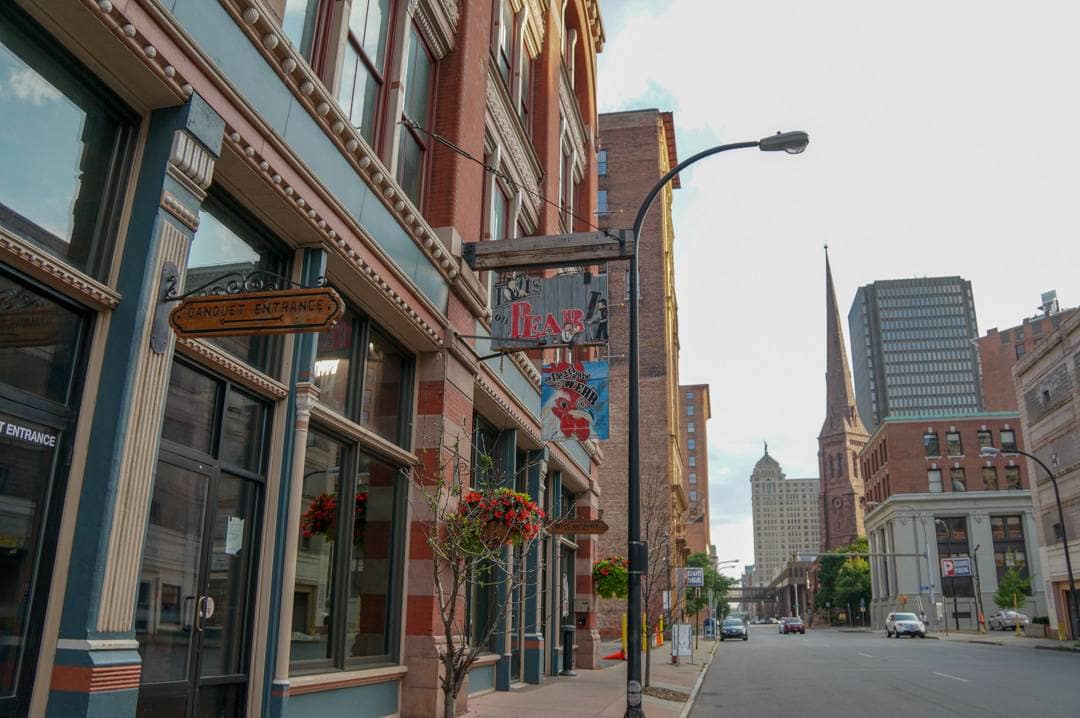 Checking in to the Lofts of Pearl was a bit awkward. We had to park the car (with hazards blinking) in the front of the hotel, check-in at the front desk and then come back out to drag our luggage inside to the suite. Then I had to exit the hotel, drive my car around the building to the back parking lot behind the Pearl Street Brewery and enter the hotel. There was no one to help with our bags, or with the vehicle when we checked in.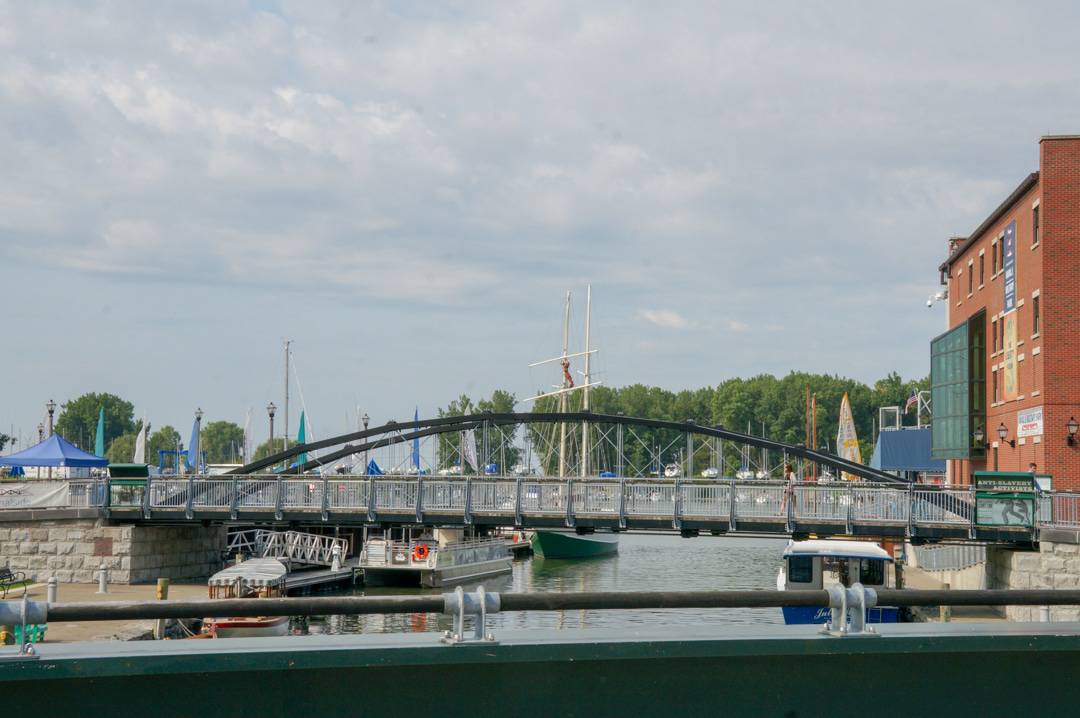 Other than that little hitch, the hotel was a fantastic location in downtown Buffalo. Located just steps from Canalside, Buffalo's waterfront area where you can walk (or jog) along the beautiful boardwalk, enjoy a hockey game and participate in one of the many events at Canalside.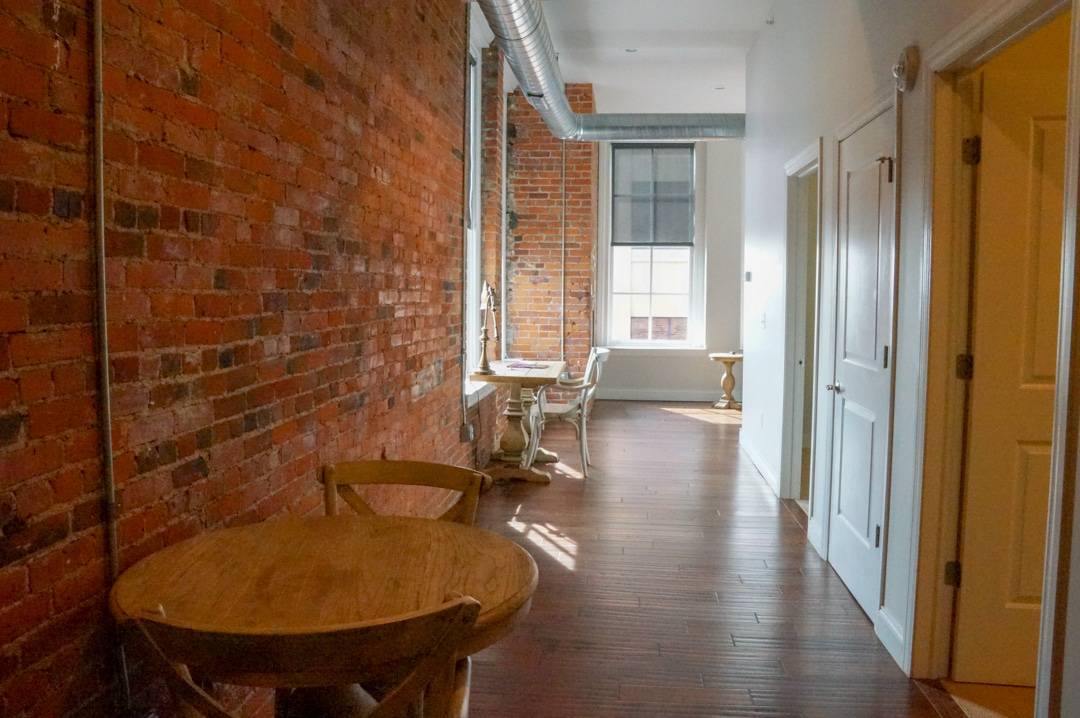 The Lofts on Pearl – 2 Bedroom Loft Suite
The suite itself is a warehouse-style loft with high ceilings, wood floors, exposed pipes and brick walls. There is a full kitchen in the suite upon entering which includes a large refrigerator, sink, microwave, coffee maker, dishwasher, stove and of course plates and cutlery.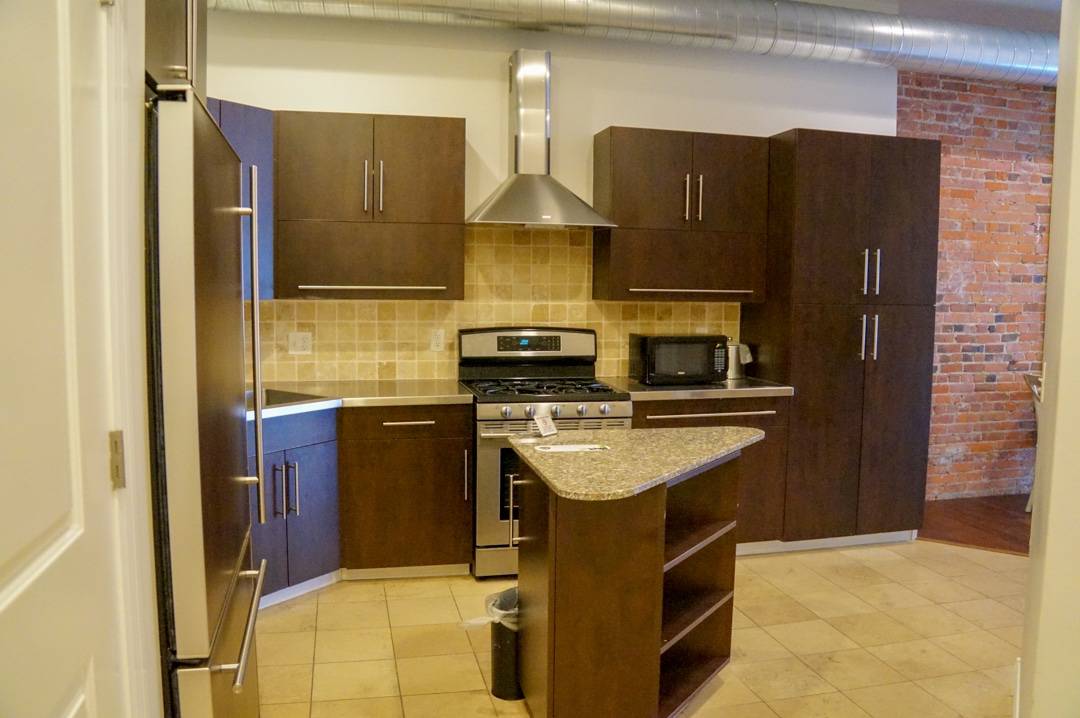 The suite had a long hallway where the bathroom and bedrooms were located. There was a small table with two chairs and an office desk located in this hallway.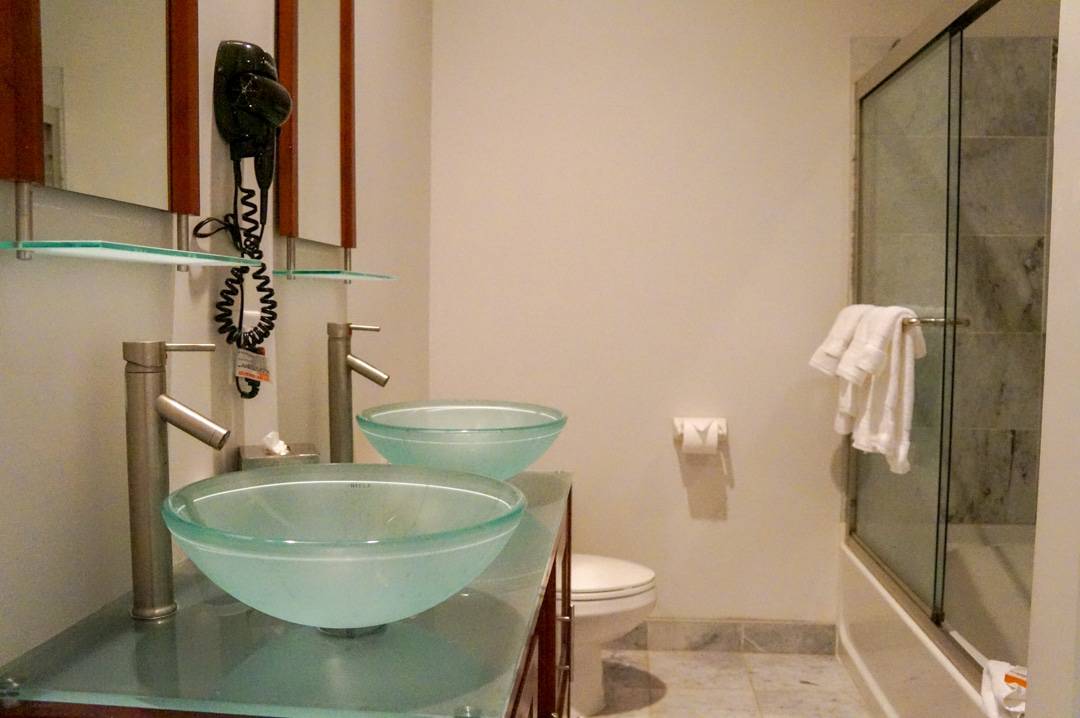 The suite had a 2-sink bathroom, with small shelves to store toiletries. The bathroom had a tub/shower, a hairdryer and lots of fluffy towels.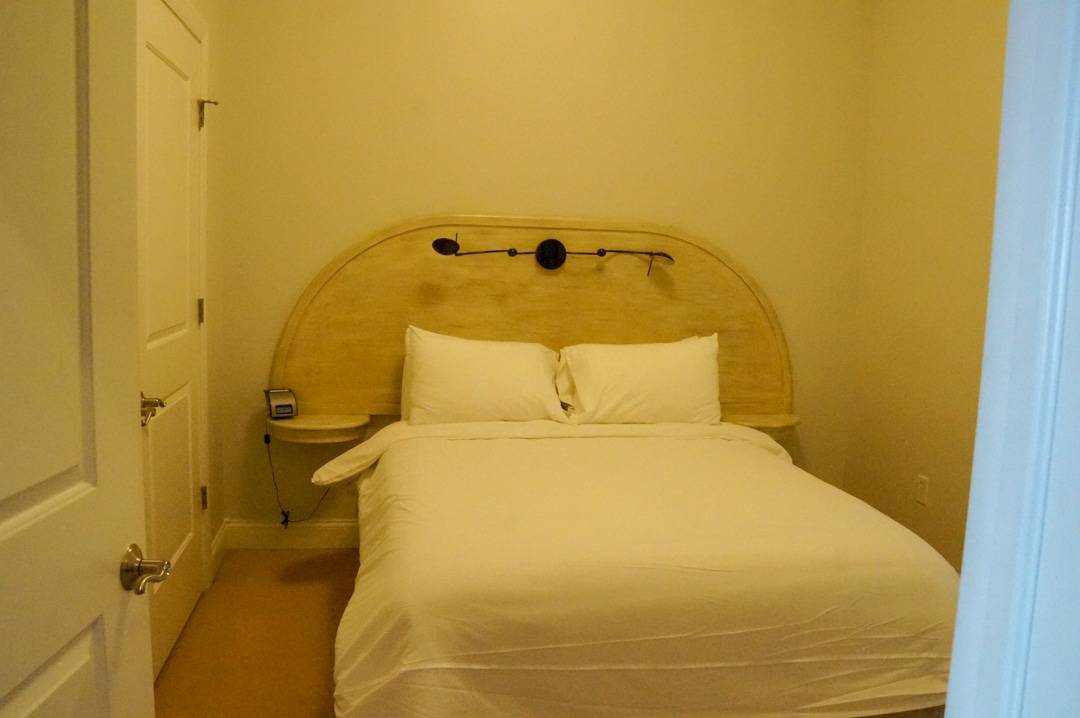 The bedrooms were both almost identical. Each had a closet with drawers and hangers for storage; a queen sized bed and a night table with an iPhone friendly alarm clock.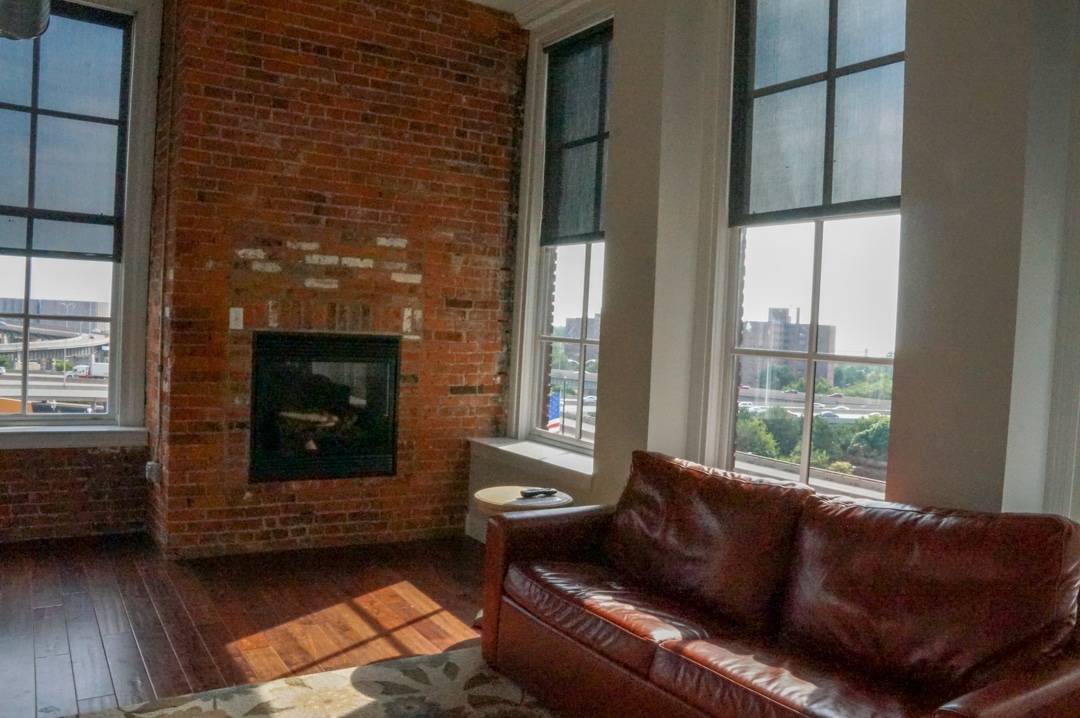 Lastly, the suite features a cozy little living room with a sofa (which is a sofa bed), chaise chair, television and a fireplace. The suite, therefore, can host up to 6-people as far as sleeping goes, but with only a little table and one desk six people would have a hard time sitting down to eat in this suite, and the sitting room sits three.
Lofts on Pearl Amenities
The hotel did offer free complimentary wi-fi throughout the hotel. The lobby is simple and not a place to hang out in, but there are free coffee and ice water available if you want it. The staff at the front desk was also accommodating at providing directions to local spots in Buffalo and happy to produce printouts.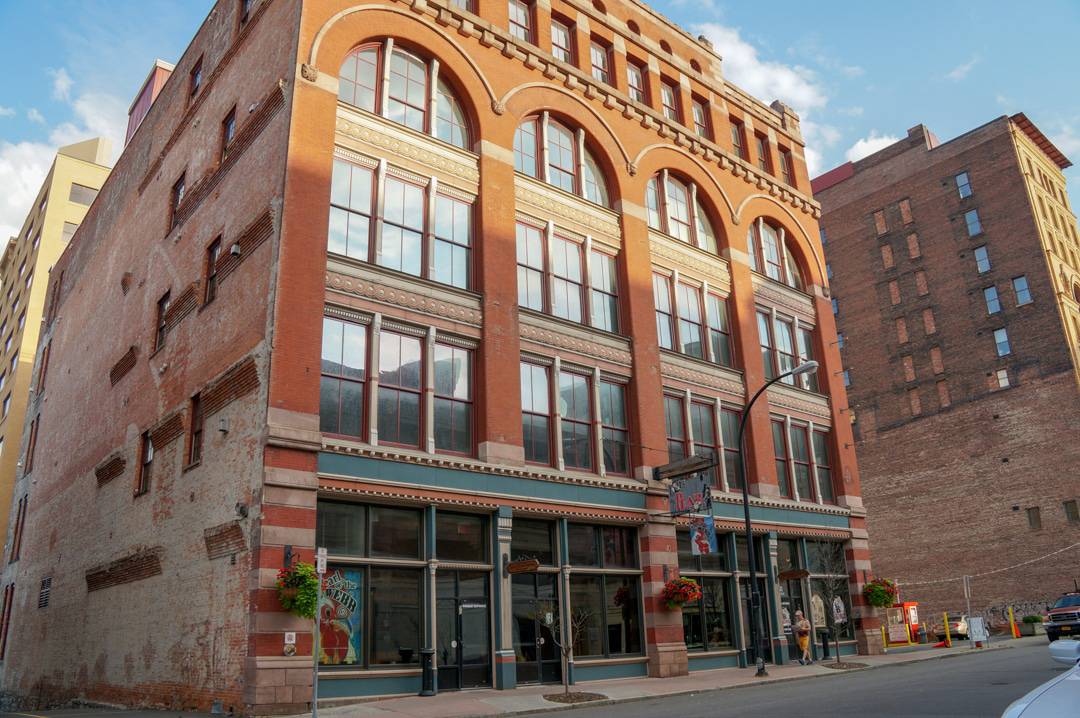 The Lofts on Pearl is a no frills hotel with high-end accommodations. The suites were clean and featured great linens and towels. I loved staying in a loft-style suite vs. a cramped hotel room. A great place to stay if you are visiting in Buffalo on business or for a few days of shopping. Having a kitchen is also an excellent perk for extended stays or people who prefer to prepare their meals vs. eating out in restaurants. Suite prices range between $110 – $275 depending on the suite and date of booking.
Looking for more to see while visiting Buffalo? Check out these posts:
Travel assistance provided by Visit Buffalo Niagara, however, the opinions expressed in this post are my own.