This article may contain affiliate links. Clicking on or purchasing products we recommend through a link may earn a small commission. Read our disclosure and privacy policy page for details. *COVID-19 TRAVEL ALERT – Travel recommendations offered on this site are not to encourage you to travel against travel advisories.
I've taken my road trips out of Ontario and into Michigan's Great Bay Lakes region. On this journey, I discovered a beautiful little Bavarian-themed town called Frankenmuth just a 4-hour drive from Toronto. Known as Michigan's Little Bavaria this town is beaming with German traditions and pride in its 150-year history. This small town was founded in 1845 by 15 German-Lutheran missionaries and grown to a thriving community of nearly 5000 residents. There is lots to do in Frankenmuth for families, couples and Christmas lovers! That's right Frankenmuth celebrates Christmas time all year long!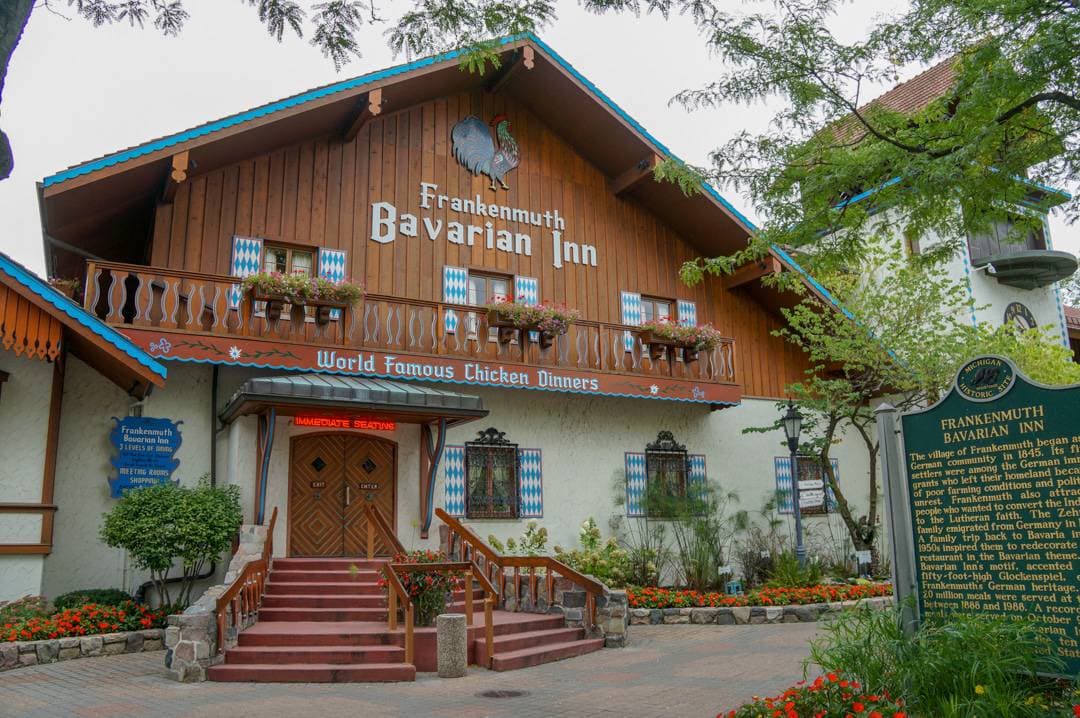 Where to Stay in Frankenmuth
Bavarian Inn
If you want to experience Frankenmuth in a real Bavarian-themed vacation, then the Bavarian Inn is an excellent choice. Located on 13 acres of riverfront this hotel is a tourist attraction in itself. The hotel features a water park with cool water slides the kids will love, or adults only pool and hot tub for those looking for a more romantic getaway. See: Hotel Review: Frankenmuth Bavarian Inn Lodge, Michigan.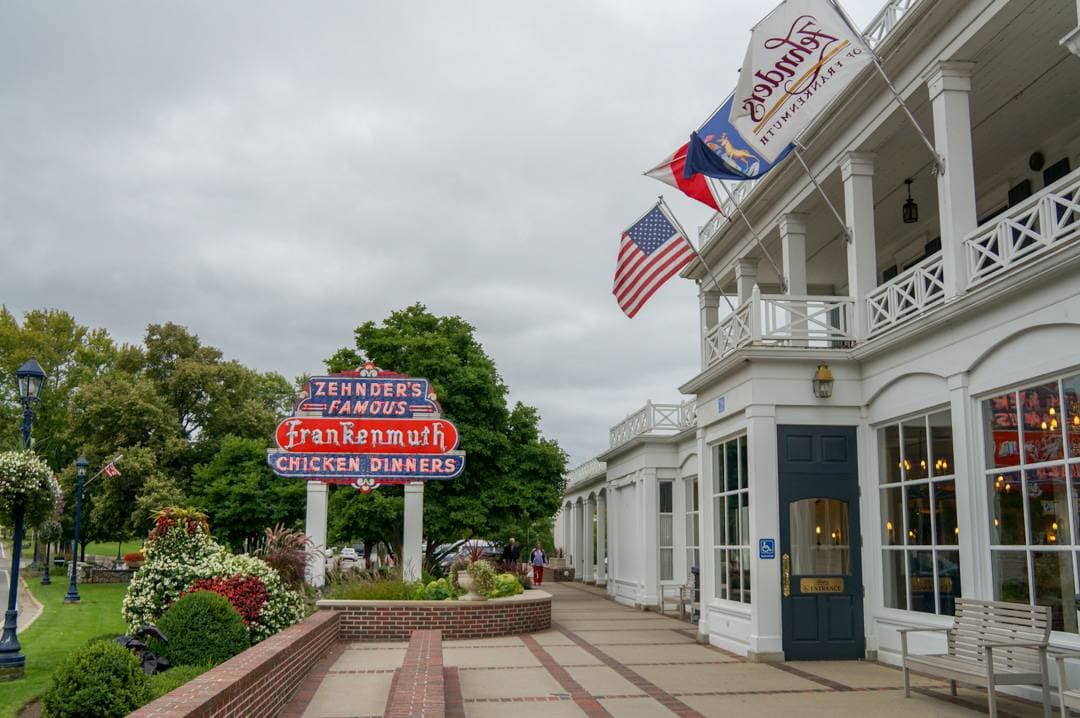 Where to Eat and Drink in Frankenmuth
Bavarian Inn Restaurant & Zehnder's Restaurant
Frankenmuth is famous for chicken dinners. Yes, I just wrote that! In fact, chicken dinner at the Bavarian Inn or Zehnder's restaurant is an experience. Dinner starts with chicken noodle soup and some exciting accordion entertainment. Then food is piled onto the table by waiters dressed in Lederhosen including fresh baked bread, coleslaw, fresh salads, mashed potatoes, butter noodles and of course chicken. As you eat the plates, never seem to deplete and are constantly refreshed. If that wasn't enough, there was homemade ice cream for dessert.
Read more: Hotel Review: Sleep Inn Midland Michigan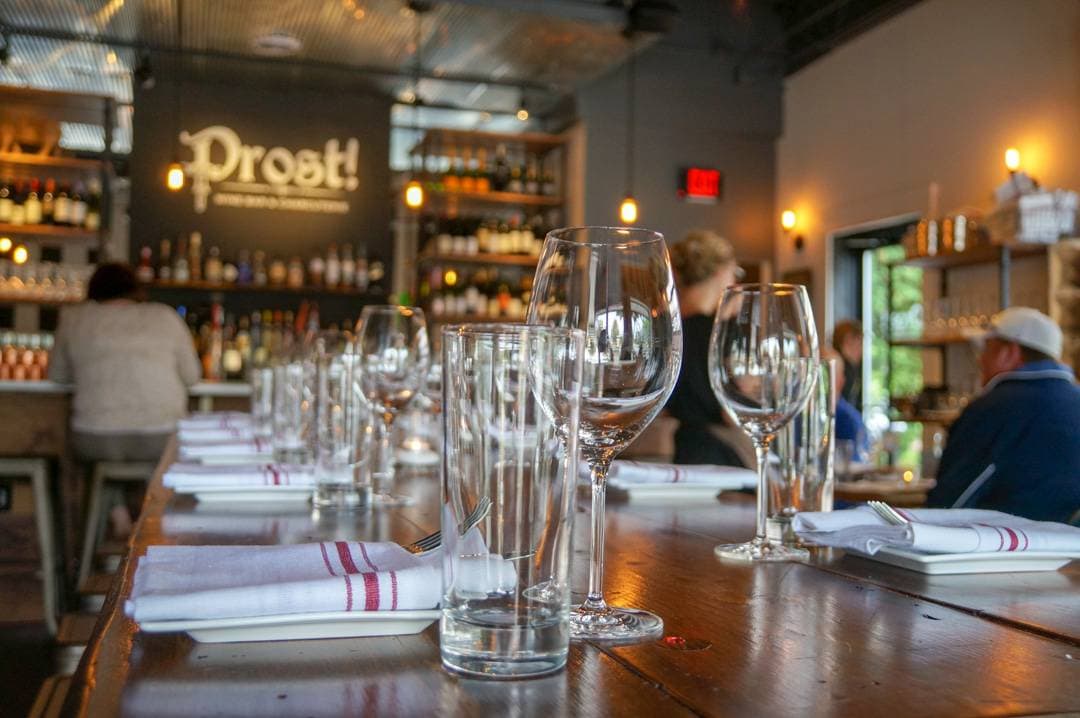 Prost Wine Bar & Bistro
Prost was a fantastic find on this trip to Frankenmuth. It just opened days before we arrived and it was a refreshing change from all the Bavarian-themed restaurants in Frankenmuth. This upscale wine bar is an elegant dining experience complete with approachable staff all happy to share their wine knowledge with you.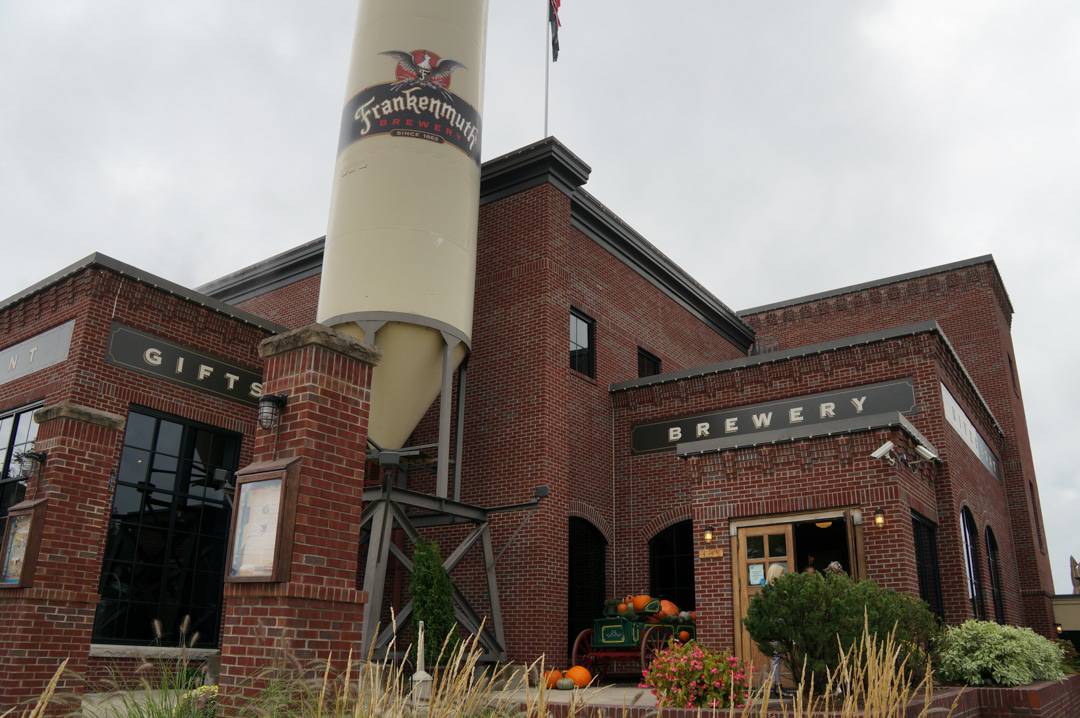 Read more: There's No Place Like Bronner's Christmas Wonderland
Frankenmuth Brewery
What would a German Bavarian town be without beer? The Frankenmuth Brewery has been in the town almost from its inception and has even survived a tornado. It is one of Michigan's largest breweries and famous for its award-winning lagers. Enjoy a free brewery tour or beer tasting while you dine for either lunch or dinner.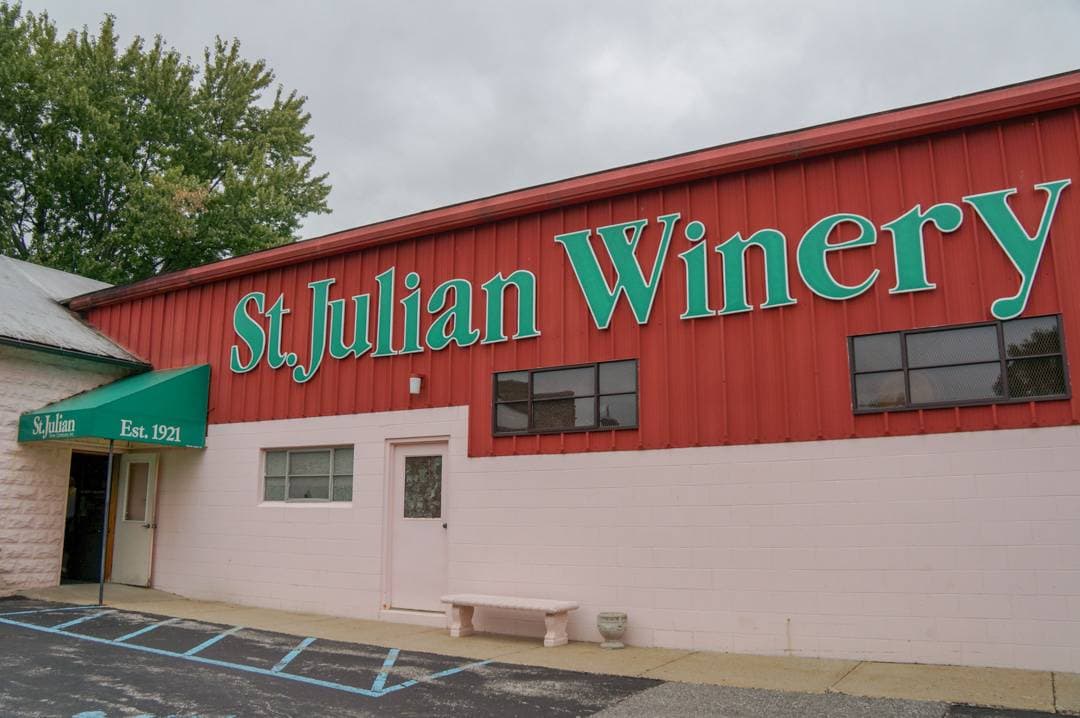 St. Julian Winery
I recommend going to St. Julian Wine Company for a wine tasting. They had impressive selections of wines, champagnes, and ports to taste. It is a family-owned and operated winery founded in 1921 merging it's Italian heritage with Michigan grew grapes. It's one of the oldest and largest wineries in Michigan and a perfect place to enjoy some of the local wines of the region.
Things to Do in Frankenmuth
Glockenspiel
Located in the Bavarian Inn Restaurant building the Glockenspiel tower will play at 3 PM, 6 PM and 9 PM each day. The bells play several selections of music and then follow with a figurine movement depicting the legend of the Pied Piper of Hameln.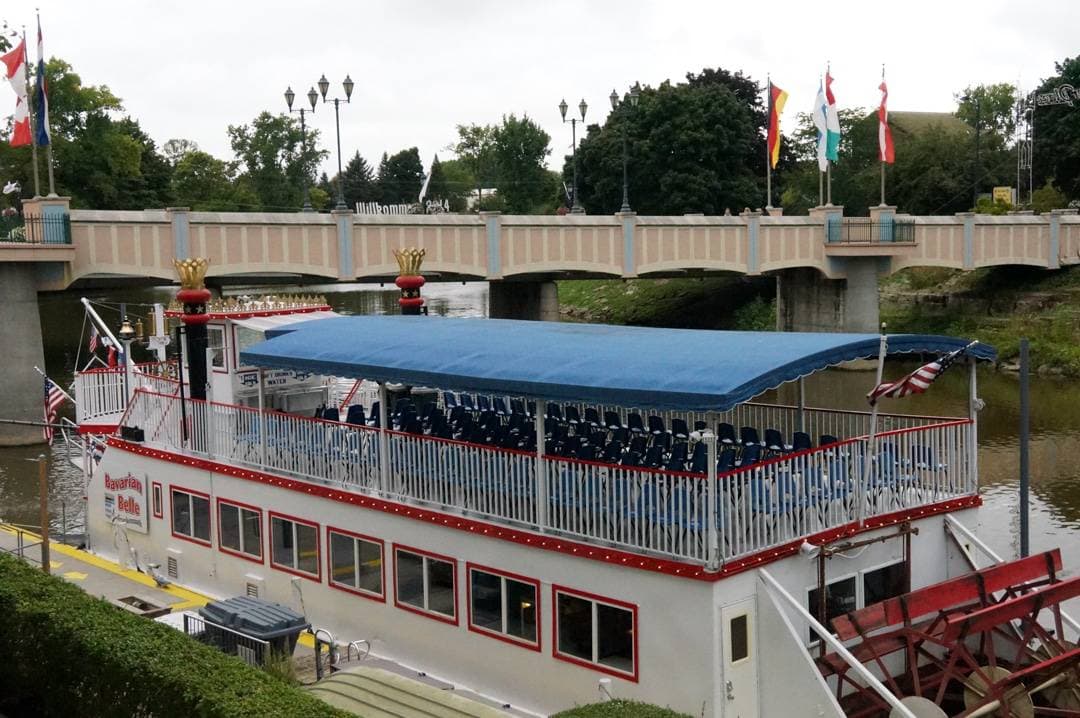 Bavarian Belle Riverboat Tour
We had a lovely 1-hour tour on this paddlewheel riverboat on the Cass river which flows through Frankenmuth. We sat above in the open canopy of the boat, but there is also an enclosed lower deck. There was a small snack bar with popcorn, pretzels and drinks, and a lot of seating on both floors. The tour is narrated so you learn a little about the history of Frankenmuth while you enjoy a calm sail.
Shopping in Frankenmuth
Downtown Frankenmuth Shops
There are plenty of stores to browse through in Frankenmuth here are a few stores that caught my attention that is probably the most well known and should be on your list of places to see if you find yourself in Frankenmuth. I promise to do a more in-depth look at shopping in Frankenmuth for you Cross Border shopping Canadians very soon.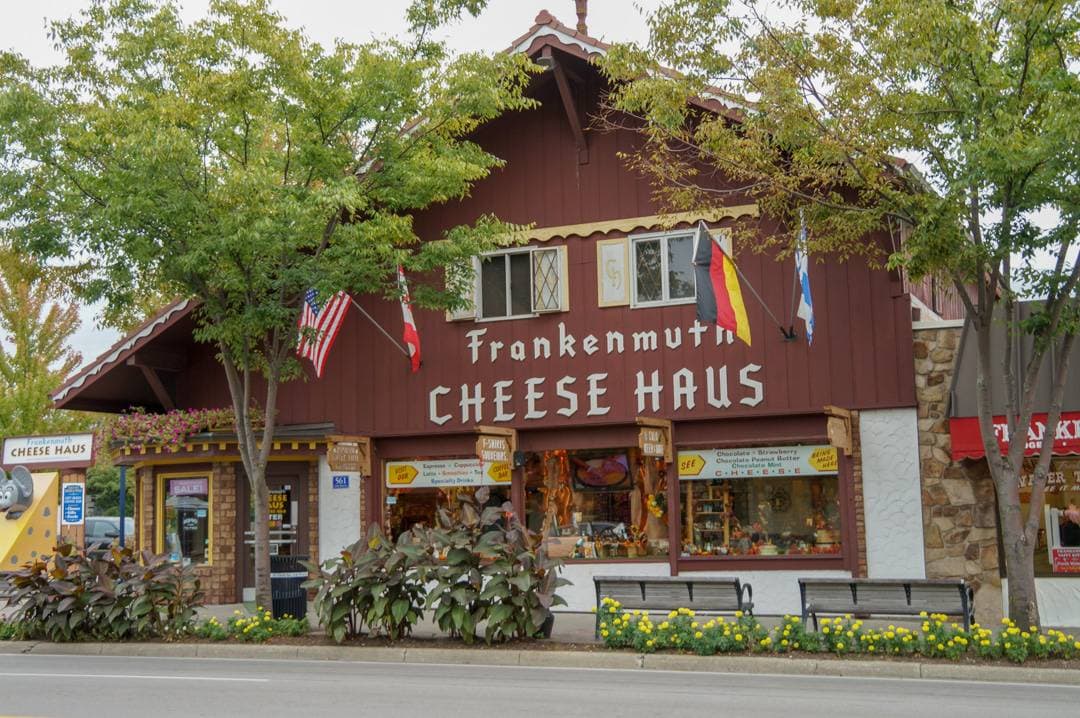 Frankenmuth Cheese Hause
If you are a cheese lover, then you won't be disappointed in this store. There are over 140 cheeses to choose from and a selection of jams, crackers, candies, and sausages.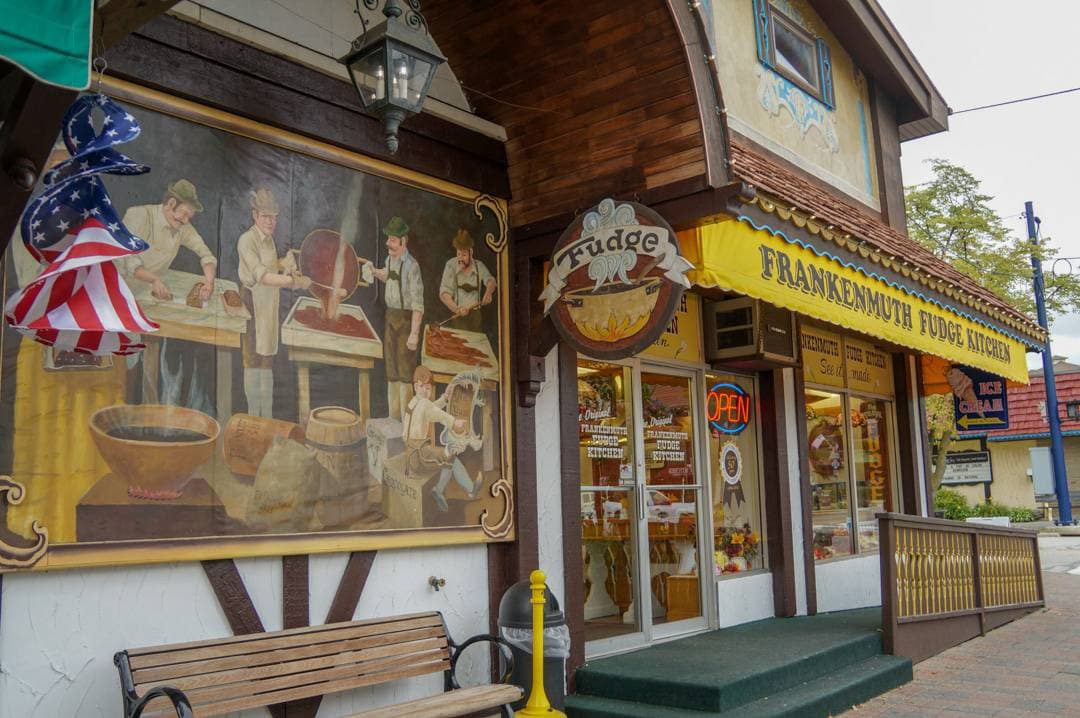 Frankenmuth Fudge Kitchen
Ok so I was walking by this shop with the intent of walking away calmly, but then I got this strong whiff of chocolate fudge. It was overpowering and sucked me helplessly into the store. Looking back now I think maybe this store is pumping this smell out of the shop and onto the street! If you love shopping for fudge in small towns, you are going to love this store. They are making the candy in the shop and have several varieties to choose from!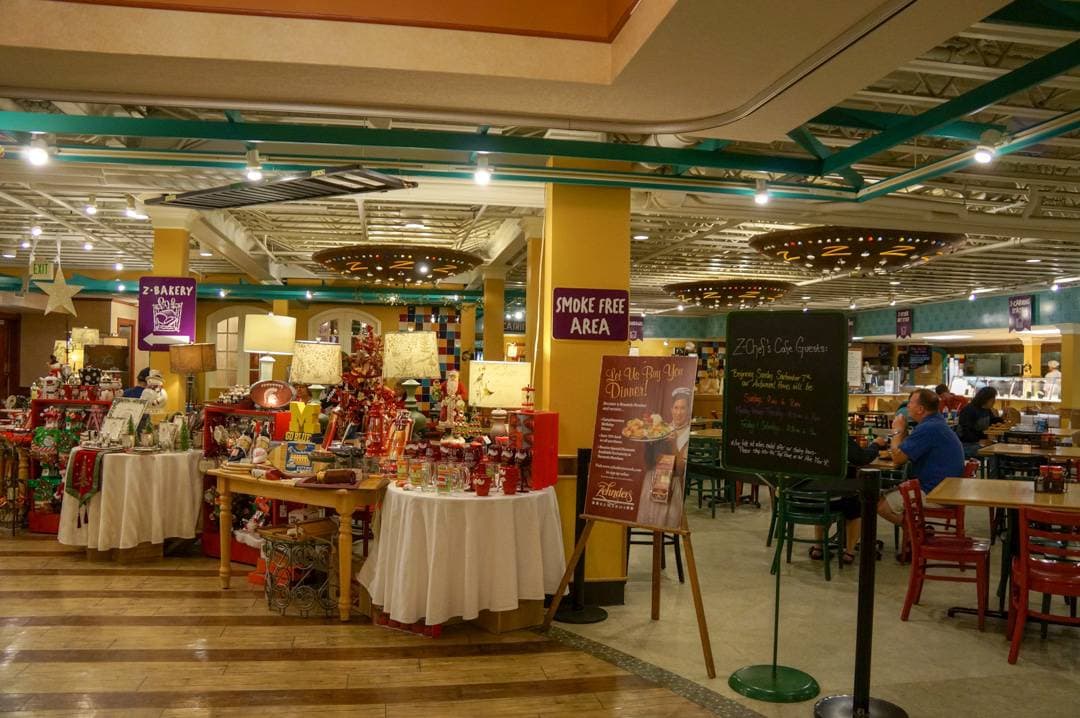 Zehnder's Marketplace
Located below Zehnder's restaurant, this basement is filled yummy greatness. There is a gift shop and cafe, but the highlight is Z Bakery which has an impressive selection of bread and baked goods.
River Place Shops
As if all the small stores along the main street of Frankenmuth and in the Bavarian Hotel and Zehnder's restaurant were not enough to impress you – well then there are 40 more small shops located here. Be sure to stop by Sugarhigh Bakery a Cupcake Wars Winner on the Food Network for a gourmet cupcake.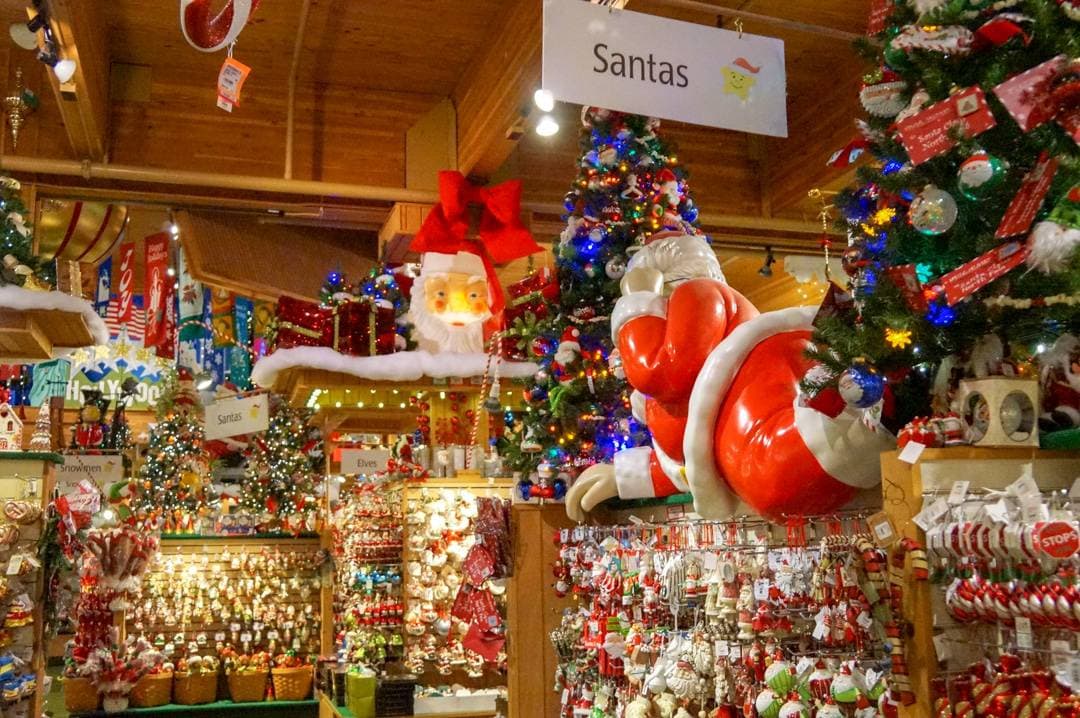 Bronner's Christmas Wonderland
How do I even begin to describe Bronner's? I feel like it needs it's very own post (and will likely get one). Open year round, Bronner's Christmas Wonderland is the world's largest Christmas store. The store is the size of five and a half football fields and is filled from floor to ceiling with everything Christmas!
If you are looking for a twist on your next family vacation, then you may want to keep the Town of Frankenmuth in mind. There is so much to do and see in this little town filled with Bavarian pride you may not get to see it all in one trip!
Travel assistance provided by Great Lakes Bay Tourism and The Bavarian Inn Lodge.