This article may contain affiliate links. Clicking on or purchasing products we recommend through a link may earn a small commission. Read our disclosure and privacy policy page for details. *COVID-19 TRAVEL ALERT – Travel recommendations offered on this site are not to encourage you to travel against travel advisories.
It's beginning to look a lot like Christmas here in Ontario, but at Bronner's Christmas Wonderland they celebrate it every single day and in a very BIG way! Bronner's Christmas Wonderland is the worlds' largest Christmas store, has been opened since 1945 and it welcomes over 2 million people each year all marvelling at the floor to ceiling selection of holiday trinkets.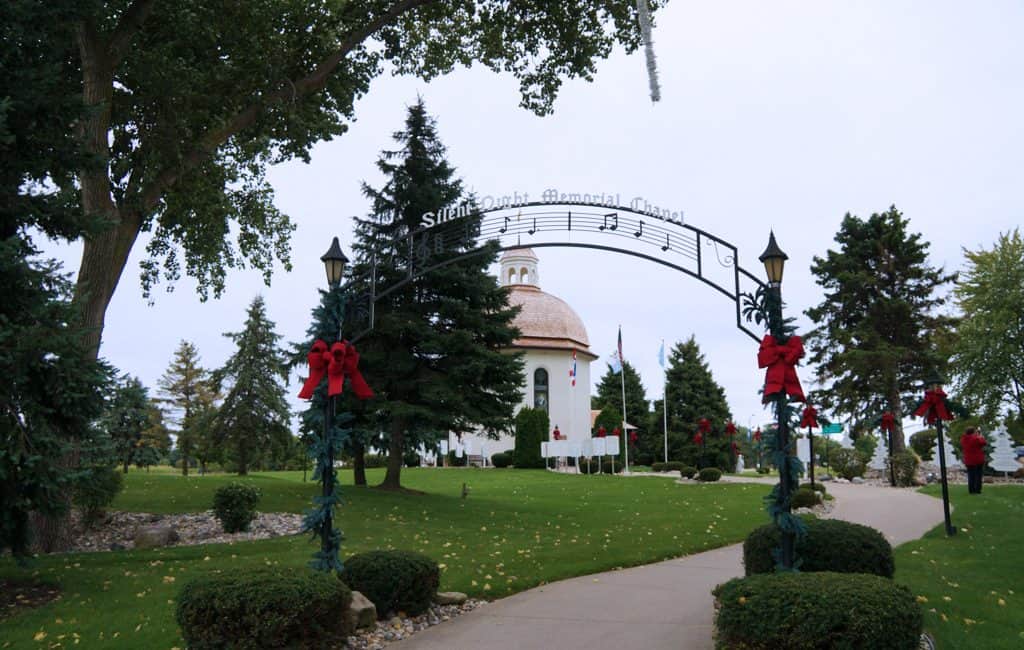 Silent Night Memorial Chapel, Frankenmuth Michigan
I begin my Bronner's experience outside the massive store at the little replica of the Silent Night Memorial Chapel of Oberndorf, near Salzburg, Austria. Wally Bronner visited Salzburg in 1976 and came home to Frankenmuth, Michigan wants to build one outside the store. He had to get permission from the Salzburg Government and eventually they agreed. In November 1992 the small replica was dedicated and officially opened.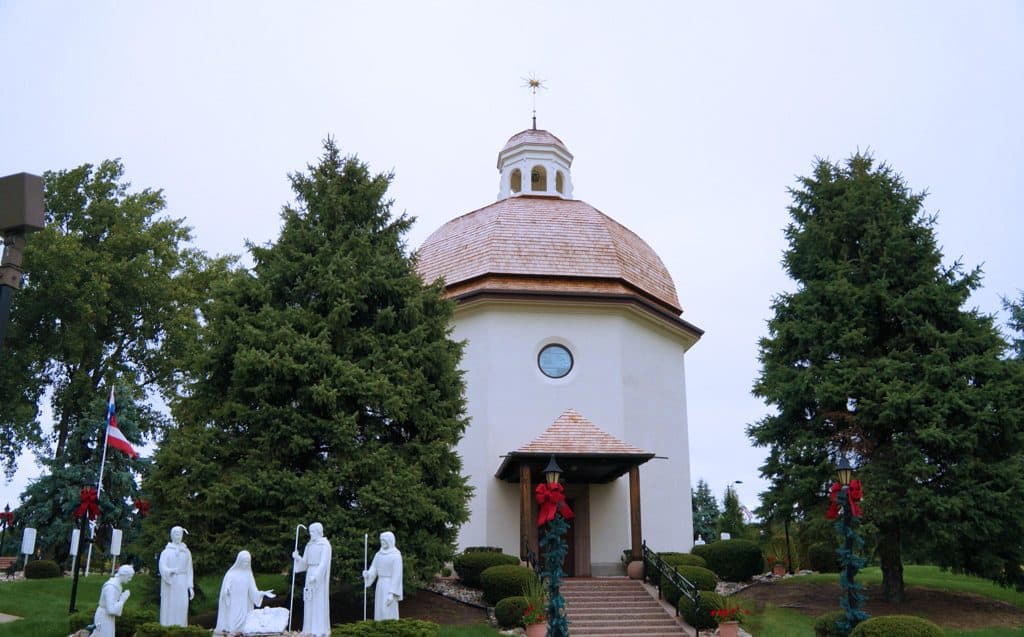 All around and inside the little chapel, you can hear many renditions of the famous song "Silent Night" playing. A calm, quiet inspiring moment for me as I started to get into the Christmas spirit. Then I walked towards the large building admiring the decorations outside.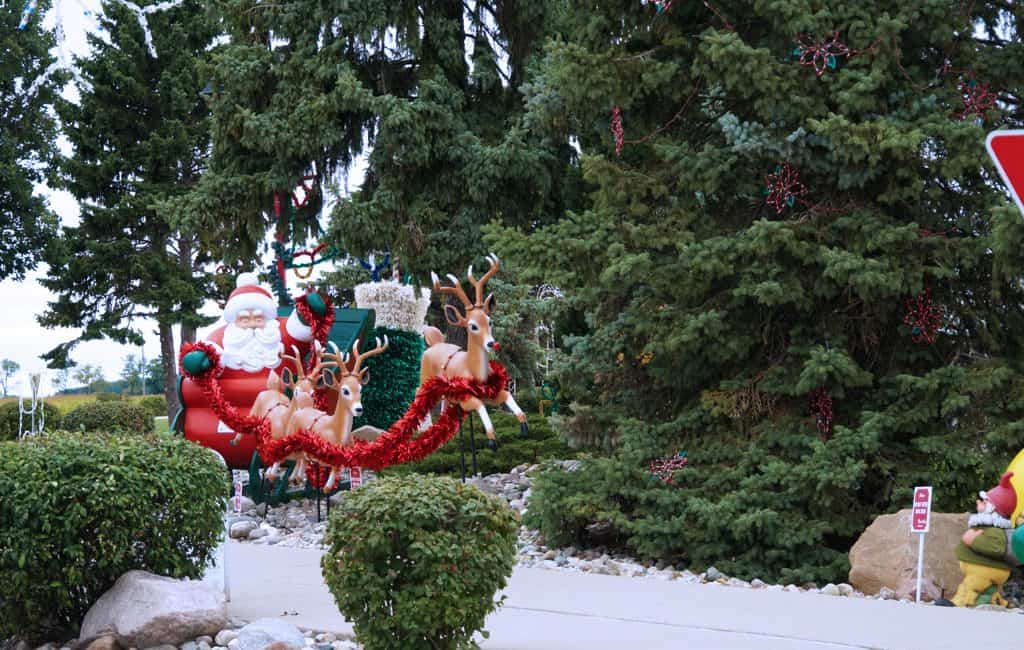 Bronner's Christmas Wonderland Store
If the massive Disney style parking lot doesn't convince you as to the size of this fantastic store then as you get closer and closer it all starts to put you into the Christmas spirit. Decorated walkways which must be spectacular when lit up at night, include Santa and his Reindeer, window displays and even a snowman parade float.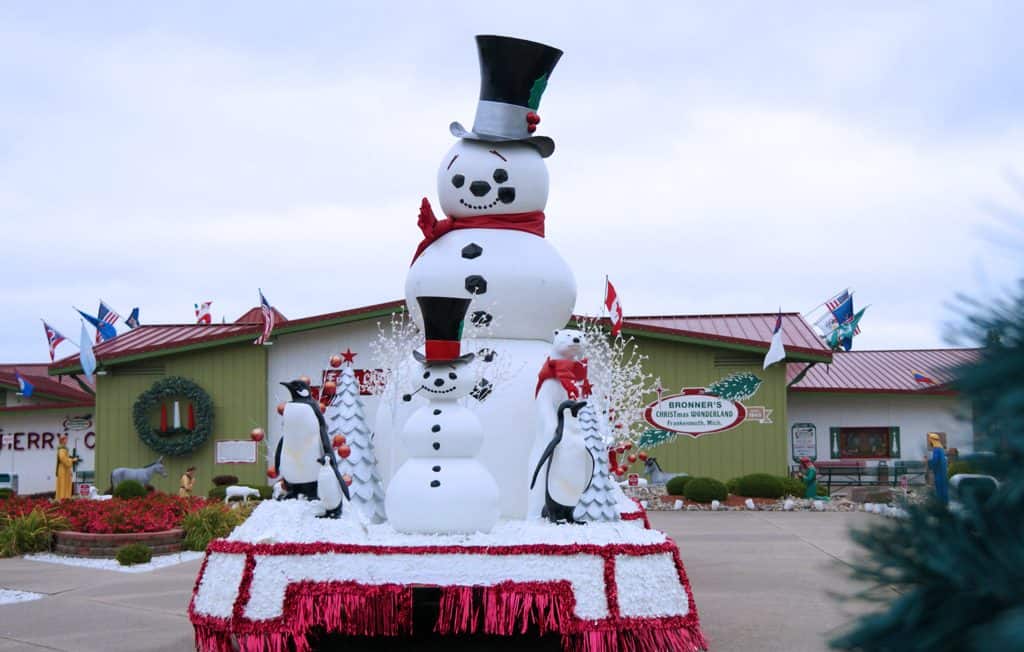 Bronner's is the size of five and a half football fields and is filled with over 50,000 lights, ornaments and gifts. When you get in be sure to pick up a map of the store's layout – trust me you'll need it! I didn't know what I was getting into when I first walked in and then it all hit me at once. I stood there with my mouth gaping open in awe – this store is massive, this store is filled floor to ceiling with everything that is Christmas and so much more!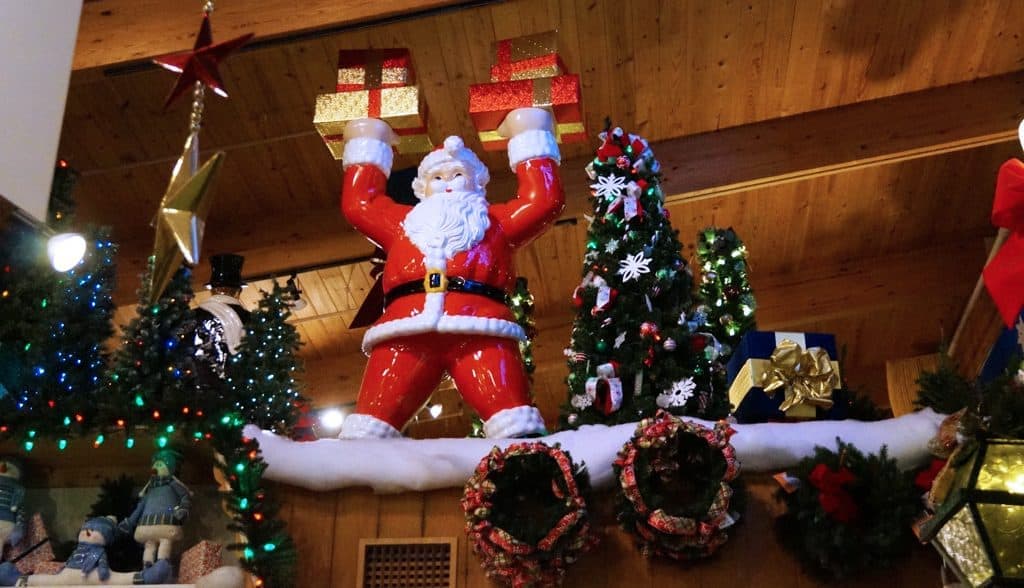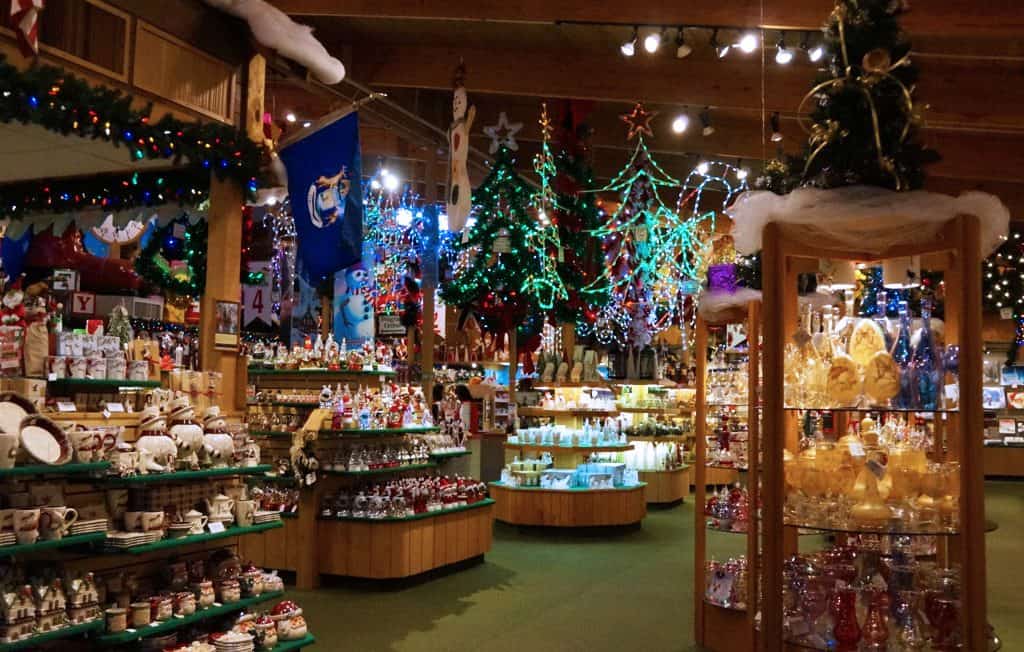 Organized Christmas Wonderland
Each section of the store is tailored to help you find what you are looking for: a part for snow globes, collectable houses, dishes, stockings, nativity sets and other souvenirs will overwhelm until you walk through to the next section.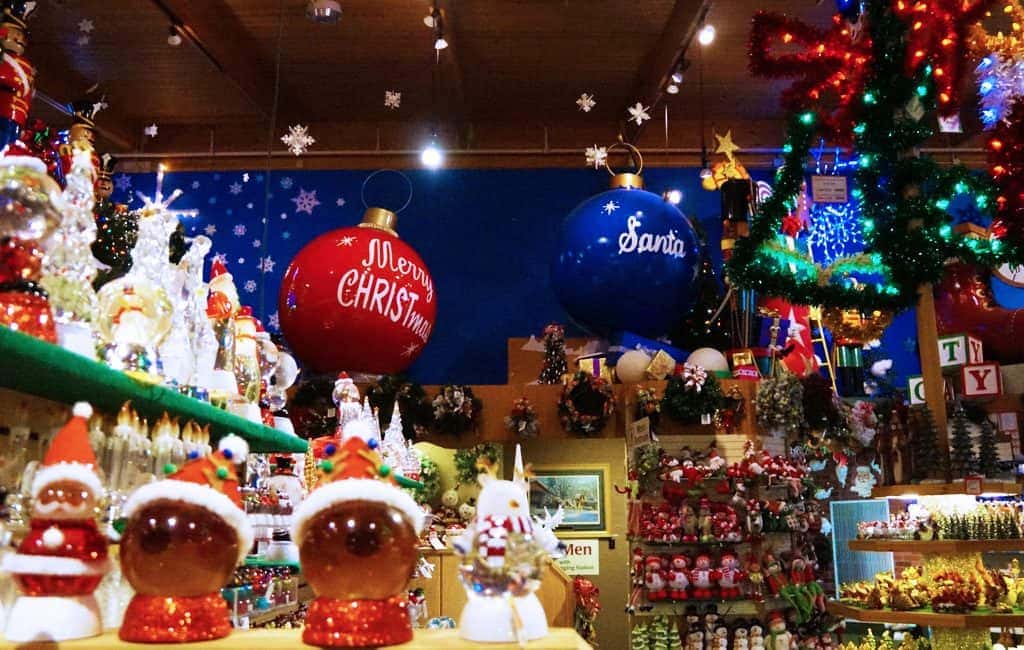 Trees & Wreaths & Lights
Looking for a tree? No problem at Bronner's they has trees in all breeds, shapes, sizes. Some pre-lit, some not. If you want an artificial tree or wreath, they have what you are looking for. After you've picked your tree, walk into the next section which is conveniently the Lights section where thousands of lights are on display for your tree, house, indoor or outdoor use.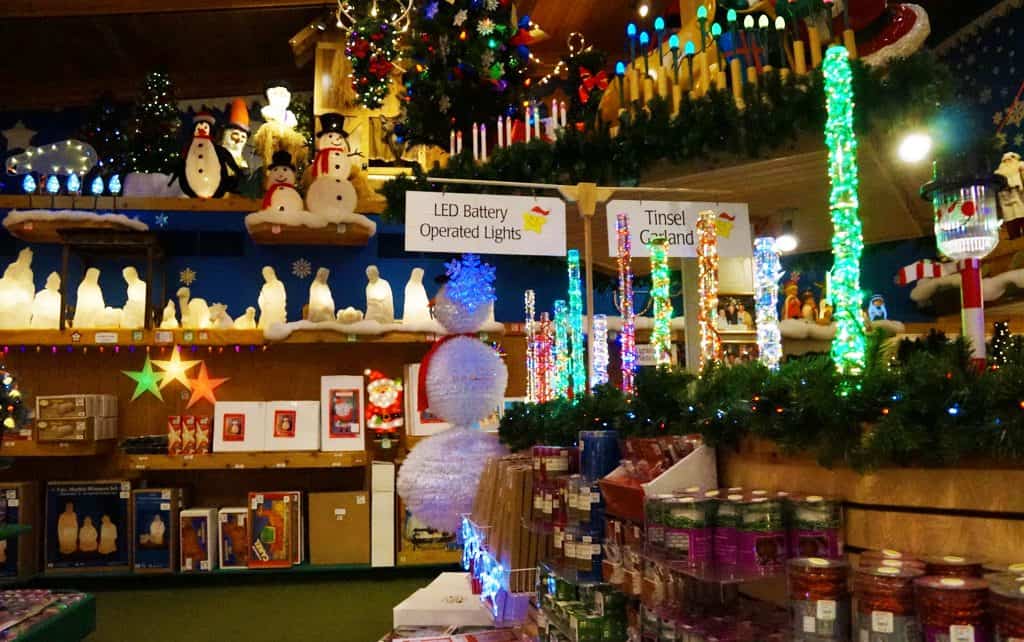 Need an Ornament?
There are ornaments for anything you could imagine, one for each country in the world, dog lovers, travel lovers, chefs, cookie lovers, prankster's, your favourite TV show, comic book character and even some traditional shiny, sparkly ornaments.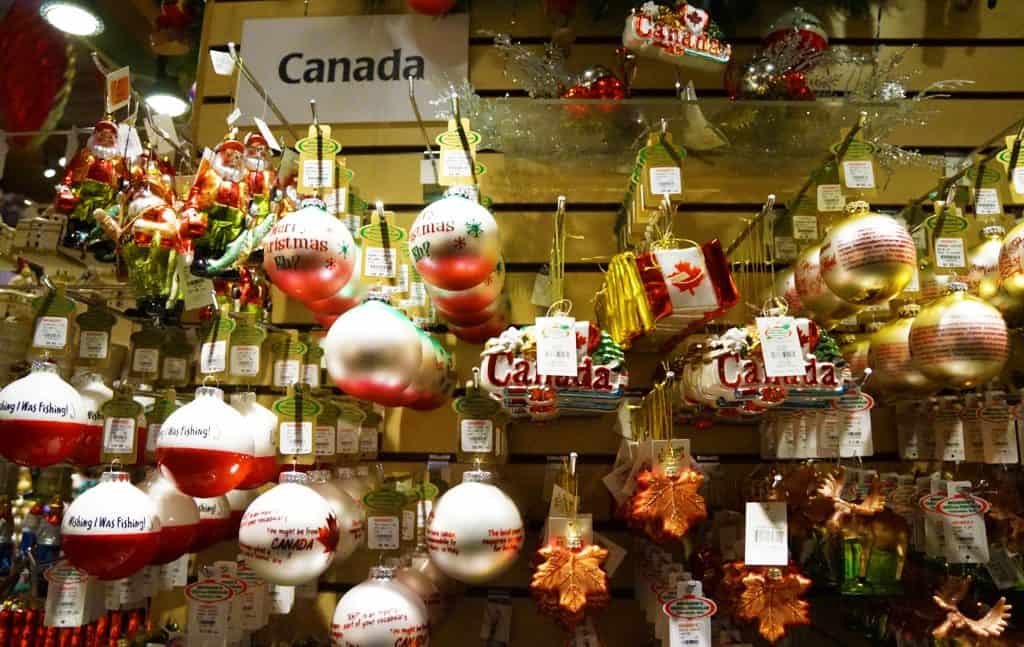 So, of course, I had to stop by the Canada ornament display. Canadian flags, maple leaves, maple syrup, all things Canadian have been turned into an ornament for your Canadian themed Christmas tree! My favourite ornaments were the Dream Travel themed ornaments (just kidding) in the travel section! Planes, palm trees, flip flops, beaches, beach chair ornaments all hung making it impossible for this travel lover to pick just one!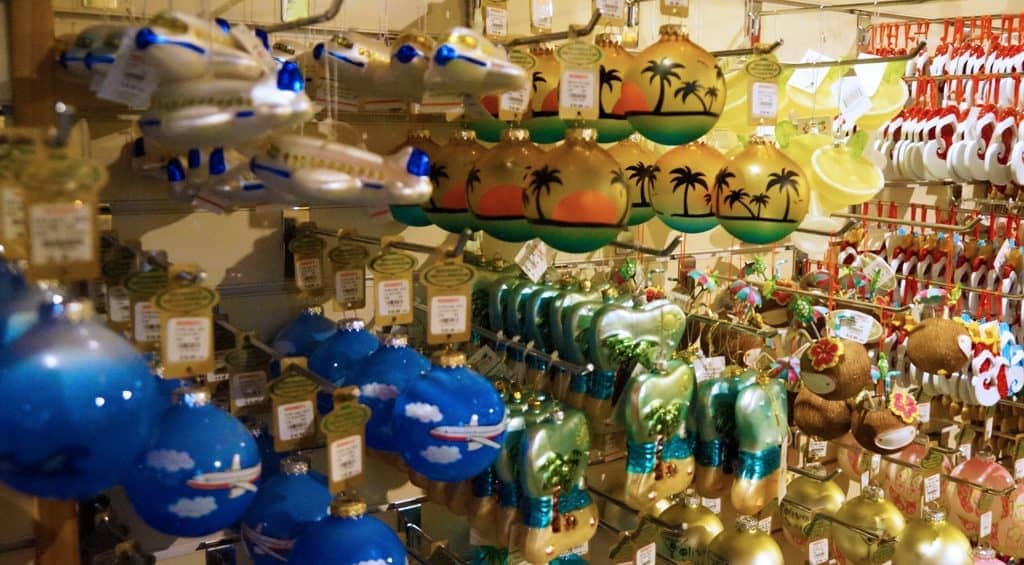 It's Not Just Christmas at Bronner's
Don't worry if you don't celebrate Christmas or happen to be visiting during other holiday seasons. Bronner's has you covered. There is a section for Hanukkah lover or those celebrating a combo Chrismukkah! Of course, there is also other special holiday-themed sections depending on the time of year you are visiting!
If you love Christmas stores or Christmas markets, then I highly recommend you visit Frankenmuth, Michigan and a visit to Bronner's Christmas Wonderland. You will never experience another store like this one – trust me! You can see my earlier post on the city of Frankenmuth Bavarian Village and the hotel review for the Bavarian Inn for more information on this fun Christmas region. Also be sure to check out Sleep Inn hotels in the area for comfortable rooms at a great price.
Have you been to Bronner's Christmas Wonderland? Tell me all about it in the comments below!
Travel assistance provided by Great Lakes Bay Tourism.