This article may contain affiliate links. Clicking on or purchasing products we recommend through a link may earn a small commission. Read our disclosure and privacy policy page for details. *COVID-19 TRAVEL ALERT – Travel recommendations offered on this site are not to encourage you to travel against travel advisories.
Those of you who have been reading my blog for a while know that I'm a bit of a Goldilocks when it comes to finding the perfect travel bag. This one is too big, that one is too small, I don't like the colour, it's too this or too that… I can't seem to find the perfect one.
The issue for me is finding a bag that I can carry my camera, travel documents, wallet and a few girly must-haves – but it can't look like a camera bag, needs to be comfortable and well – a little stylish!
I was excited to learn about Travelon Bags a company committed to safe anti-theft bags geared at protecting yourself while you travel while not compromising on quality and well, they look good too!
Travelon Anti-theft Classic Light Sling Bag
Travelon anti-theft bags feature slash-proof body panels and straps, and all the compartments have little locks to keep you from being pickpocketed during your journeys. I loved that feeling of security when I headed into downtown Toronto with the sling bag. On a crowded subway or walking on busy streets where people were bumping into me – I knew that the zippers were all secured with the locks and all my stuff was safe inside.
Shop Travelon at: eBags | JCPenney | Target (all now shipping to Canada)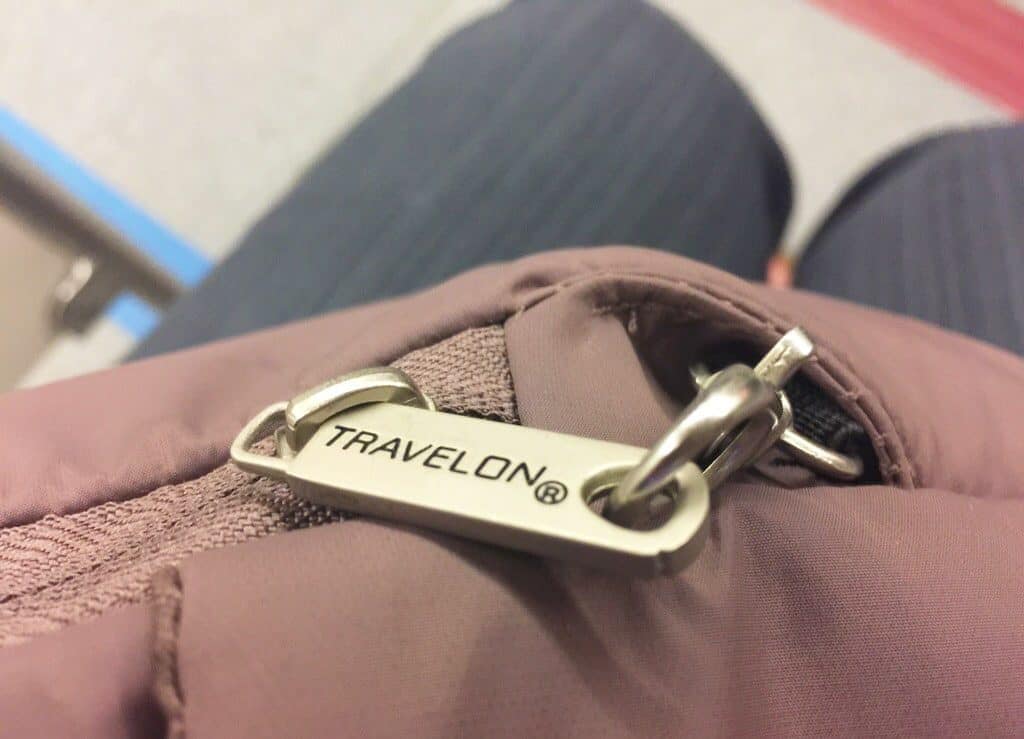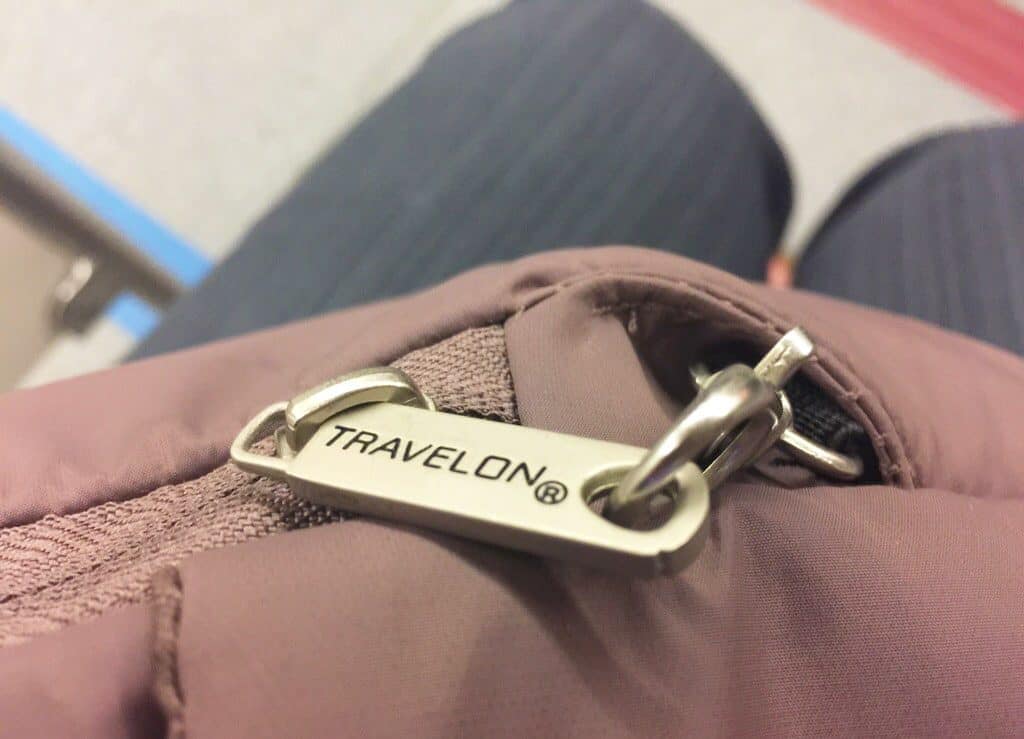 The bag is also stylish enough for a walk through upscale hotels and restaurants. Gone are the days I have to lug my sports sling with me into a 5-star hotel because I need my camera! This Travelon Classic Sling comes in three colours black, purple and mocha. I love the sleek lines of this bag, even with all the locks and zippers.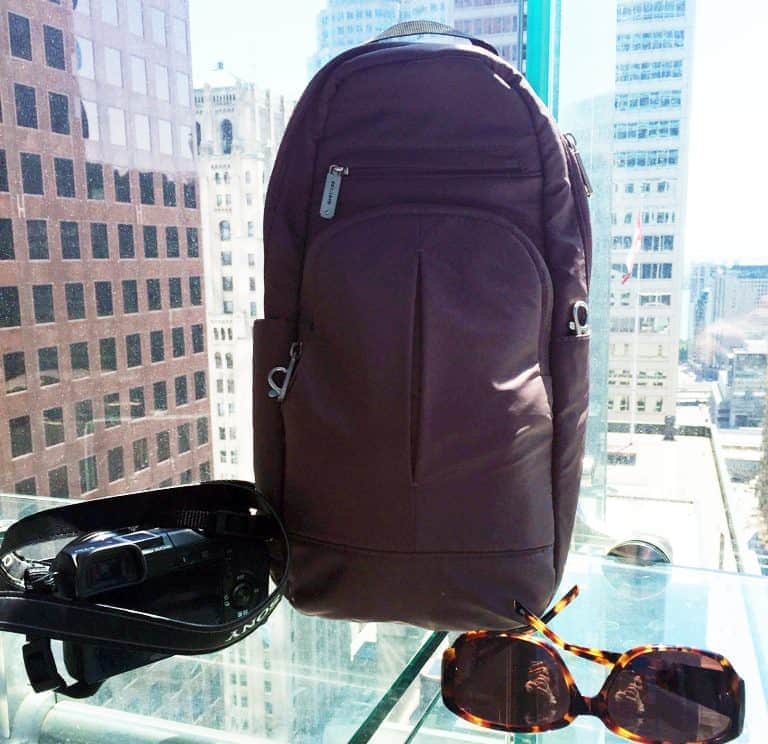 Travelon Anti-Theft Classic Sling Bag
The Travelon Classic Sling Bag is a smaller bag compared to its sister the Classic Sling, but still had plenty of room for my camera, my day to day wallet, a mini tablet, glasses and more.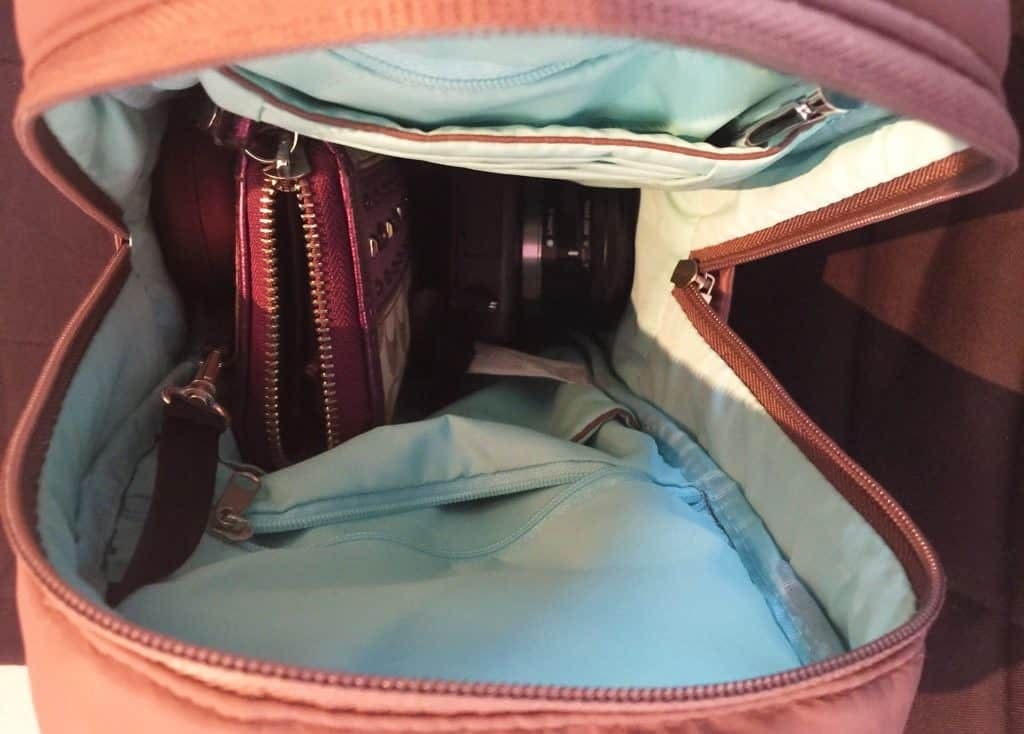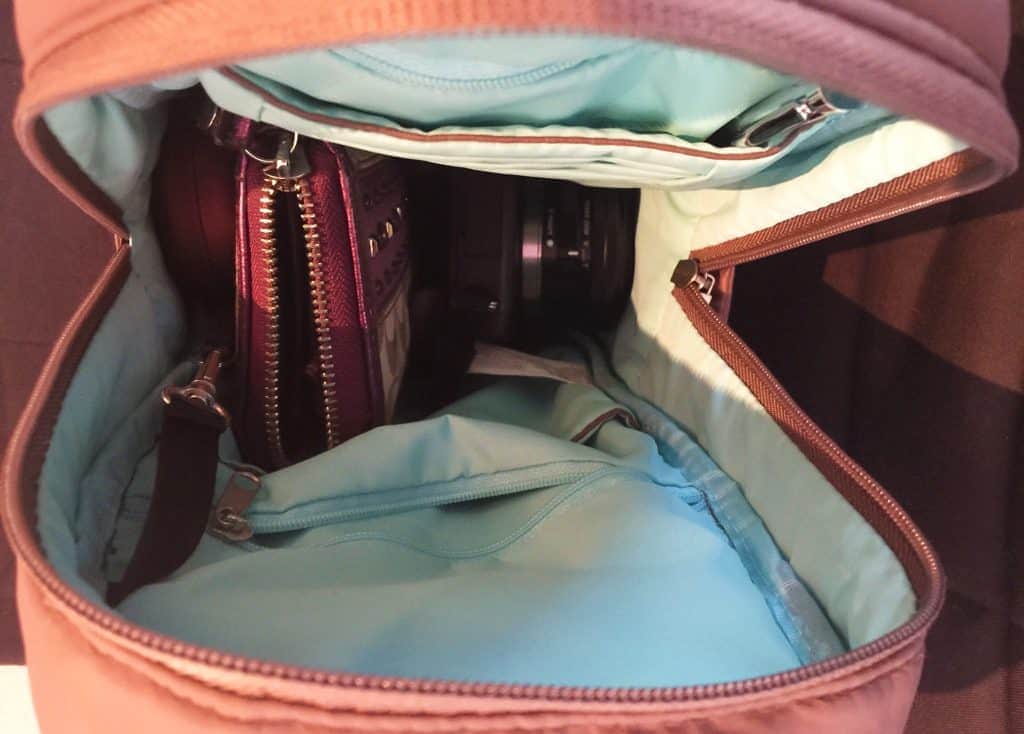 I tested the bag with my large 18-200 mm lens attached to my camera, and I was able to make it fit, which made this bag a great option for short weekend trips or photography excursions. Usually, when I travel for extended trips I don't lug my day-to-day wallet and just take a smaller wallet with essentials, but it's great to have a bag that fits a larger wallet when I need it. Also, this pack comes with 4 RFD protected slots for credit cards and two inside zippered compartments in the main compartment.
On the front of the bag, there is another zippered compartment meant to hold a smartphone, and I'm excited to report that my iPhone 6+ fits into this compartment without issue! I can't tell you how many bags and purses I have that my phone doesn't fit into the slots or sticks out at the top of their pockets. It's such a relief to have a travel bag that fits my travel technology.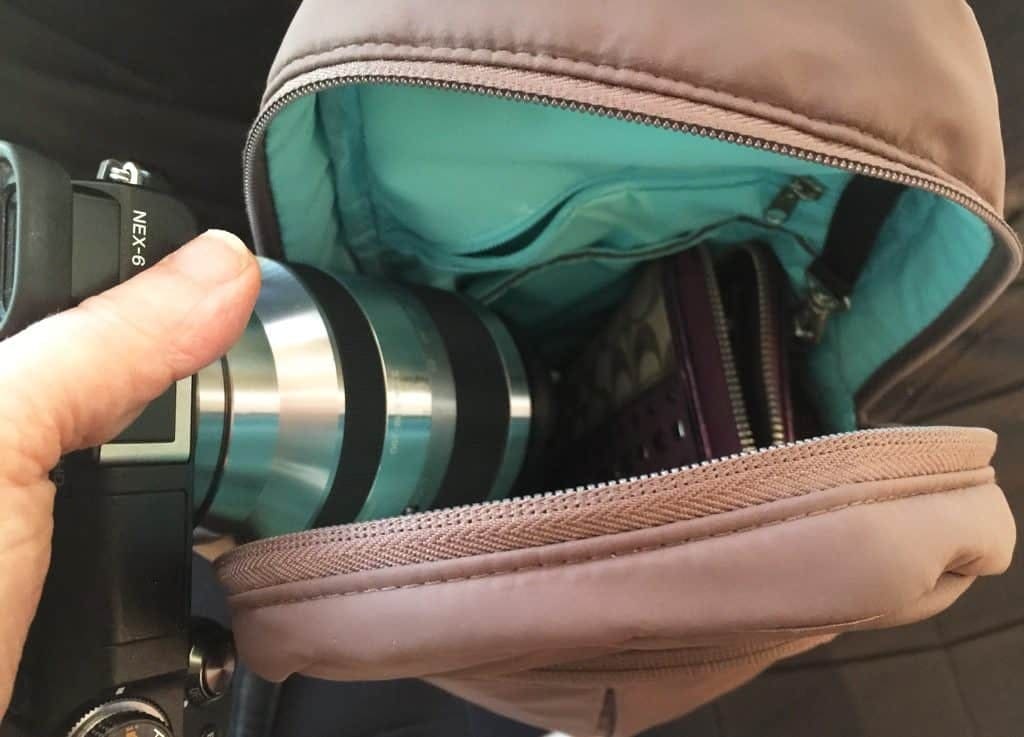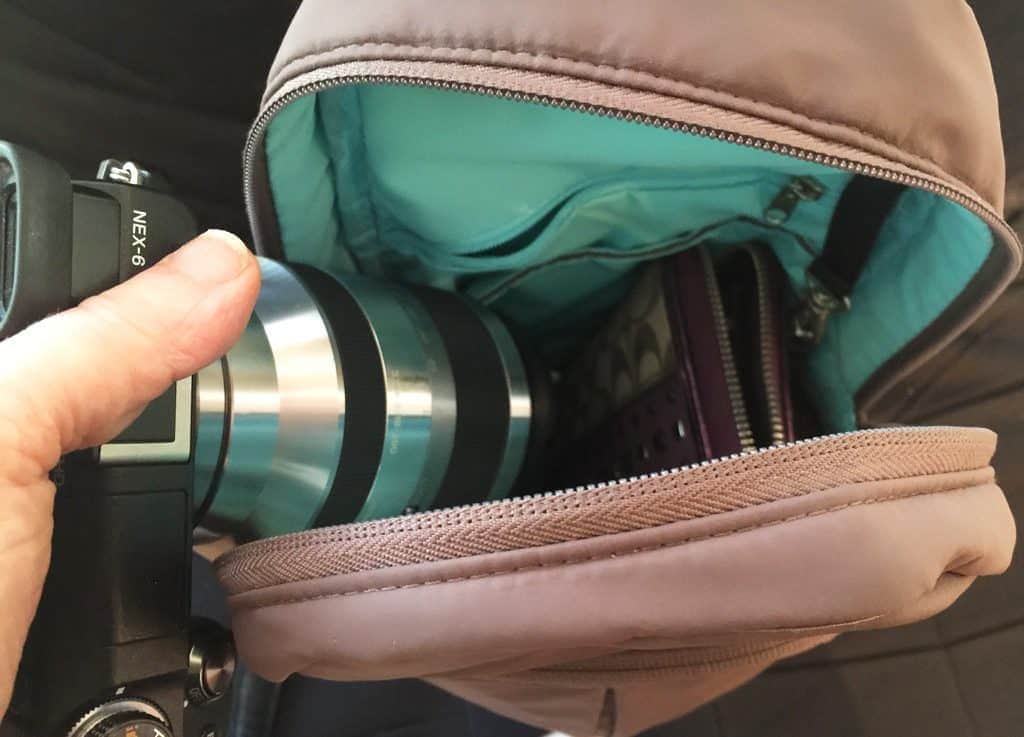 Overall I'm loving my Travelon
Classic Light Sling Bag. It's great when I'm carrying my camera with a smaller lens, for city trips or restaurant visits. With more camera gear the bag is a bit too small and with the larger lens, I found it to be a bit of a tight fit.
Great Sling for Small Cameras
One thing to note there is only one zipper per compartment and due to the position of the locks you can only open and close the zipper in one direction. This was an issue when I swung the bag around to try and get into the main compartment to reach for my camera or my wallet – the opening of the zipper is limited, if it had two zippers it wouldn't matter if you wore the bag on the left shoulder or right.
What I loved about the Travelon Anti-theft Classic Light Sling
despite its small size – lots of space
zippered compartments are great for organization
safety locks give you peace of mind in crowded areas
iPhone 6+ friendly
What I didn't like about the Classic Light Sling Bag
zippers are single vs. double zippers
access to the main compartment is tricky depending on which side you wear the sling
size – a bit too small as a camera bag (for larger cameras and numerous lenses)
I'm very excited to have been introduced to Travelon Bags and love their security features which were apparently inspired by the traveller in mind.
For more Travelon Bag reviews see our posts:
I was not financially compensated for this post. I received a sample of the Travelon Anti-Theft Classic Lite Sling Bag for review purposes. The opinions are completely my own based on my experience.