This article may contain affiliate links. Clicking on or purchasing products we recommend through a link may earn a small commission. Read our disclosure and privacy policy page for details. *COVID-19 TRAVEL ALERT – Travel recommendations offered on this site are not to encourage you to travel against travel advisories.
Those of you who have been reading my blog for a while know that I have been struggling to find the perfect travel bag for my sightseeing and excursions, which will hold my camera (with its zoom lens) and some basic travel accessories. The search has been a struggle as camera designed bags look like camera bags which makes me and my pack a target when travelling. So I dropped about $35 on a Swiss Gear Sling Bag at Bentley one day and so far – I'm liking it – A LOT!
It's not perfect – but for over 6 months now this bag has become my go to travel bag. It doesn't matter what the trip – if I have to lug my camera and gear and some basic travel necessities the Swiss Gear Sling Bag is coming with me.

Swiss Gear Sling – Balance in Size
Many slings out there are actually very tiny. They have room for a wallet, a bottle of water and maybe a small camera. But if you are travelling with a DSLR or Camera with a long zoom lens (like my Sony Nex 6) these small bags immediately fail for travel purposes.
Swiss Gear Sling – Travel Organized
This Swiss Gear Sling Bag has a large pocket for storing larger items, a small easy to reach pocket at the top of the bag, a front pocket with organizer and a smaller zipped slim pocket in the very front. There is also a mesh water bottle storage pocket on the side of the bag.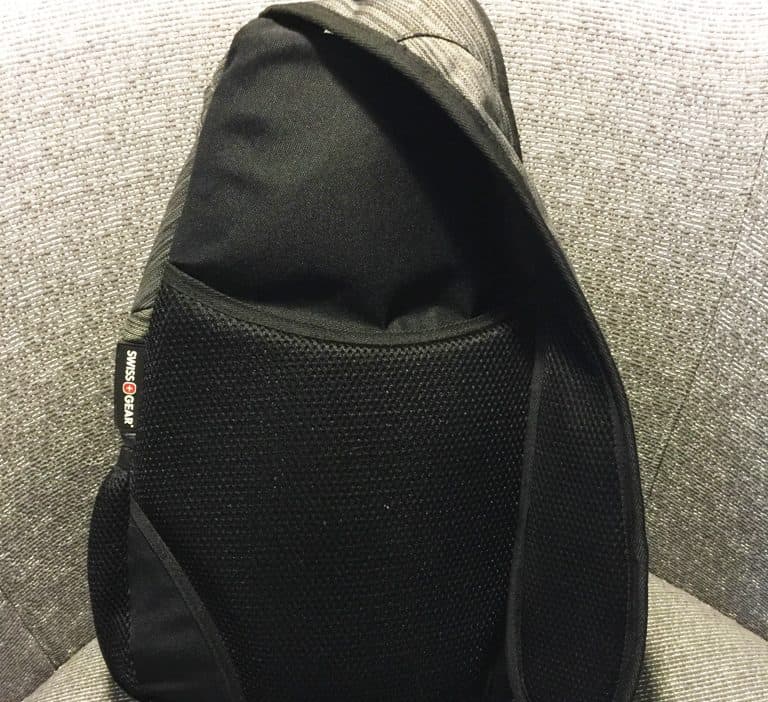 Swiss Gear – Comfort
The Swiss Gear Sling comes with a foam padded back making it very comfortable to wear on long journeys. Even when the bag is full and weighted down by my camera and a water bottle, having the padding on the back is a welcome relief as your day goes on.
Being able to swing the bag forward and access all the pockets is also great, as I can grab my camera when I need it and stow it away when I don't.
Swiss Gear Sling Bag – What's Missing?
What I dislike about the bag is that it has no organization in the big pocket. Padded cubes or some sort of storage division in the big pocket could make for a place to put the camera safely. Also it would mean better organization of the wallet so you can grab it easy vs digging around for it among all the other travel items. If they had a place or deep pockets then it would be the perfect travel bag!
The front organizer is a bit dated too – as far as the little pockets. As a girl I don't normally store my wallet stuff in these pockets. Let's face it you want to grab your wallet and switch purses easily. So that is a lot of wasted storage space in the front of the bag if you ask me.
The mesh phone pocket on the sling band is also very old-fashioned. Great for a little flip phone or iPhone 4 but anything bigger or newer and probably you won't be able to use that pocket at all.
So my search for the perfect travel bag continues, however this bag is definitely a contender and could be a great travel companion to most travellers!
Check out these travel bags for more ideas: