This article may contain affiliate links. Clicking on or purchasing products we recommend through a link may earn a small commission. Read our disclosure and privacy policy page for details. *COVID-19 TRAVEL ALERT – Travel recommendations offered on this site are not to encourage you to travel against travel advisories.
I feel like a rock star when I get to stay in a suite at a hotel. Enjoying the comforts of a mini apartment when you travel is like a home away from home. I stay at a lot of hotels sometimes for just a few hours to get some shut-eye and then I'm gone, but I had a lovely afternoon and evening at the Station Park All suite Hotel in London Ontario recently, and I would go back again on my next trip.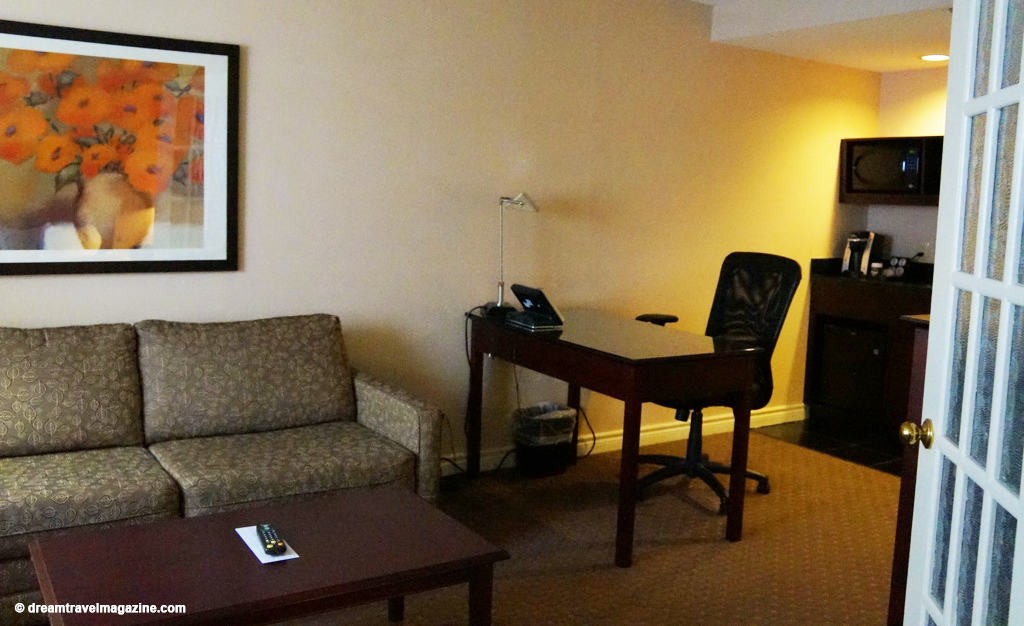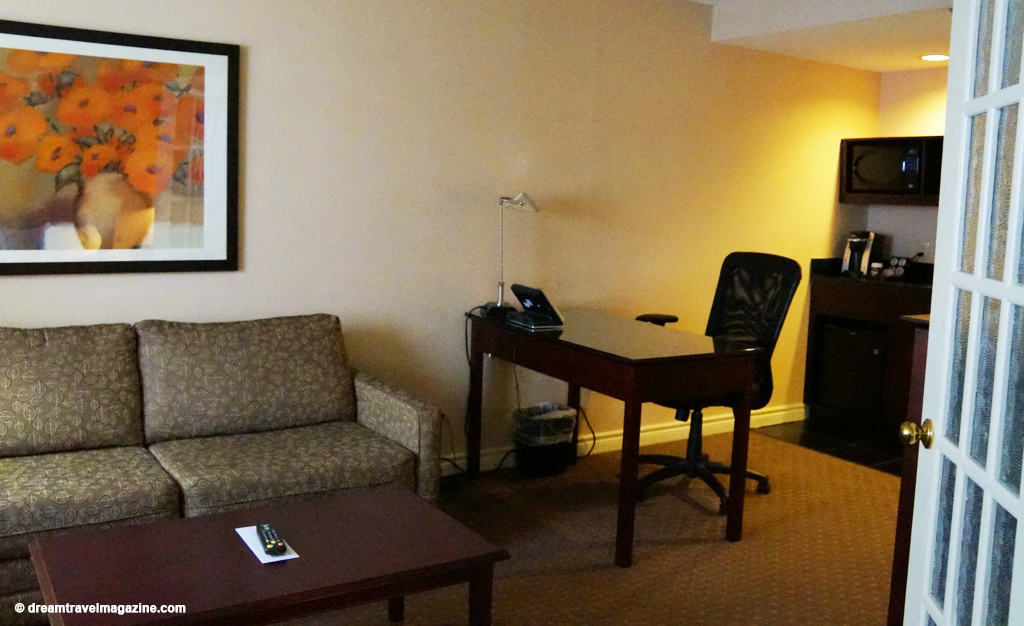 Station Park All Suite Hotel London Ontario – Everyone gets a Suite!
The Living Room
At the Station Park Hotel all the hotel rooms are suites. Every suite includes a separate living room which has a comfy sofa, chaise chair, flat screen tv, desk and small kitchen with a fridge, microwave and Keurig coffee machine! Oh and they are happy to bring up more coffee pods when you need it (I drink a lot of coffee especially when I'm writing). The suites include wi-fi and business travellers will appreciate the fancy phones – which I have to admit I didn't know how to use!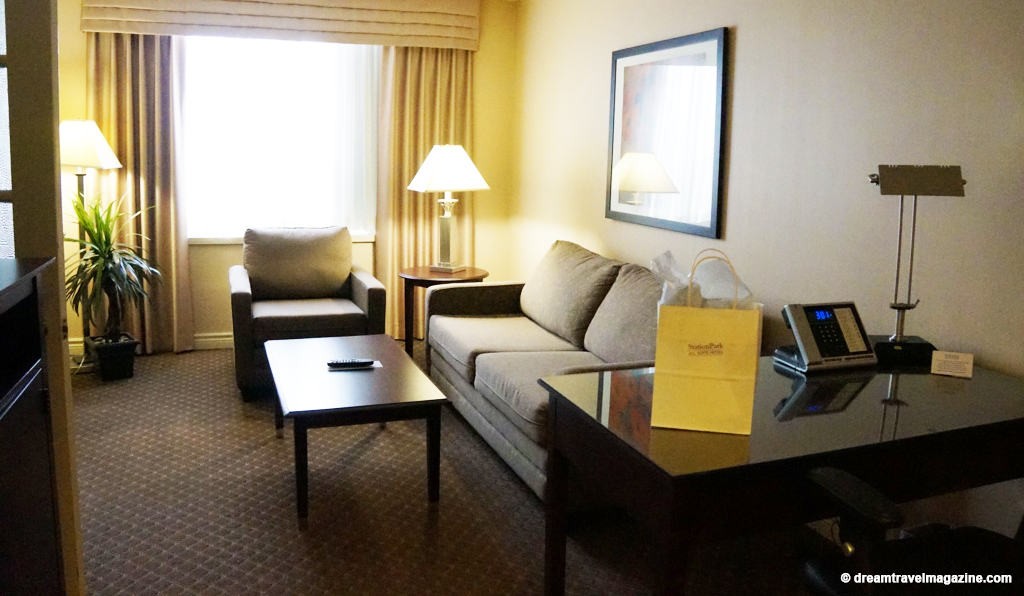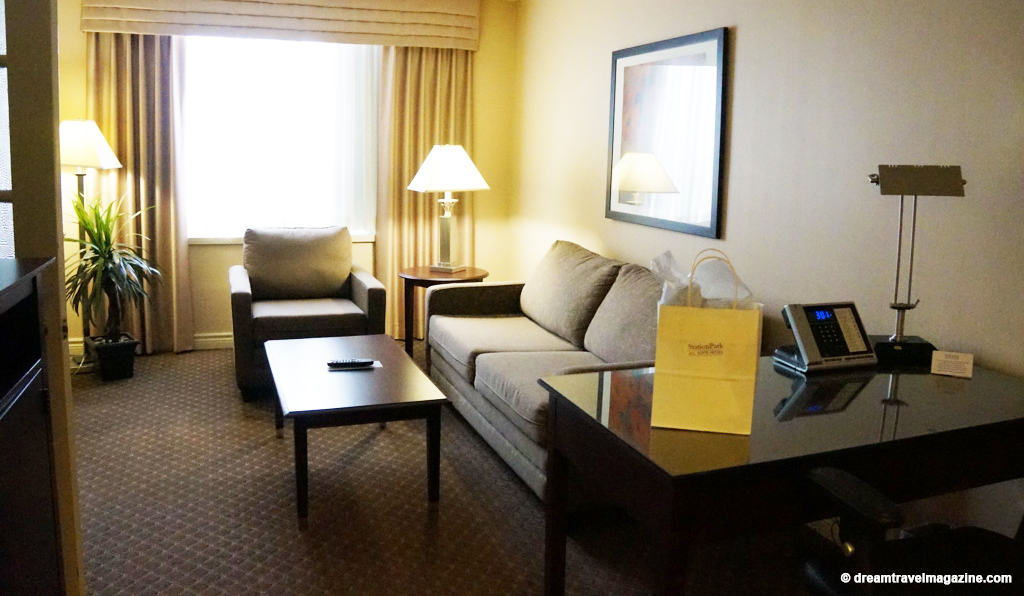 The Bedroom
Separated by a double french door my bedroom included an enormous king sized bed, another small chair and also had a flat screen TV. There is plenty of storage in the room, including a large closet located near the bathroom and a drawer unit in the bedroom. There are also plenty of drawers in the night tables on either side of the bed.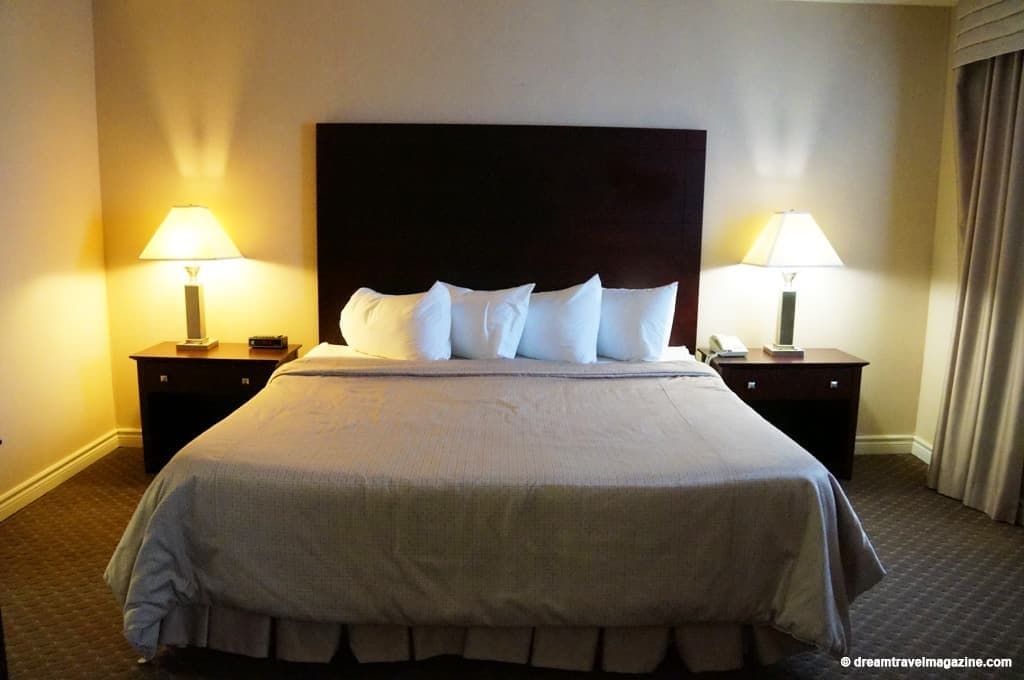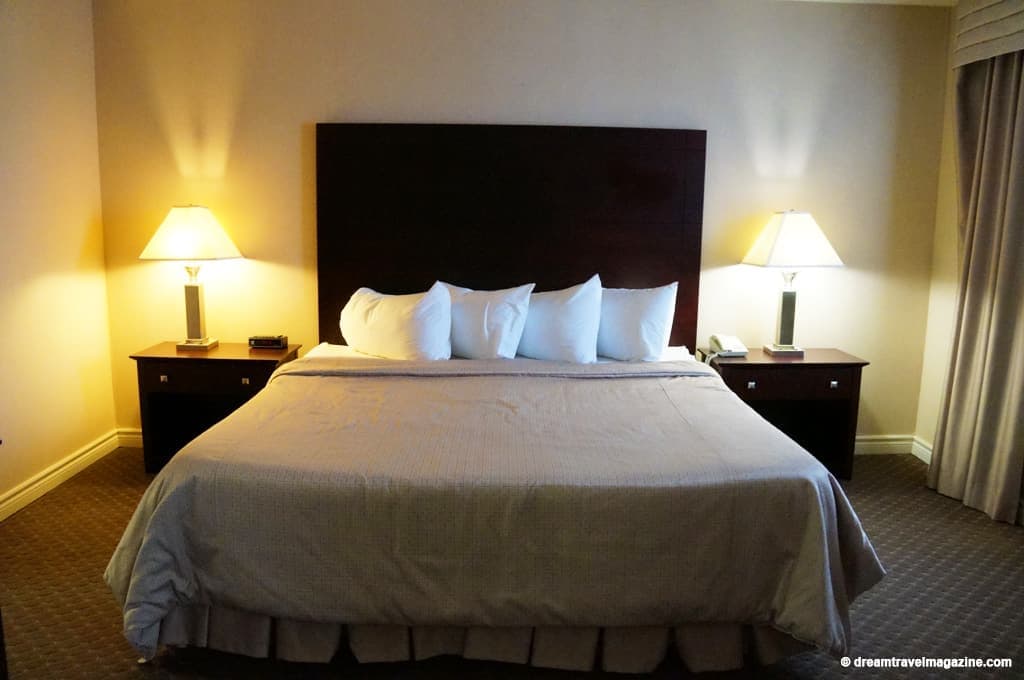 My only complaint in the bedroom and this is a small and trivial matter, is the alarm clock radio, everything else in the suite is so modern, I expected a more advanced alarm radio with a built-in phone charger.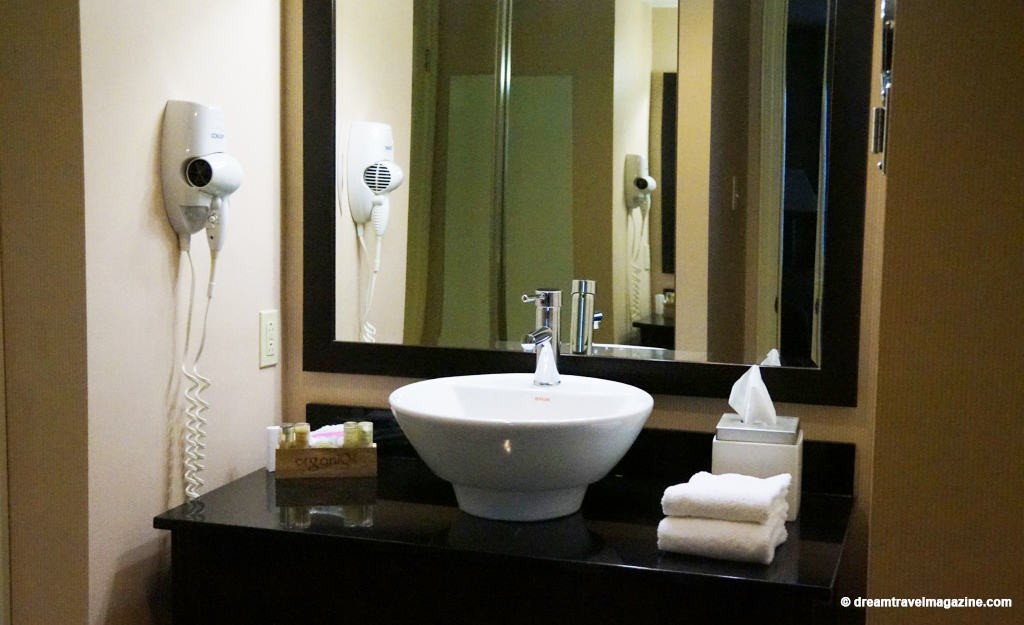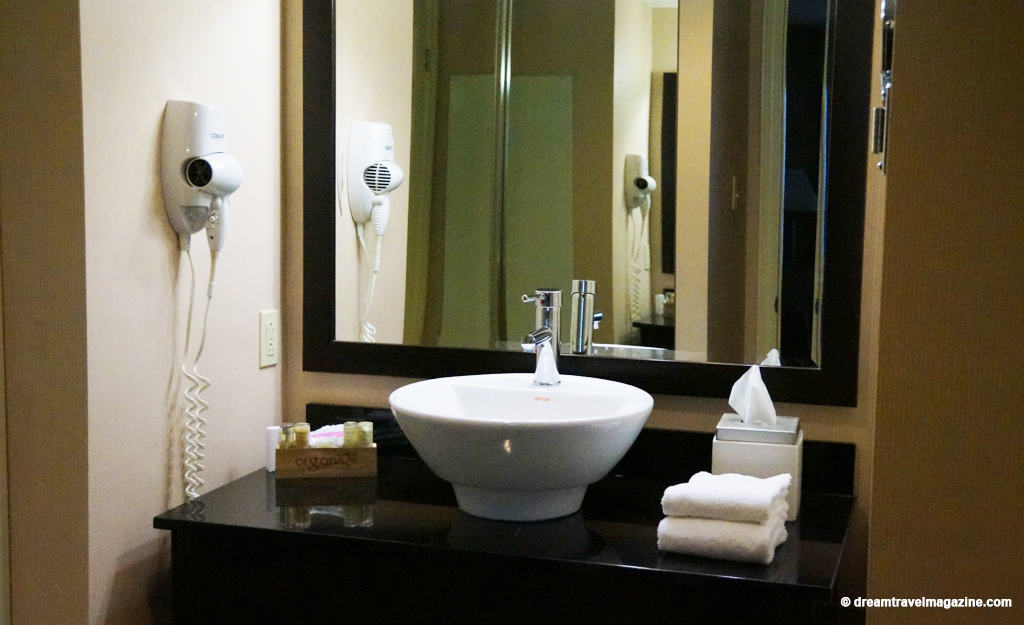 The Bathroom
The bathroom was separated into two rooms as well. The toilet/tub and shower were in their own room and the vanity area and closet also in its own place. There are access doors to the bathroom from the living room and the bedroom.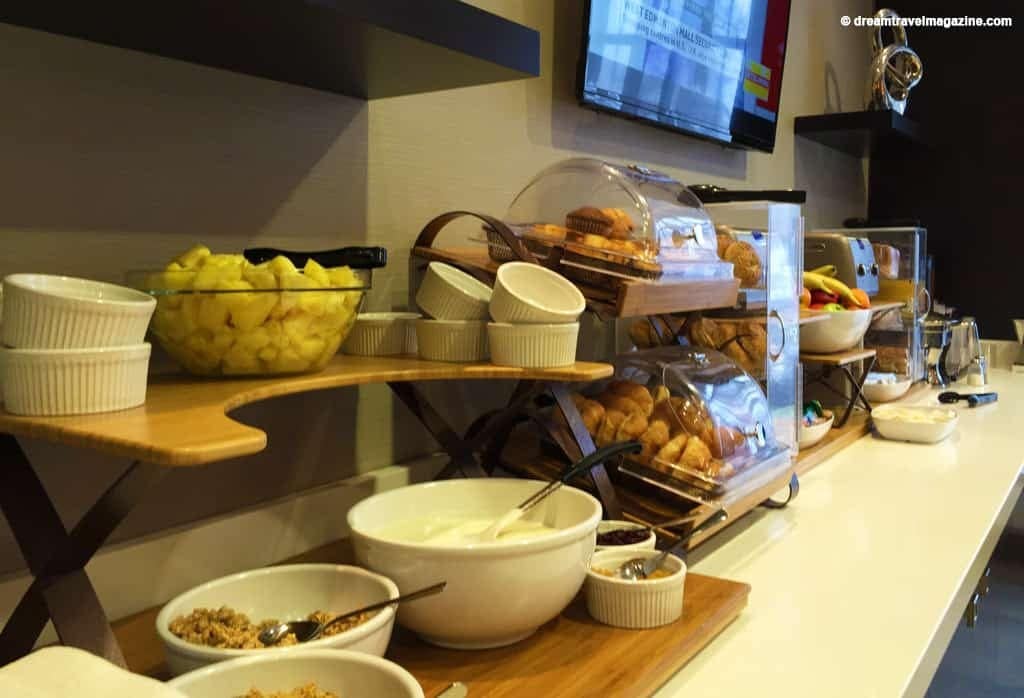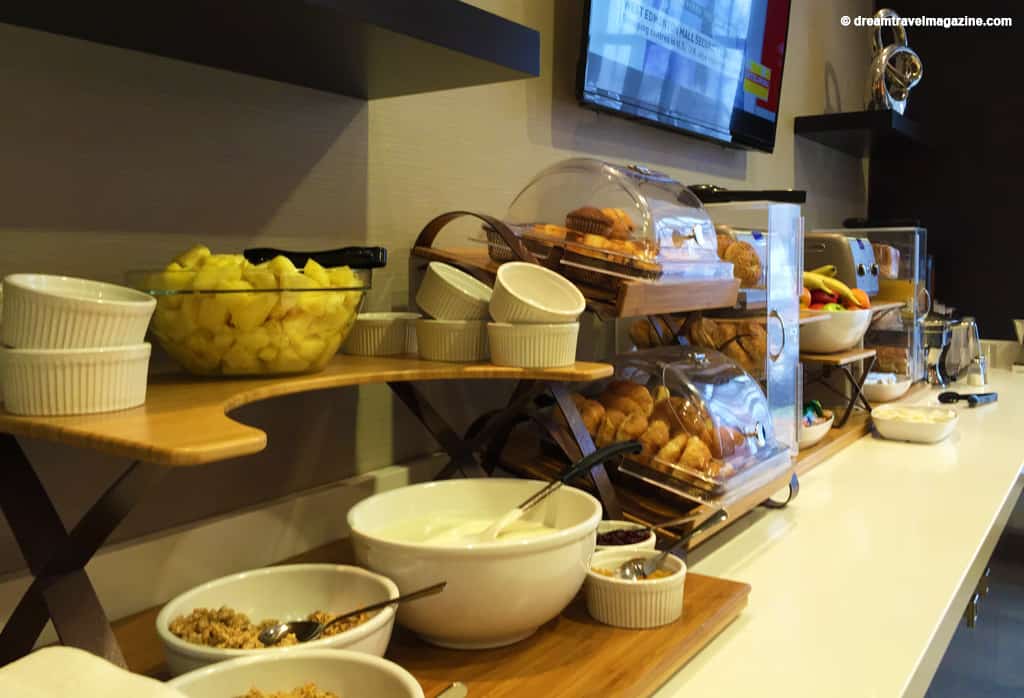 Dining Options
The Station Park hotel offers a complimentary continental breakfast in their lobby which included the basics like cereal, toast, fruit and pastries. There is no in-hotel dining option which for me was a bit of a disappointment. There is plenty to eat in the area and many of the restaurants will deliver meals to the suite if requested, but for the first time on my travels on a day when I just wanted to order a simple meal in my room I couldn't really do that easily as they don't have a in-suite dining menu.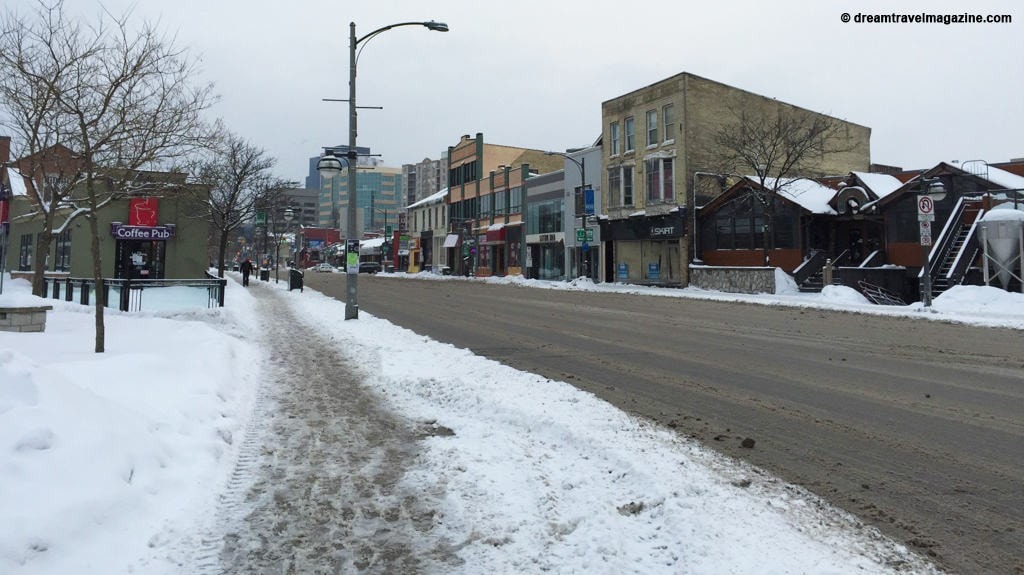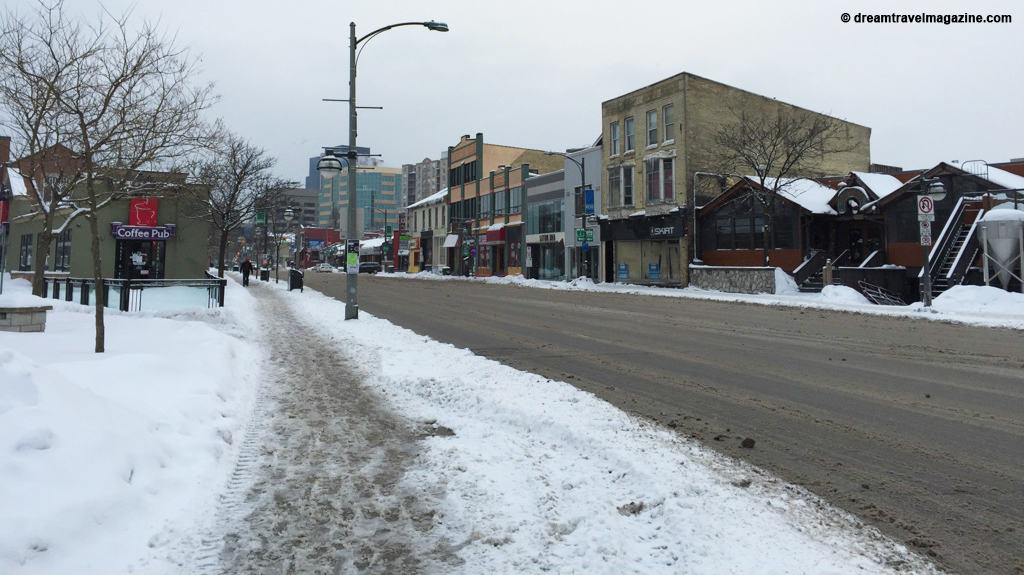 Station Park All Suites Hotel London Ontario – Location
There is a lot to do in the area just steps from the hotel. The hotel is located in Downtown London, Ontario on Richmond Row which is a cool street filled with eateries, little boutique shops and lots of things to do. When I saw that the hotel was located near an outdoor skating rink (from pictures I saw on their website) I decided to pack my skates and explore the neighbourhood.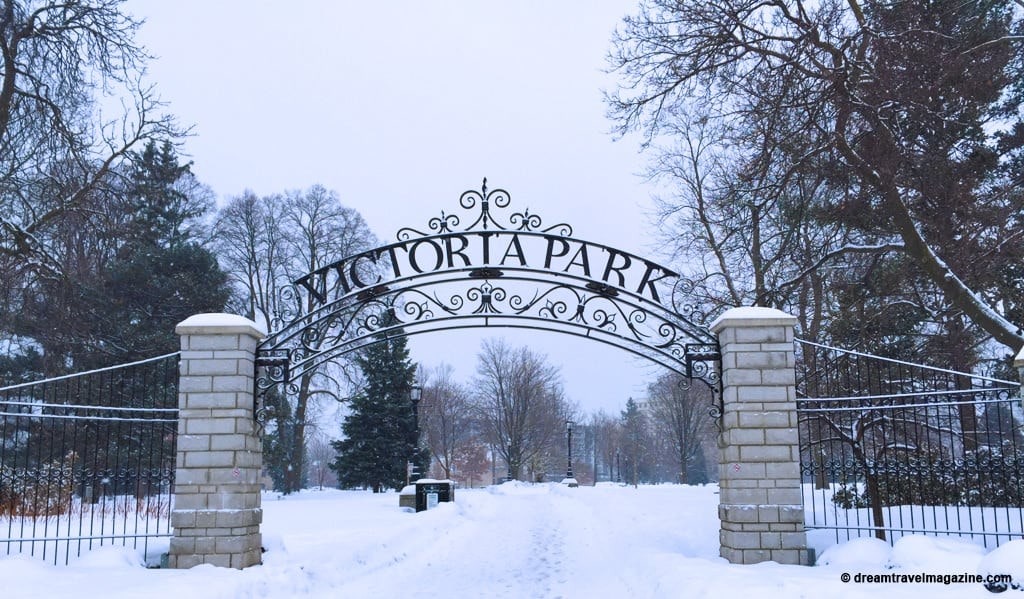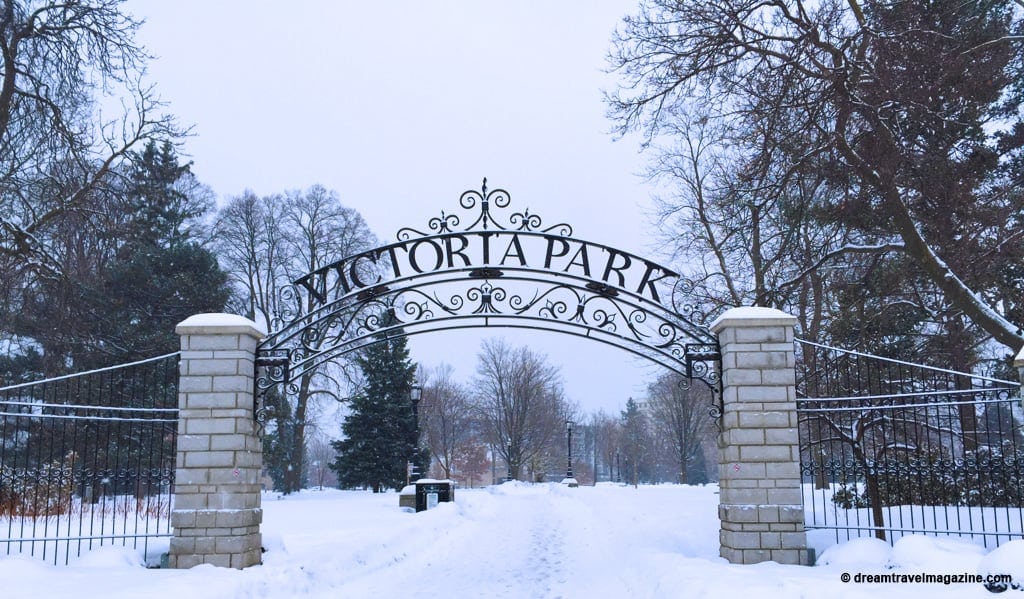 My walk brought me to Victoria Park which was beautiful in the winter and I imagine it will be a fantastic place to stroll during the summer and fall seasons as well. There are walking paths in the park that lead me to a community centre where just outside was a fabulous outdoor skating rink.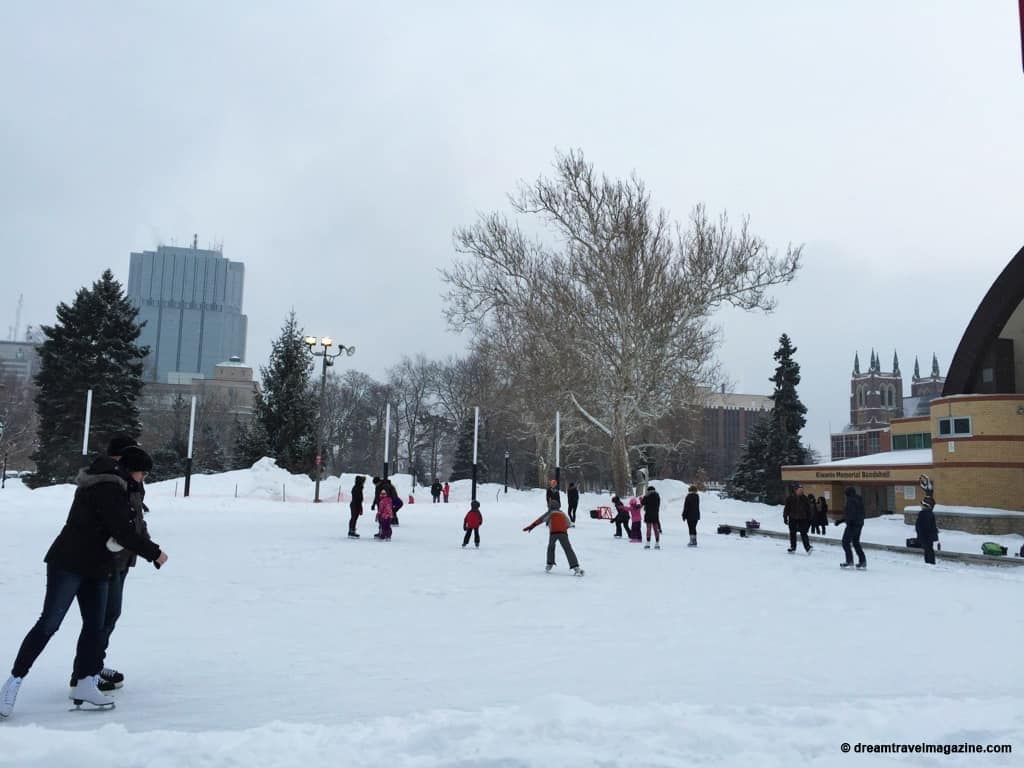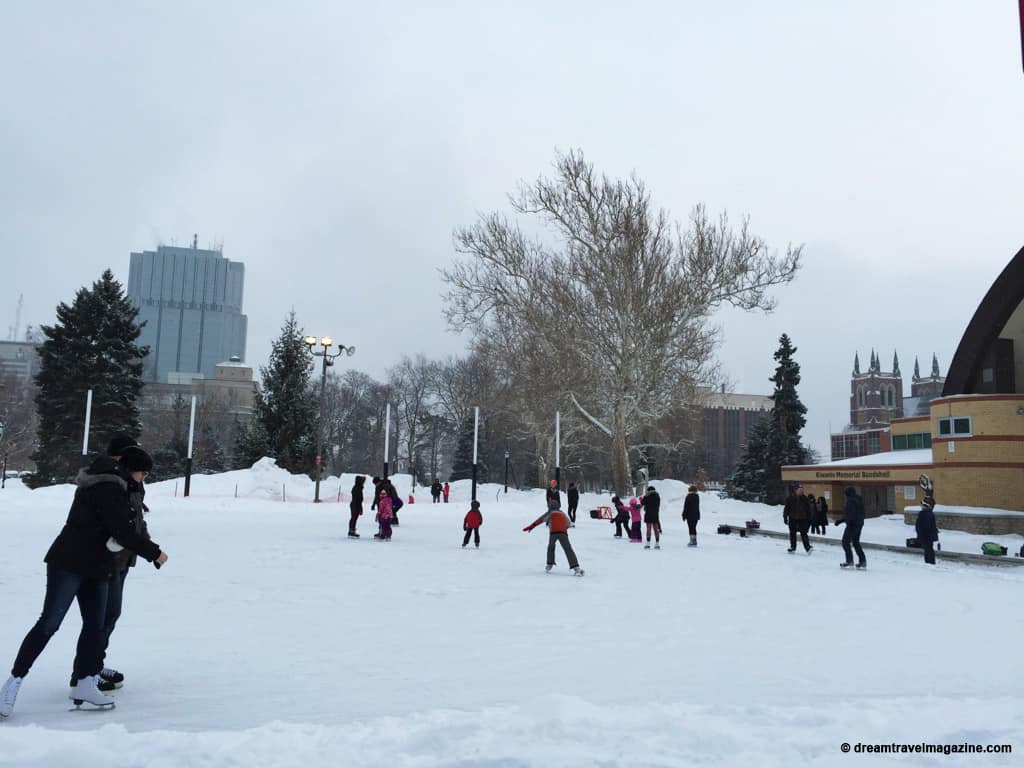 The community centre had a change room inside where you can lace up your skates and grab a snack at the snack bar and everything including outside around the rink was padded with rubber mats so you can walk around with your skates.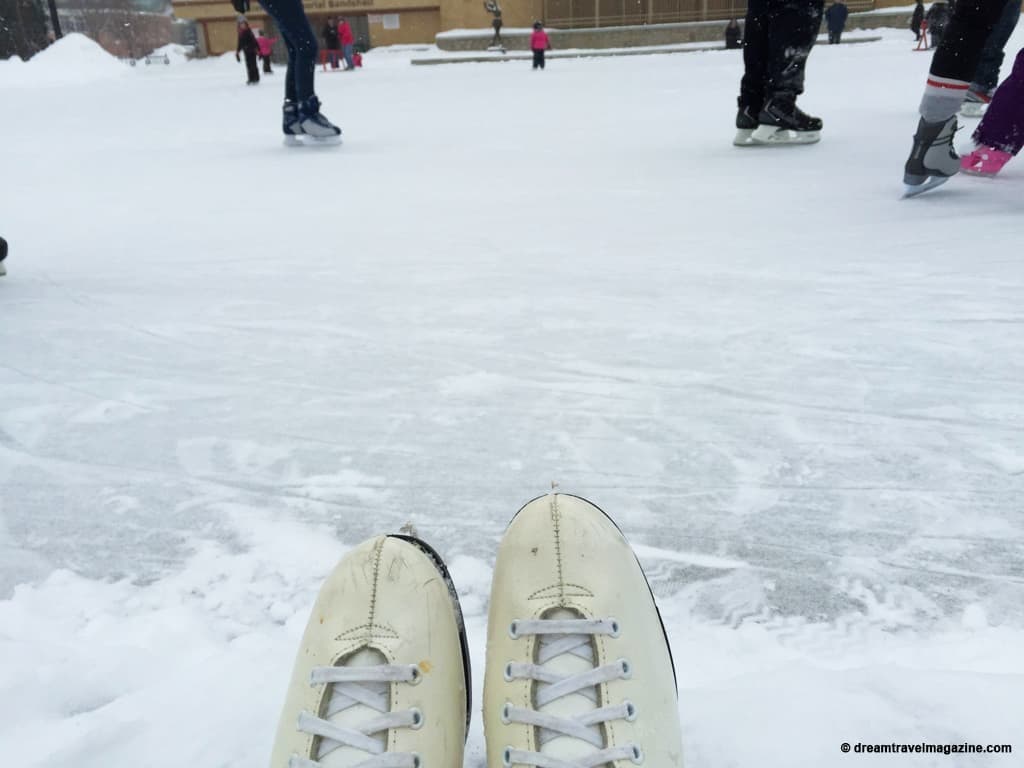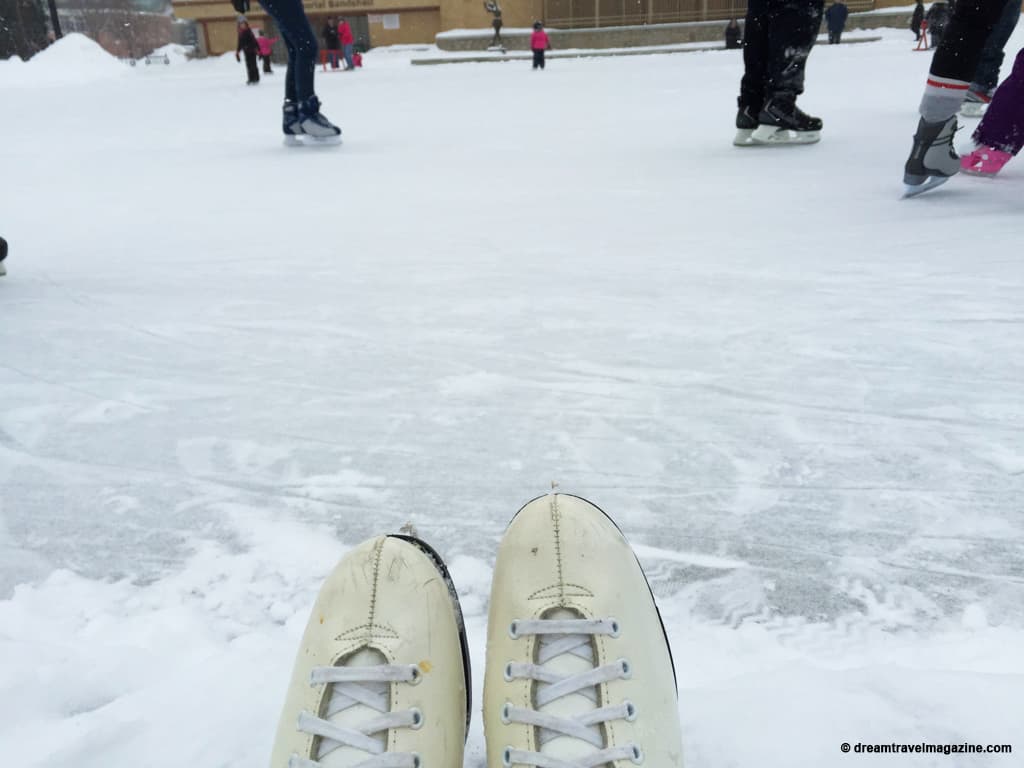 It was my last day in London and I had a great day, walking around and exploring this trendy neighbourhood. There are so many restaurants from familiar chains, fast food and even a few trendy international cuisine eateries. With a little window shopping stroll I noticed many boutique fashion shops and little stores that I admit, were tempting, but I had work to do back at the hotel.
This is a great hotel for those on a budget or anyone needing to stay in town for a few days. The hotel is clean and staff is super helpful. A few cons like I mentioned the lack of dining options, or old alarm clock radio and the elevator wait in this building can be frustrating at times (especially when it stops at every floor on the way up the higher levels). The hotel is a great stay, in an awesome location, but they could elevate their game just a bit with a few small changes: having an in suite dining option; elevating the continental breakfast and adding modern appliances to their rooms.

Travel Assistance Provided by Ontario's Southwest Tourism and the Station Park Hotel.