I have no relationship or received no compensation from Moroccan Oil company and this post is purely based on my own experience. There are products that I swear by that I just have to share with the world. When a reader emailed me about my hair regiment and said: "you should write a post about this," I thought you're right. So Dalia P. this post is for you and includes tips on how to beat frizzy hair on vacation with Moroccan Oil hair product
Curly Hair Rescue with Moroccan Oil
I have a confession to make to all of you I usually have the worst vacation hair ever! You know how Monica on Friends went on vacation, and her hair got bigger and bigger throughout the trip? Well, my hair can be just as unruly and frizzy as that when I hit a tropical destination or when things get humid here at home.

I have tried so many hair serums and frizzy hair treatments, but nothing seemed to work on my hair. Then on a trip to Israel, a local hairdresser got me hooked on Moroccan Oil. I bought a bottle during my vacation, and even in the hot, humid Israeli weather, my hair was actually under control.
I brought home half a suitcase filled with the oil – praying on the entire flight home that none of the glass bottles would break, but I couldn't risk coming back and not having this miracle hair oil.
Eventually, the oil became available here in North America and soon after the line began to expand. Now Moroccan Oil is known as a favourite curly hair product worldwide.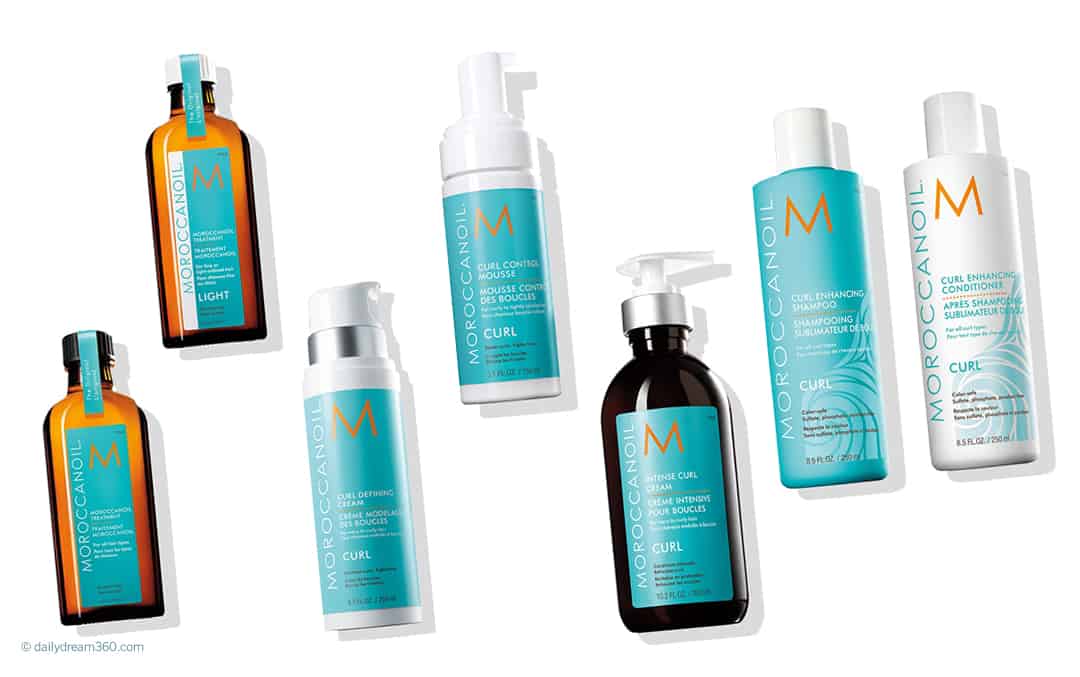 Moroccan Oil Curly Hair Products
These are the products I use the most and I've included products I use for both Curly and straight styles. I'm also sharing some new products on the market that help fight unruly curly hair.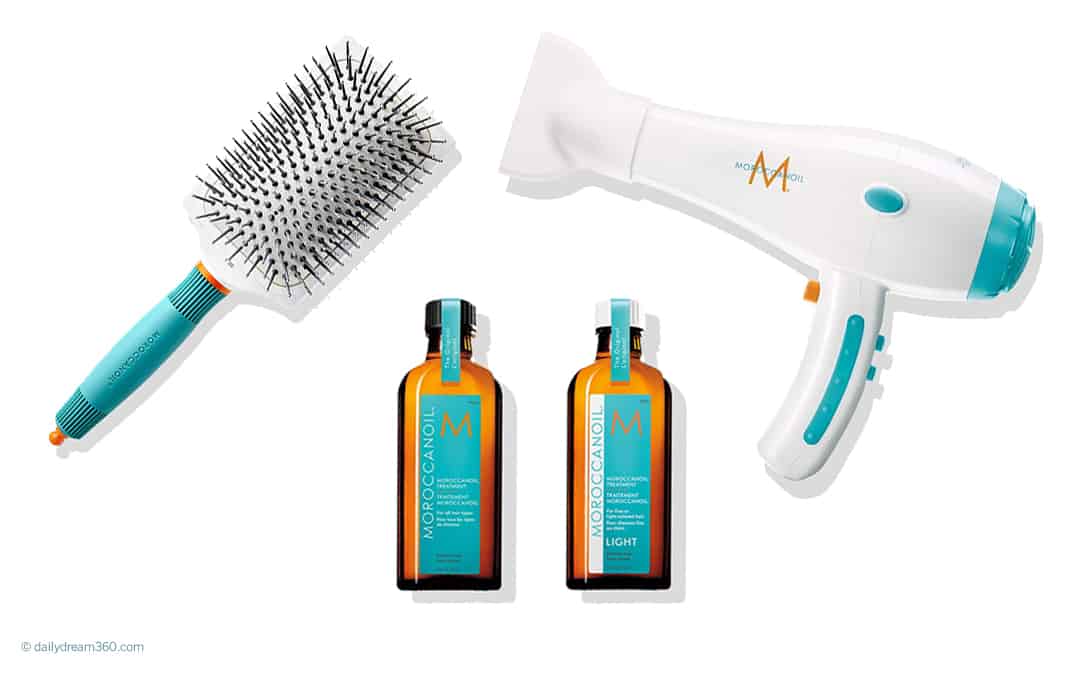 MoroccanOil Treatment Serum
The product that started it all! I can't do hair without it. It's the first thing that goes into my hair after the shower. There are so many benefits to using MoroccanOil Treatment serum in your hair.
Shiny hair
Curl control
Frizz control
Hydration
Smoothing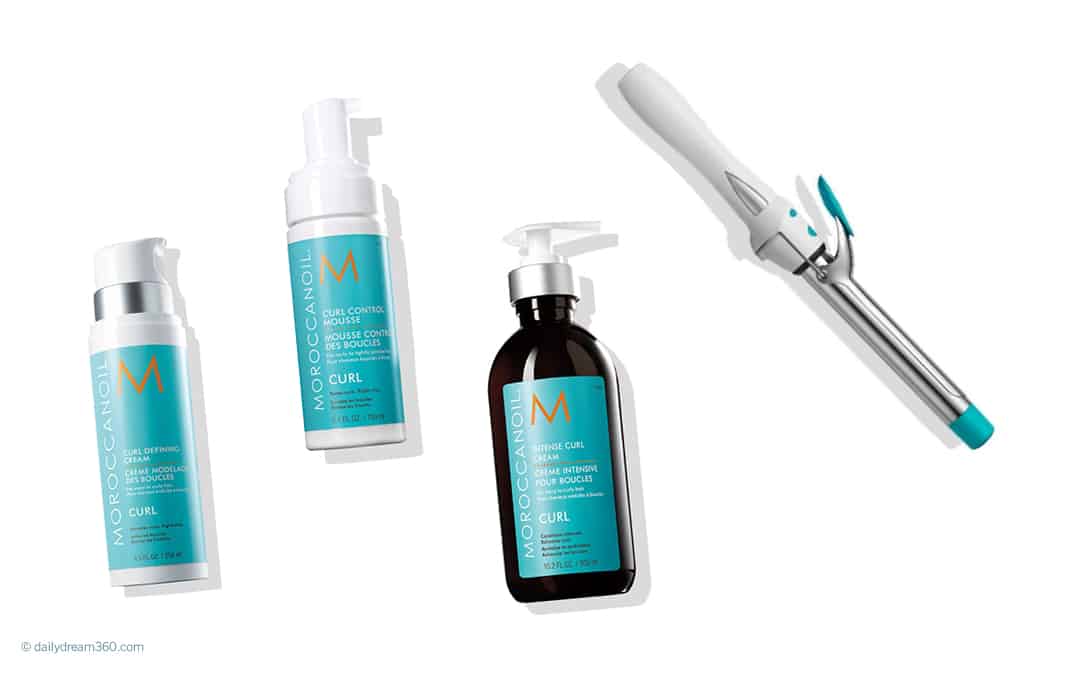 MoroccanOil Curl Defining Cream
In addition to the Moroccan Oil treatment, I use this curl defining cream to tame my curls. I just mix a few pumps of each into my hand and apply it from mid-length to the ends of my hair. I also tend to add some more to dry hair to just ease frizz and add some shine to day-old hair.
MoroccanOil Curl Control Mousse
If you prefer a mousse for your curl definition, Moroccan Oil has added this Curl Control Mousse to their line up. This is particularly great for use on dry curly hair to add definition. I just need to find this is travel size.
Moroccan Oil Anti-Frizz Spray
This is one of those products that I wish came in travel size. This product is not just for curly hair but for anyone that wants to tackle frizzy or static hair. Great to tame flyaways and just add a little shine and weight to manage frizz.
MoroccanOil Hydrating Style Cream
This is a leave-in conditioning treatment for your hair. If weather is particularly humid or your curls are exceptionally unruly, then you may want to add a few pumps of this hydrating cream vs the curl defining cream.
Save Money on MoroccanOil Products with Limited Edition Sets
It is hard to find MoroccanOil products on sale or for a bargain price. Their pricing is pretty uniform across the board whether you buy products from Sephora, Amazon or your local hairdressers. That said, keep an eye out for limited edition gift sets which include bonus trial sizes of some of their products. The sets are often a great price on MoroccanOil products you need and the sample sizes can be used for travel.
MoroccanOil Hair Brushes and Accessories
There are a number of fantastic hair care products available now which include straightening brushes, paddle brushes, hair straighteners, curling irons and hair dryers.

How to use Moroccan Oil to Beat Frizzy Hair
Instructions for using the MoroccanOil Treatment
On Clean Hair – After Towel Drying
Don't use too much, apply 1-2 pumps to the palm of your hand.
If you have really thick or long hair add another pump. Too much oil can make your hair flat and greasy.
Apply the oil on clean, towel dried hair.
Apply mostly from hair's mid length to ends.
Don't brush through your curls, apply the treatment in a crunching motion with your fingers to avoid breaking up the curls. The less you touch or run your fingers through your hair the better.
On Dry Hair – To Tame Frizz or Boost Shine
Apply 1 pump of treatment oil the palm of your hands and gently run through mid-length to ends (focussing more on the ends).
Other Uses of the MoroccanOil Treatment
At the Beach – keep hair from drying out from salt water and the sun.
Add shine – if you would like to add a bit of shine to dull hair.
Moisturize – apply before washing for 10-15 minutes as a leave-in conditioning treatment.
For more hair care secrets, see these posts: