This article may contain affiliate links. Clicking on or purchasing products we recommend through a link may earn a small commission. Read our disclosure and privacy policy page for details. *COVID-19 TRAVEL ALERT – Travel recommendations offered on this site are not to encourage you to travel against travel advisories.
If you are looking for a great on-the-go breakfast and want to tackle sous-vide egg bites at home, this low-carb, dairy-free spinach egg bite recipe is for you.
Dream it.
When I started my low carb diet, I scoured the internet looking for recipes I can prepare in advance to make life easier. I'm currently on the Dr. Poon diet here in Ontario, and this diet is low-carb, low-sugar and low-sodium. Dairy is limited to the program, and I struggled to find a sous-vide egg bite recipe with no dairy.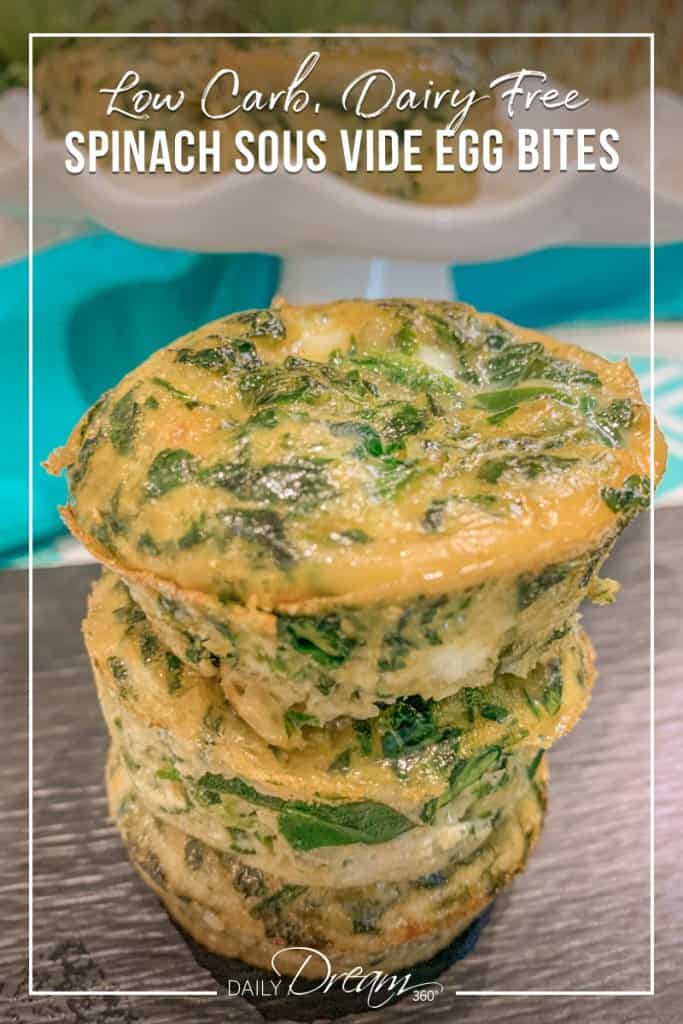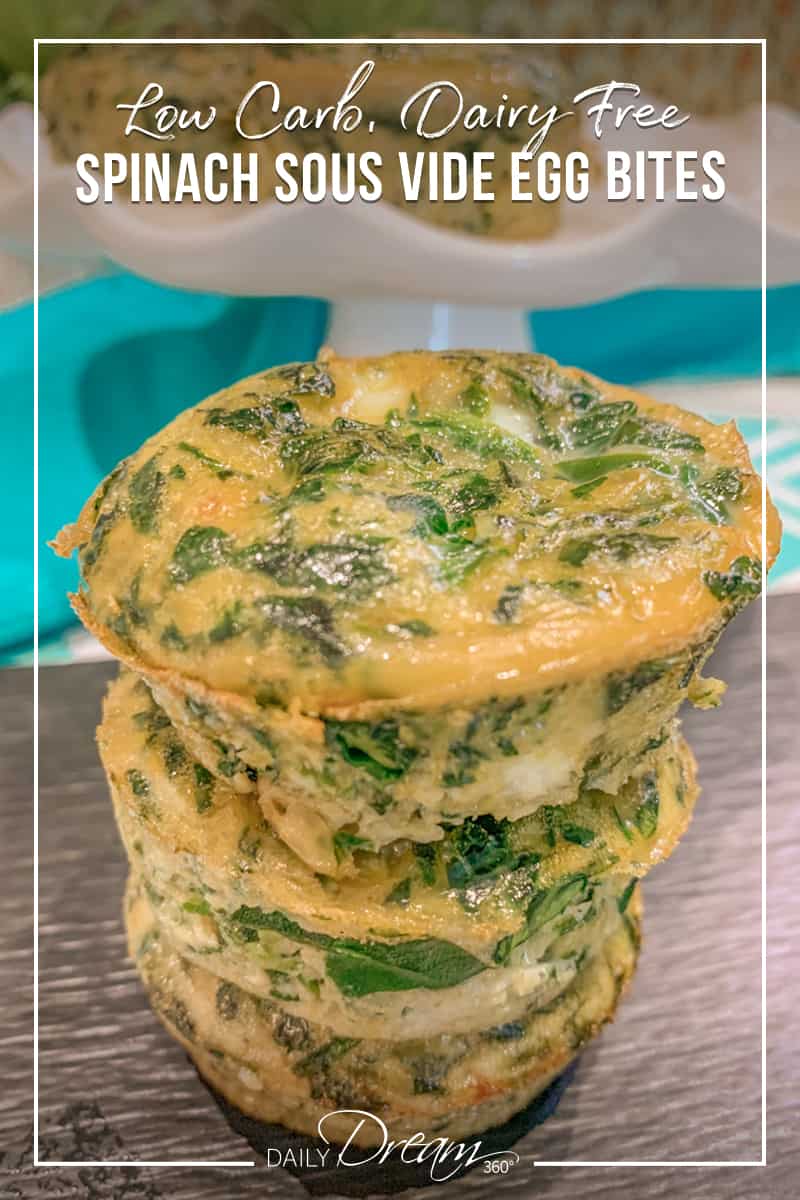 Plan it.
Low Carb Sous Vide Egg Bites
What's great about this spinach sous vide egg bite recipe is that really you can make it your own. For a healthy breakfast, add your favourite veggies, breakfast meat, and if you want, you can even add cheese.
Whole Eggs, Egg Whites or a Combination of Both
Another great thing about this recipe is that you can modify it by using only whole eggs or egg whites. I like to do a combination of both. By adding only whole eggs, you'll find the sous-vide egg bites will have a deeper yellow colour, and if you add more egg white, it will be paler.
I mention this because some of the recipes I've found online had these perfect pictures, and when I went to create the recipe, they did not look at all like what they were showing me. Some recipes, for example, had mushrooms and spinach, and if you do add mushrooms, it will taste delicious, but the final product will have a gray or brownish colour.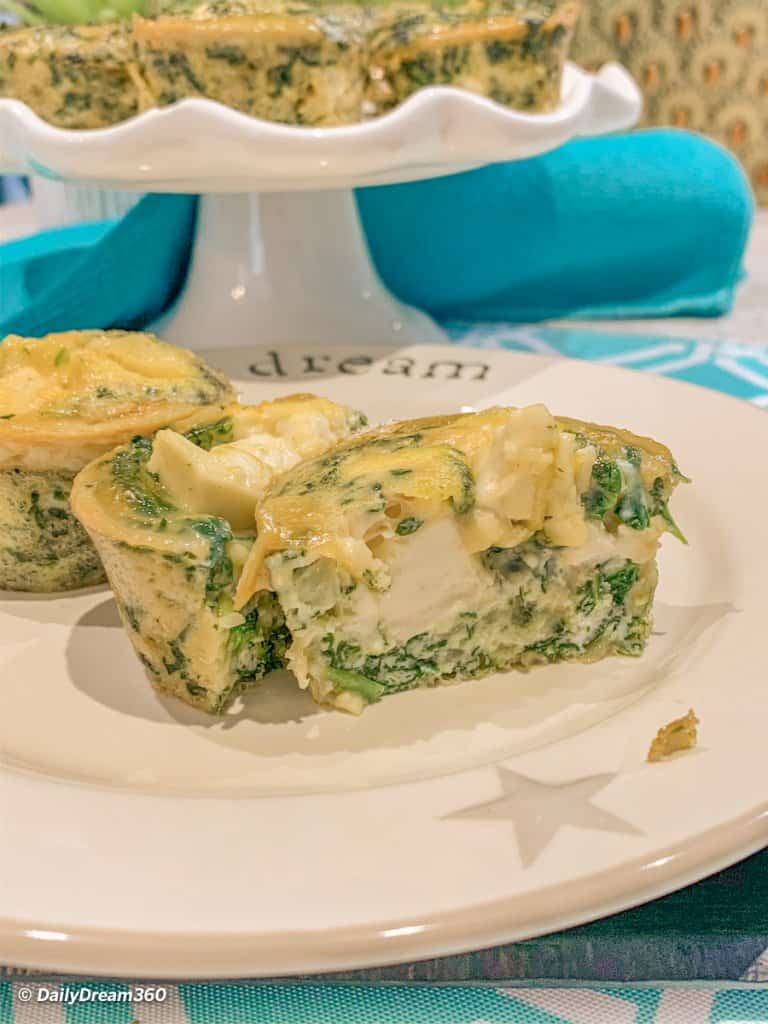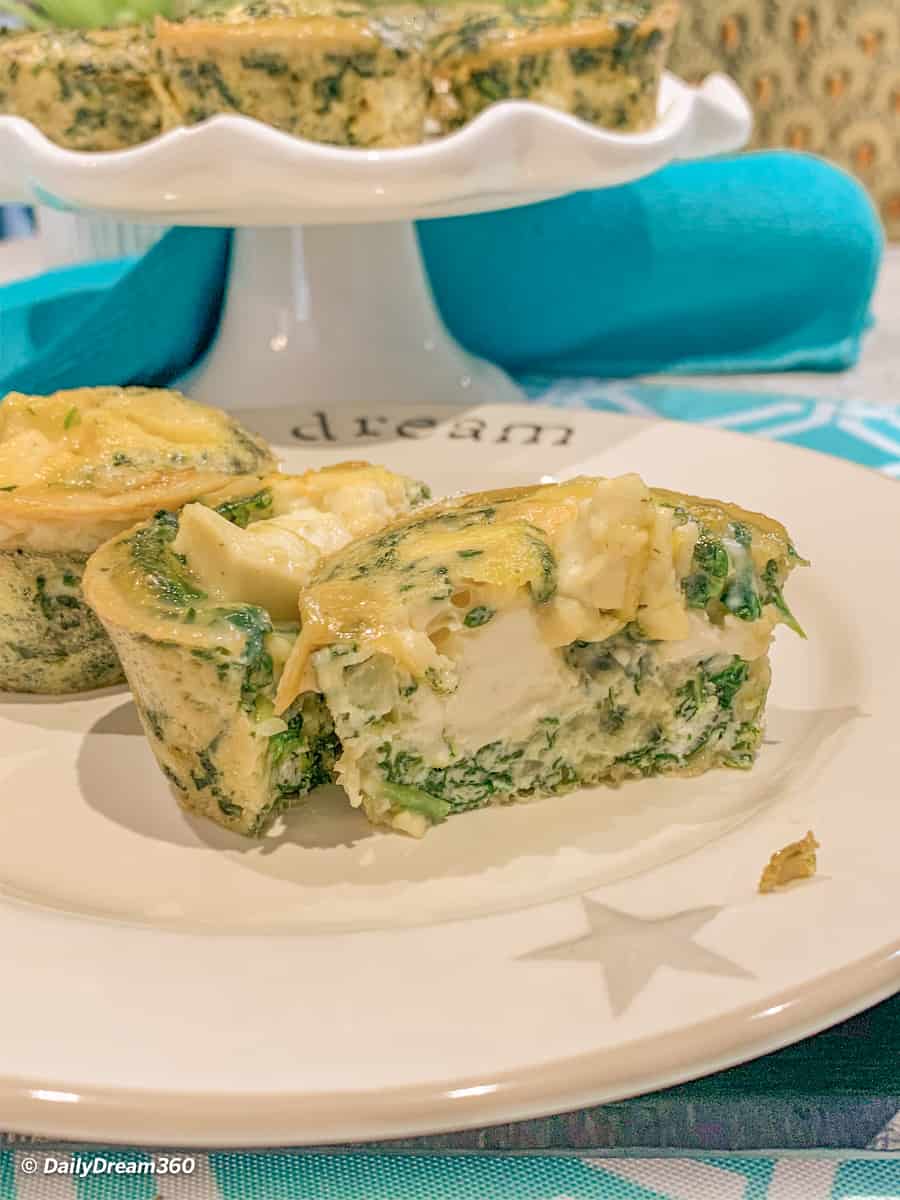 Spinach and Cheese Sous Vide Egg Bites
Feel free to add your favourite cheese to the mixture before baking. I added some cubes of Laughing Cow Cream Cheese to a few of these to test it out and it added a creamy surprise in the middle of the egg bites.
Great Tools To Make This Easier to Prepare
Live it.
Here is the recipe I love to create. On the Poon Metabolic Diet, we are limited as to what vegetables we are allowed to use depending on the phase we are on. So in Phase 1, the most limited phase I love using green peppers and spinach. When I moved into Phase 2, I added onion and garlic, and it is delicious!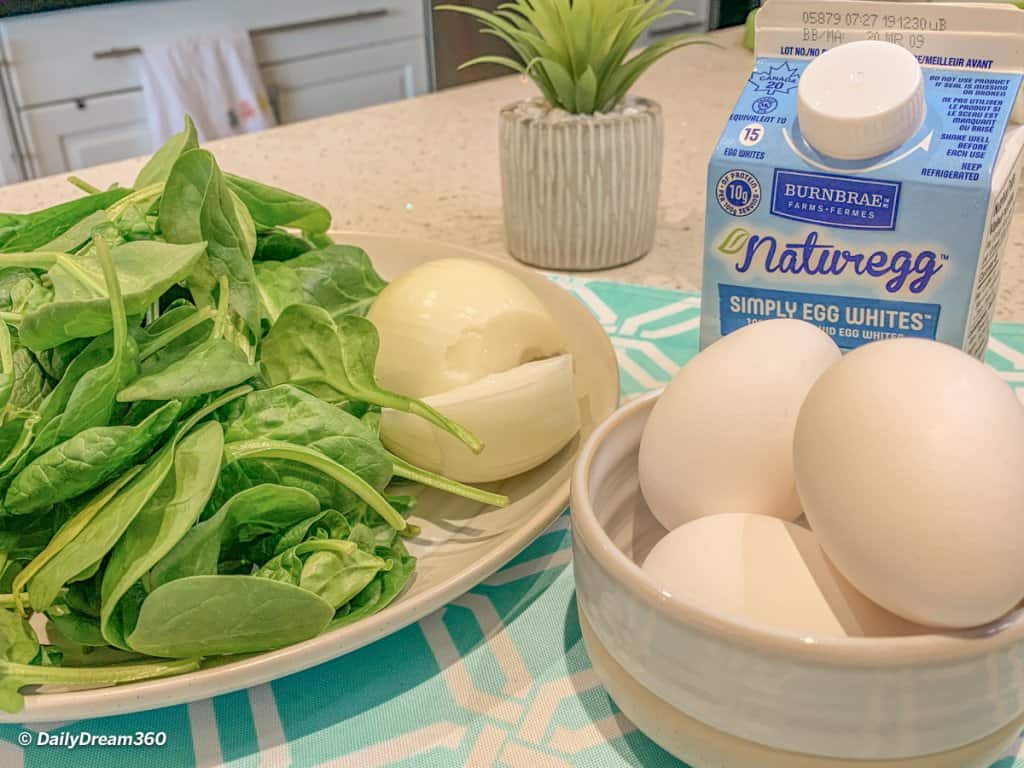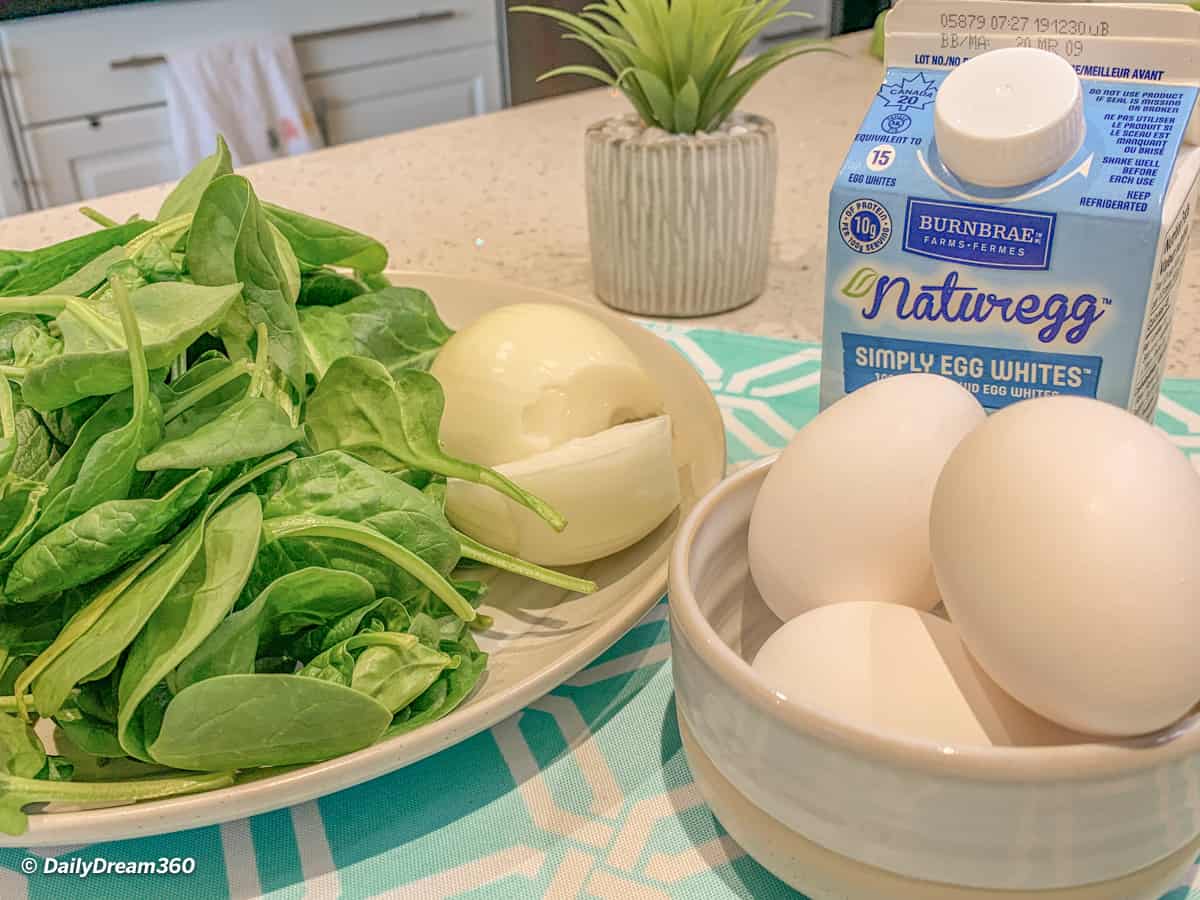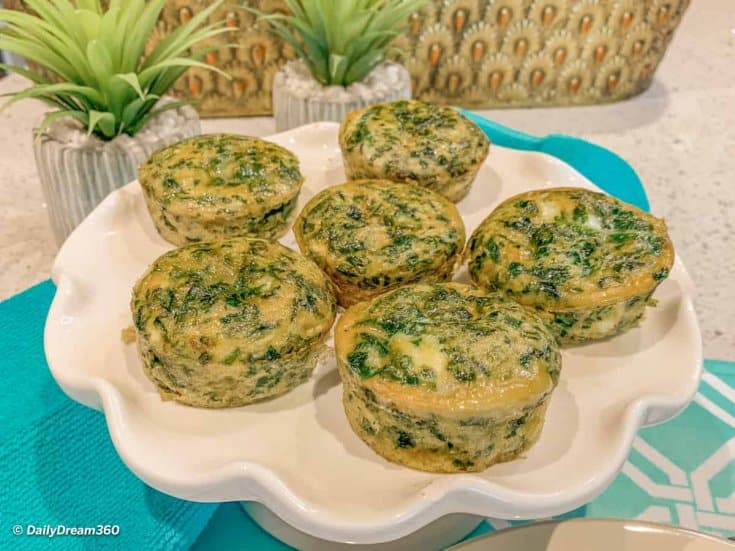 Yield:

12
Low Carb Dairy Free Spinach Sous Vide Egg Bites
Additional Time:
2 minutes
These sous vide egg bites are great for an on-the-go breakfast. If you'd like to tackle sous-vide egg bites at home, this low-carb, dairy-free spinach egg bite recipe is for you.
Ingredients
4 whole eggs
4 egg whites ( cups? egg white product)
2 cups chopped baby spinach
1 cup chopped pepper (red and/or green)
1 cup chopped onion
1 tbsp Olive Oil
2 garlic cloves chopped
Salt to taste
Instructions
Preheat oven to 180°C (350°F).
Spray a standard 12 muffin pan with cooking spray.
In a large skillet sauté garlic, peppers and onions with oil until soft. 
Add spinach to pan and sauté for an additional 2 minutes.
Season with salt to taste and remove from heat.
In a large measuring cup or bowl, whisk eggs and egg whites.
Stir the cooked vegetables into the egg mixture.
Pour the egg and veggie mixture evenly amongst the 12 muffin cups in the pan.
Bake for 15-20 minutes until muffin tops are firm and eggs are cooked.


Notes
Tips:
Store leftover egg bites in an air-tight container for up to 4 days. The egg bites can also be frozen. Egg bites can be easily reheated in the microwave.
Nutrition Information:
Yield:
12
Serving Size:
1
Amount Per Serving:
Calories:

70
Total Fat:

3g
Saturated Fat:

1g
Trans Fat:

0g
Unsaturated Fat:

2g
Cholesterol:

62mg
Sodium:

97mg
Carbohydrates:

8g
Fiber:

2g
Sugar:

1g
Protein:

5g
The information contained in this website is for general information purposes only and is not meant to substitute professional dietary advice or treatment. Please see our Nutrition Disclaimer for details.