This article may contain affiliate links. Clicking on or purchasing products we recommend through a link may earn a small commission. Read our disclosure and privacy policy page for details. *COVID-19 TRAVEL ALERT – Travel recommendations offered on this site are not to encourage you to travel against travel advisories.
I'm driving across the bridge and all I see is a fog of white. The snow is coming down faster now and I'm relieved that I'm almost at my destination. Normally, I could see the city buildings in front of me from this bridge, but today it was an entirely different scene, the city was completely engulfed in a white cloud.
"It's going to be a snow day in Buffalo!" I giggled at my friend. I parked the car in front of the hotel (the Courtside By Marriott) and we both looked at eachother with relief. We made it! We drove through a Buffalo blizzard and made it to town safely!
Buffalo New York Winter Getaway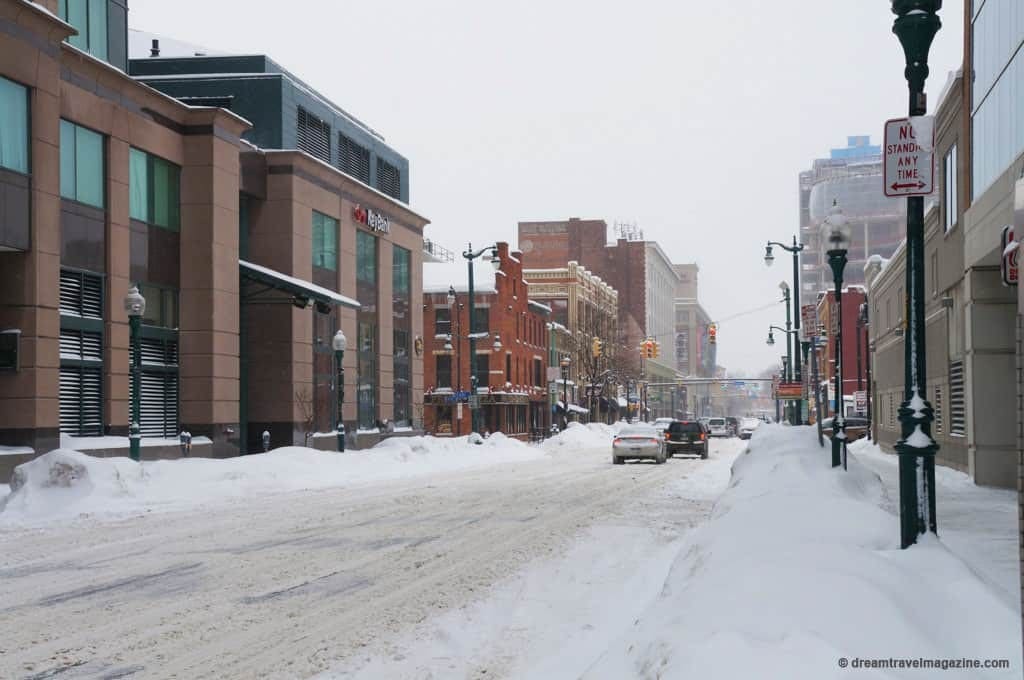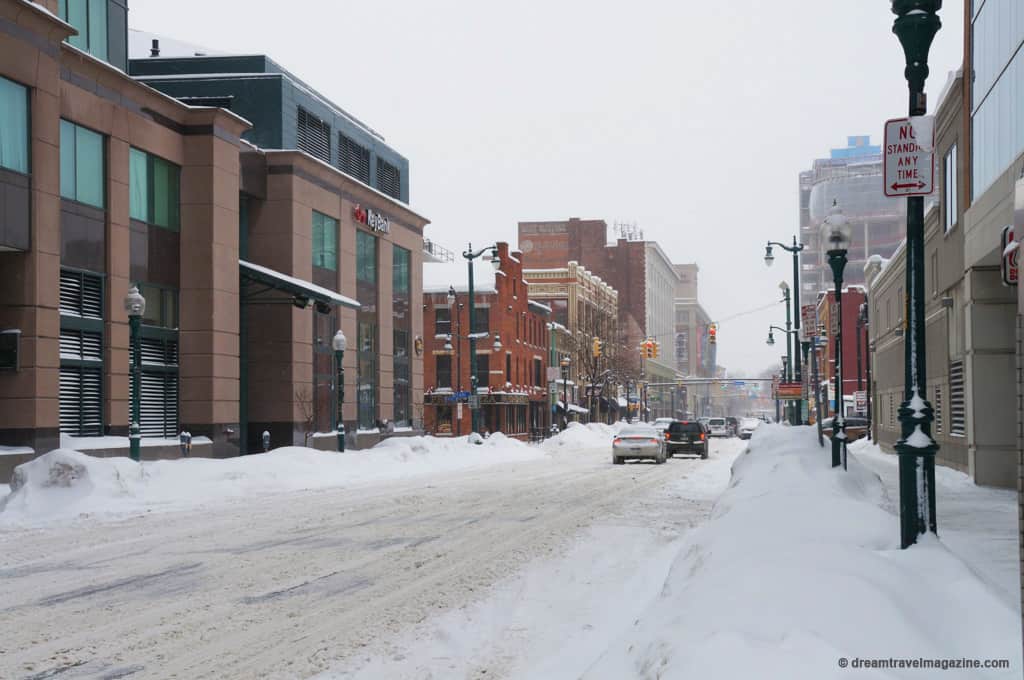 I handed the keys to the car to the hotel Valet happy to not be driving anymore that day. On the agenda for this single girls Valentine's weekend — fun in Buffalo! As many of you know I have been writing a lot about Buffalo on my blog lately, so as Valentine's weekend approached one of my single girlfriends said hey we should do a last-minute trip and get out of the city. "How about Buffalo, you've been writing about it so much?"
With the Canadian dollar dropping finding affordable ways to leave the country may seem impossible, but that is what I love about Buffalo. It's a short drive away, has many affordable hotels and lots to do and see – even during a blizzard! So we braved the weather forecast and decided we were in need of a fun single girls getaway and of course a little cross border shopping!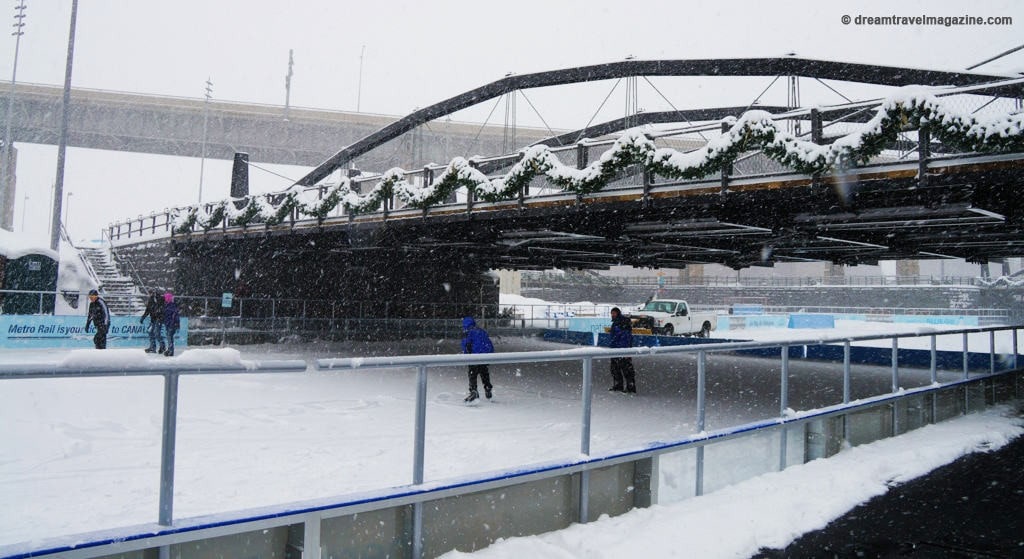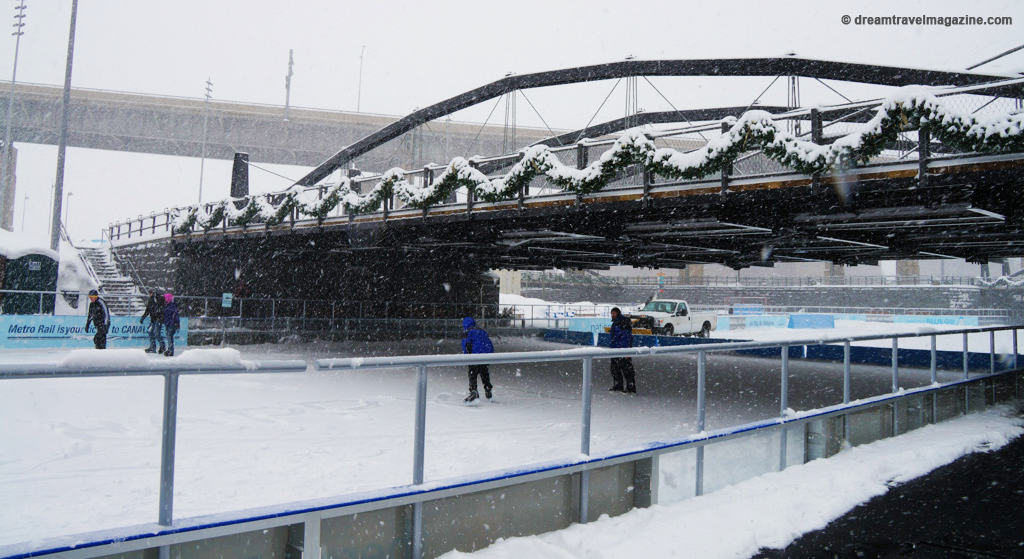 The Ice at Canalside –  Skating Rink
On my last trip I missed the opening of the new canal skate by like 1 week, so I was eager to come back during the winter and check it out. In preperation I dug my skates out of the basement, went to get them sharpened and made sure they still fit. I don't even remember the last time I went skating so I have to admit I was a little afraid of how this was going to go down!
At the hotel we discussed with the staff if the rink would even be open while it was snowing. So I immediately started tweeting with my Buffalo friends "Is Canalside open in the snow?"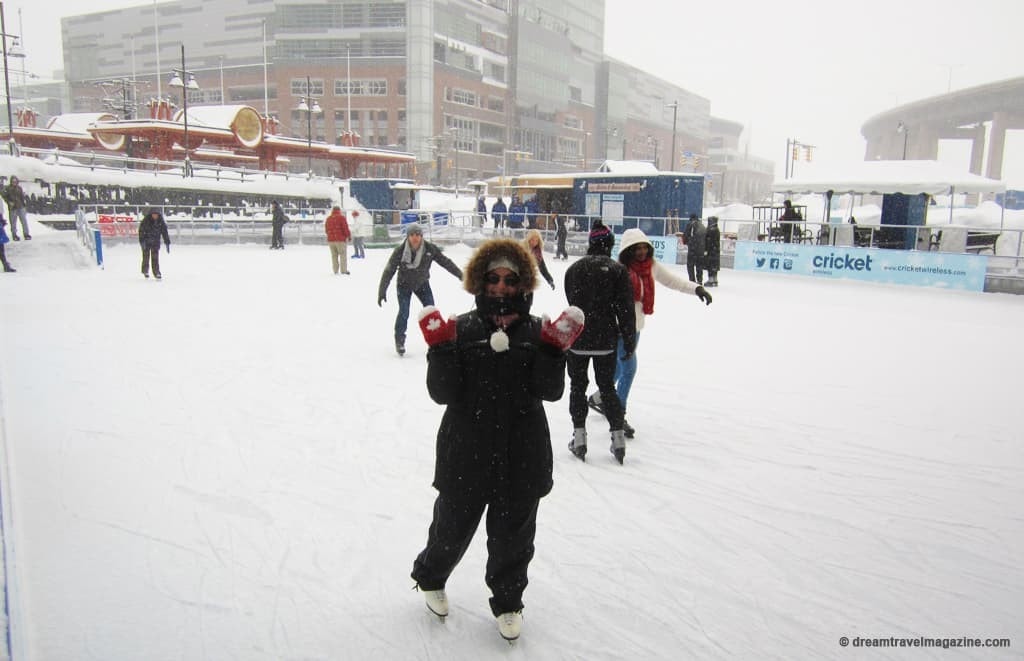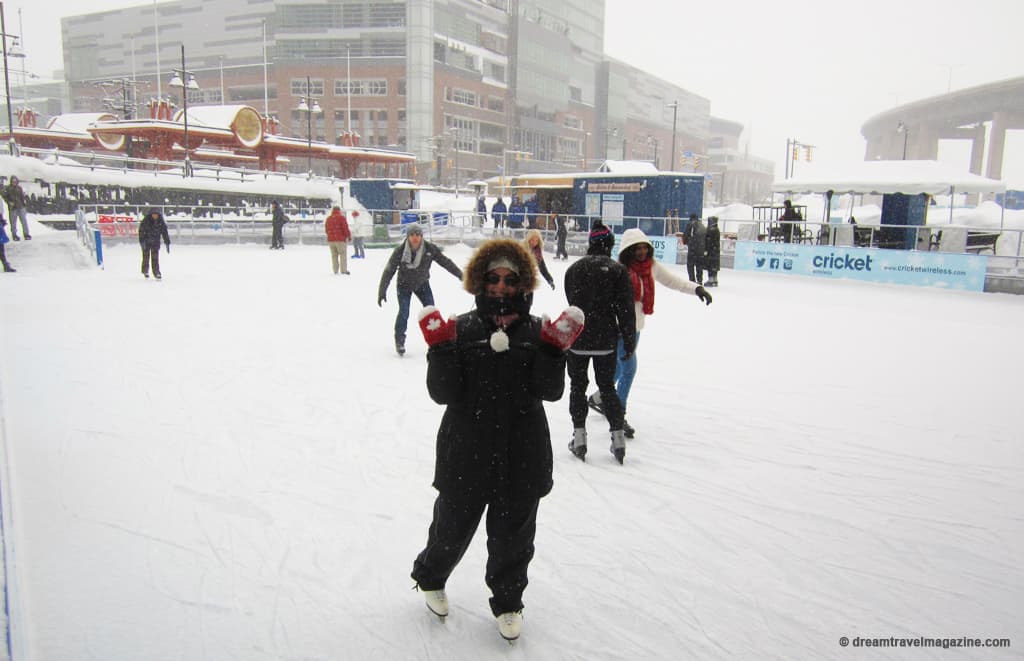 Oh Yeah! It sure was!
The snow was coming down heavily, but the staff at the rink were clearing it with shovels. The entire canal was not open, but I was happy to see that they were keeping one area of it clear of snow for those outside embracing the Buffalo snow day.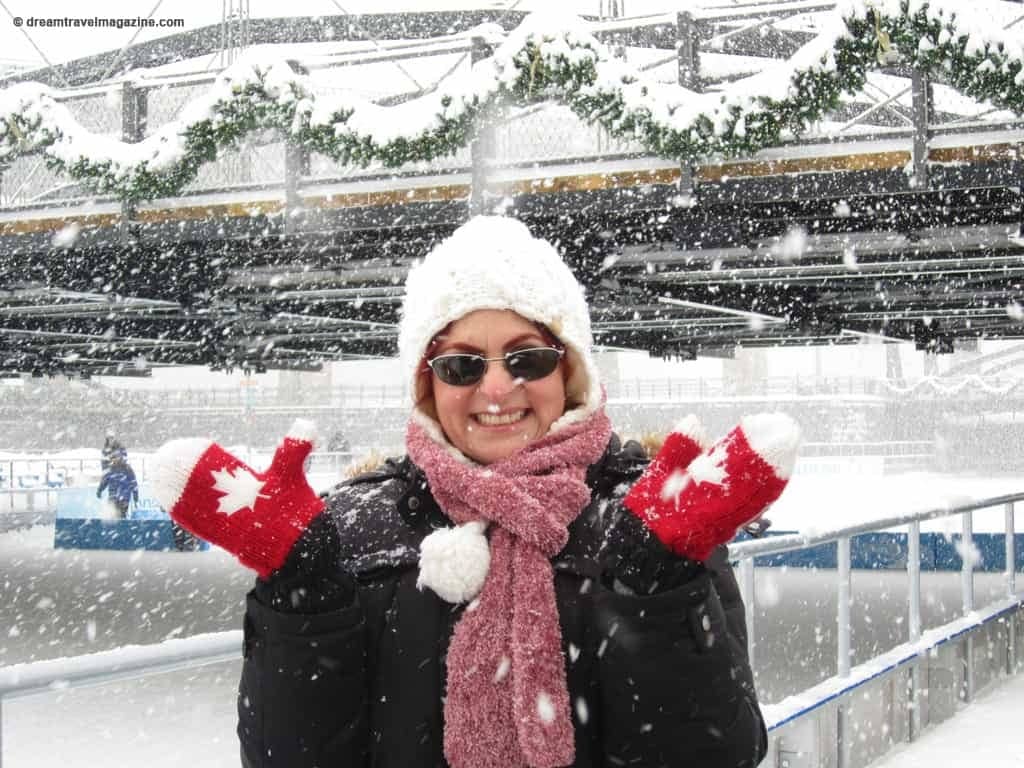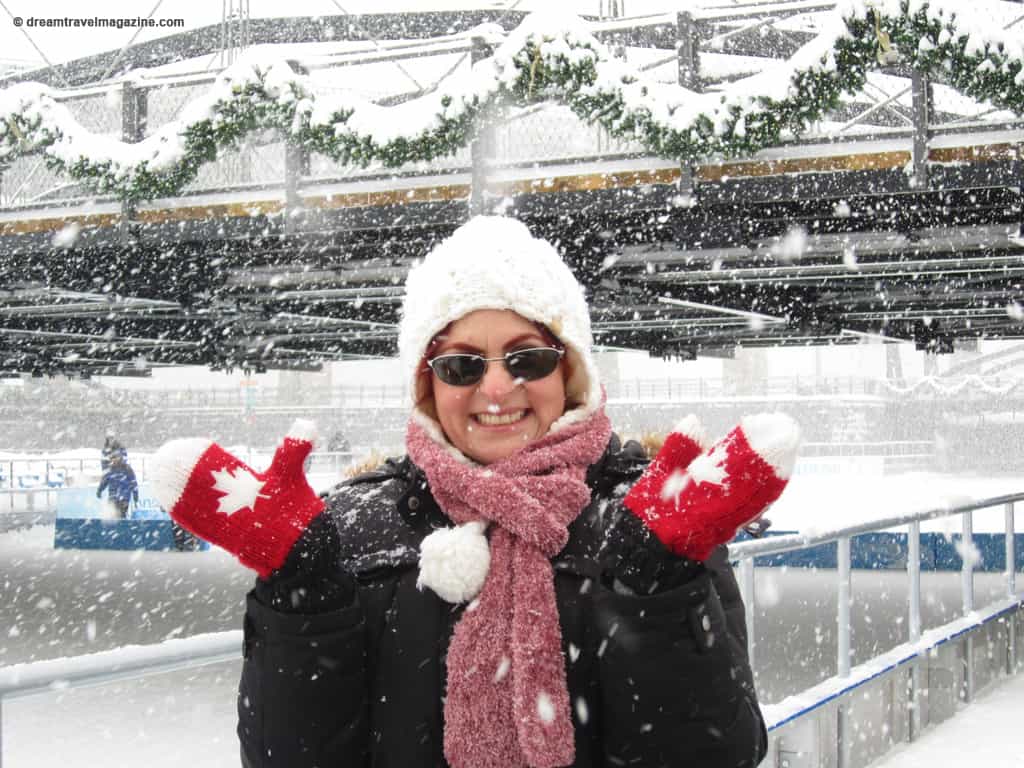 I started lacing up my skates and I thought to myself – oh boy this is going to be interesting. I stood up on the slick rubber mat surrounding the rink and made the wobbly walk over to the ramp down to the ice. Awkwardly I made my way down the ramp expecting to do an unflatering slide onto my backside as soon as I hit the ice.
To my surprise, I managed to balance myself and made my way around the snowy ice with ease. I was skating around like I've been skating regularly all my life! It was so fun I didn't want to leave. Snow was falling all around, it was such a pretty site.
Eventually the staff came around and told us we had to leave the ice for a bit. It was time for the Canalside Zamboni to flood the ice.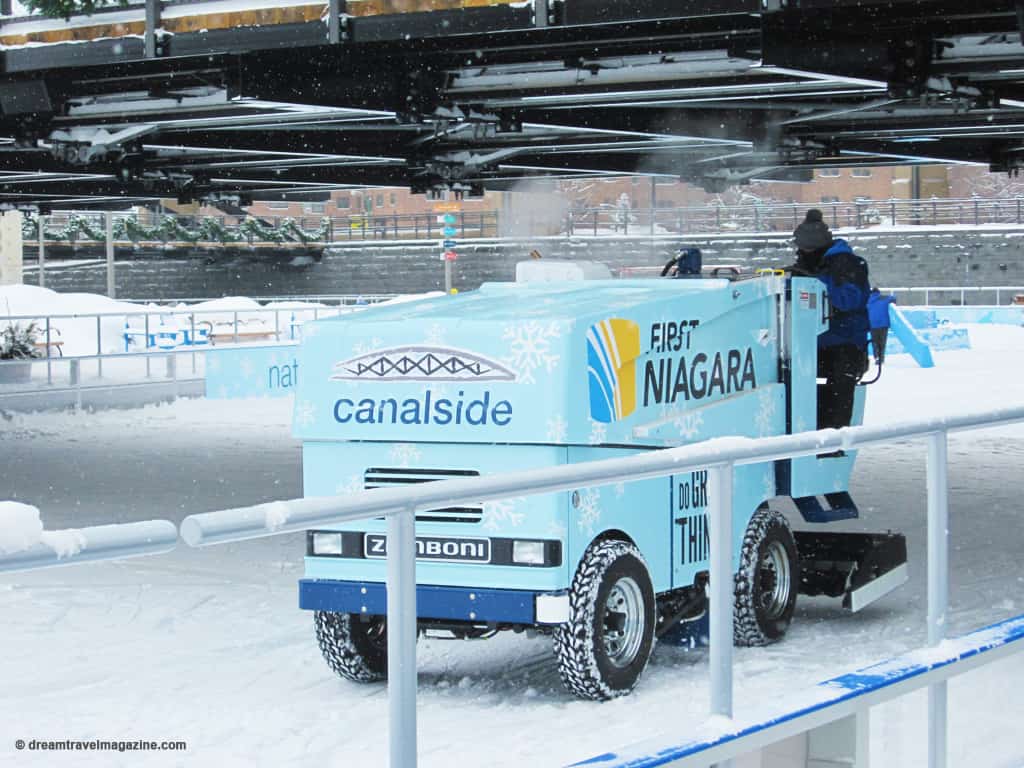 The Ice at Canalside is open 7 days a week during the winter and costs $5 for adults and $3 for children. Skate rentals are available if you need them.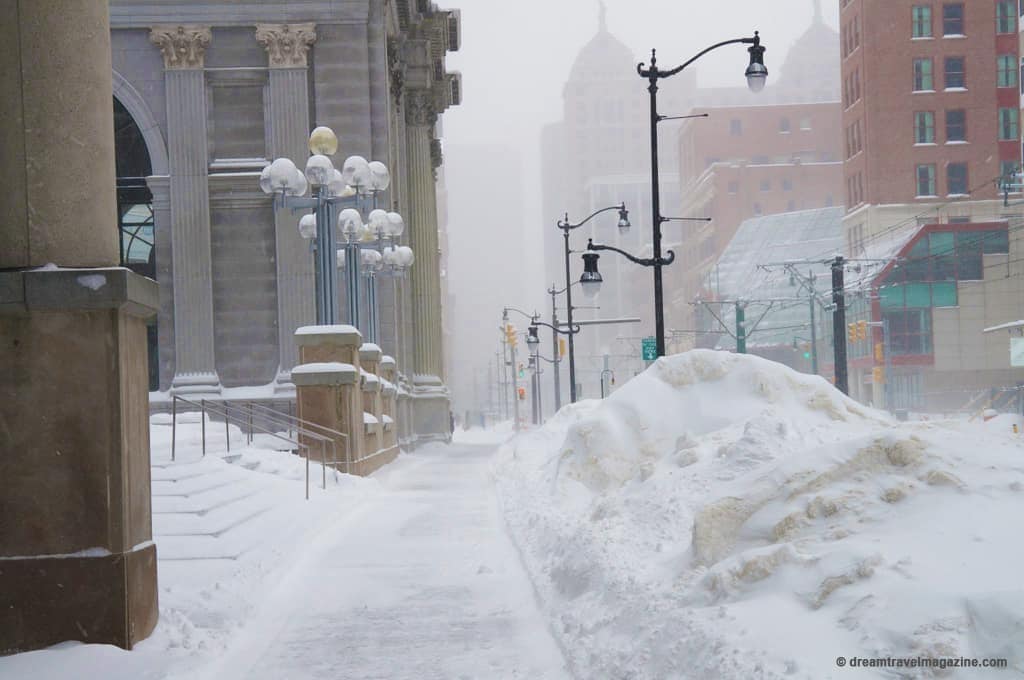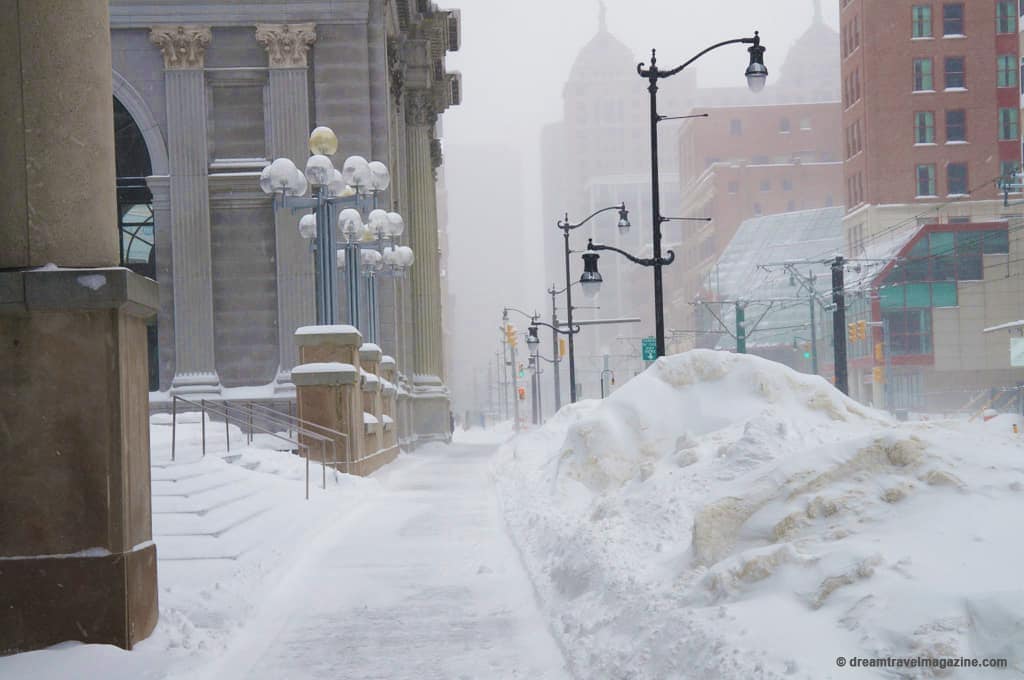 Snow Day in Buffalo New York
After our skate we warmed up at the Harborcentre Tim Hortons and then went on a fun walk through downtown Buffalo.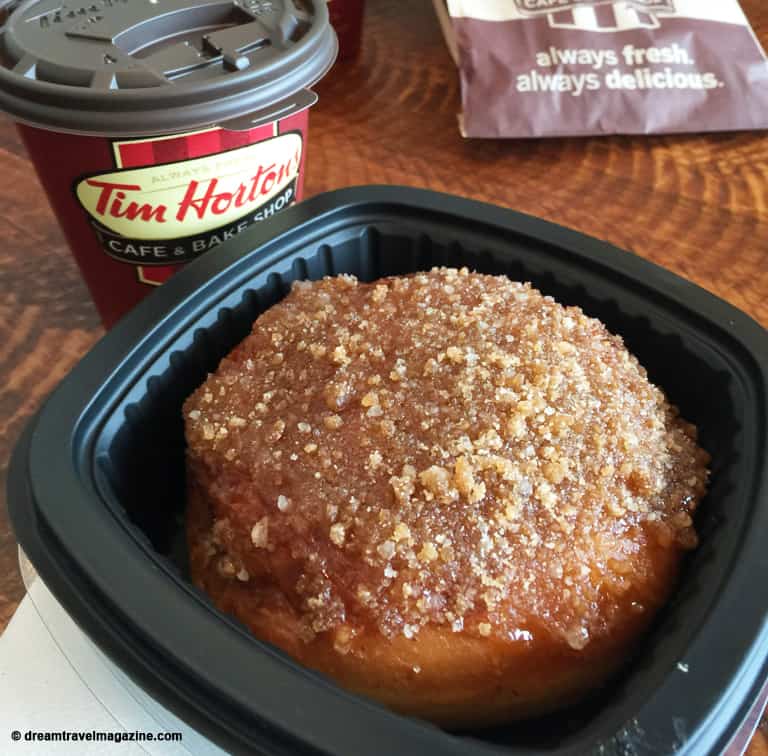 Amazingly the streets and sidewalks were cleared despite the volume of snow coming down. Businesses all throughout the downtown core were out clearing the snow so that everyone could get around.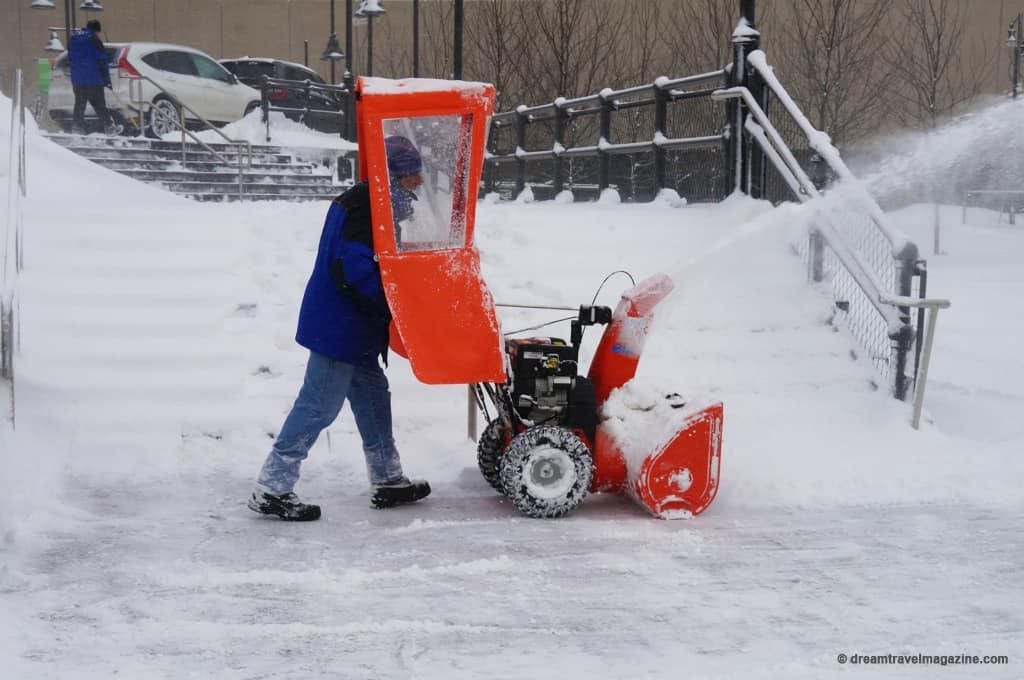 This city knows snow! They are prepared for it and it doesn't seem to phase them at all!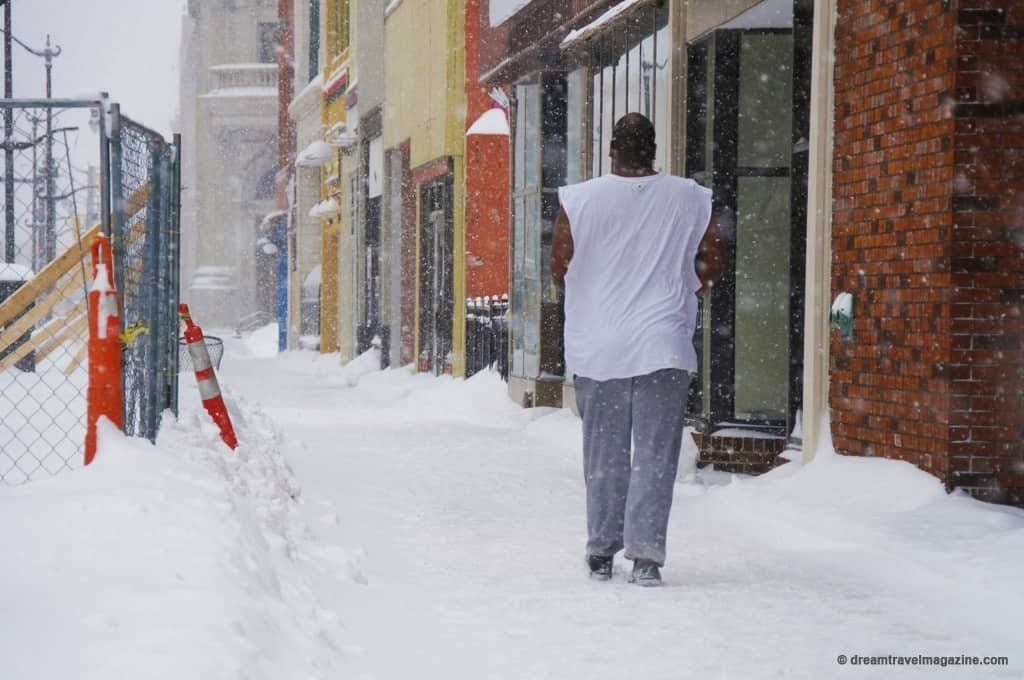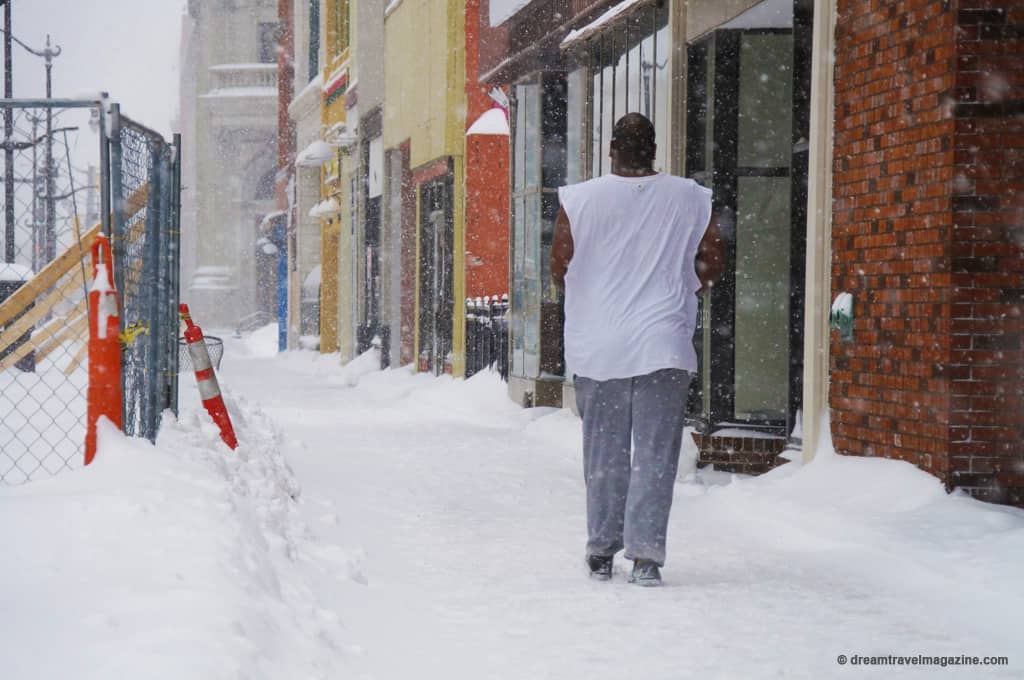 Buffalo buildings were covered in snow and despite the chilly temperatures we had a fun walk through the city … well at least I did, my friend Mel might have something to say about this later.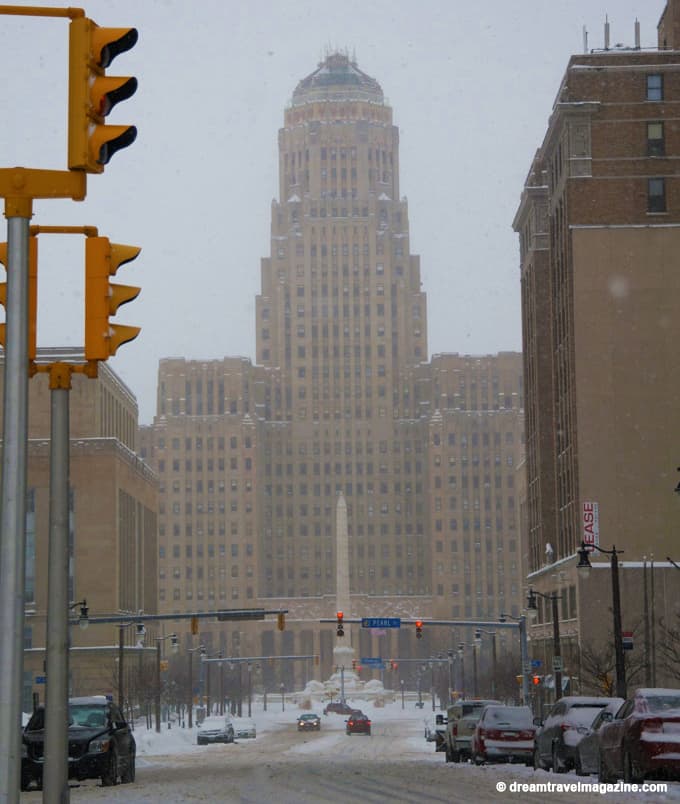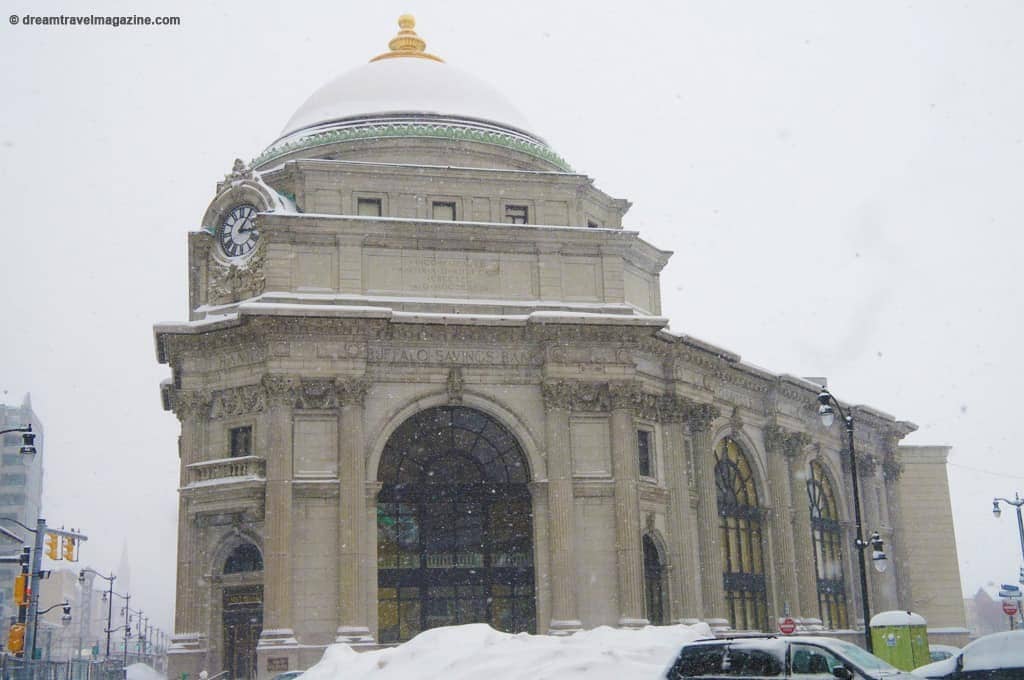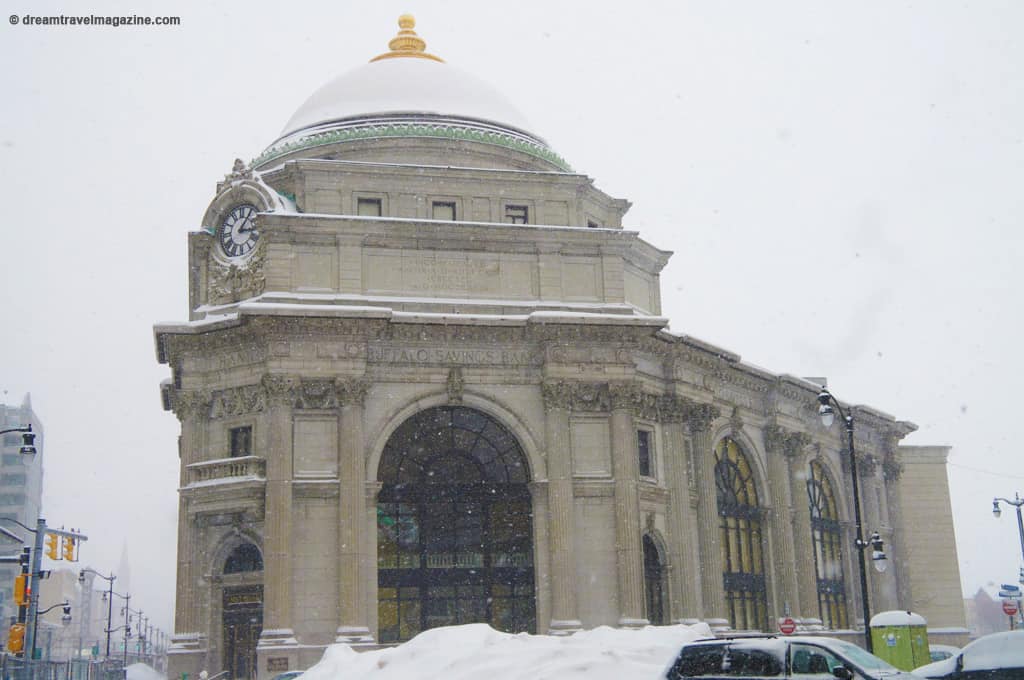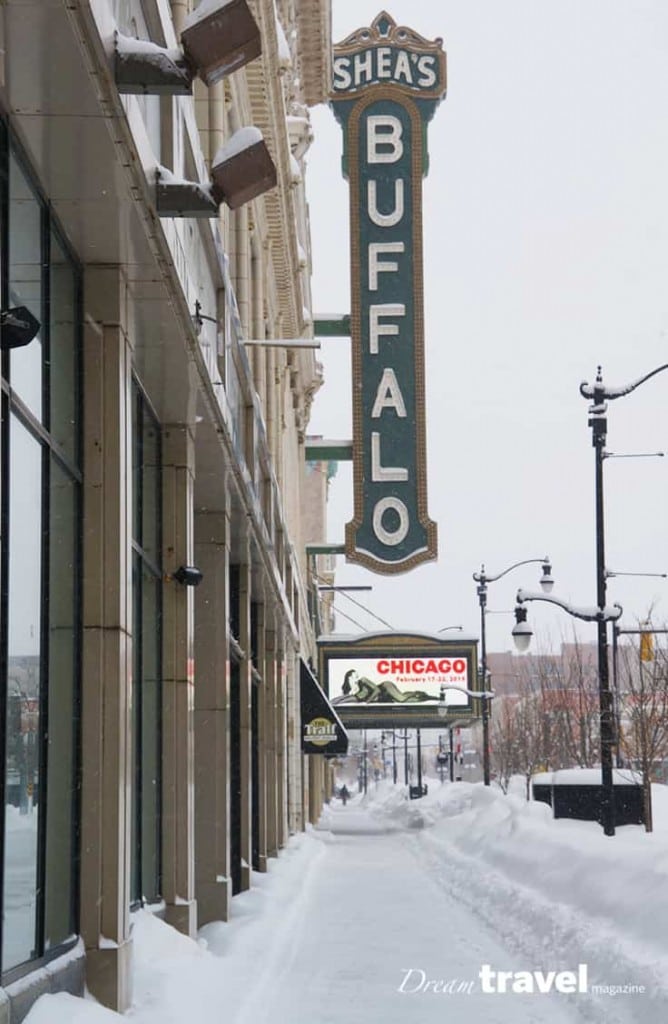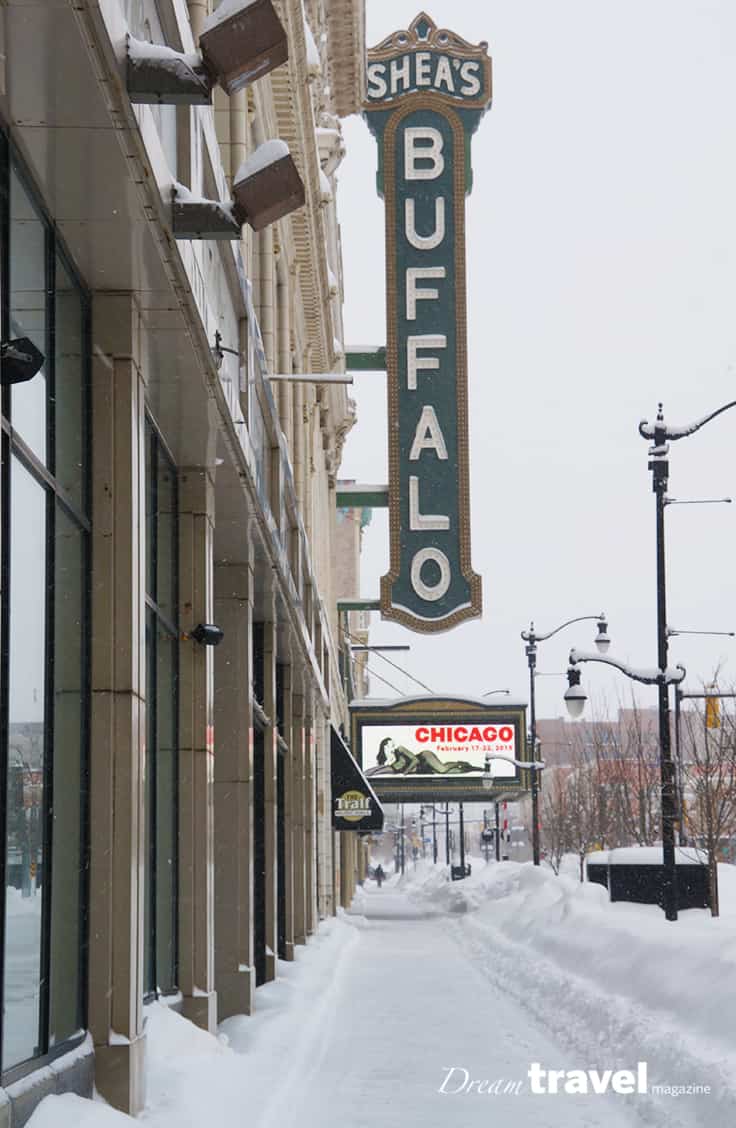 The city's metro rail was operating normally and the best part about it … it's free! When travelling above ground from Fountain Plaza station down to the waterfront at Canalside the system is free to use!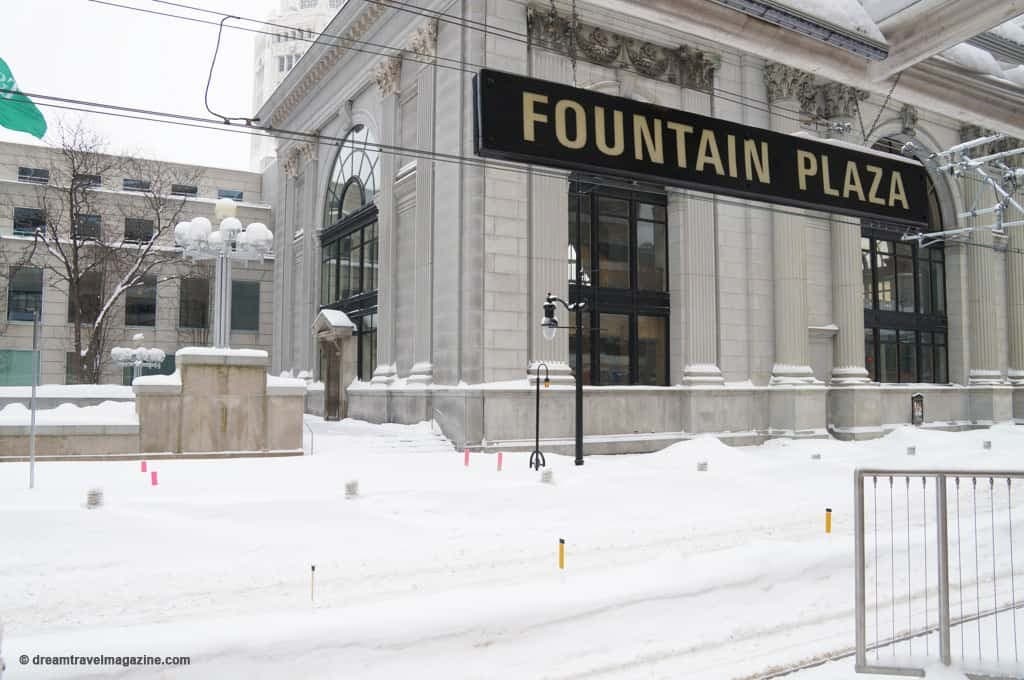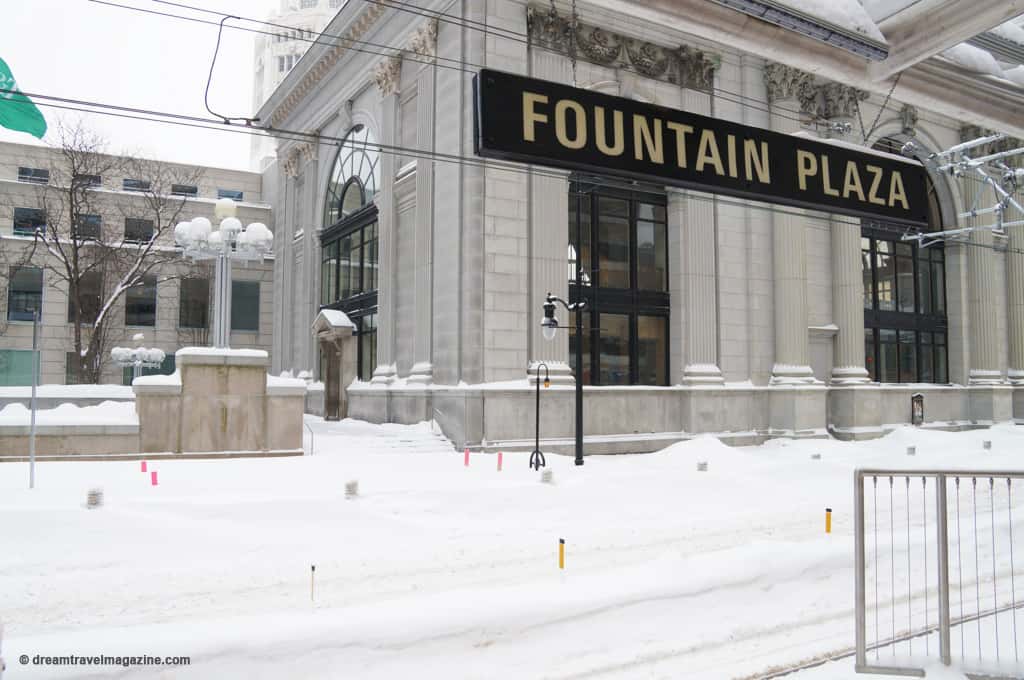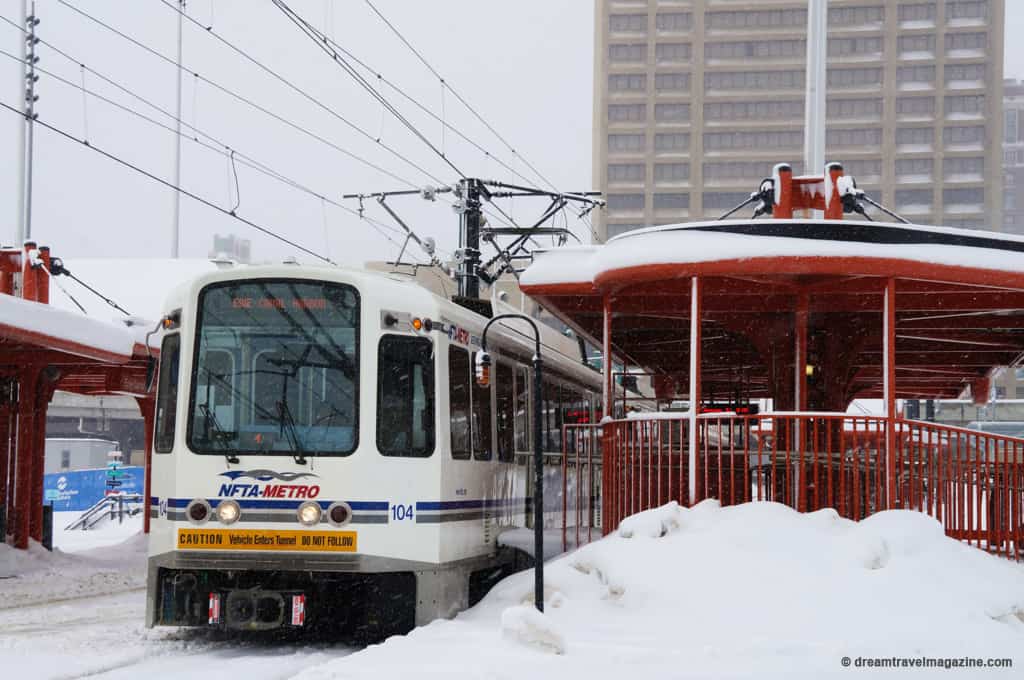 The snowbanks were huge, I had a little break in this massive mountain on the side of the road.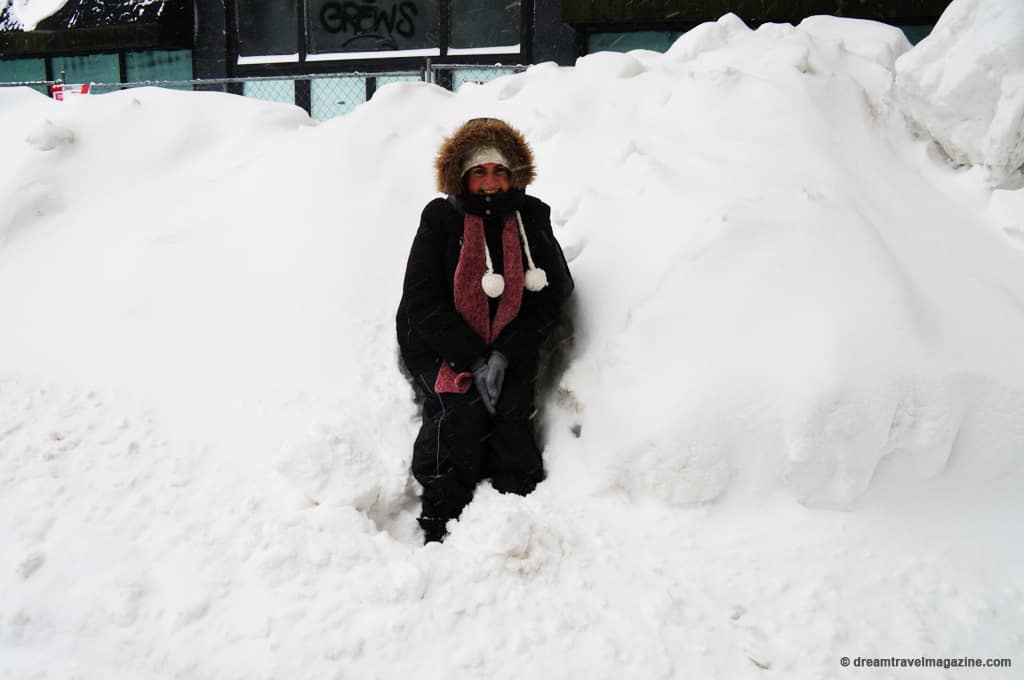 Dinner at the 716
When the day of fun ended we decided to hit one of Buffalo's newest hot spots for dinner and some evening entertainment. The 716 is a massive sports bar located right across the street from our hotel. There was a 2 hour wait for a table, however we were lucky to grab a spot alongside one of the long bar tables which are not part of the reserved seating structure.
Dinner was pretty impressive. I had this massive burger and fries while watching the basketball game.
So cheers to you Buffalo!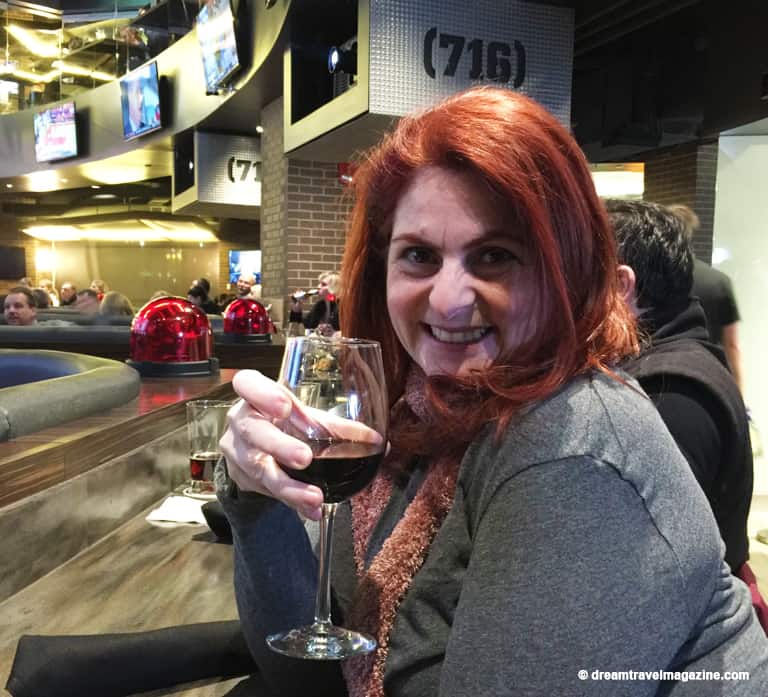 We had an amazing day and can't wait to come back again and visit soon!
Have a favourite spot in Buffalo? I'd love to hear your favourite Buffalo spots, share them in the comments below and maybe I will see them during my next visit!
Travel assistance provided by the Courtyard by Marriott Buffalo Downtown however the opinions expressed in this post are my own.