This article may contain affiliate links. Clicking on or purchasing products we recommend through a link may earn a small commission. Read our disclosure and privacy policy page for details. *COVID-19 TRAVEL ALERT – Travel recommendations offered on this site are not to encourage you to travel against travel advisories.
I feel like I'm always hunting for the perfect travel bag to carry around my Sony Nex-6 camera and lenses. It's like I'm the Goldilocks of camera bags: this one is too big, this one is too small, this one is good for this type of trip but not that one. I can never seem to find that perfect "this one is juuuuuust right" camera bag.
I was about to embark on a winter adventure and wanted a bag I can sling around my shoulder for easy access to my camera which would be protected from the harsh winter climate. Since it was on sale and highly recommended by the sales guy, I decided to give it a shot – here is my review of the Lowepro Slingshot 102 Camera Bag.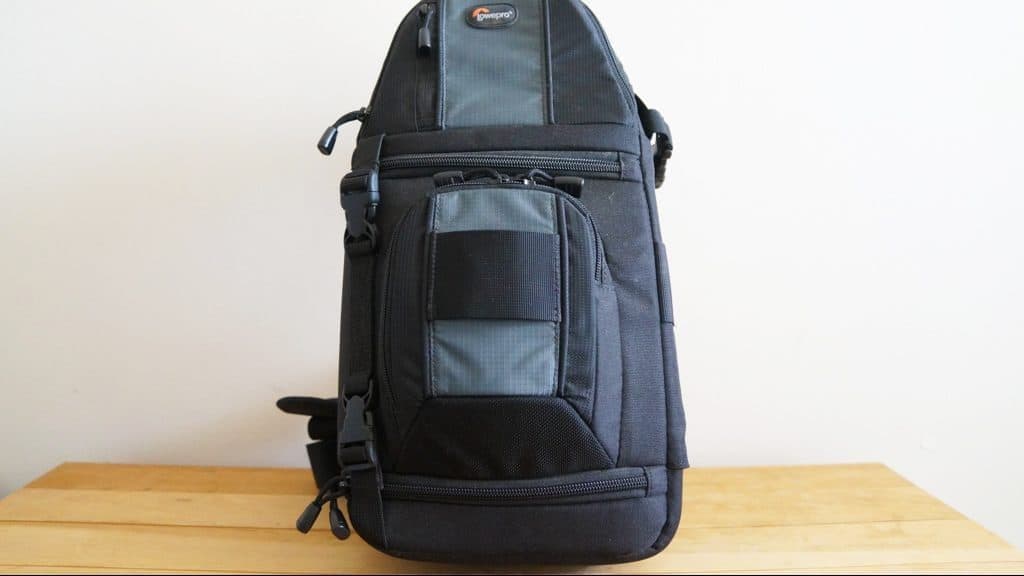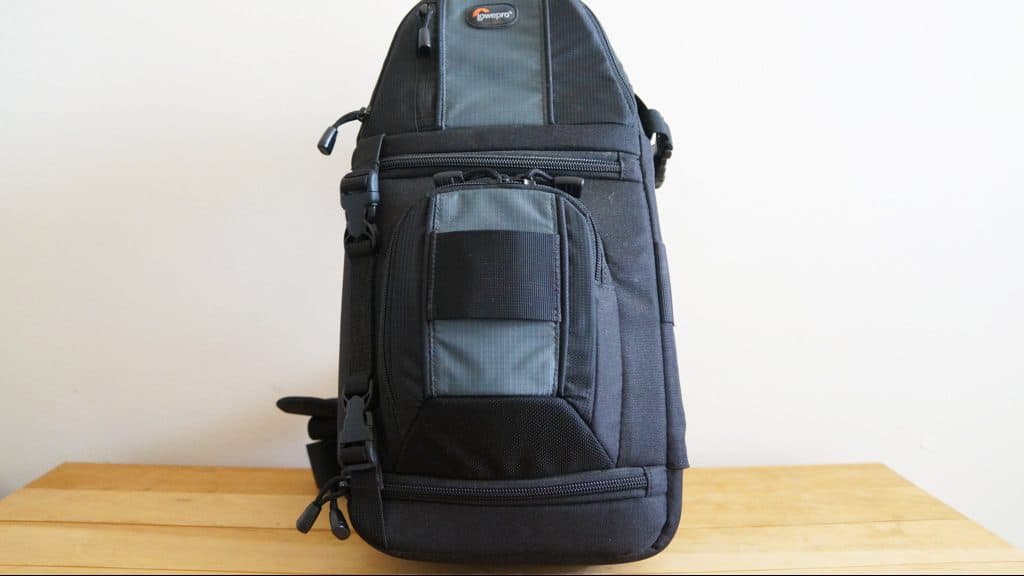 Lowepro Slingshot 102 Camera Bag Features
Adjustable Sling Strap
Fully padded main compartment
Adjustable dividers
Built-in memory card pockets
2-zippers on the Main storage compartment
Built-in microfiber cloth
Extra pockets for personal items
All weather bag cover
Hideaway Tripod Mount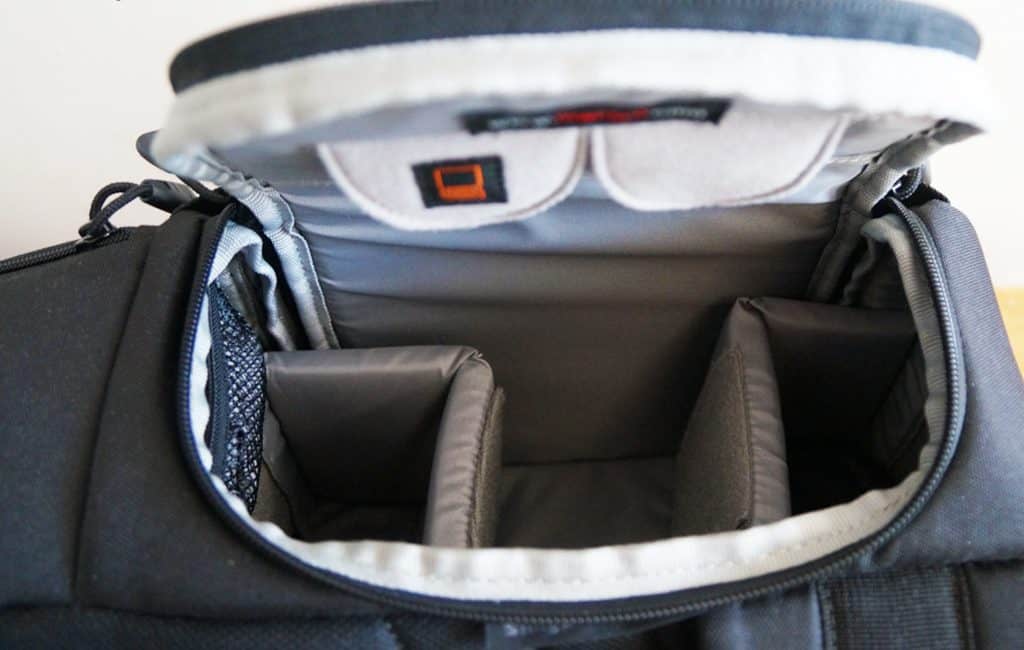 What I loved about Lowepro Slingshot Camera Bag
When I travel, I almost always have my 18mm-200mm zoom lens on my camera, so I wanted a bag that I could store the camera in with this long, bulky lens. Since I would be dogsledding and snowshoeing on this trip, I wanted to be able to grab the camera and stuff it back into the bag away from the snow and cold temperatures.
For this purpose the bag was fantastic. I could quickly swing the bag around to my front and pull out the camera take the shots and then put it back in and move on. Because of the padding in the main compartment, I found that I didn't have to fuss with my lens cap either, which made the camera ready to go all the time.
The bag was the perfect size for my bulky camera and the few lenses that I travelled with. The added compartments for storage were also helpful for packing extra batteries, lugging a tripod, and a few other basics – however, the room is very limited.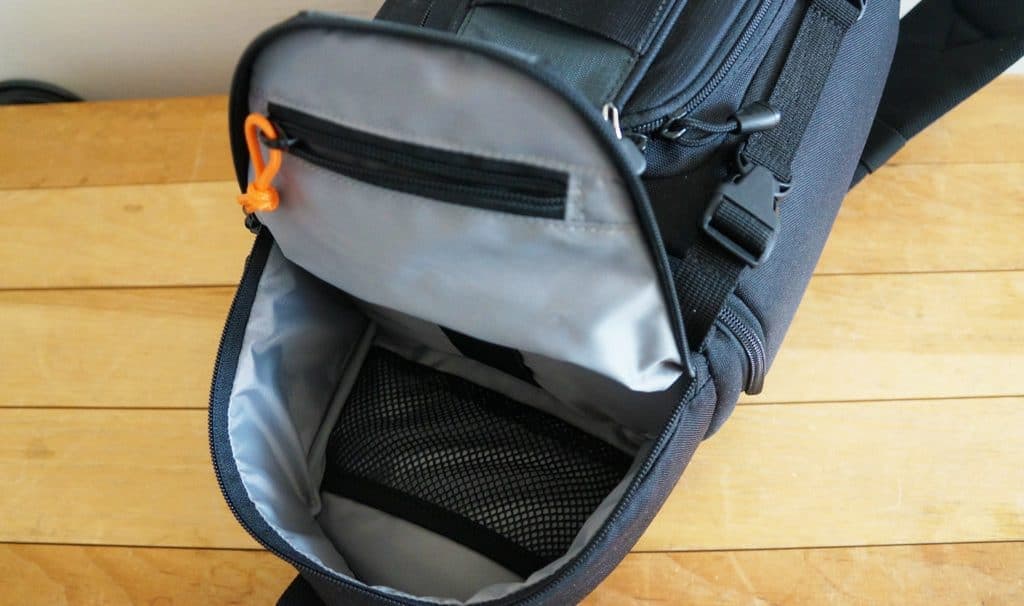 What I Didn't Like About the Camera Bag
For this trip, it didn't matter much. However, this bag looks like a camera bag, and therefore people know that there is an expensive camera in it and it makes me and my bag a target. There are just some trips that travelling with this bag will not be an option for me.
The storage compartments were not adequate for a girl who may have more personal items to carry along with the camera. For example, there was no space for snacks or a water bottle. I had limited storage for a small travel wallet and some necessary girly things like lip balm, sunscreen, moisturizer etc. Just essential travel size things that women carry around on these trips did not fit in these compartments which meant I had to carry a second bag.
This bag is not the perfect just right bag for all types of trips, however for those active adventures where I need to protect my camera from the elements but have it available for quick access it is a great option.
See these posts for more great gear reviews: