This article may contain affiliate links. Clicking on or purchasing products we recommend through a link may earn a small commission. Read our disclosure and privacy policy page for details. *COVID-19 TRAVEL ALERT – Travel recommendations offered on this site are not to encourage you to travel against travel advisories.
This website was built around a dream list. A list of places and things to do around the world. I think somewhere we all have this list. I've always wanted to go and a name of a place. I've always wanted to do and the thing you've always wanted to do. Through this blog I have had the opportunity to check off a lot of places from that list and The Alamo in San Antonio Texas is now one of those checks off my list.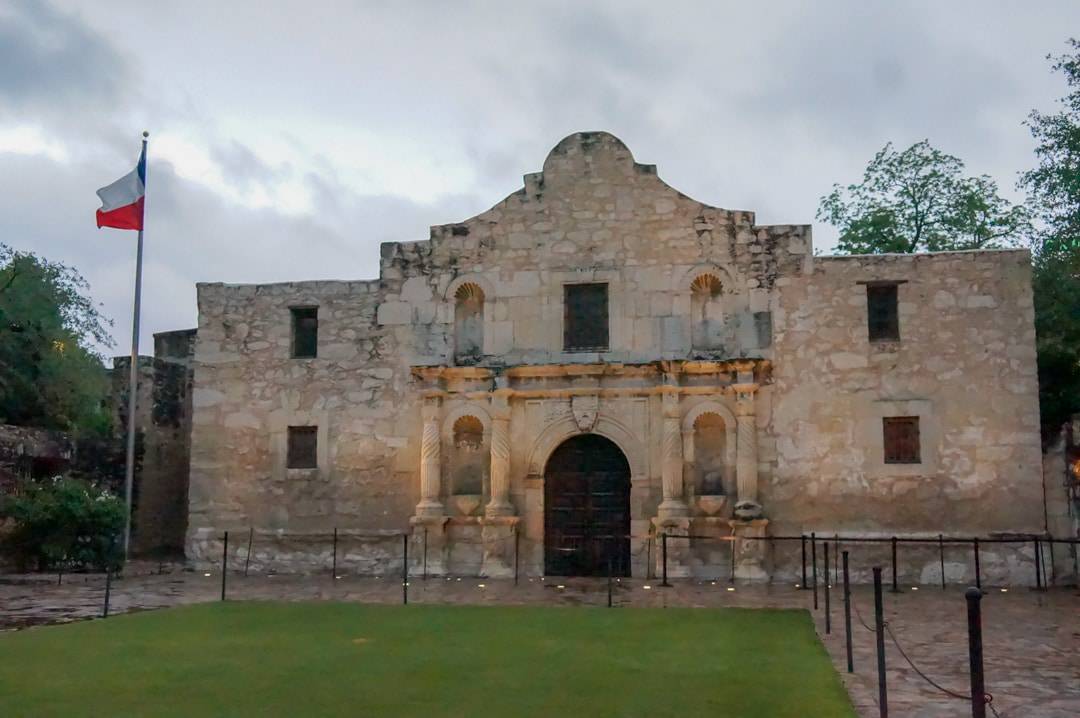 I remember the smile on my face as I took this picture. It was the smile of another dream destination checked off my list and these happy moments fuel me to my next destinations. Funny thing about these moments though, they often introduce me to so many new places and I have to admit sadly I knew nothing about San Antonio Texas other than it was home to the Alamo. After a few days in the city and outlying area I discovered it was so much more.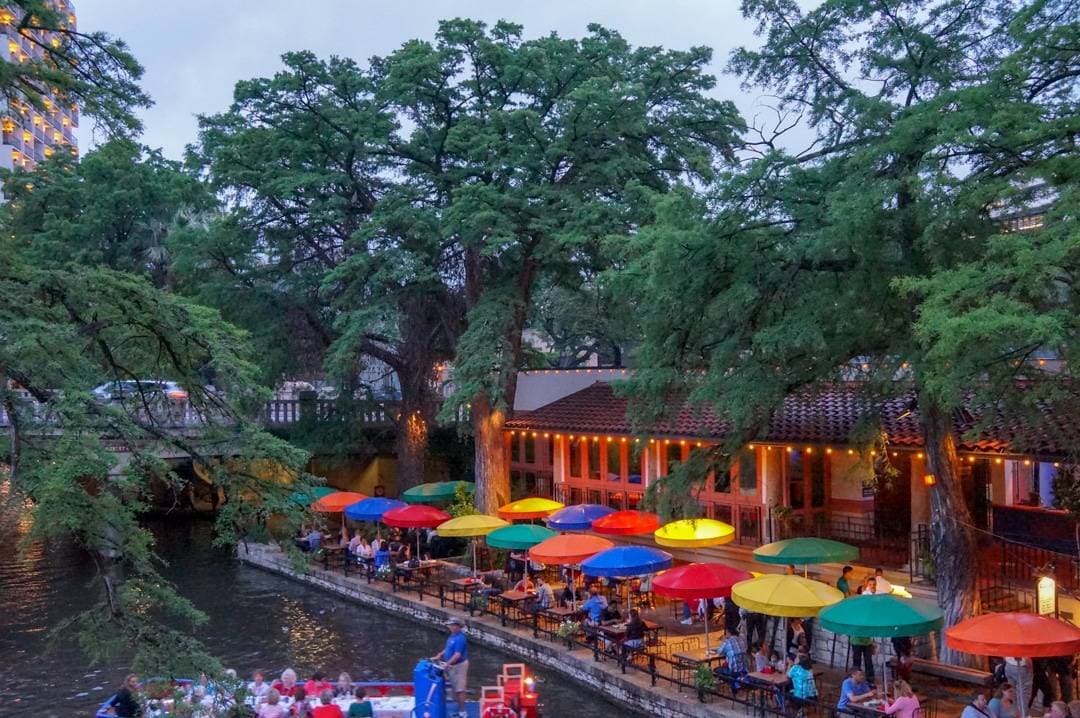 San Antonio Texas is Filled with Dreams
The San Antonio River Walk
The colourful umbrellas above are another iconic place in San Antonio a beautiful river walk which runs almost 25km along the San Antonio river. Just a few steps from the Alamo we began our walk along this beautiful urban oasis path. All along are many shops, boutiques and dining locations.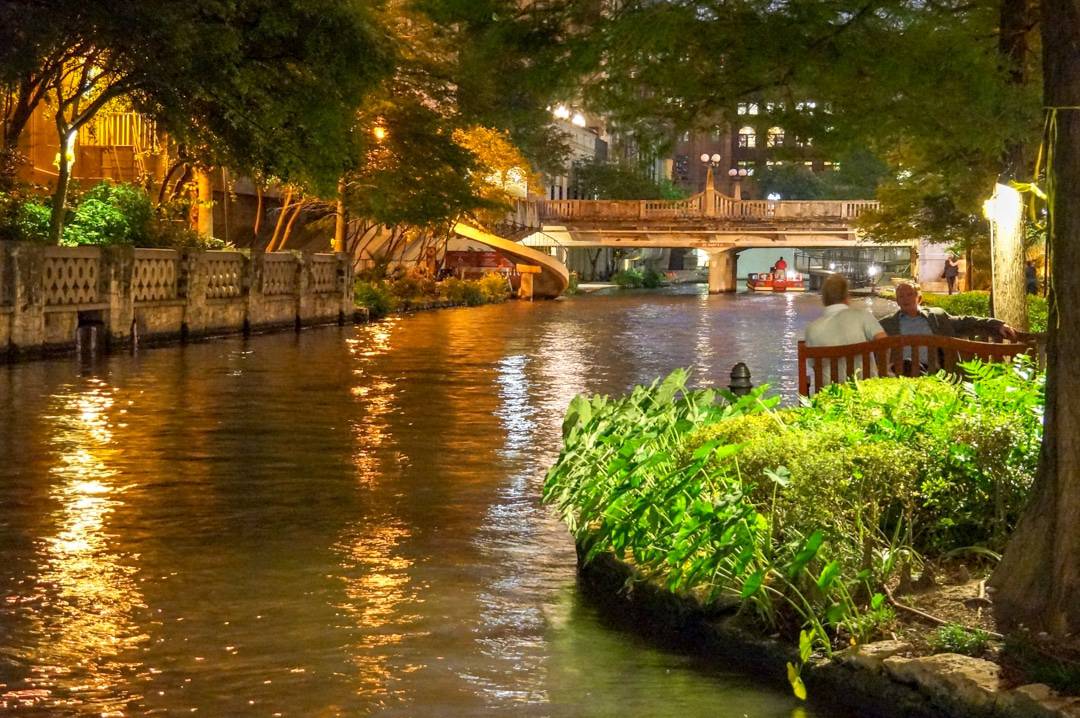 By night the river walk is just as beautiful to walk through and far less crowded. Even on this rainy evening we enjoyed a lovely stroll along the water to the Main Plaza where I saw one of the most extraordinary light shows ever.

San Antonio Cathedral Light Show
Located in The Main Plaza in downtown San Antonio The San Fernando Cathedral becomes the canvas to a 24 minute light show designed by Xavier De Richemont which tells the story of San Antonio's rich history. The show is on display Tuesday, Friday, Saturday and Sunday evenings at 9, 9:30 and 10:00 PM. I highly recommend this as a stop if you are ever in the city, it was as breathtaking as standing in front of the Alamo.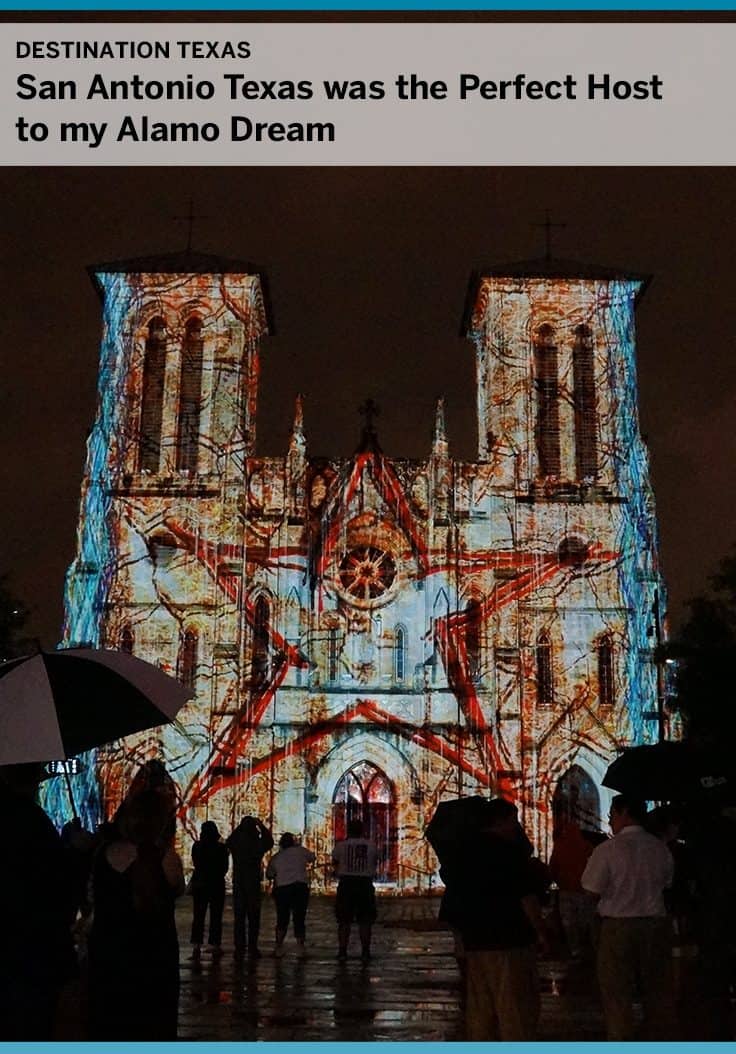 The San Antonio Market Square
One of the things I loved about San Antonio is the Mexican culture mixed throughout. Here I thought I was visiting a state filled with Cowboys and I found myself lost in this large outdoor Mexican market with Mariachi bands playing and hundreds of little Mexican souvenir booths displaying everything from ceramic sculptures, lace dresses and other interesting souvenirs. It's almost like walking into another country, but then just as a reminder you see a table of cowboy hats and leather belts.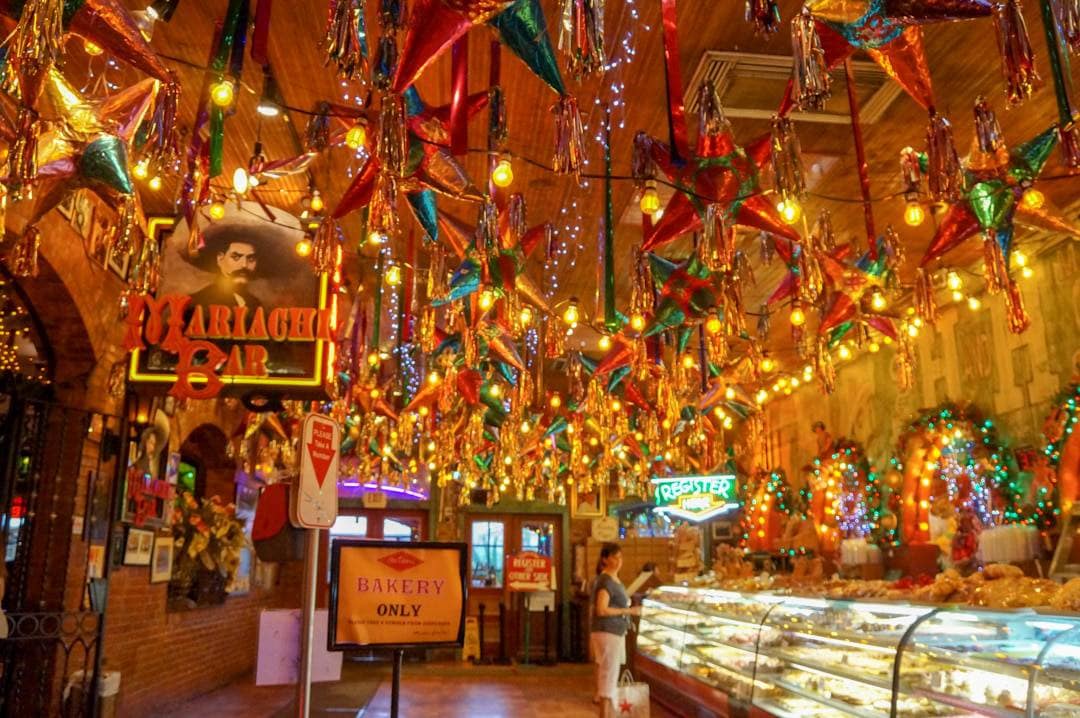 When you visit the square be sure to step inside the Mi Tierra Cafe. It's just an extraordinary site. To the left you will see the famous Mariachi Bar and to your right you'll find the large bakery counter with so many little treats. I think I stood there in awe for a second trying to decide what to get. Oh and of course looking all around and above me at the many lights and decorations hanging from the ceiling and the walls.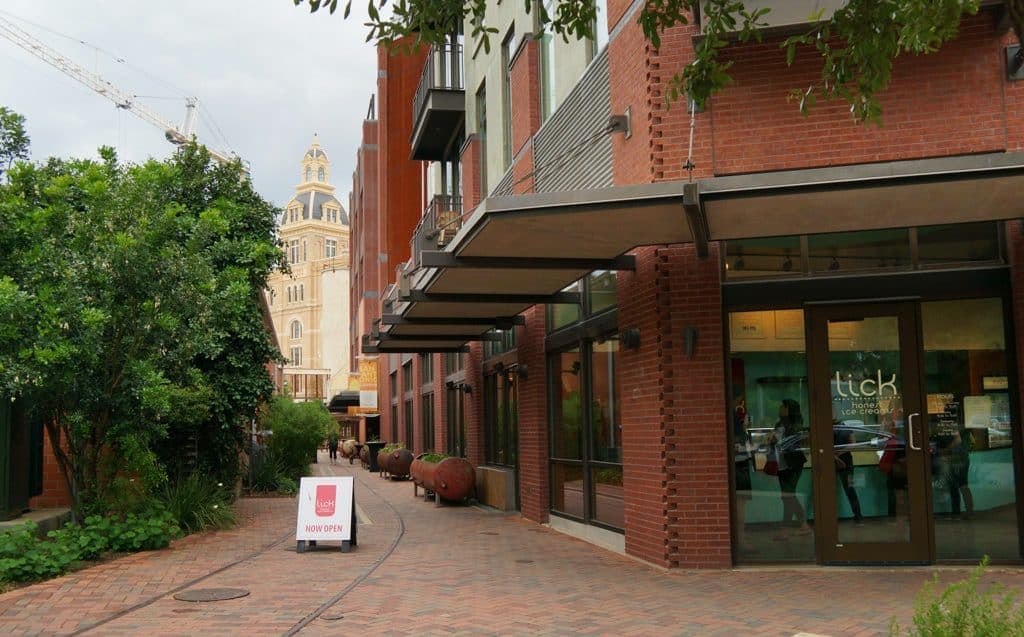 Other San Antonio Attractions
The Pearl Street Brewery District
Those of you from Toronto may know our Distillery District and the Pearl Street Brewery District has a very similar vibe. Dabbled with small boutique stores and restaurants and some artisan galleries this neighbourhood had a modern vibe filled with lots of creativity. It's home to many local events and a farmer's market which runs every weekend rain or shine.

The Natural Bridge Caverns and Wildlife Ranch
A big thrill for me during my trip was a visit to the Natural Bridge Caverns and the Natural Bridge Wildlife Ranch. Two amazing attractions located next door to one another both filled with activities for the entire family. We had a quick walk through the large cavern above and then a thrilling safari drive through the wildlife ranch. Will be writing a detailed post about these attractions in the near future! Here is a great moment meeting the tricky Zebras on our safari. Did you know Zebras are really sneaky when it comes to getting some treats?
Restaurants in San Antonio
No amount of exercise was going to save me from the incredible food we ate during our trip to San Antonio. I still remember the many uses of Avocado which I'm still trying to replicate here at home. A few restaurant highlights include these must stop restaurants.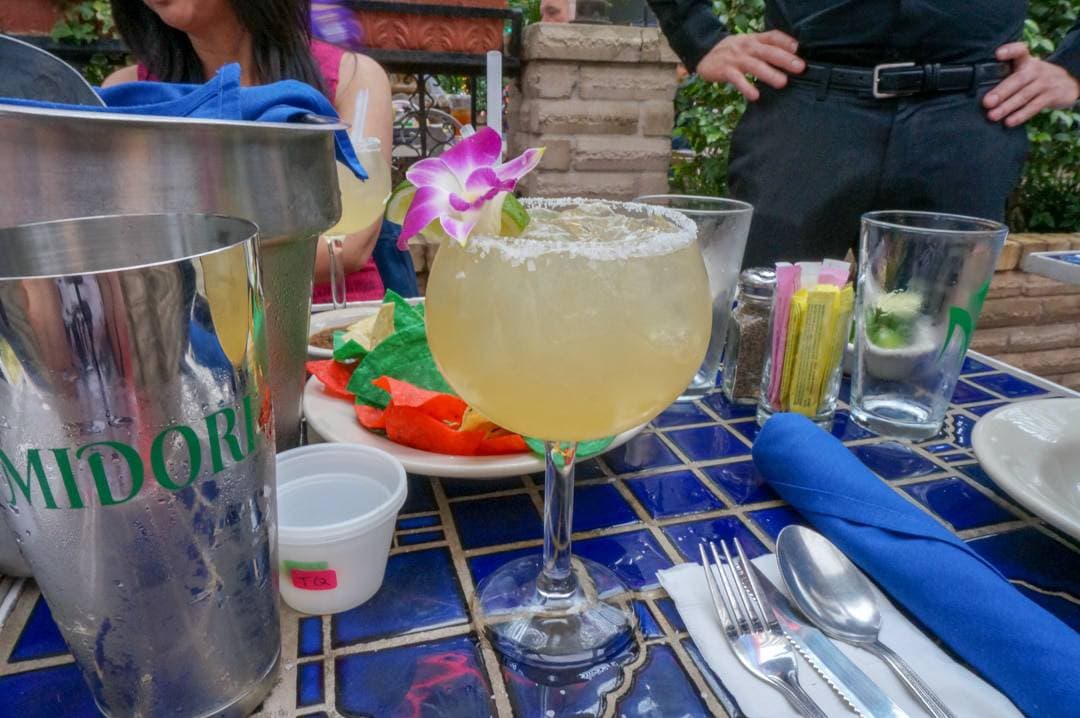 La Fogata Restaurant
Our first of many big meals in San Antonio was at this amazing Mexican restaurant called La Fogata. Don't let the picture above fool you! It was a rainy day, and the patio was empty, but inside there was not a seat available… except of course, the large table set up inside just for us! We had a lovely demonstration on how to make Margaritas and Guacamole and then the long table was filled with Mexican dish after dish.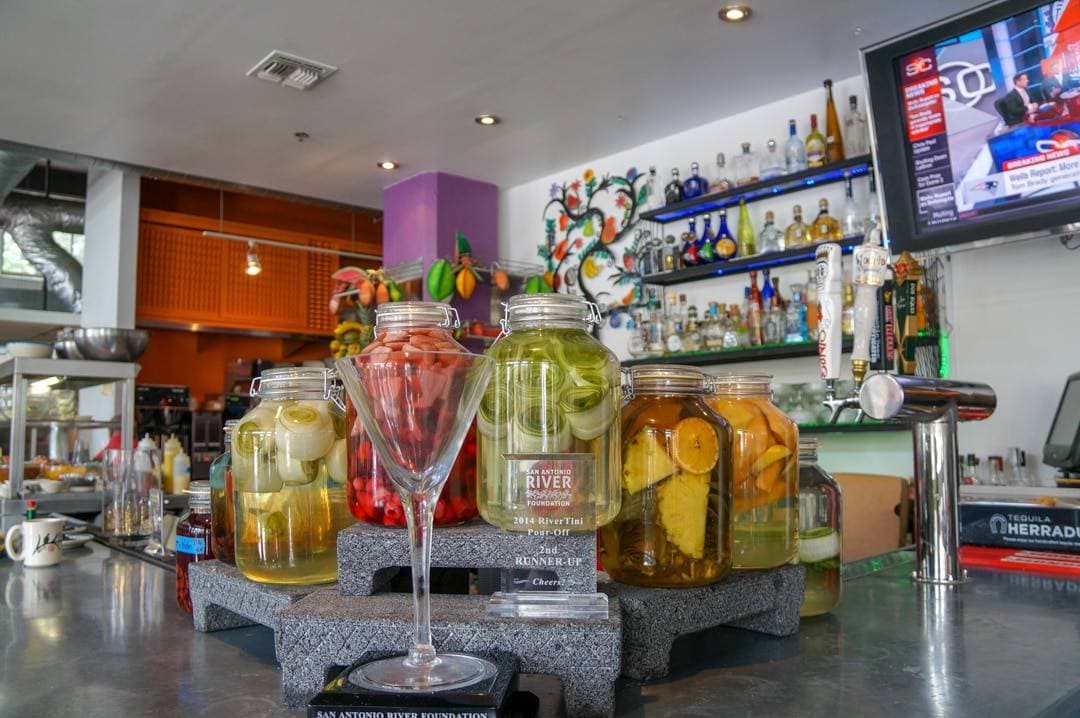 La Fruteria by Chef Johnny Hernandez
Those of you who have been reading my blog for a while know that I lost a lot of weight by adopting a clean eating lifestyle (as much as possible with my travelling life) so I love finding healthy restaurants on my journies. Chef Johnny Hernandez's La Fruteria was a most pleasant stop in San Antonio. When you walk in you, see the beautiful colours of fruit and vegetables both in the decor and in its food. Fresh juice blends and healthy dishes are on the menu here, see my full post here.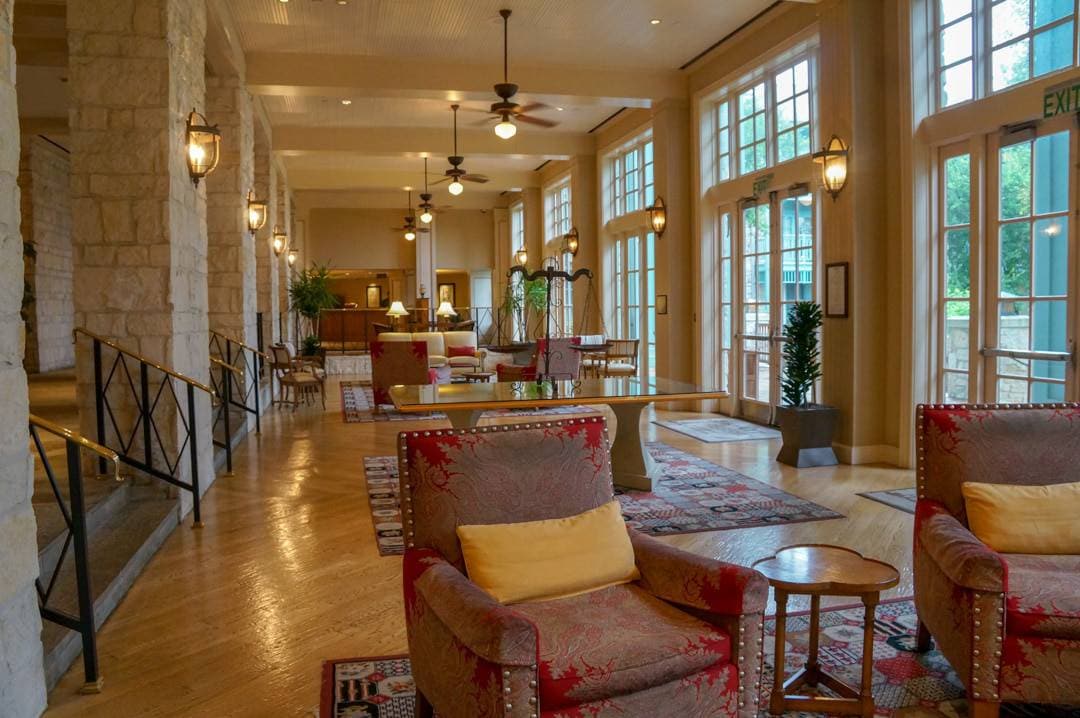 Hyatt's Luxury Hotel Accommodations
During my trip, I stayed at the beautiful Hyatt Regency Hill Country Resort and Spa an incredible sprawling resort with comfortable rooms, lots of amenities and the most amazing little private, quiet spots to relax scattered throughout the resort. It is a destination on its own with a lazy river flowing amongst its many pools, great restaurants and a challenging golf course. For a full review of the Hyatt see my post here.
Check out our Texas Destination Guide for things to do and see in Texas.
Travel assistance provided by Texas Tourism and the San Antonio Convention & Visitors Bureau, however, the opinions expressed in this post are my own.