This article may contain affiliate links. Clicking on or purchasing products we recommend through a link may earn a small commission. Read our disclosure and privacy policy page for details. *COVID-19 TRAVEL ALERT – Travel recommendations offered on this site are not to encourage you to travel against travel advisories.
So imagine my surprise as I entered the room for the first time to a wall of shelves and a sink? Not what you would expect when you walk into a hotel room but the modern and smart design of this room was apparent the second I walked in. Everything in the room had its place and it didn't feel cramped or squished. There was an air of luxury, style and funkiness about the room and I don't know how to describe it with words.
ALOFT Hotel Vaughan Mills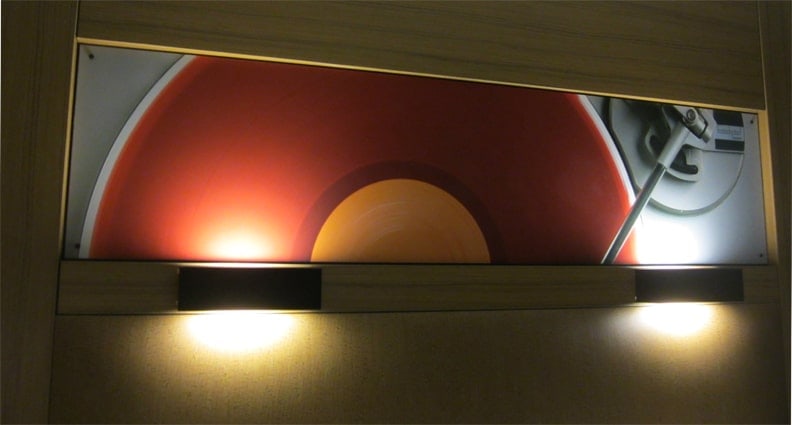 This is the vision of the Aloft hotel part of the Starwood Hotels and Resorts chain which is best known for its brands like Westin, Sheraton and W Hotel. The ALOFT is a funky, fresh, contemporary hotel which appears to be designed with convenience and a social vibe in mind.
Location – Vaughan, Ontario Canada

The ALOFT Vaughan Mills is conveniently located just steps from Vaughan Mills shopping mall and a minute away from Canada's Wonderland. Business travellers will find its location next to the major Highway 400 and within one of Vaughan's largest business districts a huge convenience. The proximity to the regions' many banquet halls and conference facilities are also a huge bonus.
Rooms
This boutique hotel style room includes all the extras. The easy to use electronic key is awesome as you enter your room with just a wave of the card. The interior is a modern design, with every square inch of the room utilized for storage, bathing, working, relaxing or sleeping. A unique open concept shelving system includes a clothes hanger, laptop sized in-room safe and a place to make coffee which is also provided. In front of the shelves a modern sink and countertop with Bliss Bath products and below a hairdryer and refrigerator. Like I said everything has its place! The toilet is located in a small area with a sliding door for privacy, and a large glass walled shower is also located here. Bliss bath products in the shower include all-in-one shampoo and conditioner and a shower gel.
Behind the storage shelf is the bedroom area of the room. A small desk sits under a window with a daybed in the middle. The bed in my room was a comfy king size bed, with crisp sheets and awesome pillows. I had a great night's sleep! The room was decorated with funky modern art and a cool retro alarm clock radio.
The Freebies: I never understood why hotels charge their guests for the obvious. Having two bottles of water with tags telling you they are "Free and Clear" for you to enjoy is a simple thing but for me it's a really great plus. The hotel rooms also include Free WiFi or direct Internet connection, which you would think all hotels would offer as a standard feature. All these free options just raised the hotel's star rating in my opinion.
The ALOFT Hotel Experience
The vibe is hip and trendy with exposed pipes and fixtures in a modern and industrial designed space. Lots of places to lounge and socialize with other guests and all with free wifi. As a travel writer being connected like this is a huge plus and I give ALOFT big ups for providing wifi everywhere. Funky, modern circular ottomans, big lounge chairs, a pool table and the WXYZ bar provide a place to relax or enjoy some nightly entertainment. The hotel also offers a large courtyard to sit outside and catch some rays, a gym and a heated swimming pool. For those of you travelling with your pets, this is a pet friendly hotel and Pet beds are available.
Breakfast Buffet
As an added convenience the hotel offers a breakfast buffet (for an additional charge) where you can grab some toast, eggs or cereal. You can even whip up a batch of waffles. If you don't want a full breakfast then grab something on the go as Re:Fuel an on the go convenience food bar offers a lot of convenient on the go options.
Its affordable luxury and quality, great location and funky vibe make it a great choice for anyone visiting the Vaughan area. If you are visiting Toronto it's a short 35-40 minute drive downtown depending on the time of day. The ALOFT is an affordable luxury boutique hotel with a great vibe that everyone will enjoy.
Travel assistance provided by 
Central Counties Tourism
 during a press trip throughout the region.