This article may contain affiliate links. Clicking on or purchasing products we recommend through a link may earn a small commission. Read our disclosure and privacy policy page for details. *COVID-19 TRAVEL ALERT – Travel recommendations offered on this site are not to encourage you to travel against travel advisories.
On a recent press trip with Central Counties Tourism, I met the energetic and delightful owner of What's Cookin in Erin Ontario. Jo treated us to a catered lunch during our visit to the Albion Hills Conservation Park and her energy and enthusiasm about everything she does, the ingredients they use in their catering and her commitment and love for what she does make me search out her store.
So I grabbed two of my friends and my Travelocity Garden Gnome and took a drive out to the country to visit The Village of Erin. The town of Erin, Ontario is located in the Hills of Headwaters region of Ontario, and the town's Main Street is better known as the Village of Erin. I am a lover of small country shops and walking along the short strip on Erin's Main Street was a sheer pleasure from one store to the next. Here are some of the highlights from our visit.
Tintagels Tea Shop, Erin Ontario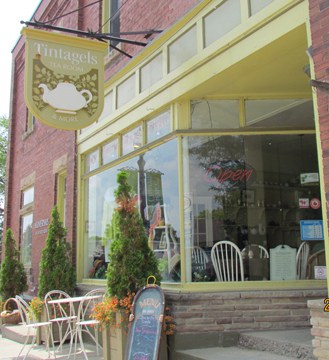 This is more than just a tea shop. Tintagels is a lovely cafe serving many types of loose leaf teas in cute bone china cups. The store is filled with different types of chairs and tables, and customers enjoy a cup of tea with an assortment of scones and baked desserts. Tintagels is also a great place to grab a bite to eat as it serves breakfast dishes, salads and sandwiches. This is a great spot to stop for a bite when visiting Main Street.
Renaissance, Erin Ontario
Renaissance is more than just a typical country shop. It's loaded with a variety of country collectables, handbags, body products, children's toys and products and jewellery. You can visit their website here.
Delights, Erin Ontario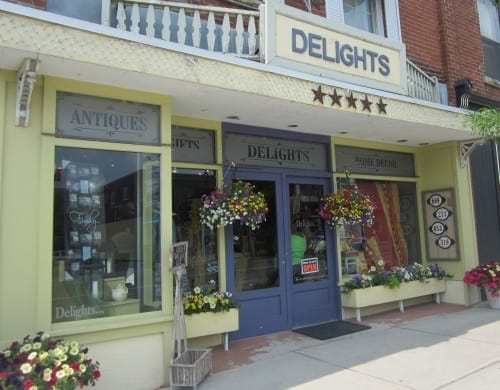 I know it sounds corny to say it, but I found this shop to be a complete delight! This gift shop is also filled with great antiques, gifts, home trinkets and clothing. Its filled with great country signs reminding you of the finer things in life. "Dream" "Believe" "If you're looking for a sign here it is" I love these little home decorations, and collectables and Delights are filled with them.
The Weathervane Home & Garden, Erin Ontario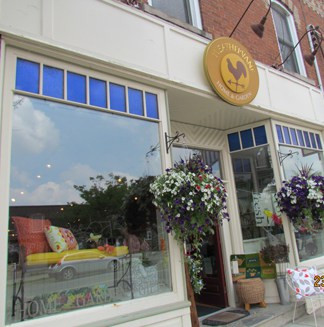 The Weathervane was the next store we stopped by to check out. Yup if you are counting that's three country shops on one street! Weathervane is its unique store filled with collectables, gifts, baby items, cool cards, journals, candles, body products and home decor. The store layout is filled with inspirational settings you can try and recreate in your home and gardens. You can visit their website here.
Now we leave the country stores part of the main street and get into the food and gourmet section.
Holtom's Bakery, Erin Ontario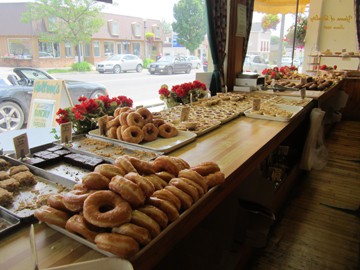 Holtom's is a sweet paradise filled with sinful desserts, fresh baked bread and cookies. Disappointed by how hot it was in the store. It was over 35 degrees Celsius today, and the bakery was even hotter. How all this food can sit in the heat, I don't know, but I was so hot and sweaty in there that I couldn't even pick a great treat to eat. One word air conditioning!
What's Cookin, Erin Ontario (now closed)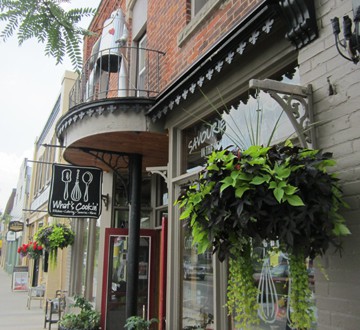 The store that started it all!  It was this store that drew me to visit Erin. What's Cookin, is a kitchen gadget and gourmet food store, catering company and cooking school all in one handy location. When you walk into the store, you are greeted by the tin man, and the Kitchen sits behind. Refrigerators and freezers are stocked with oven-ready entrees, salad dressings, organic, local cheeses and much more. What's Cookin prides itself on a Whole Food approach. They love locally grown, organic product and prepare all of their dishes with them. Visit the What's Cookin website here.
Debora's Chocolate Shop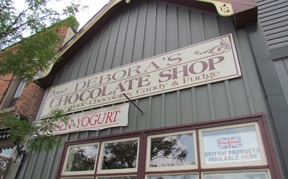 What would any small town visit be without a chocolate shop that serves handmade chocolates and homemade fudge? All its treats are made right in the store. Visit their website here.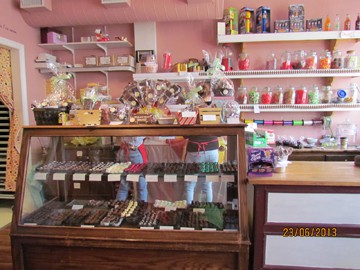 Our last stop was way back at the start of Main Street, Erin Ontario. It was the popular stop for many in Erin, especially on this hot summer day … Bailey's Ice Cream.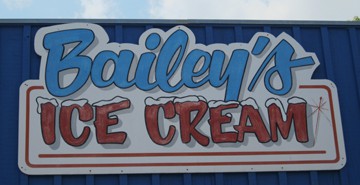 There are some flavours to choose from including the usuals, chocolate, vanilla, cookies and cream and chocolate chip cookie dough. You have lots of options, but be forewarned… the scoops are huge! Scoops in the pictures on the wall may appear smaller than actual size! In fact, a three scoop cone is 1 pound of ice cream! A great stop at the end of a fun walk down Main Street, Erin, Ontario.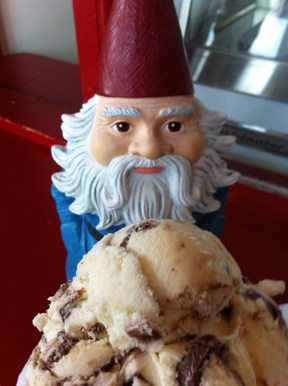 If you have a small shop or business in Ontario that you'd like me to visit and feature on this site, please contact me and let me know all about it. I'm always looking for ideas to take a country drive!