This article may contain affiliate links. Clicking on or purchasing products we recommend through a link may earn a small commission. Read our disclosure and privacy policy page for details. *COVID-19 TRAVEL ALERT – Travel recommendations offered on this site are not to encourage you to travel against travel advisories.
I stepped out of the vehicle and took it all in. In front of me, the hotel's private beach escape dotted with palm trees, hammocks swaying in the wind was taunting me. It was quiet. You could hear the waves calmly hitting the beach shore, the light Caribbean breeze through the palm trees and not much else. We looked at one another and spoke in a whisper so as not to disturb anyone. I was standing on the beach of this luxury resort in Antigua known as the Inn at English Harbour, and I immediately got this feeling that I never wanted to leave.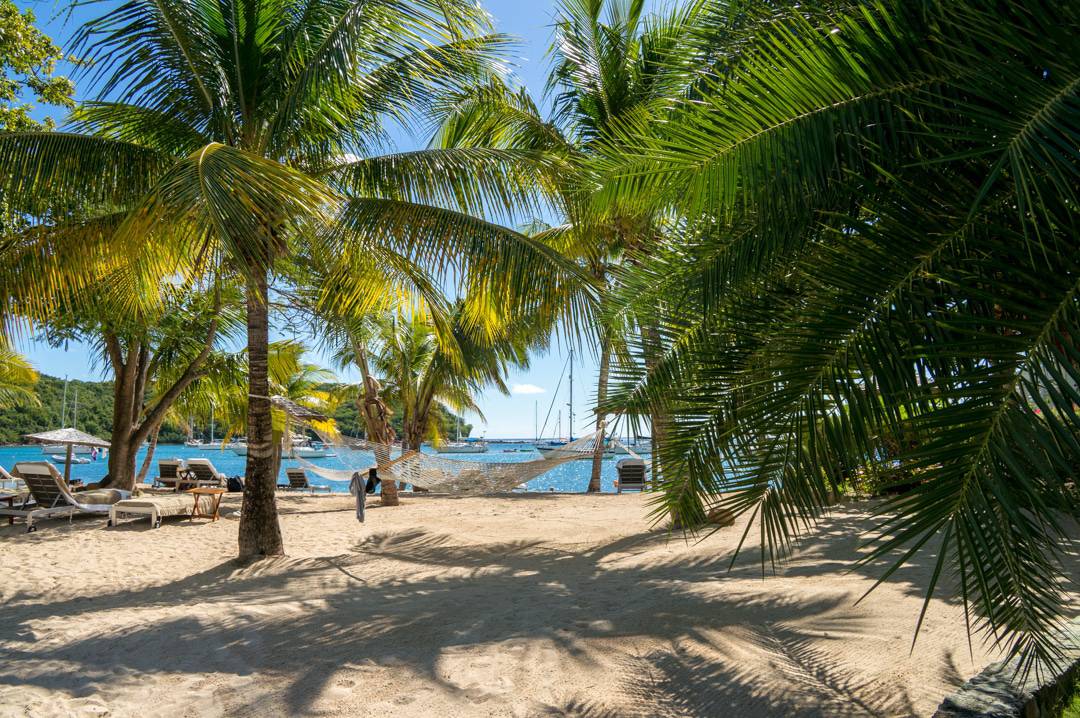 The Inn at English Harbour Antigua
The Inn at English Harbour, Antigua is an exclusive luxury hotel with only 28 rooms. The large beach and pool area makes it feel like we had the entire resort to ourselves.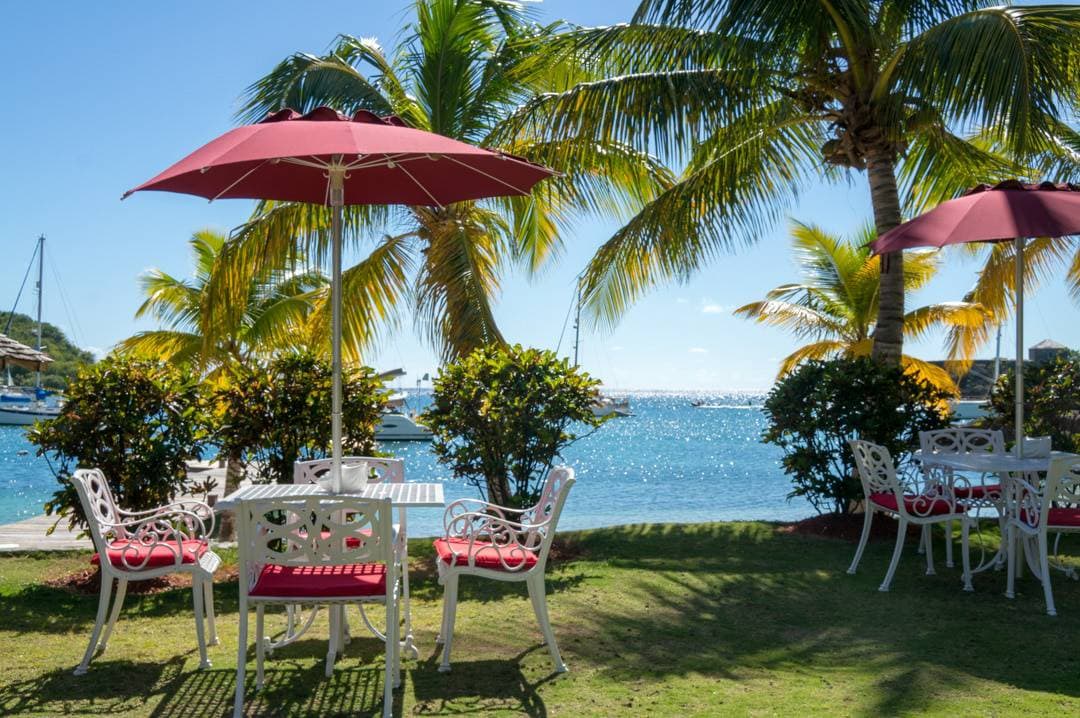 There were plenty of little spots to relax and get away. Outdoor seating areas, beach hammocks, lounge chairs and of course the beach.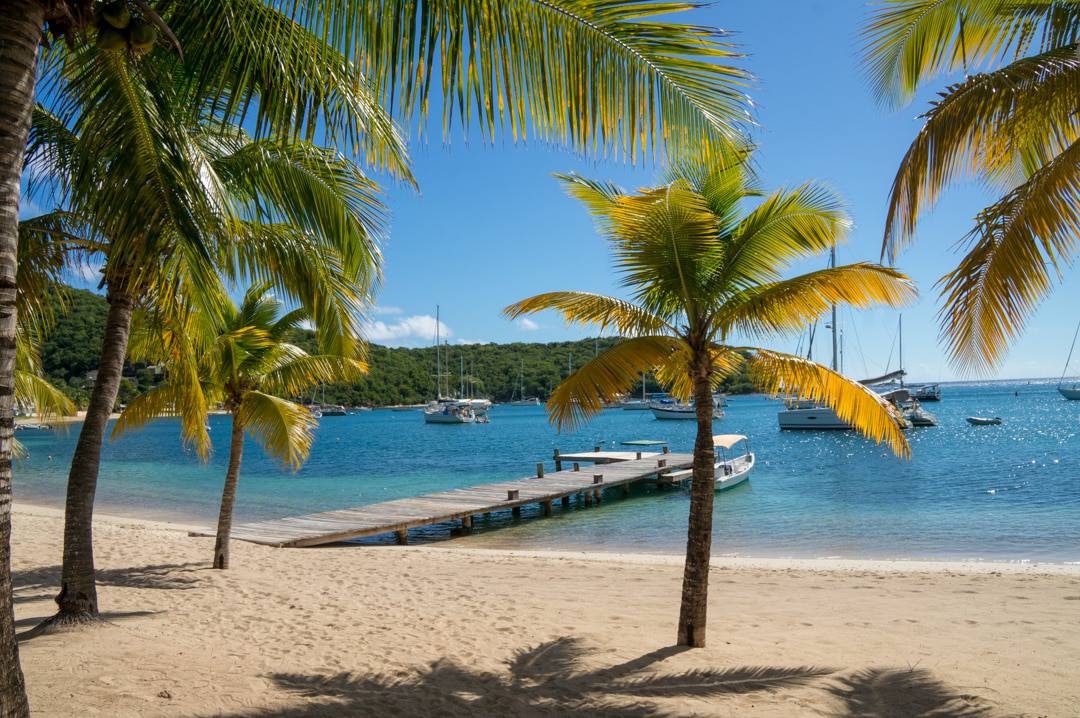 Antigua Luxury Boutique Resort
A member of the Small Luxury Hotels of the World collection, the Inn at English Harbour is a quiet boutique resort spread over 19 acres of land. It sits on its own bay at the foot of the mountains that surround Antigua's historic English Harbour. Attractions nearby include English Harbour, Shirley Heights and Dow Hill.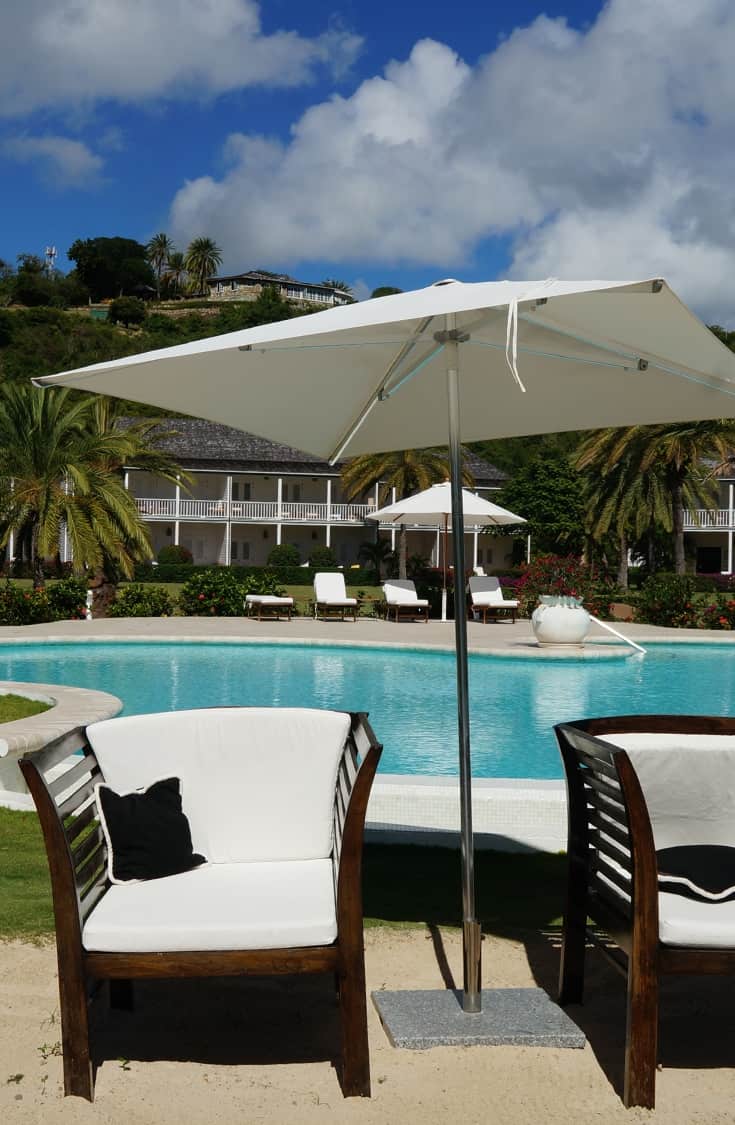 Inn at English Harbour Resort Amenities
Located steps from the fantastic beach the resort's pool sits quietly in the centre of the exclusive property. There were plenty of beach chairs and loungers with umbrellas for shade. However, most of the resort's guests were hiding on the private beach.
Since there are only 28 rooms at the hotel, even if fully booked there is so much space to spread around you still felt like you had the whole place to yourself.

Library Room
I loved all the cosy little spots throughout the hotel for lounging and relaxing. The library room had an impressive collection of books to read which travellers have been contributing too during their stays.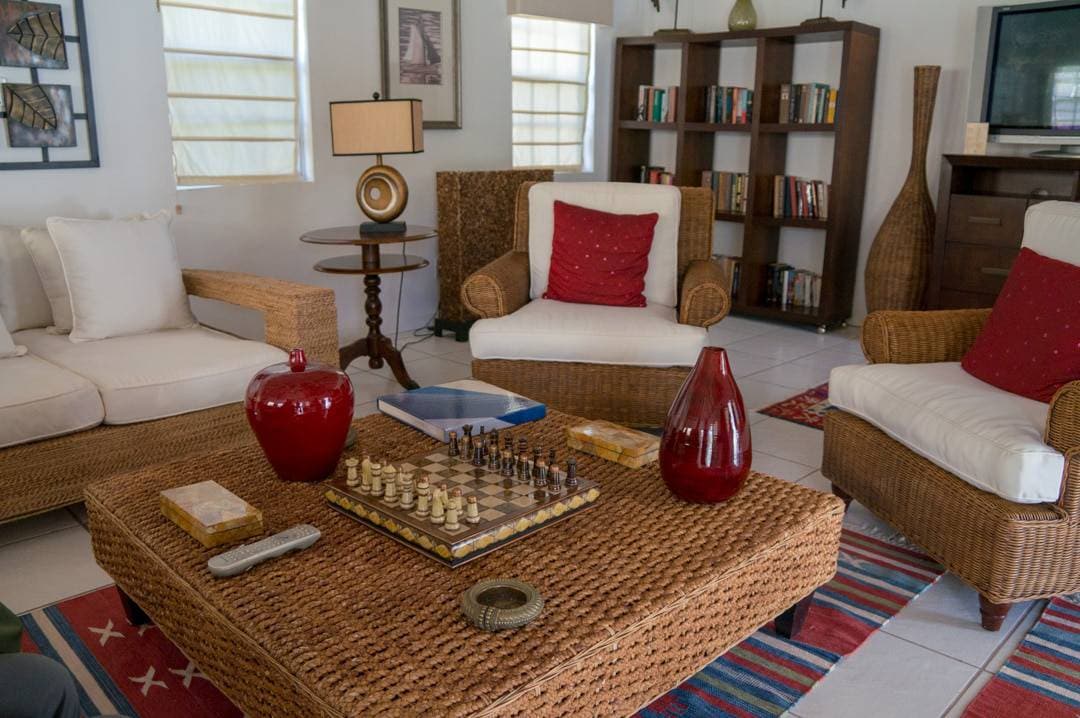 The library room was the perfect space to get out of the sun and enjoy a good book, catch up on emails or just sit and reflect.
Fitness Facilities
There is plenty to do at the Inn at English Harbour including tennis, water sports like paddle boarding and kayaking and this small fitness room which had everything you could possible need.
Deluxe Suite at The Inn at English Harbour Antigua
When I walked into the hotel suite, I know I let out an audible gasp. It was like a fairytale dream room with a four poster bed, canopy, dark wood furnishings and fresh flowers.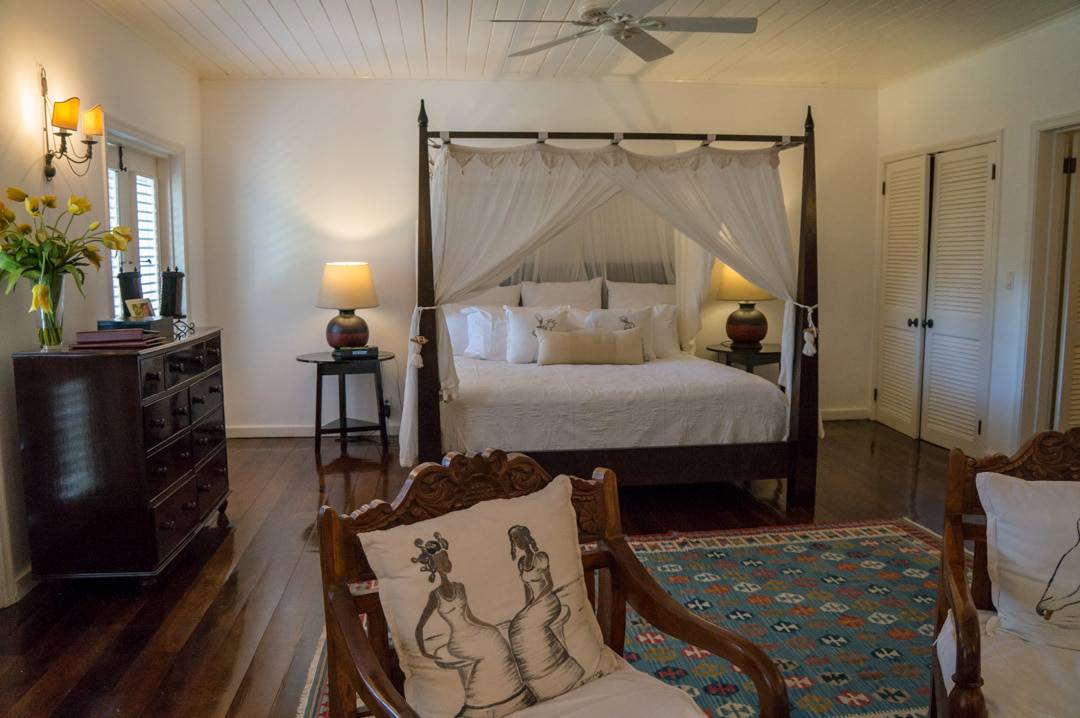 Like the resort itself, everything had its place and was all neat and tidy and perfectly organised. The room included a sitting area, a massive king-sized bed, huge bathroom and even a terrace overlooking the pool.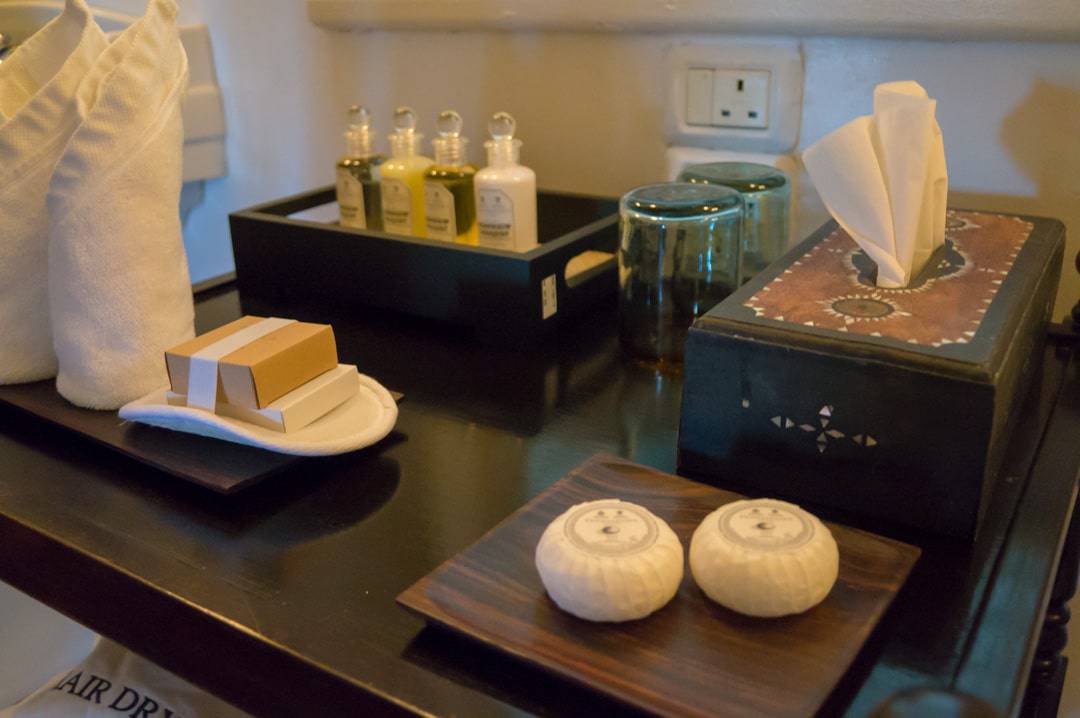 There are three types of rooms at the resort which include a smaller junior suite and a Beach Cabana. The Beach Cabana sits steps from the beach and has basic amenities but when your door opens to the beach do you care?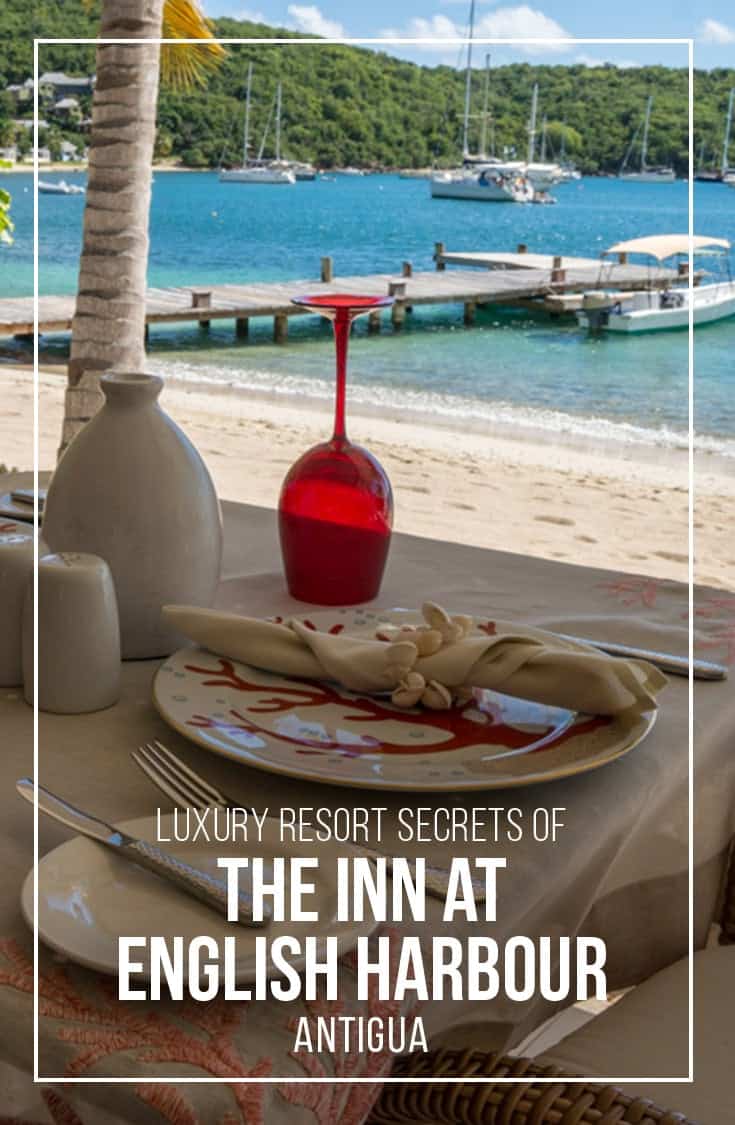 For more reviews on The Inn at English Harbour visit TripAdvisor here. For information on the hotel visit Small Luxury Hotels website here.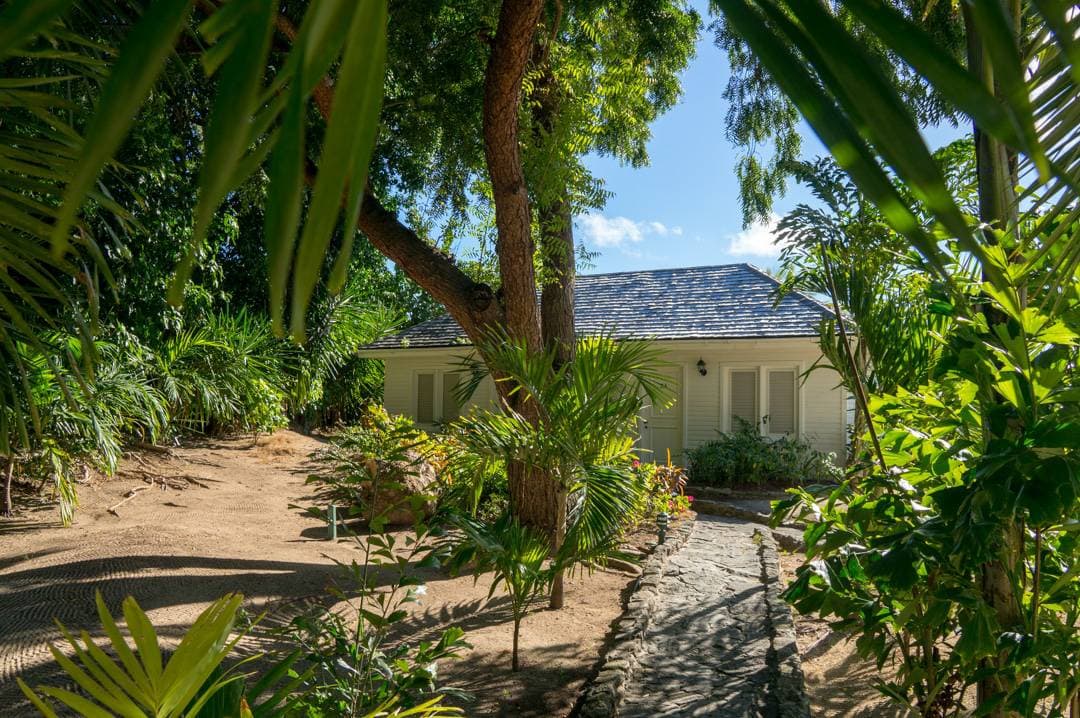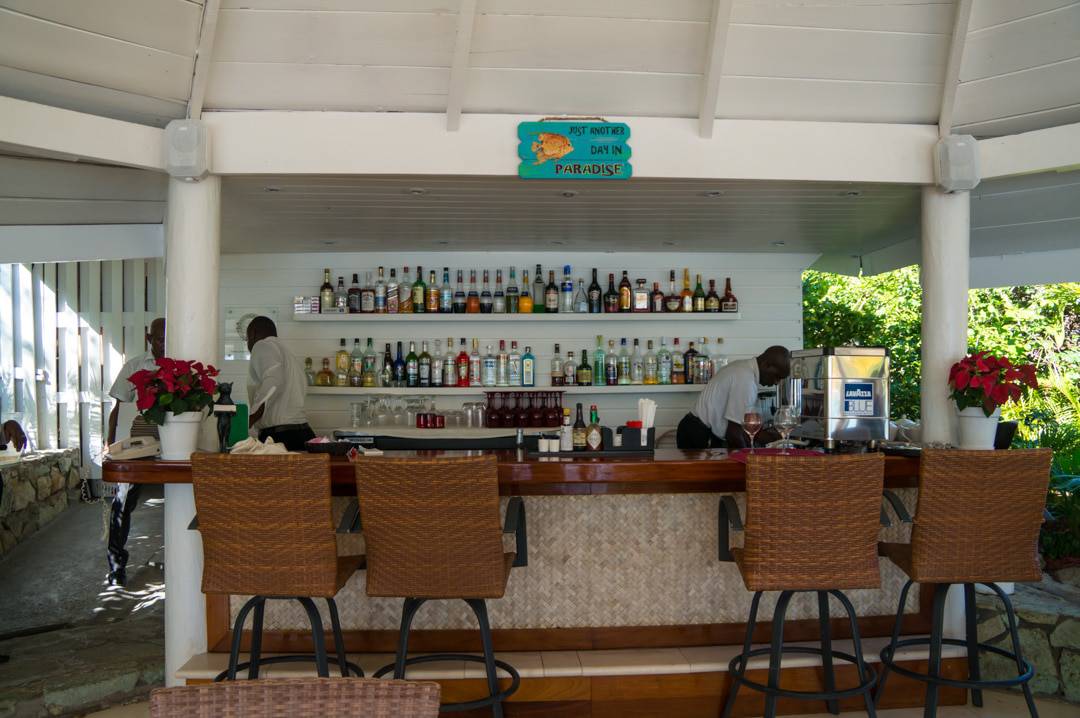 Beach Fine Dining at the Reef Restaurant
Lunch on the beach at the Inn at English Harbour is an experience itself. A fine dining feast, just steps from the waves splashing on the shores.
You don't have to be a guest of the hotel to enjoy this Lunch experience!
The Reef Restaurant is a great place to stop and enjoy lunch when visiting Antigua. As I mentioned in my post: Guide of Things to Do with One Day in Antigua you can make reservations for lunch while touring the historic sites nearby.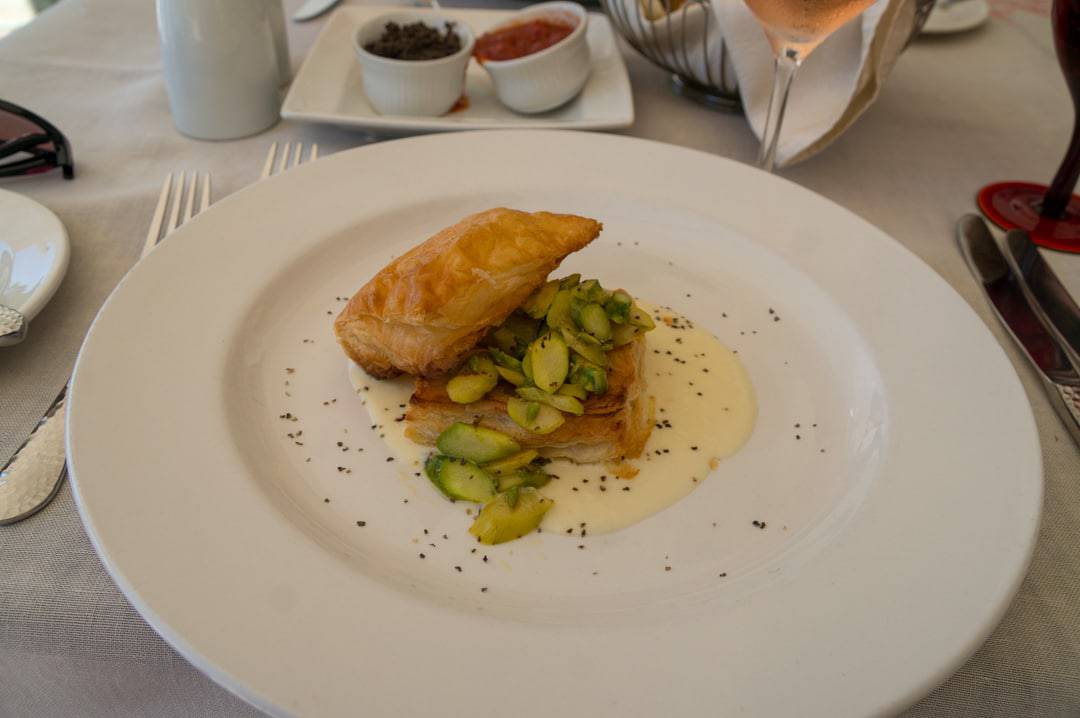 We were treated to a special menu prepared by the chef, and my lunch started with this fabulous appetiser dish. Puff pastry with asparagus, served in a parmesan fondue and flavoured with black peppers.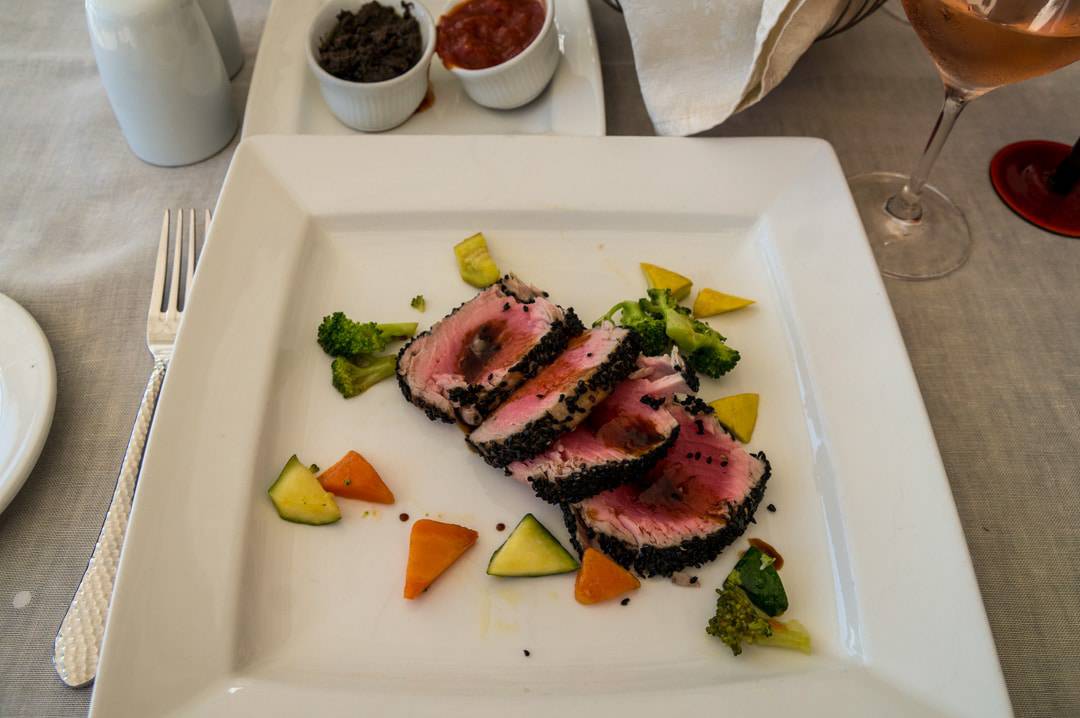 When visiting the Caribbean seafood is in order. Fish doesn't get any fresher than this. For my main course, I enjoyed this Tuna wrapped in black sesame with local vegetables.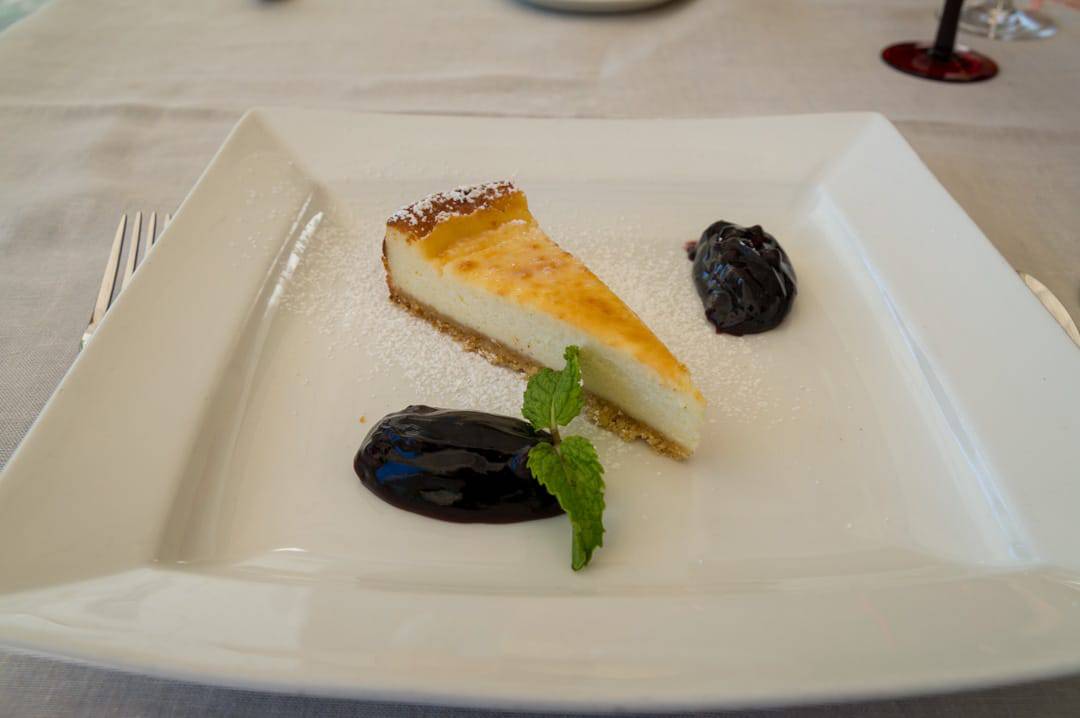 How can you skip dessert when indulging in a fine dining lunch next to the beach? When the chef comes out to your table to chat, well it makes it more impossible to say no to dessert. So I devoured this yummy cheesecake with blueberry topping.
You can read more reviews on The Inn at English Harbour on Tripadvisor.
Planning an Antigua Vacation? Here are more tips:
Antigua Travel Tips You Need to Know Before You Book
Dream Antigua Vacation: Verandah Resort and Spa Review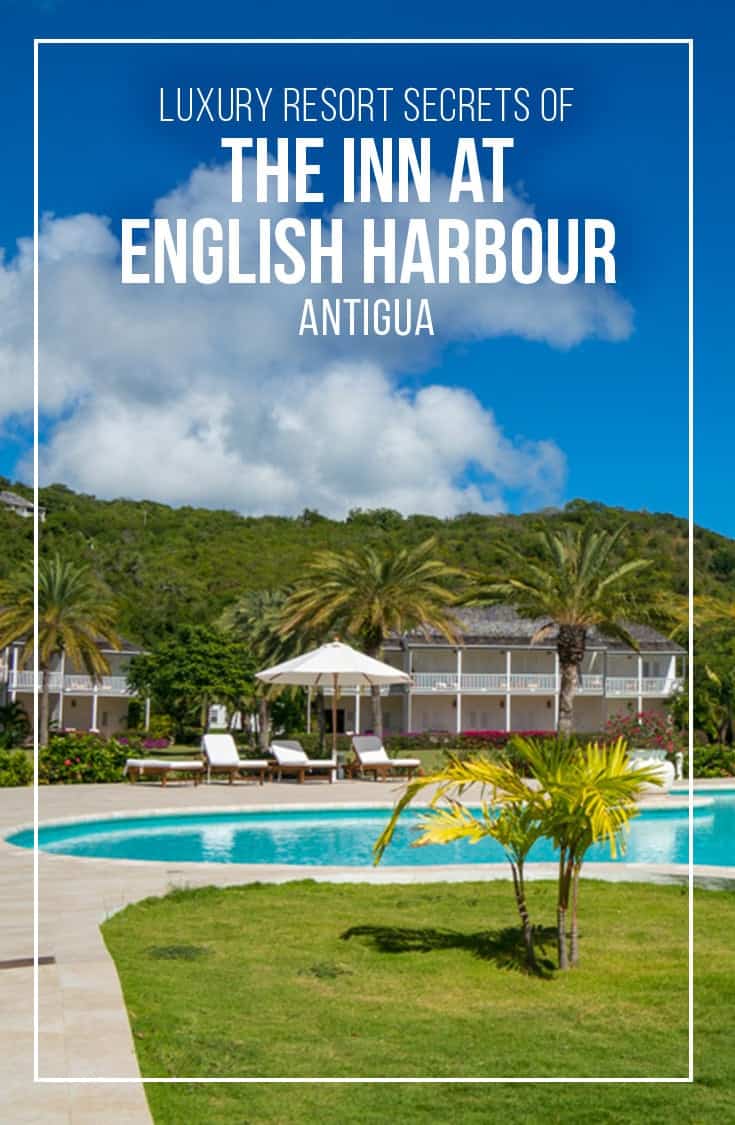 Travel assistance provided by the Ministry of Tourism of Antigua however, the opinions expressed in this post are my own.