One of the great things about visiting a new city is finding a hotel that is close to everything! On my recent trip to Colorado for a convention, I stayed at the Denver Grand Hyatt hotel and loved how accessible the city's best neighbourhoods were from the hotel.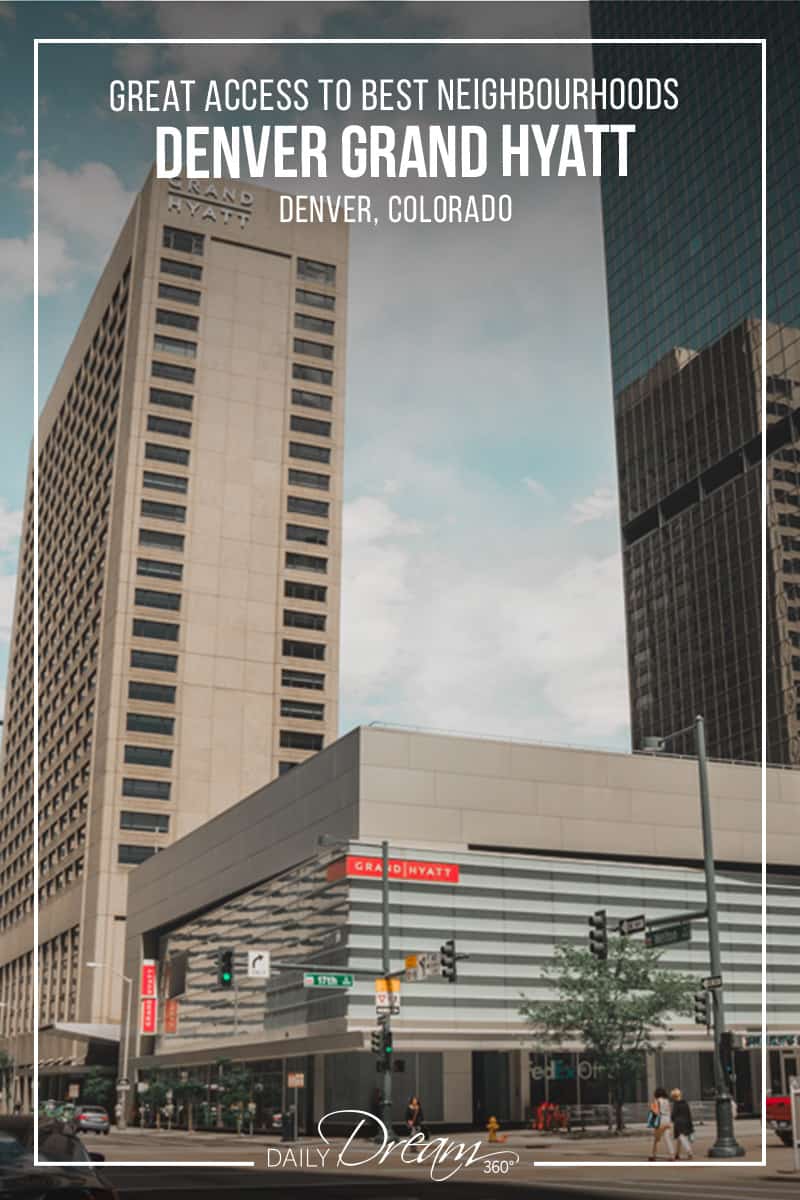 Denver Grand Hyatt Location
Located on Welton Street and sitting between 17th and 18th streets, the Denver Grand Hyatt was a great location for access to the Convention Center or visiting the city's downtown area.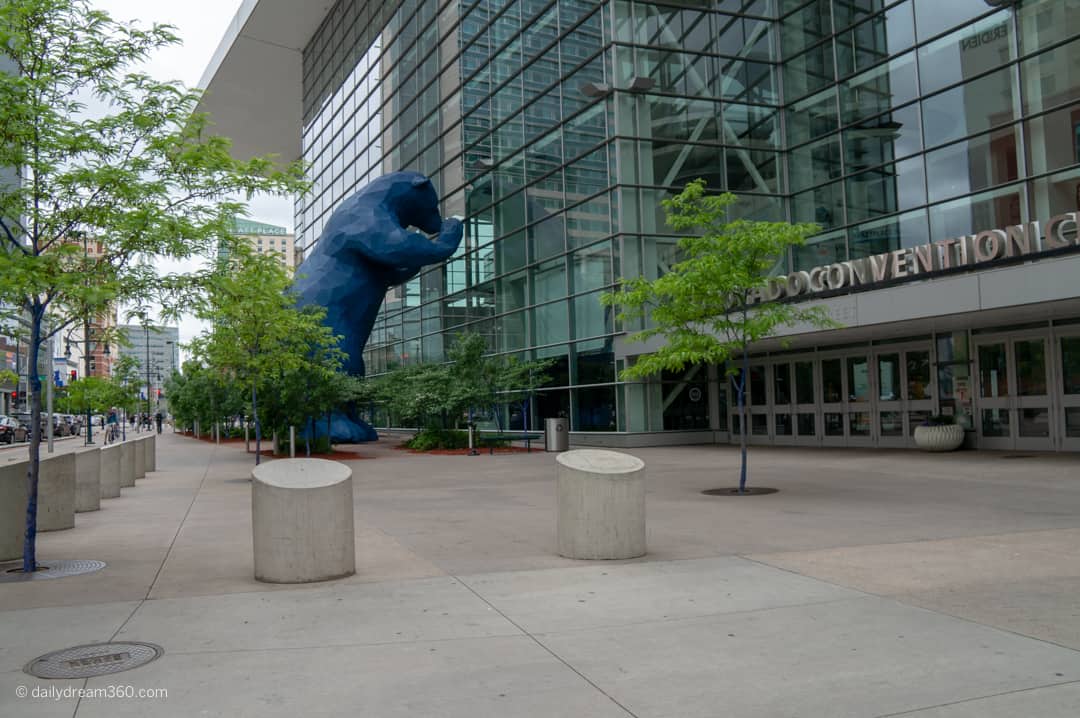 The Convention Center was three blocks away and only took a slow 10-15 minute walk to get to the front door.
Read more: Whirlwind Denver Tour with eTuk Rides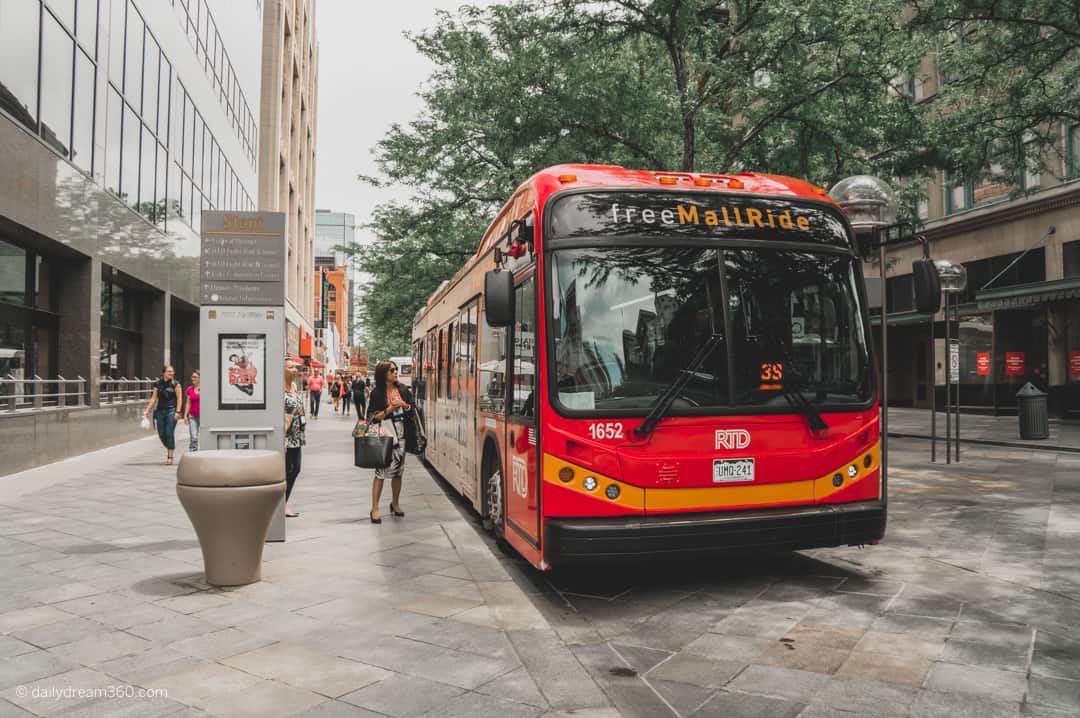 If you get out of the hotel at 17th street, you are one block away to the 16th Street Mall which offers the Free Mall Ride buses that run along the pedestrian shopping street. These buses provide free access to Larimar Square, Union Station and other great Denver attractions.
Read more: Guide to the Best Neighbourhoods in Denver.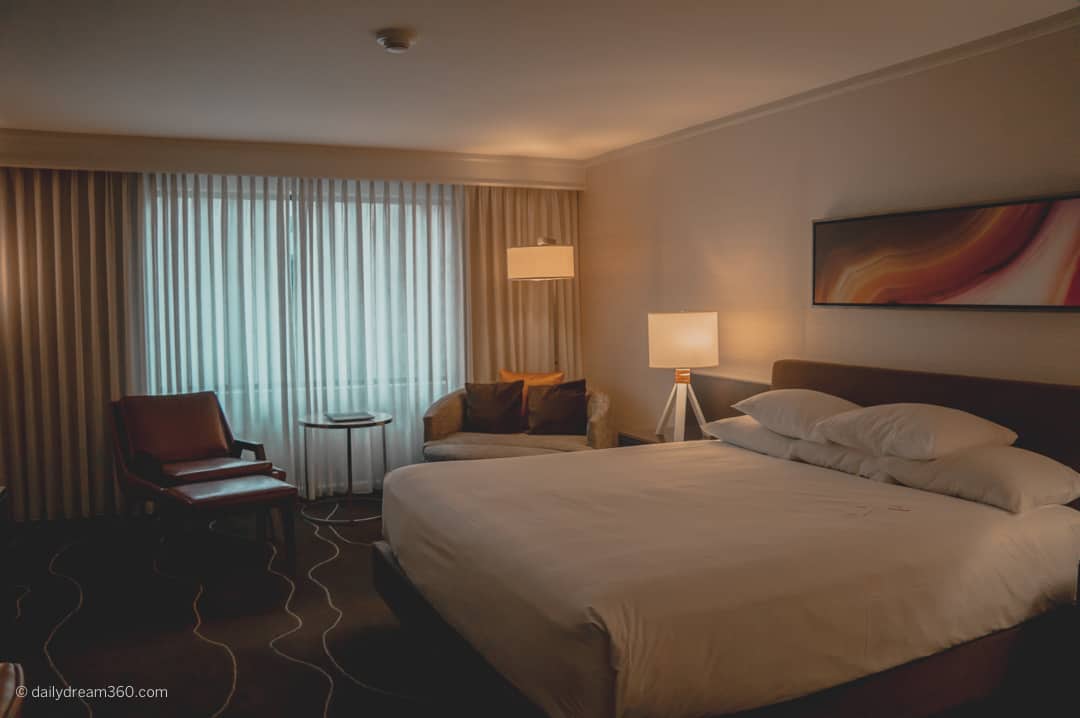 Check reviews: Trip Advisor | Expedia | Hotels.com | Booking.com
Denver Grand Hyatt King Room
My room was a Standard King room. The room faced city buildings in downtown Denver. Not sure if any particular side of the hotel would have offered a better view.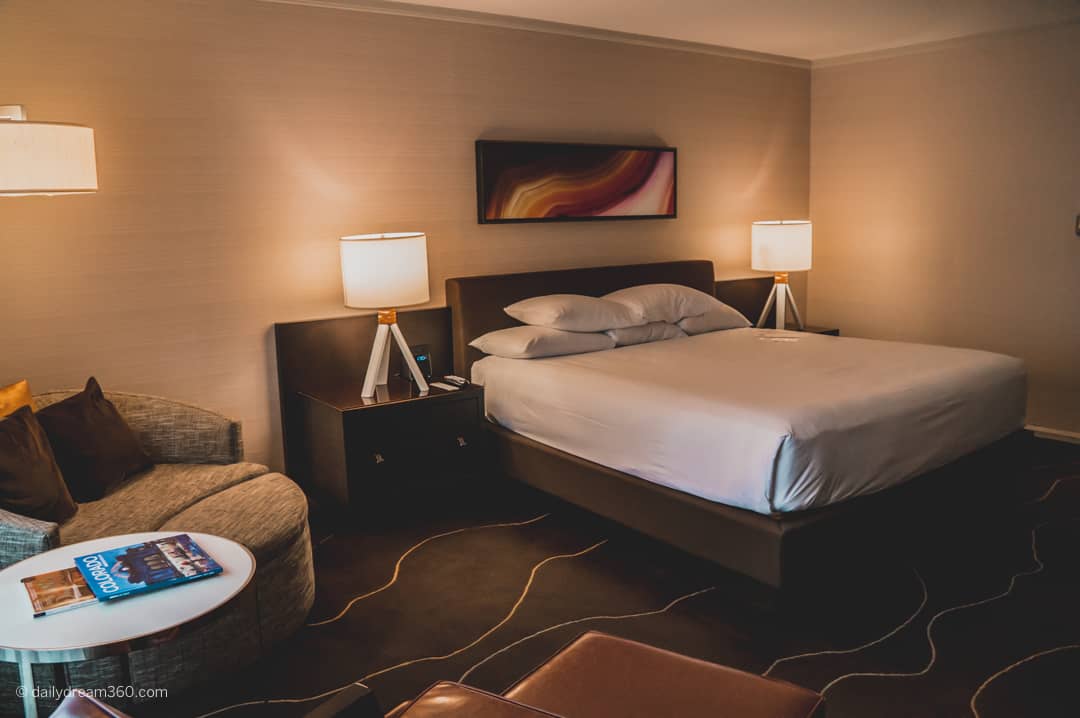 The bed was very comfortable, it is part a Hyatt brand and is standard in all their rooms. The room was spacious, with places to lounge and work and had a beautiful contemporary décor.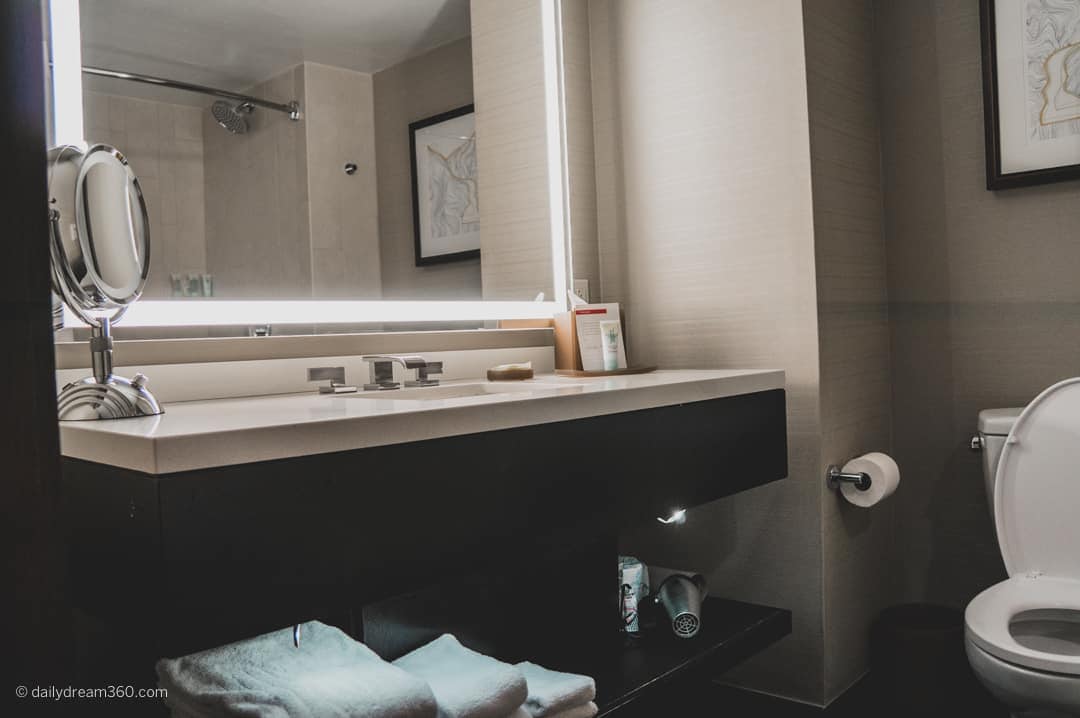 The large desk had easily accessible plugs for devices. A refrigerator was located in the cabinet under the TV. There were also a few chairs in the room which offered a comfortable place to lounge if needed.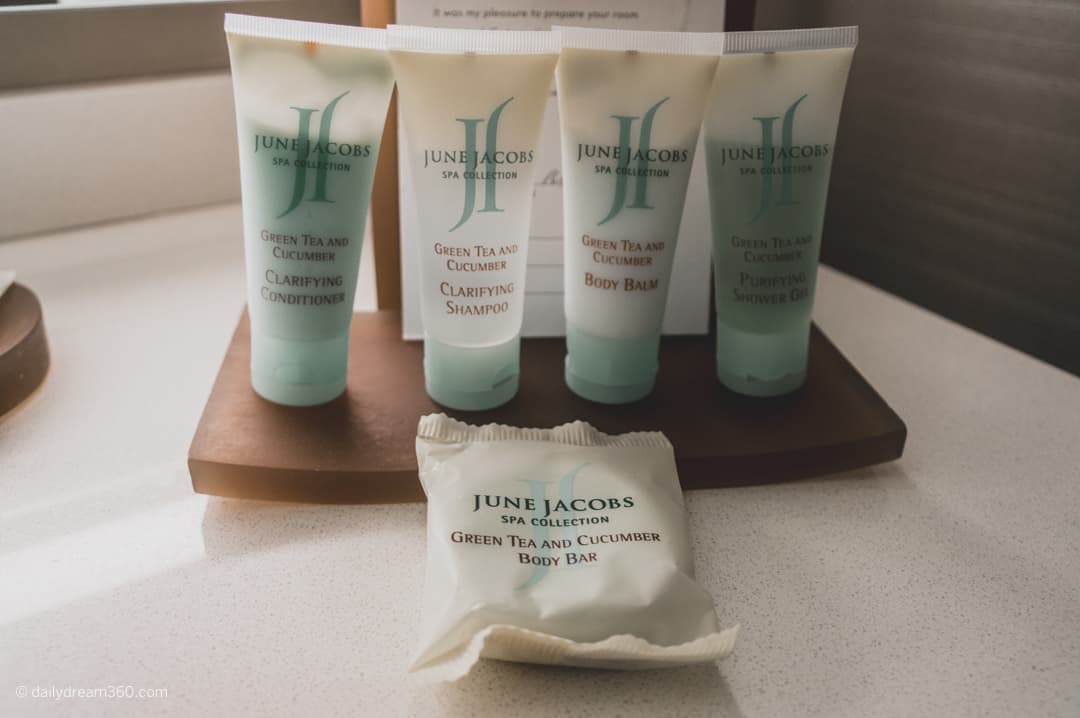 One of the things I love about Hyatt Hotels is that if you forget something they have a list of items you can request that will be sent up to your room. So even though it is not sitting there with the toiletries, doesn't mean they don't have it for you. The Toiletries were just standard, and I'm glad I packed my own for this trip.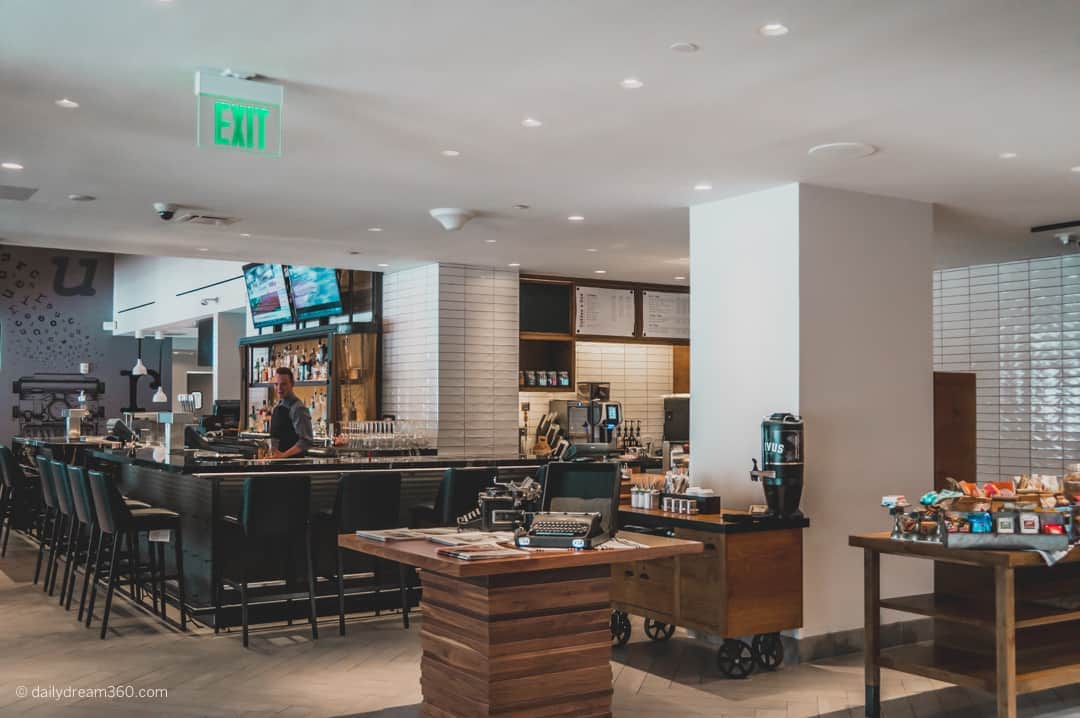 Check rates: Trip Advisor | Expedia | Hotels.com | Booking.com
Denver Grand Hyatt Amenities
Courier Bar and Restaurant
The Courier Bar and Restaurant had a menu of comfort food items you could eat in or take out if you wanted to grab something quickly and bring it up to your room. They have a small gift shop as well which offered staples like drinks, some pharmaceuticals and snacks.
There were a few time I appreciated the ability to order takeout from the restaurant. Being in Denver for a conference there were sometimes our schedule was just too full to browse around, and within a few minutes, the Restaurant was able to provide a bite to eat. They also offer in-room service if you prefer.
Across the street from the Denver Grand Hyatt Hotel, there is a 7-Eleven which is also stocked if you need anything during your stay.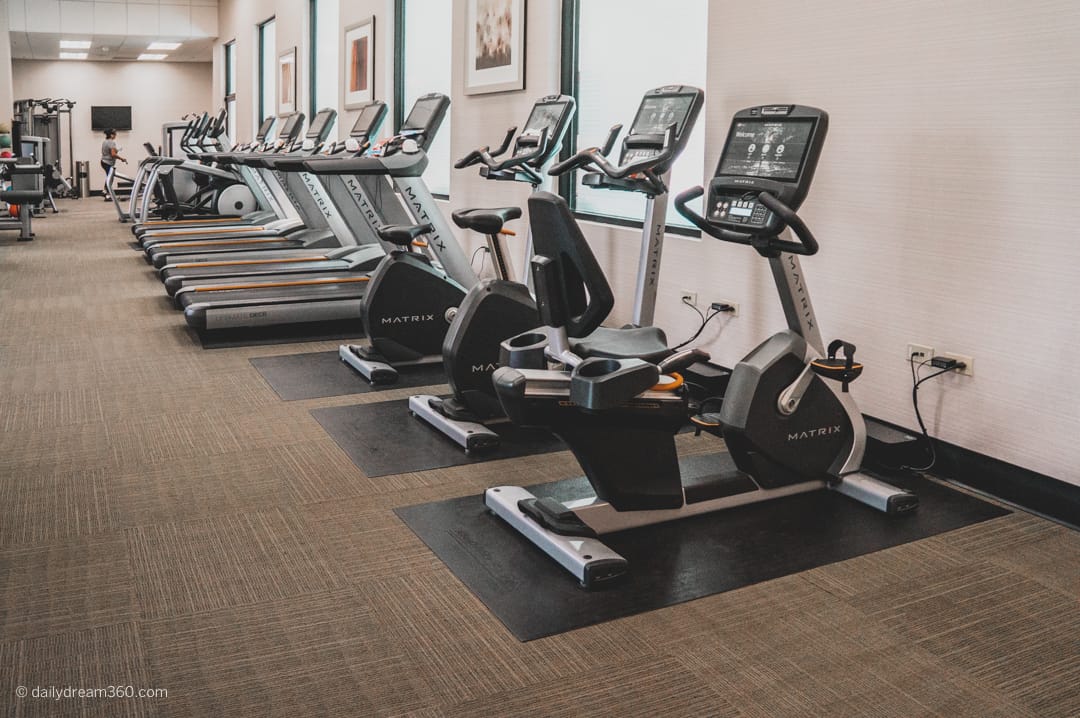 Denver Grand Hyatt Fitness Room
Again love the sun streaming into the fitness rooms, often hotels place these rooms in the darkest corners, but here it was bright and filled with workout equipment.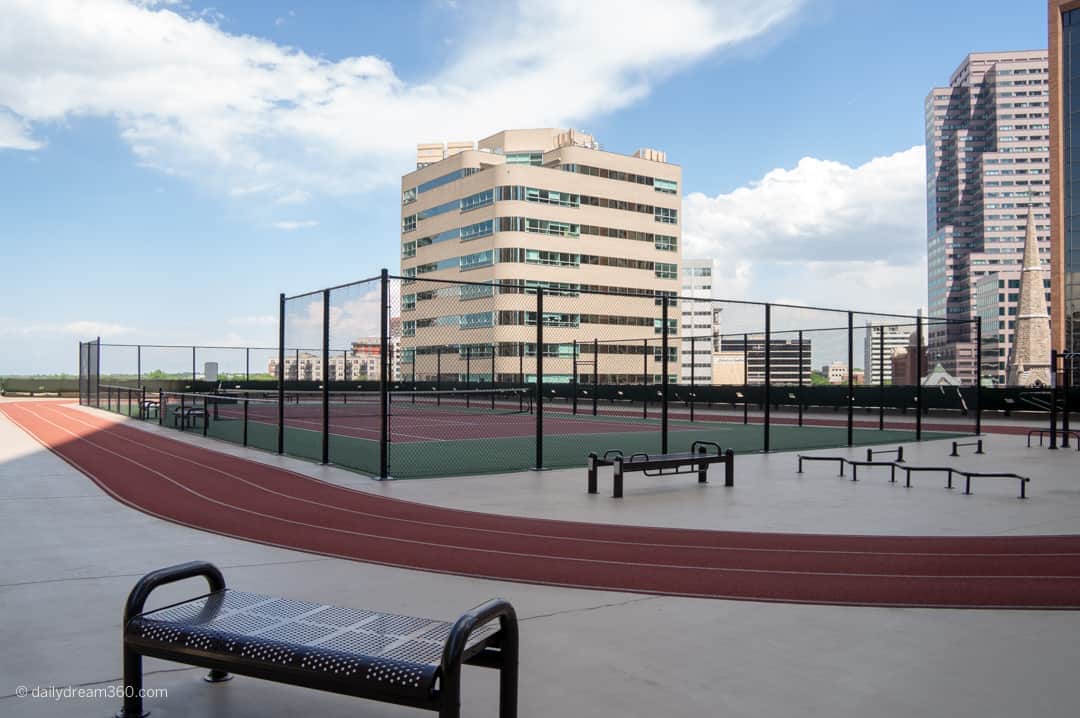 Denver Grand Hyatt Outdoor Running Track
There is an outdoor running track just outside the fitness room. You will have to climb up a set of steep metal stairs and time your workout, so you are not in direct sunlight. It was nice to have an option to exercise outside vs inside the fitness room.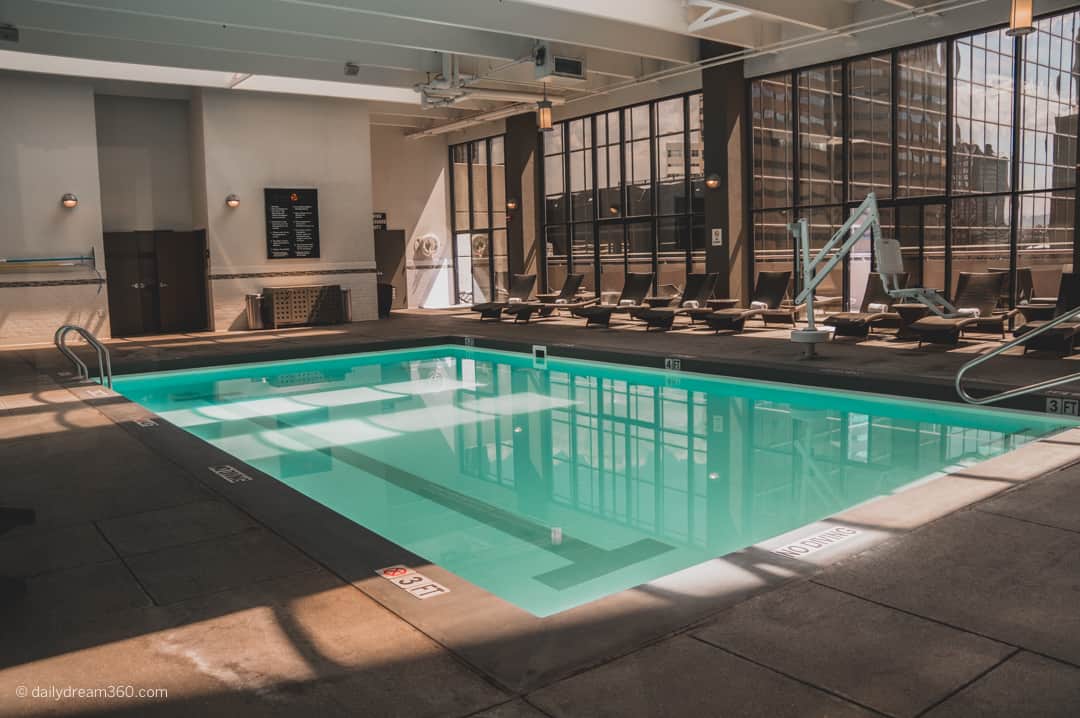 Denver Grand Hyatt Indoor Pool and Sun Deck
It was quiet at the pool and very sunny when I managed to sneak a few minutes to explore the fitness facilities. There are some sunchairs inside next to the pool, but no outdoor sundeck.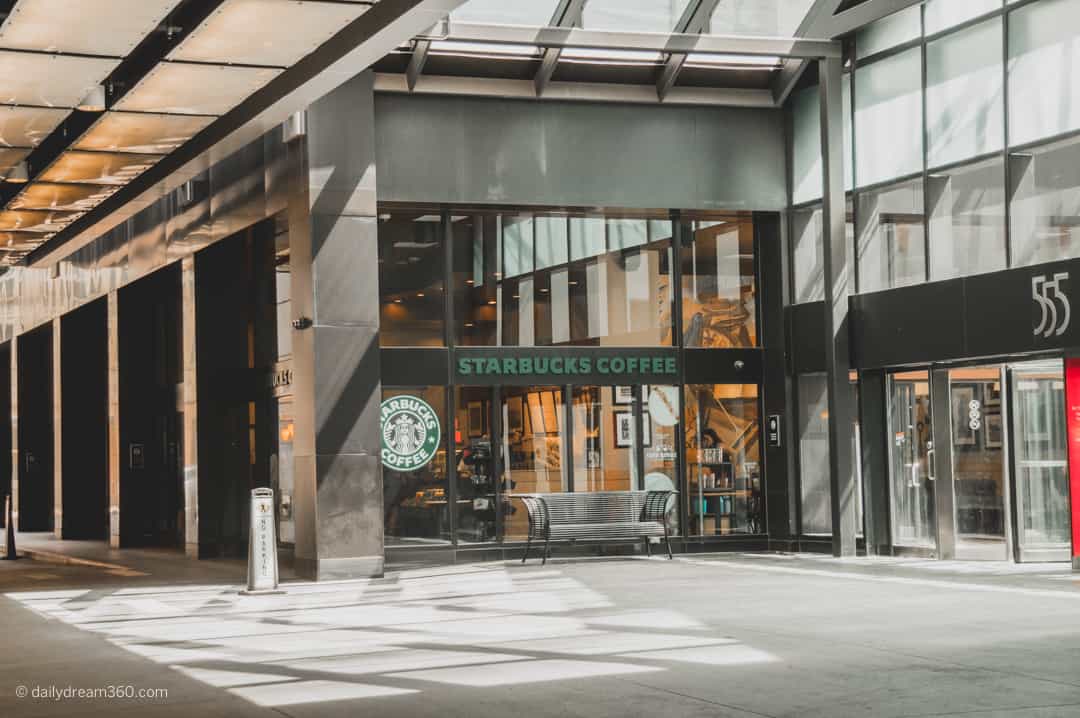 Denver Grand Hyatt – Starbucks Just Outside the Lobby
For those who love their Starbucks in the morning, there is a retail location just outside the main lobby doors in the driveway of the hotel.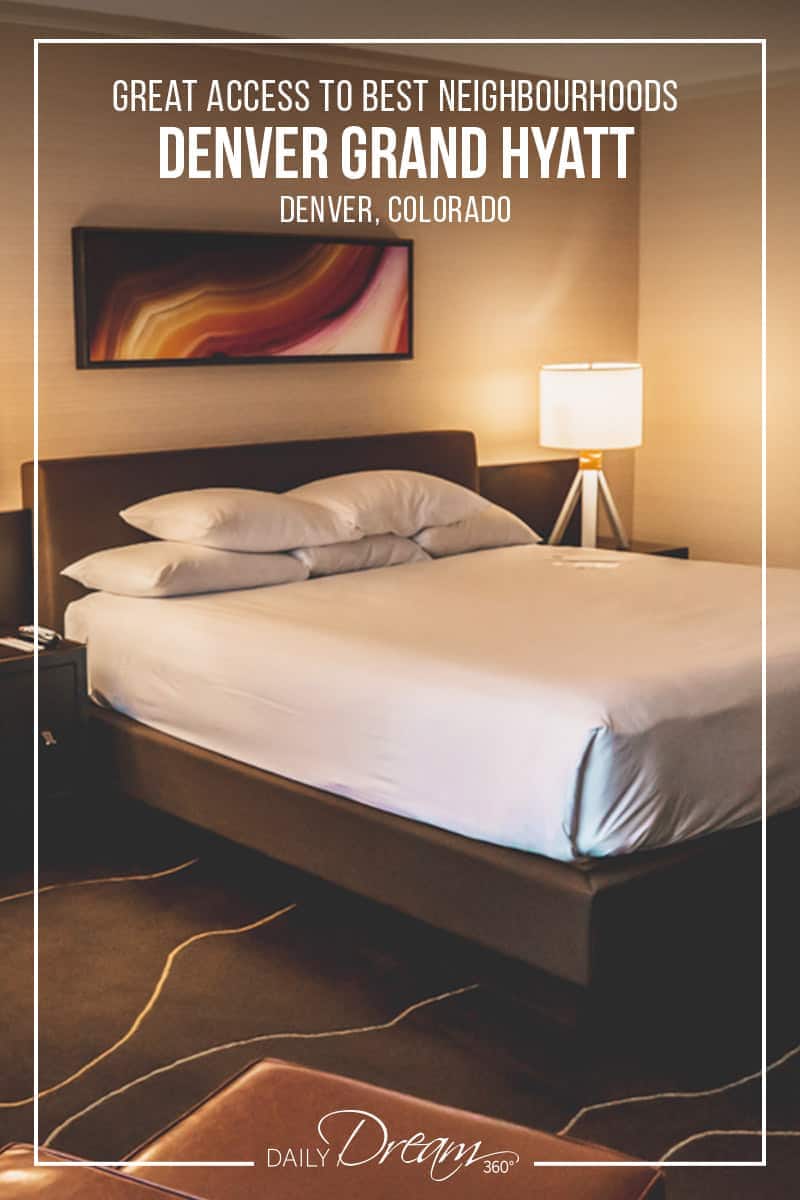 Travel assistance provided by the U.S. Travel Corporation and Brand USA.