As a solo traveller, I often worry when going to a new city about how easy it will be to get around and the moment I arrived in Denver any worry was gone. Denver makes it super easy, with its compact design and transportation networks it is easy to visit all the attractions in the best neighbourhoods in Denver.
Iconic Denver Neighbourhoods
Each with its own personality there is no shortage of things to explore in Denver. During my short two-day stay I managed to walk around a few of its popular neighbourhoods and of course take note of some great things to do and see.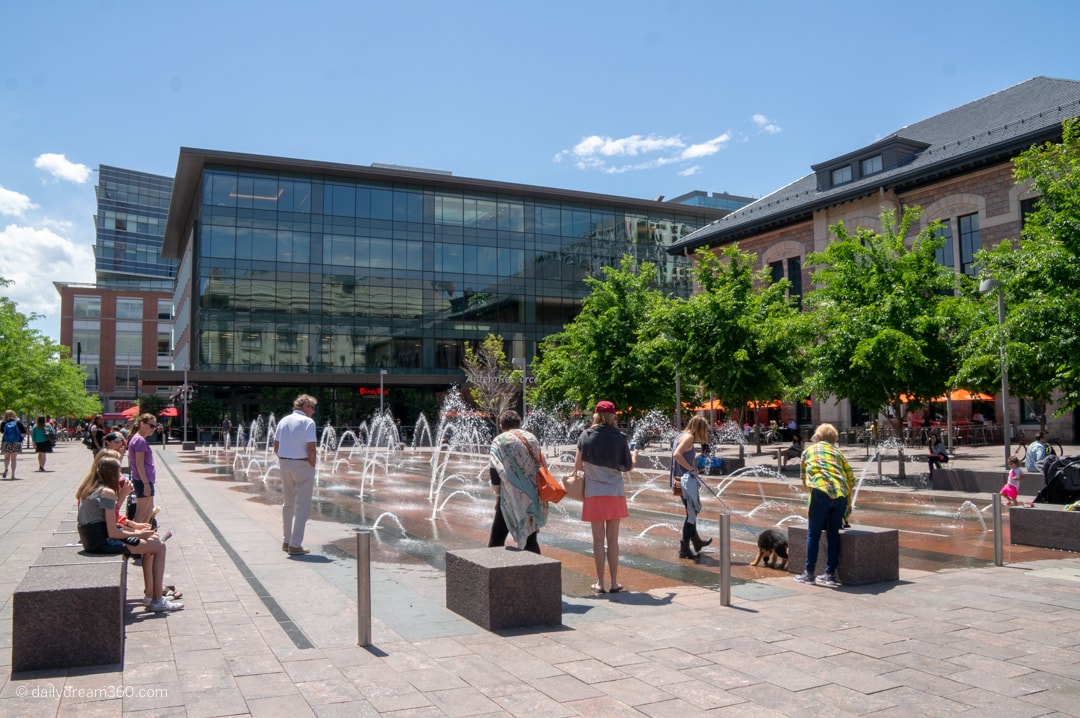 LoDo Riverfront Denver Neighbourhood
If you take the train into Denver from the Airport you will be dropped off right inside Union Station. This is your first Denver neighbourhood LoDo Riverfront.

Things to do in LoDo Riverfront Neighbourhood in Denver
Union Station
The Union Station complex features many restaurants and cafes and a large sitting area where you can plug in and rest. Grab breakfast at popular American eatery Snooze which serves up delicious breakfast specials and coffee any way you like it.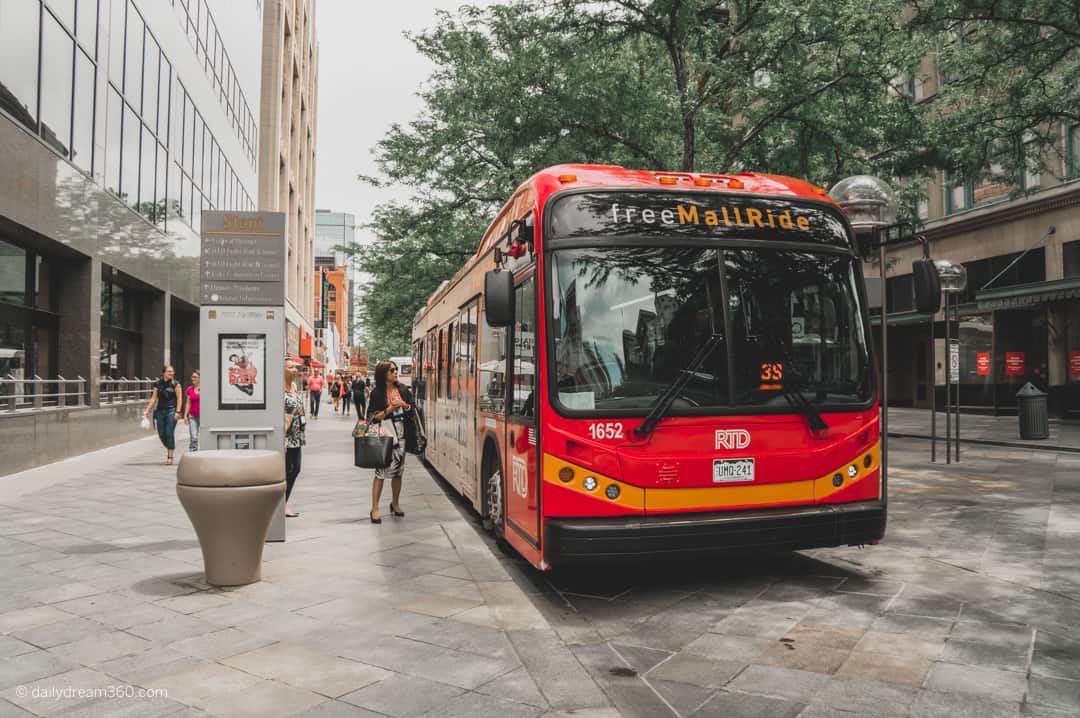 16th Street Mall
Shop the 16th Street Mall and take the handy free bus up and down the street to get around. This was my favourite part of Denver was being able to get down to Union Station, up to the convention centre and to our hotel by using this handy bus. The street is filled with many shops, fast-food eateries and more.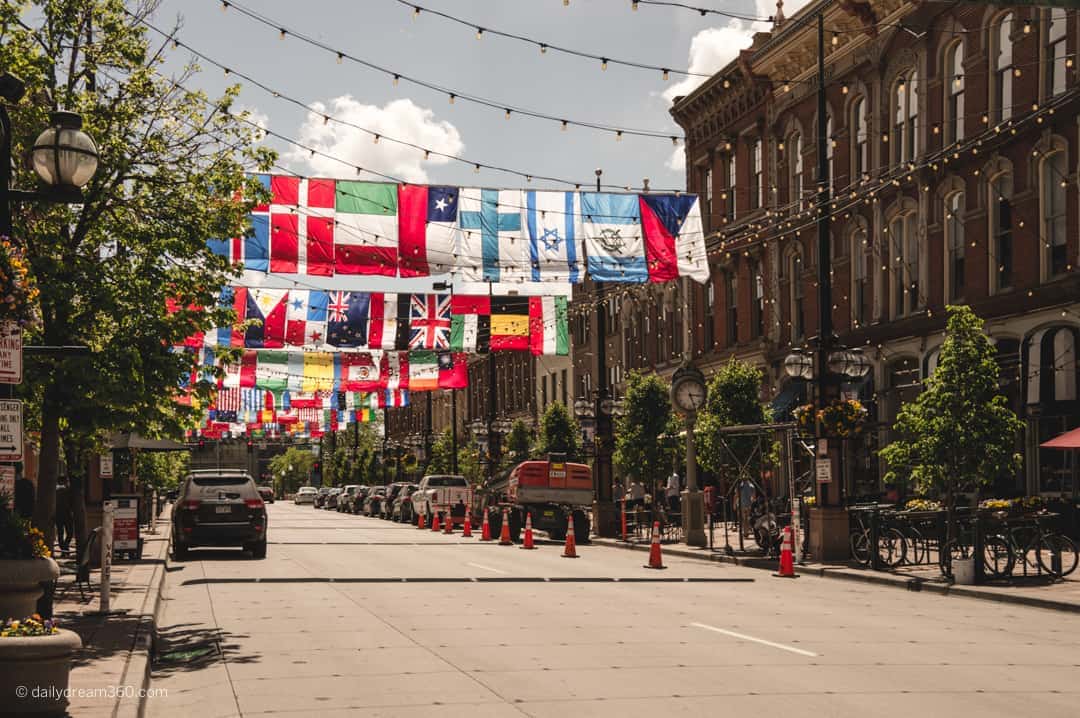 Larimer Square
From Union Station, I made my way to Larimer Square. This street offers a number of cafes, boutique shops and restaurants and is just off the Mile High Shopping Street. This makes it super easy to get to, just take the 16th Street Free Mall Ride bus from Union station to Larimer Street and walk over to 15th and you'll find yourself in Larimer Square.
Denver Milk Market
If you are looking for a place to eat and have no idea what you want to have then just head over to the Denver Milk Market. This food terminal is filled with vendors offering everything from pizza, sushi, sandwiches to pastries and desserts. Enjoy some of Denver's craft beer while nibbling on delicious eats from one of the many food vendors.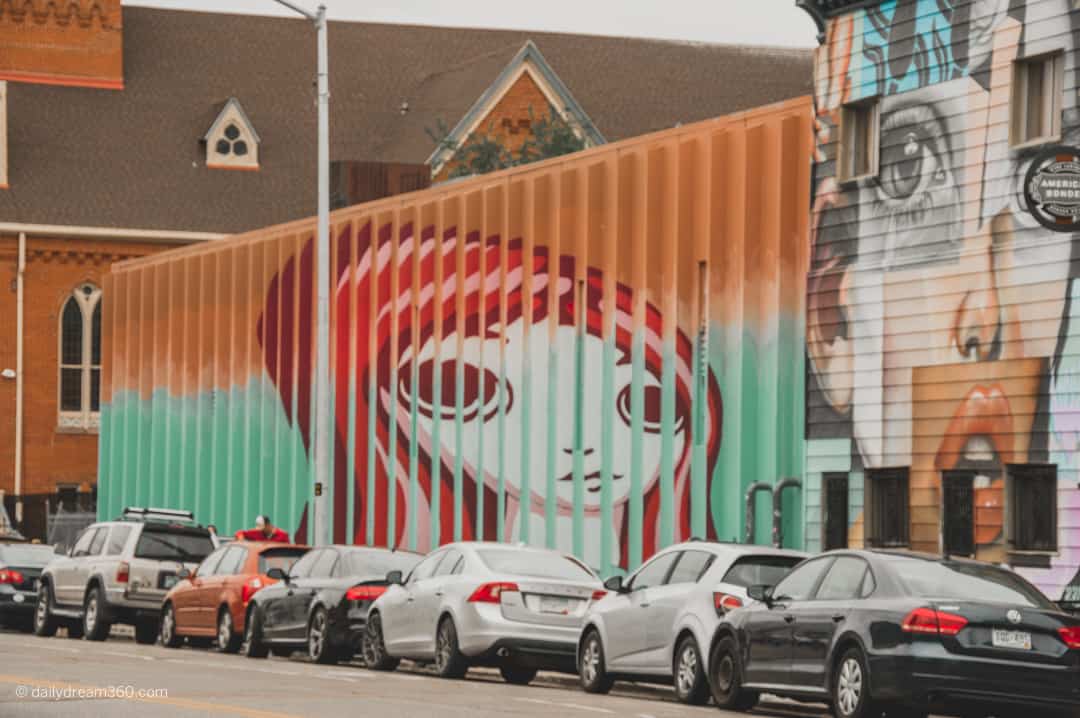 RiNo (River North) Denver Neighbourhood
The River North neighbourhood is known to the locals as RiNo neighbourhood. This is an artistic neighbourhood filled with craft breweries, boutique shops and art galleries.
Things to do in Denver's RiNo Neighbourhood
Street Art and Wall Murals
If you are a lover of photographing street art, then this neighbourhood is a must. Most of the buildings are covered with artistic wall murals.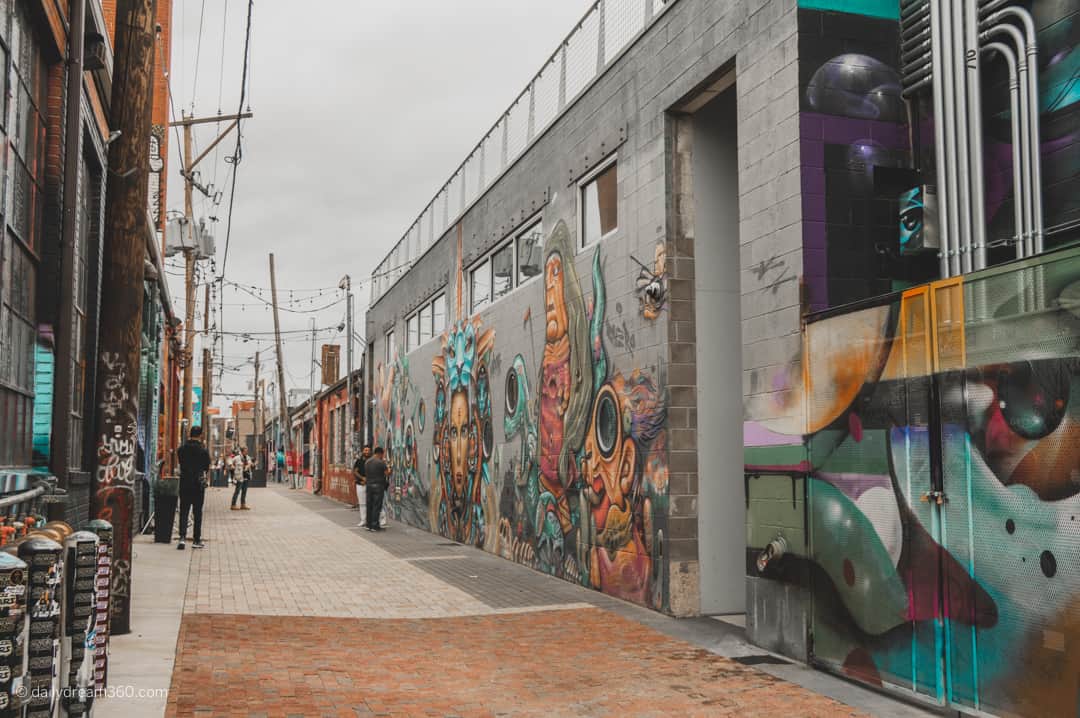 We were fortunate on our eTuk Tour of Denver to have drivers who took us to some pretty cool hidden alleyways with spectacular art murals. The eTuks are small enough to zoom through the narrowest passages and were also able to get us into some parts of the neighbourhood that were still developing.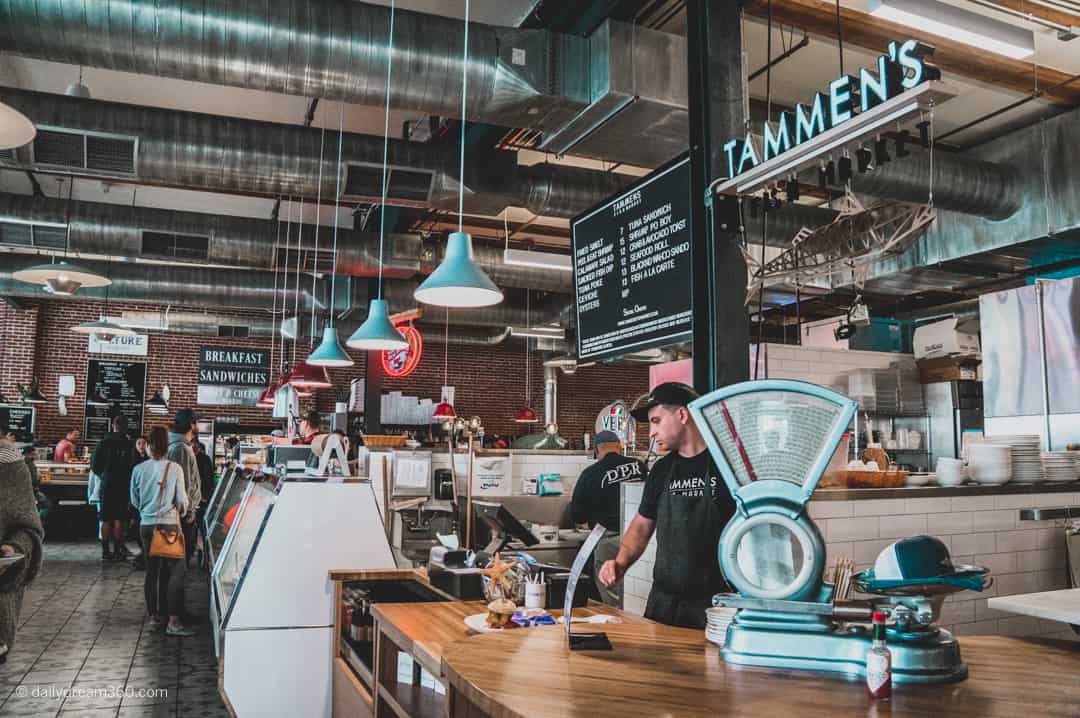 Denver Central Market
I have been visiting many markets like this throughout the US and I just love them. The Denver Central Market, however, was one of my favourites. Every vendor I went to had amazing eats which ranged from cheese, meat sandwiches to baked good and craft beer.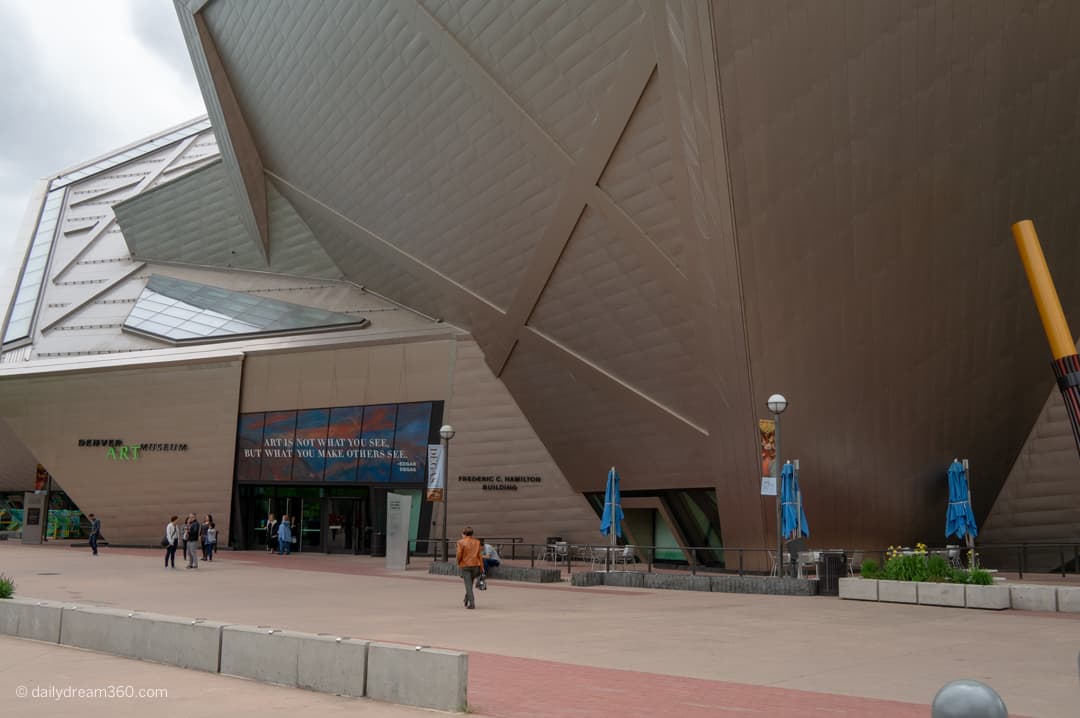 Golden Triangle Museum District Denver
I didn't have much time to browse through museums on this trip to Denver, but I did make it to the Golden Triangle neighbourhood which houses the Denver Art Museum and the Colorado State Capitol Building.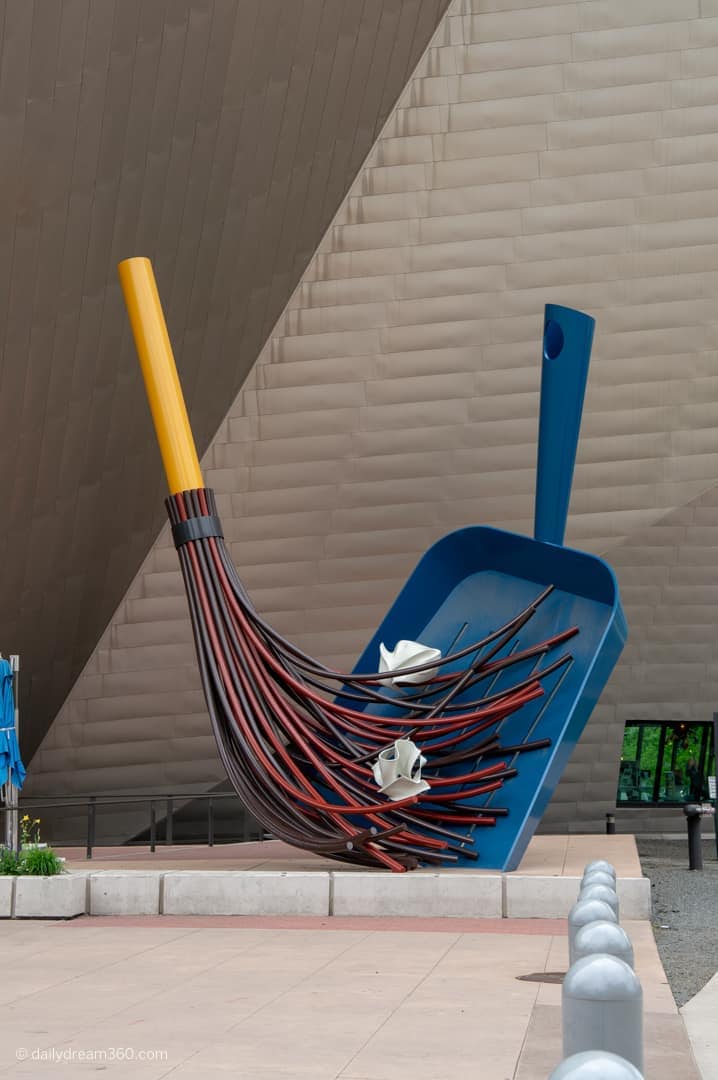 Things to See in Denver's Golden Triangle District
Denver Art Museum
The iconic Dust Pan Statue sits in front of the Denver Art Museum which features over 70,000 art pieces within 10 permanent collections from Asian, Europe and American, modern and contemporary, African, American Indian art and much more.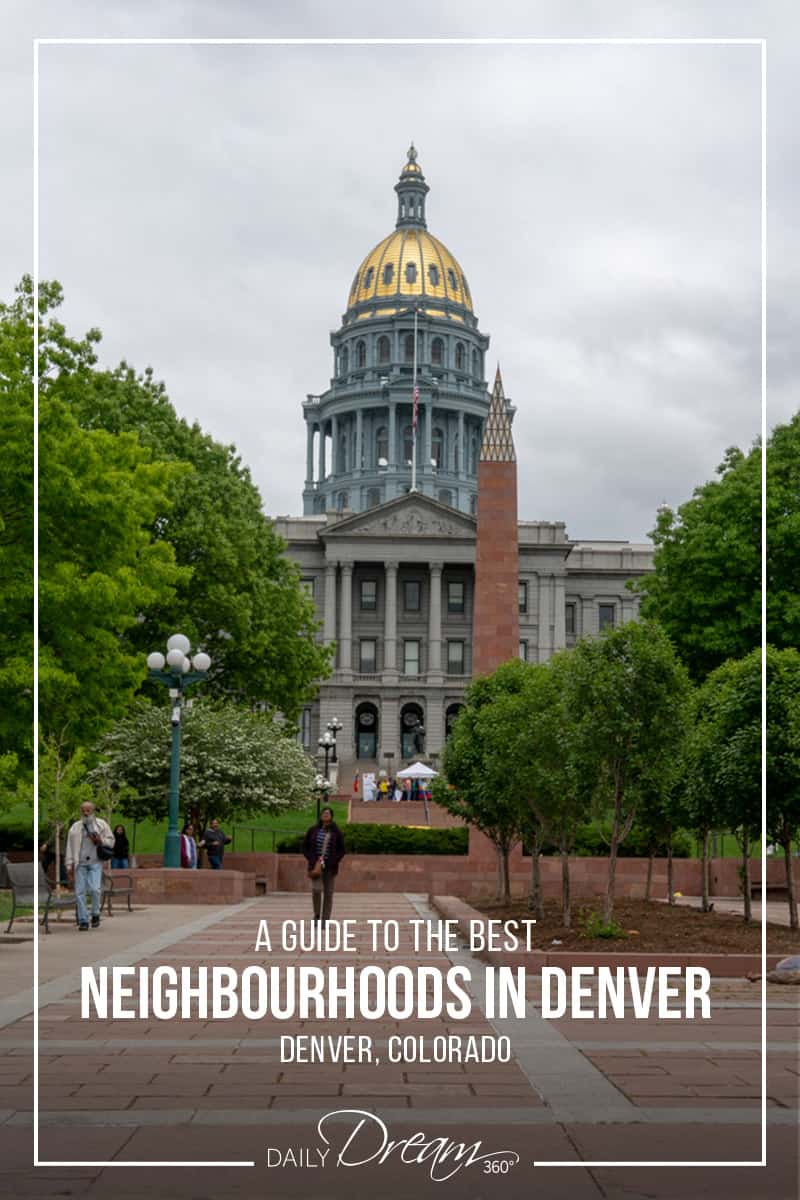 Colorado State Capitol
Located in Denver's Lincoln Park, I would have loved to rest and recharge here in front of the beautiful Capitol building. However, the area had many transient people living in tents on the front lawn. It was a bit of turn off for this neighbourhood actually and quite unfortunate.
Denver's Cherry Creek Neighbourhood
Of all the neighbourhoods in Denver, this was the hardest to get too without splurging for an Uber or navigating Denver's public transit. This upscale neighbourhood is the location of the Museum of Nature & Science and the popular Cherry Creek Mall.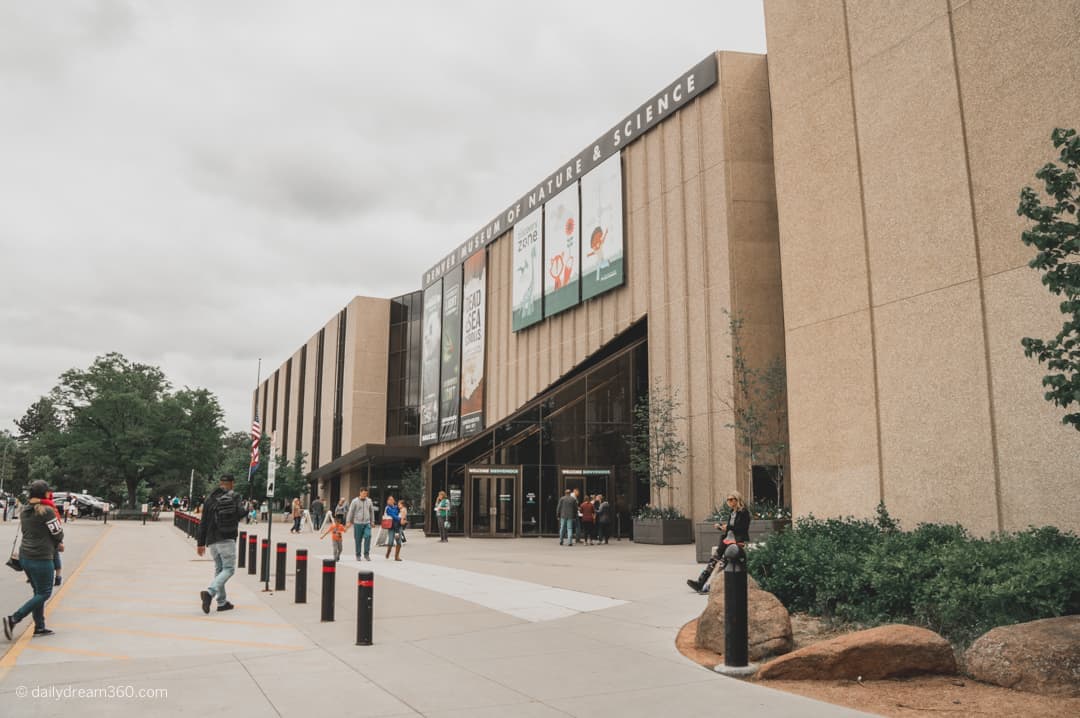 Things to do in Denver's Cherry Creek Neighbourhood
Museum of Nature & Science
If you are looking for an iconic view of the city of Denver then a visit to the Museum of Nature & Science will allow you to capture it on their Skydeck. I hope you will have a clearer day than I did as we arrived and suffered through two days of rain in Denver and the mountains were hidden behind clouds. Normally there are over 300 days of sunlight in Denver so you will get a more spectacular view.
The museum also features some great exhibitions like the extraordinary gem carvings, Space Odessy, Discovery zone other special exhibits.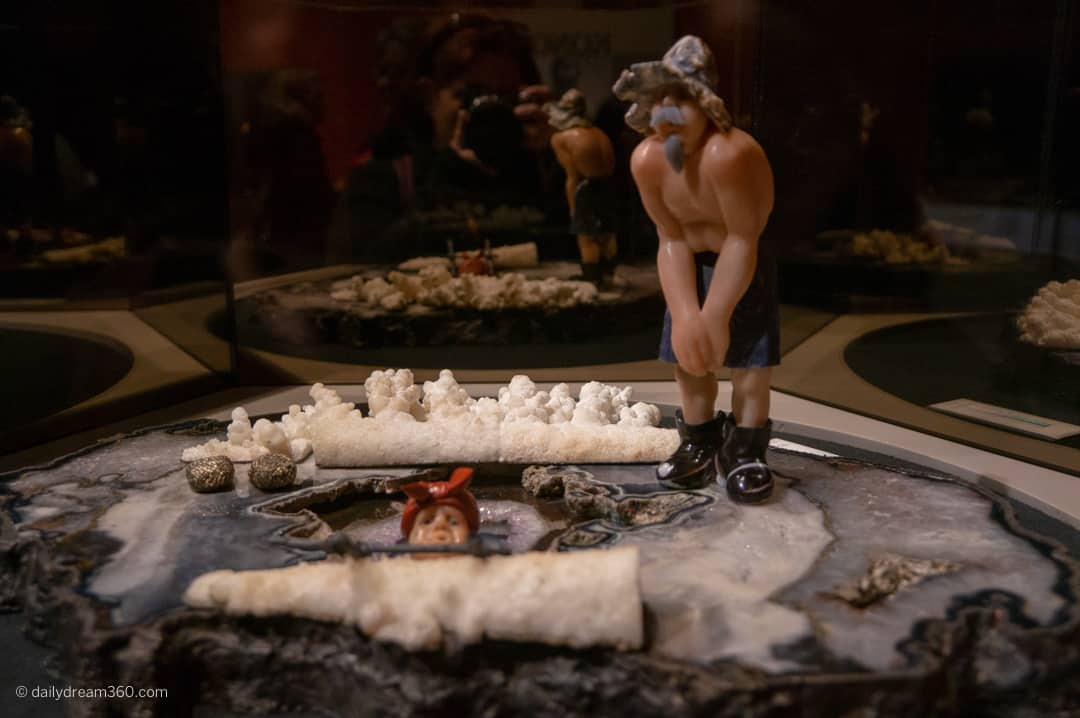 Cherry Creek Shopping Center
Those seeking to do some high-end shopping will love a visit to Cherry Creek Shopping Center which features stores like Burberry, Coach, J. Crew, Kate Spade and Macy's to name a few. Some hotels offer shuttle buses to the Cherry Creek mall which might cut on Uber costs.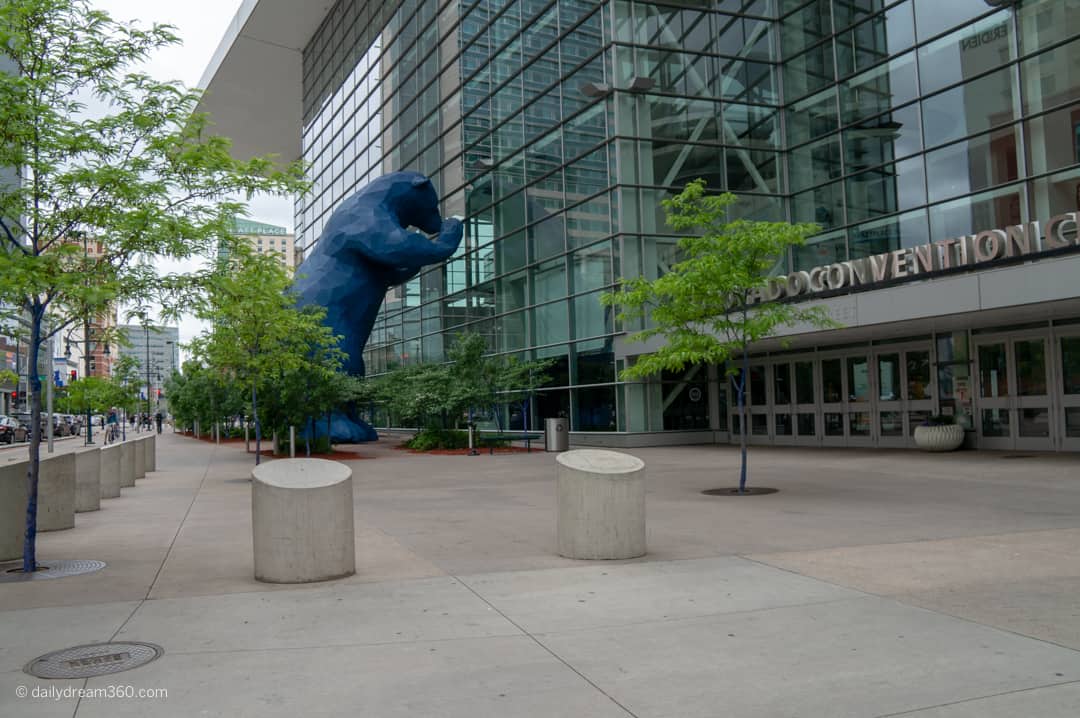 Where to Stay in Denver
While in Denver I stayed at the Grand Hyatt hotel located just a few blocks from the Convention Center. It was the perfect location as it was steps from the 16th Street Mall and we were able to walk just about everywhere during our stay.
The hotel also had an amazing outdoor track to go running and a fabulous indoor pool and fitness centre. The rooms were great, and my video walkthrough is available on my full review of the hotel here.
Other Things to do When Visiting Colorado
I just fell in love with Colorado when I visited. There are so many things to do in Colorado right in the Denver area.
Concert at Red Rock Amphitheatre
If you have the opportunity to see a show at the Red Rock Amphitheatre I highly recommend it. This is a bucket list moment you won't forget. We had the opportunity to see One Republic and it was a magical evening.
(coming soon) Read More: One Republic at the Red Rock Amphitheatre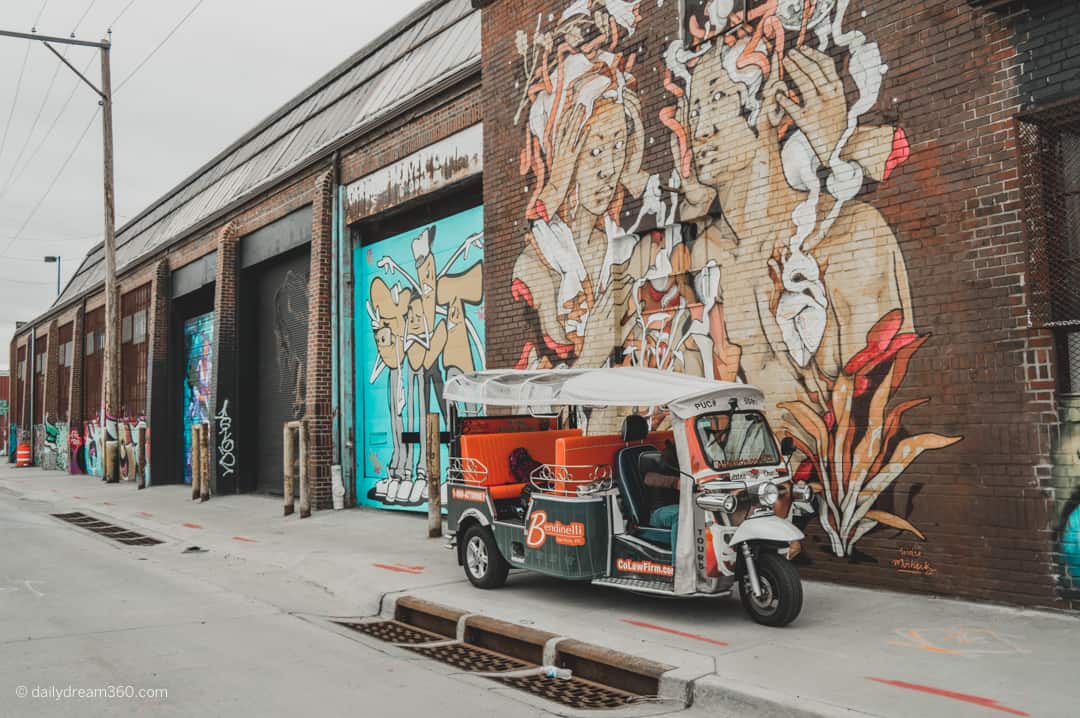 Etuk Tour with eTuk Ride
I highly recommend this tour if you want to get a complete overview of Denver Neighbourhoods. Your eTuk driver will likely customize the tour as you go and provide feedback about what you like.
Read more: Whirlwind Denver Tour with eTuk Rides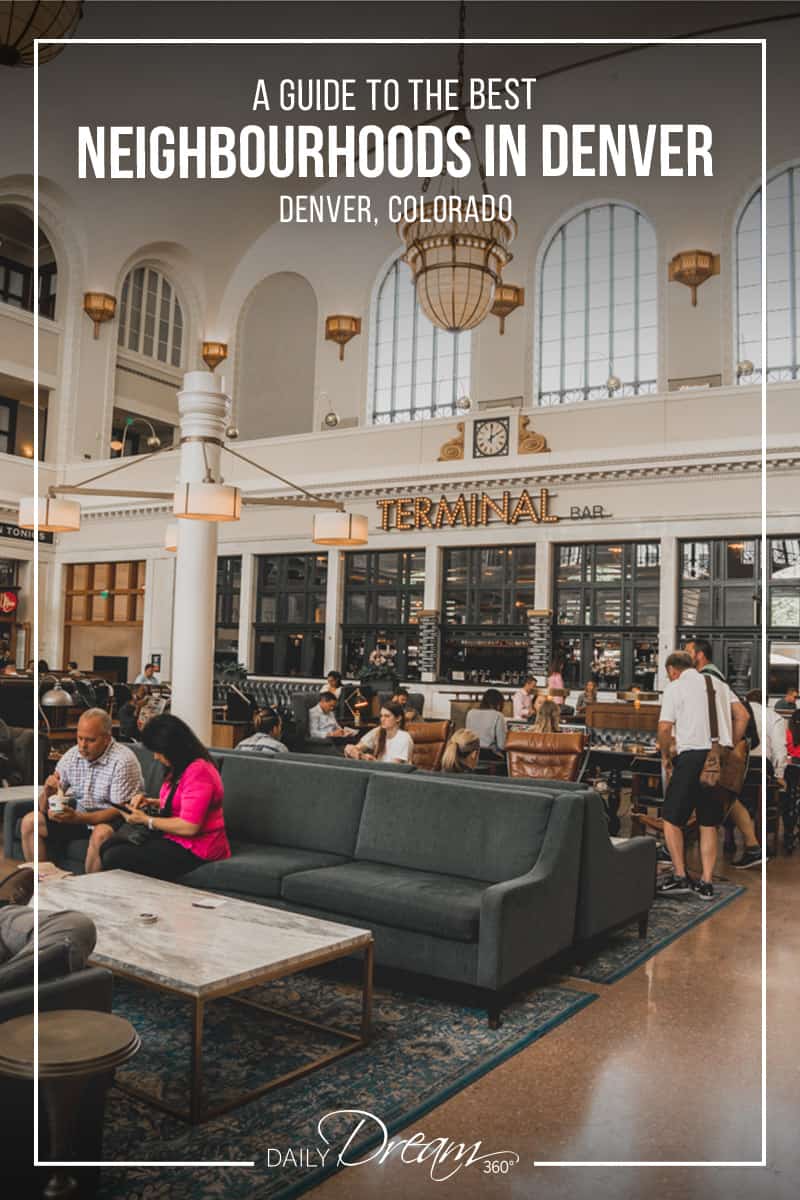 Travel assistance provided by the U.S. Travel Corporation and Brand USA.