Have you heard the news? Vitamin C is in again. You are probably seeing this in fashion and health magazines now as they feature the age-defying benefits of adding Vitamin C skincare to your routine. My friends at Vichy shared their Liftactiv Vitamin C products collection to put to the test. I can't think of a better time to test it than on my 15-day European vacation.
Vichy Liftactiv Vitamin C Products Collection
I was given three Vichy Vitamin C products to try, the brightening skin corrector, serum and moisturizing day cream with SPF 15. The claims are the introduction of a new generation of anti-ageing skincare products designed to show better results immediately. Here is the breakdown of my experience with each product.

Liftactiv Vitamin C Brightening Skin Corrector Review
Claim: In 10 days of use skin will feel firmer as if lifted, rested and hydrated.
What it is: A face serum with 15% Pure Vitamin C, Vitamin E, Fragmented Hyaluronic Acid and Vichy Mineralizing Thermal Water.

The 10-Day Vichy Vitamin C Challenge
July through October I found myself in an intense travel cycle. I took over seven trips during that time which ranged from Atlantic Canada, Vancouver and through busy cities like Montreal, Philadelphia, and Washington. No doubt I was tired, and my skin looked tired too. It is hard to keep up with a skincare regiment when you are flying and running through press schedules, then coming home to process it all.
Vichy Vitamin C Serum – Best Product in the Collection
I received my products 1 day before my 15-day multi-destination vacation in Croatia. I promised myself I would put this product to the test and am happy to report that for 10-days I applied the Vichy Vitamin C serum religiously.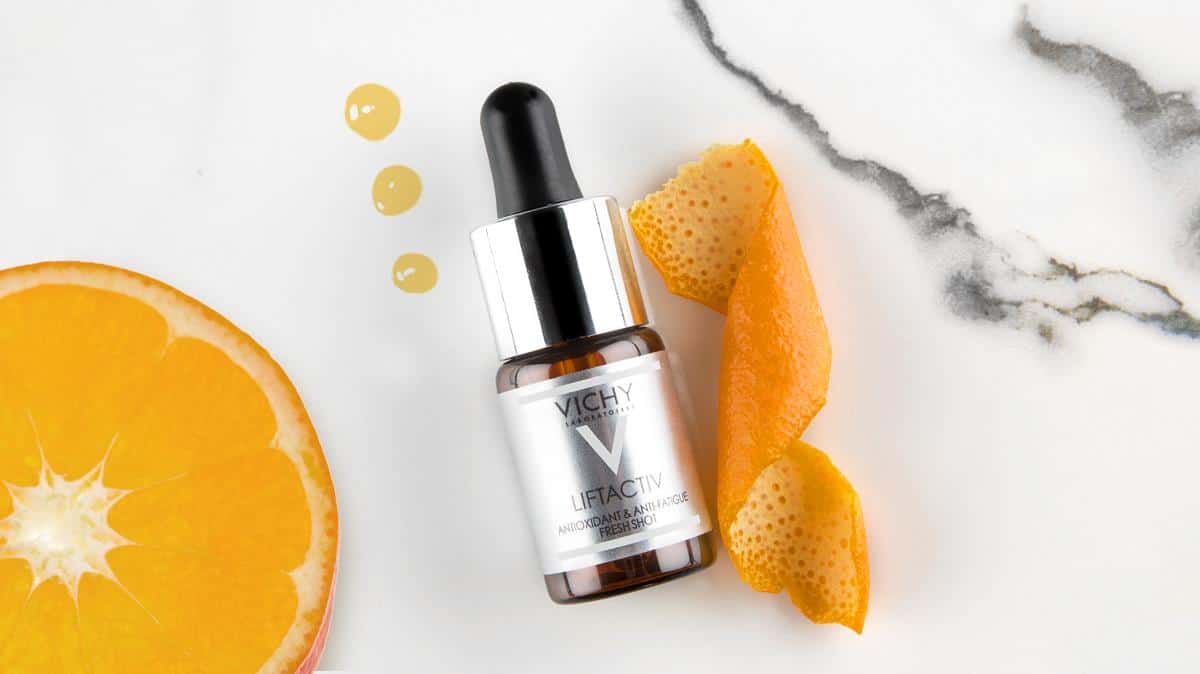 My Experience: It takes just 4 or 5 drops of this oily type serum to do the trick. Remember it is a concentrated dose. This was only an added step to my regiment of serum and day moisturizer. The applicator made it easy to apply just 4 or 5 drops, and this was enough to cover my face each day. I was glowing but was that due to my vacation or to the product?
Liftactiv Serum 10 Supreme – Vichy Vitamin C Serum
Claim: Improved on best-selling anti-wrinkle face serum, see results much faster. In 10 days of use signs of ageing look corrected.
My Experience: Ok, I loved this product and can see why it is a best seller. I loved the applicator it made it so easy to apply just the right amount of serum to my face each morning. It is a soft milky liquid which absorbed quickly into my skin. I'm a big fan of this Vichy Vitamin C Serum just wish it came in a more travel-friendly package.
Liftactiv Anti-Wrinkle Moisturizing Cream (SPF 15)
Claim: This anti-wrinkle moisturizing cream promises you will see immediate results beyond its long-term correction. So within a day or two corrective results will be seen.
My Experience: I wanted to love this product. I did. However, I just did not feel like the consistency of this moisturizer lotion. I know this is about me and my issues finding the right skincare products that offer sunscreen protection, but this product applied like a sunscreen and burned my eyes like a sunscreen. It had an oily runny texture, and I didn't like how it applied to my skin, in fact, there were days I skipped it all together and just applied the first two products instead.
Vichy Vitamin C Skincare – Does it live up to the hype?
Well, I do like how my skin looks and feels after taking the 10-day challenge and did notice the appearance of smoother skin. I have problems differentiating the brightening claims though, as I just don't look at my skin that closely. Also, I was enjoying the sun on a yacht, island hopping in Croatia…so hard to say for sure!
I do know that I will pull out my Vichy Vitamin C drops again and do another 10-day routine when winter comes or when I find myself travelling again. It was just the right pick me up for my hectic travel lifestyle. The small packaging makes it travel-friendly too!
The Vichy vitamin C serum and moisturizer both have much larger and heavier glass packaging. Not ideal for travel especially with carry-on only travel. I am more disappointed in the vitamin C serum, not being in a more travel-friendly packaging than the moisturizer because I did like its formula and the results I saw from using it.
Products from Amazon.com
‹
›
Check out these Vichy Product reviews too!
Disclosure: I received the Vichy Liftactiv Vitamin C collection for review.