This article may contain affiliate links. Clicking on or purchasing products we recommend through a link may earn a small commission. Read our disclosure and privacy policy page for details. *COVID-19 TRAVEL ALERT – Travel recommendations offered on this site are not to encourage you to travel against travel advisories.
I'm a sucker for dinner on the patio, especially when the view is water and boats. This picture is the scene at Bayfront Bistro restaurant in Fort Myers Beach, Florida. A beautiful harbour filled with yachts, a setting sun, and a delicious fine-dining menu in a casual atmosphere. It's a must-stop if you visit Fort Myers Beach and worth the splurge.
Dream it.
If you're planning a trip that involves a pool, lake, or beach of any kind and you don't want to buy a special waterproof camera or action camera, then a waterproof pouch for your phone could just be the solution you are looking for. Most of us have replaced our cameras and choose to travel with our phones and while there are some water-resistant models out there, protecting your phone with a waterproof pouch could save you a costly repair or replacement.
Southwest Florida has much to offer, and on Fort Myers Beach, there are great attractions, restaurants and hotels. The formula for a perfect beach vacation. Bayfront Bistro was a big highlight of my trip, so I decided to share some more details on the restaurant in a separate post.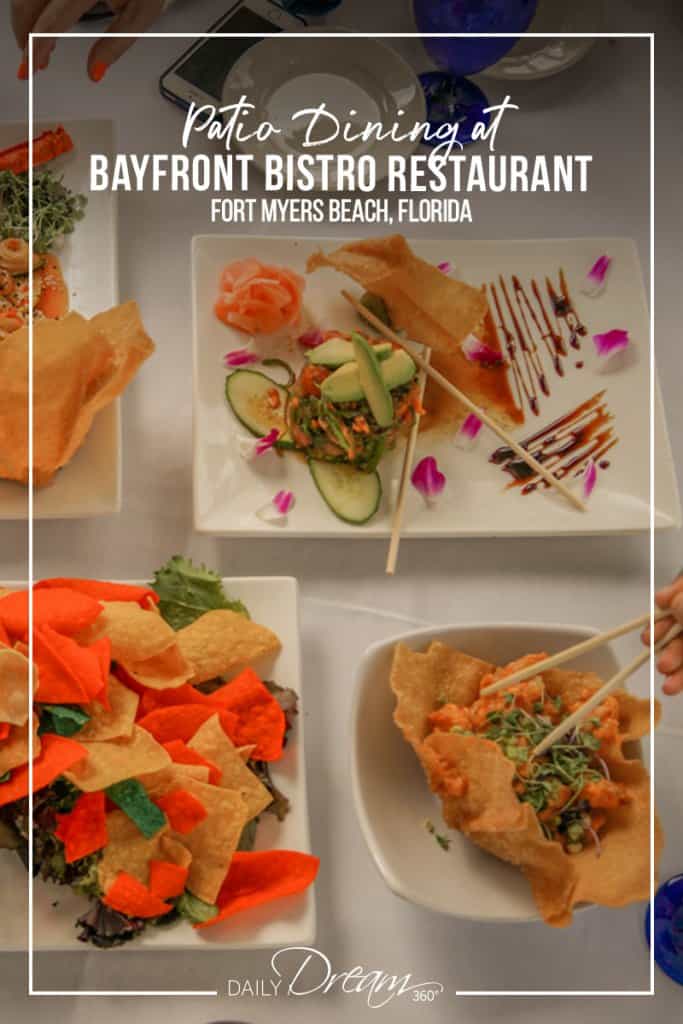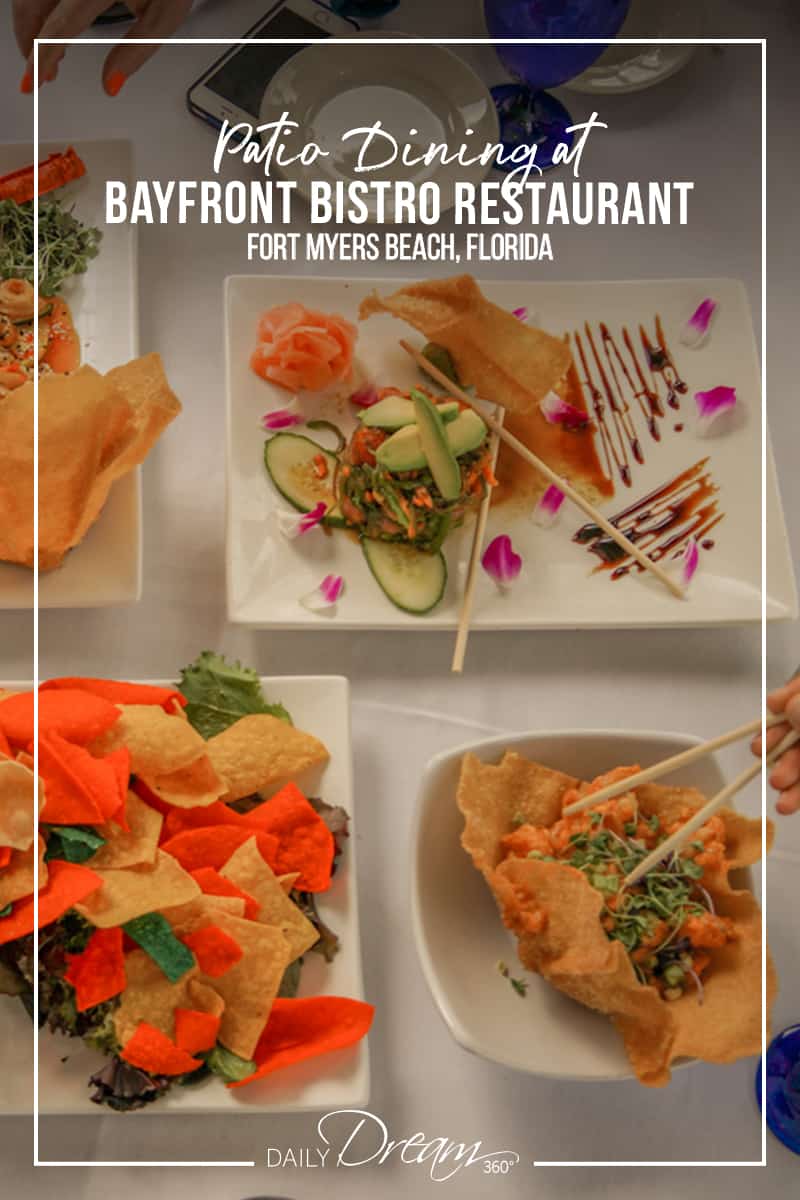 Plan it.
Getting to Fort Myers Beach Florida
Flying into Fort Myers Beach Florida
 Depending on your city of origin, you will fly into Southwest Florida International Airport either directly or through connecting flights. From Toronto, Fort Myers Beach is a short 3-hour flight.
Drive to Fort Myers Beach
You can drive to Florida and connect to I-10 and 1-95 from the I-75 for the best Southwest Florida route.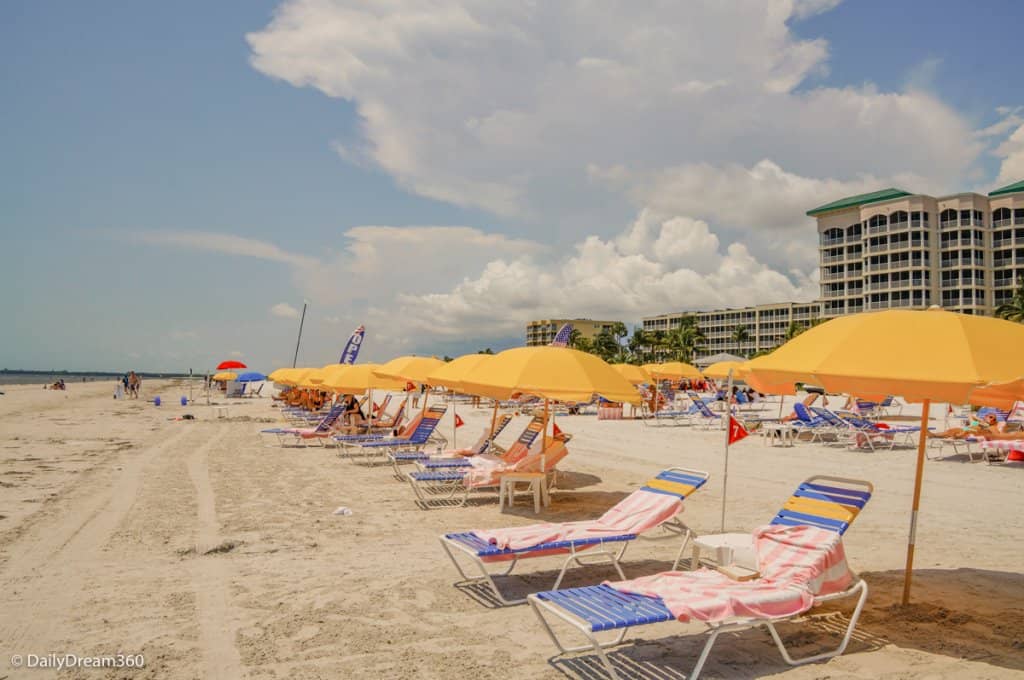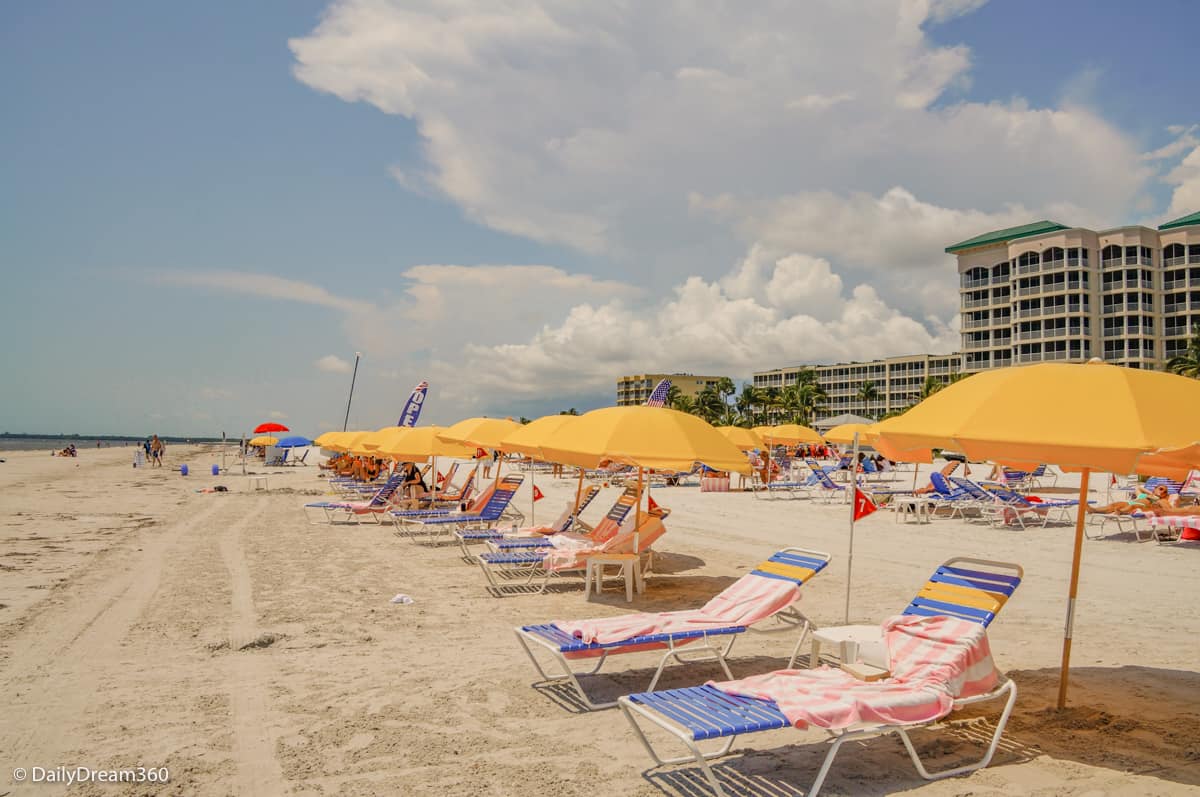 Where to Stay in Fort Myers Beach Florida
I stayed in two hotels during my beach vacation in Fort Myers Beach. Each hotel had a unique vibe and would suit any traveller.
Sandpiper Gulf Resort
Located in the southern part of Fort Myers Beach, this hotel was more low key and smaller in general. The beach was magnificent, and all the suites in this resort face the ocean.
Check Reviews and Rates: Tripadvisor | Expedia | Hotels.com
Each suite at the Sandpiper Gulf Resort consists of a bedroom, bathroom, living room and kitchen. This full kitchen allows you to prepare meals in the room during the day when hanging out at one of their two pools or the beach.
Read more: Dream Beach View Suite at Sandpiper Gulf Resort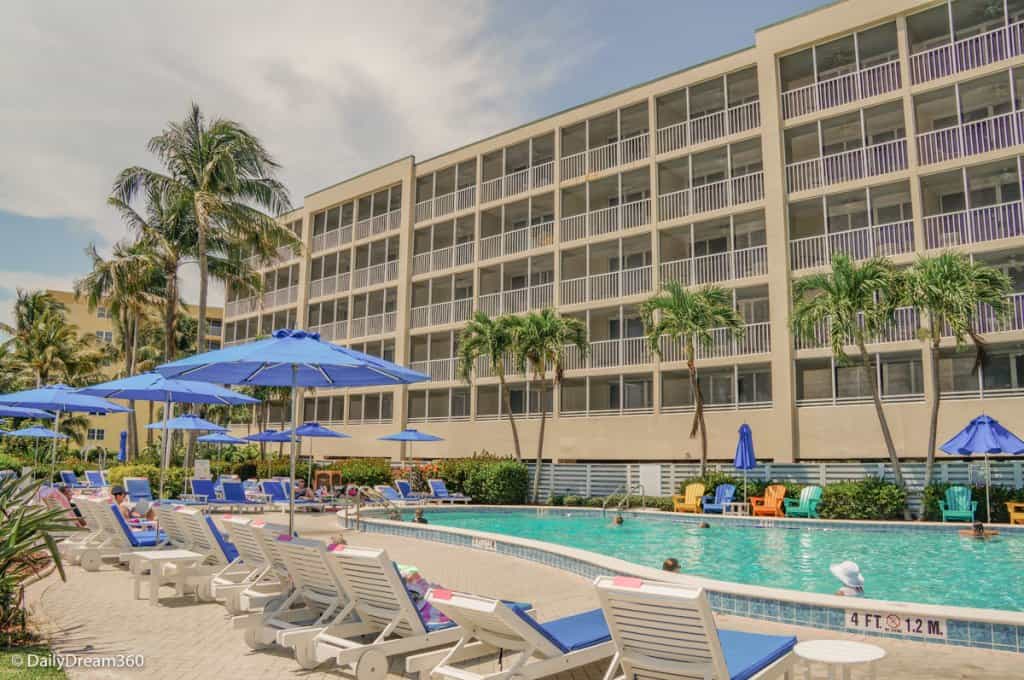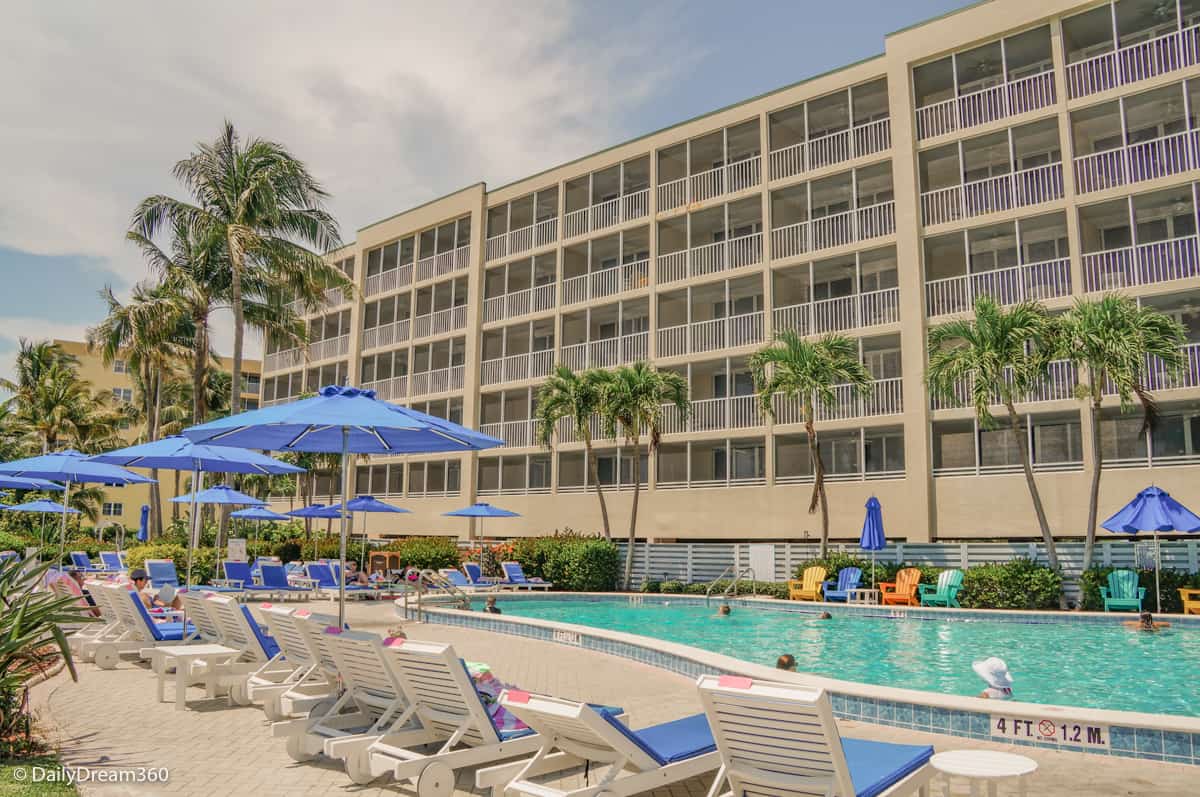 Pink Shell Beach Resort and Marina
On the north part of the island, the Pink Shell Beach Resort is a great family-friendly hotel with sections for kids and quieter spots for adults. The resort located a short 10-15 minute walk from the Fort Myers Beach pier, and the Times Square District is in the perfect location.
Check Reviews and Rates: Tripadvisor | Expedia | Hotels.com
Read More: A Fort Myers Beach Favourite the Pink Shell Beach Resort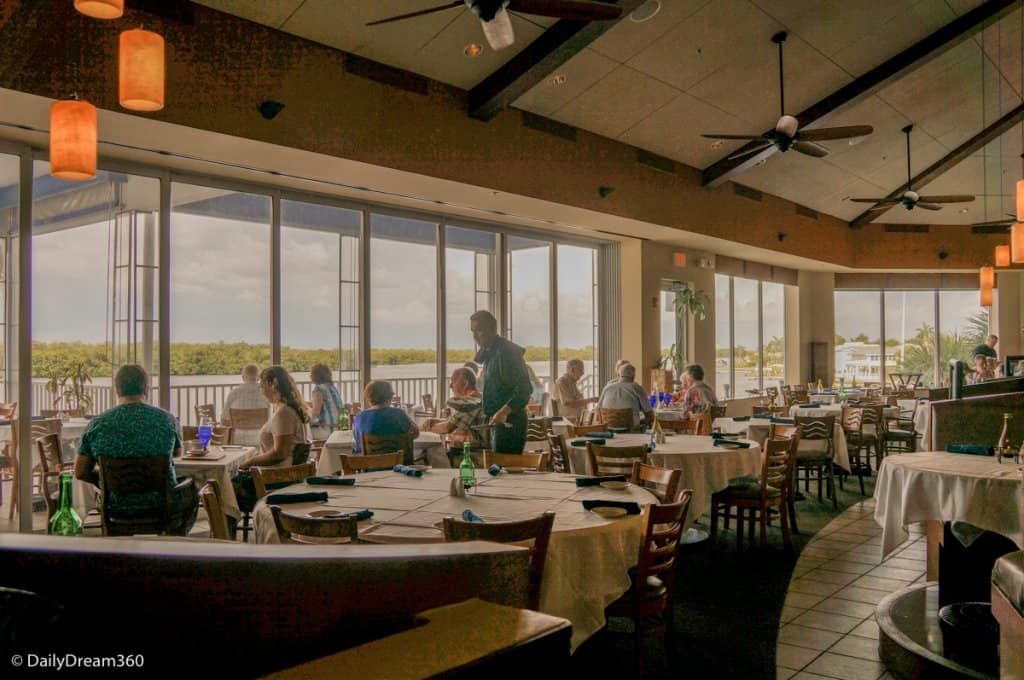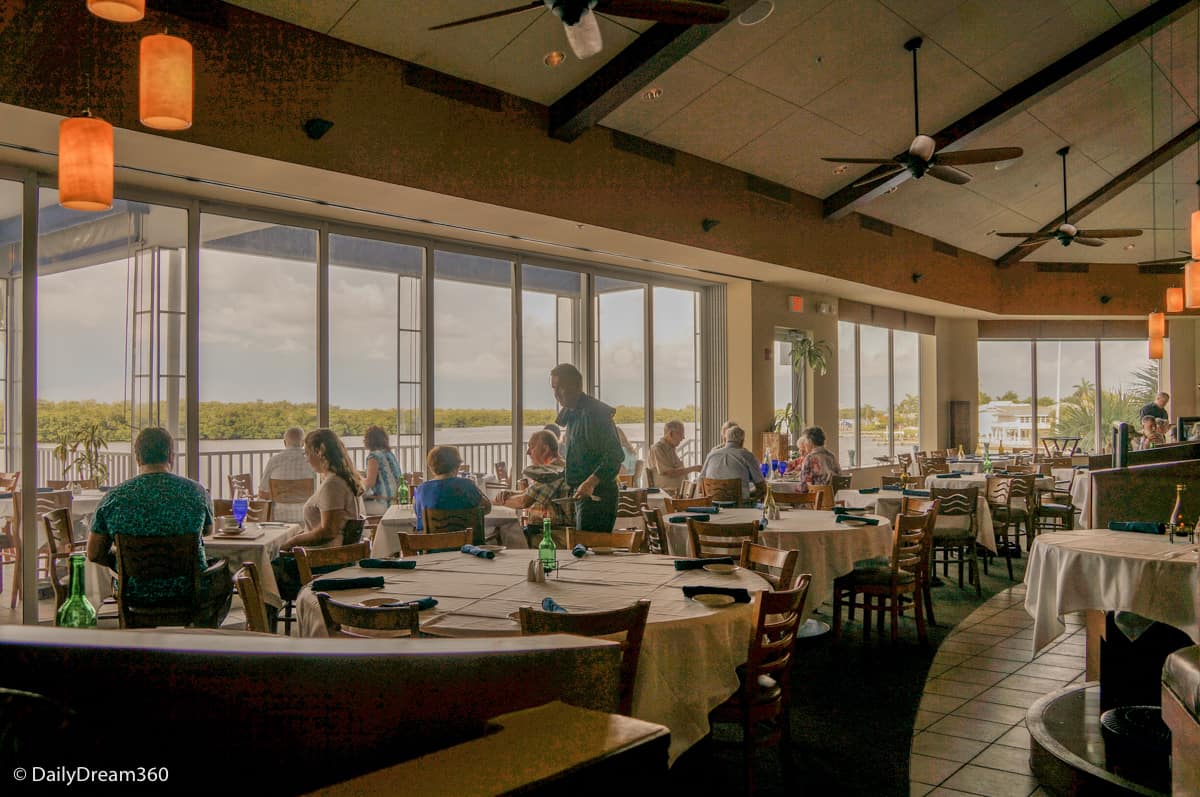 Live it.
In my Fort Myers Beach wrap up post, I shared a list of places to see and where to eat when visiting the Fort Myers Beach area. Bayfront Bistro is at the top of my list of restaurants to splurge on for an excellent feast. If you can't brave the heat outside on the patio, dining inside is just as enjoyable. The Bayfront Bistro features a fantastic view from inside the restaurant as well.
Read More: Things to do in Fort Myers Beach, Florida.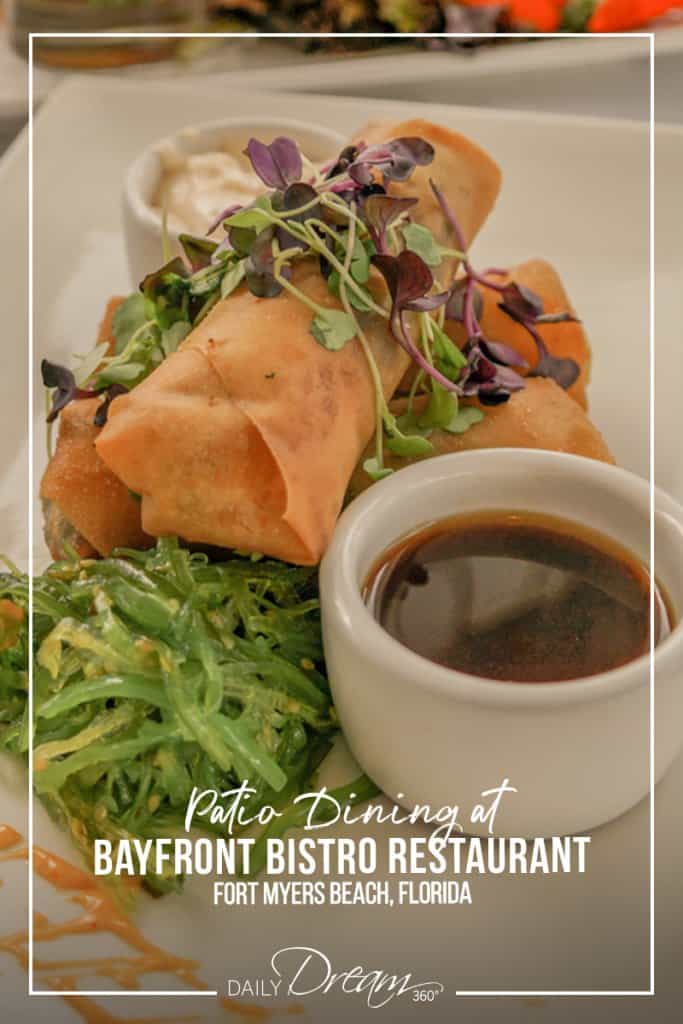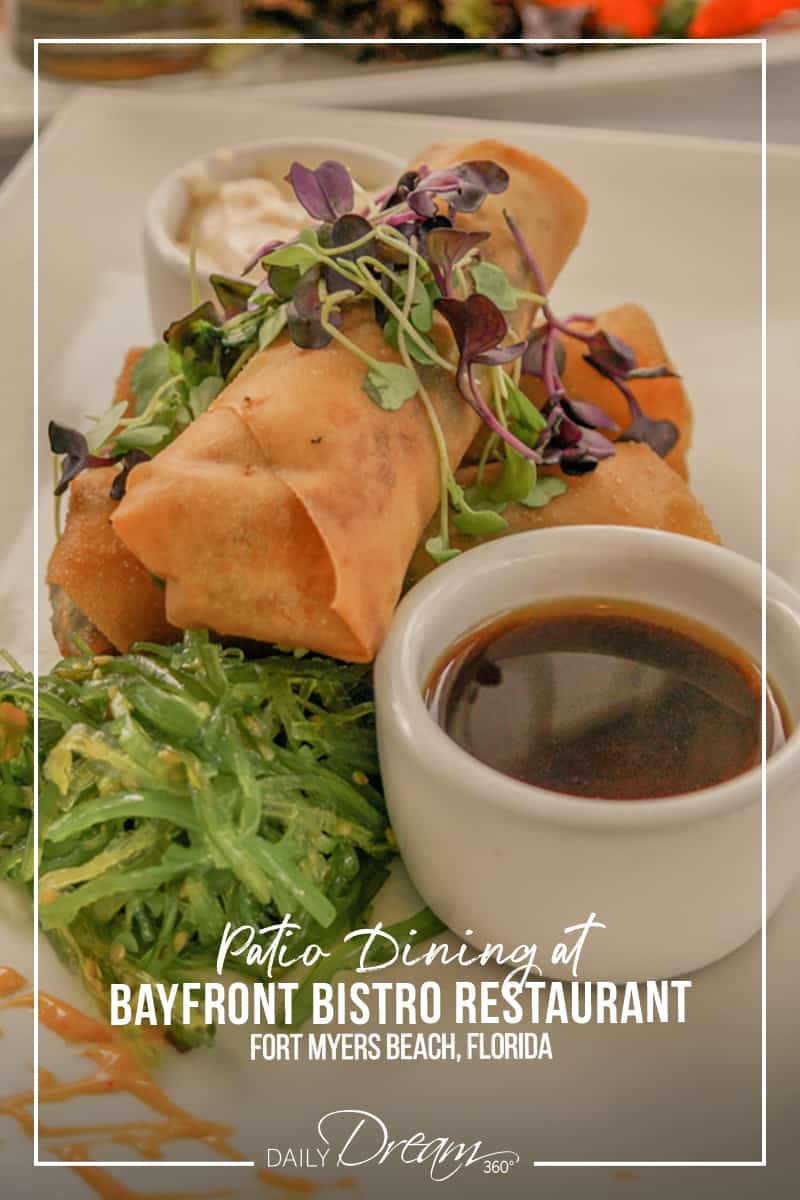 Dinner at Bayfront Bistro Fort Myers Beach
With eight people, we decided to grab a big table on the covered patio. The threat of rain did not deter us. The team at Bayfront Bistro added some clear plastic covering when it did start. The rain lasted for all of five minutes.
Read More: Check out Bayfront Bistro reviews.
Appetizers at Bayfront Bistro Fort Myers Beach Florida
Up for a feast, we ordered five appetizer dishes to share at our table that started with the Spanish Ceviche. This ceviche was made with crab, shrimp, cilantro, jalapeño, onions & tomatoes and was served with tri-colour tortilla chips.
The Sweet Fire Shrimp appetizer came in a wonton bowl filled with shrimp coated in a spicy aioli.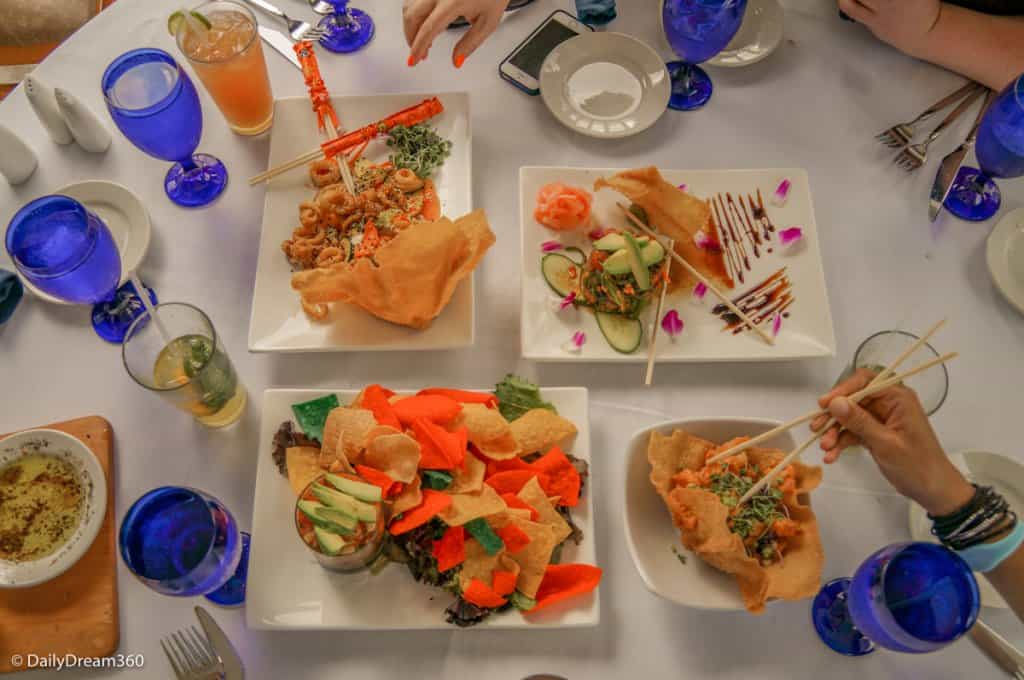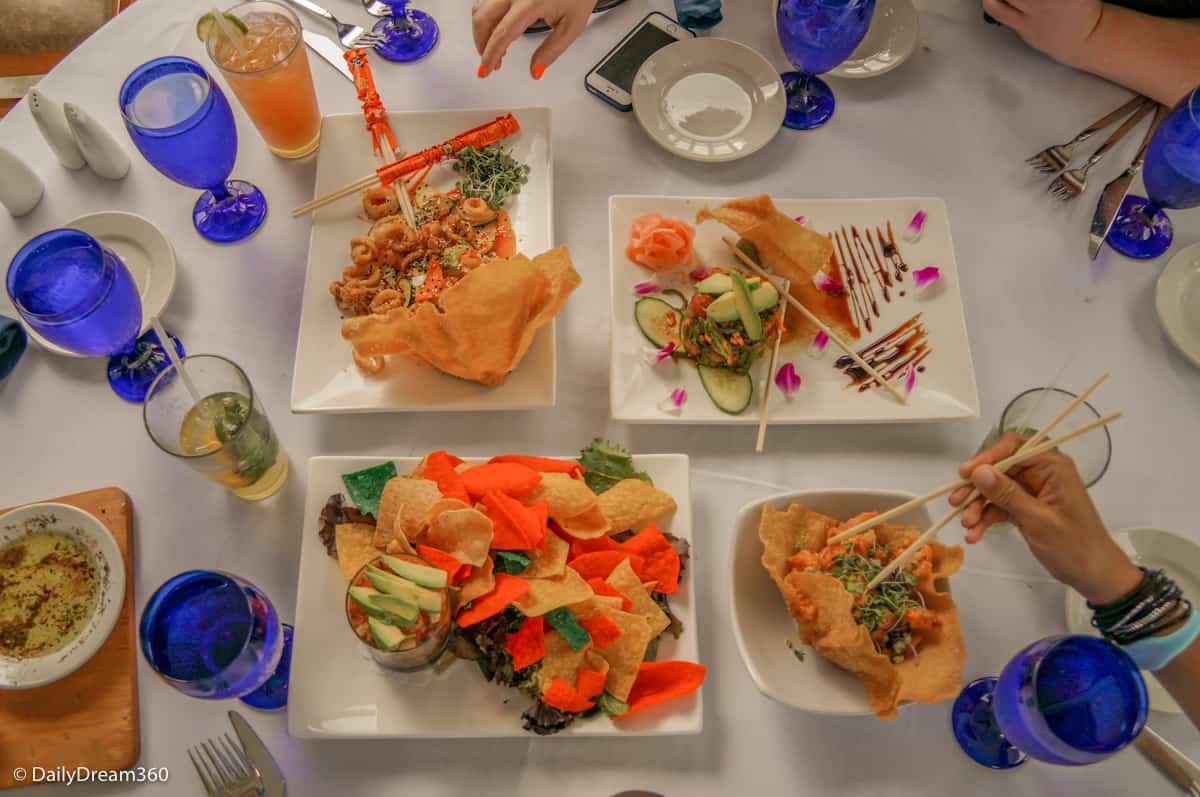 Another show stopper was the Asian Calamari. The calamari was served fried and tossed in a sweet chilli sauce, and also served in a giant wonton bowl.
The Ahi Tuna Tartar was also a hit and was blended with cucumber, avocado, carrots & seaweed salad and had a lovely Japanese sweet chilli soy sauce drizzled over it.
The Bistro Spring Rolls were a vegetable spring roll served with ponzu sauce and honey ginger aioli.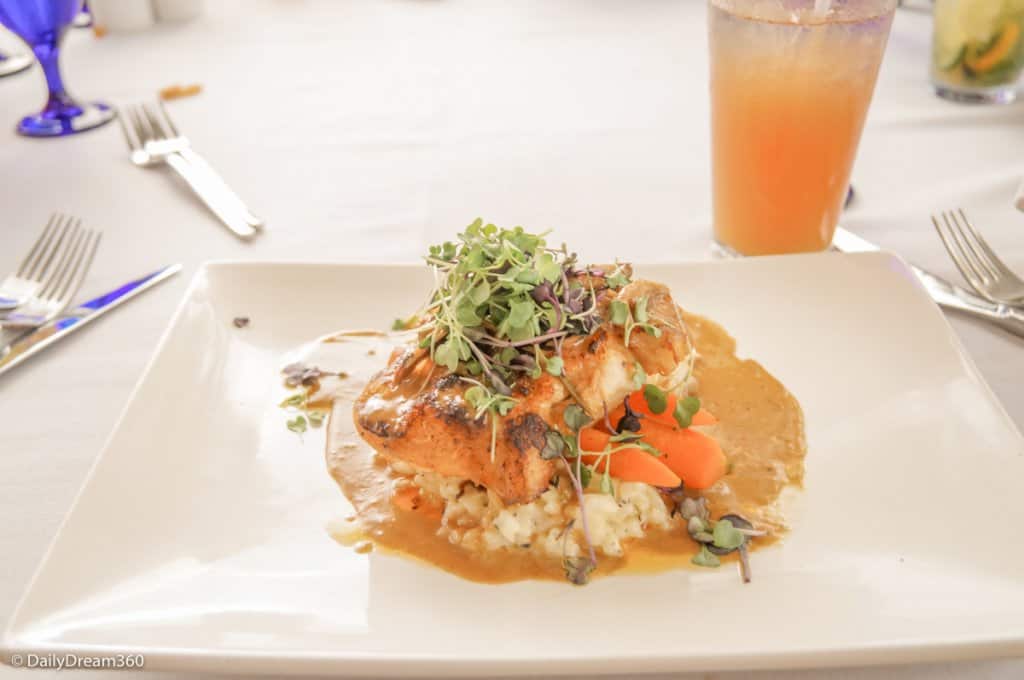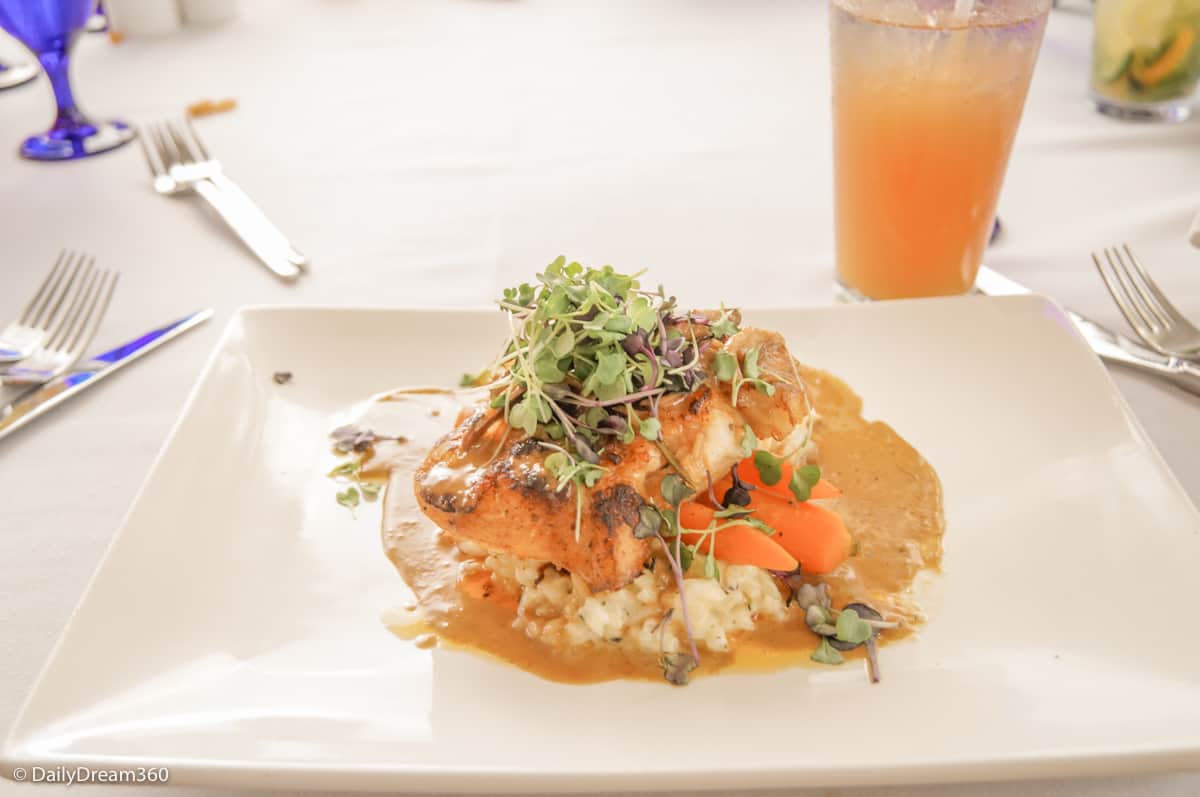 Bayfront Bistro Fort Myers Beach Main Dishes
American Red Snapper: Pan-seared red snapper was served with carrots and sundried tomato basil risotto and finished with a roasted red pepper and tomato cream sauce.
Diver Scallops: Pan-seared diver scallops with manchego & herb risotto, finished with a parmesan tuille and pear beurre blanc sauce.
I ordered this grouper special, which included pan-seared black grouper served with herbed risotto and steamed carrots.
Dessert at the Bayfront Bistro Fort Myers Beach
I'm a sucker for chocolate lava cake. This gooey cake was served a la mode with homemade vanilla ice cream.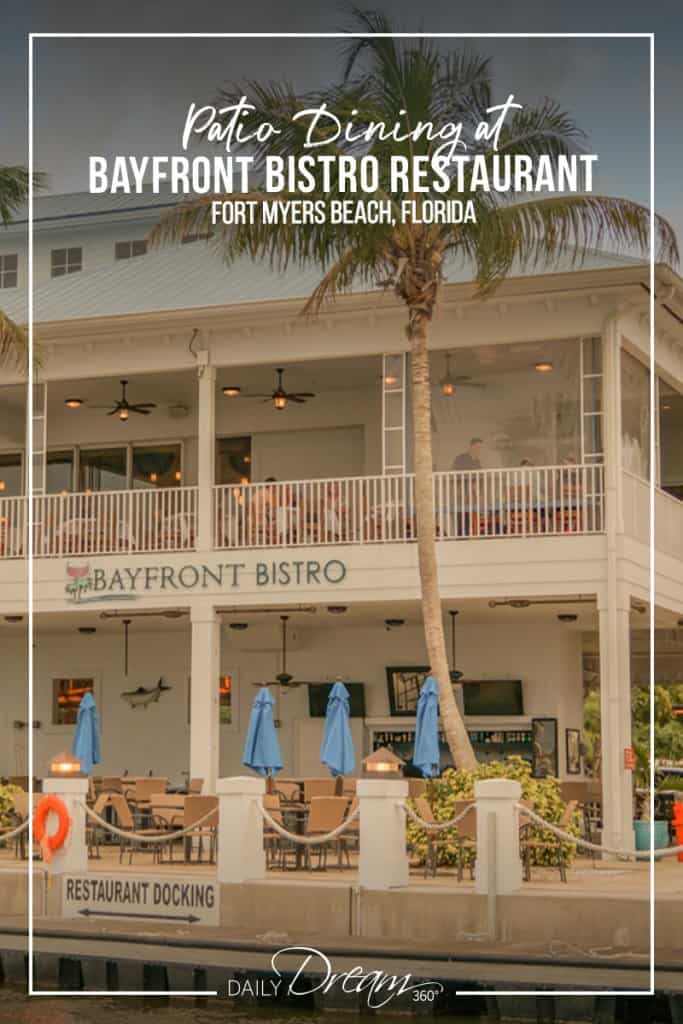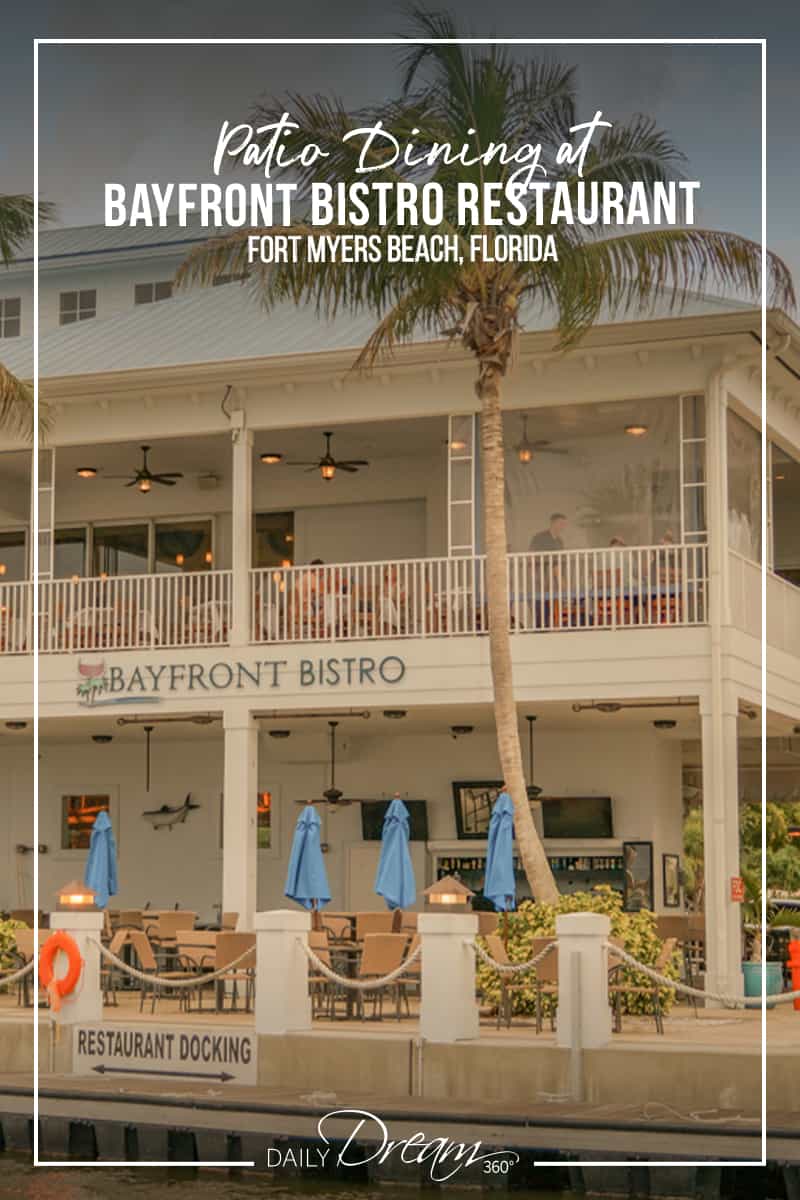 Travel assistance provided by The Beaches of Fort Myers & Sanibel Visitor & Convention Bureau, and Bayfront Bistro, on a media, hosted press trip. The opinions expressed in this post are my own.