This article may contain affiliate links. Clicking on or purchasing products we recommend through a link may earn a small commission. Read our disclosure and privacy policy page for details. *COVID-19 TRAVEL ALERT – Travel recommendations offered on this site are not to encourage you to travel against travel advisories.
When I first learned I would be travelling to Istanbul I immediately started to worry about what's appropriate clothing for travel to a conservative country? Now that I experienced it, I can be honest about my fears and share my tips for packing for a trip to Istanbul. In this post, I created an Istanbul packing list filled with packing tips for women wondering what to wear in Istanbul.
Turkish Fashion and Turkish Women's Clothing
Istanbul is a modern and fashion-forward cosmopolitan city. That said some of their traditions and culture can fall on the conservative side. Most women I noticed dressed in smart fashions which included sleeved dresses, long tunic tops and straight cut pants and jeans.
There are both very conservative women with their heads covered in scarves and those who are more modern who are not covering their heads. But overall dressing conservatively means no v-necks or low cut shirts, covering your knees and not wearing ultra-tight clothing that shows the form of your body.
In Instanbul, you'll find a more modern approach to dressing so this need for conservative dressing is not as important. If you plan to visit some historic sites you'll need a scarf and shawl to cover up, but otherwise, you should be ok with dressing how you like.

Istanbul Essential Travel Accessories For Women
Depending on the time you will be travelling to Istanbul be sure to pack for the weather. In summer the most popular and busy tourist season make sure you have travel essentials like a hat, sunglasses in rainy or cooler months pack a raincoat or puffer jacket.
If you are planning to do some sightseeing, then the following items are a must.
Fashion Scarf
I've started buying more painted silk scarves for travel. Scarves can be used in many ways to boost a carry-on only wardrobe, as a fashion accessory, hair tie, belt and more.
For a trip to Istanbul, a scarf is a great way to cover up your neckline or your head when entering religious sites. This particular scarf is inexpensive and comes in many beautiful prints and colours. Amazon US | Amazon CA
Comfortable Shoes
The streets of Istanbul are cobblestone, and you will be doing a lot of walking, especially in the old city between historic sites. I recommend comfortable walking shoes, ballet flats or sandals as heals may be hard to wear on cobblestone sidewalks.
Vionic Women's Spark Caroll Ballet Flat
Vionic shoes provide excellent arch support and work to support your natural alignment from your feet up. These ballet flats come in a variety of colours and won't take up a lot of space in your luggage. The right ballet flat can be dressed up or down depending on the activities of your trip. Amazon US | Amazon CA
Vionic Women's Splendid Kani Slip-on Walking Shoes
If you don't' want to wear sneakers, a slip-on walking shoe will give you the comfort of wearing a sneaker, have excellent arch support and cushioning and come in a variety of colours. Amazon US | Amazon CA
Anti-theft Travel Bag and Purses
When visiting a busy city, especially in Europe where pick-pocketing is a profession I always travel with an anti-theft bag. It is not a 100% foolproof solution, but having my zipper locked while I'm running around taking pictures when I know I'm distracted is an extra line of defence I can't live without.
Travelon Anti-Theft Quilted North South Bag
For those who have been visiting this site for a while, you know I'm a big fan of Travelon for travel accessories. The fact is I have bags that are four years old which are still going on trips with me. They offer the anti-theft features I love (slash-proof fabric, locking zippers) but are stylish and come in fun styles, patterns and colours. Amazon US | Amazon CA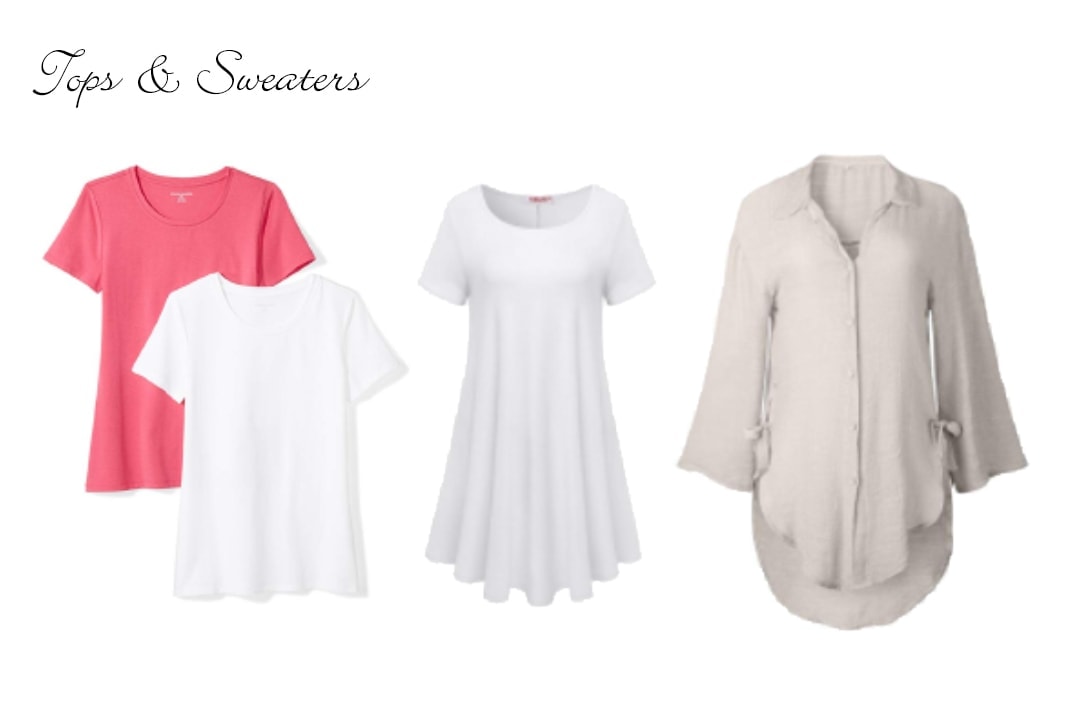 Tops and Sweaters for your Istanbul Packing List
During hotter months consider layering a t-shirt and light tunic top with a sweater. There are some attractions like the Mosques and Topkapi Palace that require you to be covered adequately in religious sites. Some of these sites provide coverup skirts or scarfs to wear but I suggest carrying your own.
Read more: Places to Visit in Istanbul: 2-day Itinerary
Fashion T-shirts or Blouses
Be sure to dress for both day and night. T-shirts and blouses are great to layer (when needing a cover-up for a historical site, or for dressing an outfit up or down.
Amazon Essentials T-Shirt (2 pack): Amazon US | Amazon CA
Lightweight Button Top: Amazon US | Amazon CA
Women's Short Sleeve Tunic Tops: Amazon US | Amazon CA
Kimono Cardigans
Another must-have travel accessory for me is a lightweight cardigan. When travelling temperatures change in a heartbeat or plane rides can get cold. Having a wrap style Kimono or long sleeve cardigan can make all the difference.
Read more: Crowne Plaza Florya Istanbul hosts a Turkish Airlines Layover
In Istanbul where temperatures can get quite hot in the summer, I opted for a Kimono style cardigan to use as a cover-up when entering religious sites and for a little warmth when on a windy cruise on the sea.
Kimono Cardigan with Bohemian Floral Print: Amazon US | Amazon CA
Pants, Dresses and Skirts for your Istanbul Packing List
Mix and match with pants, dresses and skirts to add a bit of style to your wardrobe. Another note as I saw this happen during my trip, ripped jeans at the knees or showing even a spot of skin on the legs will get flagged when entering religious areas. Some like the blue mosque provide a generic skirt to put over the top – but if you want to avoid wearing a public covering plan accordingly.
Read more: 1200 Derece Istanbul: Café and Glass Workshop
Straight Cut Leggings or Jeans
During my trip, I wore straight cut and bootcut jeans a lot, but I was travelling in fall when temperatures were cooler. I also recommend Hue Leggings which I love and have many styles including a full leg Capri style which I can't live without.
Hue Leggins: Amazon US | Amazon CA
Flowy Pants
When travelling to Istanbul during the summer, you may want to invest in a pair of flowy linen pants. The loose Palazzo style pant is like a skirt but offers the comfort of a pant.
Palazzo Pants: Amazon US | Amazon CA
Maxi Skirt
Make your travels easy by packing a maxi skirt that can be worn over leggings or shorts. Many tourists wore shorts in the city and it was not an issue. When visiting religious sites, just slip on a flowy maxi skirt over your shorts. Amazon US | Amazon CA
Sleeved Wrap Dress
Finally, a sleeved wrap dress is the perfect complement to your Istanbul packing list. They are great for fancy restaurants or engaging in Istanbul's nightlife. Amazon US | Amazon CA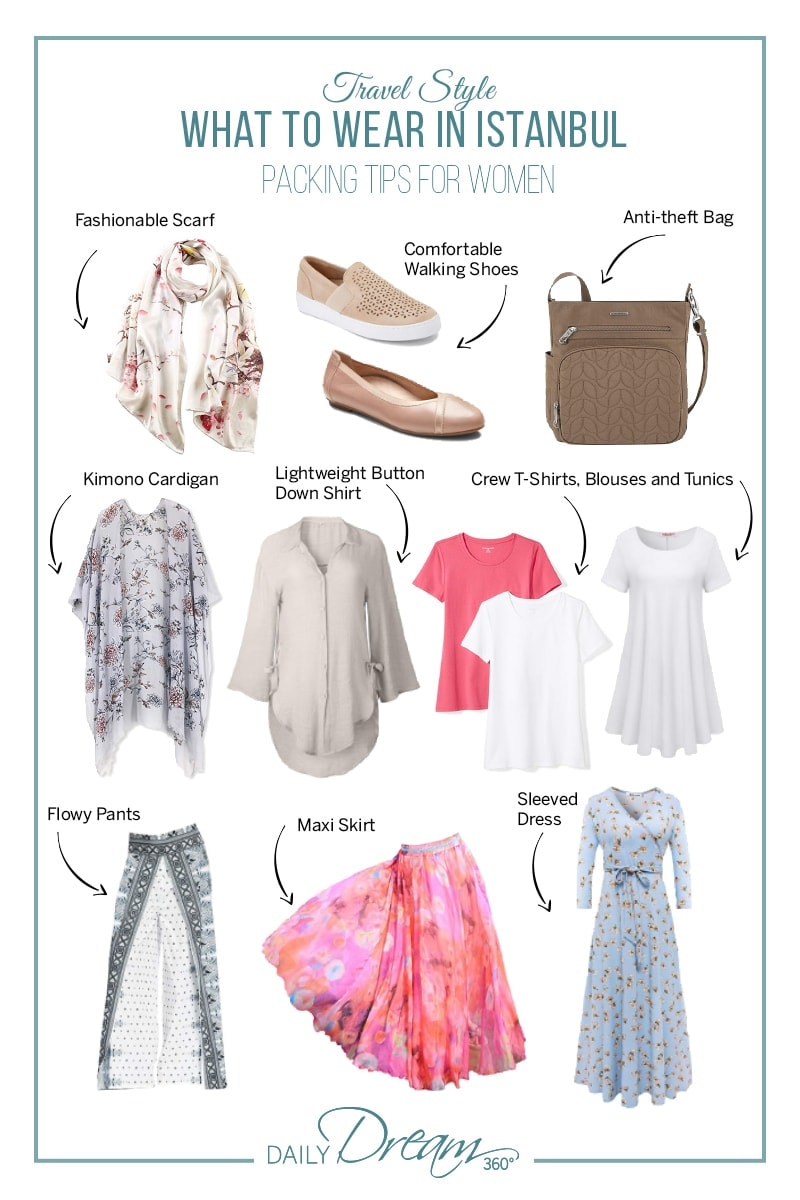 Visit Our What to Wear in Istanbul Packing List on Amazon
As I know you all love to find the items on my lists easily, I've added the Amazon links for both the US and Canadian sites next to each piece. I've also put all the items mentioned in this post in a convenient list on my Amazon Stores. I'm going to try and do this on all future fashion articles, and I'm also committed to picking items for women of all sizes. If you have any more requests for me let me, know in the comments or shoot me an email here.
Istanbul Packing List: Amazon Store US | Amazon Store CA