This article may contain affiliate links. Clicking on or purchasing products we recommend through a link may earn a small commission. Read our disclosure and privacy policy page for details. *COVID-19 TRAVEL ALERT – Travel recommendations offered on this site are not to encourage you to travel against travel advisories.
Longtime readers know, I cross the border a lot through Niagara Falls to visit Buffalo and partake in some cross-border shipping. During these trips, I have seen signs for Rochester and always wondered what is there to do in Rochester New York? On a road trip through the finger lakes with one of my girlfriends, we ended our trip in the city and discovered there are a lot of fun things to do in Rochester NY for adults.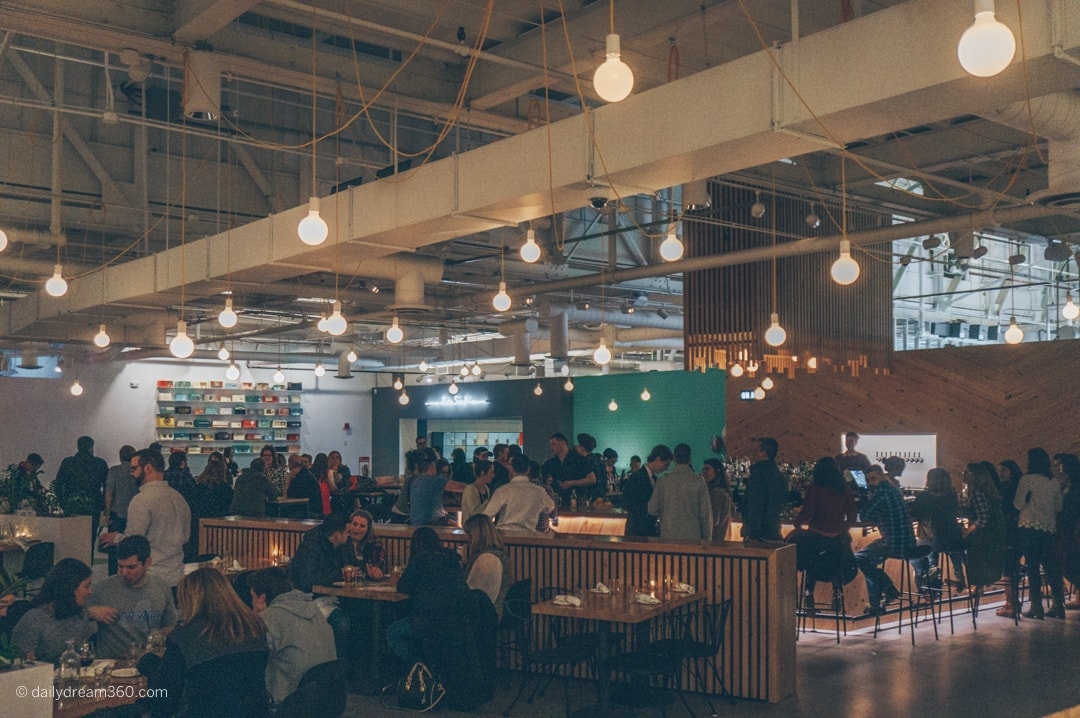 A List of Fun Things to do in Rochester NY for Adults
Whether you are planning a day trip or just exploring places to visit in Rochester NY, I've put together a fun list of things to do in the city.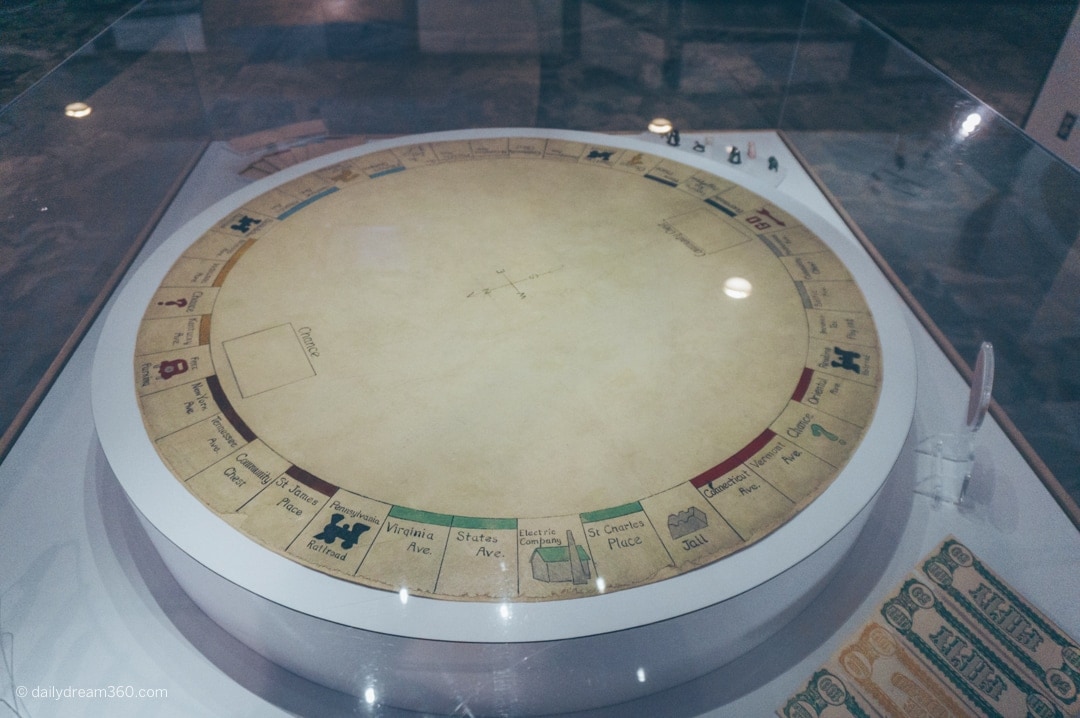 Unique Things to Do in Rochester NY
Strong Museum of Play
The Strong really is a museum that is fun for all ages. Don't let the family fun side of this museum dedicated to all things toys and games discourage you from exploring it as an adult. It is the worlds most extensive collection of toys, dolls and games and for us was a trip down memory lane.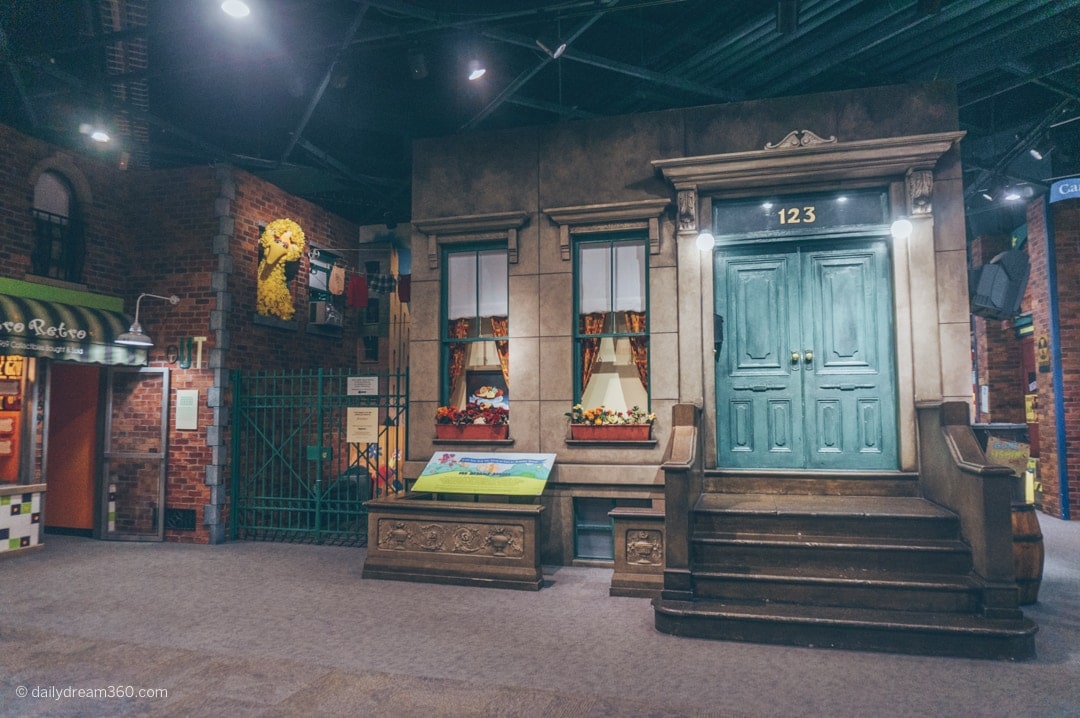 From photographs on Sesame Street, and displays showcasing Star Wars toys, Barbie dolls, video games and seeing the first ever Monopoly board, there was so much to see and do I could have spent a full day in there. For more information see the Strong website.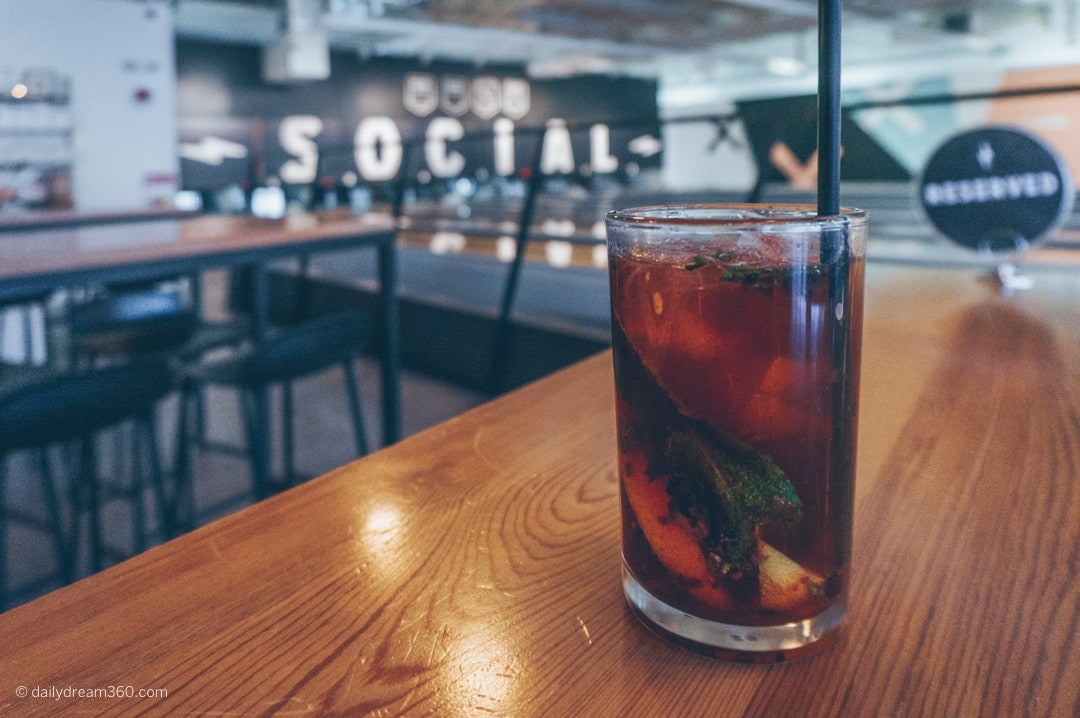 Things to do at Night in Rochester NY
Radio Social
It was the perfect accompaniment to our evening at the Strong Museum. We headed out the North Winton Neighbourhood in the city and were not sure what we were going to see at Radio Social.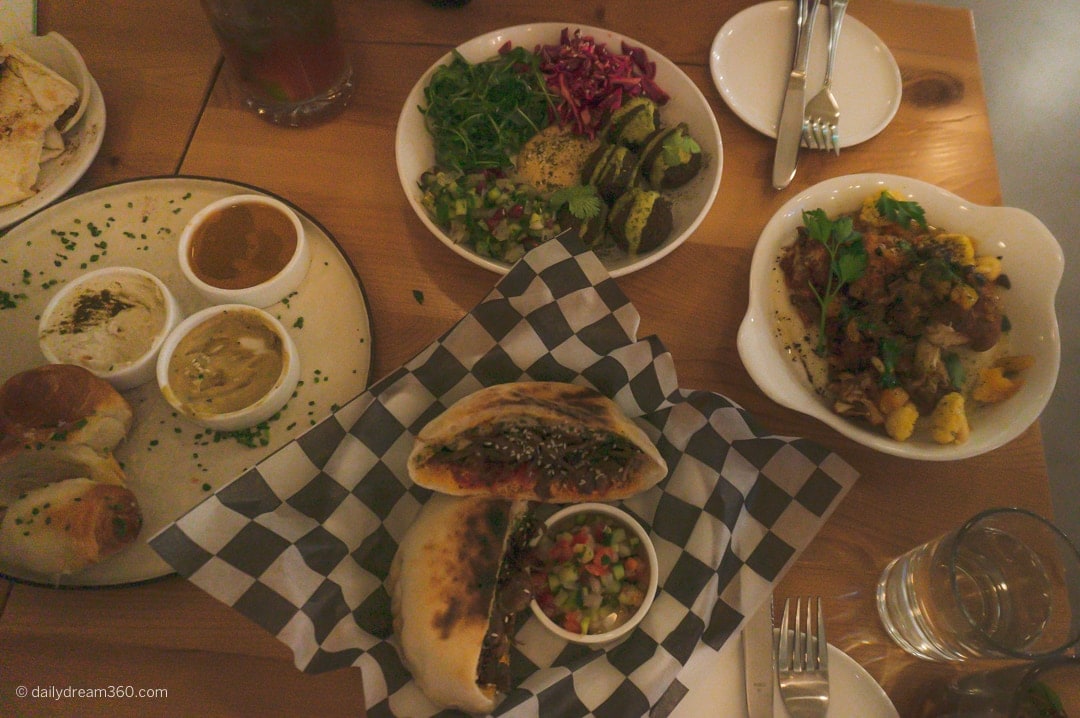 All we knew when we picked it was that they served Middle Eastern Cuisine and had some gaming rooms. The result was a fantastic dinner of Israeli inspired cuisine and a fun night bowling.
During the day families are present but at night put Radio Social on your list of fun things to do in Rochester NY. It turns into a night club with fun games, food and drink for adults.
Read more: Farmer's Creekside Tavern and Inn Leroy NY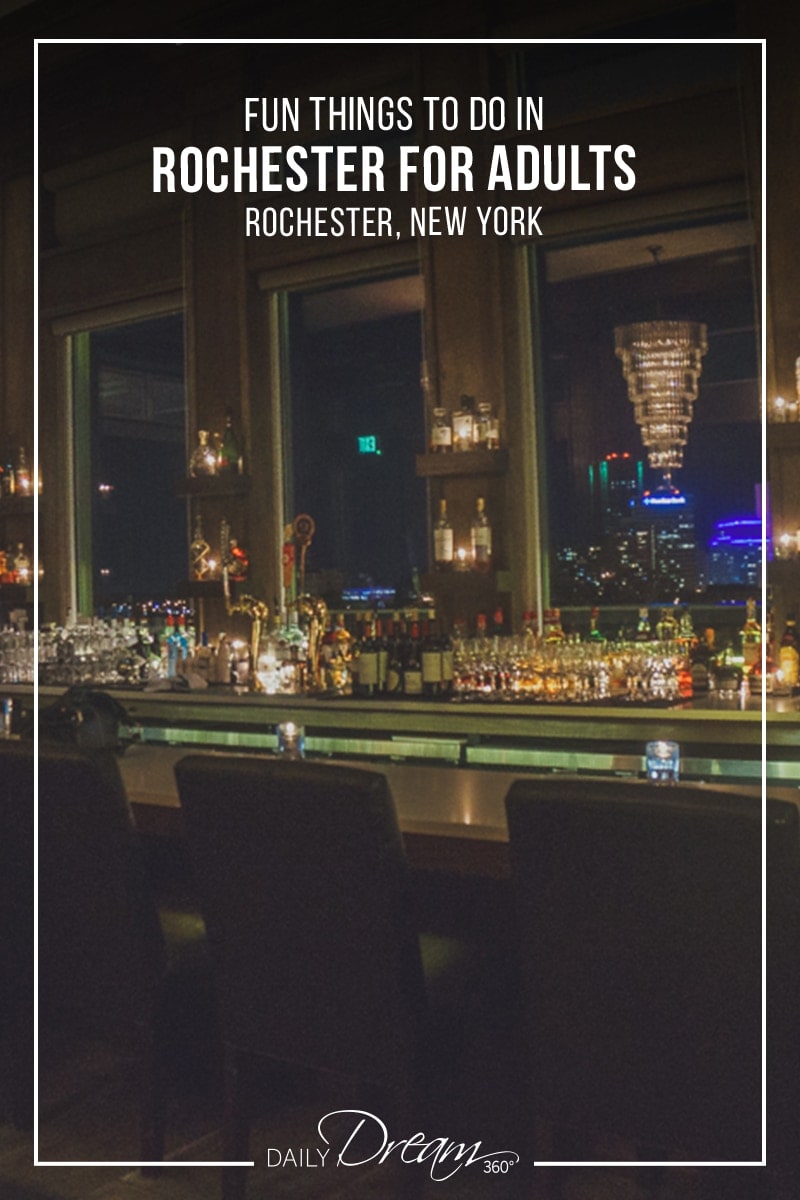 Explore Your Artistic Side in Rochester
If you are looking for indoor activities for adults in Rochester, you will have to explore the city's many museums and galleries.
George Eastman Museum
As a photographer how can I miss the world's oldest photography museum? The George Eastman museum has a collection of over 400,000 photographs and features 16,000 pieces of camera technology.
Read more: Beautiful Dream Hideaway at River Spring Lodge Darien Center NY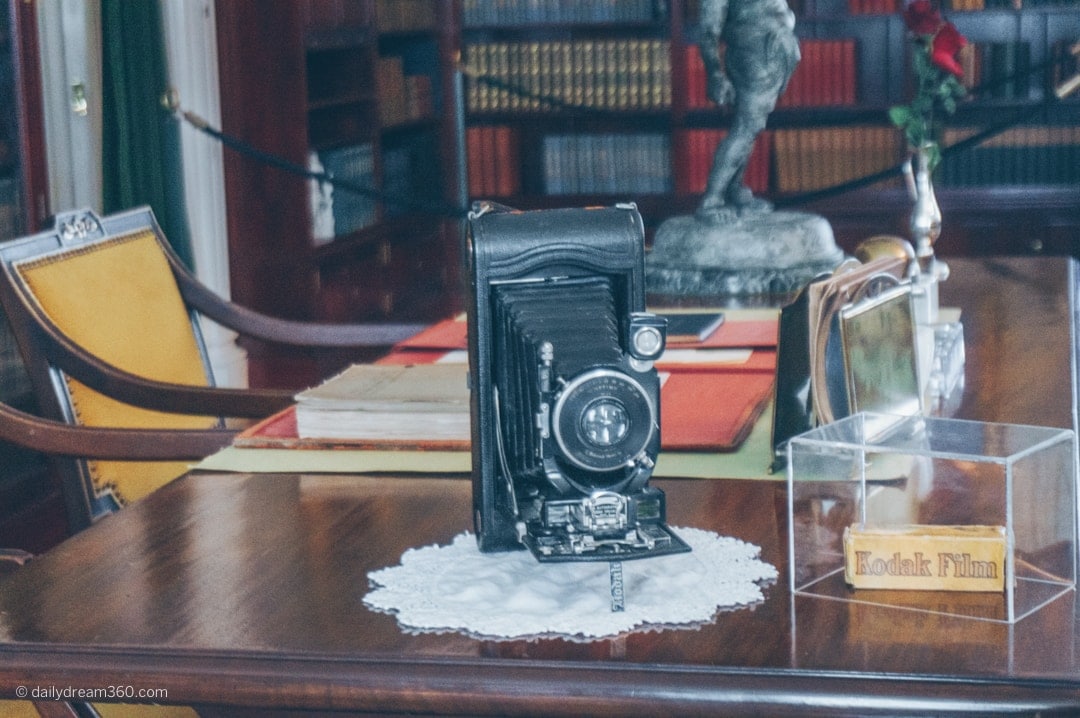 It was a great way to get inside the mind of George Eastman as he developed the Kodak camera and a lovely visit through memory lane seeing some of my first point and shoot cameras from days gone by. For more information see the Eastman website.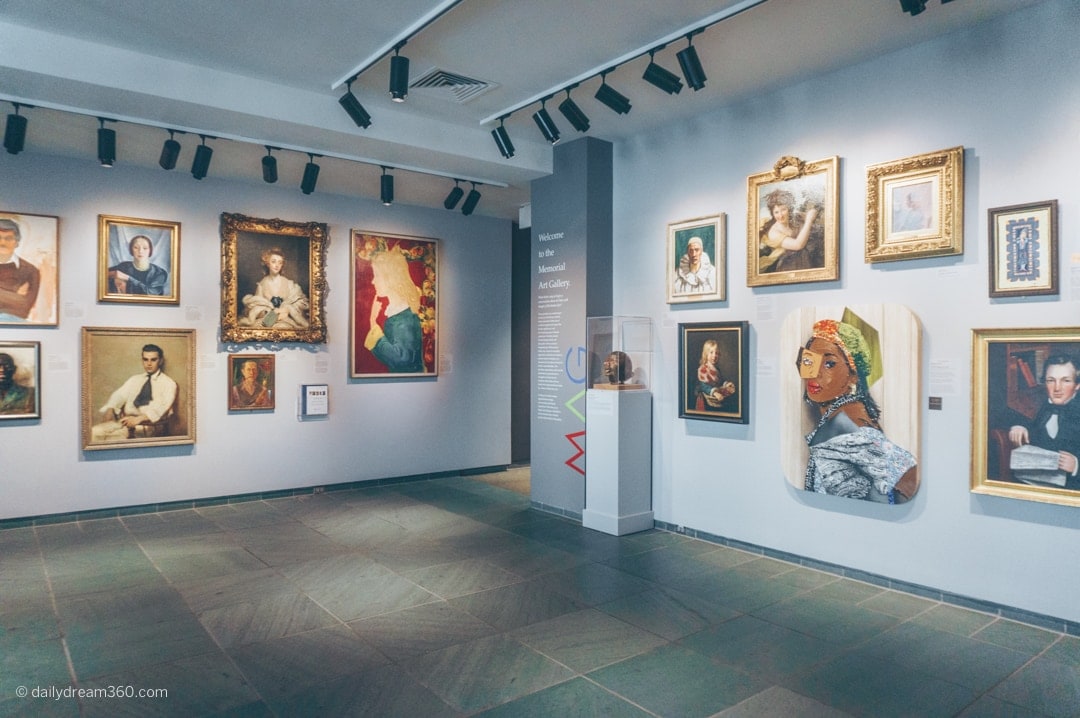 Memorial Art Gallery (MAG)
We had a lovely tour of the Memorial Art Gallery which is the best way to explore any gallery. We got the inside scoop on the galleries permanent collection with over 12,00 pieces representing cultures from around the world. I loved the way the curators mixed modern artworks with the older pieces. It kept me awake and intrigued as to why they placed specific art together. For more information see the MAG website.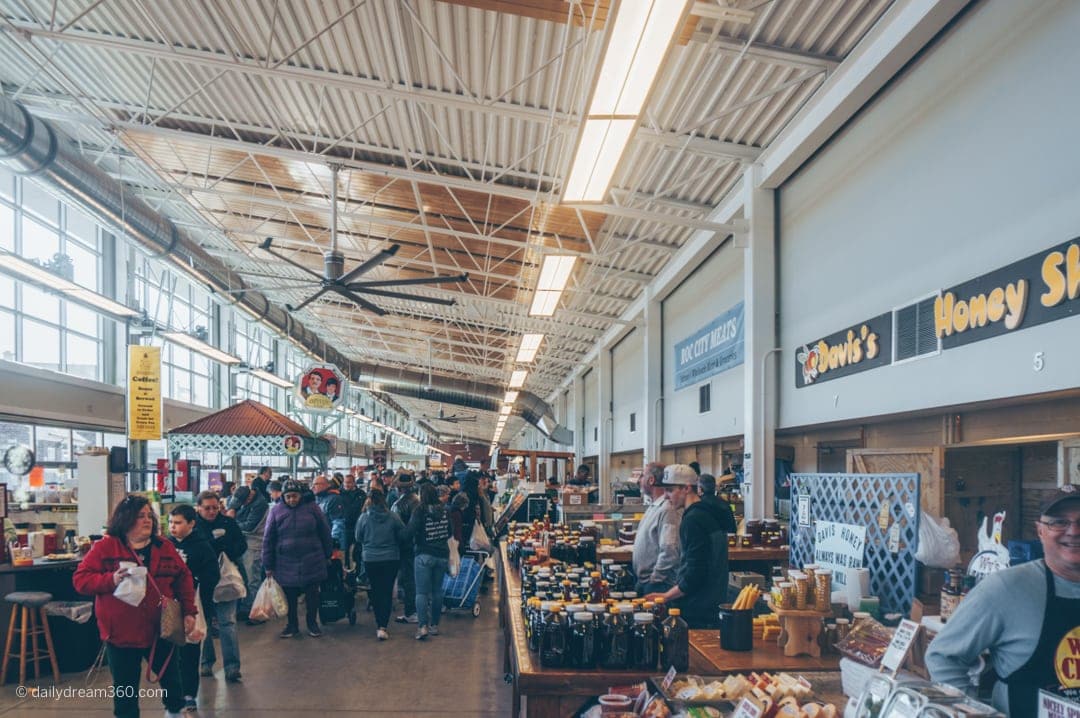 Shopping at the Public Market Rochester NY
The Public Market is a must stop when visiting the city of Rochester. Open Tuesday, Thursday and Saturday's this market has been serving the Rochester area since 1905. Similar to St. Jacob's market in Kitchener Ontario, the market has a series of indoor and outdoor stalls and shops filled with fresh produce, specialty food items and ethnic cuisine.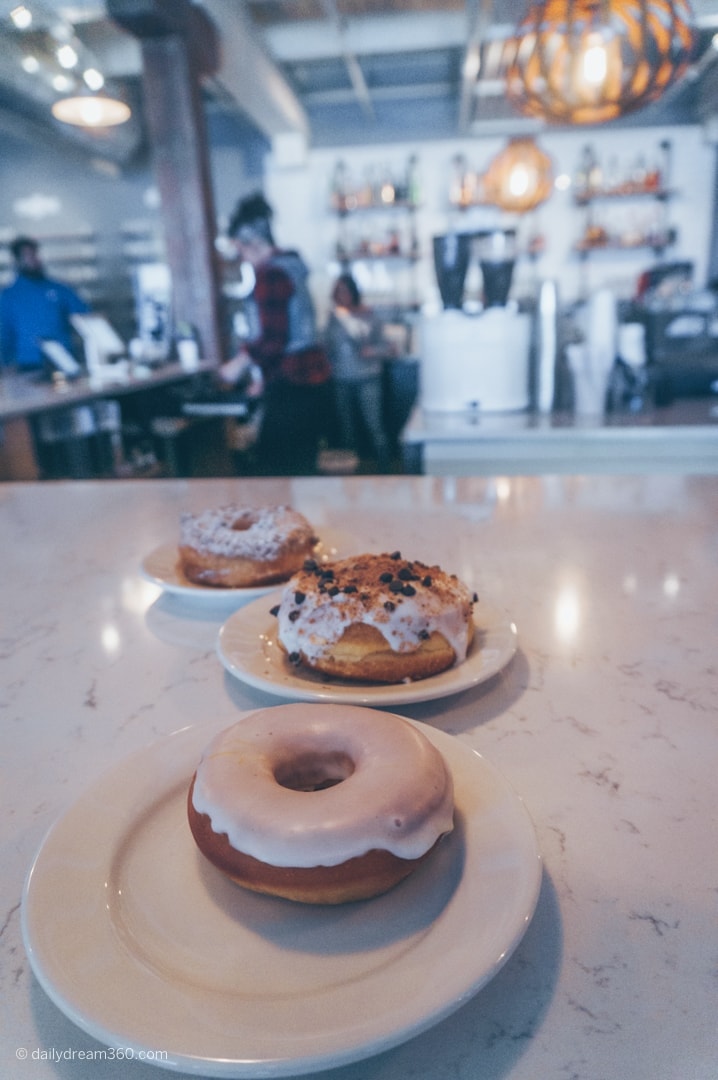 Be sure to carve out some time to stop at BXCR Donuts located outside the Public Market on Railroad Street. Take a shopping break and enjoy a delicious donut with a coffee before heading out to explore more of the city.
Note: the Rohrbach Beer Hall and Black Button Distillery are located on the same block. See below for tasting details.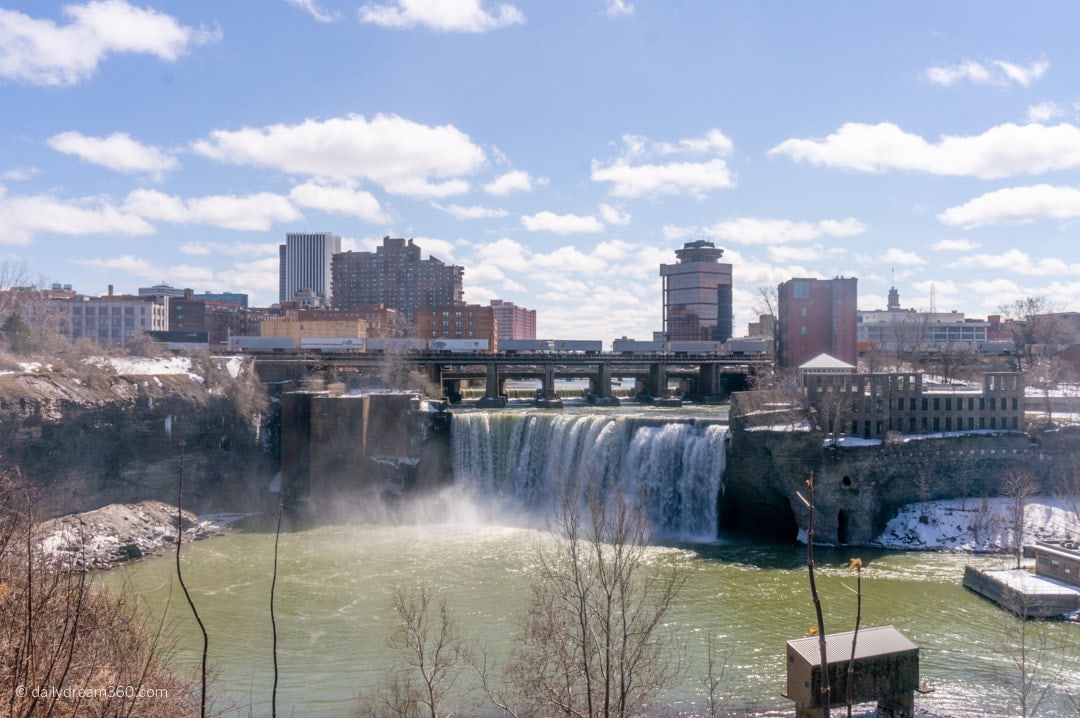 Check out High Falls
How can you pass the opportunity to see a 100-foot waterfall right in the heart of downtown Rochester? While you are there stop at Genessee Brew House and do a beer tasting or grab a bite to eat.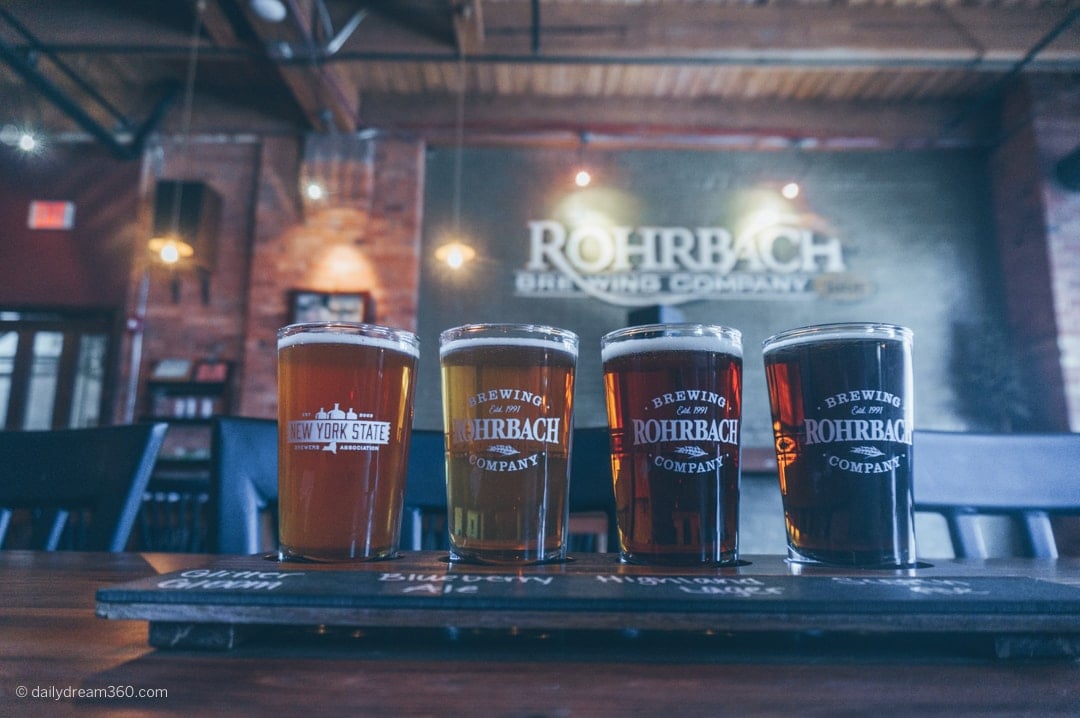 Fun Activities for Adults in Rochester NY
Rohrback Beer Hall
Located near the Public Market Rohrbach Beer Hall is Rochester's original craft brewery. It opened in 1991 and serves American-German inspired eats and craft beers, ales and lagers.
Black Button Distillery
Even if you are not a fan of Bourbon, you may want to stop by Rochester's first small-batch distillery (since prohibition). There are some fantastic kinds of ketchup, bbq sauces and other delights all infused with their Bourbon. Personally, I recommend the Black Button Bourbon Cream which is delicious in coffee or poured over ice cream.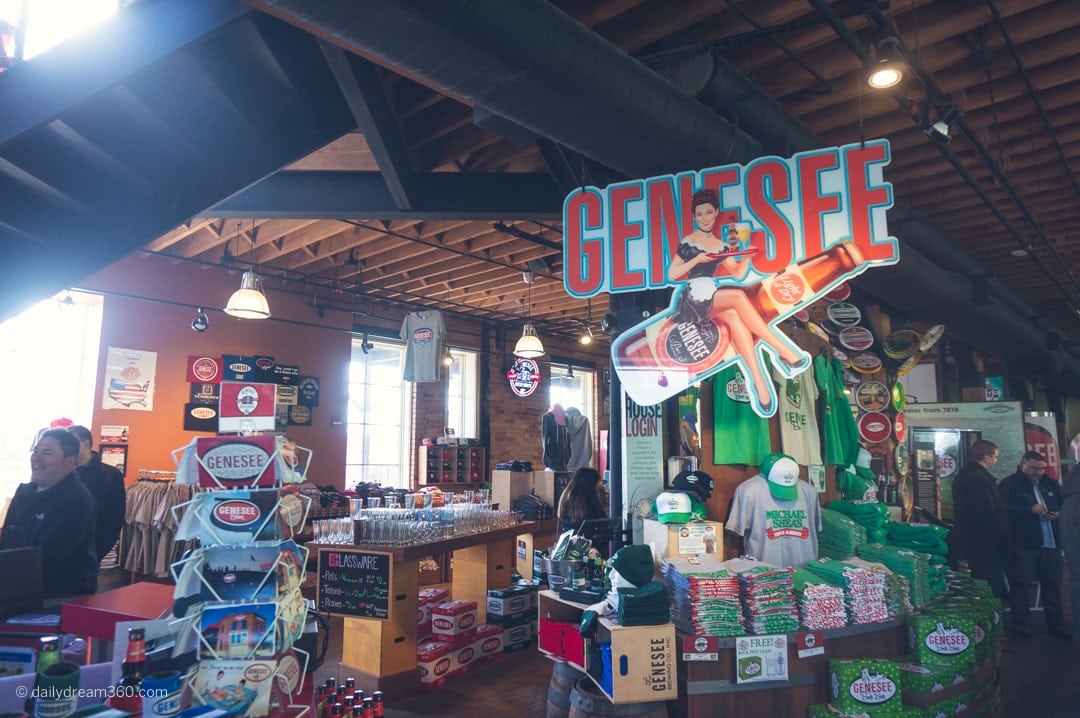 Genessee Brew House
Since you can't go to Rochester and not see High Falls, this is a no-brainer. The best spot in town to see Rochester's falls is right next to the Genessee Brew House. This brewery is one of the largest and oldest operating breweries in the United States.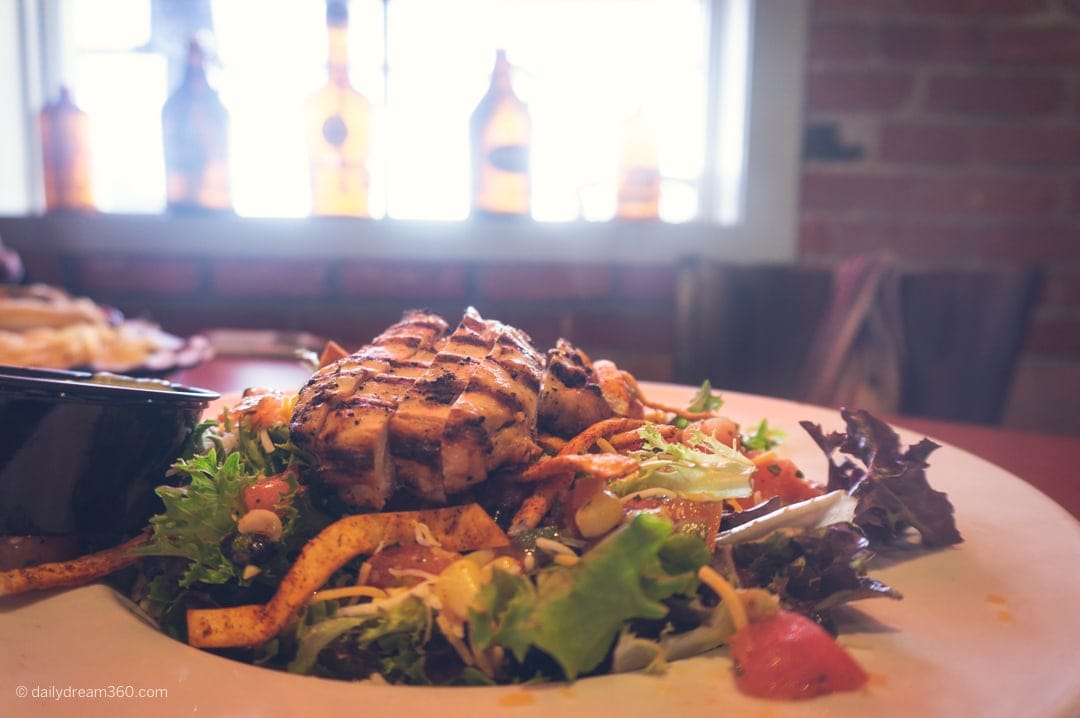 We planned a lunch break here, and it was crazy busy with a bit of a wait. So be prepared, as it is a popular spot, especially on weekends. You will be able to walk in and enjoy a beer tasting easily. There are also some interactive displays and a huge gift shop to browse through as you wait for your table.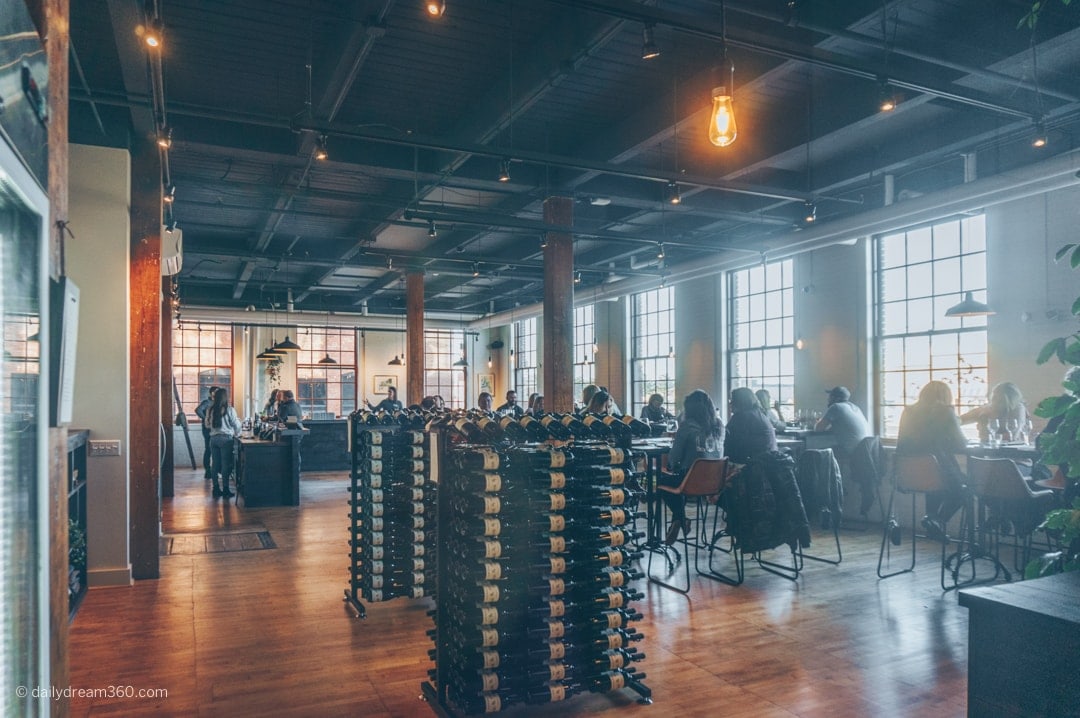 Wine tasting at Living Roots Winery
I just loved the love story behind the Living Roots Winery between Colleen an American and Sebastian an Australian who merged the best of their hometowns to create some delicious wines and fun urban space to sample them in.
Grab a table and sample on your own or head to the bar and chat with the staff who were more than happy to share their knowledge of these great wines.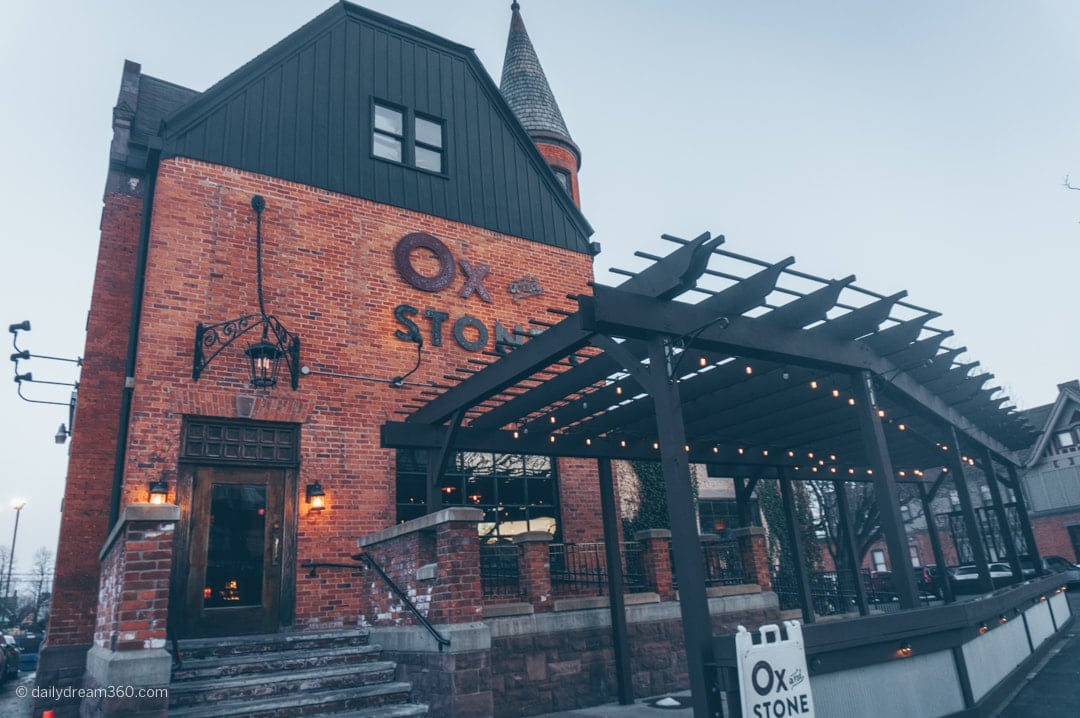 Dinner at Ox and Stone
The Ox and Stone restaurant was just steps from our hotel and intrigued us as it was built in a mansion from the 1880s. It is a lively spot that was more like a bar than a restaurant. Very busy with music playing and the sounds of all the people chatting.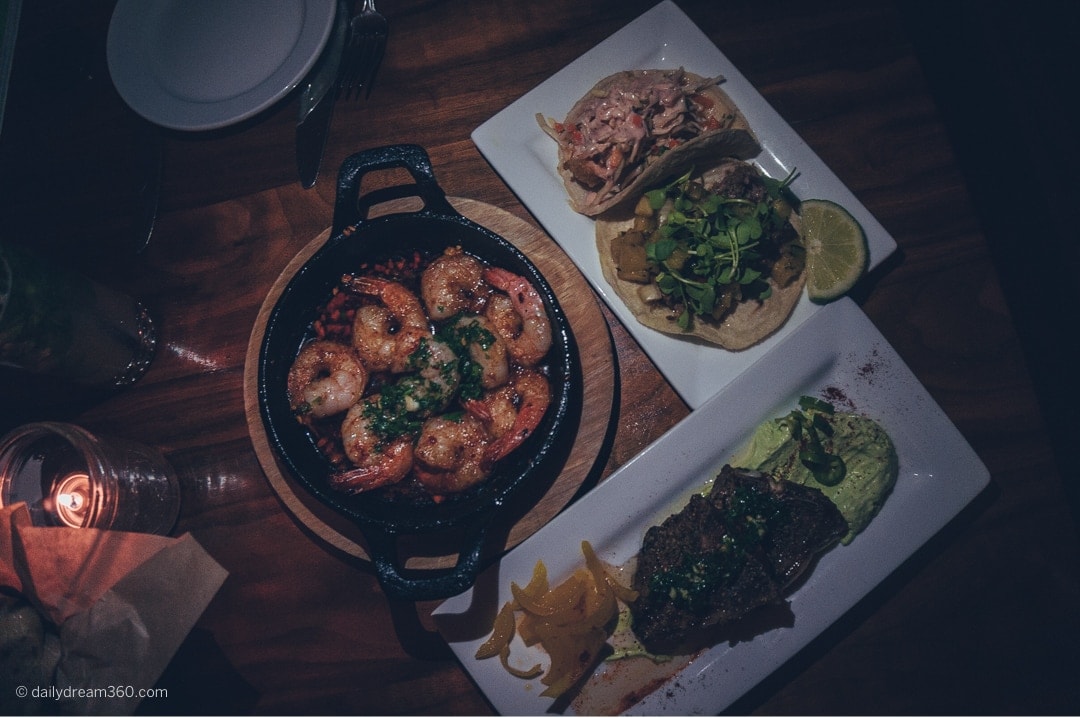 The menu is Latin-inspired and features a variety of small tapas plates, charcuterie boards and more. Spicy shrimp, a variety of small tacos and of course Paella are all excellent choices here.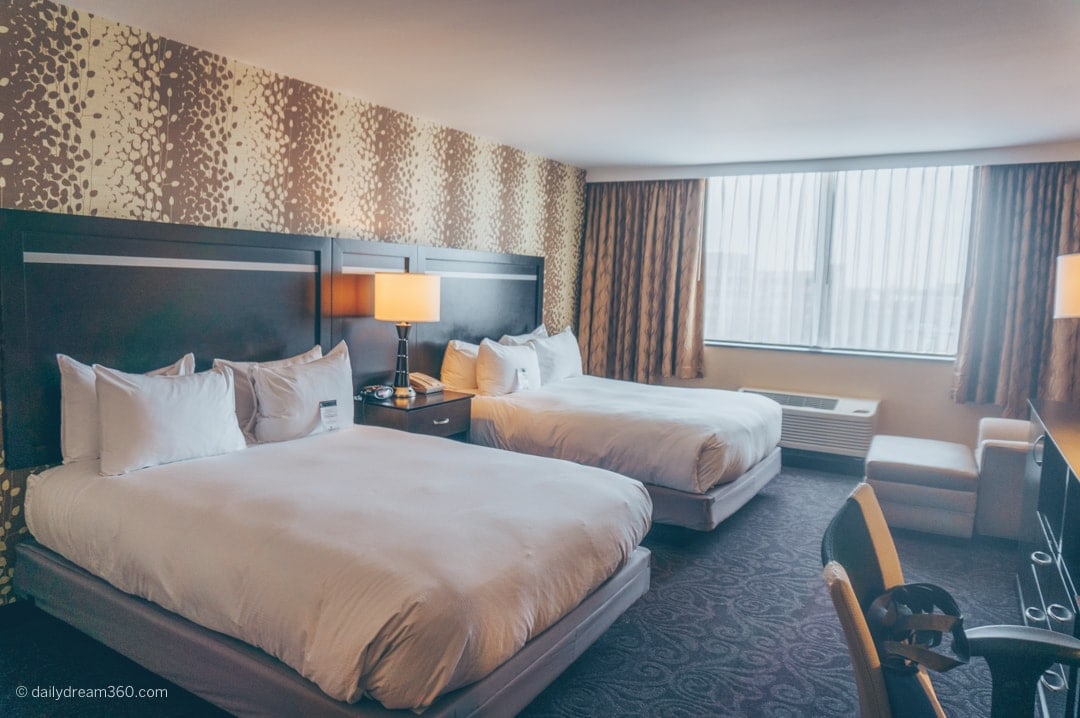 Where to Stay in Rochester
Need a Hotel in Rochester? The Strathallan was the perfect spot for us. The hotel staff was happy to valet our car, provide shuttle service to nearby places and the location is ideal for visiting the museums, galleries or exploring the Rochester food scene. The full hotel review is coming soon.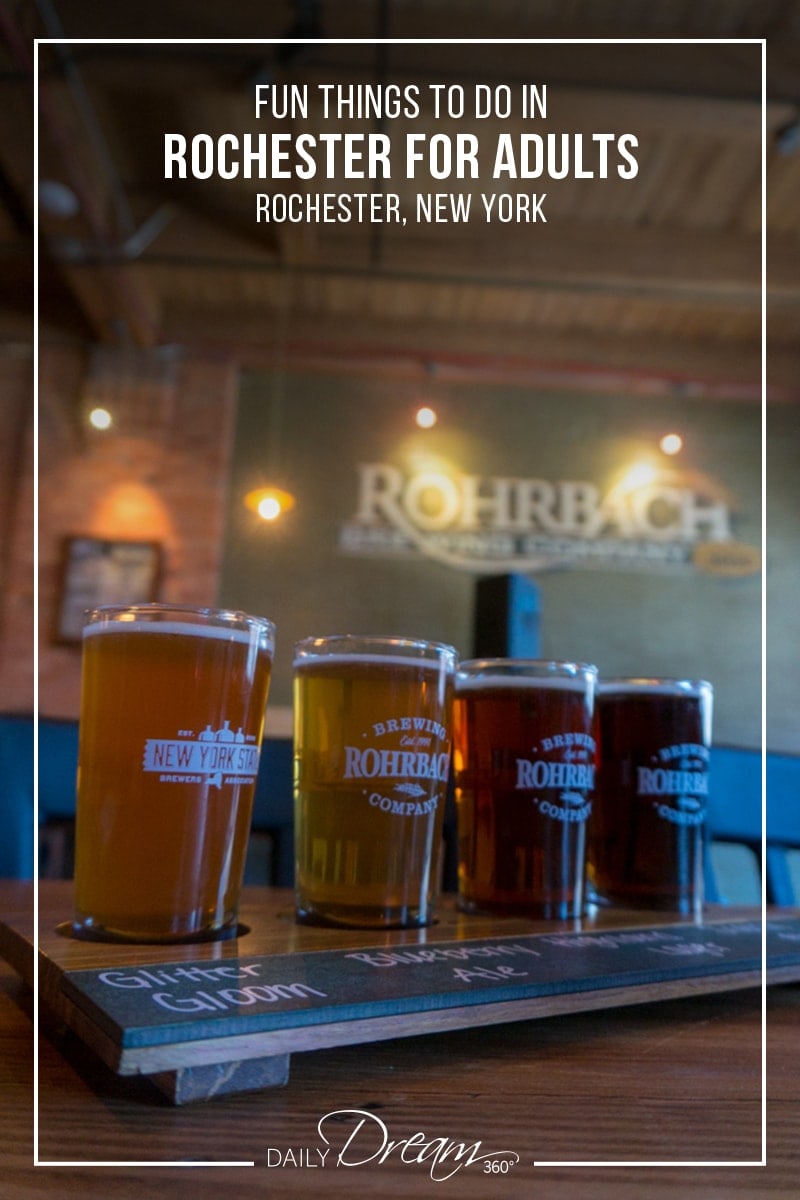 Disclosure: Travel assistance provided by Visit Rochester on a media FAM trip. All opinions expressed in this post are my own.