This article may contain affiliate links. Clicking on or purchasing products we recommend through a link may earn a small commission. Read our disclosure and privacy policy page for details. *COVID-19 TRAVEL ALERT – Travel recommendations offered on this site are not to encourage you to travel against travel advisories.
Upon walking into the lobby, I felt this cozy little B&B type feeling. There was piano music playing in the background and Carolyn was there to greet us immediately. Check in was no fuss, and before I knew it, I was getting the run through of my room. These were my first few moments at the River Spring Lodge in Darien Center, New York.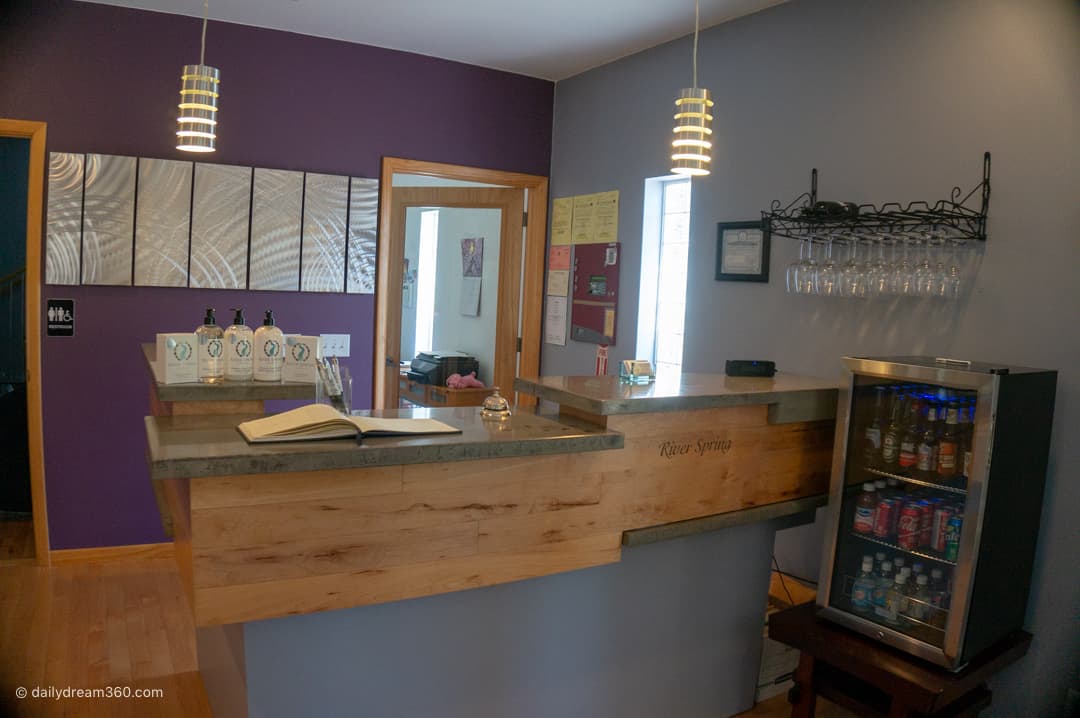 River Spring Lodge Darien Center NY Location
Tucked away in the woods
Keep an eye out for the paved driveway which is tucked off of Church Road just minutes from Darien Centre. We drove through the trees on the little gravel road until we reached an opening where the lodge building came into view.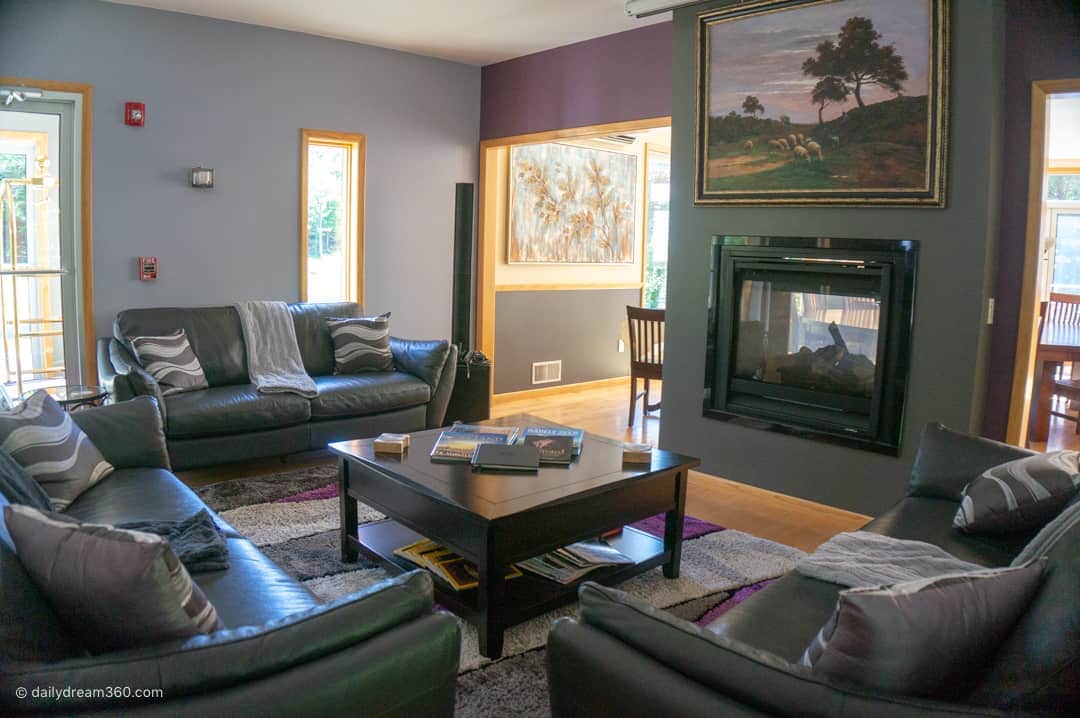 About the River Spring Lodge
The River Spring Lodge is an elegant small lodge with only seven rooms. It has a cozy vibe the instant you walk into it. It feels like a B&B at first, like you are entering someone's home, but it has all the amenities of a quiet boutique hotel.
Owners Carolyn and Dave live on site, but as guests, you have a lobby area to lounge in, a patio, a room with an electronic hotel lock and all the amenities you would find in a standard hotel room.
River Birch Bedroom
I knew I hit the jackpot when I saw that my room was located just in front of the coffee station. There is a Keurig Coffee machine, lots of coffee options and it is available all day.
Large King Size Bed, with two stools to step up into it.
Sitting area with a love seat
Desk and chair to work at if needed. The desk had hidden electrical hookups for easy access.
Small walk out balcony with a screen, so you can leave the door open and immerse yourself in nature.
2 Robes
Hangers don't come off the rod
Open hanging storage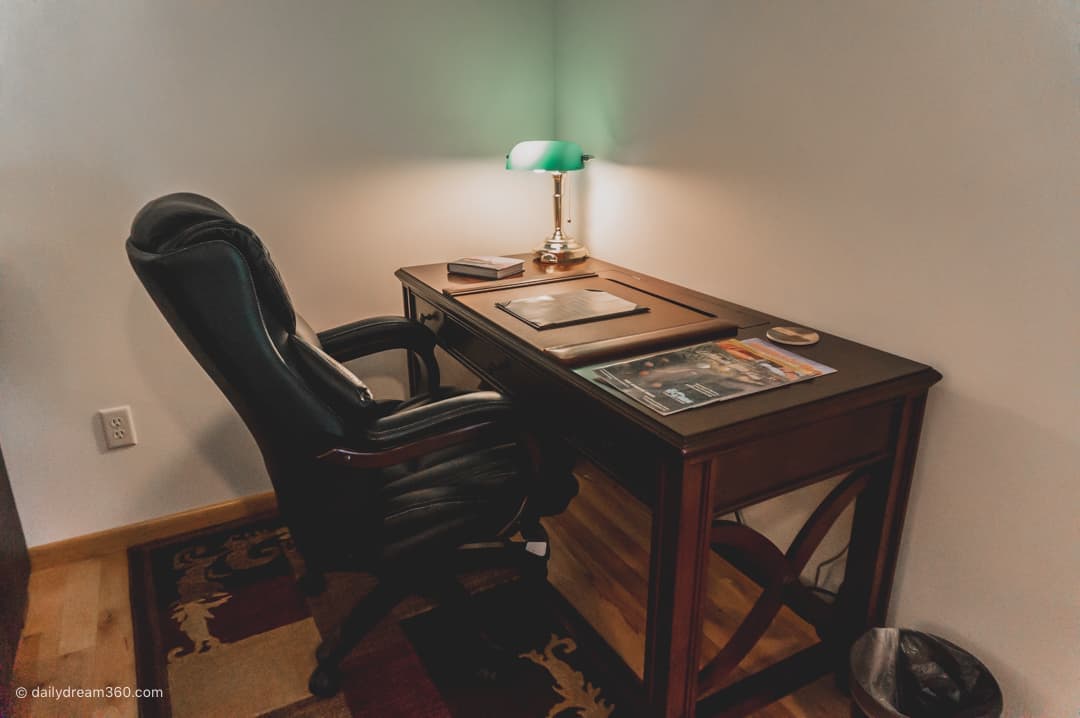 There was plenty of room to walk around and get comfortable in this room. From the little sitting area with the loveseat, the large desk and the enormous bed, I felt at home in this space.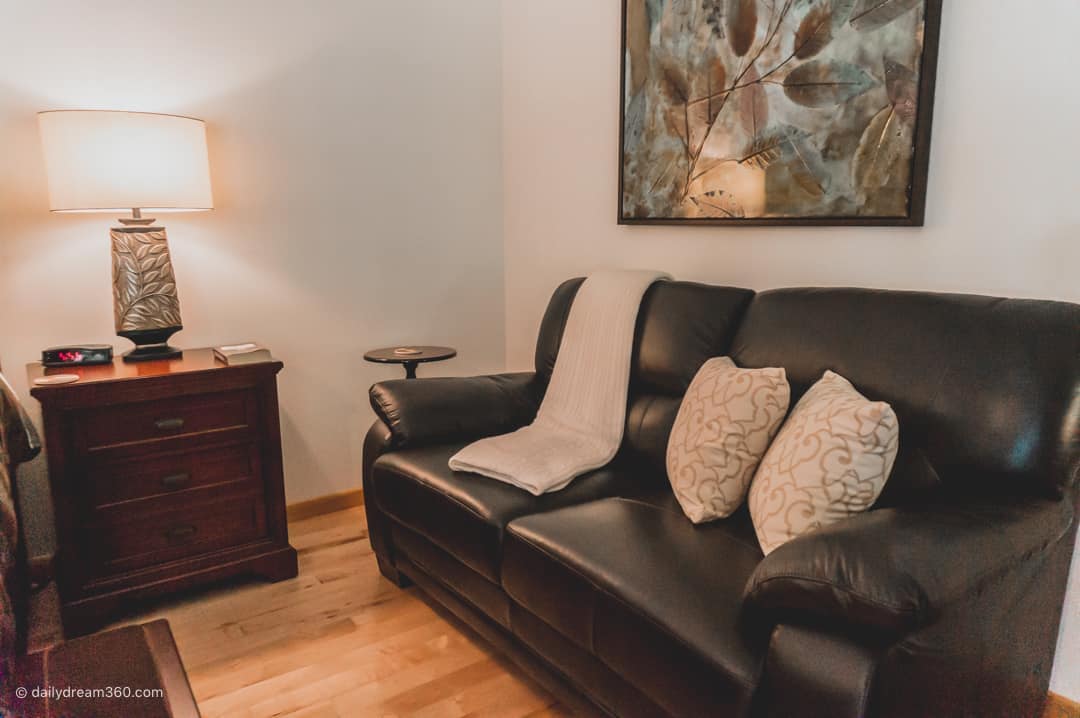 Bathroom
The bathroom was also quite spacious and featured two sinks, the most lovely smelling toiletries, a bathtub and a shower. Then there are little-added details like the memory foam bath mat, super soft towels and big comfy robes.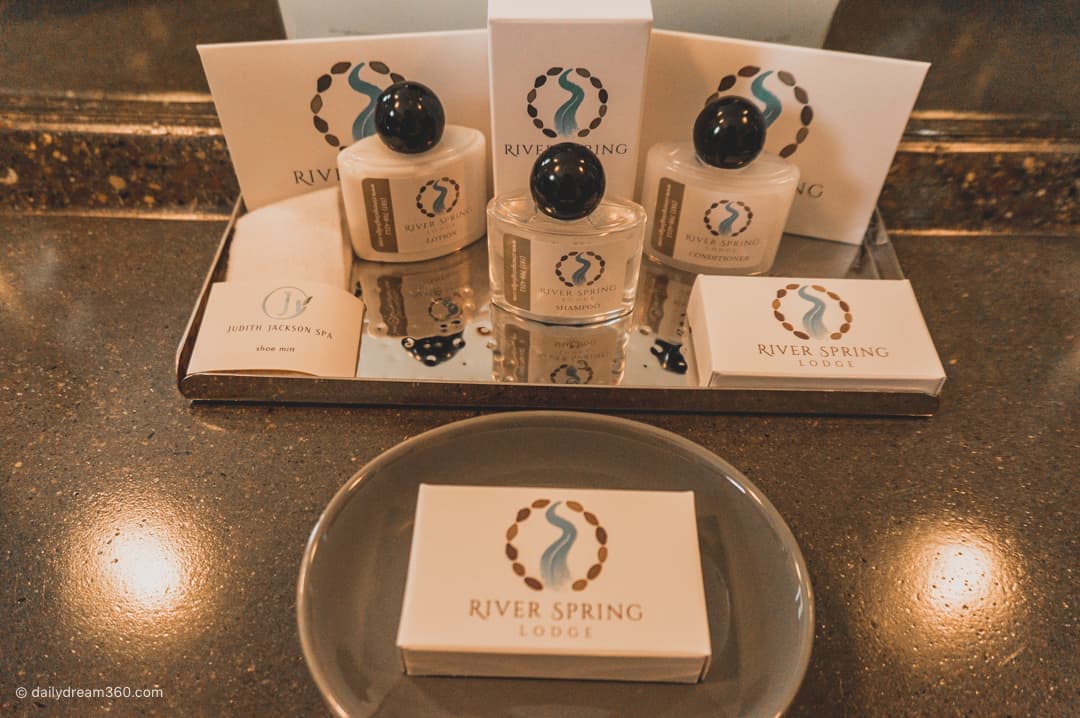 Lobby Area
We came downstairs into the Lobby where there were some comfy leather chairs which were a great spot to sit with my laptop and do some writing. With the piano music playing and the trees shining through all the windows on the main floor, it was a very inspiring place to write.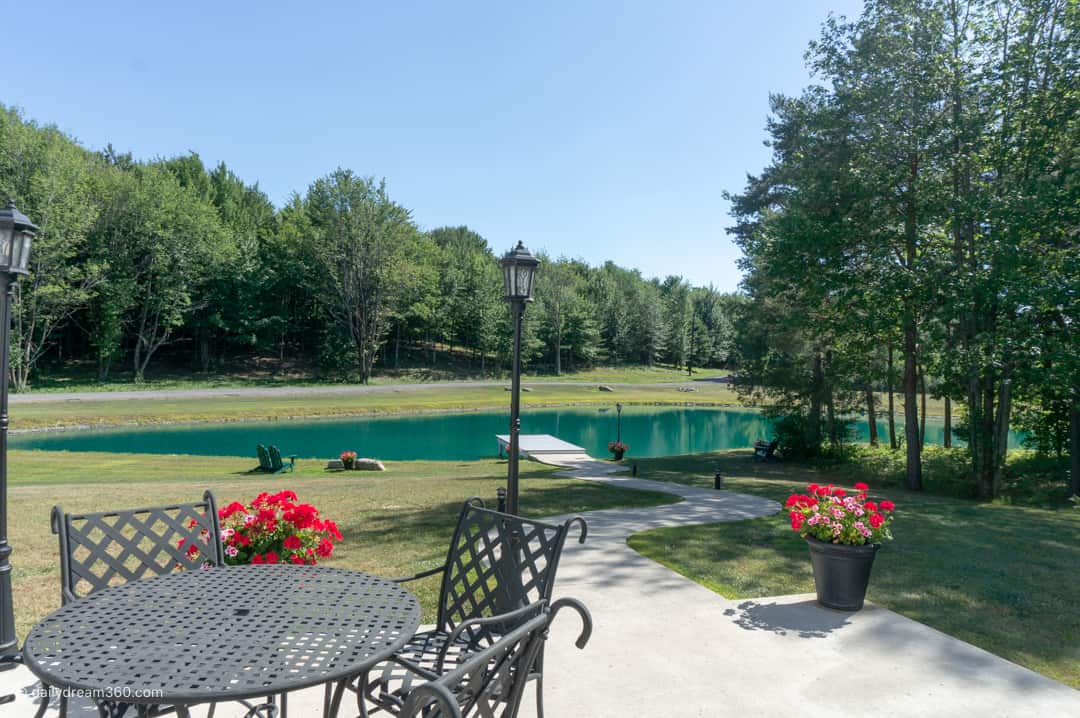 Patio/Deck
On the main floor, there is a lovely patio where you can sit outside in the sun. The property is enclosed by private residences so there is not much trail walking you can do in the forest around the pond that sits in front.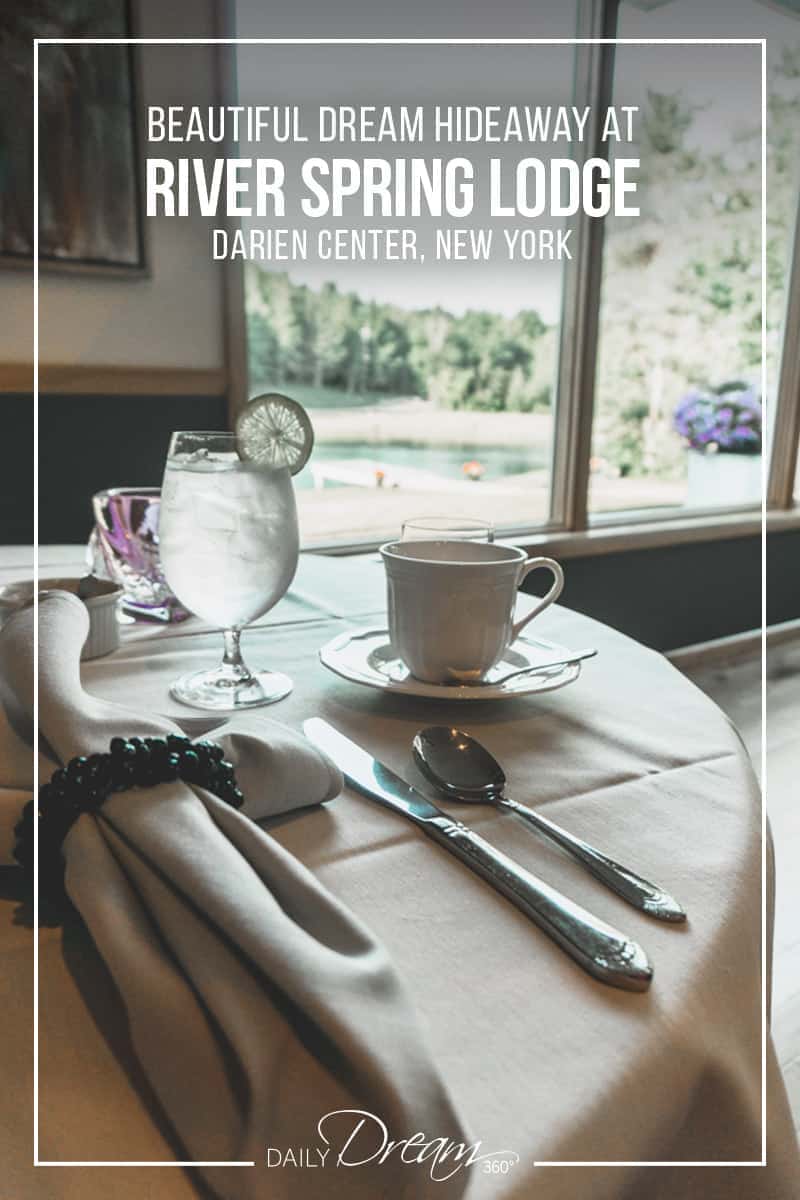 Dinner at the River Spring Lodge
For an additional fee, you can order a 4-course meal prepared by Chef Dave. There is a menu on their website to make selections, and they ask that you send them your choices a few days before your visit.
At first, I found it odd that I had to book and pick my meal in advance of my stay until I walked inside the lobby and realized just how small and intimate the River Spring Lodge is. I also loved that Chef Dave responded to my email enquiring about special dietary restrictions.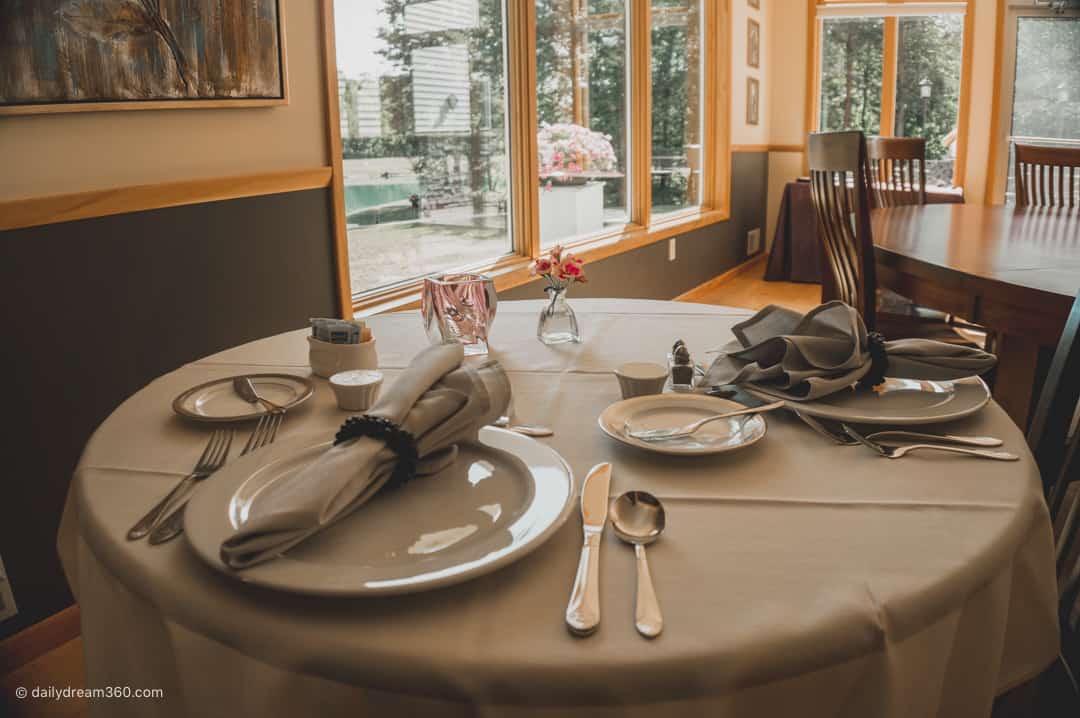 Special Dietary Restrictions Are No Problem at River Spring Lodge
I just started travelling on the Keto Diet, and I found that I have to speak up about my dietary restrictions now. I told Chef Dave I don't eat sugar or carbs, but I can still eat fat. That's all the instruction I gave him.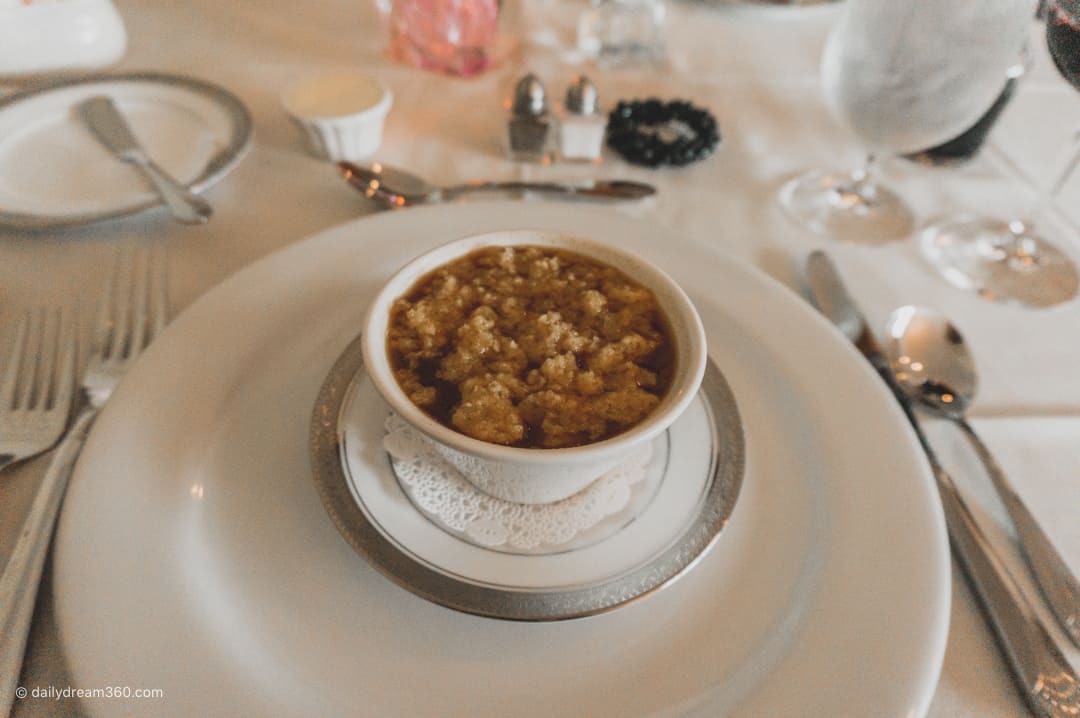 My first course was a French Onion Soup, but with no bread. I don't know how he did it, but he had the most delicious Parmesan cheese crisp floating on top. It was crispy the entire time I was eating the soup, and it was delicious. We then had a lovely salad, and there were choices of dressings.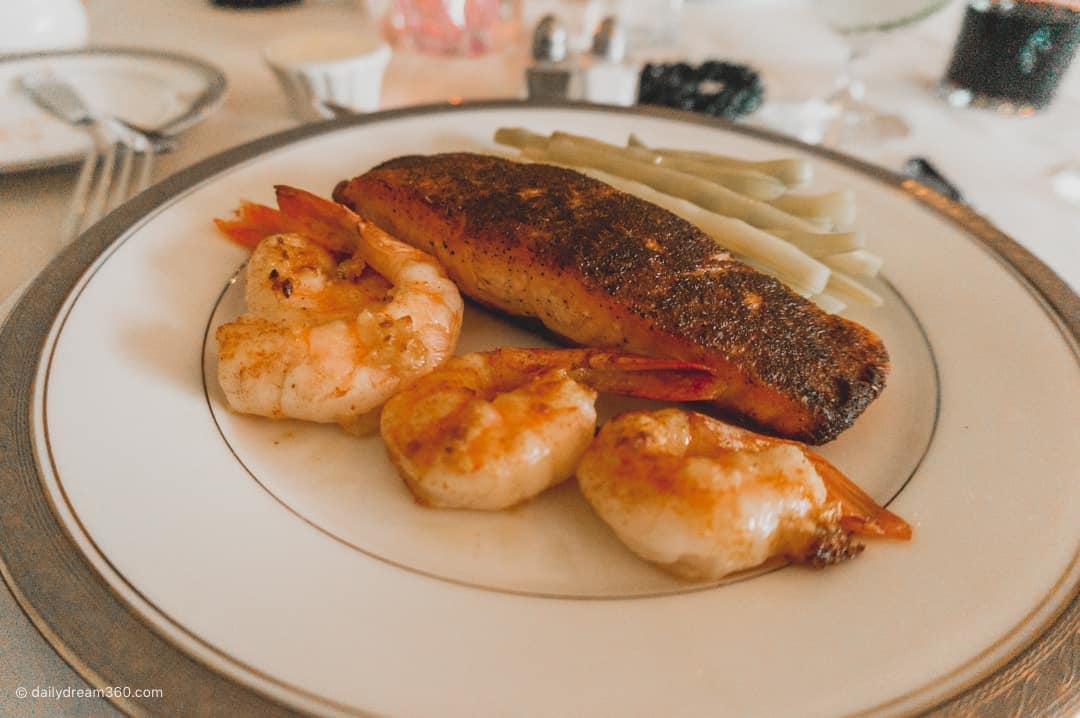 My main course was a blackened Salmon, and in place of the rice, Chef Dave grilled some shrimps for me. I've never had a chef substitute a carb with a protein. They usually give you more vegetables, or remove the carbs and don't give you anything in exchange.
I have to say that the meal was delicious and didn't skimp on flavour at all despite my requests. To me, this is a sign of someone that is passionate about what they are doing, making sure that everyone has a fantastic meal despite whatever restrictions they have.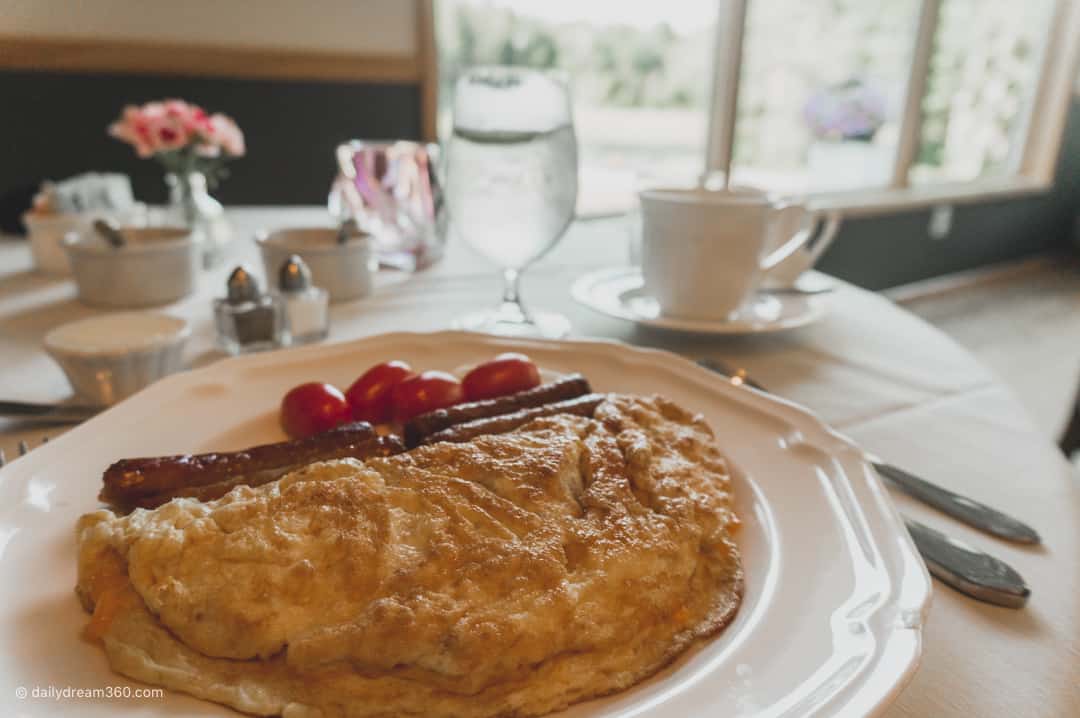 Breakfast at River Spring Lodge
Our room included breakfast which is a three-course breakfast. The first course was a chilled strawberry yogurt soup with granola. Instead of having me wait for the second course, Chef Dave sent my main course over right away.
I had an egg omelette filled with bacon, mushrooms and cheese because I missed the first-course chef added some sausages. The Omelette was delicious, and while I couldn't get through it all, I wanted to savour every bite.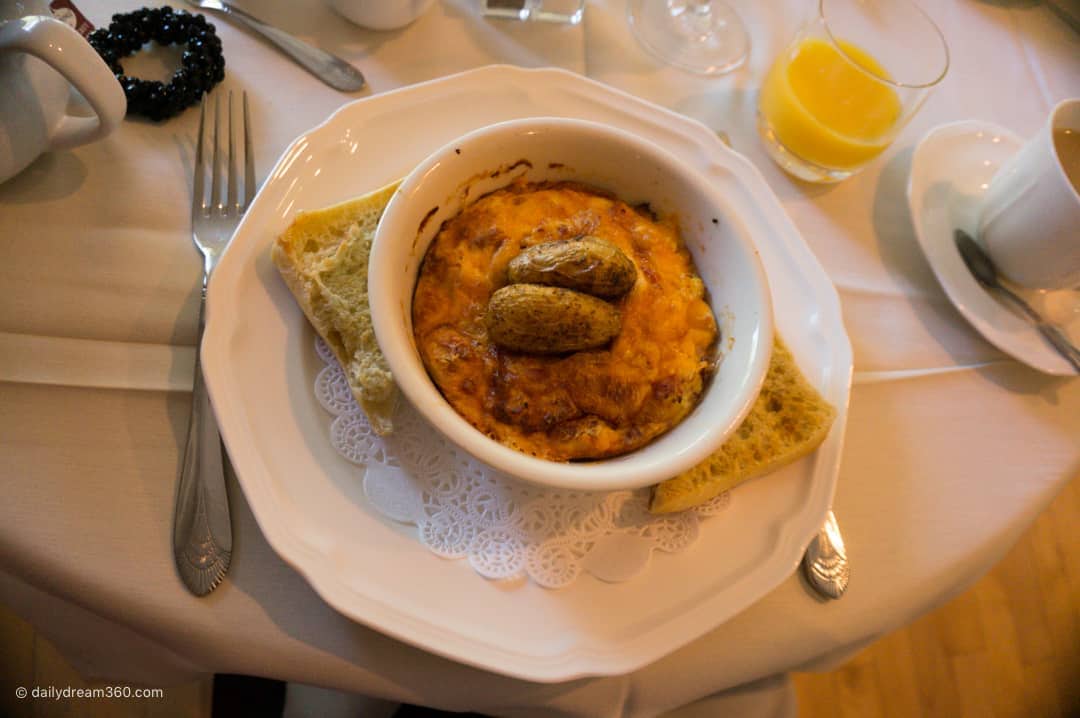 My friend had a ham and egg casserole which was like an egg soufflé in a bowl. It was steamy hot, and she said it was also delicious.
Read more: Fun Things to do in Rochester NY for Adults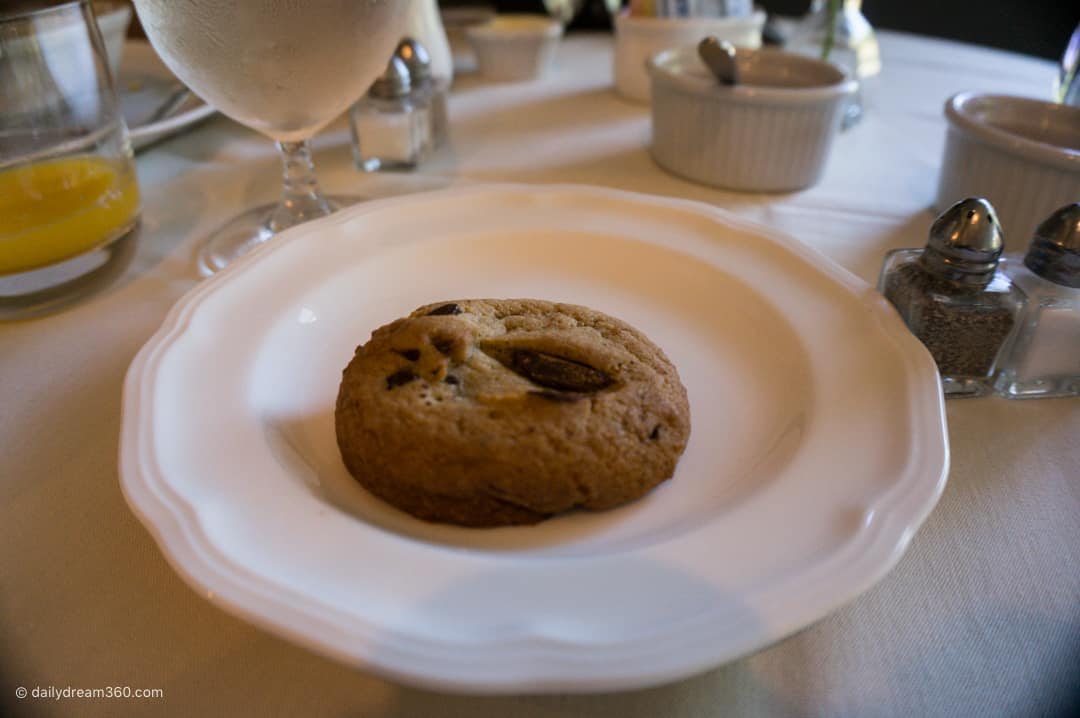 The third course usually is something sweet. A pastry, muffin or in our case a chocolate chip cookie. They gave us a bag to take the biscuit with us for a snack later.
Things to do in the area
There are plenty of things to do in the Genesee Country region of New York, and these will be outlined in a future post coming soon. In Darien Centre, near the River Spring Lodge, you will find the following great places.
The Country Cottage Shop and Art Studio
State Parks in the Area – trails, swimming
Darien Lake Amusement Park – rides, attractions
Primitives & Produce at "The Farm" Farmers Market
Linda's Family Diner Restaurant (open breakfast and lunch)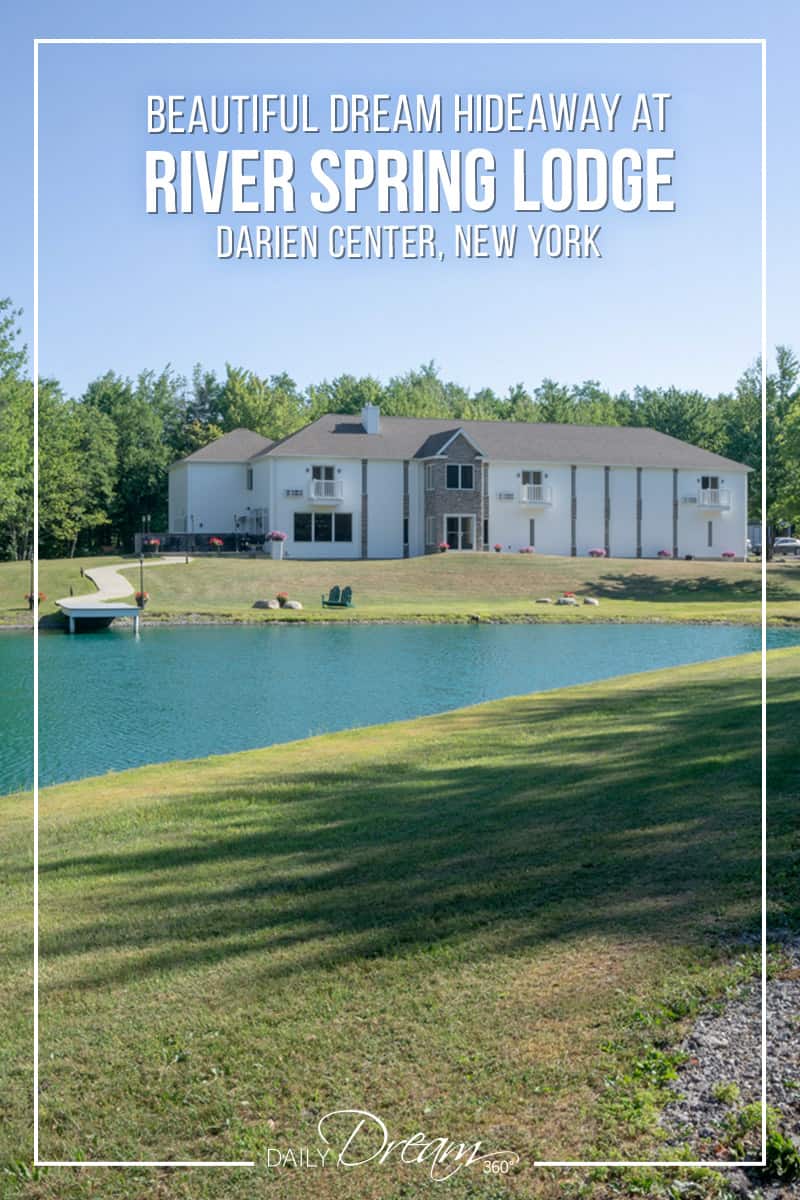 Disclosure travel assistance provided by Genesee County Chamber of Commerce during a press trip. All opinions in this post are my own.