I am excited to share with you all the Travelpro Maxlite 5 Collection. There is a bag for everyone in this collection and while they don't have the bells and whistles of Travelpro's Elite collections the super lightweight luggage, available in an assortment of colours and styles is something I have to share with you all.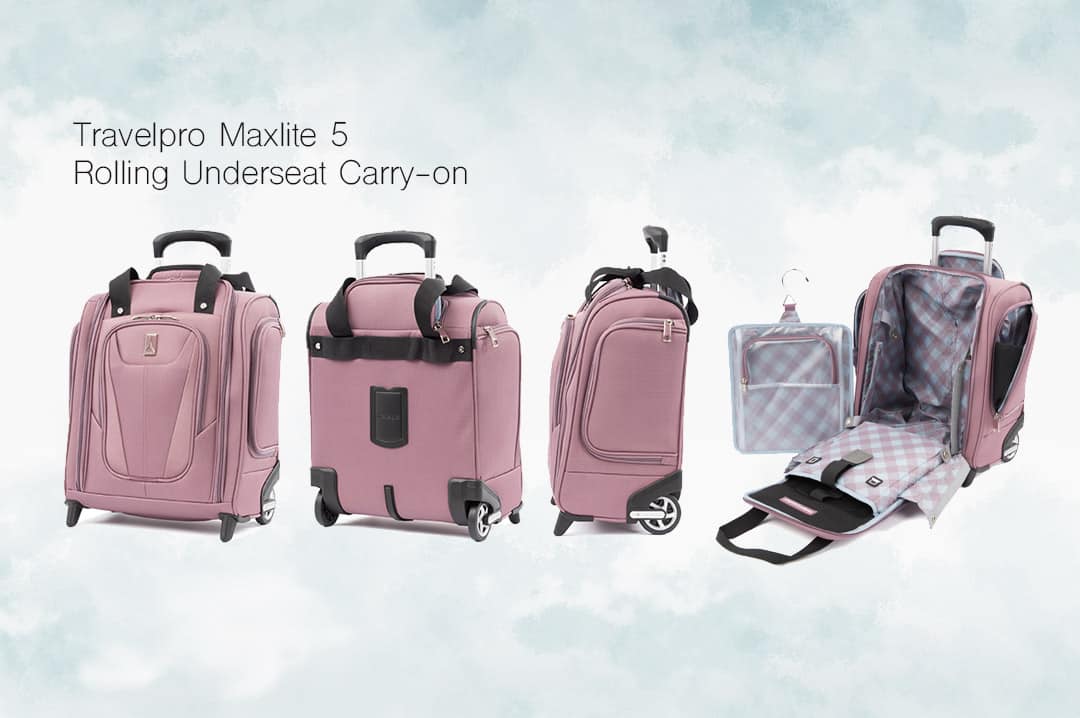 Maxlite 5 Rolling Underseat Carry-On
I've always struggled with carry-on only travel. I'm just not that efficient a packer I guess. So on a recent 4-day road trip, I decided to take my new TravelPro bag for a spin. This bag is even smaller than a standard carry-on I had my doubts.
The TravelPro Maxlite 5 Details
Height: 17.5 in
Width: 14.5 in
Depth: 8.5 in
Weight: 5.0 lbs 2.3 kg
Large roomy interior
Laptop/Tablet padded pocket
Removable sleeve with one side plastic compartment for cosmetics and the other mesh pockets for organizing other items.
Two side pockets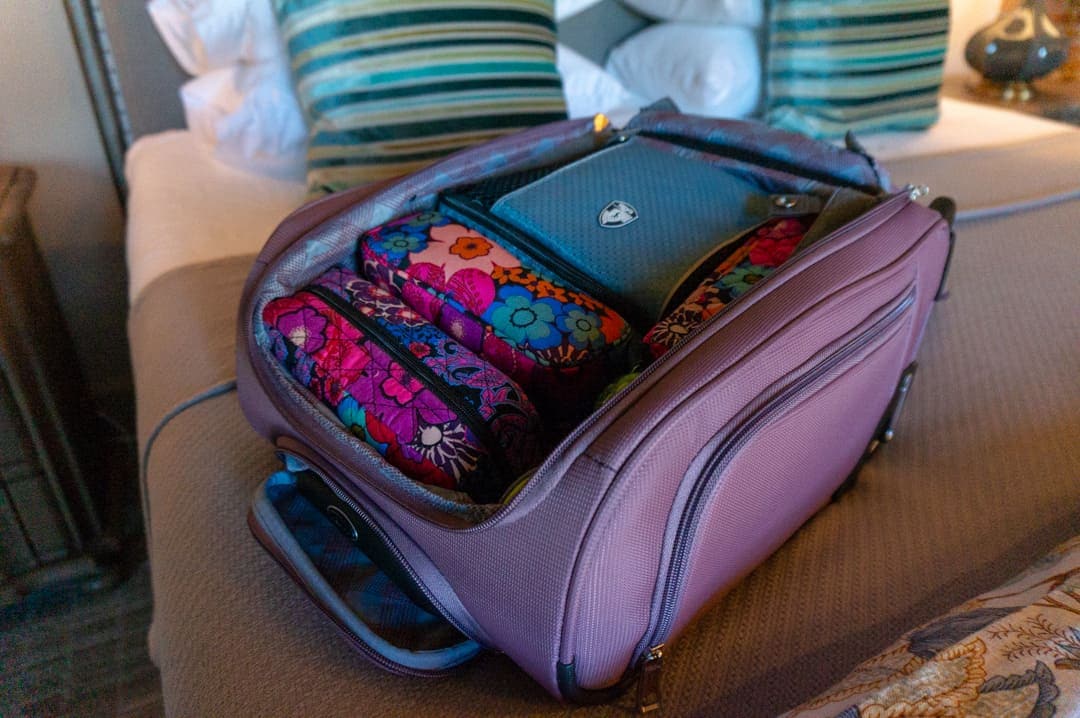 Great Underseat Carry-on Bag
I love this bag. I can't believe how much stuff I was able to fit inside of it. I organized everything in packing cubes and was able to pack camera gear, plugs for charging, my clothes and cosmetics with room to spare.
Buy Travelpro Luggage: Amazon US | Amazon CA | eBags.com | JCPenney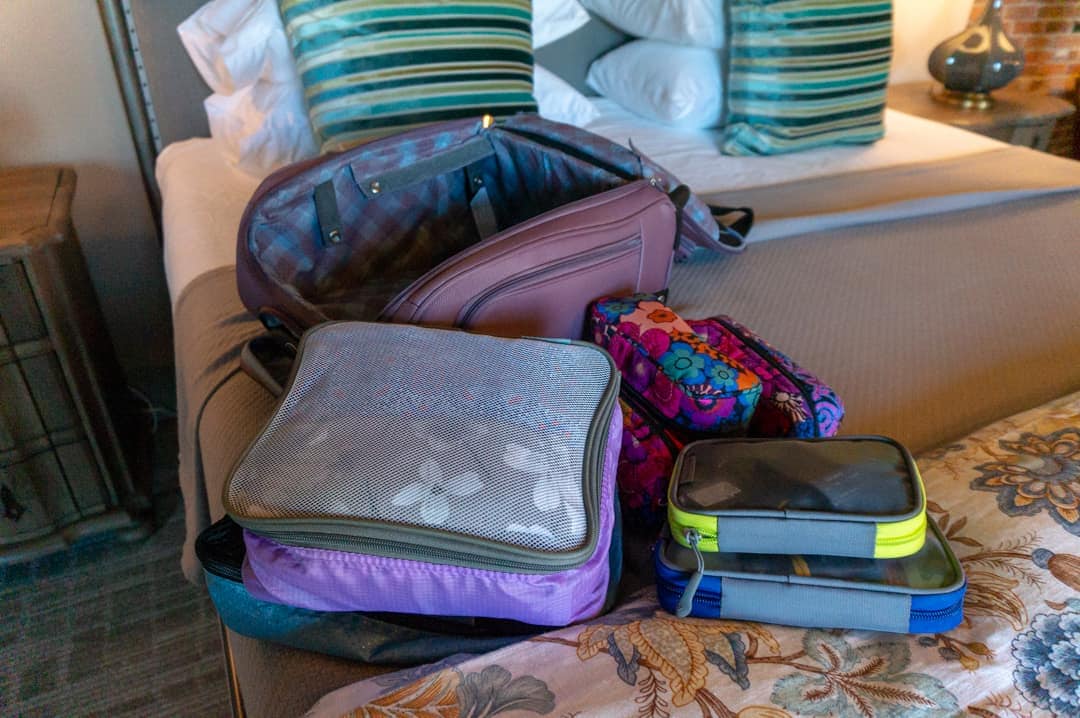 For trips where I will be checking a bag, I can see this bag being an excellent airport bag. Instead of lugging a full-size carry-on or lugging a backpack or tote this is the ideal size.
Cons of the Maxlite 5 Underseat Carry-on Bag
The curved top of the bag while it is supposed to keep the bag from tipping over when full, actually is too narrow to sit another bag on top. If I place a standard tote bag on it and the tote slides down the front of the carry-on bag.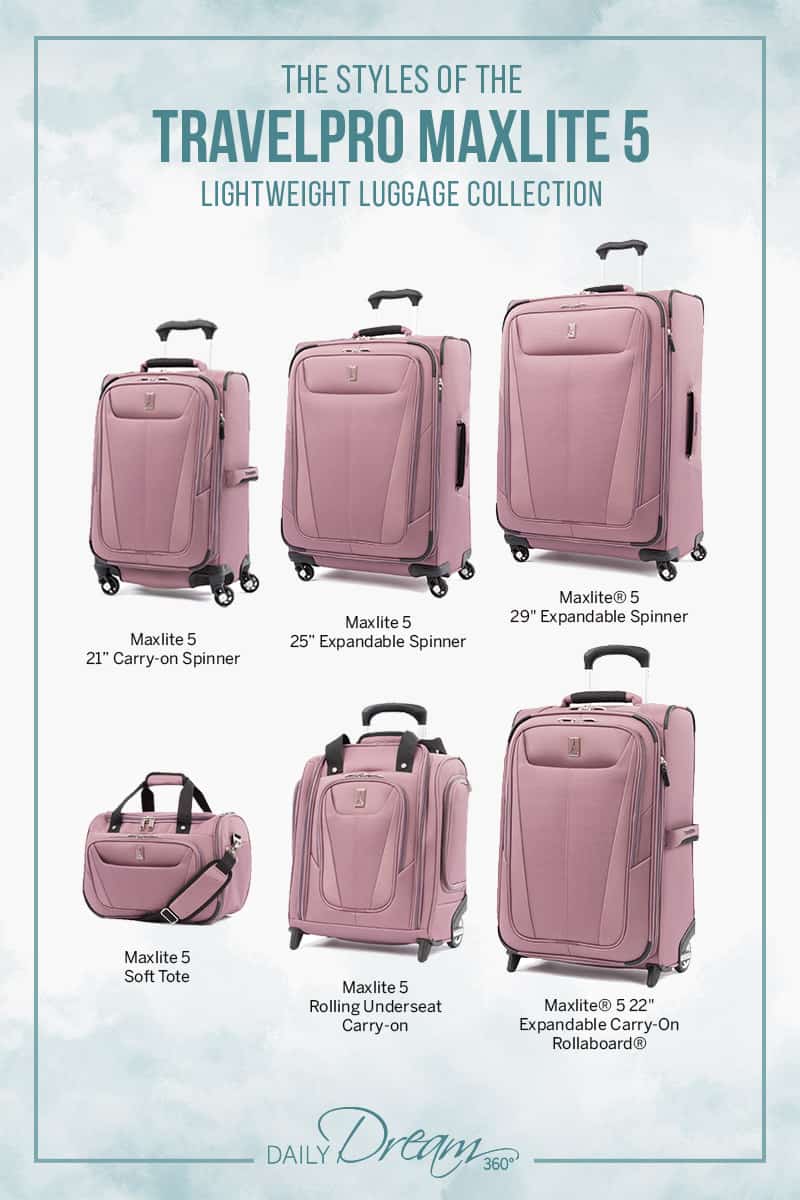 More Products from the TravelPro Maxlite 5 Collection
The Maxlite collection features various sizes of luggage made with a durable Polyester fabric coating that resists stains and water. The bags are designed with a bottom tray and shape to minimize tipping over.
Maxlite® 5 Soft Tote
I have this bag on my radar to go with my underseat carry-on bag. The
Maxlite 5 Soft Tote is also compact and can be stacked onto any of the luggage. This would also make a great overnight or weekend bag. The bag is made with the same durable fabric as the rest of the collection.
Buy Travelpro Luggage: Amazon US | Amazon CA | eBags.com | JCPenney
Rear strap for telescopic luggage handles to stack bag on luggage.
Height: 11 in
Width: 18 in
Depth: 8 in
Weight: 1.6 lbs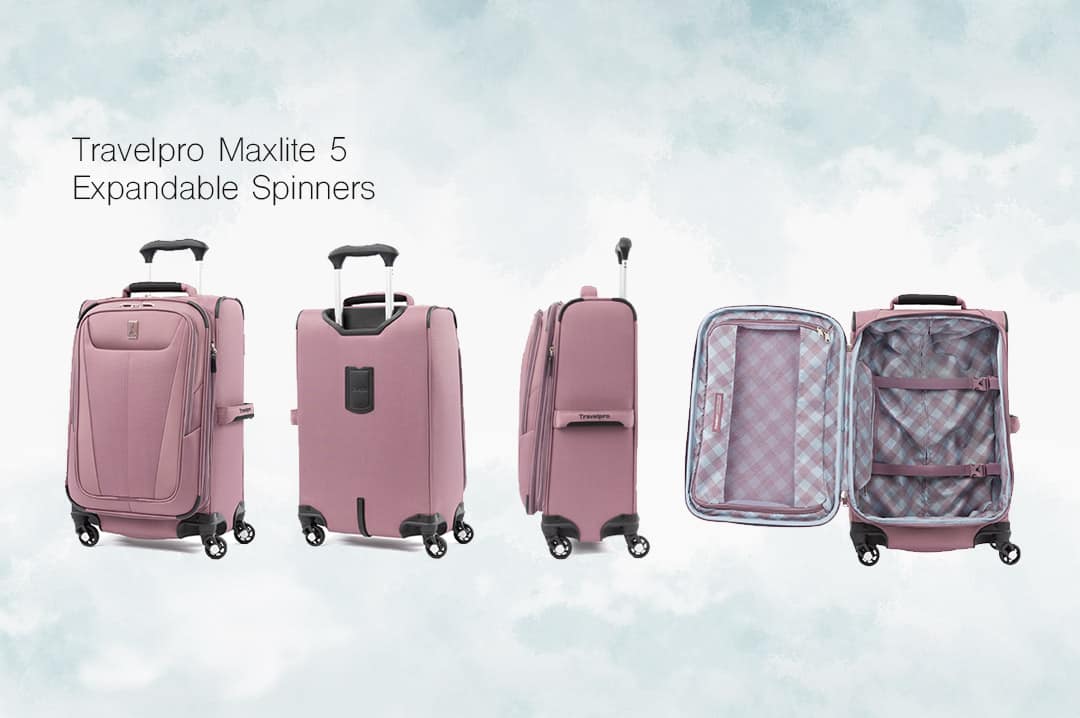 Maxlite® 5 International Expandable Carry-On Spinner
Slightly larger than the underseat carry-on I mentioned above the standard
carry-on bag features four spinner wheels which promise a smooth roll in any direction. The bag expands ups to 2" and has handled all around for easy pickup.
Interior full-size pocket
Side accessory pocket
Adjustable straps to keep items in place
Height: 21.75 in
Width: 15.75 in
Depth: 7.75 in
Weight: 5.3 lbs
Maxlite® 5 21″ Expandable Carry-On Spinner
For those on international flights or flying with carriers with a more relaxed carry-on allowance, the
larger 21" expandable spinner might be for you.
Height: 23 in
Width: 14.5 in
Depth: 9 in
Weight: 5.4 lbs
Buy Travelpro Luggage: Amazon US | Amazon CA | eBags.com | JCPenney
Maxlite® 5 25″ Expandable Spinner
For a checked bag, the 25" expandable spinner in the
Maxlite 5 collection is a great option.
Two-position adjustable handle
360° spinner wheels
Full-length interior pocket
Adjustable packing straps
Honeycomb frame is light but durable
Bottom tray design to limit bag from tipping over
Height: 27 in
Width: 18.5 in
Depth: 11.5 in
Weight: 7.3 lbs
Finding stylish luggage that is durable and lightweight is not always easy, so I'm happy about this Maxlite 5 Collection from Travelpro. For more information and more bag styles see their website here.
Buy Travelpro Luggage: Amazon US | Amazon CA | eBags.com | JCPenney
Looking for more tips check out these posts: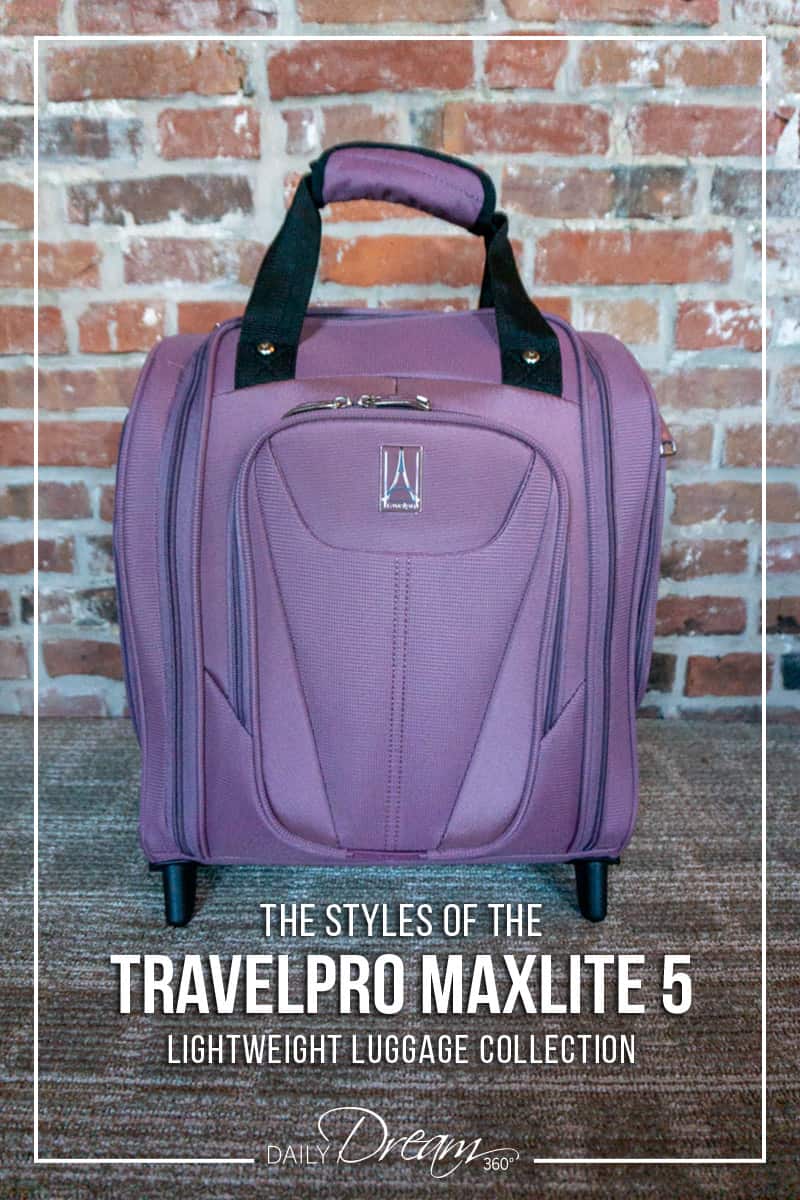 Disclosure: I was not compensated for this post. I received a Travelpro Maxlite 5 bag for review purposes only. As always the opinions in this post are my own.